Pac-12:

Strawberry Canyon
April, 13, 2011
4/13/11
1:00
PM ET
BERKELEY, Calif. -- California coach Jeff Tedford hears the negative chatter but he's trying not to listen. The operative word there being "trying." He understands why some Golden Bears fans are grumbling, but such talk nonetheless frustrates him.
Tedford rebuilt a lousy program and created a high standard to which Cal fans happily became accustomed. Yet over the past few seasons, he has not consistently met that high standard.
"All of a sudden, you have an eight-win season and it's not good enough," Tedford said. "Then, all of the sudden, you have a [losing season] and it's, 'Wow, what happened here?'"
[+] Enlarge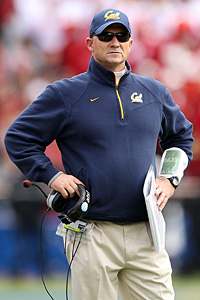 Ezra Shaw/Getty ImagesAn imposing front seven on defense should help coach Jeff Tedford and Cal be competitive against elite teams in 2012.
Things turned sour in Berkeley in 2010; a 5-7 finish that was Tedford's first losing season (fewer than seven wins) in nine years leading the program. Meanwhile, on the south side of the Bay Area equation, archrival Stanford won a BCS bowl game and appears poised to start 2011 ranked in the top 10. That juxtaposition doesn't sit well with the Old Blues.
It no longer matters where Tedford started, taking over a 1-10 program in 2002 that had won seven or more games just four times in the 24 previous seasons. Forget that from 1978 to 2001 Cal won three or fewer games nine times. Sure, back then a couple of seven-win seasons -- heck, even 5-7 -- would have seemed pretty nice.
No longer.
But it's more than that, Tedford's critics will tell you.
What happened to Tedford, the quarterback guru? Tedford transformed Kyle Boller from a five-star recruiting bust into a first-round NFL draft pick. He then discovered Aaron Rodgers out of nowhere and made him into a first-round pick. Nate Longshore appeared poised to join them after he led the Bears to a 5-0 start and No. 2 national ranking in 2007. But really, since Longshore sprained his ankle during a marquee win at Oregon on Sept. 29, 2007 -- Cal fans just fainted recalling the memory of
what happened next
-- the Bears haven't benefited from consistent play at quarterback.
It's not just losing, either. It's the nature of the defeats. In Tedford's first seven seasons, the Bears suffered only two defeats by more than two touchdowns. Over the past two seasons, they've lost eight games by 17 or more points and six by 27 or more.
Further, the staff turnover, particularly at offensive coordinator, has been notable. Not including himself, Tedford has gone through four offensive coordinators before arriving at his present, complicated configuration, with offensive line coach Jim Michalczik returning as coordinator, running backs coach Ron Gould set as running game coordinator, receivers coach Eric Kiesau set as passing game coordinator and Tedford (again) helping with the quarterbacks and (again) calling plays.
A couple of years ago, Tedford listened to the nattering nabobs of negativism and he wanted to smack them. Now, he's trying to be philosophical about criticism. Trying.
"I have it back in focus now, not to worry about the external things," he said. "That one year [2009] we went [8-5] and it felt like we went [5-8], it felt like people were real irritable about that. I was irritable, too. About their reaction to [8-5]. Now, I'm just back to focusing on what it takes to get us back on the upward trend again."
If you're the sort who prefers optimism, there's grounds for that, too. For one, Michalczik and Kiesau were with Tedford during the "glory years." There's history and comfort there. And Michalczik is widely considered an elite line coach, perhaps the best in the Pac-12. The play of the Bears' O-line wasn't as good the past two seasons while Michalczik was with the Oakland Raiders.
Further, Tedford is reengaging on the offensive side, and not only by calling plays, as he did during his early years at Cal. He's also working extensively with the quarterbacks, even to the point of sitting in on all QB meetings.
"Consistency at quarterback has been something that has hurt us at times," Tedford said.
Another big-picture item for Cal fans to be upbeat about: An uptick in recruiting that, perhaps not coincidentally, began when stadium and facilities renovation projects began in earnest after protesters -- old school Berkeley! -- were forced
out of the trees
. The Bears are nomads this spring, traveling from site to site in search of good grass to practice on, and they will play "home" games in AT&T Park this year. But when Memorial Stadium reopens in 2012, the structure will match the grandeur of its Strawberry Canyon home.
As for hot-seat talk (it's probably more accurate to call Tedford's chair lukewarm) the players are aware of said chatter. They don't live in a protective bubble. And they are aware that pointed observations about the blowout defeats also fall on them, whether those embarrassments were about poor preparation, a lack of mental toughness in the face of adversity or (gulp) a propensity to quit when an opponent asserts itself.
"We all love Coach," offensive tackle Mitchell Schwartz said. "His past record of success, that's why we are all here. There's no grumbling [in the locker room]. We're more disappointed in ourselves. We feel like we let the coaching staff down."
And of late, Cal fans feel let down. When the Bears were controversially blocked from playing in their first Rose Bowl since 1959 by Texas and the BCS computers following the 2004 season -- Cal fans just fainted for a second time while reading this story -- the consolation was a confident belief that it was just a matter of time before a Tedford squad ended that lengthy, painful Rose-less run.
The clock is still ticking -- 52 years and counting -- on that one, though.
October, 21, 2010
10/21/10
12:46
PM ET
Arizona State coach Dennis Erickson was doing what most coaches do during his news conference Monday: Praising his opponent, which in this instance was California. He ticked off a list of the Bears better known players: running back
Shane Vereen
, receiver
Marvin Jones
, defensive end
Cameron Jordan
and linebacker Mike Mohamed.
Had a nice thing to say about each. And not without reason.
[+] Enlarge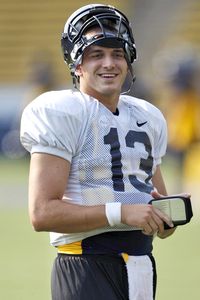 AP Photo/Marcio Jose SanchezCal QB Kevin Riley has played much better at home than he has on the road this season.
He also mentioned Cal quarterback
Kevin Riley
: "Riley has been playing for a long time."
When you can't say something nice about someone, just say something neutral. And accurate: Riley, a senior, has started 29 games and has 18 career victories, more than any active Pac-10 quarterback.
But he has yet to become a consistent performer, and the same can be said about the Bears as a team. It's also likely those two impressions are not unrelated.
When Riley is on target, the Bears roll. In the victories against UC Davis, Colorado and UCLA, he completed 63 percent of his passes for 538 yards, with eight touchdowns and no interceptions for a passer efficiency rating of 182.65. In three losses to Nevada, Arizona and USC, Riley completed 55.4 percent of his throws for 586 yards with three touchdowns and six interceptions for a passer efficiency rating of 106.66.
Key note: Those wins were all at home. The losses on the road. And the Bears are at home on Saturday. Not to mention that Arizona State hasn't won in Berkeley since 1997, or that Cal has won six of seven in the series as well as four in a row.
Moreover, Riley posted one of his best career games at Arizona State in 2009, passing for 351 yards -- his second-best single game total -- and two TDs in a 23-21 victory that featured a late drive for the game-winning field goal.
That's positive stuff for Bears fans to lean on because coach Jeff Tedford made it clear that, despite his struggles, Riley is the Bears starting quarterback and will remain so this season.
"Kevin is our starting quarterback and gives us our best chance to win," Tedford said. "We're not going to make a change there unless something unforeseen happened."
Could something "unforeseen" involve Tedford wanting to give backups
Beau Sweeney
or
Brock Mansion
a shot?
No.
"If they were close to being the best quarterback that we have on this football team, then they would see time, [but] that's not the case," Tedford said. "Kevin's experienced and Kevin still does some very good things and, like I said, still gives us the best chance to win. Those guys aren't to his level right now."
Both the Sun Devils and Bears are 3-3 overall and 1-2 in Pac-10 play. Both probably feel the game is critical to their bowl hopes. And Erickson doesn't think the Sun Devils are going to get the Cal team that looked so feckless during a 48-14 loss at USC last weekend.
"[Cal is] like all of us in this league," Erickson said. "You don't know what is going to happen from one week to the next. We're all kind of like that except Oregon with the way they have been playing ... They're a good football team. What you saw on last Saturday against USC you won't see this Saturday against us."
As for Tedford, who's drawn criticism of late for the number of lopsided losses over the past two seasons, he said his team can't afford to dwell on the disaster at USC or look beyond the Sun Devils.
"It's about focus and preparation for this week, that's all that matters," he said.
The Bears didn't look like they had much of either last weekend. Perhaps they'll (again) rediscover it inside the friendly confines of Strawberry Canyon.