December, 31, 2009
12/31/09
8:40
PM ET
By
ESPN.com staff
| ESPN.com
Not-so-instant analysis because I was flying to LA for the Rose Bowl.
[+] Enlarge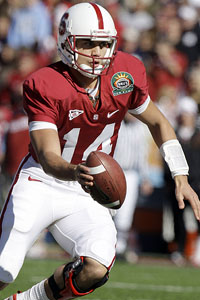 AP Photo/LM OteroStanford quarterback Tavita Pritchard struggled while playing in place of an injured Andrew Luck.
Oklahoma's
31-27
win over Stanford drops the Pac-10 to 2-4 in the bowl season and guarantees a losing bowl record with only the Rose Bowl left to play.
How the game was won
: Oklahoma dominated the second half to overcome a seven-point halftime deficit. While Stanford had almost no passing game with
Tavita Pritchard
stepping in for the injured
Andrew Luck
, the Sooners got 418 yards and three touchdowns from quarterback
Landry Jones
.
Turning point
: The third quarter. Oklahoma scored two touchdowns in the third to go ahead for good while Stanford managed to gain just 32 total yards.
Stat of the game
: Oklahoma owned third down. Stanford was 1 for 12 on third down, while the Sooners were 10 for 20.
What it means
: Probably not a whole lot in the big picture for Stanford, which is clearly on the rise under coach Jim Harbaugh. There's also, of course, a ready-made excuse due to the absense of Luck, though Sooners fans probably can talk a bit about injuries to quarterbacks and other stars. As far as the bigger picture for the conference, it hurts the image that another ranked Pac-10 team was decisively controlled in a bowl game -- see a 477 to 262 Oklahoma advantage in total yardage. Stanford's first order of business going forward is improving its defense, which struggled all season.
December, 30, 2009
12/30/09
9:52
AM ET
By
ESPN.com staff
| ESPN.com
Breaking down the Brut Sun Bowl between No. 21 Stanford (8-4) and Oklahoma (7-5) on Thursday.


WHO TO WATCH
: It will be a game-time decision on whether Stanford's redshirt freshman quarterback
Andrew Luck
(broken finger) will be able to play, but the odds are the ball will be in senior backup
Tavita Pritchard
's hands. Pritchard isn't new to this. He has started 19 games. But in those starts he threw 22 interceptions with just 15 touchdowns. With Pritchard behind center, Oklahoma will dare him to beat them in the downfield passing game. The Sooners will crowd the line of scrimmage and use one of the nation's best run defenses to slow down All-American running back
Toby Gerhart
. It's Pritchard's job to make them pay for that tactic.
WHAT TO WATCH
: Stanford's defense has been mediocre-to-bad this year. The Cardinal have lost three starters due to injury and they lack overall athleticism, particularly in the secondary. Opponents are completing 63 percent of their passes and have thrown for 20 touchdowns. The Sooners are loaded at receiver, will be far healthier on the offensive line after the layoff and have a good running game to keep a defense leaning forward. Although Sooners quarterback
Landry Jones
hasn't played well away from home this season, the Sun Bowl won't feel like an away game. The Cardinal will need to step up big on defense.
WHY WATCH
: This almost certainly will be the last chance to see Gerhart in a Stanford jersey. That's reason enough because the Heisman Trophy runner-up will face a great matchup with a physical Sooners defense that doesn't want to get run over like most of Gerhart's other opponents. Also, there's the mystery of whether Luck might actually pull a Willis Reed and try to play with a surgically repaired index finger he broke in the season finale against Notre Dame.
PREDICTION
: The key all year for Stanford has been Luck. Gerhart is a great running back. But he was great last year. With Luck behind center, however, it forced defenses to respect the pass, and he burned teams -- particularly Oregon -- downfield when they tried to gang up on Gerhart. With Luck, Stanford's physical offensive line would be a great matchup with the Oklahoma D-front. But the Sooners will be able to bring an extra defender into the box and outnumber the Cardinal. Can Pritchard make them pay? Guess here is he will a couple of times. But not enough for the Cardinal to outscore the Sooners, who should have their way with the Stanford D. So the call here is Oklahoma 30, Stanford 21.
December, 29, 2009
12/29/09
1:09
PM ET
By
ESPN.com staff
| ESPN.com
A day after Stanford beat Notre Dame to finish its best season since 2001 at 8-4, quarterback
Andrew Luck
called
Tavita Pritchard
. The redshirt freshman sensation, who had displaced Pritchard from the starting lineup, handed the ball off over the phone line.
Luck had broken the index finger of his throwing hand against Notre Dame and needed surgery to fix it. That meant Pritchard would start against Oklahoma in the Brut Sun Bowl on Thursday.
"It speaks volumes about Andrew," Pritchard said. "He called me and said, 'I just wanted to be the one to tell you.'"
[+] Enlarge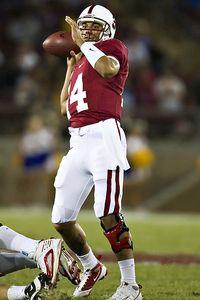 Jason O. Watson/US PresswireTavita Pritchard is expected to start for Stanford against Oklahoma.
Luck might still play against the Sooners' top-rated defense. Coach Jim Harbaugh told reporters that Luck had the pins removed from his finger Monday. Luck will try to throw this week and his availability figures to be a game-time decision.
Still, the likelihood is the Cardinal's chances depend on Pritchard being able to take heat off running back
Toby Gerhart
. If the Sooners, who rank seventh in the nation in run defense -- 88.6 yards per game -- don't respect the Stanford passing game, it could be a long afternoon in El Paso.
Pritchard, a senior, is best-known for two things, one good, the other not so good.
The good thing: In his first career start in 2007, he led Stanford, a 41-point underdog, to a 24-23 victory over then-No. 2 USC, one of the biggest upsets in college football history.
The not so good thing: In 19 career starts, Pritchard went 7-12 and threw 22 interceptions with just 15 touchdowns.
Harbaugh nearly pulled Luck's redshirt in 2008 when Pritchard was struggling. While Pritchard generally played well during spring practices, it was almost a foregone conclusion that Luck would take over in 2009.
And he did with impressive results. Luck ranked second in the Pac-10 in passing efficiency, throwing for 2,575 yards with 13 touchdowns and just four interceptions.
Meanwhile, Pritchard completed only two passes all season, meaning he had only one more completion than Gerhart -- and one fewer touchdown pass.
Pritchard would have played the good soldier in any event -- he's been universally praised by his teammates and coaches for how he handled the demotion -- but he and Luck have become friends. It also was fairly obvious Luck was a special talent.
"We were winning," Pritchard said, "and that is definitely what matters."
After talking to Luck, Pritchard got the official word of his elevation back to the starting job from Harbaugh.
"He was kind of funny about, 'Well, back in the saddle. Keys to the car again.' Stuff like that. He was fun about it," Pritchard said.
Said Harbaugh, "I think they'll rally around [Pritchard] like they always have."
While he's not thrilled how it happened, it's clear Pritchard is excited about getting another opportunity to play. He said his teammates have expressed their confidence in him and, perhaps more importantly, he said he's confident he can get the job done.
But he's as aware as anyone else that winning is what matters. And going out with a bowl victory over the mighty Sooners is a heck of a way to cap a career.
"If we go down there and beat them, it will be a great bookend to my career," he said.