September, 19, 2011
9/19/11
1:00
PM ET
Taking stock of the third week of games and looking ahead to Week 4.
[+] Enlarge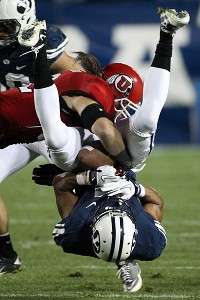 AP Photo/Colin E BraleyUtah linebacker Chaz Walker, left, upends BYU receiver Ross Apo during the Utes' 54-10 rout of the Cougars.
Team of the week
: Is there anything better than stomping your bitter rival in their own building? Answer: No (Well, touring the Mediterranean in your own yacht might be better, but it's close). The Utes' 54-10 crushing of BYU surely was great fun for the visiting team, particularly after the tough loss at USC. And it was meaningful because it was the first meeting between the two after Utah got invited to join the Pac-12 and BYU didn't (insert your own raspberry there, Utes fans, if you wish).
Best game
: A limited choice here in a weekend of blowouts, both in Pac-12 wins and losses. We're going to go with Arizona State's 17-14 loss at Illinois. Sure, the Sun Devils lost, and they didn't play particularly well. But it was the only game that was undecided deep into the fourth quarter.
Biggest play
: With 1:39 left before halftime in a tie game, Washington punted to Nebraska.
Tim Marlowe
called for a fair catch but muffed the catch, and the Huskies recovered. But the officials called the Huskies for interference. It one of those so clearly incorrect calls that it inspires fan suspicions -- "Hmm... Big Ten crew." Nebraska drove for a late field goal, the first three of 27 consecutive points.
[
Edit note
: The original post said incorrectly that the Huskies scored a TD on the muffed punt. As some have pointed out, you can't advance a muffed punt].
Offensive standout
: USC quarterback
Matt Barkley
completed 26 of 39 passes for 324 yards for five touchdowns with no interceptions in USC's
38-17 win
against Syracuse.
Defensive standout
: Utah linebacker Trevor Reilly had five tackles, two sacks, three tackles for a loss and three forced fumbles in the Utes' blowout victory against BYU. He also recovered a fumble and broke up a pass.
Special teams standout
: Stanford kicker Jordan Williamson was 3-for-3 on field goals at Arizona with a long of 45 yards, and he was 4 for 4 on PATs. Sure, Arizona coach Mike Stoops looked longingly at the redshirt freshman, seeing his kicker was 1 of 3 on field goals. Williamson is 6-for-6 for the season, including 2 for 2 from 40-49 yards. Honorable mention to Colorado freshman punter Darragh O'Neill who averaged 49.2 yards on six punts against Colorado State with a long of 56 and two killed inside the Colorado State 20-yard line.
Smiley face
: Utah and Colorado, the conference's two newest members, took care of their nonconference business. The Utes' 54-10 road-game vivisecting of BYU was particularly impressive.
Frowny face
: Arizona State is a better team that Illinois and it should have beaten Illinois. But it didn't, and there goes the national ranking. Honorable mention to the Washington defense, which was supposed to be much improved this fall, but so far hasn't been.
Thought of the week
: It seemed to become clearer over the weekend that the Pac-12 North game of the year will be Oregon at Stanford, and the Pac-12 South game of the year will be Arizona State at Utah. It mostly looked that way in the preseason, but it now appears that no surprise challenger will step up in either division.
Questions for the week
: Who is going to be a road warrior? Excluding Stanford, which is 2-0 on the road, the Pac-12 is 2-9 on the road so far this season. California, which is at Washington on Saturday, won at Colorado and Utah won at BYU (but lost at USC). Colorado is at Ohio State. Oregon is at Arizona. UCLA is at Oregon State. USC is at Arizona State. Good teams win on the road. Who steps up? And who falters?
September, 13, 2010
9/13/10
9:00
AM ET
If you don't like where you are in the power rankings, play better (we're thinking of adopting that as the power rankings' official slogan).
1.
Oregon
: The Ducks started slowly -- REAL slowly -- at Tennessee, but then opened up a bottle of kick ax and used a 45-0 run to emerge with a 48-13 win. The Ducks are a decisive No. 1 and they mostly will be on the sidelines this week getting ready for Portland State while the rest of the conference tries to prove its mettle.
2.
Arizona
: Wildcats quarterback
Nick Foles
has completed 83 percent of his passes in two games. Sure, he hasn't faced dynamic competition, but it's hard to hit a stationary target from 15 yards away 83 percent of the time. Speaking of dynamic competition: Iowa comes to town on Saturday with one of the nation's best defense. This could become one of those before-and-after games for the program.
3.
Stanford
: Almost as often as we thought, "Wow, Stanford looks good," during the Cardinal's 35-zip win against UCLA, we also repeatedly considered this: UCLA might be a big reason Stanford looks so good. Stanford shouldn't forget that it went to sleep in the second half at Wake Forest last year and lost a game it seemed to have in hand.
4.
California
: So Cal fans, should we all get on the bandwagon? Is it safe to make that leap of faith? (Don't think I am not fully aware of your hand-wringing). Because I watched the beatdown of Colorado and couldn't find many things not to like. And get this: Look who's the
Pac-10's No. 1 QB
. Beware: A visit to Nevada could be tricky.
5.
Oregon State
: We don't think the Beavers are the No. 5 team in the conference, though the teams that we thought were behind the Beavers in the preseason have closed the gap. But Oregon State drops because it was off last weekend and, to point out the obvious, is 0-1. An impressive win against Louisville should provide a boost with a marquee visit to Boise State ahead.
6.
USC
: The bottom line is USC is 2-0 without having played a certifiable patsy. But the power rankings aren't about bottom lines. They are about measuring power on a weekly basis, and the Trojans have struggled to consistently show it in two games. In game one at Hawaii, the defense looked terrible. In Game 2 against Virginia, it was the offense.
7.
Washington
: After a slow start, the Huskies overwhelmed Syracuse and reignited the reasonableness of the position that if things fall into place, an upset of Nebraska on Saturday is possible. Not that we're ready to take that position.
8.
Arizona State
: The Sun Devils acquitted themselves reasonably well during the preseason (two games vs. FCS teams). This does not look like a team that will be an easy-out in the conference this fall. A visit to Wisconsin, however, will be a huge upgrade in competition.
9.
UCLA
: The Bruins rank 115th in the nation in scoring. It's hard to win when you rank 115th in the nation in scoring, particularly when the next two games are against Houston on Saturday and at Texas on Sept. 25. Suddenly, Game 5 -- at home vs. Washington State -- takes on an unanticipated and slightly desperate importance in terms of how things might ultimately stack up in the conference race.
10.
Washington State
: What to say about the Cougars after they rallied to beat Montana State, an FCS team? John Blanchette nails
the sane and reasonable position
. Instead of another round of forehead slaps, why not enjoy a gutty comeback win?