Pac-12:

Syracuse Orangemen
June, 20, 2012
6/20/12
7:00
PM ET
Welcome back to the road trip. We're taking a week-by-week look at the entire Pac-12 schedule and picking out the game we feel is the marquee game of the week. If you have the time and means this is the game you want to see.
Week 2
Friday Sept. 7
Saturday Sept. 8
Washington at LSU
E. Washington at Washington State
Sacramento State at Colorado
Southern Utah at Cal
USC at Syracuse
Wisconsin at Oregon State
Fresno State at Oregon
Nebraska at UCLA
Duke at Stanford
Illinois at Arizona State
Oklahoma State at Arizona
My choice
: Washington at LSU
Why
: After watching WSU's
Jeff Tuel
throw for 484 yards and four touchdowns against BYU last week, we shift our focus to defense and the Washington at LSU game. One team has arguably the best defense in the country, the other has a defense that is fighting to overturn its reputation from last season.
But the real question in this game is can the Huskies move the ball against an LSU defense that is loaded from front to back.
Keith Price
, who didn't do anything to hurt his Heisman chances last week against San Diego State, now faces the stingiest defense of his career. This game probably won't break his Heisman campaign, but it can go a very long way toward making it.
The X factor is that Price is as good of a dual threat quarterback as the LSU is going to see all season. He was finally healthy in the Alamo Bowl and showed what he can do with his legs. And while Chris Polk was certainly a workhorse back, the by-committee approach might work to Washington's favor to keep fresh legs going against a ridiculously talented defensive front, headlined by
Sam Montgomery
and
Barkevious Mingo
. Washington's offensive line issues are certainly a concern going against this group and any weaknesses will be exploited.
Washington's best mismatch is tight end
Austin Seferian-Jenkins
. If LSU commits a spy linebacker or safety to Price, ASJ could have some success over the middle with single coverage.
There are a couple of other intriguing matchups in Week 2: Illinois at ASU is a big one and there are a couple of traditional powers on the docket with Wisconsin and Nebraska. But UW's game is the most important for the conference. And while Washington will be considerable road underdogs, every Pac-12 fan should be pulling for the Huskies in this one. Plus, an upset win would be a great way to keep SEC trolls at bay.
May, 18, 2012
5/18/12
12:00
PM ET
In case you haven't noticed, we've got a bit of a theme going on this week -- important games in the Pac-12. Obviously, everyone is circling the Nov. 3 showdown between USC and Oregon in Los Angeles. But there are other games to enjoy along the way. So this week we're looking at games we're most excited about.
Ted Miller:
I like measuring-stick games, games that perhaps reveal the talent and heart of a team, as well as, of course, where they rank in the Pac-12 pecking order. We have a perfect example Sept. 27 (a Thursday) in Seattle: Stanford's visit to Washington, which will be played in CenturyLink Field, the Seahawks' stadium.
[+] Enlarge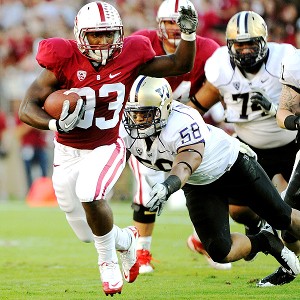 Thearon W. Henderson/Getty ImagesStanford has trampled Washington in recent seasons; the Huskies can turn the tide Sept. 27.
The obvious measure of this game's importance is this: The winner steps up in the Pac-12 North Division pecking order, the loser steps back. The winner can imagine challenging Oregon for the division title, while the loser's attention likely turns to more attainable quarry. But it's more than that. For one, it's likely both teams already will have suffered a defeat. The Huskies visit LSU on Sept. 8, while Stanford hosts USC on Sept. 15. Those opponents likely will rank Nos. 1 and 2 in the nation. This game, therefore, can serve to redirect one team's early-season trajectory. It's much better to head into October with one loss than with two.
For Stanford, this is about announcing the program's health in the post-Andrew Luck Era. Beating the Huskies on the road likely would re-establish the Cardinal as a top-25 team, where, based on the schedule, they could remain all season.
But, really, the weight falls more heavily on Washington. Why? For one, Stanford has beaten the Huskies four games in a row. But that's not the biggest issue. It's not even that the three most recent games have been blowouts. It's the nature of those blowouts. Stanford has unmanned Washington during that winning streak. Huskies fans, cover your eyes. You don't want to read this. Stanford has averaged 322 yards rushing in those four victories. 322! Last year, the Cardinal set a school record with 446 yards rushing in a 65-21 victory. The Cardinal only had 278 in 2010, but, of course, the final count was 41-zip. At Husky Stadium!
It hurts to lose no matter what. And it hurts to get blown out. But for a football team to get physically manhandled ... that's humiliation. It's hard to describe the recent turn in this series any other way. The Huskies' pride is on the line. New defensive coordinator Justin Wilcox was brought in to make sure no opponent rushes for 322 yards against Washington. It will be interesting to see if he can deliver in this early conference test. Or if post-Luck Stanford keeps churning along, winning with character and cruelty.
Kevin Gemmell:
I too enjoy a good measuring-stick game -- and I don't think there is a bigger one early in the season than USC's trip to Utah on Oct. 4. First, it's a Thursday night game, which means a national TV audience. It's at Rice-Eccles Stadium -- one of my favorite venues -- and the place should be going crazy.
[+] Enlarge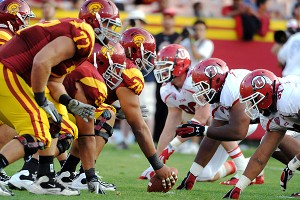 Kirby Lee/Image of Sport/US PRESSWIREThe Oct. 4 visit from USC gives Utah a chance to prove it belongs in the Pac-12 elite.
For the sake of argument, I'm going to work off the assumption that both USC and Utah are 4-0 heading into this game. If any Hawaii, Syracuse, Stanford, Cal, Northern Colorado, Utah State, Brigham Young or Arizona State fans take exception to that argument, I know Ted would love to hear about it in his
mailbag
.
In terms of measuring-stick games, there is none bigger on the 2012 schedule than this one for Utah -- which is desperate to find its way into the conversation as one of the Pac-12's elite. A victory over the Trojans -- who presumably will be one of the top-ranked teams in the country (if not No. 1) on Oct. 4 -- would go a long way toward achieving that.
Both teams will be coming off a bye week, so there is a good chance they will be rested and healthy. But the Trojans have the tougher road through the first four weeks. USC will have been put through the meat grinder against two top-rated defenses in Stanford and Cal before their bye. Then they come to Salt Lake City against -- arguably -- the best defensive front in the conference.
That makes this a pretty significant measuring-stick game for the Trojans, too. Three consecutive wins over three of the top front-sevens in the Pac-12 will likely answer any questions about the Trojans' toughness. By the way, they're on the road again the following week at Washington. This is just step three in an awfully difficult four-game stretch.
USC has the stronger offense -- even Utah fans won't dispute what the Trojans bring to the table with
Matt Barkley
and Co.-- but Utah's defensive line is as good as it gets. And one cannot throw the ball if one's face is buried in the turf.
This projects to be a brutal, physical game with the winner taking decisive command of the Pac-12 South.
A victory for Utah would catapult the Utes into conference legitimacy and mark that they have arrived. A USC victory re-affirms its status as the team to beat in the South and will likely leave the rest of us licking our chops for Nov. 3.
September, 10, 2010
9/10/10
9:00
AM ET
Some quick notes to get you through the hours until Saturday.
Five Pac-10 players accounted for at least three TDs last weekend: California's Shane Vereen, Oregon's Kenjon Barner (5 TDs), USC Ronald Johnson (4 TDs), Arizona State's Deantre Lewis and Arizona State's Cameron Marshall.
Three Pac-10 QBs rank among the nation's top seven in passing efficiency: Stanford's Andrew Luck at No. 3, USC's Matt Barkley at No. 4 and California's Kevin Riley at No. 7.
Seven different Arizona receivers caught at least three passes last week at Toledo.
Arizona State kicker Thomas Weber is 3 for 3 from beyond 50 yards in his career after booting a 52-yard field goal vs. Portland State. He was one of three conference kickers to connect from beyond 50 yards (Washington's Erik Folk, 54 yards, and Washington State's Nico Grasu, 56 yards).
Cal is 2-2 all-time with Colorado, but this is its first meeting since 1982.
Oregon is one of eight teams nationally that produced shutouts last weekend.
Ducks CB Cliff Harris returned two punts for TDs -- for 61 and 64 yards -- in the win over New Mexico. Two punt returns for TDs has only been accomplished twice before by Pac-10 players: USC's Mike Garrett in 1965 vs. Cal; UCLA's Sam Brown in 1954 vs.Stanford.
Oregon State safety Lance Mitchell leads the conference in tackles after recording 18 vs. TCU. Fellow safety Suaesi Tuimaunei is tied for third with 14.
UCLA leads its series with Stanford 45-32-3.
UCLA kicker Kai Forbath tied two NCAA records after going 3 for 3 vs. Kansas State. His 27 games with at least two field goals ties Georgia's Kevin Butler and his 13 with at least three ties Arizona State's Luis Zendejas. Forbath has made 40 consecutive field goals inside of 50 yards. His 75 career field goals are just 12 short of the NCAA record of 87.
USC has won 31 consecutive night games (USC-Oregon kicked off at 5 p.m. last year).
Washington QB Jake Locker made his college debut as a redshirt freshman at Syracuse in 2007. The Huskies won 42-12.
Dating back to the last part of the 1975 season, the Huskies have gone 35-14 when playing at home the game after a loss on the road.
Washington State is trying to snap a 10-game losing streak Saturday vs. Montana State. The Cougars are 6-0 all-time vs. the Bobcats.
May, 26, 2009
5/26/09
3:30
PM ET
By
ESPN.com staff
| ESPN.com
Posted by ESPN.com's Ted Miller
Just imagine: It's the first Saturday in September, and USC is standing in "The Swamp" eyeballing the Florida Gators.
Does that sound like something you'd be interested in? Is that a game you'd clear your calendar for?
Or what about LSU swaggering into the Coliseum?
Goose bumps. Let's settle that 2003 grudge once and for all.
Is there anything college football needs more -- other than a playoff -- than a USC regular-season matchup with an elite SEC team?
The answer is no.
And the likelihood of it happening anytime soon is practically nil, at least outside of a national championship game.
Nuts.
The earliest it could happen, according to USC's senior associate athletic director, Steve Lopes -- the man charged with the Trojans' football scheduling -- is 2015.
Again, nuts.
Oh, there have been conversations, but nothing went very far. And because scheduling is sensitive and complicated, no one wanted to talk on the record about specific potential matchups that fell by the wayside.
"We've talked to a lot, if not all, of the SEC schools about playing in the future," Lopes said. "I can't get into who said yes and who said no, but we have conversations with a lot of schools. Scheduling is a hard thing because sometimes you want to play each other but it doesn't work out from a timing standpoint."
USC is 4-0 vs. the SEC under coach Pete Carroll. The Trojans outscored Auburn and Arkansas 167-38 in those home-and-home matchups, including a 23-zip win at then-No. 6 Auburn in 2003 and a 50-14 bludgeoning of the eventual SEC West Division champion Razorbacks in 2006.
Out on the West Coast, folks believe that has a lot to do with the lack of an SEC-USC game.
What's also disappointing is the Trojans' future nonconference schedules don't feature a marquee matchup similar to the series with Ohio State, which concludes Sept. 12 in Columbus.
2010: at Hawaii, Virginia, at Minnesota
2011: Minnesota, Syracuse
2012: Hawaii, at Syracuse
2013: at Hawaii, Boston College
Of course, the Trojans do play Notre Dame every year.
And it's not like USC isn't willing to work with folks who put games together.
"They are a football scheduler's dream," said Dave Brown, ESPN's Vice President, Programming & Acquisitions. "They are one of the rare schools that continues to play all of their nonconference games -- in most years -- against BCS teams ... If everybody did it that way, it would certainly be a lot easier for us to schedule games."
So maybe we should just starting angling for 2015?