November, 24, 2010
11/24/10
10:52
AM ET
Shy Huntington surely never guessed it would take this long for Oregon to become a national power. After he grabbed three interceptions in the Ducks' 14-0 Rose Bowl victory over the
Pennsylvania Quakers
, he probably thought things were just beginning for the Ducks.
It was 1917.
From 1918 through 1988, however, Oregon would play in just five bowl games, winning one. Its first coach to win more than 33 games was Len Casanova, who went 82-73-8 from 1951-66. Oregon's next coach to post a winning record? Mike Bellotti.
[+] Enlarge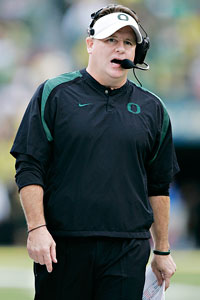 Joe Nicholson/US PresswireChip Kelly has the Ducks two wins away from their first undefeated season of the modern era.
Oregon is one of only 10 programs nationally to have played in at least 17 bowl games over the past 21 years, but it's clearly a member of the nouveau riche. The Ducks haven't finished unbeaten in the modern era and they've never won a national championship.
Yet now they are two wins away from doing the former and three from accomplishing the latter, starting with a home date with No. 21 Arizona on Friday.
This is uncharted territory for Oregon, but it also feels as if the arrival isn't temporary. The momentum -- having the right coach, great facilities, passionate fan base, national recruiting, a sugar daddy billionaire booster -- suggests Oregon is starting construction on a mansion in the neighborhood with programs like Florida, Alabama, Ohio State, Oklahoma, Texas and USC.
A character in "The Sun Also Rises" was asked how he went bankrupt. "Two ways," he replies. "Gradually and then suddenly." That description is apt for the Ducks, only in the opposite direction. Oregon broke through in the 1990s under Rich Brooks. Bellotti won 116 games from 1995-2008 -- the most in program history by a wide margin -- and created a Pac-10 and national contender.
Second-year coach Chip Kelly? He's on the cusp of winning a second consecutive Pac-10 title and earning a second BCS bowl berth, only this time in the national championship game on Jan. 10 in Glendale, Ariz. That qualifies as a good start to a career as a head coach.
For an Oregon fan in his or her 50s or 60s, this is a fairly shocking development. You remember cold, rainy days with only a few thousand fans on hand to watch the Ducks lose. You remember going down to Washington 66-0 (1974). Or tying rival Oregon State 0-0 in the 1983 Civil War (two bad teams, pouring rain, eleven fumbles, five interceptions, and four missed field goals, the last Division I game to end in a scoreless tie).
If you are, say, a 19-year-old freshman at Oregon, you grew up with the Ducks as a Pac-10 contender and a team that regularly appeared in the national rankings. Your first memory might be of Kenny Wheaton returning an interception 97 yards for a touchdown to beat Washington in 1994, the celebrated linchpin play of the Ducks' first Rose Bowl season in 37 years. You see your team headed for its sixth season with 10 or more wins since 2000.
You read about the construction of a new, $41 million, six-story, 130,000 square foot
operations building for the football program
that will begin early next year, and you (maybe) think, "About time."
"There is a difference between the people who have seen this program for 40 years and the people that have seen us for four years," Kelly said. "They obviously see it through a different set of eyes. This program wasn't always one of the top programs in the country... I still talk to some of the people who can remember the days gone by, when having a winning season was a big deal and making it to a bowl game was a really big deal."
Kelly adds that he's only known the good days. He arrived in 2007 as offensive coordinator, and Oregon has won 39 games -- and counting -- since then and finished each season nationally ranked, the last two in the top 11. Contemplating the present versus the past with nostalgia for days gone by? As he will tell you -- over and over and over and over -- he's only about winning the day, which is today and nothing else. Still.
"That's hard for me to fathom, this team struggling just to be bowl eligible," he said. "That's not the Oregon I know."
There is some respectful jealousy among other Pac-10 coaches. Want to know why California coach Jeff Tedford gets perhaps more understanding from sportswriters than Bears fans? Compare and contrast Oregon's facilities and the Bears'. It's major league vs. single-A (though Cal is -- finally -- in the process of a
major stadium project
that should help that).
Mike Stoops has led Arizona out of the Pac-10 cellar, but his facilities don't compare with Oregon's either. He noted -- indirectly -- that the Big 12's nouveau riche power, Oklahoma State, became a contender shortly after its billionaire sugar daddy, T. Boone Pickens, started to churn hundreds of millions of dollars into the program.
"They are both great examples of investing in your program, investing in your players and bringing first-class facilities to your program, and putting a lot of value to that," Stoops said. "You can see what's happened with Oregon. They continually won seven, eight, nine [games]. Now, all of a sudden, the last few years, they are competing for championships and competing for the national championship... Certainly, we are trying to do the same thing here in rebuilding our facilities as well."
Asked about whether he felt the powers-that-be at Arizona understood the value of facility upgrades, Stoops replied, "I can't erase 125 years of not going to the Rose Bowl. As much pressure as I can put on myself, I can't take all that responsibility. It can't be just all bad playing and all coaching."
(We, obviously, could start to debate the ethics and institutional value of the arms race in big-time college football when there are budget shortfalls on the academic side of things, but that prickly topic is for another day.)
Oregon's ascension also is fortuitously timed alongside the fall of USC. While the Ducks have won three of four versus the Trojans, the departure of Pete Carroll and the arrival of NCAA sanctions figure to benefit the Ducks as they tighten their moorings among the national elite.
Of course, the deal is not yet done. Irritated Washington fans, who have seen their Northwest supremacy taken away, would quibble: "Hey, win a Rose Bowl in the facemask era, would 'ya!" The Ducks haven't done that since Huntington's heroics. Two games remain in the regular season, and then there's the matter of closing the deal in Glendale.
But it's hard not to feel that Oregon is on the cusp of arriving. Consider this: Even if the Ducks don't win the national title game, when you look at what they have coming back in 2011, they are a good bet to begin next fall as the preseason No. 1.
July, 12, 2010
7/12/10
9:00
AM ET
By
ESPN.com staff
| ESPN.com
First in a series looking at potential dream and nightmare scenarios for all Pac-10 teams, starting at the bottom and working up from my vote in the Pac-10 media poll.
Understand: These are not predictions. They are extreme scenarios and pieces of fiction.
Up first:
Washington State
Best case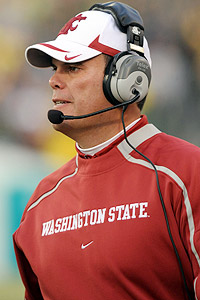 Steve Dykes/US PresswirePaul Wulff's Cougars will finish the season with a losing record.
People have long wondered if anything could silence Oklahoma State's mouthy billionaire booster T. Boone Pickens. Well, Washington State waltzing into Stillwater, Okla., and whipping his beloved Cowboys 24-20 seems to do the trick.
The Cougars use five turnovers from a young Cowboys team to notch the upset.
"We're young but this team is growing up," coach Paul Wulff tells reporters.
The Cougars actually get a vote in the AP poll after whipping Montana State, but it becomes clear they aren't a finished product when they lose at 35-24 at SMU and get clobbered 44-10 by USC.
But instead of crumbling after being brought back down to earth, the Cougars shock UCLA when Nico Grasu boots a 51-yard field goal as the clock expires.
"No way did that just happen," stunned UCLA coach Rick Neuheisel says after losing to the Cougars for the first time.
Still, Washington State is young and the Pac-10 is deep. It loses five of its next six games, managing only a last-second win at Arizona State.
The Cougars have two weeks off before the Apple Cup, and they used the time well. First, they get healthy. Second, let's just say there are lots of wrinkles in the game plan.
Washington arrives in Pullman needing a victory to secure its first bowl berth since 2002. Oh, and it's zero degrees and there's three feet of snow on the ground when the Huskies walk out for the opening kickoff.
Neither team can score a TD, and Washington leads 9-3 late. But an errant shotgun snap in the fourth quarter gets by Huskies quarterback
Jake Locker
and is recovered at the 1-yard line by Cougars defensive end Travis Long. On fourth down, quarterback
Jeff Tuel
runs a naked boot and runs smack into linebacker Mason Foster. The ball gets away. It rolls into the endzone.
James Montgomery
recovers for the touchdown, and the PAT gives the Cougars a 10-9 lead with two minutes left.
Locker isn't done, though. He drives the Huskies to the Cougars 10-yard line. But the snap for the potential game-winning field goal goes over the holder's head.
Cougars win. They finish 5-7. Same record as the Huskies.
"We've come a long way," Tuel says. "But as my favorite band, 'The Carpenters,' sing so sweetly, 'We've only just begun.'"
Worst case
Thank God for Montana State. The FCS foe provides the Cougars their only victory in 2010.
Oh, there are some close calls. Solid showings at Oklahoma State and SMU. Near misses versus UCLA and Arizona State. A surprisingly competitive game with Oregon State.
But the Cougars are too young and too thin to compete in the rugged Pac-10, particularly when the injury bug returns. Oregon crushes them with speed. Stanford with power. USC with a little of both.
Most galling is the tour de force performance produced in Pullman by Washington quarterback Jake Locker in the Apple Cup. Locker's 310 yards passing, 135 yards rushing and seven total touchdowns earns the Huskies an invitation to the Holiday Bowl and Locker an invitation to the Heisman Trophy ceremony.
Further, the 1-11 campaign forces athletic director Bill Moos' hand. Coach Paul Wulff has won only one conference game in three seasons. While the Cougars are far better in 2010 than they were in 2008 and 2009, the results haven't shown up in the record book.
Wulff agrees to resign. "I'll always be a Cougar," he says. "My only regret is we didn't win more games."
December, 29, 2008
12/29/08
2:30
PM ET
By
ESPN.com staff
| ESPN.com
Posted by ESPN.com's Ted Miller
This will be four days of HoneyBaked ham and it still tastes really good.