March, 21, 2011
3/21/11
5:49
PM ET
By
ESPN.com staff
| ESPN.com
Spring is supposed to be a time of renewal and hope, but USC coach Lane Kiffin seemed to be suffering a prolonged case of the winter blahs Monday. And for good reason. He said 20 players -- many of them projected starters or key contributors -- won't be available for full-contact work when the Trojans begin spring practices Tuesday.
[+] Enlarge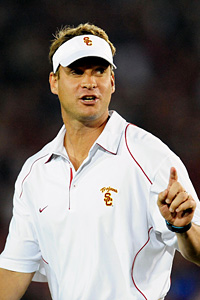 Gary A. Vasquez/US PresswireLane Kiffin is concerned about his team's spring injuries, particularly on the offensive line.
Rebirth and renewal of the Trojan empire after a middling 8-5 finish in 2010? Humbug.
"There's too many questions," Kiffin said. "I think it would be a little tough to say this team is better than last year."
Most of these injuries are not expected to be issues when preseason practices begin in August. But you never know. And there were some
troubling additions
to the already
long injury list we noted last week
, including linebacker Chris Galippo, whose back is giving him trouble again. Toss in injuries to Devon Kennard (hip) and Shane Horton (hip), and none of the projected starting linebackers are ready to practice. In fact, when you toss in an injury to backup Ross Cumming, the only available linebacker from last year's depth chart is redshirt freshman Will Andrew.
Few position groups have been spared the injury bug. Defensive linemen are out: end Armond Armstead, tackle Christian Tupou and end Wes Horton. Offensive linemen are out: Khaled Holmes, tackle Kevin Graf and center Abe Markowitz. Defensive backs are out: safety Drew McAllister and cornerbacks T.J. Bryant and Torin Harris. And a receiver is out:
Kyle Prater
.
So while, officially, 13 starters are back -- 6 on offense; 7 on defense; no specialists -- there will be plenty of opportunities for young players to shine. Of the 86 players on the spring roster (that includes walk-ons), just 38 saw action in 2010 and 47 have never taken a college snap, so there will be a bit of "Hello, my name is..." this spring. Just 14 returning Trojans have started at least 10 games.
Further, because of the lack of bodies -- particularly on the lines -- Kiffin said that much of the work this spring will be 7 on 7 -- "You're not going to be able to have normal practices," he said.
What's Kiffin's chief concern? The offensive line, which he calls "a gigantic issue."
There is some good news in terms of continuity on Kiffin's coaching staff. The only change is the departure of receivers coach John Morton, who joined Jim Harbaugh's staff with the San Francisco 49ers. He was replaced by
Ted Gilmore
, who was at Nebraska last year.
The spring game is April 23 in the Coliseum.
Some other notes:
Spread?
Kiffin talked last year about adopting some spread elements to his offense going forward, but that was more about one-back, four receiver sets, not a spread-option similar to what Oregon runs. The reasoning is largely about personnel. The Trojans lose the versatile
Stanley Havili
-- perhaps the best fullback in the nation -- and have little experience ready to step in at the position. And there's lots of intriguing young talent at receiver.
Position changes
: Redshirt freshman Dion Bailey moved to linebacker from safety.
Robert Woods
takes over at "Z" receiver -- flanker -- the position
Ronald Johnson
played last season.
Positions to watch
: Obviously, injuries all over the depth chart mean youngsters will get plenty of reps this spring, which means plenty of opportunities to impress. Here are some spots Kiffin made specific note of, other than the injury-riddled lines:
Tight end: Rhett Ellison is back, but what will be the pecking order between Xavier Grimble, Randall Telfer and Christian Thomas? The Trojans would like to run more two tight end sets.

Running back: Marc Tyler is the returning veteran, but he struggles to stay healthy. What will the pecking order end up between Dillon Baxter, Curtis McNeal and D.J. Morgan?

Backup QB: Matt Barkley is the starter (duh), but with the departure of Mitch Mustain, who's his backup? Redshirt freshman Jesse Scroggins would seem to have an inside track, but touted true freshmen Cody Kessler and Max Wittek will both participate in spring practices.

Linebacker: Great opportunity for guys to catch their coaches eyes: Bailey, Andrew, Dallas Kelly, Marquis Simmons, Simione Vehikite, Hayes Pullard, etc.
What about Barkley
? Barkley, a true junior, took a step forward last season as a second-year starter, but he still missed too many throws, 12 of which ended up as interceptions. Kiffin said he expects Barkley's next step to be playing at a consistently elite level. "He's competing against the best in the country," Kiffin said. "He's competing against the Andrew Lucks. He's got to take that mindset in every practice."
What about that NCAA appeal
? On Saturday, it will be nine weeks since USC president Max Nikias, athletic director Pat Haden and four other university representatives spent more than four hours talking with the NCAA infractions appeals committee in Indianapolis. Most appeals take four to eight weeks. Ah, but nothing in the USC case has moved quickly. Kiffin said he had no idea when USC would learn if the appeals committee will reduce the penalties that appear more draconian by the day, as other schools end up in headlines about alleged rules violations that appear far worse than the findings against USC.
March, 14, 2011
3/14/11
6:58
PM ET
By
ESPN.com staff
| ESPN.com
Michael Lev of the Orange County Register provides an
injury update
for USC, and it ain't pretty: 12 players who are either projected starters or likely contributors are expected to be out or limited when spring practices start on March 22.

Obviously, as Lev points out, it's premature to panic because sitting out spring is often about being healthy in the fall.
Still, it's quite a list (see link for details): WR
Kyle Prater
, OL Khaled Holmes, OT Kevin Graf, C Abe Markowitz, DE Wes Horton, DL Armond Armstead, DT Christian Tupou, MLB Devon Kennard, OLB Shane Horton, S Drew McAllister and CBs T.J. Bryant and Torin Harris.
Of particularly concern: Three offensive linemen and eight defenders are out.
The Trojans lack depth on their offensive line, which must replace three starters as well as part-time starter Butch Lewis. Now it appears that left tackle Matt Kalil will be the only full-go returning starter available this spring.
Meanwhile, the defense is looking to bounce back from a sub-par year under coordinator Monte Kiffin. While injuries to veterans will allow younger players to see more action, there's something to be said for the veterans being available to more fully digest the elder Kiffin's schemes during spring when there's more time to teach.
August, 6, 2010
8/06/10
10:36
AM ET
By
ESPN.com staff
| ESPN.com
Like sands through the hourglass, so are the days of USC's lives.
The latest out of Heritage Hall: USC cornerback T.J. Bryant underwent
surgery on his cheekbone
Thursday as a result of a fight with fullback
Stanley Havili
.
Got to be honest: Havili, a fifth-year senior, is one of the last guys I'd guess would take a poke at a teammate. But these are strange times at USC, which just can't seem to stay out of the news.
This from the story:
The fight broke out near the end of a players-only workout last Friday, Trojans coach Lane Kiffin said. The players were finishing a relay drill when an argument escalated into a physical confrontation. Bryant, who was competing for a starting job this fall, is expected to miss three to four weeks. The Trojans open their season in Hawaii on Sept. 2.
Bryant was considered slightly behind Torin Harris for the starting cornerback spot opposite Shareece Wright, but an "OR" was between them on the depth chart, meaning it was a tight competition. And when you're replacing all four members of the secondary, any loss hurts.
The big question, however, is this a "boys will be boys" incident, only with big boys who can obviously cause a lot of damage when fists fly? Or does this suggest some rifts among the players -- specifically between players who want to work hard and other who might view extra effort in conditioning as a waste of time due to NCAA sanctions?
Said Kiffin:
"This was a situation where Stanley tried to step in to get guys to finish without the coaches being there. He was showing leadership to get guys to finish at a level he's used to. My understanding is there was a back-and-forth and some pushing. Obviously, it didn't end well."
Doesn't that sound like Kiffin is saying Havili was unhappy with Bryant's effort and when Bryant fired back at Havili's "encouragement" things escalated?
Yes.
That said, having covered college football for a while and talked to many players through the years, I realize there actually are plenty of fights among teammates. Think about it: 100 guys ages 18 to 23 -- 85 on scholarship -- together much of the day. There are going to be altercations. Only most of the time, a guy doesn't need surgery afterward so it doesn't become a news story.
Isolated incident or not? Check back on Sept. 2.
The LA Times
tells the tale
. And the
Orange County Register
. And
LA Daily News
.
August, 5, 2010
8/05/10
2:09
PM ET
By
ESPN.com staff
| ESPN.com
The good news for all those big-name Pac-10 quarterbacks? Every conference team has questions at cornerback.
And, for the first time in Pac-10 blog history, no one earns a "Great shape" tag.
Only one cornerback who earned All-Pac-honors is back: Arizona's second-teamer Trevin Wade. Only one other returning corner, Washington's Desmond Trufant, even earned honorable mention.
Three teams welcome back both starting corners from 2009: Oregon, Stanford and Washington. But the Ducks have moved Javes Lewis to rover, and a pair of true freshmen -- Terrance Mitchell and Avery Patterson -- are battling for the starting job opposite Talmadge Jackson. Stanford and Washington? They ranked eighth and ninth in the conference in pass efficiency defense last season.
USC and Arizona State are replacing both starting cornerbacks, but both actually look fairly strong at the position with plenty of returning experience and athleticism.
A number of teams might end up pretty good at the position. But no one looks like a sure-thing during the preseason. (Heck, we thought California was
a sure thing in 2009
and things
didn't exactly go according to plan
).
So how do things stack up?
Great shape
Good shape
Arizona: Wade is an All-American candidate, and Marcus Benjamin showed he can play with a good performance against USC in 2009. And Mike Stoops always has good cornerbacks, so we won't dwell on the questionable depth.
Oregon: Probably not a lot of worry here for the Ducks. Injuries in 2009 earned young players experience, and Oregon did rank third in the Pac-10 in pass efficiency defense. Still, it remains uncertain who will start opposite Jackson, with the freshmen outplaying the more experienced Cliff Harris and Anthony Gildon during the spring.
Arizona State: On the one hand, both starters are gone from a unit that ranked second in the conference in pass efficiency defense. On the other, Omar Bolden would have been a starter if he didn't get hurt, and Deveron Carr, Osahon Irabor and LeQuan Lewis give the Sun Devils a nice mix of talent and experience.
USC: Shareece Wright was academically ineligible last season, but he might end up first-team All-Pac-10. He might, in fact, be the conference's best cover cornerback. Torin Harris and T.J. Bryant are battling for the other spot in a secondary replacing all four 2009 starters.
Washington: Trufant is an up-and-comer, Quinton Richardson is experienced, and backups Vonzell McDowell and Adam Long have starting experience, so the Huskies should be much improved here in 2010. The operative word, though, is "should."
UCLA: It isn't easy to replace an Alterraun Verner. Sheldon Price returns at left cornerback after a good freshman season as a starter, and Aaron Hester has potential on the opposite side. Undersized junior Courtney Viney is an experienced third option.
Oregon State: James Dockery is solid and new starter Brandon Hardin is big -- 6-2, 215 pounds. There's respectable depth. But the Beavers gave up 23 touchdown passes in 2009, tied for the most in the conference. Of course, the Beavers cornerbacks suffered last season because of an anemic pass rush. That might change in 2010.
We'll see
Stanford: If the Cardinal is going to take another step forward, it must get better in pass coverage. Three players who started last seaon are back: Richard Sherman (who's a sure-thing at left corner), Corey Gatewood and Johnson Bademosi. But opponents completed 63 percent of their passes with 23 touchdowns against those guys. Might redshirt freshman Terrence Brown make a move?
California: Syd'Quan Thompson is gone; is Darian Hagan back? As in the 2008 version, not the one who lost his job and got buried on the depth chart in 2009. After being touted as one of the best secondaries in the country, the Bears finished 111th in the nation in pass defense in 2009. Bryant Nnabufie, who started four games in 2009, is listed No. 1 opposite Hagan, but Josh Hill (a five-game starter) and Marc Anthony and redshirt freshman Steve Williams are in the mix.
Washington State: The Cougars feel pretty good about junior Aire Justin and sophomore Daniel Simmons, who was the defense's best cover corner before he got hurt midway through last season. But it's hard to ignore that the Cougars ranked 112th in the nation in pass efficiency defense with opponents completing nearly 67 percent -- 67 percent! -- of their passes.
May, 20, 2010
5/20/10
1:28
PM ET
By
ESPN.com staff
| ESPN.com
Eighth in a series taking a look at top position competitions this fall.
USC
: Cornerback (Much like Oregon's quarterback competition, the linebacker competition between Chris Galippo and Devon Kennard has been
well covered
).
Why the competition
? The Trojans are replacing all four starters in their secondary, but one returning cornerback, Shareece Wright, who was academically ineligible last year, might be the best cover guy in the Pac-10. That means whoever wins the job opposite him will see a lot of action.
Candidates
: RFr Torin Harris (6-foot-1, 175), junior T.J. Bryant (6-0, 180), sophomore Brian Baucham (5-11, 180)
The skinny:
Harris is the least experienced -- both Bryant and Baucham played in 2009 -- but he probably leads the competition after being the most consistent during spring practices. He and Bryant were separated by an "OR" on the post-spring depth chart, meaning the competition remains unsettled, though that might only be because Harris got hurt and
missed some practice time
. Bryant played in 13 games in 2009 and recorded 22 tackles with three pass breakups. Baucham played in five games last fall but missed action after being involved in a serious
motorcycle accident
. He also missed all of spring practice after toe surgery, so the new staff hasn't seen what he can do.
April, 29, 2010
4/29/10
10:00
AM ET
By
ESPN.com staff
| ESPN.com
LOS ANGELES -- This winter, Lane Kiffin was handed his second plum college head coaching job just three years after becoming the youngest head coach in NFL history. Yet his record is 12-21. How the heck did he get the cardinal and gold keys to USC's Heritage Hall? His most notable achievement is manufacturing controversy with both his words and actions. Substance? Kiffin's critics will tell you "there's no there, there."
[+] Enlarge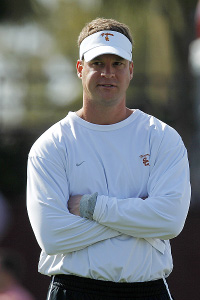 AP Photo/Jae C. HongLane Kiffin knows the only way to prove himself is by winning.
No there? We can tell you Kiffin was there, in his office at 3 a.m. PDT on April 15 watching frenetic defensive line coach Ed Orgeron scarf down a super-sized Red Bull -- No. 2 or 3? -- while presiding over his bleary-eyed staff. Why 3 a.m. on April 15? Because programs are allowed one call to a junior prospect during the spring recruiting evaluation period from April 15 to May 31, and Kiffin had decided that the first voice elite East Coast recruits would hear would be from a Trojan coach.
"We decided we were going to beat everybody in the country," Kiffin explained. "But we're on the West Coast. So if we're going to beat everybody, we're going to have to get up early and we're going to have to wake up East Coast parents."
At 4 a.m, the calls hit the Central time zone. At 5 a.m., they hit the Mountain time zone. And at 6 a.m., Kiffin and Orgeron, perhaps the best recruiting combination in the country, woke up the prospects in Los Angeles.
"The best part about it is Orgeron thinks everybody is going to be real excited about coming in at 3 a.m," Kiffin said. "He's so different. He goes, 'Hey guys, it's going to be great! I'm going to buy you guys donuts and Red Bull!'"
But donuts and Red Bull, and insanely intense recruiting, probably won't surprise you about Kiffin, who turns 35 on May 9. This might, though.
"It's more tightly run now. Businesslike, more serious," linebacker Malcolm Smith said. "We have to clean the locker room -- seriously -- now. They run us if you miss a class. There's no room for error. They've tightened the ship up."
According to Kiffin, if a player is "even one minute late" to a class, study hall or a session with a tutor, they have to meet Orgeron at 5 a.m. for extra running.
Smith's tone and expression makes the following line superfluous: "That is something you don't want to do."
When one coaching staff replaces another, the stories that immediately follow are predictable: The new staff is doing things better. More rules or more freedom? Players' coach or disciplinarian? Longer practices or shorter practices? Old is bad; new is good. Then there are the harder workouts, better schemes (attacking defense!), more coaching of fundamentals, etc.
Yet Pete Carroll's program was so open and observable that it's not speculative, or unfair, to note that things were a bit, er, loosey goosey at times. When the Trojans were regularly winning national and Pac-10 titles, that was a celebrated characteristic -- dancing with Snoop Dogg in the meeting room, wheeeeee! When the Trojans were getting manhandled by Oregon and Stanford and going -- disaster! -- 9-4, it was the root-cause of the fall of a football dynasty.
So if a basic contrast is to be drawn between the Ways of Carroll and the Ways of Kiffin as spring practices come to a close with Saturday's spring game, the early returns might be surprising: Kiffin seems to be closer to channeling Woody Hayes than Carroll, his old mentor.
There's a new sheriff in town and his name is Lane Kiffin. Y'all be cool.
"It's going to be done our way, which is the productive way of doing things right -- on and off the field," Kiffin said. "We feel that is how you are successful on Saturday and how you're disciplined on Saturday: how you are Monday through Friday. We are very hard on our guys. We have extremely high standards. We want it to be difficult to be a USC Trojan football player. They're never late to football meetings. So why are they late to other stuff? I believe it's emphasis."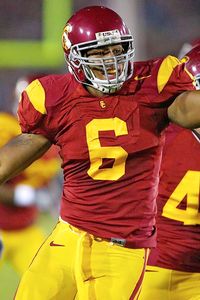 Gary A. Vasquez/US PresswireMalcolm Smith says Kiffin's staff is running a tighter ship.
Kiffin is aware he's in a bit of a pickle. Reporters repeatedly ask him about the team he inherited. If he notes shortcomings and concerns, he's seen as criticizing Carroll, who put Kiffin's career on the fast track when he handed him the keys of the Trojans offense in 2005. But Kiffin isn't good at not telling folks what's on his mind.
"It's not what it was when we left here," he said.
Kiffin sees sloppy play, noting the Trojans ranked 114th and 88th in the nation in penalties the past two seasons. He sees a lack of toughness when players skip practices and workouts because of minor injuries. He sees the "USC way" of players leaving early for the NFL draft only if they are first-round picks being abandoned -- see Everson Griffen, Damian Williams and Joe McKnight.
He sees a team that got its butt kicked last fall, posting the two worst losses of the Carroll Era.
"We have to figure out what went wrong because all of the sudden something really changed," Kiffin said.
The Kiffin Way means publicly calling out players, as he did when he stripped cornerback T.J. Bryant and receiver De'Von Flournoy of their No. 1 jerseys because they were under performing. Or when he said
the running backs
"don't have a clue right now on what we need to do to be a championship running team."
It means digging out players who fell out of favor with the old staff, such as defensive tackle DaJohn Harris, or challenging returning starters to fight for their jobs, such as linebacker Chris Galippo. It means repeatedly telling reporters that more than a handful of incoming freshmen will immediately compete for playing time.
The final one, actually, was a standard of Carroll's culture of competition that may have fallen off a bit the past couple of seasons.
No "there" there with Kiffin? Let's just say Kiffin seems to know exactly where he is.
He landed his dream job. And it will remain a dream job only if he wins -- and thereby proves himself a coach of substance.
Said Kiffin, "You can't come to this job with a rebuilding plan. You've got to win."
March, 10, 2010
3/10/10
9:35
AM ET
By
ESPN.com staff
| ESPN.com
The eighth of a 10-part series that looks at where Pac-10 teams are strongest and weakest as they begin spring practices.

USC
Strong
: Front seven
Why it's a strength
: USC listed 24 front-seven players on its 2009 defensive depth chart, and just four are not returning: end Everson Griffen, tackle Averell Spicer and linebackers Nick Garratt and Uona Kaveinga. Only Griffen was a starter. That sort of experience is certainly a strength, one that in past years might have struck fear into future opponents. The Trojans, however, were not dominant up front last year, ranking fifth in the Pac-10 against the run. Still, despite a sub-par year by USC's standards, the defense still ranked first in the conference in scoring (19.8 points per game). Moreover, 16 of these returning front-seven players were freshmen or sophomores last fall. There should be significant improvement with new coordinator Monte Kiffin and fiery defensive line coach Ed Orgeron. Players like junior tackle Jurrell Casey, sophomore linebacker Devon Kennard, sophomore end Nick Perry and junior tackle/end Armond Armstead could take a step toward stardom.
Weak
: The secondary
Why it's a weakness
: The Trojans are replacing all four starters -- multi-year starters at that -- including free safety Taylor Mays. That's four of the top seven tacklers. Moreover, the leader to replace Mays, Drew McAllister, will miss the spring due to hip surgery. Of course, the Trojans are hardly devoid of talent, particularly with the return of cornerback Shareece Wright. Wright, widely regarded as the team's best cover corner, would have started last year but he was academically ineligible. And there are plenty of promising youngsters on the depth chart who have already seen action, including corners T.J. Bryant and Brian Baucham and safety T.J.McDonald. Still, this is a unit in transition that will face an outstanding crew of experienced Pac-10 quarterbacks.
April, 17, 2009
4/17/09
2:30
PM ET
By
ESPN.com staff
| ESPN.com
Posted by ESPN.com's Ted Miller
Life is too short, and the time we waste in yawning never can be regained.