Pac-12:

T.J. Houshmandzadeh
June, 30, 2011
6/30/11
12:00
PM ET
On Friday, the Pac-10 becomes the Pac-12, and life as we all have known it ends.
But before we move on as a 12-team league, let's look back at the best of a 10-team league.
On Wednesday, we looked at the
best players
. Thursday, it's the best teams.
We've listed 12 teams because that's the new magic number (Arizona fans, see if you can guess who came in 13th).
Again, no team before 1978 -- when Arizona and Arizona State joined the Pac-8 -- was considered.

1. 1991 Washington
: The Huskies finished 12-0 and split the national title with Miami.
Best player
: Defensive tackle Steve Emtman won the Outland Trophy and Lombardi Award.
Point differential
: Washington outscored its foes 495-115.
Best win
: Whipped Michigan 34-14 in Rose Bowl. Wolverines finished ranked sixth.
Comment
: Four wins over teams that finished ranked in the final top 25, including road victories at No. 15 Nebraska and at No. 8 California. Featured one of the great defenses in college football history, yielding just 9.2 points and 67.1 rushing yards per game. Eight Huskies earned first-team All-Pac-10 honors.

2. 2004 USC
: While the NCAA and BCS have nixed it in their own ways, the Trojans finished 13-0 and won the national title on the field.
Best player
: Quarterback Matt Leinart won the Heisman Trophy.
Point differential
: USC outscored its foes 496-169.
Best win
: Crushed Oklahoma 55-19 in the national title game.
Comment
: Basically a push for dominance with 1991 Washington. Beat four teams that finished ranked in the top 25, including the bludgeoning of Oklahoma. Eight Trojans earned first-team All-Pac-10 honors.

3. 2003 USC
: The Trojans finished 12-1 and split the national title with LSU. Their only loss came in triple overtime at California.
Best player
: Receiver Mike Williams was a consensus All-American.
Point differential
: 534-239.
Best win
: The completely dominant 23-0 victory at then-No. 6 Auburn in the opener set the tone for the season -- and caused many Pac-10 fans to question how good these highly rated SEC teams really are.
Comment
: The Trojans finished the regular season ranked No. 1 in both polls but lost out playing in the BCS title game because of the computer polls. LSU fans have been thanking the computers for that glitch ever since.

4. 2005 USC
: A 34-game winning streak came to an end with a nail-biting loss to Texas in the national title game. The Trojans finished 12-1.
Best player
: Reggie Bush won the Heisman Trophy.
Point differential
: 638-297.
Best win
: The 34-31 win at Notre Dame -- the "Bush Push" game -- was one of the all-time greats.
Comment
: Perhaps the best collection of offensive players in the history of college football: Matt Leinart, Reggie Bush, Dwayne Jarrett, Ryan Kalil, Sam Baker and Taitusi Lutui earned first-team All-Pac-10 honors. And don't forget LenDale White, Winston Justice, Steve Smith and Dominique Byrd.

5. 1978 USC
: Finished 12-1 and split national title with Alabama. Lost to Arizona State, 20-7.
Best player
: Charles White was a unanimous All-American.
Point differential
: 318-153
Best win
: A 24-14 win over the team that "claimed" the other half of the national title.
Comment
: Split national title -- coaches liked the Trojans; AP the Crimson Tide -- despite a decisive 24-14 USC at Alabama. So much for head to head.

6. 1979 USC:
Finished 11-0-1 and No. 2 behind Alabama. Tied Stanford 21-21.
Best player
: Charles White won the Heisman Trophy.
Point differential
: 389-171
Best win
: The 17-16 win over Ohio State in the Rose Bowl, in which White ran for a record 247 yards, including the game-winning touchdown with just more than a minute remaining.
Comment
: Team featured four future College Football Hall of Famers in White, Marcus Allen, Ronnie Lot and Brad Budde. By the way, THAT undefeated, untied Alabama team was really, really good: Outscored foes 383-67. So no sour grapes on that one.

7. 2001 Oregon
: The Ducks finished 11-1 and ranked No. 2 in both polls. The only loss was 49-42 versus Stanford (a really, really weird game, if you recall).
Best player
: Quarterback Joey Harrington finished fourth in the Heisman Trophy voting.
Point differential
: 412-256.
Best win
: A 38-16 win over Colorado in the Fiesta Bowl.
Comment
: The Fiesta Bowl victory caused plenty of folks to bemoan the Nebraska-Miami matchup in the BCS title game, considering Colorado had blown out Nebraska the final weekend of the regular season. As for the Stanford loss, the typically straightforward AP noted the game had "
everything but aliens landing on the Autzen Stadium turf
."

8. 1984 Washington:
Finished 11-1 and ranked No. 2 behind BYU. Lost to USC ,16-7.
Best player
: Defensive tackle Ron Holmes was a consensus All-American.
Point differential
: 352-145
Best win
: Shocked Oklahoma 28-17 in the Orange Bowl. Sooners finished ranked sixth.
Comment
: A controversial season. Before the Orange Bowl, Sooners coach Barry Switzer lobbied hard for the winner to be declared the national champion. As it was, BYU won the national title after beating a bad Michigan team in the Holiday Bowl. Does anyone believe BYU was better than the Huskies? No.

9. 2010 Oregon
: The Ducks finished 12-1 and No. 3 in both polls, losing the national title game to Auburn.
Best player
: Running back
LaMichael James
finished third in the Heisman Trophy voting.
Point differential
: 611-243
Best win
: The Ducks handed Stanford its only loss, 52-31, after trailing 21-3 early. Cardinal finished ranked No. 4.
Comment
: An innovative, exciting team to watch, one that played faster than perhaps any big-time college team in history.

10. 1996 Arizona State:
Finished 11-1 and ranked No. 4 in both polls. Lost Rose Bowl -- and potential national championship -- to Ohio State, 20-17.
Best player
: Quarterback Jake Plummer finished third in the Heisman Trophy voting.
Point differential
: 488-216
Best win:
The Sun Devils trounced top-ranked, two-time defending national champion Nebraska, 19-0.
Comment:
The Sun Devils lost one of the most dramatic Rose Bowls, when the swashbuckling Plummer was out-swashbuckled by Joe Germaine, who was raised in Arizona as an ASU fan.

11. 2000 Washington:
The Huskies finished 11-1 and ranked No. 3, their only loss coming at No. 7 Oregon. They beat Purdue 34-24 in the Rose Bowl.
Best player:
Marques Tuiasosopo finished eighth in the Heisman Trophy voting.
Point differential:
387-270
Best win
: Beat Miami, 34-29. Hurricanes finished ranked No. 2.
Comment:
This is not the most talented team on the list. In fact, some have
rated the 2000 Oregon State team
-- see below -- ahead of the Huskies. And based on NFL results, the Beavers were more talented than the Huskies. But head to head matters, and the win over Miami is better than anything Oregon State did.

12. 2000 Oregon State:
The Beavers finished 11-1 and ranked No. 4, their only loss a 33-30 decision at Washington, which finished ranked No. 3.
Best player:
Running back Ken Simonton was first-team All-Pac-10.
Best win:
Beat Oregon 23-13 in Civil War. Oregon finished ranked seventh in the coaches poll.
Comment
: One or two more plays at Washington, and the Beavers would have played for the national title. And they, by the way, were more talented than the Oklahoma team that did win the title. Notable Beavers: Ken Simonton, Chad Ochocinco (the Chad Johnson), T.J. Houshmandzadeh, Chris Gibson, DeLawrence Grant, LaDairis Jackson, Dennis Weathersby and Eric Manning. They spanked Notre Dame 41-9 in the Fiesta Bowl.
July, 19, 2010
7/19/10
5:00
PM ET
Wanted to hit the notes that were neglected during my week of vacation.
Follow me on Twitter:
http://twitter.com/ESPN_Pac10
Troy from Portland writes
: One thing I have struggled with is why OSU seems unattractive to the high end receivers. Is it just the locale? After the success of 2000, and the receiver that shall not be named, my assumption was OSU showed itself as a destination that could showcase a talent with its system.
Ted Miller
: You are right. Oregon State hasn't had any good receivers since Chad Johnson and T.J. Houshmandzadeh teamed up in 2000.
Other than James Newson (first-team All-Pac-10 in 2003). Or Mike Hass (two-time first-team All-Pac-10 and the 2005 Biletnikoff Award winner as the nation's best receiver). Or Sammie Stroughter (first-team All-Pac-10 in 2008). Or this James Rodgers guy (first-team All-Pac-10 in 2009).
Do you FEEL my sarcasm spewing through your computer screen?
In fact, seeing that the Beavers have seven times produced a first- or second-team All-Pac-10 receiver over the past 10 seasons, you might ACTUALLY say that no other Pac-10 program -- other than USC -- even approaches Oregon State's success producing elite, productive receivers over the past decade.
Now, if you are talking about recruiting rankings, perhaps you are correct. Plenty of other programs have been able to attract 18-star recruits who went on to find comfortable spots on the bench where they could, presumably, read about those lowly 1/2-star recruits for the Beavers catching a bunch of passes and earning postseason honors.
Eric from Arizona writes
: You are killing me. Even in most other Pac-10 teams' "worst case" scenarios they beat the Sun Devils. I am not optimistic about the Devils this year, but come on. You don't even give us a shot when the other team's wheels fall off? Worst case, a demoralized Huskies team still beat ASU with a backup quarterback no one has heard of? Is ASU that bad? Have we been bad neighbors? Are you mad about the immigration law? Are you frustrated with the 115 degree temps? What have we done to deserve this?
Ted Miller
: Yes, I am frustrated with the 115 degree temps. You folks are great neighbors. I don't do politics on the Pac-10 blog.
Look, I hear you. One of the challenges of doing these "best and worst case" pieces is making sure all the dots connect. And there's also the "collateral damage" of teams that serve as sacrificial lambs in the worst-case scenarios.
The reason Arizona State loses to Washington in the Huskies' "worst case" is twofold: 1. I have picked Arizona State to finish ninth in the conference, so it makes sense based on my media poll vote that it will take it on the chin a few times; 2. It would be far more galling for Huskies fans to lost to Washington State than Arizona State.
As for how "bad" the Sun Devils are, it's more a case of the conference's depth. I see ASU as team that should be competitive in just about every game it plays, and I certainly wouldn't be shocked if the Sun Devils ended up in a bowl game.
Morgan from Los Angeles writes
: I follow college football recruiting pretty religiously and recently I have found myself confused at how USC is not seeming to be affected by its scholarship restriction. According to most recruiting Web sites, they already have close to 10 commits for the class of 2011, but have many, many other offers out there for top prospects. How can this be? If even 1/4 of the other recruits that they have offered accept the scholarships, it seems as though they would be over their limit given the sanctions they are operating under. When the sanctions came down, I thought they would be forced to be much more selective and possibly even retract some offers for prospects in this class. Can you help me understand?
Ted Miller
: USC is appealing its NCAA sanctions, therefore its 2011 recruiting class won't be limited. You should expect the Trojans to do everything they can to stock up this go-round.
And top prospects will continue to look seriously at USC even when the sanctions do hit. Why? Because USC remains USC: It's an NFL factory and one of the premier programs in the country.
Peter from Palo Alto, Calif., writes
: How is Rose Bowl selection affected by the bowl-ineligibility of USC. If USC wins the PAC-10 and is disqualified, does the Rose Bowl have to take the second place PAC-10 team? Or is the Rose Bowl free to select whomever they like from other conferences?
Ted Miller
: Here's how it goes this season: USC won't win the Pac-10, even if it does. So the conference actually functions as a nine-team league this season (and if USC loses its appeal, it also won't be eligible in 2011). The top team from that nine will go to the Rose Bowl.
Unless, of course, that team is selected for the national title game. At that point, there is a new BCS rule you may want to be aware of: "For the games in January 2011 through 2014, the first year the Rose Bowl loses a team to the [national championship game] and a team from the non-AQ group is an automatic qualifier, that non-AQ team will play in the Rose Bowl."
So, say, undefeated Stanford is selected to play Alabama in the national title game on Jan. 10 in University of Phoenix Stadium in Glendale, Ariz. That wouldn't mean that the next team in the Pac-10 standings would become the Rose Bowl representative -- the slot would go to a non-AQ team.
Jason from Emeryville, Calif., writes
: Where do you feel the Pac 10 championship game should be played, and where do you think it will end up being played in the future?
Ted Miller
: I think the best course is to allow the No. 1 seed to host the game.
The wisdom there is twofold: 1. Giving the No. 1 seed an advantage is both fair and better for the conference's national title prospects; 2. The game is far more likely to sell out than if it were at a neutral site.
On the downside, not knowing where the game will be played in advance of the season makes it harder to plan, both for the Pac-10 (which wants to make the championship game an "event") and for any broadcast partners. Moreover, it wouldn't be ideal if the game ended up in Pullman or Corvallis.
But based on what we've seen so far out of commissioner Larry Scott, I wouldn't be surprised if he doesn't have a grand plan, which might include giving the game a permanent home -- perhaps University of Phoenix Stadium -- or rotating the game among major Pac-10 cities.
Damon from Tucson writes
: I just read your
Best case-worst case: Arizona
and it all sounds pretty good, but in the worst case part you talk about UA and ASU both being 5-6. You say that each needs to win the game in order to become bowl eligible. This is correct for Arizona however if you are counting ASU's wins against Portland State and NAU then you must know that a school can only count one win against FCS opponents toward bowl eligibility, so ASU must be 7-5 at the end of the year to play in a bowl. Just thought I would point that out.
Ted Miller
: You are correct. My bad. Arizona State, because it plays two FCS foes this season, needs to finish 7-5 to become bowl-eligible.
Brandon from Davenport, Iowa writes
: Your "worst case scenario" for Arizona is losing to Iowa by less than two touchdowns?!? Seems to me that is more of a best-case scenario. Arizona lost too much talent to beat Iowa with the defense that they have this season.
Ted Miller
: Hmm. Got a couple of notes like this. Iowa fans seem really confident.
We shall see.
Bryan from Berkeley, Calif., writes
: Like you I have had a great time laughing at [former Arizona State receiver] Isaiah Mustafa's Old Spice ads and was wondering if you have seen his new video responses to twitter and fan mail. Thought you might enjoy it. This new level of ridiculousness
can be seen in this link
.
Ted Miller
: If that doesn't make you laugh, you are probably dead.
February, 4, 2010
2/04/10
11:18
AM ET
Arizona State's recruiting
class of 26
was about filling "needs," said coach Dennis Erickson, which is why five of the six junior college transfers will play on offense and 15 of the signees come from that side of the ball.
The Sun Devils defense broke through last fall, but the offense struggled -- again --and lost seven starters. The class includes five receivers and three running backs, and it's almost certain at least a couple will be in the rotation in the fall.
Top prospects:
You can probably pencil in
Brice Schwab
as a starting offensive tackle. Erickson called the 6-foot-8, 320 pounder "the best junior college offense lineman that I saw." Offensive guard
Chris De Armas
also could break through. The Sun Devils needed a tight end and
Josh Fulton
is a good one, though he is recovering from shoulder surgery. Safety
Eddie Elder
was signed to compete immediately for playing time. Erickson said receiver
George Bell
"could be special."
Under the radar
: Erickson compared receiver
Michael Willie
to T. J. Houshmandzadeh, whom he coached at Oregon State. He called cornerback
Alden Darby
a "sleeper." Erickson compared the class' lone quarterback,
Taylor Kelly
, to Jake Plummer.
Issues
: The class was generally ranked in the bottom half of the Pac-10. And the influx of junior college players might send up a red flag to some. It's a little surprising Erickson wasn't able to sign a couple of highly rated skill position players, considering the immediate opportunity to play.
Notes:
Two key players not listed in the class are transfers: quarterback
Steven Threet
(Michigan) and
Aaron Pflugrad
(Oregon). Both could be starters in the fall ... Erickson said
Joita Te'i
and
Calvin Tonga
will start out on the defensive line but could end up as offensive linemen ... The class features players from five states.
January, 20, 2010
1/20/10
9:00
AM ET
Yes, there are lots of USC teams in our list of the "best Pac-10 teams of the decade."
Not sure how you get around that. From 2002 to 2008, the Trojans finished ranked in the nation's top four. During that span, no other conference team topped the Trojans in the national rankings.
One team not listed, however, merits special mention: Oregon in 2007.
That team was 8-1, ranked No. 2 in the BCS standings and appeared to be headed for a showdown with LSU for the national championship. Then quarterback Dennis Dixon blew out his knee at Arizona -- he'd actually hurt it the week before vs. Arizona State -- and the Ducks subsequently lost to the Wildcats, the first of three consecutive losses before a blowout victory over South Florida in the Sun Bowl.
More than a few people -- not just Ducks fans -- believe that team would have won the national title if Dixon had remained healthy.
Of course, if wishes were fishes then cows would fly.
10.
USC, 2007
: A toss-up between this squad and the Trojans 2006 team. The '07 team finished ranked third in the AP and second in the coaches poll, while '06 finished fourth in both. '07 lost to 41-point underdog Stanford and at Oregon, see above about the Ducks. '06 lost at Oregon State and at UCLA, a 13-9 defeat that cost it a spot in the national title game. That last detail iced it for '07.
9.
USC, 2002
: More than a few pundits watching Carson Palmer and company pound Iowa in the Orange Bowl opined that, by season's end, this might be the nation's best team in 2002. After a 3-2 start in Year Two of the Pete Carroll Era, the Trojans won eight in a row to finish 11-2 and ranked No. 4.
[+] Enlarge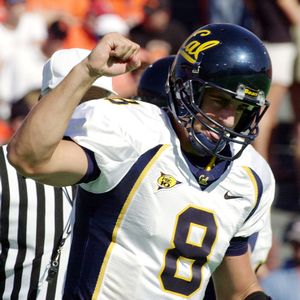 AP Photo/Don RyanAaron Rodgers and the Golden Bears only had one regular-season loss in 2004.
8.
California, 2004
: Sure, the Bears laid an egg vs. Texas Tech in the Holiday Bowl -- quick Cal fans: how many receivers were missing due to injury? And what do you think of Mack Brown? -- but Aaron Rodgers and company put on quite a show. The only regular-season defeat came in a thriller at USC -- see below -- 23-17, when the Trojans held strong after the Bears had a first-and-goal from the 9-yard line with less than two minutes left.
7.
Oregon State, 2000
: If not for a crazy finish at Washington in a 33-30 defeat, the Beavers might have played Oklahoma for the national championship. They went on to blister Notre Dame 41-9 in the Fiesta Bowl and finished ranked fourth in the nation. Go back and look at the roster: Chad Johnson, T.J. Houshmandzadeh, DeLawrence Grant, Dennis Weathersby, LeDarius Jackson, Ken Simonton, etc. This was hardly a scrappy, little team.
6.
Washington, 2000
: This crew of Huskies was hardly dominant but they just found a way to win week after week, led by quarterback Marques Tuiasosopo. The 11-1 season included a victory over Miami, which finished ranked No. 2, a loss at No. 7 Oregon, and a Rose Bowl win over Drew Brees and Purdue.
5.
USC, 2008
: This crew paired one of the best defenses in college football history with a quarterback who's playing in the AFC championship this weekend. Yes, it's fair to ask how the horsepucky this team didn't win the national championship. Oregon State fans care to explain?
4.
Oregon, 2001:
How strange was the Ducks 49-42 loss vs Stanford, their only defeat of the season? The normally staid AP said this in the game story, it was "a game that had everything but aliens landing on the Autzen Stadium turf." The Ducks led by 14 in the fourth quarter before a blocked punt and interception from Joey Harrington allowed the Cardinal to take the lead. While Oregon fans mostly remember getting BCSed out of the national title game by Nebraska, the Stanford game prevented them from playing Miami in the Rose Bowl. The Ducks blasted Colorado in the Fiesta Bowl and finished No. 2, still the program's best final ranking.
3.
USC, 2003
: A dominant team that lost only in triple-overtime at California. Only a BCS computer glitch forced the Trojans, ranked No. 1 in every poll, to share a portion of the national title with another squad.
2.
USC, 2005
: The offense was a thing of beauty -- 580 yards, 49 points per game -- but a young defense, which featured a true freshman and four sophomore starters, cost the Trojans in the thrilling BCS title loss to the University of Vince Young.
1.
USC, 2004
: Unbeaten, undisputed. Dominant. Best team of the decade in all of college football? Perhaps, though folks could make a strong argument for Miami in 2001. An extraordinary array of talent on both sides of the ball. And defense was the difference vs. 2005. It ranked sixth in the nation in total defense and third in scoring. The Trojans battered Oklahoma 55-19 for the national title.
October, 29, 2008
10/29/08
5:13
PM ET
Posted by ESPN.com's Ted Miller
USC is the nation's elite recruiting powerhouse. The Trojans have more budding NFL talent than any other team in the nation, and no one else is really even that close.
Oregon State is not a recruiting powerhouse. It typically ranks between 7th and 10th in the Pac-10 recruiting rankings and never sniffs the nation's top-25.
And yet the Beavers are the only team in the nation that has beaten USC twice since 2002.
Moreover, at the start of the season, among Pac-10 teams only USC and California had won more games over the previous six years than Oregon State (47).
The Beavers appear poised to play in their eighth bowl game over the last 10 years at season's end and they have won their last four. They finished ranked in the final AP top 25 the previous two seasons and finished fourth in 2000.
And despite stinking at attracting four- and five-star recruits, the program has produced 16 NFL draft picks over the past six seasons, including stars like T.J. Houshmandzadeh, Chad Johnson, Nick Barnett and Steven Jackson.
And those pesky little Beavers are presently in control of their Rose Bowl destiny: Win out, and they meet the Granddaddy for the first time since 1965.
This is despite having the fewest returning starters from 2007 in the Pac-10 (10, including just three on defense).
The how-the-heck-does-this-happen actually isn't that complicated: Mike Riley just has a better eye for talent than most head coaches who are obsessed with recruiting rankings -- despite their protests to the contrary -- and he and his staff do a better job developing and finding the right fit for the talent they do recruit.
Want a list of nobody recruits?
How about quarterback Lyle Moevao, defensive ends Victor Butler and Slade Norris, receivers Sammie Stroughter, James Rodgers and Shane Morales and safety Al Afalava. All rated barely a blip among the recruiting services.
But ask Riley about his recruiting philosophy and he doesn't talk about some secret formula or esoteric measures. He's not some college coaching Bill James with a sabermetric advantage.
"The fit is important because we want guys who want to be here and are happy because this is not LA," Riley said. "It has to be a fit in a lot of ways even outside the football realm."
He wants guys who want to play for Oregon State. He doesn't want guys who use the Beavers as a fall-back, or who view the slow pace of Corvallis as a negative.
Riley also likes players who performed at a high level in high school ("Past performance is a great predictor," Riley says). It's clear he prefers speed over size. And he wants guys who really enjoy playing football.
Dennis Erickson, who's limping Arizona State squad visits Oregon State on Saturday, deserves plenty of credit for leading the 2000 Beavers to a victory in the Fiesta Bowl. But he readily admits he inherited a good core of talent when he took over for Riley in 1999.
"They were players like they have there now -- they were tough-nosed, hard-nosed guys," Erickson said.
Riley also might have the best coaching staff in the Pac-10.
Whatever Riley and company are doing, it works.
Consider Northwest rival Washington. Only once since 2004 did Oregon State finish ahead of the Huskies in the recruiting rankings -- Tyrone Willingham's first class in 2005 -- yet the Beavers have whipped the Huskies five games in a row -- four of those victories coming in Husky Stadium.
And now Washington is again looking for a coach.
While Riley's track record should raise some eyebrows in Seattle, he doesn't appear eager to bolt town for a few more bucks.
"I'm really thankful for my second chance," said Riley, who's Oregon State tenure was split up by an ill-fated three seasons leading the San Diego Chargers. "I'm going to hold on for dear life."
Which means that Oregon State will continue to lose in the recruiting rankings but nonetheless win games.
July, 25, 2008
7/25/08
6:16
PM ET
Posted by ESPN.com's Ted Miller
While I wouldn't yet rate it a conspiracy, I've gotten about five notes like the following since I ranked Oregon State sixth on my Pac-10 Media Poll ballot:
"I'm sorry, Ted. It's not that I wish to subject you to ridicule for your opinions, I just look at it more as a learning opportunity for someone who lives in Scottsdale to get a closer look at the Beavers. I'm talking about what we'll agree to call your 'reasons' for ranking OSU 6th in the conference."
What followed, of course, was a lengthy explanation of the Beavers awesomeness that I was missing (and this wasn't another note from Kenny in Corvallis, who used 500 words to explain the same to me in a mailbag item this week).
Now, my opinion wasn't completely cracked. This week's media poll also ranked the Beavers sixth. Many reporters, just as I did, saw eight new starters on defense (no matter the experience level of backups), questions on the offensive line and unresolved issues at QB.
The larger issue here, though, is a phenomenon called "Fan Expectation and Emotional Transformation." Or FEET.
Beavers fans no longer want to be seen as the "Scrappy Little Program That Can." They want to be perceived as the "Perennial Contender That Does."
And if you flip open the Oregon State media guide, Sports Information Director Steve Fenk has made a nice list of evidence that supports the case for a reclassification.
Consider:
Which Pac-10 team is third only to USC and California in wins over the previous six season? Yep, Oregon State, with 47. [Editor's note: This originally stated the Beavers had the second-most wins behind USC. As a comment below states, California has 50 wins over the previous six seasons.]
The Beavers have played in seven bowl games in the last nine years and have won their last four.
The Beavers have been ranked in the final AP top 25 the past two seasons. In 2000, they ended up fourth.
Three former Beavers played in the 2008 NFL Pro Bowl: T.J. Houshmandzadeh, Chad Johnson and Derek Anderson. (Steven Jackson, remember, was hurt).
The program has produced 16 NFL draft picks over the last six seasons.
That's some hard evidence that a program is ready to take off the perception training wheels, maybe get a preseason ranking every once in a while, and see the term "reload" instead of "rebuild" consistently applied to it.
OSU coach Mike Riley, tanned and chipper after his annual Texas vacation, nodded eagerly when asked about the changes within his program's fanbase.
"Oh, yeah, they want more and that's fine with me, too," he said. "I think it's neat. There was none of that 10, 11 years ago."
That's because 11 years ago -- Riley's first year as head coach in 1997 (his first tenure) -- the Beavers finished at the bottom Pac-10 for the eighth consecutive year.
This was the losingest of losing programs for a loooong time.
But Beavers fans feel it's time to officially bury that bumbling past. Heck, in 1997, the iPod didn't even exist.
Riley is fine with the FEET and the application for a perception promotion, but he also doesn't want the program to take on a new identity.
"I want us to be that consistent [top-25] team, but I never want to lose the mentality of fighting and improving, because frankly our program is like that in general," he said. "Not many of our players are four- or five-star recruits. But we have some five-star players. Our program, to me, is one about development and growth and getting better."
That's the extraordinary thing about the recent success. Oregon State has not broken through as a recruiting power. Almost annually, the Beavers recruiting class ranks in the bottom third of the conference.
Yet, a few years later, the NFL comes calling.
Riley and his staff have an uncanny eye for hidden talent. And then they coach 'em up.
Of course, ambition and hubris can be a dangerous thing. It can lead to what my friend Stewart Mandel of SI.com once called "Auburn-Clemson Syndrome." Or ACS.
That's when a fan base develops delusions of grandeur. As Mandel wrote in 2003, it's when "a school's fans have an unrealistically high perception of their place in the football universe and therefore hold their coach to unreasonable standards."
Such as when Riley was hearing some grumbles when his Beavers went 5-6 in 2005.
Still, Beavers fans, your FEET is duly noted. Another 8- or 9- or 10-win season (maybe a win at Penn State?), and your application for perception promotion is sure to be accepted by the larger college football universe.
Not that I'm changing my 2008 prediction just yet.