February, 6, 2012
2/06/12
9:00
AM ET
We like doing Power Rankings at ESPN.com. These are the post-signing day Power Rankings.
If you want to see where your team stood on Jan. 10,
go here
.
The schedule does not factor into these. This is a projected pecking order based on where a team stands right now.

And if you don't like where your team is in the post-signing day Power Rankings, then I'd suggest whining about it until your team plays better.
1.
USC
: The Trojans ranked 13th in the final recruiting rankings with just 12 signees. They will be ranked in the preseason top 5, perhaps even No. 1. If things go according to plan, USC will blow a big raspberry at Paul Dee next January.
2.
Oregon
: The Ducks surprisingly lost QB Darron Thomas to the NFL, but the far more important news is not losing coach Chip Kelly to the Tampa Bay Buccaneers. A strong recruiting class and another likely top-5 preseason rankings sets the Ducks up nicely to enter the national title chase.
3.
Stanford
: Stanford signed the best recruiting class in the Pac-12. It was ranked 12th by ESPN Recruiting and much higher by just about every other recruiting service. While the Cardinal have big holes to fill -- most notably behind center -- a glance through the roster suggests those rooting for the program to topple after a grand rise are going to be disappointed.
4.
Washington
: Much of the recruiting season had been disappointing for the Huskies, particularly losing almost all of the top in-state prospects, including a pair of A-list linemen who would have addressed major needs. But Steve Sarkisian made a series of aggressive moves rebuilding his coaching staff, most notably with the hiring of defensive coordinator Justin Wilcox and ace recruiter Tosh Lupoi. That supplies much of the positive momentum here.
5.
Utah
: The Utes signed a strong recruiting class and welcome back a wealth of starters from a team that won eight games without much production at QB. The promotion of 24-year-old Brian Johnson to offensive coordinator was a surprising move, particularly with fans rooting for a "celebrity" hire. It could prove to be a stroke of genius, but the onus is now on Johnson to make it become so.
6.
UCLA
: The Bruins are the big climbers from our Jan. 10 power rankings -- moving up from No. 10 -- but that's what happens when new coach Jim Mora punches back at skepticism with an outstanding recruiting class. A team that looked like a "neh" is moving closer to a "maybe."
7.
California:
Despite all the hand-wringing over the loss of Lupoi and receivers coach Eric Kiesau to Washington, the Bears still signed a top-25 recruiting class that addresses needs. Still, perception matters, and at present, Bears fans seem more worried than optimistic. Nothing, of course, a few wins in a shiny remodeled stadium can't change.
8.
Arizona
: Rich Rodriguez's recruiting class finished at or near the bottom of the Pac-12, according to most rankings. That said, Rodriguez got his man at defensive coordinator, Jeff Casteel, which is significant because most trace the problems at Michigan to his failure to do so for the Wolverines.
9.
Washington State
: The Cougars didn't soar in the recruiting rankings just because of the hiring of coach Mike Leach. Still, that doesn't appear to be dampening the enthusiasm in Pullman.
10.
Arizona State
: New coach Todd Graham did a solid job salvaging the Sun Devils' recruiting class. But the loss of QB Brock Osweiler to the NFL and the NCAA's rejection of receiver T.J. Simpson's bid for a sixth year of eligibility leave the program with plenty of questions on offense. And just as many on defense.
11.
Oregon State
: The Beavers were victimized by a handful of late recruiting flips that put dents in what was shaping up to be a strong class. And the loss of secondary coach Keith Heyward to Washington also was a blow. On the plus side, the Beavers will see 17 returning starters during spring practices.
12.
Colorado
: The Buffaloes remain at the bottom because the bottom line is this: They welcome back 13 starters from a team that went 3-10 and ranked last in both scoring offense and scoring defense. Still, coach Jon Embree put together a solid recruiting class, one that could become the foundation of his substantial rebuilding project.
August, 15, 2011
8/15/11
10:07
AM ET
Injuries are part of the game, coaches will tell you. That doesn't make them any less of a drag.
And no team is dragging more with injuries than Arizona State, which lost senior linebacker Brandon Magee for the season Saturday due to a
ruptured Achilles tendon
.
Magee is not only a returning starter, there's also this from the Arizona Republic:
Defensive coordinator Craig Bray recently told The Republic that Magee was the team's best defensive player last season.

Over the past week, Magee had seemed to take a greater leadership role on the field, barking at the first-team defense to get to the ball and to work through fatigue.
Magee also is one of the "
Centennial Threesome
" with fellow LBs Vontaze Burfict and Shelly Lyons. He and Lyons keep pretty busy helping the volatile Burfict maintain an even keel.
Perhaps no team in the county expected to contend for a national ranking has suffered as much roster attrition as the Sun Devils since the end of 2010. QB
Steven Threet
(retired due to recurrent concussions), QB
Samson Szakacsy
(left team), DT Lawrence Guy (entered NFL draft), CB Omar Bolden (knee), WR
T.J. Simpson
(knee), DE James Brooks (left team) and RB
Deantre Lewis
(gunshot wound). And since the beginning of camp, linebacker Oliver Aaron suffered a high-ankle sprain, backup defensive tackle Joita Te'i suffered a foot injury that will sideline him for seven weeks and cornerback Devan Spann dislocated his left shoulder two times in the first week of practice.
And now Magee.
Despite all this, the Sun Devils
still
have the makings of a good team. Just not as good of a team as they had when they walked off the field Dec. 2 after beating rival Arizona.
August, 12, 2011
8/12/11
9:00
AM ET
In 2008,
the then-Pac-10 blog noted
that "If you Google 'Arizona State' and 'sleeping giant,' 3,400 articles come up."

If you did it this week, you get 85,900 results (in 0.23 seconds! Technology rocks! Though it doesn't seem as if all the matches are relevant, Google).
In 2008, we wrote, "If a Pac-10 team has a chance to break USC's choke-hold on the conference title -- or at least to regularly challenge the Trojans for the top spot -- it's the Sun Devils."
Drrrrrr.
We were wrong. Somehow I want to blame Chip Kelly.
We are considering programs that are "teases" in the Pac-12, which my new boss,
Ruthless Reynolds
, described as "teams that always look great in the preseason only to underwhelm when play starts."
Sun Devils, why can't we quit you?
Well, lots of reasons.
You have the only coach in the conference who's won a national title in Dennis Erickson. As a resident of north Scottsdale living in the shadow of Black Mountain, I can confirm that the weather -- though a bit toasty in the summer -- is just about perfect eight months of the year. Tempe is just a short flight from the recruiting hotbed of Southern California. The, er, scene at Arizona State strikes this codger as something that might appeal to an average 18- or 19-year-old male. Academic standards don't typically limit recruiting options.
And the program has been there before, becoming a national power in the 1970s under Frank Kush and then again in the 1996 season, when it lost a national title in a thrilling Rose Bowl defeat to Ohio State.
Still, it's one of the great questions in college football: Why doesn't Arizona State win more consistently?
Of late, the Sun Devils have typically underperform compared to expectations. In four of the past six years, they've finished below where they were picked in the Pac-10 preseason media poll, most notably in 2008 -- that year! -- when they were picked second in the conference but finished sixth with a 5-7 record.
To be fair, though, they've eclipsed their preseason prediction in two of the four years -- 2007 and 2010 -- under Erickson.
And so we have 2011.
The Pac-12 blog started touting Arizona State as a 2011 contender before last season was done. Why? It wasn't just that the Sun Devils went nose-to-nose with some of the best teams in the country -- Oregon, Wisconsin, Stanford -- it was coaches from other teams specifically noting how talented the Sun Devils were.
Then you looked at the 2010 depth chart: Everyone was coming back. Seriously: The only senior starters last year were receiver Kerry Taylor and defensive tackle Saia Falahola.
Wow. To be honest, my thought process immediately saw 6-6 in 2010 and thought Rose Bowl shot in 2011.
But after a nice finish to the 2010 season, little has gone right for the Sun Devils. Defensive tackle Lawrence Guy made a poor decision and entered the NFL draft. Quarterback Steven Threet was forced to retire due to concussions. Fellow quarterback Samson Szakacsy left the team. Unanimous All-Pac-10 cornerback Omar Bolden blew out his knee at the beginning of spring practices, followed shortly thereafter by top returning receiver T.J. Simpson. Starting defensive end James Brooks quit, and the status of talented running back Deantre Lewis (gunshot wound) remains up in the air as he might redshirt this season.
That's five starters, a co-starter (Lewis) and an experienced backup quarterback. So, Sun Devils fans, you have a ready-made excuse if the season falls short of expectations and you end up only wondering what might have been.
That said, Arizona State, despite these major personnel losses, is still good enough to win the South Division. It also helps, by the way, that USC's ineligibility means it's only a five-team race among squads that each have significant holes.
But every time you start to think they'll be OK, something else happens, such as All-American linebacker Vontaze Burfict
fighting a receiver
he outweighs by 50 pounds in the locker room last week, or linebacker Oliver Aaron suffering a high ankle sprain, or backup defensive tackle Joita Te'i suffering a foot injury that will sideline him for seven weeks, or cornerback Devan Spann dislocated his left shoulder two times in the first week of practice.
Still, 28 seniors back in the locker room, five starters back on the offensive line, Burfict leading impressive talent in the front seven, an underrated running back in Cameron Marshall and a quarterback in Brock Osweiler who looks ready to lead.
Sun Devils, why can't we quit you?
May, 16, 2011
5/16/11
3:00
PM ET
Every team has hope heading into the offseason. And every team has concerns.
Ergo, we're going to run through the conference and look at the chief matters -- on the up and downside -- for each Pac-12 team.
Next up:

Arizona State
Biggest reason for hope
: Lots of folks back from a team that went toe-to-toe with three top-10 teams.
Even after losing two starters to knee injuries during spring practices -- cornerback Omar Bolden and receiver
T.J. Simpson
-- the Sun Devils still welcome back 17 position-player starters. "So what," some of you Sun Devils skeptics have said. "ASU went just 6-6 last year and two wins came over FCS teams." True. But three losses came in highly competitive games to top-10 teams. The Sun Devils went down 20-19 at Wisconsin, the Big Ten champions, in a game when just about everything went against them, from a missed extra point, to a near-miss special teams TD to a couple of terrible calls. They lost by 11 points to Oregon, which played for the national title, despite seven turnovers. They lost 17-13 to Stanford, and that included a fumble on the Cardinal goal line. Further, that game was on Nov. 13. The five games surrounding it, Stanford won by an average of 33 points. As Chip Kelly told me, Arizona State was a "really good team" in 2010. It should be better in 2011, and that "better" might be good enough to win the South Division.
Biggest reason for concern
: Is quarterback
Brock Osweiler
good enough to win the South Division?
Ah, but the QB -- Osweiler -- isn't one of those 17 returning starters, and all we know about him was two solid showings when he was forced to replace
Steven Threet
(we're not counting the poor performance in 2009 at Oregon). He was brilliant off the bench in a 55-34 win over UCLA -- 380 yards passing, five TDs (one rushing) -- and was good enough to beat rival Arizona. But Arizona fans -- and coaches and players -- are quick to note that the Wildcats dropped a handful of easy interceptions in that game, and you won't get much argument out of the Sun Devils camp. Osweiler came on strong as spring practices progressed and had an impressive spring game, but we really don't know if he's going to be an average-to-above average QB or if he will struggle as a first-year starter. It would be reasonable to project that if he rates in the top half of the Pac-12 in passing efficiency, the Sun Devils will have a special season.
May, 9, 2011
5/09/11
2:00
PM ET
What's the post-spring pecking order? See below.
(For comparison, you can consider the January
power rankings
).
1.
Oregon
: The Ducks, the two-time defending champions, are No. 1 until somebody knocks them off. The defense outplayed the offense much of spring, which might mean the rebuilding offensive line is questionable. Or that the rebuilding defense is solid.
2.
Stanford
: It starts with quarterback
Andrew Luck
, which means the Cardinal have the best starting point in all of college football. But it's not all him. Stanford is stacked at running back, tight end and linebacker and looks solid on the offensive line and in the secondary. Big question is the defensive line.
3.
Arizona State
: It hurt losing two starters, All-Pac-10 cornerback Omar Bolden and receiver
T.J. Simpson
, to knee injuries this spring, but the Sun Devils still look like the top team for the South Division.
4.
USC
: Spring wasn't terribly revealing because so many players were hurt. But quarterback
Matt Barkley
and receiver
Robert Woods
looked very good, while the defense looked improved. If the Trojans get their post-season eligibility back from the NCAA, watch out. This could be a dangerous team.
5.
Arizona
: Safety Adam Hall and linebacker Jake Fischer suffered knee injuries, which isn't good for the defense. The offensive line, which is replacing five starters, struggled at times. But quarterback
Nick Foles
and the conference's deepest crew of receivers make the Wildcats a threat to anyone.
6.
Washington
:
Keith Price
asserted himself in the quarterback competition with
Nick Montana
, and the defense looks improved. The Huskies may actually take a step forward post-Jake Locker instead of a step back.
7.
Utah
: Hard to evaluate the offense with new coordinator Norm Chow because quarterback
Jordan Wynn
was out with a shoulder injury. But questions at running back and in the secondary don't seem as worrisome after spring practices compared to before.
8.
UCLA
: UCLA didn't answer its questions at quarterback, and the offensive line has injury questions, but the Bruins defense looks like it might take a significant step forward in 2011.
9.
Oregon State
: The Beavers have a lot of questions, which injury issues didn't help. Chief among them are both offensive and defensive lines and running back. Hearing at some point this offseason that WR
James Rodgers
is running again -- and fast -- will ease many concerns.
10.
California
: The Bears still have questions at quarterback, running back and the offensive line. Practices were closed, so all the touted young talent on defense is mostly based on conjecture. The Bears may take a step forward in 2011, but it's hard to say at this point exactly why.
11.
Colorado
: The Buffaloes were mostly competitive last season in the Big 12, and it helps that they have an experienced quarterback in
Tyler Hansen
and a returning 1,300-yard rusher in
Rodney Stewart
. Still, it seems that new coach Jon Embree has inherited a team that needs to be rebuilt, particularly in terms of speed at receiver and in the secondary.
12.
Washington State
: Everything suggests the Cougars will be much improved in 2011, starting with what should be a potent passing game with quarterback
Jeff Tuel
. But two conference victories in three previous seasons forces us to act all Missouri on this one: The Cougs have got to show us.
April, 26, 2011
4/26/11
10:08
AM ET
TEMPE, Ariz. -- One hundred and twenty FBS football teams will head into the summer claiming they're going to be good next year. Most will be wrong, despite their insistence on unparalleled locker room chemistry.
Arizona State is no exception to the universal spring optimism, but there's some momentum behind the good feeling after a strong finish in 2010. Expectations are high in Tempe. How high? Buckle up.
[+] Enlarge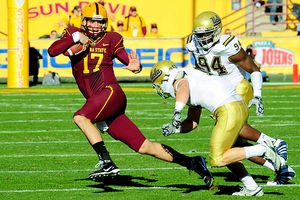 Matt Kartozian/US PresswireArizona State quarterback Brock Osweiler has his sights set on the BCS title game.
"A lot of people are talking about the Rose Bowl," quarterback
Brock Osweiler
said. "But we're talking about the Sugar Bowl. That's how much confidence we have as a team."
Osweiler isn't talking about the Allstate Sugar Bowl, though. He's talking about the BCS title game. Really.
Arizona State hasn't posted a winning season since 2007, when it went 10-3 in Dennis Erickson's debut and inspired false hope that things would be easy under a pedigreed coach. Not so. Over the past few seasons, the Sun Devils have found ways to lose, and they were typically creative in doing so. Missed field goals and extra points, turnovers on the goal line, turnovers in extraordinary bunches, missed tackles, missed throws, missed opportunities. It was sometimes great theater, though redundant tragedy from the Sun Devils' perspective.
In 2009, they lost four games by five or fewer points. In 2010, they lost four games by four or fewer points, including squandered opportunities versus Wisconsin and Stanford. They somehow managed to stay within 11 points of Oregon -- one of three teams to do so -- despite seven (seven!) turnovers.
But from that manure pile sprouts the flower of hope. The Sun Devils welcome back 17 starters that includes depth on the offensive line and loads of speed and skill on both sides of the ball. They look like a slight favorite in the first year of the Pac-12 South Division, even though two returning starters, cornerback Omar Bolden and receiver
T.J. Simpson
, went down with knee injuries this spring.
"Everybody has to be optimistic before the season starts, but this year it's like everybody just knows," receiver
Gerell Robinson
said. "It's not like a hope or a feeling. Everybody just knows that if we do what we're supposed to do, we'll get to where we want to be."
That high expectations are the top story is good news for Erickson, who would be the subject of hot seat talk otherwise. His fast start hid some roster shortcomings -- most notably a dearth of offensive linemen -- and fans had started to turn away as the mediocrity piled up. In 2007, the average attendance in Sun Devil Stadium was 62,875. Last fall, it was 47,943.
The players are aware there's pressure to win in 2011.
"It's like some negative energy that we're turning into a positive on the field because nobody wants to see a coaching staff change," cornerback Deveron Carr said.
Beyond returning a majority of starters from 2010, the Sun Devils are a veteran team: They will feature a 30-man "senior" class (players in their final year of eligibility). The offensive line welcomes back all five starters and many of the backups even have starting experience. The top-six rushers from last fall are back, as are four of the top-six receivers. On defense, the top-three tacklers are back as are the three leaders in sacks and tackles for a loss.
And these aren't just hacks. The Sun Devils averaged 32.2 points per game in 2010, which ranked third in the Pac-10, and ranked fifth in total and scoring defense.
"We have some experience coming back and we have a lot of confidence in what we are doing," Erickson said. "Our players have been through a lot the last three years, lost some close games. Now it's their chance to step up and make some plays."
The biggest question: Is Osweiler up to the job? After starter
Steven Threet
went down with his third concussion against UCLA, Osweiler was brilliant coming off the bench and then overcame a bad first half to beat archrival Arizona. It was expected to be a tight quarterback competition this spring, but Osweiler won the job by default when the recurrent concussions forced Threet to retire.
The offense struggled early in spring practices, but Osweiler inspired confidence with five touchdown passes in the spring game as the offense dominated.
"He made some great throws that make you go, 'Wow, that was amazing,'" left tackle Evan Finkenberg said.
While losing Bolden and Simpson was a big blow -- both could return by midseason -- the pieces still appear to be in place for a run at the first Pac-12 title game. And one of those pieces is confidence.
"I think this team knows it's our time now," Finkenberg said. "We have the pieces in place to have a big season and do the things we want to do."
April, 6, 2011
4/06/11
2:30
PM ET
Well, my name's Dewey Oxburger. My friends call me Ox. I don't know if you've noticed, but I got a slight weight problem.
April, 6, 2011
4/06/11
8:51
AM ET
Arizona State, the preseason favorite in the Pac-12 South Division, suffered a major blow Tuesday when it was announced two returning senior starters -- cornerback Omar Bolden and receiver
T.J. Simpson
-- had suffered ACL injuries that will
sideline them for five to eight months
.
Bolden, a unanimous pick for first-team All-Pac-10 in 2010, is a particularly big loss. He opted to return for his senior season instead of entering the NFL draft and was an All-America candidate. The Sun Devils are deeper at receiver than at corner. Further, Bolden, whose career has taken a number of twists and turns, including a season-ending knee injury in 2009, was one of the team's best leaders.
Both will undergo surgery next week.
Deveron Carr, who's sitting out spring after shoulder surgery, and Osahon Irabo will likely be the Sun Devils' starting cornerbacks. Coach Dennis Erickson also said that Alden Darby, presently playing free safety, could switch to corner. Redshirt freshman Devan Spann was Bolden's backup on the spring depth chart.
Redshirt freshman
Kevin Anderson
was Simpson's backup at the "X" receiver spot.
Arizona Republic columnist Paola Boivin writes that the Sun Devils
will need a leader to step up
, and she suggests that linebacker Vontaze Burfict is a good candidate.
April, 5, 2011
4/05/11
9:48
AM ET
Injuries are a drag, but they are one of the key elements of spring football. Avoiding them is not unlike adding a couple of five-star recruits.
April, 4, 2011
4/04/11
10:20
AM ET
I was out of pocket Thursday and Friday on family business, so I missed a couple of things.
Unfortunately, most of the news was injury related.
March, 1, 2011
3/01/11
3:09
PM ET
Arizona State has signed two receivers who will be added to a 2011 signing class that now includes 18 players:
Karl Holmes
of Muir High School in Pasadena, Calif., and
Rashad Ross
of Butte College (Calif.).
You can read their
bios here
. And the Sun Devils' 2011
class is here
.
While neither obviously is an elite recruit, it seems clear that coach Dennis Erickson felt the Sun Devils need to bolster their depth at the position.
While ASU only loses
Kerry Taylor
, who led the team with 54 receptions, from its 2010 receiving corps, the Nos. 2, 3, 4 and 5 receivers --
Mike Willie
,
T.J. Simpson
,
Gerell Robinson
and
Aaron Pflugrad
-- as well as
George Bell
are seniors in 2011.
November, 12, 2010
11/12/10
9:32
AM ET
Some quick notes to get you through the hours until Saturday.
The Pac-10 was again ranked the No. 1 conference this week by the Sagarin Ratings. The Big 12 was No. 2, the SEC No. 3 and the Big Ten No. 4.
California is 4-0 at home season with an average winning margin of 38.8 points per game.
The Bears still have won four of five against Oregon, who haven't won in Berkeley since 2001
Oregon is 9-0 for the first time in 115 seasons.
Oregon has outscored its opponents 215-48 in the second half.
Ducks RB LaMichael James leads the nation in rushing (166.38 yards per game) and has 17 rushing touchdowns, which is No. 1 in the nation.
Oregon WR Jeff Maehl has 15 TD catches in his last 14 games.
USC leads its series with Arizona 26-7, but the Wildcats won last year in the Coliseum 21-17.
Arizona WR Juron Criner has caught 25 passes for 333 yards in the last three games.
USC quarterback Matt Barkley hasn't been in sync with downfield throws the past two games. In the first seven games on passes of 15 yards or more, he completed 44.3 percent with four TDs and two interceptions. In the last two, he's completed just 38.9 percent with two interceptions and no TDs.
Barkley is most accurate outside the pocket. On passes of 10 or more yards, he's completed 71.4 percent outside the pocket and 42.7 percent inside the pocket.
The Trojans defense has given up 148 plays of 10 yards or more, and USC opponents are averaging a 10-yard gain on almost a quarter of all plays. That ranks in the bottom five in the nation, and the other four teams -- Minnesota, Memphis, Colorado and Washington State -- have combined for six wins.
Stanford is 8-1 on the season, matching its best start since 1970.
Stanford quarterback Andrew Luck is the Cardinal's second-leading rusher with 370 yards on 43 attempts (8.6 ypa) and three TD. He has rushed for 724 yards in 21 career games, the highest total ever by a Stanford quarterback.
Luck thrown 22 TD passes this season, which already is tied for fourth on Stanford's single-season list. John Elway (1980) and Steve Stenstrom (1993) hold the single-season record with 27.
Arizona State wide receiver T.J. Simpson has caught 18 passes for 272 yards (15.1 yards per reception) in the last three games. In the first six games, he caught just six passes for 104 yards.
Oregon State remains the only team in the nation that has not lost a fumble. The Beavers have just four turnovers this year, which is the fewest in the nation.
Beavers RB Jacquizz Rodgers needs 194 yards rushing to move into the top-10 of the Pac-10's career rushing list. The junior has rushed for 3,496 yards over the past three seasons.
After recording just two sacks in the first three games, the Beavers have made 19 in the last five. Leading the charge is DT Stephen Paea, who leads the team with four sacks.
Washington State QB Jeff Tuel was the only conference quarterback to pass for over 200 yards in his first nine games, but his streak was snapped last weekend against California, when he passed for just 92 yards in a 20-13 defeat.
The Cougars led Cal 10-7 at halftime last weekend. It was the first time they'd led at the break since Sept. 20, 2008, when they were up 17-3 on Portland State.
Cougars punter Reid Forrest had a career-long 84-yard punt vs. Cal. It was the longest punt in the conference this year and tied for the fourth best in conference history.