August, 8, 2012
8/08/12
8:15
PM ET
By
ESPN.com staff
| ESPN.com
Receiver
Tacoi Sumler
was a big-time recruit for Oregon, but after failing to make an early impact the redshirt freshman has decided to transfer, the school announced Wednesday.
The 5-foot-9, 177-pound Miami, Fla., native caught three passes for 15 yards in the Ducks' spring game. While he owns elite speed, and the Ducks weren't exactly proven or deep at receiver in 2011 and aren't again in 2012, Sumler struggled to move up the depth chart.
From Rob Moseley
:
Despite the Ducks' unproven depth at receiver, Sumler probably would have been considered doubtful to make the travel squad this season. The Ducks return Josh Huff, Rahsaan Vaughn, Daryle Hawkins, Will Murphy, Chad Delaney, Eric Dungy, Keanon Lowe and Ben Butterfield from last season, add redshirts B.J. Kelley and potentially Devon Blackmon to the mix, and signed three prep wideouts, including Bralon Addison, who drew raves for his performance in summer workouts.
March, 26, 2012
3/26/12
9:00
AM ET
By
ESPN.com staff
| ESPN.com
Starters in, starters out. That's college football. Players' eligibility expires and they leave for the rest of their lives, whether that includes the NFL or not.
And they leave behind shoes of various sizes that need to be filled.
Our concern with this series? The biggest shoes -- in some cases Shaq-like size 23s.

Big shoes
: WR
Lavasier Tuinei
While
De'Anthony Thomas
was the Ducks' most dynamic receiver in 2011, Tuinei was the team leader in receptions with 48 and touchdowns with 10. And we all saw what he did in the Rose Bowl: eight receptions for 158 yards with two touchdowns. Oregon has plenty of holes to fill: quarterback, tailback, rover, defensive end and two spots on the offensive line. But in most cases you can say who will step in, or at least you can talk about how good the folks are competing at that position. You can't say that about who will replace Tuinei.
Stepping in
:
Josh Huff
,
Rahsaan Vaughn
,
Devon Blackmon
,
B.J. Kelley
or
Tacoi Sumler
If ability meets performance, the Ducks will be fine at receiver. But there are no guarantees that will happen based on the actual past performances of these five thus far in their careers. Huff? Forget for a moment his
off-field issues
. He's yet to prove he's a natural receiver, a guy ready to catch six or so passes per game. Vaughn is the same thing. He's a talented JC transfer but he, nonetheless, only caught 14 passes last season. And then there are the three redshirt freshman,
whom we've previously noted
. They each were touted recruits and have plenty of talent. But none were impressive enough to Chip Kelly or Mark Helfrich to drop their redshirt in 2011. The bottom line: There is no sure-thing here.
March, 22, 2012
3/22/12
1:00
PM ET
By
ESPN.com staff
| ESPN.com
There are plenty of stars back in the Pac-12 this spring. And there are plenty of interesting competition and young guys about to break through.
But here's a team-by-team list of the Pac-12's most intriguing players this spring. These are guys who could be ready to emerge, redeem themselves or are simply critical for their team's success.
Arizona
: LB
Brian Wagner
The senior transfer was a tackling machine at Akron and he's likely to start for a rebuilding Wildcats defense. But can he keep up with Pac-12 offensive skill?
Arizona State
: QB
Michael Eubank
The redshirt freshman was recruited by new Sun Devils coach Todd Graham when Graham was at Pittsburgh, so Graham obviously believes Eubank has what it takes to run his no-huddle, spread offense. Impressive athlete.
California
: WR
Maurice Harris
The redshirt freshman is the top candidate to become the No. 2 receiver behind All-American candidate
Keenan Allen
.
Colorado
: OT
Stephane Nembot
Recruited as a defensive end, the redshirt freshman has an NFL frame -- 6-foot-8, 310 pounds -- and tons of athletic ability. He's green, but that might not stop him from earning a starting spot.
Oregon
: WRs
Devon Blackmon
,
B.J. Kelley
and
Tacoi Sumler
All three are redshirt freshmen. All three were touted recruits. At least one needs to step up at a position that is questionable for the Ducks.
Oregon State
: OT
Michael Philipp
Philipp was a touted recruit -- everybody in the Pac-12 wanted him -- and he won the starting left tackle spot as a true freshman in 2009, earning Freshman All-American honors. But, in large part due to injuries, his career has regressed. Will he take a step forward this spring? It would be huge for the Beavers if he did.
Stanford
: CB
Wayne Lyons
While coach David Shaw said Lyons was only about "85 percent" during the Cardinal's first of two spring sessions due to his on-going recovery from the broken foot that ruined his freshman season, Shaw also said he believes Lyons is a future All-American.
UCLA
: QB
Brett Hundley
While
Kevin Prince
and
Richard Brehaut
both are back with significant starting experience, it wouldn't be surprising if Hundley, a redshirt freshman, won the starting job. Or at least earned playing time next fall.
USC
: LB/RB
Tre Madden
Madden is a beastly good athlete who is going to play on one side of the ball or the other. Maybe both. He backed up
Dion Bailey
at strongside LB last year, but the 6-foot, 220-pounder may end up bolstering the backfield depth.
Utah
: DE
Thretton Palamo
Palamo flashed potential in the running back competition last preseason, but that same athletic ability might make the 6-foot-2, 250 pounder a dangerous pass-rusher. No question about ability to tackle, seeing that he's a former rugby star.
Washingto
n: DT
Danny Shelton
The 6-1, 334-pound sophomore looks like a nice fit at nose tackle if the Huskies move to a base 3-4 with new D-coordinator Justin Wilcox. But whatever the defense is, Shelton showed signs during his true freshman season that he can be an All-Pac-12 defensive lineman.
Washington State
: DE/OLB
Travis Long
Long is a three-year starter at defensive end, and during that span has mostly been the Cougars' best defensive player. It's interesting, however, because new coach Mike Leach said he's intrigued with Long playing outside linebacker in a new 3-4 scheme. Can the 6-foot-4, 256-pounder make that transition work?
December, 29, 2011
12/29/11
11:00
AM ET
Let's play a quick game of fill in the blank: Oregon fans are ... What comes to mind? Keep it clean, folks. Behave!
Yes, it is fair to say that Oregon fans have eagerly, zealously and vociferously embraced the recent success of their team. The seed that was planted when Kenny Wheaton went the other way against Washington in 1994 is now a full-grown oak, and Oregon fans enjoy pointing out that their oak is more stately and beautiful than yours.
[+] Enlarge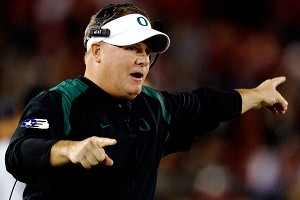 Jason O. Watson/US PRESSWIRENCAA sanctions appear to be the only thing that could derail Chip Kelly's Oregon juggernaut in the near future.
Eleven other Pac-12 teams want Oregon to go away. We have bad news for those 11. Not happening.
With the Rose Bowl on Jan. 2 against Wisconsin, the Ducks are playing in their third consecutive BCS bowl game. No other team in the country has played in three consecutive BCS bowl games. But this rise to the nation's elite started before this run of conference success. Oregon's first taste of national title contention was in 2000 and 2001. After a middling, post-Joey Harrington, pre-Chip Kelly interim, it was ranked No. 2 and a national title contender in 2007 before quarterback Dennis Dixon blew out his knee. Oregon finished the 2008 season ranked 10th. It finished 11th in 2009 after losing the Rose Bowl to Ohio State. It finished third in 2010 after losing to Auburn in the national title game.
While opposing fans can still pull out the "They haven't won a BCS bowl game under Kelly" card, that tweak comes from beneath the Ducks in the Pac-12 pecking order, so as ripostes go, it's rather pyrrhic.
And the Ducks, even if they lose to Wisconsin, will be a preseason top-10 team in 2012, probably top-five if they win the Granddaddy. There certainly is a lot to like about the depth chart.
Not including junior running back
LaMichael James
, who is likely off to the NFL, the Ducks should welcome back six starters on offense, six on defense and both specialists in 2012. But that doesn't tell the entire story.
For one, the Ducks will have a two-year starter returning at quarterback in
Darron Thomas
. While Thomas has had runs of inconsistent accuracy, there are two bottom lines: He's 22-3 as a starter and has thrown 63 touchdown passes with just 16 interceptions.
But what's notable about the Ducks' depth chart is not just returning starters.
Oregon only lists a two-deep. That means 44 players on offense and defense. Of the 22 names on offense, just four are departing seniors, not including James. Of the 22 names on defense, just six are seniors.
And most of the players who are leaving -- or are expected to leave, as in James' case -- are presently backed up by intriguing young talents who already have significant game experience. James leaving? Well, you all know who
Kenjon Barner
is. Tight end
David Paulson
? Freshman
Colt Lyerla
caught five touchdown passes this season. Lose two offensive linemen? Junior Ryan Clanton and freshman Jake Fisher have seen plenty of action. Lose two linebackers? Kiko Alonso has started five games and Boseko Lokombo has played a lot. Cornerback Anthony Gildon out the door? Redshirt freshman Troy Hill has started five games while Gildon has been hurt (and is doubtful for the Rose Bowl).
Further, the Ducks have some redshirt freshmen on both sides of the ball -- particularly at linebacker and receiver -- who figure to make an impact next year. Receivers
Devon Blackmon
,
Tacoi Sumler
and
B.J. Kelley
were highly touted 2011 signees, who could bolster the Ducks passing game.
If you were connecting the dots, you'd actually project the Ducks to be better in 2012 than their 2011, 11-2, Pac-12 champion selves.
And, even with the loss of Thomas after next season, the Ducks appear to set up nicely for 2013. And beyond.
I know. I know. Fans of those 11 other Pac-12 teams are jumping up and down and waving their arms, bellowing, "What about Willie Lyles and the NCAA?"
True, major NCAA sanctions would seem the mostly likely way the Ducks get knocked from their ascent to the nation's elite. And it could happen. You never know with the NCAA.
But the more I talk to people who make educated guesses on NCAA investigations, not to mention a few who have specific knowledge of the NCAA's inquiry into the Ducks, the more I'm leaning toward the position that the NCAA will not pound Oregon. I suspect sanctions will fall short of what Ohio State
recently received
.
Of course, I thought USC would receive less severe penalties than Alabama
received in 2002
, so I've also learned to not expect the NCAA to be logical and fair.
The point is this: If you are wondering what Oregon is likely to be doing in, say, 2014, my projection is they still will be annoying 11 other teams.
The Ducks aren't going to go away.
June, 22, 2011
6/22/11
7:19
PM ET
ESPN.com's Bruce Feldman has ranked the top-10 "
impact true freshmen
,"

and USC receiver George Farmer ranks third. Here's what Feldman wrote about Farmer:
3. George Farmer, WR, USC Trojans:

If, as many Trojans insiders insist, Farmer is even more talented than his buddy Robert Woods, Matt Barkley is going to have a startling array of firepower to work with (don't forget about former blue-chip WR Kyle Prater, who redshirted in 2010). Farmer has blazing speed, and at 6-foot-2, 205 he has a very strong, sturdy frame to go with it. With him in the lineup, defenses will be seriously tested, having to cope with Farmer's speed and Woods' explosiveness at the same time.
Woods was dominant this spring, but many expect Farmer to be Woods' equal this fall. We'll see. If so, Barkley and the Trojans might not need much of a running game with their patchwork offensive line. What about the other 11 Pac-12 teams? Who is the most likely impact freshman for each? Because of our "heck yeah!" attitude, we've decided to take a stab at this query. Understand that it's not just about highly rated, it's about who might help immediately.
Arizona:
The Wildcats signed three touted linebackers, but we're tapping
Rob Hankins
as the one who will make the most impact -- and by impact, we mean start. While Hankins is a pure inside linebacker, the Wildcats need immediate help on the outside due to Jake Fischer's knee injury.
Arizona State
: With so many returning starters, the Sun Devils won't need a true freshman to start immediately. But after the knee injury to Omar Bolden, cornerback went from a position of strength to a questionable one -- at least in terms of depth. So the best guess is
Rashad Wadood
will get an early opportunity to work his way into the rotation.
California
: The Bears reeled in an outstanding class, particularly on defense. A number of those guys are going to play. But a need area next fall for Cal is running back, where 5-foot-7, 188-pound junior
Isi Sofele
is atop the depth chart. So we're tapping running back
Brendon Bigelow
as the impact freshman, with the caveat that he is coming back from a knee injury. If not Bigelow, then perhaps it will be
Daniel Lasco
.
Colorado
: The Buffaloes lost two starting corners to the NFL and struggled against the pass in 2010. They need help in the secondary, and
Sherrard Harrington
looks like the best bet, either at cornerback or perhaps at safety.
Oregon
:
Colt Lyerla
is going to play for Oregon next fall, likely as a hybrid tight end/H-back sort. But the Ducks are solid at tight end. They
need
either
Devon Blackmon
or
Tacoi Sumler
to step up as an outside receiver. We're going with Sumler who has special speed and is more polished as receiver.
Oregon State
:
Rusty Fernando
was penciled in as a starting defensive end at the beginning of spring practices, and it appears it will remain that way. But he's a junior college transfer. So, in the interest of focusing on incoming freshmen, we're going with
Terron Ward
, a grayshirt freshman running back who flashed ability this spring. At least one of the three true freshmen running backs figures to get touches.
Stanford
: Linebacker
James Vaughters
is a beast. His film will give you goose bumps. He's going to play. But in terms of need, receiver is a far more questionable position for the Cardinal this fall. So watch out for
Ty Montgomery
.
UCLA
: A lot of UCLA fans would say quarterback
Brett Hundley
. He finished No. 3 on the depth chart after spring practices and, while he's the quarterback of the future, it likely would be better to redshirt him, if possible. But
Kevin Prince
's inability to stay healthy and
Richard Brehaut
's inability to be consistent might make that impossible. And the Bruins recruiting class doesn't include any other obvious impact guys for this fall.
Utah
: This one is easy -- running back
Harvey Langi
was No. 2 on the post-spring depth chart behind
John White
, and that competition is ongoing. Langi is going to get plenty of carries.
Washington
: Another easy one --
Austin Seferian-Jenkins
finished spring as a push with
Michael Hartvigson
as the Huskies starting tight end. Nothing suggested that he won't live up to the considerable hype he received during recruiting.
Washington State
: Outside linebacker
Logan Mayes
has great Cougar bloodlines; he's the son of former Washington State All-American running back Rueben Mayes. He has the athletic ability and football smarts to work his way into the mix immediately, mostly likely at strong side linebacker.