November, 6, 2012
11/06/12
6:15
PM ET
The
Arizona Wildcats
will look to put last week's debacle at UCLA behind them and make a push for bowl eligibility when they host Colorado this weekend.
Chances are, they'll pick up win No. 6 against a Colorado squad that has dropped five straight and has allowed an average of 52 points per game during that stretch. Still, there were all sorts of problems for the Wildcats against the Bruins.
[+] Enlarge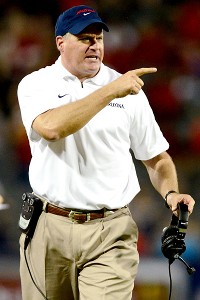 Mark J. Rebilas/US PRESSWIREArizona coach Rich Rodriguez says his Wildcats will work on correcting mistakes made in an ugly 66-10 loss at UCLA in Week 10.
"We certainly didn't play well in any of the three phases," said Arizona coach Rich Rodriguez. "I thought we had a good week's preparation but maybe we didn't Our guys seemed focused and right before the game I even mentioned to one of the coaches, the guys seemed extremely focused. We didn't play that well. You certainly have to give UCLA credit. They dominated us in every facet. It's a learning experience for our guys. The good thing is that a lot of the stuff we saw, we can correct it this week. Some of the stuff, some of the inefficiencies cannot as easily be corrected, but it can be corrected and that will be our focus this week."
The Wildcats (5-4, 2-4) still aren't sure if they'll have quarterback
Matt Scott
available. After suffering a concussion against the Bruins, Scott will continue to be evaluated throughout the week.
"I think we are dealing with hypotheticals, but our policy is that you at least have to take some reps on Wednesday and Thursday to prepare for Saturday," Rodriguez said. "Our quarterbacks do not get hit during the week anyway. We do very little hitting as a team. Most coaches don't do it during the season, and our team is so thin. Taimi (Tutogi) got injured in brief contact last week in practice and missed a game Saturday. That wasn't even a full-padded situation. We are very cautious about that. If Matt is cleared to go Saturday and everything is good, I think Matt can play well without a whole lot of reps. That is all hypothetical so I am not thinking about that right now."
If Scott can't go,
B.J. Denker
will get the call.
"It doesn't change the offense at all," said wide receiver
Austin Hill
. "We are going to go out there and play our offense. We are going to run our routes the way that Coach Rodriguez wants us to run them. B.J. is more than capable of running the offense."
The
66-10 loss to the Bruins
provided plenty of teachable moments. For example, 15 penalties for 124 yards -- well, that's bad. Losing the turnover battle 3-0 -- that's bad, too. But now the Wildcats are putting it behind them and moving on --- mostly.
"We already watched the film, and we learn from our mistakes," said linebacker
Jake Fischer
. "We saw that we didn't play very well. We've got to have a different attitude this week. This game doesn't mean more than the next, so our focus is now on Colorado. We have to take it one game at a time. We are going to focus on the game plan and start from there.
"Colorado might feel that they have a better chance after our game against UCLA but we are going to prepare for them the way that we have been preparing for the other games. We're not going to forget completely about the UCLA loss; we're going to learn from the loss but that game is in the past. We have to treat this game like any other game and prepare for their formations and schemes."
After taking time off from a bowl game last year, the Wildcats can get back into the postseason this week. And while Rodriguez hasn't gone out of his way to emphasize bowl eligibility as a goal, he knows what it would mean to his players and the program.
"It will be a nice goal," he said. "After I was first hired, we were sitting at home and 70 other teams were playing a bowl game. Our guys certainly did not like that, I wanted it to hurt. If you are a college football player at the Division I level and you aren't playing a bowl game, you should be disappointed. We have not talked about it as being a goal but it is certainly out there for us."
August, 17, 2012
8/17/12
12:00
PM ET
Did you know that Oregon running back
Kenjon Barner
was recruited as a DB? That position switch has worked out, eh?
Every season, players are moved from one position to another. Sometimes the move is the player's idea. Sometimes it's not. Sometimes he likes the switch. Sometimes he doesn't.
And position switches often don't yield much. But sometimes they do.
So which Pac-12 position switch seems like a "Eureka!" moment this preseason. Here are a couple of ideas.
Kevin Gemmell
: This is an intriguing question. Back when spring started, I probably would have said USC's
Tre Madden
switching from linebacker to running back. As it turns out, Madden got hurt, the Trojans got
Silas Redd
and all is well once again in the USC backfield.
[+] Enlarge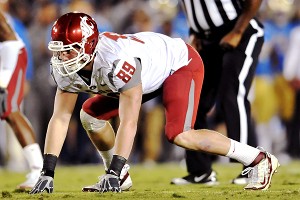 AP Photo/Cal Sport MediaTravis Long will be playing a hybrid defensive end/outside linebacker position this season.
UCLA's
Joseph Fauria
and Washington State's
Andrei Lintz
are also fascinating cases. Both now have "wide receiver" titles and more receiving responsibilities. I'm on record as saying both will flourish in their "new" roles. But they are essentially still just hybrid tight ends.
But it's Lintz's teammate, defensive end-turned linebacker
Travis Long
that strikes me as possibly the most impactful position change in the entire conference.
Washington State had a run defense that was marginal at best last year -- ranking seventh in the conference while yielding 157.2 yards per game. Long ranked in the top five in the Pac-12 in tackles for a loss, racking up an average of one per game last season.
So it stands to reason that you take WSU's best run-stopper, especially now that Alex Hoffman-Ellis is gone, and you unleash him and let him do what he does best.
At 6-4, 243 pounds, Long had good size as a 4-3 defensive end, but was probably on the smaller side of the spectrum. He relied on his speed to make plays in the backfield, and he was good at it. But now that speed is going to serve him better as WSU's "buck" linebacker in the new 3-4 scheme, which is essentially a hybrid defensive end/outside linebacker position.
The Cougars will get the best of both worlds out of Long. He'll have his hand down a few times, hand up a few times, but still be able to use that burst and explosiveness to make plays. Think of how Stanford uses
Chase Thomas
and you'll start to get an idea of what Long is capable of.
The move should create a spike in Long's tackles, tackles for a loss and sacks. But he also has pretty good ball instincts, having deflected three balls as a defensive end. Put that to use a couple of yards off the line and you have a guy who can be an impact player in both the rush and pass defense.
Talking with Washington State defensive coordinator Mike Breske, he told me they plan to be very "multiple" with Long. Meaning they'll move him all over the field. Inside, outside, hand up, hand down and short of being a nickel back, Long will have his fingerprints all over this defense.
Washington State is going to score points. That's a foregone conclusion with the quarterback and receivers they have running Mike Leach's system. At question is if the defense in the new 3-4 look can slow down teams enough. While there will be growing pains, the move is a good one for Long and great one for the Cougars.
Ted Miller
: I'm going to cheat by naming two guys. But since it's two guys making the same switch, it's not so bad. At least that's my story and I'm sticking to it.
Both Arizona senior
Taimi Tutogi
and Utah junior
Thretton Palamo
are running backs who have switched to defense, though Tutogi is still playing RB/FB, so he could go both ways.
They are similar in dimensions. Palamo, a former elite rugby player, is 6-foot-2, 250 pounds. Tutogi is 6-1, 260. So these guys are stocky and built low to the ground and, as former running backs, obviously have above average speed.
Both figure mostly to be pass-rush specialists, using their speed and power to slip around lumbering offensive tackles on the edge.
Arizona's situation is a bit more desperate in terms of pass rush. Last year, the Wildcats finished with a measly 10 sacks, which ranked last in the Pac-12 and 116th in the nation. Making matters worse, they are replacing both starting defensive ends from 2011, C.J. Parish and Mohammed Usman.
You might say good riddance, but keep in mind that no one on the roster was good enough to unseat them. Parish led the Wildcats with, gulp, three sacks.
Utah had a solid pass rush last year, recording 30 sacks, which ranked fifth in the conference. But its leading sack man, Derrick Shelby, is off to the NFL --
and playing well in the Miami Dolphins camp
. While
Joe Kruger
has moved into Shelby's spot and has a good shot to match his production,
Nate Fakahafua
is unproven on the left side. That's who Palamo is backing up.
The early results with both have been promising, though we won't really know their roll and production until the games begin.
It's unlikely either one of these guys is going to become the primary starter. But here's a guess that one -- or both -- is going to bolster a pass rush this fall.
June, 26, 2012
6/26/12
7:55
PM ET
The Pac-12 features another strong crop of running backs -- seven return after compiling more than 900 yards rushing in 2011 -- but there are also a few teams facing uncertainty at the position.
Evaluations aren't easy here. A number of teams have an A-list leading rusher back but uncertain depth. Others have plenty of experience returning but no proven A-lister. So stars and depth matter here.
A general impression: Running back is strong position in the conference. No team has a sense of desperation here.
So how does it stack up?
Great shape
Stanford:
Stepfan Taylor
was second-team All-Pac-12 last year after rushing for 1,330 yards and 10 touchdowns. But the Cardinal also welcomes back its second- and third-leading rushers,
Tyler Gaffney
and
Anthony Wilkerson
, as well as
Ricky Seale
, who was impressive this spring. And, of course, there's a guy called
BARRY SANDERS
arriving in the fall.
[+] Enlarge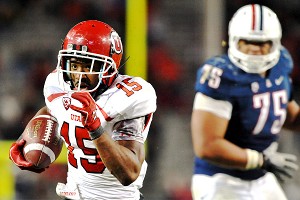 Chris Morrison/US PresswireJohn White is the Pac-12's leading returning rusher -- and could get help in the Utah backfield.
Utah
:
John White
, also second-team All-Pac-12 in 2011, is the conference's leading returning rusher with 1,519 yards last year. He was mostly a one-man show -- he led the conference in carries -- but that won't be the case this fall.
Harvey Langi
and
Kelvin York
, both over 220 pounds, showed they are ready to contribute quality reps this spring.
California
:
Isi Sofele
ranked fifth in the conference with 1,322 yards rushing in 2011, but he'll have to old off a challenge from
C.J. Anderson
-- 345 yards and eight TDs in 2011 -- to retain his starting job this fall. The depth is strong with
Brendan Bigelow
,
Daniel Lasco
and
Darren Ervin
.
Arizona State:
The Sun Devils have both a star in
Cameron Marshall
and good depth. Marshall rushed for 1,050 and 18 touchdowns last season. Depth?
Kyle Middlebrooks
,
James Morrison
,
Deantre Lewis
,
Marion Grice
and incoming freshman
D.J. Foster
will be battling for touches.
Oregon:
The Ducks are difficult to rate. If everything falls into place -- and it's reasonable to believe they will --
Kenjon Barner
, LaMichael James' longtime backup, will become a star, spectacular hybrid RB/WR
De'Anthony Thomas
will make a bunch of big plays in a change-of-pace role and touted incoming freshman
Byron Marshall
will become the third option. Nonetheless, one injury here would be a major blow.
USC:
The Trojans are just like the Ducks: Top-heavy with questionable depth. The underrated
Curtis McNeal
-- the 1,000-yard rusher averaged 6.9 yards per carry in 2011 -- is back, and so is
D.J. Morgan
, who rushed for 163 yards last year. If redshirt freshman
Javorious "Buck" Allen
and incoming freshman
Nelson Agholor
step up, things should be fine. But depth here is one of the Trojans' few question marks.
Good shape
UCLA
:
Johnathan Franklin
is back, and he's been highly productive -- if fumble-prone -- for a while.
Malcolm Jones
, who rushed for 103 yards in 2011, is back, and
Steven Manfro
was a spring standout. While the position isn't spectacular for the Bruins, it's certainly not a chief worry heading into the season.
Arizona
: Is promising sophomore
Ka'Deem Carey
ready to become a star? He rushed for 425 yards last year and looked good this spring. There's also good depth behind him:
Daniel Jenkins
,
Taimi Tutogi
,
Kylan Butler
,
Greg Nwoko
and
Jared Baker
.
Washington State
: The two leading rushers from 2011,
Rickey Galvin
and
Carl Winston
, are back, and they combined for more than 1,000 yards. But sophomore
Marcus Mason
was with the No. 1 offense during the spring game, and
Leon Brooks
also is in the mix. Catching the ball well will be almost as important as taking a handoff under new coach Mike Leach.
Washington
: Workhorse Chris Polk is gone, but
Jesse Callier
and
Bishop Sankey
both saw plenty of action in 2011. Might
Deontae Cooper
get healthy -- finally -- and work his way into the picture? Like a lot of teams, the Huskies have the potential to be fine here. But it's reasonable to expect the running game to take a step back this fall, particularly with issues on the O-line.
We'll see
Oregon State
: Everybody is back, but no Beaver rushed for more than 423 yards last year. And, of course, Oregon State was one of the nation's worst rushing teams. The pecking order also didn't seem to completely work itself out, though redshirt freshman
Storm Woods
had a strong spring.
Colorado
: The good news is
Tony Jones
had a good spring and looks capable of replacing the departed Rodney Stewart. Still, he averaged 3.8 yards per rush in 2011.
Josh Ford
rushed for 128 yards last season. Depth is a bit uncertain also, with
D.D. Goodson
and
Malcolm Creer
, who is coming back from a knee injury.
July, 12, 2011
7/12/11
12:30
PM ET
By
ESPN.com staff
| ESPN.com
Mel Kiper has made two lists of top NFL prospects by positions: top seniors and and top juniors (or draft-eligible sophomores).
As for the Pac-12 prospects on his lists, it appears the conference is stronger among juniors than seniors. Of course, a lot of early-round talents don't last until their senior seasons. And the offensive talent far eclipses the defensive talent.
Here's where Pac-12 seniors rank among
his top five seniors by position
. (Note the lack of highly rated defensive players.)
Quarterback

No. 3
Nick Foles
, Arizona
Kiper comment
: "Is Foles more of a physical prototype than a QB?"
Receiver
No. 4
Juron Criner
, Arizona
No. 5
Chris Owusu
, Stanford
Tight end

No. 3
David Paulson
, Oregon
No. 4
Coby Fleener
, Stanford
Offensive guard

No. 2 Ryan Miller, Colorado
Kiper comment
: Miller could be the second top-OL guy from Colorado in as many years, following Nate Solder.
Center
No. 4 Garth Gerhart, Arizona State
Safeties

No. 5 Lance Mitchell, Oregon State
Punter
No. 1 Bryan Anger, California
And here's Kiper's take on
Pac-12 juniors
(and draft eligible sophomores).
Quarterback

No. 1
Andrew Luck
, Stanford
No. 2
Matt Barkley
, USC
Kiper comment
: Amazing that, in terms of eligibility, Luck is still a junior. He'll command the most attention, for sure. Even with a new coach, he will be a front-runner for No. 1 in the 2012 NFL draft from August onward. Barkley has had two solid seasons at USC -- and this while thrown into a pretty tough situation.
Running back

No. 3
LaMichael James
, Oregon
Fullback

No. 5
Taimi Tutogi
, Arizona
Offensive tackle

No. 1 Matt Kalil, USC
No. 2 Jonathan Martin, Stanford
Kiper comment
: Kalil has been a guy pro scouts have known since he arrived at Southern Cal. He has the bloodlines, the frame and the footwork to be a future left tackle in the NFL. Nobody will be under a bigger spotlight at the position this year than Martin, who protects the blind side of Andrew Luck.
Offensive guard

No. 1 David DeCastro, Stanford
Kiper comment
: Stanford has a wealth of talent on the offensive line, and the departure of Jim Harbaugh shouldn't diminish what they're able to accomplish. When it comes to the running game, watch DeCastro, who will maul on the interior.
Linebacker

No. 1 Vontaze Burfict, Arizona State
Kiper comment
: There are some scary hitters on this list, starting with Burfict, who was most productive against ASU's toughest competition last season. The guy was a force, quite literally, the moment he stepped on campus. Imagine if he'd stayed with USC.
Outside
linebacker

No. 2 Chase Thomas, Stanford
Cornerback

No. 2 Cliff Harris, Oregon
Safety

No. 4 T.J. McDonald, USC
Punter

No. 1 Jeff Locke, UCLA
April, 14, 2011
4/14/11
6:42
PM ET
By
ESPN.com staff
| ESPN.com
TUCSON, Ariz. -- It was just a short, shells -- shorts and shoulder pads -- practice Thursday at Arizona, but even then there was plenty of "wow" in the downfield passing game.
No team in the Pac-12 can offer up two quarterbacks as good as
Nick Foles
and
Matt Scott
. No team in the Pac-12 can match the Wildcats depth and talent at receiver.

That's the good news. Questions, though, remain, starting with five new starters on the offensive line.
"We're going to have to throw to set up the run, I don't think there's any question about that," coach Mike Stoops said.
As for folks questioning the line, Stoops understands and has no problem with it. He hopes it bothers them.
"They'll hear about it," Stoops said. "I think that will serve as motivation."
On defense, the Wildcats must replace defensive ends Brooks Reed, Ricky Elmore and D'Aundre Reed. And it's not good that talented safety Adam Hall is standing on the sidelines with a surgically repaired ACL.
Some notes from Arizona practice -- two days before Saturday's spring game -- after chats with Stoops, offensive coordinator Seth Littrell and defensive coordinator Tim Kish.
The plan remains to redshirt Scott, if possible. He's certainly not going to enter a game late in the fourth quarter to take a knee. But if Foles gets hurt, Scott would be the guy. He'd probably start for a majority of teams in the Pac-12.
At running back, Daniel Jenkins has had "one of the best springs of any of our young players," Stoops said. He looks like Keola Antolin's backup. Both Stoops and Littrell, however, expect incoming freshmen Ka'Deem Cary and Jared Baker to perhaps push into the mix.
Receiver? Well, there's Juron Criner -- an All-American candidate -- David Douglas, Texas transfer Dan Buckner, David Roberts, Richard Morrison, Tyler Slavin, Austin Hill, Terrence Miller and speedster Garic Wharton. Suffice it to say, the Wildcats will be able to spread the field in 2011.
As it stands now, the starting offensive line goes line this: LT Mickey Baucus, LG Chris Putton, C Kyle Quinn, RG Trace Biskin, RT Fabbians Ebbele. Only Quinn has started a game -- the Alamo Bowl last December -- and both tackles are redshirt freshmen. On the plus side, if you want to look ahead, no lineman on the two-deep is a senior. Four are freshmen, two are sophomores and four are juniors.
H-back Taimi Tutogi hinted at great things last preseason but was ultimately disappointing. There's a feeling that he could break through in 2011. While he's not an elite blocker by any stretch, the 260 pounder isn't easy to deal with when he has the ball in space.
On defense, the ends are C.J. Parrish and Mohammed Usman. Both are listed at 245 pounds, which means the Wildcats will be much smaller at end compared to a year ago. On the depth chart, redshirt freshman Dan Pettinato and converted tackle Dominique Austin are listed, but JC transfer Lamar De Rego is likely to immediately jump into the mix.
Kish called Parrish "a pleasant surprise...We didn't think he'd pick it up as quick as he did and be as effective as he is."
Inside at defensive tackle, there's solid depth. Justin Washington, who's sitting out with a shoulder injury, and Sione Tuihalamaka are the starters and Willie Mobley and Kirifi Taula are the backups. Aiulua Fanene is a fifth option.
Stoops said the Wildcats "are much better inside," and Kish made an interesting point about last fall. Because Reed and Elmore were so good at pinching down from the outside against the pass, while the tackles were limited and not getting much inside push, the Wildcats often created passing lanes for opposing quarterbacks. Passing lanes and running lanes, which some of you Wildcats fans might remember quarterbacks scrambling through, such as Arizona State's Brock Osweiler.
The good news is all three starting linebackers are back. The bad news is a lack of depth, particularly after R.J. Young -- the fourth LB -- and Trevor Erno quit. Presently, walkon Bilal Muhammed -- "He's damn good," said Kish -- is the backup at two spots and undersized though athletic Kyle Benson is No. 2 behind Jake Fisher on the outside. Both Kish and Stoops expect help from incoming freshmen Rob Hankins, Dominique Petties and Hank Hobson.
The good news in the secondary is the renewed focus of cornerback Trevin Wade, who had a poor junior year after earning accolades as a sophomore. Stoops and Kish don't hold back when talking about Wade's struggles in 2010, but both see a different player this spring: "He took a lot for granted (last year)," Stoops said. "He has a different attitude, a different level of effort (this spring)."
Along with Wade at corner, there's Jonathan McKnight, brother of former USC RB Joe McKnight and perhaps the best pure cover corner, and Shaquille Richardson, who's sitting out with a shoulder injury.
Robert Golden has moved back to safety from cornerback -- he's started extensively at both spots -- after Hall went down, where he's beside free safety Marquis Flowers. Redshirt freshamn Jourdan Grandon is making a bid to be the nickel, though there's clearly competition for backup roles. Neither Mark Watley nor Josh Robbins has made a decisive push for playing time. And there's some hope that Hall could make a fast recovery and be back by October.
December, 16, 2010
12/16/10
10:04
AM ET
By
ESPN.com staff
| ESPN.com
USC wasn't the only Pac-10 team active during the midyear signing period.
Washington State and Oregon State have both signed a pair of junior college players, while Washington inked a juco linebacker. The Cougars signed a pair of offensive linemen, the Beavers a pair of defensive ends. All five will enroll in January.
The Cougars signed Rico Forbes and Taylor Meighen. Forbes (6-foot-4, 260-pounds) originally signed with Baylor in Feb. 2009. He is a native of the Bahamas who prepped at St. Pius High School in Houston. Meighen, a 6-foot-3, 285-pound center from Beaumont, Texas, has played the last two seasons at Kilgore College in Kilgore, Texas. Meighen earned 2010 All-Southwest Junior College Football Conference first-team honors at center.
You can
read more here
.
The Beavers signed Rusty Fernando of Glendale Community College in Arizona and Blake Harrah of Saddleback Community College in California. Fernando (6-foot-3, 223) will have three years remaining to play two seasons, with a redshirt year available. He was a first-team All-Region and All-Western States Football League selection after leading the Gauchos to the Valley of the Sun Bowl title. The 6-foot-3, 255-pound Harrah will also have three years to play two seasons. He was selected All-National Division Southern Conference second team after leading Saddleback to an 8-3 record and an appearance in the California Bowl. He is the son of former Los Angeles Rams offensive linemen Dennis Harrah, who played in the NFL for 13 seasons, where he was selected to six Pro Bowls.
You can
read more here
.
The Huskies signed linebacker Thomas Tutogi (6-foot-1, 235), who played at Southwestern Junior College in Chula Vista, Calif. Tutogi, whose older brother Taimi plays at Arizona, played just one season at Southwestern and will be a true sophomore at the UW next year.
You can
read more here
.
The midyear signing period continues through Jan. 15. The national letter of intent period for high school seniors begins Feb. 2.
August, 5, 2010
8/05/10
9:00
AM ET
By
ESPN.com staff
| ESPN.com
Arizona opens preseason camp today. Here's a quick look.
Who's back
: Eight starters on offense, four on defense and both specialists.

Big names
: QB
Nick Foles
, WR
Juron Criner
, C Colin Baxter, CB Trevin Wade, DE Ricky Elmore, DE Brooks Reed
What's new
: The Wildcats lost both coordinators during the offseason. Offensive coordinator Sonny Dykes is now the head coach of Louisiana Tech. Defensive coordinator Mark Stoops is the coordinator at Florida State. They were both replaced by co-coordinators: Bill Bedenbaugh (offensive line) and Seth Littrell (running backs and tight ends) on offense and Tim Kish (linebackers) and Greg Brown (secondary) on defense. Littrell will call the offensive plays. Brown is the only one of the four who is new to the staff -- he was at Colorado in 2009. Also, Frank Scelfo is the new QBs coach. Beyond the football staff, Arizona has a new athletic director: Greg Byrne, who was hired away from Mississippi State.
Key competition
: There isn't too much intrigue heading into fall camp, though the pecking order at defensive tackle is worth watching. As for the official depth chart, Vaughn Dotsy and Jovon Hayes are competing at right guard as are Phillip Garcia and Jack Julsing at right tackle. Is
Nic Grigsby
going to stay healthy and remain No. 1 ahead of
Keola Antolin
at tailback? The weakside LB spot is unsettled between Paul Vassallo and R.J. Young.
Breaking out
: The 6-foot-4 Criner has a chance to be an All-Conference performer. 258-pound H-back
Taimi Tutogi
had a good spring and figures to help the offense in myriad ways as a runner, blocker and receiver. Who will get more sacks: Elmore or Reed? The over-under for the pair is 18.
Quote
: Coach Mike Stoops on exceeding preseason expectations but then flopping in the Holiday Bowl against Nebraska: "Last year that was a little bit of a question mark for this team and a lot of people questioned our ability in picking us preseason eighth, but we finished tied for second and went to the Holiday Bowl. This is a team that I thought really achieved some good things last season and I think the loss in the Holiday Bowl really humbled us and fueled us in the offseason. We realized how quickly things can disintegrate if we don't do things right. I think we are eager to get back out on the field and correct some of those things."
Notes
: Arizona will hold most of its training camp practices at the Rincon Vista Complex, located near the school's soccer and track facilities on 15th Street and Plumer Ave. The newly renovated Jimenez Practice facility on campus will host its first practice later this month. The Wildcats will be at Ft. Huachuca from Aug. 11-15... Cornerback Shaquille Richardson, one of the three UCLA signees who was kicked off the team last month after being arrested for stealing a purse, is now with the Wildcats... Receiver
Delashaun Dean
, who had caught 132 passes over the past three seasons, was given the boot after being arrested on a gun charge. He has transferred to Texas A&M-Kingsville.
May, 7, 2010
5/07/10
4:00
PM ET
By
ESPN.com staff
| ESPN.com
Everyone loves "best of" lists. Here's one for the Pac-10 after spring practices concluded.
Best spring game performance, offense
: USC senior fullback
Stanley Havili
caught three long touchdown passes -- 28, 33 and 50 yards -- in the Trojans spring game.
Best spring game performance, offense II
: With Jacquizz Rodgers chilling on the sidelines, Oregon State's backup running backs made a statement. Sophomore
Jordan Jenkins
rushed for 112 yards on 26 carries, while junior
Ryan McCants
had 74 yards on 24 attempts.
Best spring game performance, defense
: UCLA's Datone Jones had two sacks, recovered a fumble and, according to the
LA Times
, "spent a good portion of the evening in the backfield."
Best spring game performance, defense II
: Washington State defensive tackle Brandon Rankin, a JC transfer, had two sacks and a tackle for a loss as the No. 1 defense dominated the No. 2 offense.
Best spring game performance by a kicker
: UCLA's Kai Forbath, the defending Lou Groza Award winner, was 4-for-4 on field goal attempts, making kicks of 44, 34, 51 and 57 yards.
Best competition heading into fall, offense
:
Nate Costa
vs.
Darron Thomas
to be Oregon's quarterback.
Best competition heading into the fall, defense
: Chris Galippo vs. Devon Kennard to be USC's middle linebacker.
Best "who's the best" competition
: Let the debate begin between Washington QB Jake Locker and Stanford QB Andrew Luck. Wait.
It already has
.
Best new marketing campaign
: Stanford's new "
What's your deal
?" ticket plan is a homage to the
prickly exchange
between Cardinal coach Jim Harbaugh and USC's Pete Carroll after Stanford
ran up the score
on the Trojans. Funny methinks.
Best new playmaker
: USC's true freshman running back Dillon Baxter became a YouTube sensation with
a spectacular run
during a scrimmage, but
other spectacular runs
made it clear he wasn't a one-hit wonder. The Reggie Bush comparisons have already begun.
Best impression of dear old dad
: Freshman quarterback Nick Montana capped an 80-yard drive with a
short touchdown pass
on the final play to give his team the win in Washington's spring game. You may recall that Nick's dad, Joe, was a fairly good NFL quarterback with a penchant for the dramatic -- and
noticing John Candy in the stands
.
Best position change
: Oregon switched Dion Jordan from tight end to defensive end, where his athleticism suggested he could become a dangerous pass rusher. Jordan was going no where at tight end. He may end up in the NFL as a defensive end.
Best performance by a backup quarterback
: Senior
Mitch Mustain
, the most written-about QB to never start a game for USC, passed for five touchdowns and 299 yards in the Trojans' spring game. Quarterback controversy? Naaaa. Might Mustain become the next
Matt Cassel
? Maybe.
Best comeback by a quarterback
: Many were ready to crown Michigan transfer
Steven Threet
as Arizona State's starting quarterback, but sophomore
Brock Osweiler
was
more consistent
much of the spring and could end up running the Sun Devils offense in the fall.
Best offensive threesome you've never heard of
: Here's a guess that receivers Gino Crump,
Travis Cobb
and fullback/H-back
Taimi Tutogi
make a lot of plays for Arizona next fall.
Best refusal to go away
: No player in the Pac-10 has been more analyzed -- criticized -- than California quarterback
Kevin Riley
. Well, Riley again held on to the starting job this spring and heads into his senior year trying to put a successful cap on a career that has featured
just a bit of everything
.
Best physical freak of nature
: Oregon State defensive tackle Stephen Paea is not only the strongest college football player, he may be the
strongest football player in the nation
.
Best new acquisition
: Arizona State adopted Kyle Oden, 3, who has a
pediatric brain tumor
and is nearly blind in one eye.
Best quote
: Lane Kiffin, who was an USC assistant from 2001-06, on Trojans he inherited, "It's not what it was when we left here."
Best quote II
: Norm Chow on whether the UCLA offense breaks through in 2010: "I have no idea, but we have to be better or you'll be talking to somebody else next year."
Best quote III
: Mike Riley on Oregon State's offense: "Athletically, it's as good as we've ever been."
Best quote IV
: Oregon quarterback Costa on redundant questions about suspended quarterback Jeremiah Masoli: "I'm not tired of answering the questions. If there is someone who should answer the questions, it should probably be me. The public has a right to know what we are thinking and our thoughts on this whole process. So I'm happy to answer those questions."
Best quote V
: Washington coach Steve Sarkisian on leading the Huskies to a 5-7 finish in his first season: "I've never been congratulated so much for a five-win season."
May, 7, 2010
5/07/10
10:30
AM ET
By
ESPN.com staff
| ESPN.com

ARIZONA
2009 overall record
: 8-5
2009 conference record
: 6-3 (tied for second)
Returning starters
Offense: 9, Defense: 4, punter/kicker: 2
Top returners
: QB
Nick Foles
, WR
Juron Criner
, RB
Nic Grigsby
, C Colin Baxter, CB Trevin Wade, DE Brooks Reed, DE Ricky Elmore
Key losses
: WR
Terrell Turner
, OT Mike Diaz, DT Earl Mitchell, LB Xavier Kelly, FS Cam Nelson, CB Devin Ross
2009 statistical leaders (*returning starter)
Rushing
:
Keola Antolin
* (643)
Passing
: Nick Foles* (2,466)
Receiving
: Juron Criner* (582)
Tackles
: Devin Ross (81)
Sacks
: Ricky Elmore* (11.5)
Interceptions
: Trevin Wade* (5)
Spring Answers
1.
So far so good with four coordinators
: It was only a first run through spring practices but the Wildcats new arrangement with both offensive and defensive co-coordinators seemed to work well throughout spring practices. For one, it appears they've got a plan for the press box and play calling. Further, it helps that coach Mike Stoops is familiar with sharing a coordinator job (he shared the defensive job at Kansas State). It also probably helps that all four guys seem to like each other.
2.
There's a lot of skill here
: Start with quarterback Nick Foles. Then there's Juron Criner, who is as physically talented as any receiver in the Pac-10. Then there's Bug Wright,
David Douglas
,
Delashaun Dean
,
Travis Cobb
and Gino Crump. And Nic Grigsby, Keola Antolin and
Taimi Tutogi
in the backfield. Lots of guys who can do things with the ball in their hands.
3.
The ends are the beginning
: Ends Ricky Elmore and Brooks Reed are a good start for a rebuilding defense that lost seven starters. If a defense can pressure the quarterback -- and Elmore and Reed can -- that makes things easier everywhere else.
Fall questions
1. How will Matt Scott be used
: While Scott lost the starting quarterback job to Foles early last season, the coaches still think he's capable of helping the offense, particularly with his speed. Scott also looked like a more confident and refined passer this spring -- guidance from new QB coach Frank Scelfo helped -- so he figures to have a few personal packages inserted into the game plan. And if Foles falters or gets hurt, Scott is a nice plan B.
2.
How quickly will the new LBs pick things up
? It's not easy to replace seven starters, but it seems particularly burdensome to have voids at all three all LB spots. Things are even more difficult when you're counting on a pair of JC transfers -- Derek Earls in the middle and Paul Vassallo on the weak side -- to immediately step into the starting lineup. The Wildcats will be fine in the secondary -- watch out for incoming freshman Marquis Flowers to get into the mix -- because that's Stoops' specialty. And there's some intriguing talent at defensive tackle, including redshirt freshman Sione Tuihalamaka. But the linebacker question wasn't answered this spring.
3.
Paging Nic Grigsby
: Grigsby can be a dynamic player with the ball. He's got home run speed and 2,424 career rushing yards. He averages 5.3 yards per carry. He's a good receiver out of the backfield. But he needs to find a way to stay healthy, which he didn't this spring or much of last year. With capable players like Antolin, Tutogi,
Greg Nwoko
and
Daniel Jenkins
eager for touches, at some point coaches might just sit Grigsby and go with guys who can stay on the field.
May, 4, 2010
5/04/10
3:47
PM ET
By
ESPN.com staff
| ESPN.com
Every spring, a handful of players make names for themselves. Here are pairs for each Pac-10 team -- one on offense and one on defense -- who should make names for themselves into the fall.
Arizona
FB Taimi Tutogi
: The sophomore can play fullback, tailback or tight end. At 6-foot-2, 258 pounds, he packs a punch.
DT Sione Tuihalamaka
: The redshirt freshman appears to be a potential starter inside, replacing Earl Mitchell.
Arizona State
OT Evan Finkenberg
: The redshirt freshman is likely to start at one tackle spot for the Sun Devils.
DE Greg Smith
: The true sophomore backed up Dexter Davis last fall. Word is he's a high-motor guy.
California
RB Isi Sofele
: The sophomore isn't big but he's got the quickness to be a playmaker and counterpoint to starter
Shane Vereen
.
NT Kendrick Payne
: The sophomore had a great spring and may unseat Derrick Hill as the starter.
Oregon
WR Justin Hoffman
: The sophomore not only caught everything thrown his way, he also is a tenacious blocker on the outside.
DE Dion Jordan
: The sophomore switched sides of the ball from tight end and looks like a potential star.
Oregon State
RB Jordan Jenkins
: The versatile sophomore could push
Ryan McCants
-- who also had a good spring -- for touches behind
Jacquizz Rodgers
this fall
DE Taylor Henry
: The Beavers needed the sophomore to step up after Matt LaGrone quit the team. He did. Looks like a potentially dangerous pass rusher.
Stanford
TE Levine Toilolo
: The 6-foot-8, 244-pound redshirt freshman has an imposing frame as well as good speed. Made a lot of plays this spring.
LB Shayne Skov
: The sophomore became a starter last year when Clinton Snyder blew out his knee. Don't be surprised if he earns All-Conference honors.
UCLA
WR Randall Carroll
: The true sophomore looked more like a receiver with great speed than a speed guy playing receiver this spring.
DT Nate Chandler
: The junior moved from tight and immediately earned a spot in the starting lineup.
USC
RB Dillon Baxter
: The early-entry true freshman made more spectacular plays this spring than any other USC player.
SS Jawanza Starling
: The sophomore was a standout in the rebuilding secondary, though he'll face a challenge from Drew McAllister in the fall.
Washington
RB Deontae Cooper
: Cooper and fellow true freshman Jesse Callier made the most of their early entries, playing well enough to look like contributors next fall
FS Will Shamburger
: The redshirt freshman was a standout from start to finish, and finished spring practices as the starter ahead of sophomore Nate Felner.
Washington State
OT Wade Jacobson
: The 6-foot-6, 307-pound JC transfer was a standout this spring and figures to start at one of the tackle spots.
DT Brandon Rankin
: The touted JC transfer needs to gain a few pound in order to play inside but he looked like a dynamic presence much of spring.
April, 15, 2010
4/15/10
9:00
AM ET
By
ESPN.com staff
| ESPN.com
Part II of a chat with Arizona's co-offensive coordinator Seth Littrell, who will call the offensive plays this season.
Read
Part I here
.
We know the established guys: Give me some names of youngsters or former reserves who impressed you.
Seth Littrell
: A guy who not a lot people have heard about who had a pretty solid spring was two guys at receiver. Gino Crump, who transferred here last year from West Virginia, has really done some good things and is developing his skills. His deal when he got here was he was inconsistent catching the football, but he did a better job hanging onto the football this spring. He didn't drop as many balls. Also a guy in the same category is
Travis Cobb
, who is always impressive because he's extremely fast. He can really stretch the field. The biggest thing with him was getting comfortable in the offense. He did a lot better this spring than he did last fall when I don't know how comfortable he was. He was pretty impressive in practices just going to get the football. Nick would drop back and throw a fade route and it would look like it was going to be overthrown by 10 yards and Cobb just runs and gets it. Pure speed, he's probably the fastest guy on our team. Then there's
Taimi Tutogi
. He played a few games last year and didn't redshirt and played as
Chris Gronkowski
's backup. But this spring he's really come along. We've done a lot of things with him, from the fullback position to putting him on the line as a tight end, or lining him up at tailback, which we've done in a few practices. He's a guy who, if he develops and gets that confidence as a running back, or fullback, H-back, the more we can expand his role even to tailback also. There's a lot of guys who stepped up and had good springs. Some young O-linemen. It's hard to say one guy. There's a lot of young guys who did some good things this spring.
What will be different about the offense next fall compared to what we saw in 2009?
SL
: Hopefully, we'll be better. Without giving away too much, we're going to do some different things, things we were even talking about before Coach Dykes got the head job at Louisiana Tech. We're always looking to expand and looking to get better. I feel like this spring we've done some evaluations of what we feel like we need to do to be a top offense in the country. Even with Coach Scelfo coming in, bringing a new set of eyes and being able to evaluate some of the things we were doing. Sometimes it's good to have something from the outside looking in to give you a different perspective. We've been looking at some of the stuff he did at La-Tech. They were very successful there.
Tell me about how Coach Stoops decided that you would call plays?
SL
: The biggest thing with this offense is we are all part of this offense. Obviously, one guy has to be designated to call the plays. In the course of the game, we're all having input. Even though I may be calling the offense, we've called it all week, we have a script, we pretty much know what we're going to do situationally throughout a game. When you're calling it, obviously you've got to get some type of game-time rhythm, know the situations and how to set stuff up. But also at the same time, Frank is going to be in the box with me. Coach Bedenbaugh will be on the field with [receivers coaches Garret Chachere and Dave Nichol]. Really, honestly, it's a matter that coach Bedenbaugh has to be on the field with the O-linemen. That's a huge role for him, being around the linemen the whole game, making adjustments. It would be pretty difficult for him to call plays from down there. Not to say he couldn't because he could but it's really just a matter of me being in the box.
Football coaches, by nature, are fiery guys, as you know from working with the Stoops brothers. Sometimes the collaborative process can get pretty animated: Think everybody will be able to get along?
SL
: I don't think there's any doubt. We're all pretty passionate. I've been around coach Stoops for a long time. I played offense [at Oklahoma], but I played under Bob Stoops at OU and Mike Stoops was the D-coordinator. And I've been under [Mark] Mangino and Mike Leach and a lot of different guys. Everybody has their own fire and passion. Obviously, I've only coached with them [at Arizona] for one season but we've been around each other. One thing about Mike is he's passionate about the game but nothing is ever personal. It's about business and winning football games. He knows I'm the same way. We've always gotten along and always had a great relationship. It's going to be no different.
April, 14, 2010
4/14/10
5:51
PM ET
By
ESPN.com staff
| ESPN.com
In 2000, Seth Littrell was a fullback and captain of Oklahoma's national championship team.
In 2004, he was a graduate assistant at Kansas.
In 2010, he became the
Arizona Wildcats
' co-offensive coordinator. And, at 31, will be the youngest play-caller in the Pac-10 and one of the youngest in the nation.
It's been a quick climb through the coaching ranks for Littrell. And there's pressure, sure. Wildcats coach Mike Stoops tapped him to fill the job capably manned last fall by Sonny Dykes, who's now Louisiana Tech's head coach, over two more veteran assistants, line coach and co-coordinator Bill Bedenbaugh and quarterbacks coach Frank Scelfo.
While Littrell goes to great lengths to play down the distinction of calling plays, it's clear that Stoops believes he's got a talented young coach who's up to the job.
The good news is Littrell has a lot to work with. Seven starters return from an offense that averaged nearly 32 points per game in Pac-10 play, including quarterback
Nick Foles
.
With the Wildcats concluding spring practices last weekend, it seemed like a good time to check in with Littrell.
So give me the rundown of the offense this spring: What are you happy with? What didn't go as well as you wanted it to?
Seth Littrell
: Overall, we were pleased. The biggest thing was the effort. We did some different things offensively that we haven't done in the past, trying some new things out to maybe fit us a little bit better personnel-wise with some guys. I think our players really enjoyed it. So overall they were pretty focused and intense. There was good competition. We had a lot of guys with a lot of returning experience so the hardest thing with that a lot of times is they get bored. We tried to find different ways to keep it exciting and keep it enthusiastic. They were willing to come out and work to become the No. 1 offense in the Pac-10, which is always what our goal is. Probably the most disappointing thing was we came out flat in the spring game. I thought we had good work for the most part leading up to that. We were pretty basic and vanilla in the game, but I was a little disappointed in how flat we were. We didn't make plays we'd made all spring. We dropped too many balls, which hadn't been a problem. Way too many turnovers. Things we didn't have issues with during the spring just kind of popped up in a game-type atmosphere. But that's really the only disappointment I had.
Nick Foles, I wouldn't say faded a bit late in the season, but he didn't have a good Holiday Bowl: Where did he get better this spring?
SL
: Overall grasp of the offense. In Nick's defense, he played pretty well early in the season but each and every game we put more on him. I don't know if he faded out but looking back on it maybe we had a little too much offense. Maybe he wasn't ready for all that. That's not an excuse for him. He'd only played a few games -- he redshirted and played a few games at Michigan State [from where he transferred] -- so he's still pretty young. We probably could have kept it a little safer for him, not put so much on him. I think the thing he's really improved in is understanding the offense. Understanding that not every play has to be a touchdown. It's about moving the chains and being productive and getting the ball into other guys' hands. He doesn't have to be the superstar. There's 11 guys on the field and everybody has a role to play. He's just one part of that 11.
Where does backup quarterback Matt Scott stand?
SL
: I thought Matt Scott had an unbelievable spring. He's probably been one of the guys I've been most impressed with -- he's probably had the biggest jump of anybody. Coach Scelfo does an unbelievable job with those quarterbacks. [No. 3 QB]
Bryson Beirne
even had a good spring. Things [Scott] needed to work on, he worked on them and bought into it and worked each and every day. He's way more accurate than he was because of the things he's worked on with Coach Scelfo. Another thing is he really took it upon himself to study the offense. He wants to get involved and learn and it showed on the field.
You oversee the running backs: Are there concerns that Nic Grigsby might not be able to stay healthy?
SL
: It may appear that way, huh? It wasn't only him, though. I was down to my fifth running back last year. We played five different guys. We had to get [fullback
Taimi Tutogi
] ready to take some snaps at tailback. It's always a concern for running backs. I've been around offenses that have been two or three years without one injury and they've been some of the smallest guys on the field. It's always a concern, as a running backs coach, keeping your guys healthy. But as long as we're doing what we need to do in the offseason with [strength and conditioning coach Corey Edmond] and the weight room. As long as we are taking care of our bodies, I don't think that should be too big of an issue. I don't know how well we did that last year. Hopefully we learned a big lesson and are trying to protect ourselves better by taking care of our bodies and doing what is necessary in the offseason to prevent some of that.
Seems like you guys are fairly strong on the offensive line: How did they do this spring?
SL
: They are a very solid group. Coach Bedenbaugh does an unbelievable job with O-linemen. Just how physical and tough those guys are. They are obviously the leaders on our offense. Everybody kind of looks to those guys and they set the tone. One thing we still have to develop is depth across the board. But when you talk about our first five -- and really up to seven or eight, we've got pretty solid guys -- we're pretty comfortable. As always, and it's the same across the country, everybody is looking for depth across the offensive line.
In Part II on Thursday, Littrell talks about youngsters who stood out this spring, changes in the offensive scheme and why he was tapped the play-caller.