December, 28, 2010
12/28/10
4:29
PM ET
Few give the
Washington Huskies
much of a chance in the Bridgepoint Education Holiday Bowl -- in large part because they have already played the
Nebraska Cornhuskers
this year and the result didn't leave much intrigue: a 56-21 beatdown in Husky Stadium.

While the Huskies used a three-game winning streak at season's end to earn bowl eligibility, it's hardly certain they are a better team today than they were on Sept. 18, particularly with a decimated defensive line that will be missing three key players: Cameron Elisara, Talia Crichton and Semisi Tokolahi.
Obviously, the Huskies defense will have to play much better after giving up 533 yards in the first meeting. But can it? Or will the Huskies just have to outscore the Cornhuskers, which brings along the nation's No. 8 scoring defense?
So let's ask this question: Who might dramatically change this game if he stepped up with a marquee performance?
Quarterback Jake Locker
: Too obvious? Well, it's the only answer. For the Huskies to have any chance, Locker needs to turn in his best work this season -- both with his arm and with his feet. And he should be plenty motivated to do so. Recall that the first meeting was widely seen -- here and other places -- as a showdown between Locker, the touted NFL prospect, and perhaps the best secondary in the nation. Well, if that was the case, the Cornhuskers won by knockout. Locker completed just 4 of 20 passes for 71 yards with two interceptions and a touchdown. He also rushed for 59 yards and a touchdown, but the performance was a public failure in a disappointing season for Locker. His NFL draft status started to apparently slide precipitously from sure-No. 1 overall to potentially the second-round. Locker, however, could redeem himself with a big evening, and that could send him into the NFL draft evaluation process with game film that might reignite flagging interest. The horrible result in the first game was hardly only Locker's fault. The Huskies played poorly in all phases. This Seattle Times
article does a good job of explaining
one area where Locker got little help: his receivers. But the only way the Huskies are going to produce a different result -- even if we're just talking about a competitive game -- is if Locker comes up big.
December, 20, 2010
12/20/10
11:59
AM ET
By
ESPN.com staff
| ESPN.com
Washington expected to be better on defense in defensive coordinator Nick Holt's second year. At times it was. But for the most part, it wasn't.
The Huskies ranked ninth in the Pac-10 in scoring defense (31.2 points per game) and seventh in total defense (401.2 yards per game). Both totals are worse than 2009. The Huskies did play better down the stretch, but that that might have been a function of less competition: UCLA, California and Washington State.
[+] Enlarge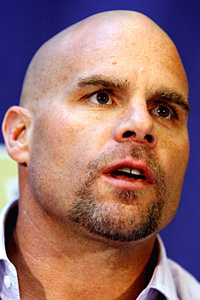 AP Photo/Elaine ThompsonWashington and defensive coordinator Nick Holt have an opportunity to make a statement in the Bridgepoint Education Holiday Bowl.
Still, winning those final three games earned the Huskies their first bowl berth since 2002 and a shot at redemption for perhaps the lowest moment of the season: The 56-21 humbling delivered in Husky Stadium by Nebraska. That game unmasked the Huskies as a team not yet ready to take a step forward back into the national picture.
Will a Bridgepoint Education Holiday Bowl rematch provide an opportunity to make an opposite statement? We checked in with Holt to get his take.
What's your overall feeling on how the defense played this season?
Nick Holt
: We got better as the season went on, more confident in what we were trying to do. Our problems started when we got some guys hurt upfront, losing two starters on the defensive line [DT Cameron Elisara and DE Talia Crichton]. We didn't have a lot of depth going into the season. That was one of our worries going into the season -- hey, we've got to stay healthy for us to be a solid defense, not a great defense. We couldn't lose anybody. Sure enough, we lose two defensive starters by mid-October. But anyway, we got better as we went back and re-focused on some of the simple calls we have. We just started doing some of the ordinary stuff a lot better. Getting off blocks. Tackling. Stuff that we thought we were good at, or better than we have been. It really started quite honestly with Nebraska. We just didn't do the fundamentals very well [in that game]. We got distracted. Maybe guys were trying too hard. Throughout the course of the year, we just went back to teaching and coaching, the ordinary things. And we just got better. Nothing flashy. We're really not that flashy. We just played solid tough defense, at times.
The defense played better over the final three games: Who were some guys who took a step forward over those final three games?
NH
: Well, the last four or five games of the season, I think our corners, our two starting corners [Desmond Trufant and Quinton Richardson], played really solid football. Tackling and playing the ball, those two guys come to mind. I think a couple of in the defensive line in played better as the season went on. Everrette Thompson was more consistent and more physical. And I think our true freshman, [defensive end] Hau'oli Jamora, we always thought he would be a good player, and he's not huge, but he was very effective. And then [defensive tackle] Semisi Tokolahi, he played the last four or five games and gave us some added girth inside. He was really solid for us. Unfortunately, he got hurt in Washington State, broke his leg, so he won't be able to play in the bowl game. Those guys come to mind. [Linebacker] Mason Foster, week-in and week out, played well. The same with [strong safety] Nate Williams.
The Nebraska game on Sept. 18: What went wrong?
NH
: Number one, we didn't play very well up front, especially our front four. We just weren't aggressive. We got knocked off the ball. We played soft, quite honestly. When that happens, it doesn't matter what you do with the linebackers and defensive backs. They can't cover up that stuff. When you are letting a team basically run an inside zone play for eight, nine or 10 yards a pop, and you are not stopping it with your base defenses, something is up, something is wrong. That game opened our eyes. We've got to get back to being physical. We just got distracted with maybe all the option stuff, trying to do too much. We lost the emphasis of good fundamentals. Number two, we didn't tackle very well. At all. We let some runs get out on us with some arm tackles. We gave away a lot of explosion plays where we had guys there on the line of scrimmage, and we just didn't make the tackle. We lost our leverage, or missed a tackle. Number three, we didn't play very well on third down. We had a couple of third and longs, and they ran some rudimentary things, and we missed tackles. Some slants and some other things. We had guys out there. But that's just the way it is right now in our program. We didn't do some of the fundamental football stuff in that game very well. We really had to go back and teach some stuff, get back to the fundamentals.
You guys bounced back pretty well, though, after a bye, winning at USC.
NH
: We didn't lose patience with our kids. We just coached them up and coached them up, and they got better. And in the future we will be a lot better if we keep recruiting well.
What's your feeling on your guys' mindset for a rematch with Nebraska?
NH
: I think they're motivated to play well. I think they are excited about the opportunity to just be in a bowl game and finishing the season strong. I think they would be motivated regardless of who they're playing. But we are playing Nebraska, and I think their focus is, hey, we didn't play very well the first time. They got after our butts a little bit. We need to play better. We need to make this a better football game than in was in September. I think that's the mindset.
What's the first priority for slowing down the Cornhuskers this time around?
NH
: You've got to stop their running backs first, really. They have all these trick plays and stuff, but looking back on it, I think their running backs -- No. 10 and No. 22 [Roy Helu and Rex Burkhead] -- are really good football players. Their offensive line is good. So you got to stop the two running backs first and then you've got to contain the quarterback. You can't let him get 80 yards on a run or run 60 yards for a touchdown. He might get a couple of yards here and there, but you've got contain him, contain plays with him scrambling, or busting the line with a quarterback run. And then no gimmick-type plays. They do have some nice gimmicks. They get in the wildcat formation and the running back throws long balls for touchdowns and things like that. They are a run team, but because they are so effective running the ball, their play-action is really good. Guys get open.
What's the No. 1 off-season priority to get better in 2011?
NH
: Recruiting. But that being said, our linemen in our program -- defensive linemen and offensive lineman -- need to get bigger and stronger and faster. Our front seven on defense -- linebackers and defensive line -- we need to get bigger and stronger and faster. We're getting there. But that's why we are where we are right now. Our interior guys, whether it's on offense or defense, we need to get more physical, we need to get bigger. We're getting there, but we're playing some young guys. Those young guys should be redshirting, but we don't have that luxury. The weight room is huge for us this year.
How close are you guys talent-wise -- one recruiting class, two more recruiting classes -- to being where you want to be?
NH
: I think we have some talented guys, especially on offense. Our running backs and our receivers are as good as there are. But we're a ways away at the non-glamor positions. But those non-glamor positions are where you win championships: up front. Our guys are battling. But we're not there. Our guys are making progress. How long? Hopefully, it's not long, but quite honestly it's a process -- it's another two or three years before you're really good up front.
October, 27, 2010
10/27/10
1:12
PM ET
Who's running with a bull market? Who's battling the bears (not the Golden ones)?
Stock up
Darron Thomas
: Oregon's sophomore QB completed 22 of 31 passes for 308 yards with three TDs and no interceptions in the
60-13 win
over UCLA on Thursday. And he was named a semifinalist for the O'Brien Award, given annually to the nation's best quarterback.
Matt Scott
: Arizona's backup QB was outstanding in relief of
Nick Foles
. He completed 18-of-22 for 223 yards with two TDs and zero interceptions against Washington. He also rushed for 65 yards on seven carries in the 44-14 victory. The performance means there's no need to rush Foles back, even though Foles' recovery from a knee injury is ahead of schedule.
Arizona's defense
: If defense wins championships, then the Wildcats can't be counted out of the Pac-10 race. They rank No. 7 in the nation in scoring defense, No. 10 in total defense, No. 7 against the run and their 3.57 sacks per game ranks second. Three new LBs? Co-coordinators? Hey, no worries! (Oh, by the way, former coordinator Mark Stoops is doing
pretty darn well at Florida State, too
.)
California
: If Cal were actually a stock, it would have made and lost fortunes for day traders across the country: The team that was humiliated by USC (buy low!) then blew out Arizona State. So, Bears, do you take the show on the road at Oregon State or is it time to sell high?
Marquess Wilson
: Washington State true sophomore QB
Jeff Tuel
has found his go-to guy in Wilson, a true freshman. Wilson caught six passes for 150 yards with a TD at Stanford and he now leads the Pac-10 with 99.5 yards receiving per game.
Stock down
UCLA
: The Bruins have been blown out in consecutive Pac-10 games and they've lost starting QB
Kevin Prince
for the season. Oh, and two offensive starters were suspended for Saturday's game with Arizona, which has the best defense in the Pac-10. Not a good week.
Washington's defense
: The Huskies' defense ranks among the nation's worst in most major statistical categories, including 102nd in scoring (33.1 ppg) and 104th vs. the run (202.7 ypg). It doesn't help that they will play host to Stanford, owners of the conference's best O-line, with their best defensive lineman, Cameron Elisara out. He's the second D-line starter to go down -- the other is end Talia Crichton -- for a unit that isn't deep.
Steven Threet
: The Arizona State QB got knocked out of the Cal game with a concussion, but not before throwing two more interceptions, giving him a Pac-10-worst 13, as well as the conference's lowest efficiency rating. In response, the Sun Devils' coaches are going to simplify the offense in order to get Threet back on track.
Jake Locker
: He's banged up, the Huskies' bowl hopes are sagging and his numbers aren't good. Locker still figures to be a high NFL draft pick -- just probably not as high if he'd left after his junior season. His senior season, at least so far, can't be what he'd hoped for.
Stanford's pass defense
: While the overall numbers are OK, the area that could hold Stanford back this year is pass defense. Tuel completed 21 of 28 passes for 298 yards with four TDs at Stanford, and the health of safety Delano Howell is a concern. Locker might be looking to reverse the course of his -- and the Huskies' -- season against the Cardinal secondary.
May, 7, 2010
5/07/10
6:30
AM ET
By
ESPN.com staff
| ESPN.com
Washington

2009 overall record
: 5-7
2009 conference record
: 4-5 (seventh)
Returning starters
Offense: 9, Defense: 7, punter/kicker: 2
Top returners
: QB
Jake Locker
, RB
Chris Polk
, OT Senio Kelemete, WR
Jermaine Kearse
, WR
Devin Aguilar
, LB Mason Foster, CB Desmond Trufant
Key losses
: FB
Paul Homer
, DE Daniel Te'o-Nesheim, LB Donald Butler
2009 statistical leaders (*returning starter)
Rushing
: Chris Polk* (1,189)
Passing
: Jake Locker* (2,800)
Receiving
: Jermaine Kearse* (866)
Tackles
: Donald Butler (94)
Sacks
: Daniel Te'o-Nesheim (11)
Interceptions
: Mason Foster* (3)
Spring Answers
1. There's depth at tailback:
While sophomore Chris Polk, who rushed for 1,113 yards last year, sat out because he's still recovering from shoulder surgery, backups shined, starting with a pair of true freshmen who enrolled early:
Deontae Cooper
and
Jesse Callier
. Toss in impressive efforts in the spring game from
Johri Fogerson
and
Demitrius Bronson
, and there are five tailbacks competing for touches.
2.
The interior D-line should be tough
: Senior Cameron Elisara saw time at end and tackle, which allowed Alameda Ta'amu, Tyrone Duncan and Semisi Tokolahi to show what they can do. Senior De'Shon Matthews and touted incoming freshman Sione Potoa'e also could be in the mix. Being able to rotate four or five reliable tackles is a luxury the Huskies defense hasn't had in recent years.
3. Uncertainty in the secondary is a good thing
: Nate Williams will start at strong safety, and Desmond Trufant, who missed spring with a sports hernia, is almost certainly going to be one cornerback. After that, though, things are uncertain. The good news is that's about competition, not a lack of capable players. Redshirt freshman free safety Will Shamburger was one of the spring stars, while Quinton Richardson, Vonzell McDowell, Adam Long and
Anthony Boyles
are in the mix at corner.
Fall questions
1. Will the injured ends mend?
The Huskies defense needs ends Everrette Thompson (torn Achilles) and Kalani Aldrich (knee) to be healthy in 2010. Both sat out spring practices with worrisome injuries. Both are expected back but it remains to be seen whether they will be 100 percent (or even close to it). Even though Elisara showed that he could play end, if needed, and Talia Crichton had a good spring, there's just not enough depth at the spot to be a top-level defense without them. It's possible a true freshman will see action here.
2. SAM I am
? Mason Foster is an all-conference candidate on the weakside and Cort Dennison is solid in the middle. But who's the SAM -- strongside -- linebacker? Two former safeties, Alvin Logan and Victor Aiyewa, are candidates, though Aiyewa saw little action this spring due to a shoulder injury, as well as Matt Houston.
3.
Who backs up Locker
? After junior
Ronnie Fouch
opted to transfer, there are only two scholarship quarterbacks after Locker: true freshman Nick Montana and redshirt freshman
Keith Price
. Coach Steve Sarkisian has repeatedly said he's in no rush -- and not worried -- about his backup spot. Of course, the screws tighten a bit if Locker gets hurt.
March, 16, 2010
3/16/10
6:44
PM ET
By
ESPN.com staff
| ESPN.com
Suspended Washington defensive end Andru Pulu turned himself into police Tuesday morning and is expected to be charged with assault, according to a
Seattle Times report
.
The sophomore, a potential starter next fall at defensive end, was suspended indefinitely last week by coach Steve Sarkisian for an undisclosed violation of team rule.
Said the press release, "Neither the UW athletic department, nor the coach, will have any further comment on the matter."
The Times previously reported that Pulu was being investigated for assaulting a 22-year-old at a house party. The victim was knocked unconscious and suffered a broken nose and possible cheek fracture, according to the police report.
Pulu, who backed up the departed Daniel Te'o-Nesheim, was one of 10 true freshman to see action for the Huskies last year. He recorded two tackles and half a sack and played on special teams.
The Huskies only lose three starters on defense but two of those are defensive ends. Other than Pulu, the returning ends from the 2009 depth chart are sophomore Talia Crichton and junior Kalani Aldrich.
Washington begins spring practice on March 30.
March, 11, 2010
3/11/10
11:19
AM ET
By
ESPN.com staff
| ESPN.com
The ninth of a 10-part series that looks at where Pac-10 teams are strongest and weakest as they begin spring practices.

Washington
Strong
:
Jake Locker
Why it's a strength
: Well, when you have a senior quarterback who is the potential top pick in the 2011 NFL draft you might feel fairly good about things. Locker rushed for 388 yards and seven touchdowns last fall and completed 58 percent of his passes for 2,800 yards and 21 scores. Those numbers almost certainly will go up in Year 2 under coach Steve Sarkisian. But it's even more than that. Locker's supporting cast was young and promising in 2009, so it could take a big step toward fulfilling star potential in 2010. Locker doesn't have to run all the time because sophomore running back
Chris Polk
rushed for 1,113 yards. Receivers? Everyone is back, including the Pac-10's No. 4 receiver,
Jermaine Kearse
, and its seventh,
Devin Aguilar
. They combined to catch 13 TD passes in 2009. Moreover, receiver
James Johnson
and tight end
Kavario Middleton
appear poised for breakthroughs. If the line, which is thin but returns four starters, holds up, Locker and the Huskies should be able to score a lot of points.
Weak
: Defensive end
Why it's a weakness
: The Huskies lose both starting defensive ends, most particularly Daniel Te'o-Nesheim, the Husky career sacks leader who finished second in the Pac-10 with 11 sacks and earned second-team all-conference honors. The backups combined for four sacks: sophomore Talia Crichton, junior Kalani Aldrich and sophomore Andru Pulu. Moreover, Pulu is presently
suspended for a violation of team rules
and Aldrich has been troubled with knee problems. It's possible some guys will get shifted around, including Everrette Thompson, who played inside at tackle last year. And it's likely some of the incoming players will get an early shot to contribute (maybe
Darius Waters
?)
March, 9, 2010
3/09/10
5:37
PM ET
By
ESPN.com staff
| ESPN.com
Washington sophomore
Andru Pulu
, a potential starter next fall at defensive end, has been suspended indefinitely by coach Steve Sarkisian for an undisclosed violation of team rules, the school announced Tuesday.
Said the press release, "Neither the UW athletic department, nor the coach, will have any further comment on the matter."
Update: The
Seattle Times
reported: "Pulu was allegedly involved in an altercation at an off-campus party late Saturday night in which another student was injured."
Pulu, who backed up the departed Daniel Te'o-Nesheim, was one of 10 true freshman to see action for the Huskies last year. He recorded two tackles and half a sack and played on special teams.
The Huskies only lose three starters on defense but two of those are defensive ends. Other than Pulu, the returning ends from the 2009 depth chart are sophomore Talia Crichton and junior Kalani Aldrich.
Washington begins spring practice on March 30.
February, 11, 2010
2/11/10
11:00
AM ET
By
ESPN.com staff
| ESPN.com
Who will breakout and make a move toward stardom this season?
Most of these guys aren't "new," but they could make the next step up in their careers this spring.
Arizona
Juron Criner, WR, Jr
: Criner (6-foot-4, 210 pounds) is already a familiar name to Wildcats fans. Heck, he led the team with nine touchdown receptions in 2009. The reason he makes this list is this: It would be a surprise if he's not first-team All-Pac-10 at season's end.
Arizona State
Aaron Pflugrad, WR, Jr
: Hmm. Name seems familiar? Pflugrad is a transfer from Oregon, who left the Ducks after his father, Robin, was fired as receivers coach. He was expected to start for the Ducks in 2009, and he should be in the same position with the Sun Devils, who need help at receiver.
California
Ernest Owusu, DE, Jr
: Owusu looked like a budding star early last season when he recorded two sacks and three tackles for a loss against Maryland, but that was about it for his production in 2009. Still, he combines good intelligence and speed with special power -- he's the Bears' strongest player -- and that could all come together as he fights to break into the starting lineup.
Oregon
Diante Jackson, WR, RFr
: Many thought Jackson would offer immediate help to the Ducks' receiving corps as a true freshman, but, instead, he was a scout team star last year. The Ducks are looking for a dynamic, play-making presence at wideout and Jackson might be the guy.
Oregon State
The Unga brothers
: The Beavers lost Keaton Kristick to graduation and Keith Pankey may miss 2010 with an Achilles injury, so there are opportunities at linebacker. These twin brothers -- Kevin "Feti" Unga and Devin "Uani" Unga -- could fight their way into the mix.
Stanford
Shayne Skov, LB, So
: Skov started seven games last year as a true freshman and ended up third on the Cardinal with 62 tackles. The early returns are Skov will be first-team All-Pac-10 before he's done.
UCLA
Cory Harkey, TE, Jr
: With the departure of
Logan Paulsen
and
Ryan Moya
, Harkey will finally get his chance to take center stage. He caught eight passes for 41 yards and a touchdown in 2009. His production will be many times that in 2010.
USC
T.J. McDonald, S, So
: First off, the son of former USC legend Tim McDonald is listed at 205 pounds. Really? He looks bigger -- in a good way. And he's a hitter. He had seven tackles as a backup to strong safety Will Harris last year, but he could play either free or strong.
Washington
Talia Crichton, DE, So
: Crichton was forced into action last year as a true freshman -- he started four games -- because the Huskies lacked depth on the defensive line. With the departure of both starting ends -- and the questionable status of Kalani Aldrich's knee -- Crichton is almost certain to ascend to a first-team spot. Here's a guess he's better prepared in 2010.
Washington State
Travis Long, DE, So
: Back in the Cougars' glory days -- folks, it wasn't really that long ago, either -- they always had ends who were disruptive. Long led the Cougars with 6.5 tackles for a loss and two sacks as a true freshman in 2009. Those numbers will more than double in 2010.
February, 8, 2010
2/08/10
10:43
AM ET
By
ESPN.com staff
| ESPN.com
After every season, starters leave. But not all starters are created equal.
Here are the biggest shoes to fill in the Pac-10 with spring practices just around the corner.
Toby Gerhart, RB, Stanford
How do you replace the best running back in the nation, a guy who scored 28 touchdowns and rushed for 1,871 yards? You don't. Those sorts don't come around every season.
The Contenders
:
Stepfan Taylor
and Tyler Gafney will get first crack, as well as
Jeremy Stewart
, who's coming back from a knee injury. Incoming freshman Anthony Wilkerson could be a dark horse.
Sean Canfield, QB, Oregon State
The first-team All-Pac-10 quarterback became an NFL prospect during a strong senior season. He led the conference with 3,271 yards passing and 21 touchdowns, which tied with Washington's
Jake Locker
.
The Contenders
: This will be a showdown between
Ryan Katz
and
Peter Lalich
this spring, with Katz starting as the leader.
Brian Price, DT, UCLA
Price could be an NFL first-round draft pick. He led the Pac-10 with 23.5 tackles for a loss in 2009. 'Nuff said.
The Contenders
: Good question. The Bruins are perilously thin here, considering both tackles need to be replaced and only senior David Carter has much experience. The answers here might be in the Bruins'
recruiting class
.
Syd'Quan Thompson, CB, California
The Cal secondary was a huge disappointment this season, but Thompson, a four-year starter and two-time first-team All-Pac-10 performer, was mostly his usually stellar self.
The Contenders
: Will Darian Hagan step up in his senior season? Perhaps the answer is sophomore Josh Hill? Or maybe a redshirt guy? The Bears only signed one player listed as a corner in their most recent recruiting class. Expect there to be a lot of competition here this spring.
Daniel Te'o-Nesheim, DE, Washington
Te'o-Nesheim, a high-motor guy who started four years and earned second-team All-Pac-10 honors his final two seasons, ranking third in the conference with 9.5 sacks.
The Contenders
: Considering the other end, Darrion Jones, also is gone, the Huskies will trend young here. Andru Pulu was listed behind Te'o-Nesheim on the depth chart, with Talia Crichton and Kalani Aldrich on the other side. There also will be opportunities for younger players here.
Ed Dickson, TE, Oregon
Dickson not only was the Ducks' second-leading receiver with 42 receptions for 551 yards and six touchdowns, the matchup problems he presented forced defenses to scheme specifically for him. That helps an offense in ways that aren't accounted for in statistics.
The Contenders
: Junior
David Paulson
was Dickson's backup last year, and he had some nice moments, but he's no Dickson. JC transfer Brandon Williams and touted incoming freshman Curtis White will be in the mix here.
Kenny Alfred, C, Washington State
Alfred, a four-year starter, was a good player on a bad -- and beaten up -- line. His brain as well as his physical ability will be hard to replace.
The Contenders
: Walk-on junior Chris Prummer was listed as Alfred's backup -- largely due to injury -- but Andrew Roxas, who redshirted this year after contracting viral hepatitis, is probably the leader here, though Steven Ayers could move inside to challenge him. Or there could be some reshuffling.
September, 19, 2009
9/19/09
4:03
PM ET
By
ESPN.com staff
| ESPN.com

Posted by ESPN.com's Ted Miller
SEATTLE -- Senior defensive end Darrion Jones, who's nursing a bruised knee, returned for Washington's second defensive series, replacing true freshman Talia Crichton.
It didn't help. At first.
The Trojans gashed the Huskies for a pair of long runs -- 25 yards from
Joe McKnight
and 27 yards from
Stafon Johnson
. But the defense stiffened and forced the Trojans to settle for a field goal.
Still, the Trojans have 111 yards rushing with 4:36 left in the first. That's a problem.
And if the Huskies completely gang up on the run, that should make things wide open for
Damian Williams
, who already made
Aaron Corp
look good on a couple of short tosses.
September, 19, 2009
9/19/09
3:52
PM ET
By
ESPN.com staff
| ESPN.com

Posted by ESPN.com's Ted Miller

SEATTLE -- True freshman Talia Crichton is starting at defensive end for Washington because Darrion Jones is injured.

Not good.

USC just went 80 yards for a 7-0 lead on its first possession, running right at the youngster. The biggest gash was fullback Stanley Havili dashing g38 yards through a huge hole created by the right side of his offensive line -- where Crichton is playing.