June, 18, 2014
Jun 18
5:30
PM ET
Over the past few weeks we examined the Ducks, position-by-position, evaluating the talent. But since I was in Eugene last week for the NCAA Track & Field Championships, I figured I'd stop by the football offices to check in with one of the guys who knows that information best, offensive coordinator Scott Frost. Today, we'll go through quarterback and running back highlights. Tomorrow, we'll get to wide receiver, tight end and the offensive line.
QUARTERBACK
They're certainly not shying away from any Heisman hype at this point in the year. On quarterback Marcus Mariota, Frost said, "We certainly think we have the best one in the country" and that "he throws better than anyone in the country." Well Jameis Winston, there you have it.

I was curious about Mariota's injury situation -- a lot of times when guys come back there might be some hesitation or some ounce of doubt still in their minds about their knee, or ankle or whatever. Frost isn't worried about it. He said that even a few weeks after the injury Mariota wanted to get the knee brace off. Frost also said that Mariota would've run for 200 yards in the bowl game (he rushed for 133 yards) but he was out of shape from the injury.

As far as the quarterback-not-named-Mariota situation, redshirt sophomore Jeff Lockie is the No. 2 guy this season ("without question," Frost said.). Frost doesn't seem concerned that the only backups on the roster at this point are Lockie and redshirt freshman Taylor Alie. Lockie was 8-of-13 last season for 57 yards and one interception. Alie is a local walk-on, but Frost did note how impressed he was with Alie's spring.

Alie will likely be the holder for field goals this season.

Regarding last season's backup, Frost said that they felt comfortable with both Lockie and Jake Rodrigues, who has transferred to San Diego State, but if they would've had to name a backup, it would've been Lockie. But that the coaching really didn't want to "finalize the outcome of that competition until a point in time when we [needed] to."

On whether the flip side of having such a great QB like Mariota is the fact that you do get attrition with other guys: "Quarterbacks are a unique breed. … They're the leaders. They're used to being the guy. It's tough for guys to come in and not play. We've had a great one, which is a good problem to have. But a lot of the guys behind him hadn't had the chance to play as much as they'd like."

Fun note: Frost lauded Mariota for being good at many different things, but apparently golf is not one of those things.
RUNNING BACK
On the Thomas Tyner vs. Byron Marshall debate -- Frost said there's a lot of confidence in both players. He said that it took Tyner a while to really get up to speed, but that he's there now and that Frost likes the competition between these two. Seems like even if there is a lead back and a No. 2 back, there really might not be a ton of separation in reps or carries.

Both have really good hands, but Frost said both "need to work on running routes a little bit and making sure they know more than one spot."

The first non-Tyner-Marshall player that Frost brought up was incoming freshman Tony James. James is the No. 14 RB in the 2014 class and chose the Ducks over offers from Auburn, Florida State and Ohio State.

On how the Bralon Addison injury affects the running backs: "We'd be silly if we just leave one running back on the field and most of these guys off the field. I can see us playing with more than one, using them in some other roles.

Frost cited the 2011 season when the Ducks used LaMichael James, De'Anthony Thomas and Kenjon Barner together a lot, saying that might be something we see this season. That season James rushed for 1,805 yards, Thomas rushed for 595 and Barner rushed for 939. I don't think Frost is saying that 2014 will necessarily be another 4,000-rushing yard season, but, this idea of multiple-back situations keeps coming up a lot.

Apparently, Chip Kelly used to use, what he called, the "taser" position -- a guy that can play tailback, flanker and slot. This is something they're looking at using more of next season with Tyner or Marshall, it sounds like. Even if Addison weren't injured, this would've been something they would've considered doing more of this year.

In closing, Frost put it best: "We want our best five on the field for the situation all times. There have been times that's four running backs. There have been times that's two tight ends. And there's times that's four receivers. So, we'll just have to get through camp, figure out who our best guys are and go from there."
April, 21, 2014
Apr 21
12:00
PM ET
EUGENE, Ore. -- The backup quarterback position is likely the best and worst position in football all at once.
They are the default answer that's found whenever the starting quarterback struggles or misses an open receiver or an "obvious" read. The fans will say that the backup would've made that pass or play if he were in the game. But at the same time, especially when he's behind a player such as
Marcus Mariota
, the chances that the backup will ever get into the game when it is in doubt are few and far between and likely will only happen upon an injury, which no one wants to see. In Oregon's case last season, that wasn't even enough to get the backups in.
"The backup quarterback is always the kind of hero who never has to prove himself," Oregon coach Mark Helfrich said.
[+] Enlarge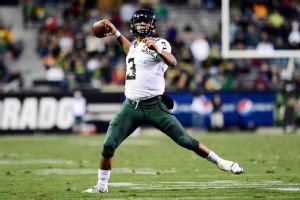 Ron Chenoy/USA TODAY SportsJake Rodrigues is trying to beat out fellow sophomore Jeff Lockie for Oregon's backup QB job.
For the
Oregon Ducks
, redshirt sophomores
Jeff Lockie
and
Jake Rodrigues
currently occupy that best/worst position. But what makes it even more difficult is that they are completely different players.
Nearly three quarters of the way through the spring season, there's still no clear separation between the two signal-callers.
"I think ideally that plays itself out; there's separation," Helfrich said. "But sometimes it doesn't happen. And you can't fake that. That's not something you want to try to create or have it happen in an artificial way ... That's not the end of the world, either."
This spring's no-clear-backup situation isn't new for Oregon -- last season was the same for Lockie and Rodrigues. Both saw the field in 2013, combining for 124 yards on 11 of 19 passing, two interceptions and one touchdown (thrown by Rodrigues).
But none of those statistics came in the pivotal game of 2013, when the Ducks lost to Stanford 26-20 with Mariota, and his sprained MCL, running the offense. Helfrich said on Friday that if that were to occur again, he'd be confident putting either Lockie or Rodrigues in the game. Helfrich said that people misunderstood that situation last season, as it wasn't a case of him not having confidence in either backup.
"Both of those guys want to be that [backup] guy, but there was never enough separation to have that happen last year," Helfrich said. "I think, again, in some ways it's a good thing because they were both kind of banged up at different times last year. ... At the same time, we didn't just throw someone down to the scout team and keep someone up and force the issue."
With Lockie and Rodrigues occupying the No. 2 spot behind Mariota, the No. 3 or No. 4 spots (or No. 4 and No. 5 spots) are filled by the other two QBs on the Ducks roster, redshirt freshmen
Taylor Alie
and
Damion Hobbs
. Four-star signal caller
Morgan Mahalak
signed with the Ducks in February but won't enroll until this fall.
Helfrich said that the current quarterbacks "have a ton of reps on him, but you recruit guys for a reason." So, there's no reason to rule Mahalak out of any kind of position race, though it seems far more likely for his battle to come against Alie and Hobbs on the scout team.
An abundance of options is one "problem" that coaches want to have. At some point, Helfrich might need to make the decision of which player will be the definitive No. 2 behind Mariota. In the perfect world, it'll be because the Ducks have a big lead and not a Mariota injury. But even then, Helfrich will have to make that decision and give one of his unproven heroes the chance to finally prove himself.