January, 8, 2011
1/08/11
10:00
AM ET
SCOTTSDALE, Ariz. -- Oregon and Auburn are the same: They both thrive in the second half. And they are different: The Ducks have yet to trail in the fourth quarter and just one foe lost by less than 11 points. The Tigers have trailed in eight of 13 games and won six by single digits.
Both teams dominate the second half. Auburn has outscored foes 246 to 117 after the break, including 125-48 in the fourth quarter. Oregon has outscored foes in 277-77 in the second half, including 115-24 in the fourth quarter.


Oregon has trailed three times at halftime -- Stanford, California, Arizona -- and only Cal stayed close with the Ducks into the fourth quarter. Tennessee, Arizona State and Oregon State were tight with the Ducks at halftime but ended up losing by 35, 11 and 17 points.
The Ducks often looked like a completely different team after halftime.
"That's something we take a lot of pride in, in terms of having a second-half mindset, a finish mindset," offensive coordinator Mark Helfrich said.
Auburn trailed Clemson, South Carolina (regular season) and Alabama at halftime this year and was tied with LSU and Georgia. It trailed by double-digits at some point in four games. But the Tigers also were a different team in the second half. Not that they wouldn't like to be a good first-half team, too.
"We'd like to get that corrected before we run out of the tunnel to start the game," Auburn defensive coordinator Ted Roof said. "I even thought of blindfolding them before the game started and telling them it was the start of the second half."
But Roof did have a serious explanation, which is not unlike what Oregon coach Chip Kelly and defensive coordinator Nick Aliotti have said: We want to see what teams do against us, then adjust.
"We've seen several times teams doing things we haven't seen before in the first halves," Roof said.
Every team wants to own the second half and the fourth quarter. Finishing strong says something good about a team. But both Auburn and Oregon would prefer to be in top form for all four quarters, particularly when they meet Monday in the Tostitos BCS National Championship Game.
"There's a discrepancy there," Roof said. "And we can't afford to do that in this game against this bunch."
January, 7, 2011
1/07/11
9:00
AM ET
SCOTTSDALE, Ariz. -- Oregon is No. 1 in the nation in scoring and No. 1 in total offense. Auburn is No. 4 in scoring and No. 7 in total offense, so the Tigers aren't so far behind.
But when you talk about the Auburn offense, it starts and finishes with this:
Cam Newton
.
When you talk about the Oregon offense, it starts with running back
LaMichael James
and then it goes on and on and on.
What's toughest about the stopping the Ducks offense?
[+] Enlarge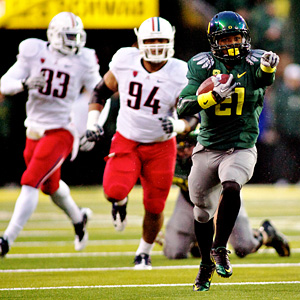 Craig Mitchelldyer/US PRESSWIREYou can point to LaMichael James and his 1,851 yards from scrimmage and 22 total touchdowns as the reason for Oregon's success. But he's not the only thing that makes the Ducks' offense go.
"Probably our tempo," center Jordan Holmes said. "We just keep going and going and going. Even when things aren't going as planned, we just keep doing our thing and eventually the defense gives way."
Agreed Auburn linebacker Craig Stevens, "It's always hard to emulate an offense going that fast." Added Tigers linebacker Josh Bynes, "Their pace is unmatched by anybody in the nation. I haven't seen a pace like that against any opponent this year."
No, it's not the tempo. The tempo is challenging, but Auburn's offense plays with fast tempo, too. So then what is the hardest thing for a defense to deal with?
"The misdirection," Oregon linebacker Spencer Paysinger said. "[QB
Darron Thomas
] is really good at hiding the ball with his fakes and his play-actions."
But that's not really it, either. It's the pressure the Ducks put on a defense to maintain gap discipline while dealing with a fast-tempo offense that uses a lot of misdirection.
"That's where they get people," Auburn defensive coordinator Ted Roof said. "You can see people take their eyes off them, people missing gaps, and it's a touchdown, not a 4-yard gain anymore." Agreed Stevens, "It's their ability to exploit defenses. Anytime a guy mis-fits, it seems like a guy is always able to find that hole and hit it and it turns into a big run or big pass."
Oregon is a dominant running team -- 304 yards per game -- that isn't too shabby throwing the ball -- 29 touchdown passes, No. 16 in the nation in passing efficiency. And it has star players; see James, a Heisman Trophy finalist and the nation's leading rusher.
But when you talk about the Oregon offense in terms of its most potent weapon, it's really about how everything blends together. While even the Ducks can't agree on what makes the offense most difficult to stop, the buy-in is complete under coach Chip Kelly, the mastermind behind the scheme. The players' confidence suggests they see their offensive success as, well, inevitable.
"We are in a situation right now where our guys believe 100 percent in what they are doing," coordinator Mark Helfrich said.
That starts not with James, but with quarterback Darron Thomas. James calls the sophomore, first-year starter the "point guard of the offense."
[+] Enlarge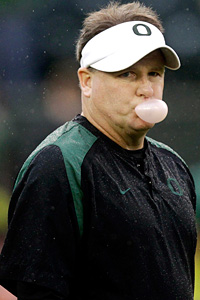 AP Photo/Rick BowmerOregon coach Chip Kelly is the mastermind behind the nation's No. 1 offense.
Thomas was expected to be No. 3 this year behind starter
Jeremiah Masoli
and senior backup
Nate Costa
. But when Masoli was kicked off the team, Thomas was a surprise winner in a close quarterback competition with Costa.
Even as the starter, early in the season he was expected to play the role of caretaker and distributor. He's become much more than that. His passing numbers were significantly better than Masoli's in 2009, and he earned second-team All-Pac-10 honors.
Oregon players thought Thomas was going to be good. Just not this good.
"He's done some things this year that have definitely surprised all of us," Holmes said.
Thomas' top target is
Jeff Maehl
, who doesn't look the part -- his haircut inspired more than a few "
Jeff Spicoli
" references from reporters meeting him for the first time. He caught 12 touchdown passes this year, a number of them fairly spectacular.
But he's one of nine Ducks who've caught TD passes.
Further, the rushing attack isn't only about James. Four other Ducks rushed for more than 200 yards. Thomas and backup running back
Kenjon Barner
combined for more than 1,000 yards and 11 TDs on their own. Seven different Ducks scored rushing TDs.
Then there's the offensive line. Oh, those poor, poor Ducks linemen. They just aren't big enough to get the job done.
"We are probably the smallest offensive line in the Pac-10," Holmes said. "We're outweighed by 10 to 40 pounds on a weekly basis. So [the national championship game] is no new thing."
That itty-bitty line -- average weight: 296 pounds -- led one of the nation's best rushing attacks while yielding only eight sacks, fifth fewest in the nation.
It's fair to say that Auburn's defense is going to win the "eye test" with Oregon's offense. The Tigers look better getting off the bus, as reporters like to say. But Roof thinks the Ducks look pretty good on film.
"On top of being really, really talented, they have a great scheme, they're well coached and they're very disciplined," he said.
That's the Ducks' best offensive weapon: The whole is greater than the sum of its parts.