Pac-12:

Teondray Caldwell
June, 26, 2014
Jun 26
9:00
AM ET
It's time to start our preseason position reviews. Please, hold your applause until we are finished.
Here's how we do this. We provide three evaluative categories: "Great shape," "Good shape" and "We'll see."
Hint: You'd prefer your team to be in "Great shape."
"We'll see" doesn't mean you're going to stink at said position. It means just what it says -- we'll see because there's no way at present to know.
You can review
last year's rankings here
.
We continue the series with running backs.
GREAT SHAPE

Oregon:
The combination of
Byron Marshall
and
Thomas Tyner
should be as dangerous as ever. De'Anthony Thomas never really grew into the role as an every-down back, but Marshall carried 168 times for 1,038 yards and 14 touchdowns. Tyner slowly picked up more carries and finished with 115 for 711 yards and nine touchdowns. Folks are also excited to see what incoming freshman Royce Freeman brings to the table. This is a scary corps, even before you realize that
Marcus Mariota
also carried 96 times for 715 yards and nine touchdowns last year.

USC:
The emergence of Buck Allen was a pleasant surprise after he spent much time in Lane Kiffin purgatory. He boasted 5.8 yards per carry to go with 785 yards and 14 touchdowns. He'll be pushed by
Tre Madden
,
Justin Davis
and
D.J. Morgan
, who is back after missing all of 2013 with a knee injury. This is a group that could do damage in Steve Sarkisian's up-tempo offense. Think about what Bishop Sankey did last year.

Arizona State:
Marion Grice was a touchdown machine. But
D.J. Foster
is no slouch after rushing for 501 yards and catching 63 passes for 653 yards in a dual-threat role. The local product is explosive and has big-play speed.
Deantre Lewis
and
Kyle Middlebrooks
, back from injury, provide depth since Mike Norvell won't want to pass up the opportunity to use Foster in the slot at times. The depth has ASU teetering on the Great Shape/Good Shape fence, but Foster's experience and explosiveness give ASU a perfect replacement for Grice. So we're confident saying ASU is in great shape with him at the helm.
GOOD SHAPE

UCLA:
No, we're not going to list
Myles Jack
as a running back. Get over it. Offensive coordinator Noel Mazzone told the Pac-12 blog he's been looking for
Jordon James
to make strides as a "one-cut" runner. He believes he has. And
Paul Perkins
and
Steven Manfro
will press for carries with the intriguing
Craig Lee
waiting in the wings. Keep in mind it was quarterback
Brett Hundley
who led the Bruins in carries (160), yards (748) and touchdowns (11). Maybe ... just
maybe
... we'll see Jack also pick up a few carries. The Bruins are dedicated to the run (only Oregon has more carries over the last three seasons) and they have the depth to deliver.

Stanford:
No Tyler Gaffney. Four of five starters on the line are gone. Surely this is the year Stanford's running game takes a step backward, right? Probably not. The line will feature five members of the heralded 2012 recruiting class and a committee approach with
Remound Wright
,
Ricky Seale
,
Barry Sanders
and
Kelsey Young
seems likely. Only Oregon and UCLA have attempted more rushes over the last three seasons, so the Cardinal are going to continue to be dedicated to the ground game. There is a lot of untapped potential with this group and they have a coach who loves to run the football. There are a lot of unknowns, but Stanford's recent history of success running the football warrants the benefit of the doubt to put them in the "Good Shape" column.

Utah:
For now, it looks like
Bubba Poole
will be the primary back. But Kyle Whittingham and Co. are excited about the emergence of JC transfer Davontae Booker and the complementary role
Troy McCormick
might play. They aren't married to the idea of a single back. In fact, Whittingham told the Pac-12 blog he'd like to have situational flexibility. This trio provides that at Utah for the first time in a while. Spreading things out is a priority for new offensive coordinator Dave Christensen. But don't be surprised to see a balanced attack if these three see success.

Colorado
: The Buffs are surprisingly deep in the running backs department, with seasoned players like
Christian Powell
,
Michael Adkins II
,
Tony Jones
and
Donta Abron
returning. Powell (562 yards, three touchdowns) provided the power while Adkins emerged as a fine complement with 5.2 yards per carry (103 carries, 535 yards and six touchdowns). Look for the coaching staff to keep using those two in unison as a thunder-and-lightning tandem.

Oregon State:
The running game, or lack thereof, has been a sore spot for Mike Riley the last couple of seasons. However, with last year's combination of
Sean Mannion
and Brandin Cooks the personnel dictated 603 passing attempts. With Cooks gone, the staff will look to
Terron Ward
and
Storm Woods
(who combined for 240 carries, 998 yards and 11 touchdowns) to build off of last year's showing of 94.4 yards per game -- which was 11th in the conference. This tandem has the potential to be very good. It just has to go out and show it.

Washington State:
That the Cougars return their top two rushers from last season,
Marcus Mason
and
Teondray Caldwell
, bodes well -- even in an offense in which the running back serves more to keep the opposition in check than to run the football. However, it might be
Theron West
and redshirt freshman
Jamal Morrow
who get the majority of the carries. The coaching staff was high on Morrow in the spring and if the Cougs can do just enough to keep the safeties guessing, it might open things up more for the Air Raid's primary objective.
WE'LL SEE

Arizona:
The Wildcats have to replace Ka'Deem Carey. No easy task. And it was made worse
by the recent news
that
Pierre Cormier
's won't be returning. That leaves carries to be divided among Nick Wilson,
Zach Green
and
Terris Jones-Grigsby
. Jonathan Haden is still waiting to get cleared and
Jared Baker
missed the spring with an injury from last year's ASU game. Look for special packages with DaVonte' Neal as well. The Wildcats are silly with wide receivers, which could help open things up in the running game.

California:
The Bears averaged just 122.2 rushing yards per game last year -- ninth in the league. Despite the reputation for being a pass-happy team, the coaches would actually prefer more balance, so they'll need better production out of oft-injured
Daniel Lasco
and
Khalfani Muhammad
. The departed Brendan Bigelow had the most carries (105) last year, but Muhammad and Lasco combined for 141 totes for 762 yards and six touchdowns. Muhammad is the burner at 175 pounds while Lasco has the bigger frame at 200 and change. Incoming freshman
Tre Watson
is also an intriguing prospect.

Washington:
Like Arizona, the Huskies must replace a phenomenal back in Sankey. But there are options.
Dwayne Washington
was the No. 2 behind Sankey last year, rushing for 332 yards and four touchdowns on 47 carries. Behind him are
Jesse Callier
, who was the original starter in 2012 before his injury gave rise to Sankey, and
Deontae Cooper
. Both have a history of knee injuries. Jomon Dotson and
Lavon Coleman
could see time. We'll see isn't necessarily a bad thing. It just means, we'll see.
OTHER POSITION REVIEWS
Quarterback
February, 28, 2014
Feb 28
5:30
PM ET
Welcome to the mailbag.
Follow the Pac-12 blog on Twitter
.
To the notes!

Justin from Chantilly, Va., writes:
I believe Utah fans should be excited for a QB competition entering spring practice. What are the odds of Oklahoma transfer
Kendal Thompson
assuming the starting role? Can Utah medically redshirt
Travis Wilson
for a year to evaluate?
Ted Miller
: Things look at lot better at quarterback for Utah than they did a couple of months ago, eh?
Not only is there hope that 2013 starter Wilson will be able to play this fall, there's also the arrival this summer of Thompson, an Oklahoma transfer who is immediately eligible. Those are two guys most Utes fans probably weren't counting on.
I would suggest adopting a pose of cautious optimism.
You should be optimistic because Wilson brings experience and competence behind center that makes the Utes a bowl team. You should be optimistic because Thompson sounds like the sort of athlete who can help the Utes, whether he wins the job outright or not.
You should be cautious, however, because Wilson has not yet been cleared to play in 2014, only to participate in spring practices without contact. While the recent news is good, we won't know until well into the summer if he has overcome the pre-existing medical condition that ended his 2013 season.
[+] Enlarge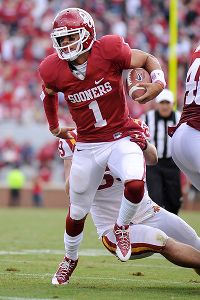 Mark D. Smith/USA TODAY SportsKendal Thompson showed flashes of potential at Oklahoma.
And you should be cautious because Thompson, the 6-foot-1, 199-pound son of former Oklahoma QB Charles Thompson, has thrown only 13 passes in three seasons with the Sooners, though a foot injury was a big issue last season. He only completed four of those passes and one was intercepted. This is not like Russell Wilson leaving NC State for Wisconsin.
As for the odds of Thompson winning the job, I have no idea. I haven't seen him play and we still don't know Travis Wilson's status. It does seem, however, that plenty of other programs wanted Thompson, and he fits well in new offensive coordinator Dave Christensen's theme.
The positive, big-picture issue is Utah now has more options than it had the past three seasons, when injuries to Jordan Wynn and then Wilson muted the Utes offense.
When you toss in
Adam Schulz
, who stepped in when Wilson went down, and redshirt freshmen
Conner Manning
and
Brandon Cox
, plus incoming freshman
Donovan Isom
, the Utes no longer seem to be all-in with just one guy. That's important.
As for redshirting Wilson, Utah could. He has a redshirt season available. Not sure if that's in play here, but I'm also not sure if it's not.
---
Jeff from Atlanta writes
: How much of Stanford's recent success do people/fans/media in Pac-12 land attribute to Shannon Turley? The amazing Cardinal W-L stats seem to coincide directly with his tenure. I have read a number of articles on his FMS [Functional Movement Screen scores] and think it is a breakthrough mindset. It is only a matter of time before other schools start migrating away from the old ways.
Ted Miller
: Jeff,
you are not the first to take note
of Turley and his innovative conditioning techniques and philosophies. The National Strength and Conditioning Association named Turley its strength and conditioning coach of the year in 2013. More than a few folks around Stanford call him the Cardinal's secret weapon, pretty much a conditioning guru.
For one, this is a pretty strong sell from Turley's bio
:
In 2013, his position became the first endowed football directorship in the FBS and was renamed the Kissick Family Director of Football Sports Performance. Turley has created a comprehensive player development program designed to achieve three primary goals: injury prevention, athletic performance enhancement and mental discipline development.

Turley was FootballScoop's 2011 Strength & Conditioning Coach of the Year as determined by a panel of coaches and previous recipients. Turley has earned significant credit from the Stanford coaching staff for his role in turning around a program that won a single game the year before his arrival to a program with three straight BCS bowl appearances.
And this is a pretty strong sell in the New York Times from former Stanford star Richard Sherman.
"We have an advantage when we get into the NFL," Sherman said. "It shows you how little scouts know in their assessments. I'll roll with Shannon Turley."
While he might not be well-known nationally, Turley was important enough on the Farm to merit a
three-part series in The Stanford Daily
.
I've long believed that a football team's strength coach is every bit as important as a position coach who doesn't call plays, and they should be paid accordingly.
All good teams have great natural athletes with potential. What makes a team elite is what is done with those athletes to maximize that potential.
---

Jordan from Pullman, Wash., writes:
I get that you didn't write the
spring breakdown for running backs
, but I'm assuming you had some oversight on the article. I have an issue with Washington State's coverage. The Air Raid isn't going to produce thousand-yard rushers often. Or ever. But that doesn't mean that Wazzu doesn't have some very good backs already established, and a few intriguing prospects coming in for next year. The three rushers coming in are three-star recruits. Also,
Teondray Caldwell
and
Marcus Mason
averaged 5.4 ypc, a VERY respectable number, especially in an offense that is not built to produce on the ground. Come on Pac-12 Blog, where's the love?
Ted Miller
: I have no oversight. Maybe undersight. Or near sight. Or lack of insight.
I will grant you that Mason finished the regular season with three strong performances, rushing for 203 yards on 32 carries -- 6.3 yards per tote -- while catching 21 passes for 117 yards. Perhaps not coincidentally, the Cougars won two of those games and played a competitive Apple Cup on the road at Washington.
And I will grant you that the Cougs' measly 2.9 yards per carry last year, which ranked 120th in the nation, is a bit deceiving because Mason and Caldwell averaged 4.9 and 5.4 yards per carry, respectively, while also combining for 78 receptions, catching throws that mostly operated as aerial handoffs.
And the Pac-12 blog wants to give love. That's, really, what we are all about.
But I also think we can all agree that no Pac-12 team puts less emphasis on the running game, and until the Cougars make a big move in the North Division without a running game, a lot of folks will be skeptical that at team can thrive in the deep, physical Pac-12 without at least a fair-to-middling rushing threat.
---
Benvolio from Los Angeles writes:
I was just reading your article on the state of spring ball in the Pac-12 and found the line, "Just one first-team All-Pac-12 performer is back -- Ducks CB
Ifo Ekpre-Olomu
." Ted, you forgot
Leonard Williams
AGAIN. Don't make me tell Leonard.... He's 6-5, 300 pounds and worked hard for that All-Pac-12 title.
Ted Miller
: Man, forget Leonard Williams a couple of times and Benvolio goes from peacemaker to biting his thumb at the Pac-12 blog.
Perhaps Queen Mab hath been with me, distracting me from recalling the Pac-12's best defensive lineman this past fall?
Or maybe I just miss you, Benvolio, and wanted to see if you were paying attention?
Or maybe it was just a stupid oversight?
No, couldn't be that. That's too out of character. Had to be Queen Mab.
June, 5, 2013
6/05/13
1:00
PM ET
What the heck is a three-headed monster in the Pac-12? It's about returning production: Elite combinations of quarterback, running back and receiver in the conference.
The only "pure" three-headed monsters in the Pac-12 this fall are Arizona State and Washington, in that the Sun Devils and Huskies welcome back their quarterback, leading rusher and leading receiver.
Yet, even they aren't without issues. The Sun Devils probably wish they had an elite receiver leading their passing offense instead of tight end
Chris Coyle
. The Huskies are hoping the
Keith Price
in 2013 is not the Price of 2012, but of 2011.
Further, some teams are close: Oregon State has two quarterbacks coming back with extensive starting experience, leading rusher
Storm Woods
and an 1,000-yard receiver in
Brandin Cooks
.
Two teams, California and Washington State, don't welcome back their leader at any of the three positions
Ranking these isn't easy. The challenge is priority and value. What if a team is, say, outstanding at running back and receiver, but inexperienced at quarterback? How does that measure up with a team that is merely good, but also experienced at all three positions?
Further, four teams are difficult to rate because of uncertainty at at least one position: Arizona, California and USC at quarterback, and UCLA at running back.
So here's how we see things stacking up -- and, yes, we did some projecting at some positions. And, yes, you should feel free to be outraged by our lunkheaded bias against your team, which obviously should be ranked much higher.

1. Oregon

QB
Marcus Mariota
, RB
De'Anthony Thomas
, WR
Josh Huff
The skinny
: If you give extra weight to quarterback, the Ducks prevail. Moreover, Thomas and Huff are explosive playmakers who seem poised to step into the limelight and put up big numbers this fall. And there's also tight end
Colt Lyerla
.

2. Arizona State

QB
Taylor Kelly
, RB
Marion Grice
, TE/H-back Chris Coyle
The skinny
: Kelly is a good start and there's depth at running back behind Grice with the capable
D.J. Foster
. Both Grice and Foster are good receivers, so they can be lumped in with Coyle. This offense will be outstanding if an incoming receiver can step in and stretch the field.

3. Oregon State

QB
Sean Mannion
/
Cody Vaz
, RB Storm Woods, WR Brandin Cooks
The skinny
: We can make an exception for the Beavers indecision at quarterback, because we know both guys well. Woods and Cooks are a strong running back-receiver combo who will give whoever wins the quarterback job plenty to work with.

4. UCLA

QB
Brett Hundley
, RB
Jordon James
, WR
Shaq Evans
The skinny
: Hundley carries the Bruins here. There is uncertainty at running back, and Evans averaged just 62.9 yards receiving last season with just three TDs. But Hundley is an All-American candidate.

5. Washington

QB Keith Price, RB
Bishop Sankey
, WR
Kasen Williams
The skinny
: If Price returns to form, this troika would move up a couple of notches. Williams gets seconded by tight end
Austin Seferian-Jenkins
.

6. Stanford

QB
Kevin Hogan
, RB
Tyler Gaffney
, WR
Ty Montgomery
The skinny
: Hogan was the guy in the cockpit during the Cardinal's late-season charge. Gaffney is a proven guy, despite taking a year off. And Montgomery has shown flashes of being a first-option wide-out.

7. USC

QB
Max Wittek
/
Cody Kessler
, RB
Silas Redd
, WR
Marqise Lee
The Skinny
: Whoever wins the starting quarterback job should be at least solid. Redd should hit the 1,000-yard mark. And Lee is the best guy at his position in the country. But will his numbers go down this fall without Matt Barkley?

8. Utah

QB
Travis Wilson
, RB
Kelvin York
, WR
Dres Anderson
The skinny
: Plenty of experience here, and the depth is solid behind York and Anderson. And don't forget underrated tight end
Jake Murphy
. The key element is Wilson taking a strong step forward after being thrown to the wolves as a true freshman starter.

9. Arizona

QB
Jesse Scroggins
, RB
Ka'Deem Carey
, WR
David Richards
The skinny
: Carey carries this one because the Wildcats are uncertain at quarterback -- it as easily could be
B.J. Denker
or true freshman
Anu Solomon
up there. Even with that fluidness at quarterback, this ranking would be much higher if leading receiver
Austin Hill
didn't blow out his knee this spring.

10. California

QB
Zach Kline
, RB
Brendan Bigelow
, WR
Chris Harper
The skinny
: Yes, we are projecting Kline wins the quarterback competition. There is great potential here, and Harper isn't the only talented young receiver who could lead the Bears. But Bigelow, as explosive as he is, needs to prove he can stay healthy and become an every-down back.

11. Washington State

QB
Connor Halliday
, RB
Teondray Caldwell
, WR
Gabe Marks
The skinny
: Halliday has yet to completely win over coach Mike Leach, as much of Leach's post-spring commentary was on how well redshirt freshman quarterback
Austin Apodaca
played. Caldwell is a quick scat back, but the Cougs had essentially zero running game last season. Marks might be poised for a breakout, and the Cougs are solid at receiver overall.

12. Colorado

QB
Connor Wood
, RB
Christian Powell
, WR
Paul Richardson
The skinny
: This is a better-than-you-think troika, because Richardson is among the most talented receivers in the conference. But he's coming back from a knee injury that killed his 2012 season. Powell, a 235 pounder, rushed for a respectable 691 yards last season. The linchpin is Wood: Is he ready to lead this offense? The bottom line is the Buffs can't rank higher because they were last in the Pac-12 in total and scoring offense last season.
May, 17, 2013
5/17/13
2:30
PM ET
April, 25, 2013
4/25/13
5:30
PM ET
The offseason is the season of lists. And here's another.
Athlon Sports
ranked the Pac-12 running backs
, 1-20, and offered a breakdown of each player for your reading pleasure.
It's a pretty solid list, with maybe one or two position flips. But overall, it's a good assessment of the running back talent in the league and an example of just how deep the conference is at the position. As a reminder, the league produced six 1,000-yard rushers last season, the national rushing leader and two of the three Doak Walker finalists. Only two of those six are back -- and, yes, they are highly ranked.
Here's Athlon's take:
Ka'Deem Carey, Arizona
De'Anthony Thomas, Oregon
Bishop Sankey, Washington
Silas Redd, USC
Marion Grice, ASU
Storm Woods, Oregon State
Brendan Bigelow, California
Byron Marshall, Oregon
D.J. Foster, ASU
Anthony Wilkerson, Stanford
Christian Powell, Colorado
Tyler Gaffney, Stanford
Thomas Tyner, Oregon
Barry Sanders, Stanford
Kelvin York, Utah
Paul Perkins, UCLA
Jordon James, UCLA
Justin Davis, USC
Terron Ward, Oregon State
Teondray Caldwell, Washington State
Some thoughts:
The top three make sense -- and the order of those three could really fall into personal preference because all three could be No. 1. If you're looking for a "traditional" running back, then you could probably put Sankey over Thomas. But DAT does so much more than just run the football and is so explosive that I could see him at Nos. 1, 2, or 3. Carey's credentials certainly warrant the top spot and the Pac-12 blog is very high on Sankey, as you can see from here and here. Expect to see more from him in the receiving game as well in 2013.
Personally, I'd put Grice ahead of Redd. As Ted pointed out earlier in the week, the Pac-12 is home to the hybrid back and Grice is a super dynamic. And the way ASU uses its backs in the passing game, it will equate to huge total yardage numbers for Grice and Foster. I do think we'll see more ground game from the Trojans this year, which could also mean bigger numbers from Redd. A few guys behind him though who could steal some carries.
The Pac-12 blog is a big fan of Woods and we're expecting an even bigger year in 2013. The Beavers were 53-47 in the pass to run ratio, which is good balance. But the passing game was more productive than the ground attack, which ranked 10th in the league last year. As Woods develops (and Ward is a solid change-of-pace back), we're expecting to see those numbers even out.
Between Bigelow, Marshall and Foster, Foster was more productive last year (1,026 total yards, six combined touchdowns) compared to Marshall (461, 4) and Bigelow (523, 4) -- but Bigelow and Marshall certainly have explosive potential. Foster should also see increased productivity with Byron's brother, Cameron, gone at ASU. You could easily interchange all three at all three spots and make a solid case for their placement.
Stanford and Oregon are the only schools with three backs on the list. Gaffney's return certainly bolsters the Cardinal running back corps -- but neither he nor Wilkerson have had to carry the load the way Stepfan Taylor, a three-time 1,000-yard rusher, did the previous seasons. That continues to be one of the most intriguing position battles of the offseason.
Very excited to see what 6-0, 240-pound bruiser Christian Powell can do in the pistol.
As I've mentioned on previous Athlon lists, I'm not a huge fan of ranking players who haven't taken snaps yet -- but in the case of Sanders and Tyner, I can buy that. Sanders has arguably the best offensive line in the country ahead of him and Tyner fits an offense that makes great running backs better.
York showed some potential last year when he started sharing some carries with two-time 1,000-yard rusher John White, but he missed three games with an ankle injury late in the season. It will be interesting to see what he does over the course of the season and how the running game plays into Utah's new offensive philosophy in the Dennis Erickson-Brian Johnson brain trust.
Big hole at UCLA. Anyone have a five-sided coin?
Washington State averaged 29.1 rushing yards per game last year. And unless Mike Leach is secretly switching to the triple option, any mention of a WSU running back doesn't feel particularly applicable.
November, 26, 2012
11/26/12
5:50
PM ET
The Pac-12 conference has announced its 2012 individual honors and all-conference first and second teams as voted on by the coaches.
Offensive Player of the Year
:
Marqise Lee
, WR, USC.
Pat Tillman Defensive Player of the Year
:
Will Sutton
, DE, Arizona State.
Freshman Offensive Player of the Year
:
Marcus Mariota
, QB, Oregon.
Freshman Defensive Player of the Year
:
Leonard Williams
, DE, USC.
Coach of the Year
: David Shaw, Stanford.
FIRST-TEAM OFFENSE
QB
Marcus Mariota, Fr., Oregon
RB
Kenjon Barner
, Sr., Oregon
RB
Ka'Deem Carey, So., Arizona
WR
Marqise Lee, So., USC
WR
Markus Wheaton
, Sr., Oregon State
TE
Zach Ertz
, Sr., Stanford
OL
Hroniss Grasu
, So., Oregon
OL
Khaled Holmes
, Sr., USC
OL
Brian Schwenke
, Sr., California
OL
Xavier Su'a-Filo, So., UCLA
OL
David Yankey
, Jr., Stanford
SECOND-TEAM OFFENSE
QB
Matt Scott
, Sr., Arizona
RB
Johnathan Franklin
, Sr., UCLA
RB
Stepfan Taylor
, Sr., Stanford
WR
Austin Hill
, So., Arizona
WR
Robert Woods
, Jr., USC
TE
Austin Seferian-Jenkins
, So., Washington
OL
Jeff Baca
, Sr., UCLA
OL
David Bakhtiari
, Jr., Colorado
OL
Sam Brenner
, Sr., Utah
OL
Kevin Danser
, Sr., Stanford
OL
Sam Schwartzstein
, Sr., Stanford
FIRST-TEAM DEFENSE
DL
Scott Crichton
, So., Oregon State
DL
Dion Jordan
, Sr., Oregon
DL
Star Lotulelei
, Sr., Utah (2)
DL
Will Sutton, Jr., Arizona State
LB
Anthony Barr
, Jr., UCLA
LB
Trent Murphy
, Sr., Stanford
LB
Chase Thomas
, Sr., Stanford (2)
DB
Ifo Ekpre-Olomu
, So., Oregon
DB
Jordan Poyer
, Sr., Oregon State
DB
Ed Reynolds
, Jr., Stanford
DB
Desmond Trufant
, Sr., Washington
SECOND-TEAM DEFENSE
DL
Henry Anderson
, Jr., Stanford
DL
Morgan Breslin
, Jr., USC
DL
Ben Gardner
, Sr., Stanford
DL
Datone Jones
, Sr., UCLA
LB
Kiko Alonso
, Sr., Oregon
LB
Michael Clay
, Sr., Oregon
LB
Brandon Magee
, Sr., Arizona State
DB
Deone Bucannon
, Jr., Washington State
DB
Alden Darby
, Jr., Arizona State
DB
T.J. McDonald
, Sr., USC
DB
Nickell Robey
, Jr., USC
FIRST-TEAM SPECIALISTS
PK
Vince D'Amato, Jr., California
P
Jeff Locke
, Sr., UCLA
RS
Reggie Dunn
, Sr., Utah
ST
Jordan Jenkins
, Sr., Oregon State
SECOND-TEAM SPECIALISTS
PK
Andrew Furney
, Jr., Washington State
P
Josh Hubner
, Sr., Arizona State
RS
Marqise Lee, So., USC
ST
David Allen
, Sr., UCLA
ALL-PAC-12 HONORABLE MENTION
NOTES
By School: OREGON and STANFORD placed the most players on the first team with five selections each, followed by OREGON STATE with four.
By Class: Of the 26 first-team selections, 14 are seniors, five are juniors, six are sophomores and one freshman.
Unanimous: Only one player was named on the first-team ballot of all 12 head coaches--WR Marqise Lee of USC.
Two-time selections: Two players are repeat first-team selections from last year--DT Star Lotulelei of Utah, LB Chase Thomas of Stanford.
All-Academic: Two players were named to the first team on both the All-Pac-12 Team and the Pac-12 All-Academic Football Team--P Jeff Locke of UCLA, OL Khaled Holmes, USC. In addition, OL Kevin Danser of Stanford, DL Ben Gardner of Stanford and Michael Clay of Oregon were named second-team All-Academic and second-team All-Pac-12.
October, 1, 2012
10/01/12
10:00
AM ET
Taking stock of the fifth week of games in the Pac-12.
Team of the week
: Arizona State has been operating under the radar, in large part because it has posted good wins as it climbed to 4-1, but not one that distinguished it nationally. Still, the 27-17 victory over California had an impressive solidity to it, with the Sun Devils making critical plays on both sides of the ball. Further, you can't forget you can no longer type that ASU hasn't won in Berkeley since 1997, as I did 457 times this past week.
Best game
: Oregon State's 38-35 win at Arizona wasn't over until the final minute. It featured six second-half lead changes and 1,158 yards of offense. It featured a lot of gumption from both teams, too. Probably the most entertaining game so far this year. Of course, if you subscribe to DirectTV, you didn't see it. Sorry.
[+] Enlarge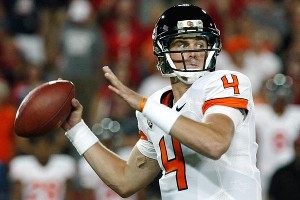 Rick Scuteri/US PresswireBeavers quarterback Sean Mannion had a stellar game against Arizona on Saturday.
Biggest play
: In a game dominated by the offenses, it was a defensive play that gave the Beavers the prize at Arizona. With less than a minute left, Arizona had a first down on its 42, needing a field goal to force overtime and a TD to win. A minute is plenty of time for the Wildcats' fast-paced offense, which had gashed the Beavers throughout the second half. But Beavers cornerback
Rashaad Reynolds
jumped in front of a
Matt Scott
pass and grabbed the game-clinching interception.
Offensive standout
: Oregon State QB
Sean Mannion
completed 29 of 45 throws for a career-high 433 yards and three touchdowns with no interceptions against the Wildcats. It was the fifth most passing yards in school history. Further, on the game-winning drive, he was 6-for-6 for 52 yards with a 9-yard TD pass to
Connor Hamlett
.
Defensive standout
: UCLA's
Damien Holmes
moved from defensive end to inside linebacker this year. Then, when
Jordan Zumwalt
got hurt, he moved to outside linebacker against Colorado. All he did was record seven solo tackles -- five coming for a loss -- with three sacks in UCLA's 42-14 win.
Special teams standout
: Washington State true freshman
Teondray Caldwell
had eight kick returns for 220 yards against Oregon, including a 92-yard effort that set up a Cougars TD. It was the second most kickoff return yards in a single game in school history.
Smiley face
: The way Week 5 played out helped the conference end up with six teams ranked in the AP poll. Now-No. 23 Washington's win against Stanford was impressive enough for voters to forget the debacle at LSU. No. 25 UCLA, which shouldn't have been voted out in the first place, bounced back from its loss to Oregon State by winning in an appropriately dominant fashion at Colorado. UCLA joined No. 2 Oregon, No. 13 USC, No. 14 Oregon State and No. 18 Stanford. It's been a long time since the conference earned this much respect for its depth.
Frowny face
: With its loss to Arizona State, California fell to 1-4 and 0-2. It was the second defeat so far in newly remodeled Memorial Stadium. The Bears' bowl hopes are feeling increasingly unlikely. QB
Zach Maynard
doesn't look improved as a second-year starter. The offensive line is getting pushed round. Even the defense has been spotty at times. Things are not going well for coach Jeff Tedford, who will only hear the grousing increase if his team can't find a way to avoid a losing season.
Thought of the week
: Conference of quarterbacks? Only one Pac-12 QB, Arizona State's
Taylor Kelly
, at No. 16, ranks in the top 25 in the nation in passing efficiency. Meanwhile, seven conference teams rank among the top 25 in sacks per game: No. 5 Arizona State (4.2 sacks per game), No. 6 USC (4.0), No. 10 UCLA (3.4), No. 13 teams Washington State and Oregon (3.2) and No. 25 teams Stanford and Utah (2.75).
Questions for the week:
Will the Pac-12 start eating itself up or will the final regular-season rankings still feature five or six teams? How many teams are capable of winning nine or 10 games? There are some interesting misses of note: USC and Oregon State, Arizona State and Stanford, Oregon and UCLA, Washington and either Arizona State or UCLA. When good teams don't play, it makes it easier for multiple teams to remain in the rankings. That's a secret you learn from conferences with eight-game conference schedules.