April, 30, 2014
Apr 30
7:00
PM ET
Stanford safety
Jordan Richards
took a few minutes to chat with the Pac-12 blog about how spring ball went for the two-time defending Pac-12 champs and adjusting to life with some new defensive coaches.
Every year it seems like people say "this is the year Stanford takes a step back," and every year you prove people wrong. How will you prove them wrong this year?
[+] Enlarge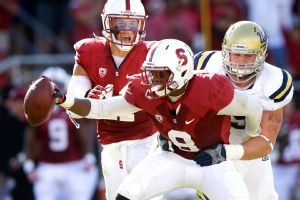 Ezra Shaw/Getty ImagesJordan Richards had three interceptions last season, including two against UCLA.
Jordan Richards:
What happens in the season is a product of what we do in the offseason. Whether that's on the field in spring ball or on the field by ourselves or the stuff we do with Coach [Shannon] Turley in strength and conditioning. It's a mentality that's throughout our program. We have a standard. The bar is raised every year, and we're constantly trying to beat that standard. The last couple of years has been a product of the work the previous classes have gotten everyone to buy into.
How much of a hangover was there following the Rose Bowl?
JR
: I would not say there was much. There's not much to be happy about after you lose a Rose Bowl. So we got our two weeks off. Got rejuvenated. Got to reboot. Got to go home. And then it was right back to the grind.
The secondary faces a lot of pressure because traditionally it has been so tough to run on Stanford. As a result, the secondary stats are a little skewed. How do you guys handle that knowing teams are going to be coming after you through the air a lot of the time because the front seven has been so tough?
JR
: It's nice playing behind those front seven guys and how they get after the passer because it makes our job easier. We can cover while they get after the quarterback. We definitely appreciate all of that. In terms of the numbers, it doesn't really matter. It's cool to have bragging rights. But in the end, all that really matters is Pac-12 trophies and bowl trophies. The one we want is a national championship trophy and that's what we're working for. We play in a pass-happy conference anyway. Wazzu is going to put it up 80-90 times. You just have to live with it and hope each and every Saturday you come out with a "W" when it's all said and done.
There have been some changes on the defensive coaching staff. What has that adjustment been like this spring?
JR
: We were sad to see coach [Derek] Mason leave. But we're happy to see him as a head coach. Coach [Duane] Akina came in for the second half of spring ball. For an older guy like me, you've heard one voice for the last three years. So it's different with a new voice out there. That's something we're all getting used to. Coach Akina has this group moving in the right direction. Some guys who probably didn't have as big a role in the past couple of years have gotten a clean slate with a new coach and that's good for us. Everyone has something to prove, including myself, to Coach Akina. We're trying to put our best football forward. The spring was good. We just need to translate that into the spring and hopefully when we get into camp we'll be ready to go.
What has it been like without Ed Reynolds? You two were such a good tandem the last couple of years. Is it strange not having him out there next to you?
JR
: I guess it's weird to know I'm one of the older guys now. Between myself and
Kyle Olugbode
and
[John] Flacco
. I guess that's the biggest change. You see guys you played with for two or three years and they start disappearing. You start with
Michael Thomas
and
Delano Howell
and those guys graduated. Then
Terrence Brown
and Harold Bernard and those guys graduate. I guess it's a realization that this is the last one I have eligibility-wise. Whoever is playing among the DB group, I feel like we really improved. Who plays? I don't know. I'm fighting for time just like everybody else. It's been good. We're all grinding and fighting in the same direction.
Speaking of guys leaving, you're losing a lot of guys who were the "faces" of the defense in Shayne Skov, Trent Murphy and Ben Gardner. Do you feel like this is starting to become your defense?
JR
: Maybe not in the traditional "face" of the defense. But in terms of leadership, confidence, poise on the field, I feel like that's a responsibility of mine more than it's been the last couple of years. There are plenty of guys besides me who have played a lot of football here who are poised, calm and respected players on this defense. The faces change. We don't have the Screaming Mohawk with Shayne or Big Murph out there. But we've got guys that can still demand what those guys demanded of this defense.
After the NFL, what do you want to do with your public policy degree?
JR
: I'm still not sure. Taking classes to figure that out. I want to try my hand at education. Whether that's policy, I don't know. I feel like I need some experience in the classroom before I focus on policy. Hopefully I'll find out more this summer.
Finish this sentence: In 2014, Stanford football will be …
JR
: Exciting. I'm excited to play next year and I'm excited what this team has in store for our school and the Pac-12. I'm excited. That's the word I would use.
January, 24, 2013
1/24/13
9:00
AM ET
Ten Pac-12 players opted to enter the NFL draft a year early. Several others opted to come back.
Here are the guys who left:
Keenan Allen
, WR, California;
Robert Woods
, WR, USC;
Marquess Wilson
, WR, Washington State;
Zach Ertz
, TE, Stanford;
Levine Toilolo
, TE, Stanford;
David Bakhtiari
, OL, Colorado;
Joe Kruger
, DE, Utah;
Nickell Robey
, CB, USC;
Terrence Brown
, CB, Stanford; and
Steve Williams
, CB, California
And here are the notable guys who stayed:
Will Sutton
, DT, Arizona State;
Anthony Barr
, OLB, UCLA;
Shayne Skov
, LB, Stanford;
Ben Gardner
, DE, Stanford;
Trent Murphy
, OLB, Stanford; and
Deandre Coleman
, DE, California
So how do things stand?
Biggest winners
: Sutton was the Pac-12's Defensive Player of the Year and an All-American, yet he opted to return for his senior year, perhaps the most surprising call by a conference prospect. Barr has perhaps more NFL upside than any other player in the conference, but he opted to return to UCLA. The Sun Devils and Bruins' defenses just got a whole lot better in 2013. And these two figure to battle for 2013 Defensive Player of the Year honors.
Biggest loser
: Stanford was a winner and a loser. The good news was Skov, Murphy and Gardner opting to return to what should be an outstanding defense. Still, no other team lost three quality starters: Ertz, Toilolo and Brown. Ertz and Toilolo were cornerstones of the Cardinal's tight end-heavy attack, combing for 95 catches and 10 touchdowns last season. Ertz is a likely early draft pick, so his departure is understandable. Toilolo's is a bit more surprising, seeing that he could put up huge numbers as a feature guy in 2013 for a high-profile team, which would boost his prospects. Brown also was a bit of a surprise, as he was a solid but unremarkable player.
Headscratchers
: Brown, California cornerback Steve Williams and Utah defensive end Joe Kruger all entered the draft with uncertain prospects. Each was only honorable mention All-Conference this season. Each might have been able to boost his stock by coming back in 2013, but a verdict on this won't be delivered until draft day.
The replacements
: Here are some ideas on who steps in for the departed guys:
January, 11, 2013
1/11/13
12:00
PM ET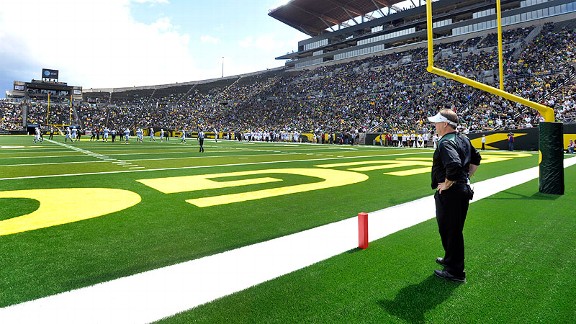 Steve Dykes/Getty Images8833454: Will Chip Kelly regret his decision to pass on a job in the NFL to stay in Eugene?
Does one mean more than many? That's the Take Two debate on the table today for your Pac-12 bloggers. What has the greater impact, Chip Kelly staying at Oregon? Or the key players who have chosen to pass on the NFL for another year?
Kevin Gemmell:
Chip Kelly is more than a coach. He's a symbol of all things Oregon. He symbolizes speed, ingenuity and innovation. Some might even say, logistics.
That's why his return to Oregon is more important than any player -- or group of players -- returning to their respective teams for one more year. Kelly's return, while technically not a return since he never left, is a symbol of stability for a program that is sure to once again be in the national championship conversation next year, the year after that and the year after that.
After the Rose Bowl, I was talking with a few other national writers and we were discussing our top five teams for 2013. Once again, I was the lone wack-job that had Oregon No. 1. Hey, I stand by my insanity.
At the time, the popular opinion was that Kelly would be in the NFL in a matter of days. The feedback I heard was that there's no way they would rank Oregon in the top three if Kelly were gone. This, in my opinion, didn't make sense. The players are in place and Mark Helfrich is more than capable of picking up the torch and running with it. Oregon wouldn't be so quick on the draw -- twice -- to name him head-coach-in-waiting if they didn't deem him worthy.
But with Kelly back, the Ducks will be a preseason No. 1 or No. 2 because his mere presence demands the respect of the national media and opinion makers who hold the key to the postseason chances of teams. That means a fast-pass to the front of the line for the national championship game. No relying on anyone else to win or lose. Of course, you still have to win the games. And as I'm sure Ted will argue below, Stanford's returning trio of defenders isn't going to make that easy.
I almost got the impression folks were looking for a reason not to have Oregon in the top two. And Kelly departing for the NFL would have given them an opening. But now there are no excuses. Like every team in America, coaches are scrambling to patch holes and rearrange depth charts. And just like everyone else -- Oregon has holes to fill. Linebacker, for example, jumps out.
But the stability and national perception of the program is intact. There is no scrambling to save recruits. Other coaches who were licking their chops at the prospect of snaking one or two of those would-be Ducks who might have gone on the fence in Kelly's departure can keep on licking.
And yes, there is something to be said for loyalty in college football. Oxymoronic, I know. Seems like a strange concept. Who knows the real reasons why he decided to stay. Maybe he didn't want to be perceived as jumping ship if/when sanctions come down. Maybe he feels like he can't leave until he wins a title. Or maybe he simply doesn't want to go to the NFL. Honestly, I could care less what the reason is. I like Chip Kelly. And I'm glad he's back.
The fact that he's staying is great for the Pac-12, great for college football and great for Oregon. Players will turnover every year. That's the nature of the sport. But no individual player coming back can sway the opinions of so many like Chip Kelly.
Ted Miller:
Kevin is correct: The biggest story in the Pac-12 after the bowl games was the return of Kelly after he spurned the NFL. Again.
But this is a Take Two, and my counter is the guys who will try to make him wish he were in Cleveland, which we all know is quite a challenge.
There's a lot of defensive talent coming back in the Pac-12 in 2013, and a lot of it we didn't think would be back, most notably Arizona State DT
Will Sutton
, the Pac-12 Defensive Player of the Year and Morris Trophy winner, and UCLA OLB
Anthony Barr
, who could have been a first-round NFL draft choice just based on physical talent alone.
Barr probably returned because he could play his way into the top-10 of the draft. But it's difficult to imagine Sutton, undersized by NFL standards, putting up better numbers than he had in 2012, when he tied with South Carolina's man-beast
Jadeveon Clowney
for third in the nation with 1.08 sacks per game. Sutton and Barr combined for 26.5 sacks.
Kelly probably is feeling pretty fortunate he won't have to play Arizona State during the regular season, but he might have to contend with the Sun Devils in the Pac-12 title game.
Or he might not even win the North Division because, after Sutton and Barr, you have the Stanford troika: linebacker
Shayne Skov
, defensive end
Ben Gardner
and outside linebacker
Trent Murphy
, who also opted to return for their senior seasons. While the Cardinal did lose cornerback
Terrence Brown
to the draft, it welcomes back eight starters from one of the nation's best defenses.
Things won't be easy for Kelly's ludicrous speed offense this fall, for sure.
In fact, six first-team All-Pac-12 defenders and six from the second-team are expected back in 2013, and several will be All-American candidates. Sutton, Barr and Skov are likely preseason first-team All-Americans.
So Kelly's return is a good thing for Oregon and a good thing for the Pac-12, but a strong crew of Pac-12 defensive players will back in 2013, and they have no plans to lead a parade celebrating Kelly being back in Eugene.
January, 8, 2013
1/08/13
3:00
PM ET
More staying-and-going news from Palo Alto, Calif..
A day after Stanford tight ends
Zach Ertz
and
Levine Toilolo
declared
for the NFL draft
, defensive back
Terrence Brown
has done the same.
Brown started all 14 games for the Cardinal this past season and finished with 65 tackles, including three tackles for a loss. He had one interception and was second on the team with nine pass breakups and third on the team with 10 passes deflected.
Here is a statement from Brown released through the university:
"I have decided to forgo my final season at Stanford and make myself eligible for the 2013 NFL draft. I would like to thank the entire Stanford football program, especially Coach [David] Shaw and Coach [Derek] Mason, for helping to put me in this position. My admission to Stanford University in 2009 was a life-changing event for me, and all of the faculty, students and staff I have met since have truly blessed and enriched me. I will forever and always be a Cardinal. The past four years have been a great experience for me at Stanford, and I feel well prepared to move on to the next level.

"I am on track to graduate from Stanford University in June with my degree in Science, Technology & Society and feel excited to move on to the next chapter of my life. I would like to thank my family for supporting me throughout my college career, and to thank God for blessing me with my talent and opportunity."
Brown leaves behind a defense that should be loaded again next season. With the recent announcements that defensive end
Ben Gardner
and linebackers
Shayne Skov
and
Trent Murphy
are coming back, the Cardinal should again be one of the top defensive units in the conference and country.
Brown was an All-Pac-12 honorable mention pick in 2012.
November, 26, 2012
11/26/12
5:50
PM ET
The Pac-12 conference has announced its 2012 individual honors and all-conference first and second teams as voted on by the coaches.
Offensive Player of the Year
:
Marqise Lee
, WR, USC.
Pat Tillman Defensive Player of the Year
:
Will Sutton
, DE, Arizona State.
Freshman Offensive Player of the Year
:
Marcus Mariota
, QB, Oregon.
Freshman Defensive Player of the Year
:
Leonard Williams
, DE, USC.
Coach of the Year
: David Shaw, Stanford.
FIRST-TEAM OFFENSE
QB
Marcus Mariota, Fr., Oregon
RB
Kenjon Barner
, Sr., Oregon
RB
Ka'Deem Carey, So., Arizona
WR
Marqise Lee, So., USC
WR
Markus Wheaton
, Sr., Oregon State
TE
Zach Ertz
, Sr., Stanford
OL
Hroniss Grasu
, So., Oregon
OL
Khaled Holmes
, Sr., USC
OL
Brian Schwenke
, Sr., California
OL
Xavier Su'a-Filo, So., UCLA
OL
David Yankey
, Jr., Stanford
SECOND-TEAM OFFENSE
QB
Matt Scott
, Sr., Arizona
RB
Johnathan Franklin
, Sr., UCLA
RB
Stepfan Taylor
, Sr., Stanford
WR
Austin Hill
, So., Arizona
WR
Robert Woods
, Jr., USC
TE
Austin Seferian-Jenkins
, So., Washington
OL
Jeff Baca
, Sr., UCLA
OL
David Bakhtiari
, Jr., Colorado
OL
Sam Brenner
, Sr., Utah
OL
Kevin Danser
, Sr., Stanford
OL
Sam Schwartzstein
, Sr., Stanford
FIRST-TEAM DEFENSE
DL
Scott Crichton
, So., Oregon State
DL
Dion Jordan
, Sr., Oregon
DL
Star Lotulelei
, Sr., Utah (2)
DL
Will Sutton, Jr., Arizona State
LB
Anthony Barr
, Jr., UCLA
LB
Trent Murphy
, Sr., Stanford
LB
Chase Thomas
, Sr., Stanford (2)
DB
Ifo Ekpre-Olomu
, So., Oregon
DB
Jordan Poyer
, Sr., Oregon State
DB
Ed Reynolds
, Jr., Stanford
DB
Desmond Trufant
, Sr., Washington
SECOND-TEAM DEFENSE
DL
Henry Anderson
, Jr., Stanford
DL
Morgan Breslin
, Jr., USC
DL
Ben Gardner
, Sr., Stanford
DL
Datone Jones
, Sr., UCLA
LB
Kiko Alonso
, Sr., Oregon
LB
Michael Clay
, Sr., Oregon
LB
Brandon Magee
, Sr., Arizona State
DB
Deone Bucannon
, Jr., Washington State
DB
Alden Darby
, Jr., Arizona State
DB
T.J. McDonald
, Sr., USC
DB
Nickell Robey
, Jr., USC
FIRST-TEAM SPECIALISTS
PK
Vince D'Amato, Jr., California
P
Jeff Locke
, Sr., UCLA
RS
Reggie Dunn
, Sr., Utah
ST
Jordan Jenkins
, Sr., Oregon State
SECOND-TEAM SPECIALISTS
PK
Andrew Furney
, Jr., Washington State
P
Josh Hubner
, Sr., Arizona State
RS
Marqise Lee, So., USC
ST
David Allen
, Sr., UCLA
ALL-PAC-12 HONORABLE MENTION
NOTES
By School: OREGON and STANFORD placed the most players on the first team with five selections each, followed by OREGON STATE with four.
By Class: Of the 26 first-team selections, 14 are seniors, five are juniors, six are sophomores and one freshman.
Unanimous: Only one player was named on the first-team ballot of all 12 head coaches--WR Marqise Lee of USC.
Two-time selections: Two players are repeat first-team selections from last year--DT Star Lotulelei of Utah, LB Chase Thomas of Stanford.
All-Academic: Two players were named to the first team on both the All-Pac-12 Team and the Pac-12 All-Academic Football Team--P Jeff Locke of UCLA, OL Khaled Holmes, USC. In addition, OL Kevin Danser of Stanford, DL Ben Gardner of Stanford and Michael Clay of Oregon were named second-team All-Academic and second-team All-Pac-12.
April, 3, 2012
4/03/12
12:00
PM ET
Stanford's secondary is going to be young next season. Not exactly breaking news, but that's the reality when four seniors, three of them starters, graduate. But the players returning also have some experience and quality playing time, which should help compensate for their youth.
In other words, there no excuses.
"I think [defensive coordinator Derek] Mason might have been a little more tolerant with us last year, a little more patient," said safety
Jordan Richards
. "Not anymore. We've all been here and have a full season under our belts. This is on us -- and coach Mason is making sure we know that."
[+] Enlarge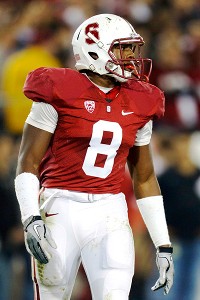 Jason O. Watson/US PresswireJordan Richards is one of many young Cardinal defensive backs that will have to replace three senior starters.
The back four -- two cornerbacks and two safeties -- have to be getting tired of hearing how good the front seven is going to be. They are so experienced. This guy is back and that guy is back. It gets old. And if the front seven is considered Stanford's defensive strength, by virtue of elimination, the back four can't be.
That perception is something the group is looking to alter. But first they'll need to settle some competition. Gone are safeties
Delano Howell
and
Michael Thomas
. Gone are cornerbacks
Johnson Bademosi
and
Corey Gatewood
.
Terrence Brown
and
Barry Browning
are back at cornerback, along with the highly-touted
Wayne Lyons
who is returning from a foot injury.
Usua Amanam
should also be in the mix and don't be surprised if Alex Carter makes an immediate impact when he arrives in the summer. Also returning are Richards and
Devon Carrington
at the safety spot along with
Ed Reynolds
, who is also returning from injury.
Kyle Olugbode
has also seen reps this spring.
Richards was one of the true freshman called into action when Howell went down for several games with a hand injury. He started three games for Stanford last year -- the most brutal stretch of the season that included at USC, at Oregon State and home to Oregon. Tough detail.
"It was, at times, a blur," Richards said. "And other times, I felt like I was in control and the game slowed."
The telling part of that quote is the "at times" portion. Richards notched eight tackles in his first start against USC. Then a couple of games later he watched Oregon run all over the Cardinal. Sometimes good, sometimes bad. In his second year, he's striving for more consistency. And having had the chance to learn behind Thomas and Howell, he thinks he's found it.
"I learned how to see the game from those guys," Richards said. "As a freshman, you come in with tunnel vision. You need to learn to see how things move around. Now it's a transition. You've been here for a year, you learn to read formational cues and the game slows down a lot more. You know what the offensive tendencies are. That's the biggest difference. You're not a deer in the headlights anymore. You just go out and play and try not to over think it."
Brown has the most experience at cornerback, followed by Browning who started three games last season. According to Richards, Brown and Reynolds have taken on the leadership roles vacated by the departed seniors.
"As a group, it's been TB and Ed," Richards said. "Those guys have been around. But we all know what's at stake, and we're all trying to be leaders and be on our game as a group because we know that we are going to be young and people are going to try to come after us."
Like in Week 3, when the Cardinal host USC -- a pass happy offense with the Heisman front-runner at quarterback, the top wide receiving duo in the country and possibly the No. 1-ranked team in the nation. So this group is going to have to find a way to come together quickly.
"That's what the spring is all about," Richards said. "We're working hard to be a cohesive group. Coach Mason is pushing us and I think we're going to come together."
March, 14, 2012
3/14/12
12:00
PM ET
Wayne Lyons
, Stanford's highly-touted cornerback, never really got a chance to show what he could do in his true freshman campaign. The week before the season-opener against San Jose State, he broke a bone in his foot, but still played against the Spartans and the following week against Duke before shutting it down for the season.
Now, following surgery that placed a screw in his foot, the cornerback says he is 100 percent (some reports say 75, others 85) and poised to have the big year that eluded him.
How are you feeling?
Wayne Lyons
: I'm feeling great. 100 percent. It feels great to get back out there. It was a struggling sitting out the entire season on the sidelines. In high school you play every game and then you make it to the next step in college and you can't play because injuries stop you. It's heartbreaking in a way. But I made it through and I'm happy to be back out there.
How tough was it to watch from the sideline and watch the team have the kind of season it did?
WL
: Part of me was upset, but I took everything into consideration and learned everything I could while watching on the sideline. I was looking at every play, every break and closing in on what I can learn to better myself for next year. I just learned as much as I could.
Like what? What did you learn?
WL
: How to read the quarterback and the mechanics of a quarterback. How to read different drop steps and different formations and how to pick up different alignments and assignments and position on the field -- having an overall awareness of where to be on the field.
There is so much talk about Stanford's front seven for next season. Is the secondary feeling the pressure to match those guys?
WL
: There is pressure, but there's not. It kind of goes both ways. We work together so well and we complement each other. We're going to be an exciting defense next year. Our defensive line is going to attack and pressure, the linebackers are going to make their tackles and the secondary will handle the passing game so we'll all come together and make great plays.
Last year the defense only had seven interceptions, and only three came from cornerbacks. I assume that's a point of emphasis this spring?
WL
: Yes. We definitely need to catch more balls. That's something that Coach [Derek] Mason stressed. We need to attack more balls. That's one thing we're working on is catching interceptions and creating turnovers.
Coach [David] Shaw told reporters he expects you to be up for the nation's best cornerback award at some point in your career. No pressure, right?
WL
: Ah, man. There's no pressure. It's an honor that he thinks so highly of me, but personally I have to prove myself. It's great he said that about me, but I feel like I have to perform on the field and prove myself to be a great player. I need my film to talk. I need my film to dictate who I am. Words can't tell who a player is. Only film can tell the kind of player I am.
What are some of your personal goals for the next season?
WL
: My freshman goal was to be a freshman All-American. That's what I'm striving for again since I'll be a redshirt freshman.
When you look at the defensive back rotation, it's going to be a very young secondary. Is there something to be said for having a young group that is hungry to make plays?
WL
: Definitely. Nobody has a name yet. I don't have a name. Jordan [Richards] doesn't have a name. DC [
Devon Carrington
] doesn't have a name.
Terrence Brown
-- he started to make a name last year -- but almost everyone who is going to be out there is trying to make a name for themselves and prove who they are and what they can do on the field. There is a lot to prove this year.
January, 2, 2012
1/02/12
9:37
PM ET
GLENDALE, Ariz. -- A little different start than the Rose Bowl.
The lone touchdown was a 53-yard, play-action touchdown pass from
Andrew Luck
to
Ty Montgomery
.
Outside of that, we haven't seen too many offensive highlights (though Stanford running back
Stepfan Taylor
already has 61 yards on six carries).
This was the first time all season OSU had been held scoreless in the first quarter.
However, we've had plenty of
defensive
highlights from both teams.
Among the top defensive plays of the quarter:
Terrence Brown picking off Brandon Weeden on his first pass attempt of the game. Justin Gilbert also grabbed his fifth interception of the year off of Luck at the end of the quarter. Though neither team could turn the interceptions into points.
OSU's Richetti Jones sacking Luck on a crucial third down (just the 10th sack the Cardinal have allowed this season).
Stanford linebacker Jarek Lancaster making an outstanding open-field tackle on Isaiah Anderson -- also on third down.
October, 13, 2011
10/13/11
5:00
PM ET
There's a saying among the players in Stanford's secondary: Finish the drive.
What that means is no matter what happened previously -- be it a 76-yard screen pass or a three-and-out -- it's the last play of the drive that counts. And more often than not for Stanford's defense, the last play of the drive usually doesn't end with a touchdown dance.
Stanford's secondary has been an interesting case study this season. It's given up a lot of yards -- 240.6 per game. But it's only yielded four passing touchdowns in five games. And only one of those has been to a wide receiver.
It's been more lockout than lockdown.
"Our mentality is good as far as being aggressive, swarming to the ball and we stop players from getting in the end zone," said safety Delano Howell. "We always play the field. If it's a big play, we get back and defend the rest of the field. If they are in the red zone, our goal is to keep them out of the end zone. We never quit if they have a big play or get a lot of plays. We always want to finish the drive."
[+] Enlarge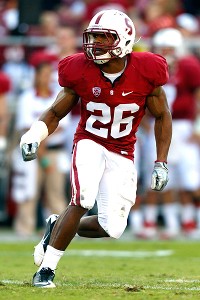 Jason O. Watson/US PresswireDelano Howell and the Stanford secondary have been impressive so far this season, but they know there is room for improvement.
Ask head coach David Shaw what he thinks about yards allowed and you'll get an honest answer.
"Passing yards given up is the biggest misleading stat there is," Shaw said. "We've had large leads. And in those large leads we're going to get teams to pass the ball more. But the biggest stat for a defense is touchdowns allowed. We've been able to stop teams from scoring touchdowns and trying to force them into field goals ... we've been able to keep people's scoring down. When it's all said and done, the only thing that matters is how much you score and how much you allow them to score."
The large leads is one reason. Stanford has yet to trail in a game this season so everyone is in constant catch-up mode. Another reason is the run defense. Stanford's front seven has taken away the opponents' rushing attack and made them one-dimensional by the end of the first half. In the first 30 minutes of the game, Stanford is outscoring opponents 104-34 and holding teams to an average of 6.8 rushing yards in the first quarter and 4 yards in the second quarter.
And the pass defense gets stronger as the game goes on. The Cardinal have allowed an average of 53.6 passing yards in the first quarter and 111.8 in the second quarter. Compare that to the second half where they allow an average of 30.4 in the third and 44.8 in the fourth.
But there have also been some missed tackles. Missed tackles lead to touchdowns, and no drive was a clearer example than in Colorado's lone scoring drive last Saturday. Buffs running back
Rodney Stewart
caught a screen pass that went for 76 yards. Safety Devon Carrington read the play perfectly. He sniffed it out and was in position to make the play at the line of scrimmage. But he missed the tackle. And then several other Cardinal defenders took improper angles and missed tackles. To Carrington's credit, he did rally and make the touchdown-saving tackle 76 yards later.
But two plays later, running back
Tony Jones
caught a 5-yard inside screen -- in which Stanford missed two tackles -- and he scored.
"We are missing out on some opportunities to make plays," Howell said. "We're leaving some production on the field, so we do realize that in order to eliminate the yards against, we need to eliminate missed tackles."
Despite the one hiccup, the secondary is coming off one of its best games of the season against Colorado, where it broke up nine passes.
"We've had our hands on balls," Shaw said. "It's not like guys have been running all over the place wide open."
Plus, Stanford nabbed its first interception of the season, courtesy of safety Michael Thomas, which was a bit of a relief.
"It's great that it happened," said Shaw. "Now, let's try to get it some company. Even with that chatter the last two weeks [about not having an interception yet], our guys haven't been jumping at things and taking chances. They've been playing the coverages like they're supposed to be playing them.
"... There is nothing we have to change schematically to get more. Our guys just need to keep playing in the structure of the defense and they will come."
This week against Washington State, Stanford faces an offense that's similar to what it saw a couple of weeks back in Tucson, Ariz. Mostly spread formations. But the Cougars have tried to be more balanced the past couple of games. If recent history has anything to say about it, Wazzu will abandon the run if it gets into a deep hole. That's been the trend this season. So it'll likely lean on the pass. Which means the defense will have to lean on the secondary.
"We like to play tight coverage," said cornerback Johnson Bademosi. "We like to play top down and we can't give up touchdowns. We just keep everything in front of us and not let things fly over our heads.
"And you got to tackle. You have to get your man down every time. You can't just be a cover guy. You have to be well-rounded and we take tackling really seriously."
Given the fact that so many teams pass against Stanford, it's no surprise that the top three tacklers on the team come from the secondary. Thomas and Bademosi lead the Cardinal with 22 tackles apiece and Howell is right behind with 22. Howell and Bademosi also lead the team with four breakups each.
"Those few opportunities you have to make a play, you have to make them," Howell said. "You have to play sound, technical football and trust the defense."
The Cardinal were working on a four-man rotation at cornerback until freshman Wayne Lyons injured his foot and has been inactive the past three games. That leaves Bademosi, Terrence Brown and Barry Browning as the primary rotation.
"We've been playing together for a while," Bademosi said. "We know each other really well. There is a lot of verbal and non-verbal communication. We all see the same thing so we know how to react to it."
August, 5, 2010
8/05/10
2:09
PM ET
By
ESPN.com staff
| ESPN.com
The good news for all those big-name Pac-10 quarterbacks? Every conference team has questions at cornerback.
And, for the first time in Pac-10 blog history, no one earns a "Great shape" tag.
Only one cornerback who earned All-Pac-honors is back: Arizona's second-teamer Trevin Wade. Only one other returning corner, Washington's Desmond Trufant, even earned honorable mention.
Three teams welcome back both starting corners from 2009: Oregon, Stanford and Washington. But the Ducks have moved Javes Lewis to rover, and a pair of true freshmen -- Terrance Mitchell and Avery Patterson -- are battling for the starting job opposite Talmadge Jackson. Stanford and Washington? They ranked eighth and ninth in the conference in pass efficiency defense last season.
USC and Arizona State are replacing both starting cornerbacks, but both actually look fairly strong at the position with plenty of returning experience and athleticism.
A number of teams might end up pretty good at the position. But no one looks like a sure-thing during the preseason. (Heck, we thought California was
a sure thing in 2009
and things
didn't exactly go according to plan
).
So how do things stack up?
Great shape
Good shape
Arizona: Wade is an All-American candidate, and Marcus Benjamin showed he can play with a good performance against USC in 2009. And Mike Stoops always has good cornerbacks, so we won't dwell on the questionable depth.
Oregon: Probably not a lot of worry here for the Ducks. Injuries in 2009 earned young players experience, and Oregon did rank third in the Pac-10 in pass efficiency defense. Still, it remains uncertain who will start opposite Jackson, with the freshmen outplaying the more experienced Cliff Harris and Anthony Gildon during the spring.
Arizona State: On the one hand, both starters are gone from a unit that ranked second in the conference in pass efficiency defense. On the other, Omar Bolden would have been a starter if he didn't get hurt, and Deveron Carr, Osahon Irabor and LeQuan Lewis give the Sun Devils a nice mix of talent and experience.
USC: Shareece Wright was academically ineligible last season, but he might end up first-team All-Pac-10. He might, in fact, be the conference's best cover cornerback. Torin Harris and T.J. Bryant are battling for the other spot in a secondary replacing all four 2009 starters.
Washington: Trufant is an up-and-comer, Quinton Richardson is experienced, and backups Vonzell McDowell and Adam Long have starting experience, so the Huskies should be much improved here in 2010. The operative word, though, is "should."
UCLA: It isn't easy to replace an Alterraun Verner. Sheldon Price returns at left cornerback after a good freshman season as a starter, and Aaron Hester has potential on the opposite side. Undersized junior Courtney Viney is an experienced third option.
Oregon State: James Dockery is solid and new starter Brandon Hardin is big -- 6-2, 215 pounds. There's respectable depth. But the Beavers gave up 23 touchdown passes in 2009, tied for the most in the conference. Of course, the Beavers cornerbacks suffered last season because of an anemic pass rush. That might change in 2010.
We'll see
Stanford: If the Cardinal is going to take another step forward, it must get better in pass coverage. Three players who started last seaon are back: Richard Sherman (who's a sure-thing at left corner), Corey Gatewood and Johnson Bademosi. But opponents completed 63 percent of their passes with 23 touchdowns against those guys. Might redshirt freshman Terrence Brown make a move?
California: Syd'Quan Thompson is gone; is Darian Hagan back? As in the 2008 version, not the one who lost his job and got buried on the depth chart in 2009. After being touted as one of the best secondaries in the country, the Bears finished 111th in the nation in pass defense in 2009. Bryant Nnabufie, who started four games in 2009, is listed No. 1 opposite Hagan, but Josh Hill (a five-game starter) and Marc Anthony and redshirt freshman Steve Williams are in the mix.
Washington State: The Cougars feel pretty good about junior Aire Justin and sophomore Daniel Simmons, who was the defense's best cover corner before he got hurt midway through last season. But it's hard to ignore that the Cougars ranked 112th in the nation in pass efficiency defense with opponents completing nearly 67 percent -- 67 percent! -- of their passes.