January, 11, 2012
1/11/12
3:30
PM ET
The system of checks and balances is working in Los Angeles. Just consider new UCLA coach Jim Mora's recent hiring of a new new strength and conditioning coach.
The media in Los Angeles is
calling attention to a horrible
— and infamous — mistake Sal Alosi made when he worked for the New York Jets. It is opining on the
riskiness of Mora's hire
.
[+] Enlarge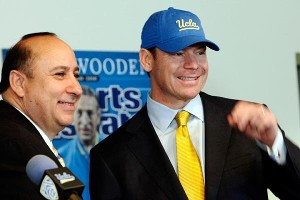 Nick Ut/AP PhotoUCLA athletic director Dan Guerrero, left, poses with new head football coach Jim Mora on Dec. 13, 2011.
That is good. That is the media doing its job, holding public figures accountable for their actions.
And Mora and Alosi are talking about the hiring. They are not hiding.
"I understand the criticism, I expect the criticism, it's completely warranted," Mora told LA Times columnist Bill Plaschke. "But I know the fiber of this man."
That is good: Public figures stepping forward to explain themselves in a controversial situation.
And, by the way, well said, Jim.
I love Mora's hire here all the more, even without knowing a whole lot about Alosi as a strength coach, other than that he seems highly respected by a number of NFL players.
As you long-time readers know, I am a big second-chance guy. I believed LeGarrette Blount deserved a second chance. I believed Rick Neuheisel deserved a second chance. I think the ranting and raving of absolutists who act like everything is black-and-white is a pose, one that my life experience has often found to be situational and hypocritical.
But this isn't about praising Mora for giving a guy a second chance. It's about Mora doing what he wants to do with his team and not fretting the PR angles. This is a revealing moment that Bruins fans should feel good about.
Here's a secret of all good head coaches: They insist on autonomy. They hire who they want to hire. They don't allow administrators to dictate whom they hire. Sure, there are obvious parameters -- felonies and NCAA violations tend to disqualify assistant coaching candidates. But the quickest and surest path to failure is a new head coach taking a job and then being steered to hire assistants he doesn't know.
Perhaps the most important quality for a head coach is being a good CEO, and the first thing a good CEO does is hire the right people. He needs to build a cohesive unit that functions efficiently. To do that, he needs to know whom he's hiring. How he works. How he takes suggestions and criticism. How he teaches and motivates. His work ethic, both on the field and in recruiting.
Further, it's also about loyalty. An assistant who isn't connected to a head coach often feels little reason not to undermine him "off-the-record" if things get tough.
The worst case I can think of was Terry Bowden at Auburn back in the 1990s. His fatal mistake was retaining assistants who worked for Pat Dye. That became a train wreck of epic proportions.
UCLA fans are well-aware of another: Neuheisel's second chance was a dream — coaching his alma mater — that turned into a nightmare, in large part because he agreed to hire Norm Chow as his offensive coordinator and retain DeWayne Walker as his defensive coordinator. Chow and Walker are outstanding coaches, no doubt. But they weren't Neuheisel's guys. A major part of the problem in Westwood the past four years was a lack of cohesion on the Bruins coaching staff.
Obviously, this isn't the same thing. We're talking about a strength coach, not a coordinator. But I am choosing to freight the hiring of Alosi with meaning, meaning that speaks well of Mora and the early — early! — trajectory of his tenure.
Mora wanted to hire Alosi. He knew there would be some negative blowback, and not without justification. But he met that blowback head-on, and now he's got a the strength coach he wanted.
And he's got a strength coach who probably feels pretty darn obligated to bust his rear end and repay Mora's faith in him with a finely conditioned football team.
April, 21, 2009
4/21/09
11:45
AM ET
Posted by ESPN.com's Ted Miller
This article caught my eye this morning. It's about Arizona's Fendi Onobun, who's 6-foot-6, 250 pounds and loaded with athletic ability.
He's got NFL dreams.
What's the issue? Onobun, as many of you already know, played basketball for the Wildcats, not football. Beyond that, he said he's never even played football before.
So, yes, his chances of reaching the NFL are remote. But not impossible.
This story also sparked my memory. I covered Auburn back in 1997, and Terry Bowden's Tigers were hurting at tight end.
I recall a couple of the beat writers, in our always helpful way, telling Bowden we'd found him one: Adrian Chilliest.
Chilliest was a 6-foot-5 forward on the Tigers' basketball team. He had limited offensive skills but was a tough, physical presence on the court.
In other words, he was a tight end masquerading as a basketball player.
So he was a lot like thousands of young men who are that size and playing the wrong sport.
Guys that size often dominate high school basketball. They may even be good enough to get a college scholarship, as Chilliest was.
But a guy that size who doesn't have wicked ball skills, incredible leaping ability or a dead-eyed shot isn't going to get paid for playing basketball.
On the football field, however, the critical measure is 6-foot-5.
You can't teach 6-foot-5, and a lot of coaches will tell you that size with good feet is like precious clay that can be molded into a lot of different things.
Of course, there's another critical, intangible asset that's hard to measure: toughness.
Football is harder than basketball. It's more mentally and physically taxing. Practicing football -- particularly in the Alabama humidity -- isn't fun.
You never know how a guy will react after he gets the snot knocked out of him for the first time. Plenty of high school football stars wilt when they get to college and everyone else is just as big and fast and maybe a bit meaner.
Still, as a guy whose primary sport is football but who sometimes covers basketball, too, I often find myself looking at a small forward who averages eight points and nine rebounds a game and thinking: tight end, defensive end or left tackle?
PAC-12 SCOREBOARD
Saturday, 12/21
Monday, 12/23
Tuesday, 12/24
Thursday, 12/26
Friday, 12/27
Saturday, 12/28
Monday, 12/30
Tuesday, 12/31
Wednesday, 1/1
Thursday, 1/2
Friday, 1/3
Saturday, 1/4
Sunday, 1/5
Monday, 1/6
Tweets from @ESPNCFB/pac-12