July, 12, 2013
7/12/13
9:00
AM ET
Your B1G and Pac-12 bloggers have been grinding away on their respective leagues' nonconference primer series. Here's
the Big Ten series
, and here's
the Pac-12 series
. Part of the fun is learning about other teams in other conferences and what they bring to the table. The Pac-12 and Big Ten face each other five times during the regular season. The Pac-12 got the better of the matchups last year. Will this year be different? Brian Bennett and Kevin Gemmell decided to talk it over.
Brian Bennett
: The first thing I look at for Big Ten-Pac-12 matchups in any given season is where the games are staged. Big Ten teams don't seem to think the West Coast is the Best Coast; they are just 5-20 in true road games against the Pac-12 since 2000, and that includes an 0-3 mark on the road versus the Pac-12 last year. (The league also has just one win in its past 10 Rose Bowls, but not all of those games came against the Pac-12.)
[+] Enlarge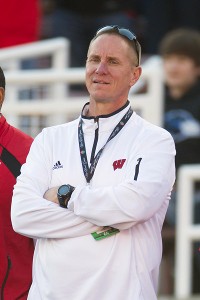 AP Photo/David StlukaNew coach Gary Andersen and the Badgers will have their hands full at ASU this season.
So it's not good news for the league that I cover that three of these five matchups are located far left of the Midwest. If there's any reason for optimism, it's that the Big Ten teams should be substantial favorites in two of the road games -- Northwestern at Cal in the opener and Ohio State against those same Bears in Week 3. Cal is intriguing because of new coach Sonny Dykes, but Northwestern and Ohio State are both legitimate Top 20 teams with conference-title aspirations; if they can shake off the jet lag and contain the Bears' passing attack, they should take care of business.
The two most interesting games -- and what look like virtual toss-ups -- are Wisconsin at Arizona State, and UCLA at Nebraska. The Badgers have a lot of returning talent, but a new head coach and different schemes on both sides of the ball. It's also going to be a clash of styles, with the Badgers' power running game going up against Arizona State's spread offense. Will Gary Andersen's team have its new systems figured out by then, and is Wisconsin's defense -- particularly its inexperienced secondary -- fast enough to handle the Sun Devils?
UCLA-Nebraska is probably not getting enough attention as a must-watch game this year. Last year's shootout in Pasadena, Calif., featured nonstop pingpong action, and both teams figure to have topflight offenses again. The Cornhuskers have a perilously young defense, but Bo Pelini's teams usually defend much better at home than on the road. Quarterback
Taylor Martinez
-- who grew up a Bruins fan but was recruited by them as a defensive back -- will be highly motivated to beat UCLA his senior year. This is Nebraska's only major test in the first seven games, and it's one I think the Huskers have to find a way to win.
Finally, there's Washington at Illinois. The Illini get the benefit of home turf, sort of, as the game will be played at Soldier Field in Chicago. We'll see if Tim Beckman's crew will inspire enough fans to show up by Week 3. While Washington has been mediocre for what seems like forever, I can't confidently pick Illinois to beat any half-decent power conference opponent at this point.
In the end, I say the Big Ten manages a winning record this time around against the Pac-12, taking the two games in Berkeley, Calif., and the one in Lincoln, Neb. A 3-2 mark sounds about right, though if Wisconsin can pull off the win in the desert, that could be a good sign for both the Badgers and the league as a whole.
Kevin Gemmell
: I'm going 3-2 also, but in favor of the Pac-12. After all, if we were in total agreement, it would make for a pretty boring Take 2. So I'll play the contrarian when it comes to UCLA-Nebraska.
[+] Enlarge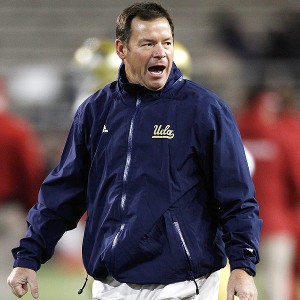 William Mancebo/Getty ImagesCoach Jim Mora and UCLA allowed just six points in the second half of last year's win against Nebraska.
We agree on the Cal games versus Northwestern and Ohio State -- though I think Cal is going to give both of those teams a better run than they are banking on. I like what Andy Buh is doing with a defense that could be sneaky good. And the Bears have
some explosive depth at wide receiver.
But ultimately it's a rookie quarterback -- whomever Dykes chooses among
Zach Kline
,
Jared Goff
and
Austin Hinder
-- and a team that will still have some growing pains as new systems are installed on both sides of the ball. Like you with Illinois, I'm not ready to give the Bears the green light yet. However, last year's game in Columbus, a 35-28 win for Ohio State, should serve as a reminder not to take Cal lightly. No doubt, the Buckeyes will remember
Brendan Bigelow
and his four carries, 160 yards and two touchdowns.
Both halves of the Pac-12 blog have been saying we believe Washington is going to get over that seven-win hump this year after three straight seasons of mediocrity. The Huskies have a lot of pieces in place with a returning quarterback, a 1,400-yard rusher, good receivers, a good line and the top tight end in the country. Their defense made huge strides last season in the first year under Justin Wilcox, and we're expecting another leap forward in 2013. What scares me is Washington's inconsistent play on the road the past few seasons. During the Huskies' trio of 7-6 seasons, they are 14-5 in Seattle (last year they played at CenturyLink Field) and 6-11 on the road. The past two years they are 11-2 at home and 3-8 on the road (0-2 in their bowl games at neutral sites). If the Huskies want to have a breakout year, they are going to have to win away from home. Steve Sarkisian actually talked about this
in a Q&A we did back in April
. But they certainly have the talent to win this game.
The ASU-Wisconsin game is really a critical one for the Sun Devils. It kicks off a four-game stretch (with no bye weeks) that also includes Stanford, USC and Notre Dame. ASU is another team looking for some national credibility, and this is its first opportunity to get some. You're right to talk about the ASU offense, but that defense -- which ranked first nationally in tackles for a loss and second in sacks last season -- is going to be crazy good with
Will Sutton
and
Carl Bradford
leading the attack. I'm banking on a good game, but ultimately one ASU wins at home.
That brings us to UCLA-Nebraska, a game I'm also surprised more people aren't geeked up about outside of the respective fan bases. This should be a fantastic showcase for both leagues.
Brett Hundley
impressed in his freshman campaign, and I think this game is going to be a spotlight for two of the country's most athletic quarterbacks. I was in Pasadena for the game last season, and what actually stood out to me was UCLA's defense -- particularly in the second half. The Bruins allowed only six points, and kept Martinez to 11 yards rushing and the Huskers to 106 total yards in the final 30 minutes. They should be improved in Year 2 under Jim Mora and Lou Spanos. If the Bruins pull this one off, it's going to be because of what they can do defensively.
July, 3, 2013
7/03/13
7:00
PM ET
We continue our series taking a closer look at each Pac-12 team's nonconference schedule.

Washington
Boise State, Aug. 31
Coach: Chris Petersen (84-8), eighth year
2012 record: 11-2, 7-1 Mountain West
Returning starters: five offense, four defense
Offensive headliner: Quarterback Joe Southwick returns after completing 66.8 percent of his throws last year with 19 touchdowns to seven interceptions. He threw for 2,730 yards and averaged 210 per game.
Defensive headliner: Defensive end Demarcus Lawrence earned first-team all-league honors after posting a team-high 13 tackles for a loss and 9.5 sacks to go with 48 tackles.
The skinny: The Broncos will probably start the year ranked -- and they've earned that right. They have consistently been a Top 25 program and the elite team among non-BCS conference schools. They've gone 5-0 against the league's teams (including Utah in the 2010 Las Vegas Bowl, prior to the Utes joining the conference) since 2008. Their last loss to a Pac-12 team was at Washington in 2007. And in case anyone needs reminding, this is a rematch of last year's Las Vegas Bowl, which the Broncos won 28-26 on a late field goal.
at Illinois (in Chicago), Sept. 14
Coach: Tim Beckman (2-10), second year
2012 record: 2-10, 0-8 Big Ten
Returning starters: eight offense, four defense
Offensive headliner: Quarterback Nathan Scheelhaase returns as a four-year starter after an injury-plagued 2012. A high ankle sprain limited him for the majority of the season and as a result, he had just four touchdowns to eight interceptions with a 60.6 completion percentage in 10 games.
Defensive headliner: Linebacker Jonathan Brown is an all-conference candidate after posting 59 tackles last year with 2.5 sacks and a team-high 9.5 tackles for a loss.
The skinny: Much of what Illinois wants to do on offense revolves around Scheelhaase's ability to move. And with an ankle injury limiting him last season, the offense suffered, averaging a minuscule 16.7 points per game. With him healthy, and a lot of returning players around him on offense, expect Illinois to be improved in that department.
Idaho State, Sept. 21
Coach: Mike Kramer
2012 record: 1-10, 0-8 Big Sky
Returning starters: eight offense, seven defense
Offensive headliner: Justin Arias, a redshirt junior, moves into the starting quarterback role. He has two capable receivers to throw to in Cameron Richmond and Luke Austin, who combined for 1,405 yards and 12 touchdowns last season.
Defensive headliner: Sophomore defensive back Taison Manu was a freshman All-American last season after posting 77 tackles (tied for second on the team) an d4.5 tackles for a loss.
The skinny: Give the Bengals credit. They've scheduled two FBS teams every year since 2008, including the likes of ASU, Oklahoma, Georgia, Nebraska and BYU. This season they go to Washington and again at Provo, Utah. Granted, they've lost all those games, usually by a wide margin, but they at least aren't afraid to be ambitious in their scheduling. Last year they set a conference record for most passing attempts and completions. Though they allowed almost 54 points per game in 2012.
Thoughts
: The big one here, obviously, is Boise State. Illinois should be better than last season, but so should the Huskies, and despite Washington's road woes, this should be categorized as a winnable game. The Boise State game means a heck of a lot to Washington's season. Obviously, it will be an electric atmosphere with the opening of remodeled Husky Stadium. As we've written a couple of times before, in the
Ultimate Road Trip
and
Most Important Game
series, what a victory could do for the Huskies on the national landscape. Accepting that Boise State will likely be a Top 25 team to start the season, a win likely puts Washington in the rankings -- where they'll stay, and likely climb as others around them lose -- heading into conference play. After Arizona, it's three straight against Stanford, Oregon and ASU. Heading into that stretch ranked and 3-0 would bring the fan base to a tizzy. A loss, however, stunts momentum, and victories over Illinois and Idaho State would be met with more of a "meh." If the Huskies want to be nationally relevant and show they are ready to take the next step, beating Boise would be a good place to start.
September, 5, 2012
9/05/12
11:00
AM ET
Arizona and Arizona State are bitter rivals, but they also have a lot in common at present.
Both were severely disappointing in 2011. Both have new head coaches as a result. Those new coaches, Rich Rodriguez at Arizona and Todd Graham at Arizona State, know each other well. They both are somewhat controversial for various reasons. Both run up-tempo offenses that looked pretty good in week one. And both won.
Further, both will be home against major-conference foes on Saturday. Both teams lost on the road to those foes last year.
Of course, the parallels are not exact. Arizona is a double-digit underdog to No. 18 Oklahoma State, while Arizona State is a slight favorite over Illinois.
The Wildcats are playing the Cowboys for a third time in 15 months. Both previous meetings were blowout defeats. But these aren't the same Cowboys who nipped Stanford in the Fiesta Bowl. They lost quarterback Brandon Weeden and wide receiver Justin Blackmon and welcome back just 12 starters. Their new signal-caller, freshman
Wes Lunt
, will be making his first road start after receiving no challenge at all last weekend against a dreadful Savannah State team.
[+] Enlarge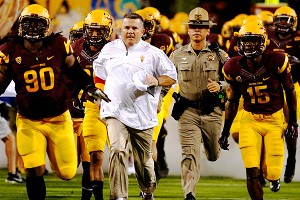 AP Photo/Rick ScuteriASU ran roughshod over Northern Arizona in Todd Graham's debut; Illinois presents a stiffer test.
"They could have scored 184 by halftime if they'd kept their starters in," Rodriguez said of the Cowboys' farcical 84-zip victory.
Illinois beat the Sun Devils 17-14 last year, but those programs' seasons were notably similar. Both Arizona State and Illinois started fast, earned national rankings, then cratered. And, therefore, fired their coaches.
Another tie that binds: New Illinois coach Tim Beckman coached Toledo, the team Arizona beat last weekend, for three years before arriving in Champaign, losing at home to the Wildcats in 2010.
Still, while everyone will know each other in points central and south in Arizona, there are plenty of unknowns. Last season's game films shouldn't be too revealing for anyone.
"We watched it a whole bunch looking at the personnel," Graham said. "I think it helps us evaluate their personnel but their defense is different, their offense is different. It's all new coordinators so from a schematic standpoint it didn't help us at all. From a personnel standpoint, studying their personnel, that is what we mostly used it for."
And even that is a bit confusing. Veteran Illini quarterback
Nathan Scheelhaase
is decidedly questionable after hurting his ankle during a 24-7 win over Western Michigan. The Sun Devils might be facing a dual-QB system with
Reilly O'Toole
and
Miles Osei
.
That would be a big advantage for the Sun Devils, though Graham said he's preparing his team as if Scheelhaase will play. On defense, the Illini are stout. It should give Graham's up-tempo offense and new starting QB
Taylor Kelly
a far bigger challenge than Northern Arizona did in week one.
Still, the Sun Devils appear far more likely than the Wildcats to improve to 2-0 and generate further positive momentum for Graham.
The Wildcats have a puncher's chance for an upset, but their defense is going to have to catch a few breaks. The unit played fairly well against Toledo, at least based on low expectations entering the game. But Oklahoma State, the defending Big 12 champion, is not Toledo. Even with some new players in key positions, the expectations for a lot of points will continue in Stillwater. The Cowboys have been consistently good on offense under coach Mike Gundy.
"It's an opportunity for us to play a ranked team," Rodriguez said. "I told our team there's not a lot of people who talk about Arizona football in certain circles, and if you want to become more relevant, the best way to do it is to beat a ranked team. It's a great challenge but also a great opportunity."
Arizona and Arizona State are constantly trying to one-up the other, and it will be popular to compare the records Rodriguez and Graham produce their first seasons. While both are ultimately trying to build programs that consistently compete in the top half of the conference, the competition and rivalry will be present each step of the way.
So fans of both programs are hoping, with considerable zeal, that they don't share anything in common at the stroke of midnight on Saturday.
December, 31, 2011
12/31/11
7:13
PM ET
UCLA needed a special NCAA waiver just to get into a bowl game. Illinois lost its final six games and had assistants threatening to boycott this game. Is it any wonder that the Kraft Fight Hunger Bowl was, shall we say,
a little ragged
?


How the game was won:
The Illinois offense disappeared over the second half of the season and didn't do a whole lot in this one, either. But the team's defense remained stout throughout the seaosn and was inspired to play hard for interim coach Vic Koenning, their former defensive coordinator. The Illini defense came up with a score, sacked UCLA quarterback
Kevin Prince
five times and allowed just 220 total yards. The Bruins' only points came when they got a short field in the first half and when they connected on a bomb with 29 seconds left and Illinois already starting to celebrate. Defense wins minor bowl championships.
Turning point:
UCLA led 7-3 and the Illinois offense was completely stagnant late in the third quarter. That's when the Bruins provided a gift. Prince's sideline pass was picked off by cornerback Terry Hawthorne, who had nothing but open field in front of him as he ran it in for the 39-yard touchdown. Hawthorne never took his eyes off the quarterback, and Prince misread the coverage. That pick-six sapped the spirits of the Bruins and loosened things up for the Illini.
Player of the game:
Illinois quarterback
Nathan Scheelhaase
. His passing numbers weren't terribly impressive (18-for-30, 189 yards, one touchdown) and he struggled early on. But Scheelhaase took on the brunt of the running game with leading rusher
Jason Ford
suspended for this game, finishing with 110 yards on 22 carries. He also had a nine-yard catch, giving him more total yards than UCLA's entire offense.
Stat of the game:
Thanks in large part to the sacks, Illinois outrushed UCLA 179-19.
Record performance:
Illinois defensive end Whitney Mercilus was credited with 1.5 sacks, giving him a nation's best 16 this season. That tied the school record set by Simeon Rice. He got in on his second sack despite being held on the play. Mercilus was one of the most improved players in the nation this season and will almost certainly skip his senior year to enter the NFL Draft.
Strangest stat:
UCLA finishes the season with eight losses, yet the Bruins played in a bowl game. It might be a while before we see that happen again.
Unsung hero:
Illinois'
Ryan Lankford
. He averaged 45.6 yards on five punts, with two downed inside the 20. He also had three catches for 24 yards. Now that's versatility.
Best call:
Midway through the fourth quarter, UCLA came after Scheelhaase on a blitz. But Illinois had the exact right call on: a slant pass to
A.J. Jenkins
. The one guy the Bruins couldn't leave open caught a short strike from Scheelhaase and glided in untouched for a 60-yard touchdown. The score became crucial when UCLA tacked on that touchdown in the final minute.
What it means:
Not much of anything. Both programs will wake up on New Year's Day with new head coaches -- Jim Mora Jr. for UCLA, Tim Beckman for Illinois. So both teams will mostly have a blank slate, and they'd rather forget most of the 2011 season, anyway. Beckman will drastically change the offense to a spread, and he has to be happy to see Scheelhaase turn in a confidence-building bowl performance. Beckman will need to keep the defense playing at this level without Koenning. Mora needs to improve the overall toughness of the underachieving Bruins and change the attitude around the program .
June, 2, 2010
6/02/10
9:00
AM ET
A bad start stinks. It can be overcome -- see Oregon's implosion at Boise State in 2009 -- but it still stinks.
Every Pac-10 team carried optimism into the summer because that's what teams do. But it is more than likely that after the season's opening weekend at least one team will be 0-1 and just a bit less optimistic.
Which teams are at risk for 0-1? Here's a ranking of first-weekend danger.
1.
Washington State at Oklahoma State
: Both teams are rebuilding. But the Cougars are rebuilding a program that has been 3-22 over the past two seasons, while the Cowboys are transitioning from a team that has been 18-8 during the same span. Oh, and the Cougars haven't won on the road since 2007.
2.
Oregon State vs. TCU (Cowboys Stadium, Arlington, Texas):
The Horned Frogs welcome 18 starters back from a team that went 12-1. They almost certainly will be ranked in the preseason top 10. And this one functions as a road game-plus for the Beavers. If the game were played at TCU, then the Beavers would face just 44,000 hostile fans. At Cowboys Stadium, they'll see 80,000. Beyond all this, Oregon State has been a notoriously slow-starting team over the past few seasons, last posting a 3-0 start in 2002.
3.
Washington at BYU
: BYU is rebuilding, while Washington welcomes back 18 starters, including
Jake Locker
. Still, this is a road game at a tough venue. Moreover, the Huskies haven't posted a winning season since 2002, while the Cougars have won 43 games over the past four seasons. And, by the way, the Huskies haven't won on the road since 2007 at Stanford.
4.
UCLA at Kansas State
: UCLA didn't have much trouble with the Wildcats in 2009,
winning 23-9
, but it's never easy to win on the road. And here's a hunch that Bill Snyder, in the second year of his second tenure in Manhattan, will have a much saltier team in 2010.
5.
Arizona at Toledo
: Sure, Toledo is a MAC program that welcomes back only 13 starters from a 5-7 team. But the Rockets beat Colorado in the Glass Bowl last year 54-38, and the players figure to be a bit more comfortable with second-year coach Tim Beckman. Moreover, this will be the first test of a rebuilt Wildcats defense.
6.
USC at Hawaii
: Hawaii has 15 starters back from a 6-7 team, but the Warriors' only chance is if the Trojans spend too much time at a luau on Sept. 1. USC hasn't lost a nonconference road game since 2002.
7.
New Mexico at Oregon
: New Mexico welcomes back 10 starters from a 1-11 team. Oregon welcomes back 18 from the defending Pac-10 champions, though running back
LaMichael James
will sit this one out because of an offseason legal scrape. Ducks will win.
8.
Northern Arizona at Arizona State
: The Lumberjacks are an FCS team that went 5-6 last year. If the Sun Devils lose, the ASU campus in Tempe
will be relocated here
.
9.
UC Davis at California
: UC Davis. I C Davis. We all C Davis! But U won't C a Davis win.
10.
Sacramento State at Stanford
: Not to sound like a know-it-all, but Sacramento isn't a state. Unless you're in a Sacramento state of mind, which
might look something like this
.