December, 4, 2014
12/04/14
3:30
PM ET
Mike Riley's shocking defection from Oregon State to Nebraska caught everyone -- and I mean everyone -- flat-footed Thursday, but we have some good news. While just about every coaching hire involves winners and losers, this one does not. Everyone wins. At least today. Tomorrow? We shall see.
Nebraska wins because it has hired a good coach with a good staff who should fit in with the way things are done in wholesome Lincoln. Riley can recruit Texas and California, and his ability to spot proverbial diamonds in the rough will be of great benefit to Nebraska, which has never been a recruiting superpower, even during its best years.
Riley wins because, at 61 years old, he gets a fresh start and chance to build on a strong coaching resume that's taken some hits in the past five years while Oregon State has suffered in comparison to glittering state rival Oregon. Riley will no longer be the underdog in his own state. He'll get A-list facilities, financial support and a strong tradition to recruit to that he's never had before. It will be interesting to see what he's able to make of that, coaching a team that just fired Bo Pelini because he too often won "just" nine games and finished in the bottom part of the Top 25, the equivalent of a successful season in Corvallis.
[+] Enlarge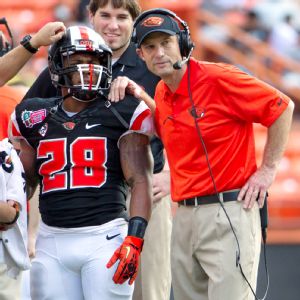 AP Photo/Eugene TannerOregon State seemed to stagnate under Mike Riley the past five seasons as the Beavers went 29-33.
And Oregon State? It wins because there's been a strong anti-Riley undercurrent building in the past five years as the Beavers logged losing records three times, including this season. While it's difficult to measure what percentage of Beavers fans were truly unhappy with Riley, suffice it to say it was at least a vocal minority. Beyond the struggles on the field,
there were grumblings about what amounted to a lifetime contract
, which included a built-in rollover every time the Beavers won at least six games.
If Oregon State had wanted to fire Riley, it would have had to pay him off through 2021, something the school probably couldn't have afforded. It also didn't want to fire Riley because he was chiefly responsible for building a longtime national laughingstock into a respectable Pac-10 and then Pac-12 contender. And Oregon State didn't want to fire Riley because he's such a good guy. Now it doesn't have to even consider that burdensome possibility.
As for timing, it's perfect. Riley isn't leaving his team in the lurch as it prepares for a bowl game. The Beavers will be losing several key players on both sides of the ball heading into 2015, including quarterback
Sean Mannion
, so the new coach will get a fresh start with new schemes. There's still plenty of time to save the recruiting class.
So Riley doesn't have to feel bad for leaving. Oregon State probably doesn't feel too bad for getting left. They can shake hands and wish each other well as Riley walks away. This is a breakup that smacks of both parties agreeing to just be friends. And meaning it.
Nebraska gets a hire with a proven track record of doing more with less instead of a hot coordinator who requires crossed fingers because he might not actually know what he's doing. Further, Riley will never -- ever -- embarrass the Cornhuskers with a postgame rant or infelicitous quote at a news conference.
Riley takes over a program that should be an annual Big Ten contender, particularly in the wide-open West Division. His chances to win his division, conference and reach the College Football Playoff have advanced dramatically. If there was an unsatisfied, ambitious part inside of him that wondered what he could do at an A-list program, which there undoubtedly was because he made this move, he'll get a chance to answer that in the next three to five years.
And Oregon State? Beavers fans get change, which can be exciting, particularly with no bowl game ahead. That's what many wanted and believed the program needed to take a step forward in the Pac-12's North Division. At the very least, it's something to talk about. It might prove stressful, but here's a guess that athletic director Bob De Carolis will make an interesting hire.
Interesting? What about Ed Orgeron, the ebullient former USC assistant and ace recruiter? He certainly would represent a different direction from Riley. What about a hot coordinator, such as Arizona State offensive coordinator Mike Norvell or UCLA offensive coordinator Noel Mazzone or Wisconsin defensive coordinator Dave Arenda? Or a second-tier head coach who's doing well, such as Memphis' Justin Fuente or Fresno State's Tim DeRuyter or Utah State's Matt Wells?
Heck, why not a guy suspected of being a Nebraska target: Oregon offensive coordinator Scott Frost. Or, even weirder, Bo Pelini is available!
That intrigue will give previously disgruntled Beavers fans something to debate with excitement and hope. While a significant percentage of Oregon State fans supported Riley until the end, it is fair to say that a mire of resignation to mediocrity did threaten the Beavers while many other Pac-12 programs were on the uptick.
So, today, everybody wins. Nebraska gets Riley, Riley gets a new opportunity and Oregon State gets change.
Tomorrow? Will there be enough winning on both sides of the ledger to sustain today's hope? Or either side?
We shall see.
December, 11, 2013
12/11/13
12:00
PM ET
We continue our look at each of the Pac-12's opponents during the bowl season.
Royal Purple Las Vegas Bowl
Las Vegas, Dec. 21, 12:30 PT, ABC
USC (9-4) vs. Fresno State (11-1)

Fresno State Bulldogs
Coach
: Tim DeRuyter (second year)
Record
: 11-1, 7-1 Mountain West
Combined opponents' record
: 62-83 (.427)
Common opponents
: Utah State. Fresno State beat Utah State 24-17 on Dec. 7, USC beat Utah State 17-14 on Sept. 21 (the final USC victory for Lane Kiffin). Fresno State was scheduled to play Colorado, but the game was canceled due to flooding in Boulder.
Leading passer
:
Derek Carr
, 424-605 (70.1 percent) for 4,866 yards with 48 touchdowns and seven interceptions.
Leading rusher
:
Josh Quezada
, 153-787 (5.1 per carry), six touchdowns.
Leading receiver
:
Davante Adams
, 122-1,645, 23 touchdowns.
Leading tackler
:
Karl Mickelsen
, 88.
What to know:
By now we all know that Fresno State was one bad defensive performance away from probably being a BCS buster. It was the
San Jose State Spartans
who did the busting when they knocked off the Bulldogs 62-52 last month.
Whenever a job is open in an AQ conference, DeRuyter's name gets thrown out there. USC, meanwhile, has undergone a bit of a coaching change, if you hadn't heard.
There wasn't a lot of quality competition on Fresno State's schedule, which is one of the reasons it never cracked the top 15. In fact, its only game against a team from an AQ conference was a 52-51 overtime win over Rutgers in the season opener. Then the Bulldogs played FCS Cal Poly and their game against Colorado was canceled.
A victory legitimizes everything they have done this year. A victory for USC means wounds are starting to heal.
Key matchup
: Carr's passing numbers are insane. And while we can argue the quality of the defenses he faced, he still has to throw it and someone still has to catch it. This sets up an intriguing showdown between Carr, his receivers and USC's pass defense, which was No. 1 in the Pac-12 and holds opponents to 214.5 yards per game and quarterbacks to a 57.3 completion percentage. The Trojans have yielded only 18 touchdowns through the air and tied for second in the conference with 16 interceptions.
December, 2, 2013
12/02/13
6:15
PM ET
Lane Kiffin only became USC's coach in 2010 because Steve Sarkisian didn't want to leave Washington. "It wasn't the time," he told me.
On Monday, Dec. 2, 2013, however, the time was right, as USC hired Sarkisian to replace Kiffin, two good friends who coached the Trojans' offense together under Pete Carroll.
It's an interesting and perhaps surprising hire. It will receive a mixed reaction.
More than a few Washington fans, while grateful that Sarkisian led the Huskies back from a long-term tailspin that crashed and burned with an 0-12 season in 2008, were growing impatient. The program hadn't taken the proverbial next step, hadn't yet made a move against the Oregon-Stanford hegemony in the Pac-12's North Division. The Huskies went 7-6 three years in a row and only gained a Sarkisian-high eighth win Friday with a victory over Washington State in the Apple Cup regular-season finale.
So more than a few Washington fans will receive the news with: "Good riddance."
That such sentiments, arguably emotional and unreasonable, exist, and Sarkisian was fully aware of them, is probably part of the reason he deemed it time to leave Washington.
So Sarkisian's Huskies critics get their wish: a new coach.
The search could be concluded quickly if athletic director Scott Woodward opts to promote defensive coordinator Justin Wilcox, who almost certainly will follow Sarkisian to USC if Washington doesn't hire him. Wilcox is a true up-and-comer, a young but proven coach who built quality defenses at Boise State, Tennessee and Washington.
Of course, there is a big-fish candidate the Huskies might make a run at: UCLA coach Jim Mora. He played for Don James at Washington and has long been a favorite among more than a few boosters who wanted to hire him previously, when Mora was in the NFL.
[+] Enlarge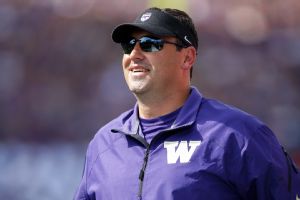 Otto Greule Jr/Getty ImagesSteve Sarkisian turned around Washington but had trouble reaching the next step.
Mora said a few weeks ago that he has never interviewed for the Huskies job or been approached by a representative of the school. UCLA and Mora have been a good match, and the Bruins almost certainly would do everything they could to retain him.
For one, Mora has beaten USC twice in a row, including a 35-14 blowout Saturday. Second, it would send a bad message about the pecking order in Los Angeles, no matter the recent results, if USC hired away the Washington coach, and then Washington hired away the UCLA coach. Do the transitive property on that one.
Another big-fish name that will pop up: Boise State's Chris Petersen. While his name has been attached to every major coaching vacancy since Petersen started working magic for the Broncos -- including USC, UCLA and Washington before it hired Sarkisian -- there might be some legitimacy in his candidacy for the Huskies.
Boise State slipped decidedly in the national pecking order this fall, going 8-4, which included a loss to Washington. With the advent of the four-team playoff in 2014, Boise State might find itself outside looking in among the national powers even more than it did under the BCS system. If Petersen was ever going to leave Boise State, this might be the time. While he didn't seem like a good fit for the hurly-burly of Los Angeles, laid-back Seattle might be more to his liking.
Another current coach whose name is sure to come up is Tim DeRuyter, who has done a fantastic job rebuilding Fresno State. The Bulldogs went 9-4 his first season and are 10-1 this year, and was seen as a likely BCS buster from a non-AQ conference before they lost to San Jose State on Friday.
Another intriguing possibility is Alabama offensive coordinator Doug Nussmeier. The former Idaho quarterback was Sarkisian's offensive coordinator from 2009 to 2011 before being lured away by Nick Saban in 2012. He was highly thought of even before he spent two years under Saban -- a pair of seasons where he's been privy to Saban's celebrated "The Process."
There is no lack of strong possibilities for the Huskies.
Many Washington fans will be disappointed about Sarkisian leaving. A vocal minority will celebrate it.
The bad news for sportswriters? USC and Washington don't play again until 2015, so the emotions won't be as raw when the programs clash for the first time, with Sarkisian adorned in cardinal and gold instead of purple.
June, 21, 2013
6/21/13
4:00
PM ET
We continue our series taking a closer look at each Pac-12 team's nonconference schedule.
Colorado
Colorado State, Sept. 1 (in Denver)
Coach: Jim McElwain (4-8), second year
2012 record: 4-8, 3-5 Mountain West
Returning starters: nine offense, six defense
Offensive headliner(s): The Rams have a deep running back corps with Chris Nwoke (who led the team in rushing in 2011) and Donnell Alexander (who led the team in 2012) both coming back.
Defensive headliner: Cornerback Shaq Bell is the leader of a young secondary. He was all-league honorable mention last year after posting 66 tackles, a sack, a pick and he recovered three fumbles.
The skinny: The Rams went through a quarterback carousel last year (which should sound familiar to Colorado fans) but appear to be settling on Garrett Grayson, last year's original starter. Last season, McElwain became the first Rams coach to win his debut in 42 years. And it came against the Buffs after they failed to hold a 17-16 fourth-quarter lead in the season opener.
Central Arkansas, Sept. 7
Coach: Clint Conque (98-54), 14th year
2012 record: 9-3, 6-1 Southland
Returning starters: eight offense, nine defense
Offensive headliner: Quarterback Wynrick Smothers put up fantastic numbers last year, earning the league's Offensive Player of the Year honors while completing 64.9 percent of his throws for 3,103 yards with 31 touchdowns to nine interceptions. He also rushed for 449 yards and three touchdowns.
Defensive headliner: Sophomore defensive end Jonathan Woodard earned the league's Freshman of the Year honors last season after posting 11 tackles for a loss and seven sacks in 2012.
The skinny: Conque is the winningest coach in school history. They hung with Ole Miss last year and took Louisiana Tech to overtime the year before that, so they won't be intimidated at the mere thought of playing an FBS team. And the Buffs, though I don't think anyone needs reminding, fell at home to FCS opponent Sacramento State last year.
Fresno State, Sept. 14
Coach: Tim DeRuyter (9-4), second year
2012 record: 9-4, 7-1 Mountain West
Returning starters: seven offense, eight defense
Offensive headliner: Senior quarterback Derek Carr was the 2012 MWC Offensive Player of the Year, setting a new league record with 4,104 passing yards. His 37 touchdowns last year were second all-time in league history and he has the second-highest career touchdown-to-interception ratio (63-16) of all returning FBS quarterbacks with at least 300 completions.
Defensive headliner: Nose guard Tyeler Davison -- a first-team all-league selection last year -- posted 43 stops last year, tops among the Bulldogs D-linemen. He also had seven tackles for a loss with three sacks and he was the only Fresno State defensive lineman to start every game last year.
The skinny: After taking a slice of the MWC title last year, the Bulldogs should be tough again -- though they are moving on without running back Robbie Rouse -- the school's all-time leading rusher. Interestingly enough, Rouse set the school record on a 94-yard touchdown run (his fourth touchdown of the first quarter) in a 69-14 win over Colorado last year.
Thoughts
: Colorado lost two close games to open 2012 -- the first to Colorado State and the next week to Sacramento State -- and that essentially opened the flood gates for a horrific season (save the Washington State shocker). The Rams are one of CU's oldest rivals and just as the Buffs gave McElwain his first career win, Mike MacIntyre getting his first career win against CSU would add nice symmetry to the rivalry. As noted, Central Arkansas is no pushover. But both of those games should fall under the winnable category. They get Fresno State at home and should -- at least -- have a better showing than they did last year. I don't think asking for a 2-1 start is out of the question. But another 0-3 opening would kill any momentum Colorado has heading into the year with its new coaching staff.
You can see the rest of the series
here
.
January, 7, 2013
1/07/13
6:30
PM ET
There were 28 new coaches this season, including four from the Pac-12. A lot of those new coaches made an immediate positive impact. Some didn't.
There were 12 coaches whose teams improved from 2011 to 2012, including three from the Pac-12. There were seven coaches who did worse, including Washington State's Mike Leach. And there were eight who did about the same (we didn't count Charley Molnar at Massachusetts whose team stepped up from FCS to FBS this year).
Who made the most notable positive jumps? Urban Meyer at Ohio State (12-0 from 6-7), Texas A&M's Kevin Sumlin (11-2 from 7-6), Fresno State's Tim DeRuyter (10-4 from 4-9) and Ole Miss' Hugh Freeze (7-6 from 2-10).
The crash-and-burn list, of course, is topped by Ellis Johnson, who was fired after one season when Southern Miss declined from 12-2 to 0-12. Other notable regressions: Houston (5-7 from 13-1),Arkansas (4-8 from 11-2) and Illinois (2-10 from 7-6).
Here's the complete list (2011 record):
Urban Meyer, Ohio State: 12-0 (6-7)

Kevin Sumlin, Texas A&M: 11-2 (7-6)

Gus Malzahn, Arkansas State: 10-3 (10-3)

Tim DeRuyter, Fresno State: 9-4 (4-9)

Matt Campbell, Toledo: 9-4 (9-4)

Kyle Flood, Rutgers: 9-4 (9-4)

Jim Mora, UCLA: 9-5 (6-8)

Bill O'Brien, Penn State: 8-4 (9-4)

Larry Fedora, North Carolina: 8-4 (7-6)

Rich Rodriguez, Arizona: 8-5 (4-8)

Todd Graham, Arizona State: 8-5 (6-7)

Hugh Freeze, Ole Miss: 7-6 (2-10)

Paul Chryst, Pittsburgh: 6-7 (6-7)

Tony Levine, Houston: 5-7 (13-1)

Jim McElwain, Colorado State: 4-8 (3-9)

John L. Smith, Arkansas: 4-8 (11-2)

Justin Fuente, Memphis: 4-8 (2-10)

Bob Davie, New Mexico: 4-9 (1-11)

Carl Pelini, Florida Atlantic: 3-9 (1-11)

Garrick McGee, UAB: 3-9 (3-9)

Norm Chow, Hawaii: 3-9 (6-7)

Mike Leach, Washington State: 3-9 (4-8)

Curtis Johnson, Tulane: 2-10 (2-11)

Tim Beckman, Illinois: 2-10 (7-6)

Charley Molnar, Massachusetts: 1-11 (NA)

Terry Bowden, Akron: 1-11 (1-11)

Charlie Weis, Kansas: 1-11 (2-10)

Ellis Johnson, Southern Miss: 0-12 (12-2)
December, 6, 2012
12/06/12
11:48
AM ET
The Colorado coaching search continues as Cincinnati's Butch Jones has
declined an offer to replace
Jon Embree in Boulder.

It has been reported that Jones was offered a five-year, $13.5 million deal this week.
So what's Plan B? From the
Boulder Daily Camera
:
Colorado officials are likely to contact San Jose State coach Mike MacIntyre or Fresno State coach Tim DeRuyter, though DeRuyter has been a head coach for only one year and might not have the experience CU desires in its next head coach.

Athletic director Mike Bohn and his bosses have a list of targets that also could include former Cal coach Jeff Tedford, but its unclear if Tedford would have interest in the job. Earlier in Colorado's search process, a source who had spoken to Tedford said the coach viewed Colorado as a difficult place to win. Tedford was fired at Cal three weeks ago after the Bears finished the season 3-9.
It's never good to get publicly turned down by your first choice. And based on a false report from one newspaper that Jones had accepted the offer, this was a very public rejection.
But Buffs fans shouldn't get too worked up. Arizona State and UCLA both had bumbling coaching searches last year and things appear -- at least based on Year 1 -- to have turned out OK.
MacIntyre and DeRuyter are probably better fits anyway than Jones, who has no West Coast experience.
November, 29, 2012
11/29/12
11:00
AM ET
You're here because you're the best of the best. Or because I just cut and pasted at random.
To see the complete chat (including how my hair is better than Ted's),
you can click here
, or just enjoy these highlights.
james (atlanta, ga): Kev, why do you seem to not like the SEC? I know you are a pac 12blogger and want the teams you cover to do well, but i remember you saying you aren't going to give in to the SEC dominance but yet again they are poised to take the crystal for a 7th straight time and just look at the bcs top 10. Are u willing to admit it now?
Kevin Gemmell: (2:02 PM): James -- First, let's be clear. What I said was that I wasn't going to give into the mass-thinking when Alabama and Oregon were both undefeated that Alabama was simply better because they are in the SEC. Which is why I had Oregon No. 1 on my ballot. At the time, I was simply offering an alternative to the SEC-is-unstoppable dogma. As it turns out, both teams lost games. I have nothing against the SEC as a conference and you can't question their success.
CatsFan (Tucson): How much does Vegas care about not repeating last year's match up (ASU vs Boise St) or the UW opener vs Boise St next year? Do the Wildcats sneak into that spot?
Kevin Gemmell: (2:03 PM): I think UW probably gets the nod there. Arizona is in a tough spot because it has the weakest conference record and that's what determines the pecking order. Thinking they are pretty much stuck in the New Mexico Bowl unless Kraft takes a gamble, but I don't see that happening.
Cardinal Alumnus (CA): Hi, Kevin, and thanks for coming on to chat yet again. I'm worried about the talent Stanford Football is losing after this year. Assuming they can keep the coaching staff intact but lose all the redshirt juniors, how do you see Stanford doing in the PAC-12 and the PAC-12 North next season?
Kevin Gemmell: (2:14 PM): Hi Cardinal Alumnus. Thanks for asking the question. Seems like every year we question how Stanford will do it. No Harbaugh, no problem. No Luck, no problem. I think it's time to start giving Stanford the benefit of the doubt that they will be able to make the adjustments. Yes, they lose a lot of talent on defense, but there is some good talent coming up as well.
Chris (Gainesville): Who is the favorite for the Cal and Colorado job in your mind?
Kevin Gemmell: (2:19 PM): Lots of choices here. Cal is in a better position right now than Colorado, so I'd expect a bigger name for the Bears -- Greg Roman pops up, obviously Petersen is being mentioned. Gary Anderson, Noel Mazzone, etc. At Colorado, I think Tim DeRuyter has done a great job at Fresno State -- another place it's tough to build. Mike McIntyre has turned around a terrible San Jose State program. And I think if Tedford wants to get back into the game immediately, Colorado could be a good landing spot.
Cory (Ohio): Tell me your thoughts of Denard Robinson in the NFL QB,WR,Special teams hes a true athlete it would be a shame to see him not play. Also where is the best fit for him. and were would he end up in the draft?
Kevin Gemmell: (2:23 PM): I watched Michigan more closely last year -- only because I wanted to see how he would do in an Al Borges system (knowing Al fairly well from the SDSU days) and, not surprising, he didn't fit. I haven't studied him enough this year to make a serious evaluation. But WR seems like a good fit given the size and speed.
Bryce (SF): How will the Pac-12 stack up in the preseason rankings? Who should be ranked, and where?
Kevin Gemmell: (2:28 PM): Uh... off the top of my head. Top five, Oregon. Top 10, Stanford. Top 15, UCLA, Oregon State. Top 25, USC, Washington, maybe Arizona and ASU. Would have to really study rosters.
Brian (Spokane WA): Do you think UCLA loses Mazzone to a head coach job this off season?
Kevin Gemmell: (2:29 PM): My gut says no, but that's not to say there won't be offers. I talked with him extensively about that yesterday, poking and prodding and trying to get anything to suggest otherwise. But my gut says he really likes having a raw Brett Hundley to shape for the next couple of years.
Gowazzu02 (Not allowed to comment in your articles anymore): Dominique Williams was uncover -able during the Apple Cup Trufant a First team all pac CB had to literally shove him to the ground a few times to guard him. The next Wilson? without the quitters mentality?
Kevin Gemmell: (2:36 PM): Different body frame. He's a couple inches shorter than Wilson -- but not a bad start. 30+ catches, a three TDS, 500 yards. He's got the size on Gabe Marks, who also had a strong first year. Could be a scary combo in the years to come.
BeavsBelieve (Albany, OR): We are seeing more and more read-option, spread-type mechanics in pro offenses. Do you think that Hundley, and Mariota type mechanics will begin to fit into more of these pro systems?
Kevin Gemmell: (2:40 PM): One of my biggest gripes about the NFL is that people are attributing fantasy success to actual success. How many games has Cam Newton won? How many playoff games? Running quarterbacks get figured out or eventually hurt -- that's the nature of the NFL. The point is to win a Super Bowl and all of these dual-threat guys had better learn to be better pocket passers if they want to succeed in the playoffs.
Jon Embree (Tedford's basement): Seriously, what just happened?
Kevin Gemmell: (2:55 PM): You got hosed.
November, 27, 2012
11/27/12
4:00
PM ET
California, a week past the 11-year Jeff Tedford Era, is presently a program in limbo. It has a skeleton staff of five coaches trying to maintain a recruiting presence, while athletic director Sandy Barbour hopes she can manage a coaching search in total secrecy.
Even if she succeeds, that won't stop the blather. Media folks -- yes, that includes me -- will trot out lists of the usual suspects, and then the Internet will go wild with rumors, many of which will begin with, "I just talked to a guy [a big booster, someone in the athletic department, random insider, etc.] who said that Coach X is on his way to Berkeley to sign a contract!"
And "Coach X" is surely to be Boise State's Chris Petersen.
Cal has retained DHR International to lead the search. Typically, I'd slap my forehead over that because these search firms charge a lot of money for very little. But,
as Jon Wilner reported
, Glenn Sugiyama is handling Cal's account, and his track record includes former Stanford coach Jim Harbaugh and San Jose State head coach Mike MacIntyre, who figures to get a look from Cal.
(Still, I bet Wilner, Kevin and I -- and a bottle of Lagavulin 16yr -- could give Cal just as good a list of candidates, with far more first-hand insight, for a Amazon.com gift certificate and a table at Chez Panisse on a Friday night).
[+] Enlarge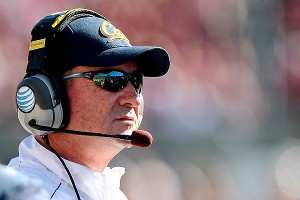 Kelley L Cox/US PRESSWIRECal's hefty buyout of Jeff Tedford could make finding his replacement more of a challenge.
It will be interesting to see how Cal plays this. It is unlikely it will be able to afford to lure away a "big-name" coach, which would be expensive and subsequently would inspire many, many frowns on upper campus.
For example, Louisville coach Charlie Strong was essentially a runner-up to Tedford 11 years ago. He makes $2.3 million coaching a Big East team. Making that much in Louisville is equivalent to making $3.4 million in Oakland. Further, he has been connected to the vacancy at Arkansas, where he surely would take a substantial leap across the $3 million line.
The next tier is made up of up-and-coming college head coaches, top coordinators or perhaps an NFL coach looking to jump back to the college ranks for whatever reason.
Cost, again, is a big issue, and it's not just about the head coach. In fact, Cal administrators need to pay as much attention to the assistant coaches as the head coach. It should be one of the first interview questions: "We like your stuff. Give me 10 or 15 coaches you'd want to hire, starting with your coordinators."
Yet emphasizing a quality staff means budgeting about $1 million for offensive and defensive coordinators, and at least $1.4 million for the other seven positions. And these are conservative numbers, folks.
If you pay the head coach between $2.5 and $3 million, then you're talking about $5 million-plus annually for a quality staff, top-to-bottom. Meanwhile, Cal is paying off Tedford -- nearly $7 million -- and his former staff.
Doing this right ain't going to be cheap.
Still, there's plenty to sell California.
Brand new facilities that are outstanding. Among the best in the conference.

The program is on solid ground. There's enough talent on hand to make a quick turnaround, see UCLA.

Good recruiting area. The Bay Area isn't as rich as Southern California, but it's darn good.

A national brand as the nation's best public university. That means a chance to recruit nationally.

There is good fan support, and it isn't crazy-nutso, expecting every season to end with a BCS bowl victory.

And, of course, becoming Cal's coach means a chance to chat regularly with the Pac-12 blog. (Sandy, you can't undersell that!).
So now we trot out a list.
It's just a list. Barbour didn't email it to me. It might be useful/entertaining for Colorado fans, too.
Head coaches
Chris Petersen, Boise State
: We couldn't leave him out! If I were a betting man, I'd say the only place that could lure him away from the comfort of Boise is Oregon.
I do love this, though
, a wonderful mix of journalism and unabashed fandom. Great effort guys.
Charlie Strong, Louisville
: He's done a great job at Louisville, but the general feeling is he wants an SEC job.
Mike MacIntyre, San Jose State
: He went 10-2 with a San Jose State program that was left for dead. It gave Stanford a better game than Cal did. The scuttlebutt on him is very good.
Sonny Dykes, Louisiana Tech
: Dykes' team is 9-3 after losing to San Jose State -- score one for MacIntyre. He's a former Arizona offensive coordinator who learned offense from Mike Leach. Just a matter of time before he gets a big job.
Tim DeRuyter, Fresno State
: He's done a really nice job turning Fresno State (9-3) back around in one year. Just ask Colorado.
Art Briles, Baylor
: Briles makes $2.5 million and seems to love Baylor. Defense not a selling point.
Gary Andersen, Utah State
: Not only did Utah State go 10-2 this year -- beating Utah -- it lost to BYU and Wisconsin by a combined five points. Also something to be said for a guy who's been around for a while. He spent five seasons as the assistant head coach, defensive coordinator and defensive line coach at Utah, where he worked under Urban Meyer and Kyle Whittingham.
Dave Doeren, Northern Illinois
: He took over a MAC power and is 22-4 in two seasons. Colorado also might be interested, but Doeren is a guy who is probably eyeballing a Big Ten job.
Darrell Hazell, Kent State
: If you're going to list Doeren as a hot coaching candidate, as lots of folks do, how can you not list Hazell, who is a former Ohio State assistant in his second year leading a program that plays Northern Illinois for the MAC title on Friday? The Golden Flashes' last league title came in 1972. That 6-5-1 team, by the way, featured Pro Football Hall of Famer Jack Lambert, Alabama coach Nick Saban and Missouri coach Gary Pinkel.
Willie Taggart, Western Kentucky
: A former Stanford assistant, he's done a great job building a respectable program at Western Kentucky.
Coordinators
Mark Helfrich, offensive coordinator, Oregon
: How highly respected is Helfrich? He might be the top candidate to replace Chip Kelly if Kelly bolts for the NFL.
Noel Mazzone, offensive coordinator, UCLA
: He's coached everywhere, but really has found his offensive legs the past few years. Made Brock Osweiler into an NFL QB at Arizona State, and appears to be doing the same with
Brett Hundley
at UCLA.
Pep Hamilton, offensive coordinator, Stanford
: He was part of the Jim Harbaugh transformation at Stanford, which included building an offense that emphasized a physical, downhill running game. He's worked with Andrew Luck, but his best selling point may be the midseason transition to redshirt freshman QB
Kevin Hogan
.
Derek Mason, defensive coordinator, Stanford
: A frontrunner for the Broyles Award given annually to the nation's top assistant coach. He's built the Cardinal into a defensive power -- see the upset at Oregon on Nov. 17.
Justin Wilcox, defensive coordinator, Washington
: Highly respected coordinator who rebuilt the Huskies defense from abysmal to pretty good this fall. Played at Oregon and coached at Cal, Boise State and Tennessee, so he knows the national landscape. It's only a matter of time before he gets a head coaching job.
Bob Diaco, defensive coordinator, Notre Dame
: Have you seen the Notre Dame defense? 'Nuff said. Other than he seems like a guy who'll end up in the Big Ten.
Kirby Smart, defensive coordinator, Alabama
: See Diaco. It also helps that he's coached under Nick Saban, so he knows how a national power conducts business.
Todd Monken, offensive coordinator, Oklahoma State
: You want offense? The Cowboys are the answer to Oregon in the Big 12.
Lorenzo Ward, defensive coordinator, South Carolina
: Steve Spurrier arrived at South Carolina as an offensive genius, but Ward is a big reason the Gamecocks are now known for defense.
A great recruiter with a lot of charisma
. Likely a guy who wants to stay in the SEC.
NFL
Ron Rivera, head coach, Carolina Panthers
: My mailbox suggests a lot of Cal fans are hoping this former Bear is done with the Panthers and wants to come back to Berkeley. Could be the latest incarnation of Pete Carroll/Jim Mora.
Greg Roman, offensive coordinator, San Francisco 49ers
: What Chip Kelly is to the spread, Roman is to the Harbaugh-ian creativity of power football. You know: All those tight ends shifting around everywhere. He probably will be a top NFL candidate, too, which is a problem.
Hue Jackson, defensive backs, Cincinnati Bengals
: Lots of college and NFL experience. He served one year as the Bears offensive coordinator under Steve Mariucci, and is a former Oakland Raiders head coach, so he knows the Bay Area.