Pac-12:

Todd Graham to ASU
December, 15, 2011
12/15/11
10:52
AM ET
There's the real world. There's the theoretical world. And there's the world of spin.
The real world
: Todd Graham left Pittsburgh for Arizona State and
didn't even get a notable raise
on his $2 million salary because he'd rather be the head coach at Arizona State than Pittsburgh. His reasons? Really, it doesn't matter in Tempe. That's a question Pittsburgh should ask of itself, not Graham. It could be revealing.
[+] Enlarge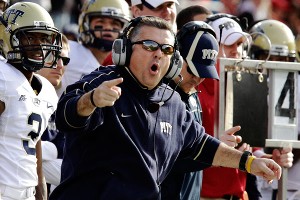 Garry Jones/AP PhotoFollowing one season at Pittsburgh, Todd Graham is now Arizona State's new football coach.
The theoretical world
: Todd Graham should have stayed at Pittsburgh because he said it was his dream job and he talked to his players about commitment and told boosters about his commitment to the future and because a high-character person would honor commitment above all else. And he certainly wouldn't announce a breakup with a text message.
The world of spin
: Todd Graham was Arizona State's first choice and everyone is thrilled. Graham feels horrible about the way he left Pittsburgh because he loves and respects everyone there. It just couldn't be helped.
You want absolutes of honor, character and integrity in college football? Two names: Joe Paterno and Jim Tressel. How are your absolutes doing now?
You believe in absolute honesty? When you last broke up with a girlfriend/boyfriend did you say: 1. It's not you, it's me; or, 2. You've gained 10 pounds since we started dating and your laugh drives me crazy. And I hate your friends. Except for the one I might ask out.
What did Todd Graham have to say about how he left Pittsburgh during his
introductory news conference
at Arizona State?
I want to first start and talk about my players from Pitt. The last few hours have been extremely gut wrenching for me, obviously for my family. I love those guys. I'm very proud of the growth that they had this year, both on the field, off the field, in the classroom and in the community. I'm very proud of them. You never want to leave a program, and I never dreamed that I would have to leave a program under these circumstances.

The timing of these processes are extremely rapid, and it did not allow for me to address the team, and that is very hurtful. I've never had to endure that, and I really regret that. I really regret that I didn't have the opportunity to do that. I reached out to them in the only way that I knew how, the only means that I had at my disposal because I absolutely did not want them to hear about this on the news. I wanted them to know first. The only other alternative I had was not to communicate at all, and that was just unacceptable to me.

I plan on my return to Pittsburgh to reach out to them and to communicate to them. Obviously my staff that's there has communicated, as well, and those young men, I just want them to know that I love them. Coaching and teaching is a passion to me, and that's something that's very, very important before I talk about anything else, that I want my players from Pitt to know that I love them and I'm proud of them.
You can believe it or not.
If Graham loved his Panthers and was proud of them, why did he not insist on delivering the news of his exit personally?
Well, obviously this transpired this morning in a rapid pace, and it was last night and this morning, and there wasn't an opportunity to have a team meeting and be able to meet with them.

Now, these processes move very quickly and very rapidly, and that's the tough thing about this business and about coaching. I've had experience with that before, and if there was anyway possible, again, that's — I never want to do that, and that's the greatest regret you can have, and it's the most horrible feeling that you have. But again, I reached out in the only way that I knew how because I absolutely was not going to just have them see this on the news.
In other words, Graham put what he termed "a gut-wrenching experience" in his left hand and the opportunity with Arizona State in his right and decided to endure the one because of the appeal of the other. He made a tough decision that many people make in the job market, only the news media wasn't Tweeting about it all day Wednesday. And there are, whether folks back East are willing to admit it or not, real world reasons why Arizona State held such great appeal to Graham.
ASU athletic director Lisa Love admitted she was aware of Graham's now even more justifiable reputation as a mercenary climber who constantly eyeballs better jobs.
Said Love: "I love the fact that [Graham's wife] Penny's parents are sitting right here and they drove up the road. I love the fact that Todd has family here. I love the fact that Desert Mountain was a place where they were investing and prepared to invest in property and believed him. I believed him. I can tell you that I saw that on job movement, but I believed him."
Trust. It's dangerous. But Love needed a coach after a muddled 17-day search that Wednesday's spin couldn't smooth over, and there was Graham -- eager, affordable and with a fairly solid resume. Ergo, leap of faith.
Of course, track records don't disappear. What if Georgia or Ohio State comes calling with $4 million a year? Why should Arizona State fans believe this is a better dream job than his last dream job, a phrase that the effervescent Graham throws around a lot.
Question: Because of your track record, how do you convince Sun Devil Nation, future recruits, the football team, everyone affiliated with ASU that you're here for the long haul?

COACH GRAHAM: I think the only way to respond to that is just being here. Obviously it was, like I said earlier in the remarks, that this is a dream opportunity for our family. It's obviously the first decision I've ever made that has actually benefited my wife and benefited our family. You know, I think that the only way you can do it is, like I said, I'm going to work hard to earn their trust, and I think trust is earned, so that's all I can do.
Right. Actions, ultimately, are real world tangible. Words are for worlds of theory and spin.
But words are all there are at present, and many of the words are going to be negative about Graham, and not completely without justification. Graham's perfect grasp of massaging talking points Wednesday evening often strained credulity. For example, he celebrated former Sun Devils greats Pat Tillman and Terrell Suggs. Suggs
took a shot at him on Twitter
, and Tillman, an absolutist on integrity in both word and deed, would not likely have been at the presser clapping for Graham had he not given his life for his country.
Graham also seemed to be unaware of the term "irony."
Question: When you get settled in, what's the first thing you do to get this program going in the Todd Graham way?

COACH GRAHAM: One word: Relationships. Start building relationships. That's a key component.
He's — officially — referring to the theoretical world. But he's — in reality — speaking of relationships of convenience. You do your best to get along with folks at your office whom you might not like. You talk as pleasantly as possible to annoying neighbors because, well, it seems smarter than telling them they are annoying gasbags. You nurture your world and love your family and friends.
A football coach enters relationships of convenience with a football program. He's got his AD. He's got his school president. He's got boosters who want to play golf with him. He's got to shake hands with lawyers who will offer unsolicited advice on using the tight end more and being more "attacking" on defense. He's got 85 scholarship players who need to be pushed, prodded and coddled in ways unique to their individuality. There is lots of talk of family but it ultimately is a business based on what the scoreboard says.
The real world will be more difficult for Graham because of his present standing in the theoretical world, and no spin can change that. He doesn't have a clean slate. Some will resist giving him the benefit of the doubt.
Relationships? What about those guys at Pitt?
But if Graham is who Love and school president Michael Crow say he is, "just being here" is a reasonable point A for hope. Point B be will be maintaining a recruiting class that seemed headed for a top-25 national ranking before Dennis Erickson was fired.
And the endgame? That's where the real world intrudes over all else: Winning, winning, winning.
December, 14, 2011
12/14/11
3:46
PM ET
A glimpse at the future ...
On the evening of Jan. 17, an Arizona State pep rally broke out in the most unlikely of places -- at a basketball game.
With the Sun Devils cruising to a win over Northern Arizona, the Sun Devils' newly minted head football coach, Todd Graham, took the microphone at halftime.
"One of the things I can guarantee you is we will be blue collar, hard-nosed and physical," Graham told the spirited crowd. "We are going to restore the Best of the West!
We will work to bring Pac-12 championships, BCS bowl championships and a national championship to Arizona State!"
The above is plagiarism. Apologies. It's a paraphrase of Graham's introduction from his
official bio on the website of the Pittsburgh Panthers
, where Graham bolted Wednesday for Arizona State after just one 6-6 season.
College football is a crazy business. Sometimes it makes you want to take a shower. But to employ a hackneyed term that has become so because it's so convenient: It is what it is.
Graham is going to get hammered in Pittsburgh and all points outside -- and some points inside -- Tempe. Graham, for a second time in his career, is one-and-done. He previously bolted Rice for Tulsa after a single season in 2006. Not only did Graham suddenly leave the Panthers in the lurch, but he announced his decision to his players via a
secondhand text message
.
That won't play well with many folks. Panthers players are blistering him on Twitter. And it will stick to Graham for a while. It looks cowardly and reminds folks of the horrible transition for Randy Edsall from Connecticut to Maryland, where his first year was an absolute disaster. When the media comes calling this spring and next fall, it will be a central part of their "Meet Todd Graham at ASU" stories.
It will mostly be malarkey. But it will be everywhere, which is often how malarkey becomes accepted truth.
[+] Enlarge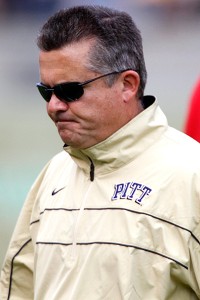 AP Photo/Keith SrakocicTodd Graham is leaving Pitt for Arizona State after one 6-6 season.
Look, folks: Being a college football coach is a job. It is not a charitable calling. Loyalty? There are going to be more than 25 coaching changes next fall. There are 120 FBS teams. The nature of the business is to get fired or to climb. It's best to do the latter.
Todd Graham wants to coach at Arizona State more than Pittsburgh. Most folks would. So instead of doing something he doesn't want to do, he's doing what he wants to. His only loyalty should be to his family and friends, not his bosses.
Some will throw around insults like "liar." They will say things like Graham told his players he was staying. Well, he was staying. Until he got a better offer. The lesson the players should learn from this is to be ambitious and to learn how the big-boy world works. In other words, Graham just helped them grow up.
By the way, this is not an inconsistent opinion from me. Some Arizona State fans
might recall this about former Sun Devils coach
Dennis Erickson when he left Idaho.
Is this a ringing endorsement of ASU's hiring of Graham? No.
Understand: The only Pitt game I watched this season was the Panthers' home date with Utah. The Utes won 26-14, manhandling what looked to me like a feckless team with the worst offense in the history of the world.
That said, Graham has a solid track record. Sure, he bolted Rice after one season. But he did so after taking a 1-10 team to its first bowl game in 45 years and winning Conference USA Coach of the Year.
At Tulsa, he went 36-17 and 3-0 in bowl games. His final season, 2010, he won 28-27 at Notre Dame.
He's a defensive guy -- he got his start in big-time college coaching working for new Arizona coach Rich Rodriguez at West Virginia -- who is known as much for potent offenses. To use his term, he likes "high-octane football." He's a longtime believer in the no-huddle, spread-option.
He had some clumsy media moments this past season. He's a fast talker who doesn't shy away from taking shots at players. But the
general feeling among Pitt fans was positive
. Until he left. Now he's the second coming of Lane Kiffin.
How's the third coming of Lane Kiffin going?
Still, it's impossible to ignore the reality that being a perceived mercenary climber brings baggage that will make Graham's job more difficult.
It's likely some Sun Devils will greet any early talk of "family" and "the Sun Devil way!" with eye rolls. Graham's reputation will make it more difficult for him to mend a fractured locker room. Selling loyalty and commitment to recruits will not be easy. It also will make it harder for school administrators to get boosters to open their wallets.
The first question some will ask: "What's his buyout?"
Here's a statement from Arizona State
:
"Criteria for our head coach was established, and the word that was at the forefront of discussions was `energy'...energy towards promoting our program in the community and with former players. Energy towards instilling discipline, leadership and in recruiting. Energy towards representing our brand in every facet of the program," notes Love. "In Todd, we have not only hired a young and sitting head coach, but one with a history of success on the field and in hiring top-notch assistant coaches. For the first time in his career, he will be taking over a program with a strong nucleus at the beginning. We are excited to watch Coach Graham take over a very well-positioned program and elevate it to the next level."
So: boilerplate.
Arizona State's coaching search was sloppy. Graham was well down the list of top candidates. And the June Jones debacle -- no matter how the school has tried to spin it afterward -- was embarrassing.
But the ultimate measure of this coaching search is no different than the ultimate measure of Todd Graham. And it is devoid of sentimentality: wins and losses. Stay out of trouble with the NCAA. Graduate players who stay off the police blotter. Yes, in that order.
PAC-12 SCOREBOARD
Saturday, 12/20
Monday, 12/22
Tuesday, 12/23
Wednesday, 12/24
Friday, 12/26
Saturday, 12/27
Monday, 12/29
Tuesday, 12/30
Wednesday, 12/31
Thursday, 1/1
Friday, 1/2
Saturday, 1/3
Sunday, 1/4
Monday, 1/12
Tweets from https://twitter.com/ESPNCFB/lists/pac12