November, 27, 2012
11/27/12
4:00
PM ET
California, a week past the 11-year Jeff Tedford Era, is presently a program in limbo. It has a skeleton staff of five coaches trying to maintain a recruiting presence, while athletic director Sandy Barbour hopes she can manage a coaching search in total secrecy.
Even if she succeeds, that won't stop the blather. Media folks -- yes, that includes me -- will trot out lists of the usual suspects, and then the Internet will go wild with rumors, many of which will begin with, "I just talked to a guy [a big booster, someone in the athletic department, random insider, etc.] who said that Coach X is on his way to Berkeley to sign a contract!"
And "Coach X" is surely to be Boise State's Chris Petersen.
Cal has retained DHR International to lead the search. Typically, I'd slap my forehead over that because these search firms charge a lot of money for very little. But,
as Jon Wilner reported
, Glenn Sugiyama is handling Cal's account, and his track record includes former Stanford coach Jim Harbaugh and San Jose State head coach Mike MacIntyre, who figures to get a look from Cal.
(Still, I bet Wilner, Kevin and I -- and a bottle of Lagavulin 16yr -- could give Cal just as good a list of candidates, with far more first-hand insight, for a Amazon.com gift certificate and a table at Chez Panisse on a Friday night).
[+] Enlarge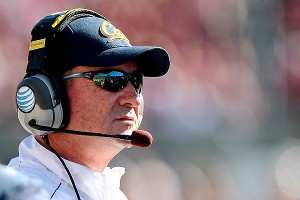 Kelley L Cox/US PRESSWIRECal's hefty buyout of Jeff Tedford could make finding his replacement more of a challenge.
It will be interesting to see how Cal plays this. It is unlikely it will be able to afford to lure away a "big-name" coach, which would be expensive and subsequently would inspire many, many frowns on upper campus.
For example, Louisville coach Charlie Strong was essentially a runner-up to Tedford 11 years ago. He makes $2.3 million coaching a Big East team. Making that much in Louisville is equivalent to making $3.4 million in Oakland. Further, he has been connected to the vacancy at Arkansas, where he surely would take a substantial leap across the $3 million line.
The next tier is made up of up-and-coming college head coaches, top coordinators or perhaps an NFL coach looking to jump back to the college ranks for whatever reason.
Cost, again, is a big issue, and it's not just about the head coach. In fact, Cal administrators need to pay as much attention to the assistant coaches as the head coach. It should be one of the first interview questions: "We like your stuff. Give me 10 or 15 coaches you'd want to hire, starting with your coordinators."
Yet emphasizing a quality staff means budgeting about $1 million for offensive and defensive coordinators, and at least $1.4 million for the other seven positions. And these are conservative numbers, folks.
If you pay the head coach between $2.5 and $3 million, then you're talking about $5 million-plus annually for a quality staff, top-to-bottom. Meanwhile, Cal is paying off Tedford -- nearly $7 million -- and his former staff.
Doing this right ain't going to be cheap.
Still, there's plenty to sell California.
Brand new facilities that are outstanding. Among the best in the conference.

The program is on solid ground. There's enough talent on hand to make a quick turnaround, see UCLA.

Good recruiting area. The Bay Area isn't as rich as Southern California, but it's darn good.

A national brand as the nation's best public university. That means a chance to recruit nationally.

There is good fan support, and it isn't crazy-nutso, expecting every season to end with a BCS bowl victory.

And, of course, becoming Cal's coach means a chance to chat regularly with the Pac-12 blog. (Sandy, you can't undersell that!).
So now we trot out a list.
It's just a list. Barbour didn't email it to me. It might be useful/entertaining for Colorado fans, too.
Head coaches
Chris Petersen, Boise State
: We couldn't leave him out! If I were a betting man, I'd say the only place that could lure him away from the comfort of Boise is Oregon.
I do love this, though
, a wonderful mix of journalism and unabashed fandom. Great effort guys.
Charlie Strong, Louisville
: He's done a great job at Louisville, but the general feeling is he wants an SEC job.
Mike MacIntyre, San Jose State
: He went 10-2 with a San Jose State program that was left for dead. It gave Stanford a better game than Cal did. The scuttlebutt on him is very good.
Sonny Dykes, Louisiana Tech
: Dykes' team is 9-3 after losing to San Jose State -- score one for MacIntyre. He's a former Arizona offensive coordinator who learned offense from Mike Leach. Just a matter of time before he gets a big job.
Tim DeRuyter, Fresno State
: He's done a really nice job turning Fresno State (9-3) back around in one year. Just ask Colorado.
Art Briles, Baylor
: Briles makes $2.5 million and seems to love Baylor. Defense not a selling point.
Gary Andersen, Utah State
: Not only did Utah State go 10-2 this year -- beating Utah -- it lost to BYU and Wisconsin by a combined five points. Also something to be said for a guy who's been around for a while. He spent five seasons as the assistant head coach, defensive coordinator and defensive line coach at Utah, where he worked under Urban Meyer and Kyle Whittingham.
Dave Doeren, Northern Illinois
: He took over a MAC power and is 22-4 in two seasons. Colorado also might be interested, but Doeren is a guy who is probably eyeballing a Big Ten job.
Darrell Hazell, Kent State
: If you're going to list Doeren as a hot coaching candidate, as lots of folks do, how can you not list Hazell, who is a former Ohio State assistant in his second year leading a program that plays Northern Illinois for the MAC title on Friday? The Golden Flashes' last league title came in 1972. That 6-5-1 team, by the way, featured Pro Football Hall of Famer Jack Lambert, Alabama coach Nick Saban and Missouri coach Gary Pinkel.
Willie Taggart, Western Kentucky
: A former Stanford assistant, he's done a great job building a respectable program at Western Kentucky.
Coordinators
Mark Helfrich, offensive coordinator, Oregon
: How highly respected is Helfrich? He might be the top candidate to replace Chip Kelly if Kelly bolts for the NFL.
Noel Mazzone, offensive coordinator, UCLA
: He's coached everywhere, but really has found his offensive legs the past few years. Made Brock Osweiler into an NFL QB at Arizona State, and appears to be doing the same with
Brett Hundley
at UCLA.
Pep Hamilton, offensive coordinator, Stanford
: He was part of the Jim Harbaugh transformation at Stanford, which included building an offense that emphasized a physical, downhill running game. He's worked with Andrew Luck, but his best selling point may be the midseason transition to redshirt freshman QB
Kevin Hogan
.
Derek Mason, defensive coordinator, Stanford
: A frontrunner for the Broyles Award given annually to the nation's top assistant coach. He's built the Cardinal into a defensive power -- see the upset at Oregon on Nov. 17.
Justin Wilcox, defensive coordinator, Washington
: Highly respected coordinator who rebuilt the Huskies defense from abysmal to pretty good this fall. Played at Oregon and coached at Cal, Boise State and Tennessee, so he knows the national landscape. It's only a matter of time before he gets a head coaching job.
Bob Diaco, defensive coordinator, Notre Dame
: Have you seen the Notre Dame defense? 'Nuff said. Other than he seems like a guy who'll end up in the Big Ten.
Kirby Smart, defensive coordinator, Alabama
: See Diaco. It also helps that he's coached under Nick Saban, so he knows how a national power conducts business.
Todd Monken, offensive coordinator, Oklahoma State
: You want offense? The Cowboys are the answer to Oregon in the Big 12.
Lorenzo Ward, defensive coordinator, South Carolina
: Steve Spurrier arrived at South Carolina as an offensive genius, but Ward is a big reason the Gamecocks are now known for defense.
A great recruiter with a lot of charisma
. Likely a guy who wants to stay in the SEC.
NFL
Ron Rivera, head coach, Carolina Panthers
: My mailbox suggests a lot of Cal fans are hoping this former Bear is done with the Panthers and wants to come back to Berkeley. Could be the latest incarnation of Pete Carroll/Jim Mora.
Greg Roman, offensive coordinator, San Francisco 49ers
: What Chip Kelly is to the spread, Roman is to the Harbaugh-ian creativity of power football. You know: All those tight ends shifting around everywhere. He probably will be a top NFL candidate, too, which is a problem.
Hue Jackson, defensive backs, Cincinnati Bengals
: Lots of college and NFL experience. He served one year as the Bears offensive coordinator under Steve Mariucci, and is a former Oakland Raiders head coach, so he knows the Bay Area.
November, 20, 2012
11/20/12
3:00
PM ET
For much of the past two seasons, as Jeff Tedford sat firmly on the proverbial hot seat, the question was whether California could afford to fire its winningest coach. There was no buyout in Tedford's contract, so it would cost nearly $7 million to dispatch him, and that didn't include paying off his coaching staff.
And, of course, there were issues of loyalty. Tedford transformed a program that went 1-10 and played in a crumbling, half-empty stadium the season before he arrived, building it into a consistent winner that could afford massive facility upgrades.
On Tuesday, Cal administrators concluded that
they couldn't afford not to fire Tedford
, who completes the longest continuous, and current, tenure in the Pac-12 with an 82-57 record in 11 seasons in Berkeley.
The reasons for the not-unexpected firing are obvious. Tedford is 15-22 overall and 9-18 in Pac-12 play since going 8-5 in 2009. The Bears went 3-9 this year, the worst record of Tedford's tenure, including a five-game losing streak to end the season. Crowds at newly remodeled Memorial Stadium were dwindling, threatening Cal's Endowment Seating Program, which was supposed to play a central role for financing the stadium renovation.
Over the past four seasons, California lost 16 games by at least 17 points, and it is riding a three-game losing streak in the Big Game to Bay Area rival Stanford, which could end up in its third consecutive BCS bowl game this January.
[+] Enlarge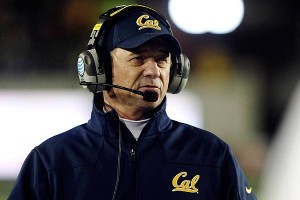 Kelley L Cox/US PresswireJeff Tedford's Bears lost their final five games to finish 3-9 -- the head coach's worst season at Cal.
The program has been in a downward trend and showed no signs this season of reversing that negative momentum. Fans were turning away just when they -- and their money -- were needed most. So, it was decided, a coaching change was critical to reverse the tide.
"This was an extraordinarily difficult decision, one that required a thorough and thoughtful analysis of a complex set of factors," Cal athletic director Sandy Barbour said in a statement. "Ultimately, I believed that we needed a change in direction to get our program back on the right track. Cal football is integral to our department and our university, and its influence can be felt well beyond the walls of Memorial Stadium."
So what's next? Well, Cal first has to decide how much it's willing to pay.
Tedford's 2012 salary is $2.3 million, which is a lot to most of us but not that much among elite coaches, particularly when you adjust for the Bay Area's cost of living. That's like making $1.6 million if you lived in Tuscaloosa, Ala. If Cal wants to pursue, say, Cincinnati's Butch Jones, they'd have to pay him $2.3 million just to match the value of Jones' current $1.6 million salary.
A front-line head coach likely will cost at least $2.5 million to $3 million. And then you have to hire his staff. Top coordinator salaries have risen to between $500,000 and $1 million. Washington is paying defensive coordinator Justin Wilcox $750,000 this year.
So this could get expensive.
Of course, the Bears also could do what they did when they hired Tedford away from Oregon: Find a hot coordinator.
Names you likely will hear: Wilcox, Oregon offensive coordinator Mark Helfrich, Stanford offensive coordinator Pep Hamilton and Stanford defensive coordinator Derek Mason.
Bears fans have been frustrated by Cal's QB play since Aaron Rodgers went to the NFL. Well, UCLA offensive coordinator Noel Mazzone rebuilt two offenses -- and two QBs -- in the past two seasons (at Arizona State and now with the Bruins).
Then you could trot out some other hot names in no particular order: Charlie Strong, Louisville; Art Briles, Baylor; Sonny Dykes, Louisiana Tech; Willie Taggart, Western Kentucky; and Gary Andersen, Utah State.
And coordinators: Kirby Smart, Alabama; Chad Morris, Clemson; Todd Monken, Oklahoma State; Brent Venables, Clemson; Lorenzo Ward, South Carolina; Kalani Sitake, Utah; Pat Narduzzi, Michigan State.
Or Cal could look to the NFL.
From the Cal statement: "Barbour said that a national search for a new head coach, which will be aided by the firm of DHR International, will begin immediately. She did not indicate a timetable for hiring a replacement, adding that Cal Athletics will have no further comment on the search until a new coach has been selected."
Tedford will land on his feet. He is plenty respected among other coaches. Don't be surprised if he lands another job in a major conference. Or the NFL.
He has proved he can build a program. As we've previously noted, in 24 seasons before he arrived in Berkeley -- 1978 to 2004 -- Cal won three or fewer games 10 times while winning seven or more games four times. Tedford suffered just two losing seasons in 11 years and has won 10 games twice and nine games once. Before he took over, Cal's last winning season came in 1993.
But football is a zero-sum game. You either win or you lose. Tedford set an early pattern of winning, but losing was the recent trend. The program seemed to plateau, then slide.
Further, Stanford's fortunes were rising, as were other Pac-12 teams with new coaches, such as UCLA, Arizona and Arizona State.
In the big business of college football, losing isn't accepted, particularly when rivals are winning.