April, 29, 2013
4/29/13
1:30
PM ET
When something seemingly loud happens, we can't help but stare. The momentum of attention, which of course can be monetized by the media, creates a hungry void that is filled with endless analysis. The end-result is a suffusion of broad statements of "This proves this!"
[+] Enlarge
Kirby Lee/US PresswireThe Eagles drafted USC QB Matt Barkley with the 98th pick in the fourth round of the 2013 draft.
So we have USC quarterback Matt Barkley. It seems now we all should have seen Barkley's precipitous slide in the NFL draft coming. He would have been a top-10 pick in the 2012 draft, not the 98th overall selection he ended up being on Saturday, if he'd only been smart enough not to return to USC for his senior season.
I get it. Hindsight rocks. We'd all be rich, infinitely happy people if we could do a rewind and relive the past, knowing what we know after going through it once before.
With the benefit of hindsight, it's fair to say now that Barkley made a huge mistake. How huge?
This is from Sports Illustrated's Peter King
:
P.S.: Wondering what that extra year of school cost Barkley? He went 98th overall. Let's say he'd have been the eighth pick a year ago -- that's where Ryan Tannehill went. It's all speculation, of course. But the consensus was he'd have been a top 10 pick. Tannehill's deal: four years, $12.7 million. The 98th pick last year, Ravens center Gino Gradkowski, signed for four years and $2.58 million. Turns out it was a $10.1 million year of school for Matt Barkley.
Ouch.
You business school guys can pencil that out for us over a lifetime. Forget Barkley's second contract. You can't make up a $10.1 million hit.
So, yeah, bad call. Barkley undoubtedly will become a cautionary tale for future players who are debating whether to stay in school or enter the draft early. More than a few folks will insist that if there's a consensus first-round grade for a third-year player, returning merely to make a run at being the first overall pick or a top-10 pick is not a good idea.
Support for that notion comes from the evaluative distance between the end of the regular season and the actual draft. So much happens between December and April that a player, particularly one with great athletic measurables, can dramatically influence the affections of NFL scouts and GMs.
Still, let's look at the Barkley who stood in front of a Christmas tree in December 2011 and smoothly announced his return to USC.
There was seemingly no question at that point he would be, at best, the third QB chosen behind Andrew Luck and Robert Griffin III. Further, you'd think that some of his supposed red flags -- arm strength and foot quickness -- would have revealed themselves at the NFL combine and during workouts, so it's even questionable that he would have won out over Tannehill.

Go back to your December 2011 self. Who was the best college QB in the nation? There was Barkley and then a whole bunch of "Who?" and "Neh." Phil Steele's ranking of QBs after Barkley in advance of the season: 2.Tyler Wilson, Arkansas; 3. Landry Jones, Oklahoma; 4. Logan Thomas, Virginia Tech; 5. Tyler Bray, Tennessee.

Ergo, his rating as the top overall QB entering 2012, based on three years as a starter, seemed absolutely secure.

Then there were the Trojans around him: 18 starters back from a team that went 10-2 and won at Oregon. That included four starters on the offensive line to protect him and the best tandem of college receivers in recent memory: Robert Woods and Marqise Lee.
There were only two potential red flags at the time: 1. Injury; 2. The unknown. Both ended up contributing to Barkley's slip.
"The unknown" includes that old scouting adage that a guy can have "too much film." If a guy duplicates his great play from a previous season, scouts will wonder why he didn't dramatically improve. And woe unto him whose numbers drop.
But the now-marginalized reasons for Barkley's return also were sound:
Win the Heisman Trophy.

Win the national title.

Enjoy another year of college as USC's QB, which is a nice thing to carry around the idyllic campus, before taking on real world stresses of playing a game for a living.

Become the first QB taken in the 2013 draft, which is typically in the higher reaches of the top-10.
At the time Barkley made his decision to stick around, there were few naysayers about his and his team's prospects. That everything went so completely rear-end-over-tea-kettle still boggles the mind if you aren't one of those people who pretends you saw it all coming a year ago.
All this said, with a few exceptions, my long-held belief on this is a player should enter the draft as soon as possible. "Stay in school!" sounds nice, but a guy can always go back to school.
That position, however, is not all about merely jumping into the draft when your stock is seemingly high. It's also about age. It's better to start earning a (substantial) paycheck at, say, 21 than 22, if it is available to you. The career clock doesn't tick very long in the NFL, and an extra couple of million can help later in life.
Consider two Pac-12 players who had less fanfare this draft cycle but are probably nearly as disappointed as Barkley: Oregon RB Kenjon Barner and Stanford OLB Chase Thomas.
Both opted to return for their senior seasons in order to improve their NFL draft prospects. It appears neither did, with Barner going in the sixth round and Thomas going undrafted. My hunch is they would have done better last spring.
Both now have an additional year of wear-and-tear on the bodies without getting paid, which is particularly an issue for Barner because running backs see their productivity drop substantially at 30. Barner just turned 24.
Ultimately, a disappointing draft doesn't make or break an NFL career. Ask Tom Brady. I think just about every conversation I had with former Seattle Seahawks QB Matt Hasselbeck circled back to his annoyance at being picked in the sixth round, watching QBs he felt were inferior to him get picked before him.
Barkley, who has seemingly led a charmed life at quarterback, might get a boost from having a chip on his shoulder (a Chip Kelly one, at that). Maybe "Angry Matt" will turn out better than "Breezy Matt."
The NFL draft is often confounding. It is laden with risk and reward on both sides of the process. Barkley took on a defensible risk and things didn't go as he hoped. That's notable, but it's also an annual occurrence.
As for Barkley, you'd think that at some point in his life he will encounter a greater adversity than being picked in the fourth round of the NFL draft.
April, 11, 2011
4/11/11
12:25
PM ET
STANFORD, Calif. -- The media often falls for polite and polished and humble. It doesn't require a gaggle of publicists to know that a superstar athlete doing polite, polished and humble charms reporters and therefore the public. And, of course, it's often a con, or a least a public persona that doesn't match the reality of said superstar athlete.
[+] Enlarge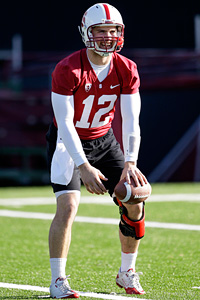 AP Photo/Paul SakumaStanford's Andrew Luck is a front-runner to win the Heisman Trophy next season.
Stanford quarterback
Andrew Luck
is a superstar athlete, even if trying to get him to engage the topic is like playing dodgeball with
Plastic Man
. He was the Heisman Trophy runner-up last season and he almost certainly would have been the No. 1 overall pick in the NFL draft on April 28 had he not opted to return for his redshirt junior season, in large part, he said, because he wanted to finish up his degree in architectural design.
This story, however, must now pause because Luck has walked away from an interview to help a woman open a door to the Stanford athletic building. She needs to use the restroom, and it doesn't require Woodward & Bernstein to ascertain that this might be a pressing need. Luck points her in the right direction but warns her that they might be cleaning up inside.
Where were we? Yes, moments before becoming a hero to a woman who had perhaps imbibed too much afternoon coffee, Luck walked past a ballroom dancing class and, making small talk, noted, "I don't think I'm coordinated enough for ballroom dancing."
Luck is a buffed-up, 6-foot-4, 235 pounds and, besides ranking third in the nation in passing efficiency in 2010, he rushed for 453 yards. But ballroom dancing students, now those folks are athletes.
Actual exchange once the interview starts again:
Hyperventilating reporter [Me]: "Now, everybody in the country knows who you are."
Luck: "I don't think everybody knows."
Said former Stanford coach Jim Harbaugh, now with the San Francisco 49ers, last fall: "He's almost embarrassed if somebody compliments him or wants to talk about him. He's very quick to deflect it to his teammates. He's someone people want to follow, want to emulate. It's a unique quality to be the sort of anti-celebrity quarterback, the anti-big-man on campus."
More than a few folks were stunned Luck opted to return, no matter how much he enjoyed college or wasn't burdened by financial need -- his father, Oliver, is a former NFL quarterback and presently the athletic director at West Virginia.
Said Stanford linebacker Shayne Skov, "Anybody's logic would have been to leave. We were all stunned."
There is a potential red flag here, though, on the football side of things. Some might observe that NFL coaches prefer the singular focus of the football obsessed over a Renaissance man who enjoys college. Further, the best quarterbacks are often swashbuckling sorts -- Tom Brady, Brett Favre (without the text messages), Joe Namath and Kenny "The Snake" Stabler -- so if Luck seems too much the Boy Scout, might that make it difficult for him to lead a locker room that includes an array of edgier personalities?
Ah, but not unlike Peyton Manning, Luck doesn't do Ned Flanders on the football field. Just ask former USC cornerback Shareece Wright and California safety Sean Cattouse, who both ended up on the losing end of a Luck hit when they stood between the quarterback and something he wanted during a game.
"My dad calls it 'crossing the white line,'" said new Stanford head coach David Shaw, whose father, Willie Shaw, was a longtime college and NFL coach.
"You can be the greatest human being on the planet, but once you cross that white line, it's whatever it takes to win football games. Andrew has started to remind me of another guy who was like that: [former Cardinal and nine-time Pro Bowl safety] John Lynch. John Lynch was an all-time human being -- a phenomenal person. One of those guys you say you want your daughter to grow up and marry. That's the way Andrew is. But once he crosses that white line, he's such a competitor. He doesn't care who you are, he's going to try to knock you out. Andrew flips that same switch."
While Stanford practices are closed, the scuttlebutt is that Luck has been masterful this spring. Quipped offensive coordinator Pep Hamilton with a straight face, "He was able to complete 70 percent [71 percent actually] of his passes last year. Our goal is for him to complete 100 percent of his passes."
When asked about this, Shaw pointed out that Luck, indeed, missed a throw -- a 6-yard out -- at practice the previous day.
"You'd have thought it was the Super Bowl," Shaw said. "With a guy like this, you shoot for the moon. You see how far you can push him. And Andrew loves it. He wants to be pushed every day. He wants to be coached, he wants to be coached hard and he wants to be coached specifically. He doesn't know what his ceiling is. So let's not set it."
The high ceiling for Luck is a big reason the national perception is there's a high ceiling for Stanford. The Cardinal will be ranked in the preseason top 10, and Oregon's visit on Nov. 12 is likely the Pac-12 North game of the year, one that might have national championship implications. And if the Cardinal again surges a year after turning in its best season of the modern era, it's almost certain that Luck will be a Heisman Trophy front-runner.
That means even more celebrity for Luck. While Stanford's pristine campus and academically elite student body present a less football-obsessed environment that allows him some privacy, Luck's future is under the klieg lights. It's unavoidable and it will test him.
Luck is told a story about an early Ben Affleck interview with Jay Leno when Affleck tells of pulling out the "I'm Ben Affleck" for the first time to get a restaurant reservation. Luck's asked if he's had a similar moment when waiting for a table.
At first, he seems to be honestly baffled by the inquiry, then replies: "There are enough good restaurants in Palo Alto. We could leave. No, I haven't tried to do that. I don't think it's worth it."
April, 26, 2010
4/26/10
3:01
PM ET
By
ESPN.com staff
| ESPN.com
End Datone Jones and the defense
ruled UCLA's spring game
.
Jones had two of the Bruins' eight sacks and recovered a fumble as the new "revolver" offense failed to find a consistent rhythm. Offensive coordinator Norm Chow told the LA Times that the Bruins "didn't play with any fire."
While quarterback
Kevin Prince
had mostly
shown improvement this spring
, he struggled on Saturday, completing just 5 of 13 passes for 72 yards with an interception. There were
lots of three-and-outs
by the offense.
The offensive star was kicker Kai Forbath. The 2009 Lou Groza Award winner was 4 for 4 on field goal attempts, connecting from 44, 34, 51 and 57 yards.
Also on the plus side was running back
Derrick Coleman
, who emerged from spring practices ahead of
Johnathan Franklin
and
Milton Knox
. Coleman rushed for 64 yards and a TD on six carries. Franklin had 18 carries for 47 yards and a touchdown.
Here's some
video from the game
.
Celebrities on hand watching the game included soccer superstar David Beckham, New England Patriots stars Tom Brady and Wes Welker, NFL Hall of Famer Jerry Rice, whose son plays receiver for the Bruins.
You can review
spring game stats here
.
October, 16, 2009
10/16/09
9:58
AM ET
By
ESPN.com staff
| ESPN.com

Posted by ESPN.com's Ted Miller
The hype machine hummed with no small amount of justification this week about
Jimmy Clausen
and
Matt Barkley
. The thousands of words that have poured forth about these two quarterbacks, connected and divided by so many opinions and sentiments and measures and public and private moments apprehended and misapprehended, diligently aspired to describe the compelling contrasts and similarities that braid them together in a cardinal and green rope of rivalry and friendship.
| | |
| --- | --- |
| | |
| | Getty Images |
| | Examining the matchup between Matt Barkley and Jimmy Clausen is an exercise in comparisons and contrasts. |
It was an analytical circus that almost eclipsed the football game USC and Notre Dame will play Saturday.
Start with this.
When Clausen picked Notre Dame over USC in 2006, he was "the
most acclaimed
California prep quarterback since John Elway."
When Barkley, a lifelong USC fan, committed to the Trojans his junior year in 2008, he was "
a cross
between Joe Montana and [Tom] Brady."
Both southern California products were rated the No. 1 prep quarterback in the nation when they were high school seniors, Clausen at Oaks Christian and Barkley at Mater Dei. Both were longtime students of respected quarterbacks guru Steve Clarkson.
Two years separated them. As personalities, they were very different. But their innate awareness of comparable talent drew them together.
"Every time I go back home during the offseason, Matt is always around," Clausen said. "We're always throwing the ball, hanging out, stuff like that."
But very different.
Clausen committed to Notre Dame from inside the College Football Hall of Fame in front of about 300 people and a TV crew from ESPN. He arrived via a stretch Hummer limousine. He talked about winning multiple national titles. He wore a suit that looked expensive but didn't fit him well. His hair was spiked and gelled.
Barkley released a statement and talked to a handful of reporters when he quietly committed to USC. There was no pomp. There was no circumstance. There was no big, white Hummer. It remains unclear if Barkley actually combs his hair, which already hints at early recession.
A Barkley quote from shortly after he committed as it appeared in the
New York Times
: "Jesus Christ is No. 1 to me," said Barkley, who has a 3.9 grade point average. "That's who I play for."
Do a search on Google images of "Jimmy Clausen" and then "Matt Barkley." Who gets the unflattering, mocking photos? And who doesn't?
So, clearly we have a good guy -- a West Coast Tebow -- and a self-absorbed brat, right?
Great news. It's more complicated that that, more nuanced. To spoil the potential cliffhanger: The folks who actually know Clausen seem to like him. And, you know, maybe he got some bad advice on how to handle his commitment and that one moment shouldn't entirely define him as a person.
"I've grown a lot," Clausen said. "When I first walked into Notre Dame, I didn't really know and expect what it was to be the quarterback at Notre Dame. I've had to deal with some things on the field, off the field."
Clausen mostly stops there and redirects from any deeper introspective insights. He's become pretty jaded -- not without justification -- with this whole "talk about himself to reporters thing," though he seems pleased to learn that USC linebacker Chris Galippo spoke highly of him.
Is Clausen cocky? The question didn't irritate Galippo so much as arouse a linebackery defense.
"No, not at all," Galippo said. "If anything, he's an extreme competitor, which we all are. Regardless of the vibe he gives people, the guy is an awesome football player. He's a guy who goes out and works his tail off. He's easily the best quarterback in the nation right now.
That may be true. Clausen leads the nation in passing efficiency. He's completed 68 percent of his throws with 12 touchdowns and just two interceptions.
Moreover, he's played through pain -- he's been nursing a turf toe for weeks -- and has led the Irish to three dramatic comeback wins.
Perhaps he should be a leading Heisman Trophy candidate? All he has to do to legitimize his candidacy is end the Fighting Irish's seven-game losing streak against the Trojans.
"I think that he's had a heck of a year," Notre Dame coach Charlie Weis said. "I mean, you look at what he's done through these first five games. There couldn't be anyone in the country playing any better than him. But now he is going against the best defense that he's seen all year long. So I think these are the type of moments where you really get judged on how well you do when you go against the really, really good guys."
Speaking of really good guys: Matt Barkley!
Playing his first career away game in front of 100,000-plus at Ohio State, Barkley became a sensation when he led a 14-play, 86-yard, fourth-quarter drive to beat the Buckeyes.
He's seems completely unflappable. His arm is special. He smiles a lot. His teammates rave about him. Coach Pete Carroll calls him an "outlier," meaning he's
human but just barely
.
His numbers -- three touchdowns and two interceptions -- won't blow anyone away, but that doesn't stop Carroll from gushing.
"He really has everything you're looking for," he said.
There are many potential topics to ask Barkley about -- his maturation, Notre Dame's struggling defense, his decision to turn down an invitation to join the
X-Men
, etc. -- but one sticks out.
So is Clausen cocky?
"I think people might get the wrong image but I actually admire that about him," Barkley said. "He's confident in how he can play and his abilities and I think it's really coming out and showing this year. It might have come out wrong in a couple of instances, what people might take from what he's said or what he's done. And that's not who I am. I'm going to take a different route. That's how he is. That's how he plays. It's working out well for him this year."
Just a hint of compare-and-contrast there, eh?
There is an itty-bitty bit of entertaining tension present, bubbling just beneath the surface. After all, it's USC-Notre Dame.
For example, when asked about Barkley, Weis praised his supporting cast: "I think the one thing he does very well is he knows who his playmakers are and he gets the ball in their hands."
Asked about how Barkley is different from Clausen as a freshman, Weis said, "I think that Jimmy wasn't around as good a supporting cast. That might be the biggest understatement I might ever say."
Meanwhile, Carroll basically said that Clausen didn't come to USC because he was afraid of competing with Mark Sanchez.
"I felt like he was concerned about who else was around and was coming and all that," Carroll said. "He was trying to take a look at situating himself in the best position where he could play early ... He had a lot of respect for Mark and thought that in all likelihood Mark might have a chance to be ahead of him, which he would have been."
Countered Clausen, "No, that wasn't a factor at all."
Hmm. Clausen became Notre Dame's starter by the second game of his true freshman year. If he'd gone to USC, it's likely he would have competed with Barkley for the starting job this past spring and preseason after waiting for Sanchez to become a top-five NFL draft pick following his junior year.
Clausen vs. Barkley would have been interesting.
But their competition will have to be settled on the field Saturday in the high grass before Touchdown Jesus. These two hyped, golden-boy, southern California quarterback recruits -- and friends! -- will have at least one opportunity to win dominance over the other head-to-head.
Barkley isn't supposed to be the brash one, but he found it difficult to duck the notion that bragging rights are at stake.
"Possibly. Maybe after the game," he said. "I don't like to think about that stuff heading into a game. But there might be. I guess there will be a little individual battle between us two as well."
July, 21, 2009
7/21/09
12:00
PM ET
By
ESPN.com staff
| ESPN.com
Posted by ESPN.com's Ted Miller
One of the reasons Arizona offensive coordinator Sonny Dykes is about to become a hot head-coaching candidate is that he's not a system guy. He's a personnel guy.
He figures out what he has. Then he figures out how to use them.
When Mike Stoops hired him away from Texas Tech, most immediately assumed he'd start throwing the ball 60 times a game, just like the Red Raiders do.
Nope. The Wildcats ran the ball 504 times last year and passed it 412.
It's about doing what works. So Dykes' spread offense has evolved.
Has it worked? Well, in 2006, the year before he moved to Tucson, Arizona averaged 16.6 points and 252.8 yards per game. In 2007, Dykes' offense averaged 28 points and 385 yards per game. In 2008, that offense averaged 36.6 points and 402 yards per game.
In 2007, the Wildcats averaged just 77 yards rushing. In 2008, 158.4.
To Dykes, the spread doesn't mean one thing. Other than moving the football.
Is there a fundamental difference in the way you guys line up versus Oregon and the spreads that are more of a spread-option running attack?
Sonny Dykes: Definitely. If you look at Oregon and West Virginia, with what Rich Rodriguez was doing there, they were spreading to run. They wanted to spread the field to take some of the onus off the offensive line and run the football. Oregon is doing the same thing. Spread teams like Texas Tech were kind of the run-and-shoot guys and are really trying to spread the field to throw it. What we're doing here is kind of a combination of both. We double call a lot of stuff, so depending on how many people are in the box, we're going to throw it when we've got good numbers and run it when we've got good numbers to run it. That's really what Tech is doing but they are more inclined to throw it.
What is your base formation?
SD: For us, it always depends on personnel. Who are our best players? We have a tight end -- obviously we've got [Rob] Gronkowski, so our base formation involves a tight end. When we had [receiver] Mike Thomas, our base formation was a one-back set with Mike Thomas being the inside of three receivers. Now, we'll be a little bit more of a two-back team because of [H-back] Chris Gronkowski. We'll be a mixture really. So our base formation will be with a tight end and a fullback, which is a little bit more old style football.
So that's the big difference between you guys and Texas Tech -- the fullback and tight end are just role players for the Red Raiders, right?
SD: But if Tech had Rob Gronkowski they'd be playing with a tight end a lot. It just depends on your personnel. Any coach is going to try to get his best guys on the field. Our offense has evolved and a lot of it is because of Robbie. We started running some power and a little bit more of a downhill run game just because he can block a defensive end at a point of attack. There just aren't many tight ends you can count on to do that. We're evolving. We're probably a little bit more like Oregon now than Texas Tech, just because of our ability and need to run the football. But if we had Mike Crabtree and Graham Harrell, we'd be throwing it 60 times a game. Instead, we've got Rob Gronkowski and Nic Grigsby, so we're more inclined to run it.
How about with receivers? Does the spread require different things out of them than if you were lining up in a pro-style set?
SD: Yeah, definitely. The quarterback and receivers have to spend a lot of time getting on the same page. If you run the ball, guys are going to try to sneak more guys in the box. When they do that, you need to find a way to get the ball on the perimeter, whether it's throwing the [bubble screens] or whatever, to try to get the ball away from the guys packing the box. When you're doing that, it looks like an easy throw, but it's something that requires quite a bit of timing and work between quarterbacks and wide receivers. If you're going to spread it out and do that, your quarterback and receivers have to spend a lot of time developing a feel for each other.
If you're going to run 35 times a game, you need receivers to block well. But, in general, does a spread receiver need to be a better blocker than a pro-style receiver?
SD: I think so because of the screens. A lot of that stuff maybe forces them to be more effective blockers. It's different. Our receivers don't cut much. You look at the old Nebraska film, when they were running the option and getting the ball on the perimeter, they were cutting guys down. Our guys are really just trying to get in the way more. So it's a different kind of blocking, but it's probably more important in the spread because of the screens and how many times the ball is actually out on the edge.
One way guys recruit against spread teams is they tell recruits that if they play in a spread offense they are not going to get the respect from the NFL in the draft. What do you say to that?
SD: It's weird. Remember [the University of] Miami was one of the first teams running the one-back and running a spread offense with three receivers on the field? They were doing it with guys like Bernie Kosar and Vinny Testaverde and all of those guys were getting drafted. Back then, Miami was using it as a real advantage -- hey, we're spreading the field and throwing the ball. That's how you get into the NFL. What's happened is the spread has changed and there are a lot of different kinds of spreads. You've got what Penn State was doing last year which is more traditional type stuff. And then you've got the stuff that is way out there, the run-and-shoot stuff, what Tech's done. I think anytime a quarterback can drop back and throw the football, that's important. All that does is make him better, whether he does it under center or out of the shotgun. I don't see how a quarterback can be faulted when he takes a snap, avoids a rush, shuffles in the pocket, goes through reads, finds a receiver, throws an accurate ball and does all the things you have to do to drop back and throw. I don't see how he becomes a better quarterback by being under center and handing it to a running back. There's been a little bit of a knock, but I think that's just because of the personnel. If you're Texas Tech, you don't have to recruit 6-foot-6 quarterbacks who can stand in the pocket and throw the ball. And those are the guys the NFL is always going to like. Now, some of those guys don't work out and guys like Tom Brady do, who's not very big and doesn't have a particularly strong arm. They're just good players. Whether it's college or pro, the important thing for a quarterback is just finding a good fit.
PAC-12 SCOREBOARD
Saturday, 12/20
Monday, 12/22
Tuesday, 12/23
Wednesday, 12/24
Friday, 12/26
Saturday, 12/27
Monday, 12/29
Tuesday, 12/30
Wednesday, 12/31
Thursday, 1/1
Friday, 1/2
Saturday, 1/3
Sunday, 1/4
Monday, 1/12
Tweets from https://twitter.com/ESPNCFB/lists/pac12