November, 21, 2013
11/21/13
5:30
PM ET
By
ESPN.com staff
| ESPN.com
Let's get this out of the way: California is awful. There is not even a misleading statistic we can massage to suggest Cal is not.
The Bears rank last in the Pac-12 in scoring offense and scoring defense, with an average margin of defeat of 23.2. They have no wins over FBS teams, much less a Pac-12 team. Colorado was winless in conference play before it dispatched the Bears by 17 points last weekend.
On Saturday, Stanford is going to crush the Bears like a bug in the Big Game. The Bears are a Big Game-record 31½-point underdogs.
[+] Enlarge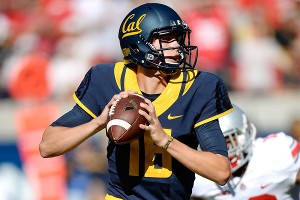 Thearon W. Henderson/Getty ImagesFreshman QB Jared Goff has been a bright spot for Cal this season.
It's fair to say this team is every bit as abysmal as Tom Holmoe's final team in 2001, which went 1-10, beating Rutgers on the final week. That squad had an average margin of defeat of 24 points.
And therein, almost perversely, lies where we're going to offer up a ray of hope.
As Cal fans know, the once-celebrated Jeff Tedford took over for Holmoe and immediately transformed the Bears, who went 7-5 in 2002. Tedford deserves credit for leading a woeful program out of the abyss -- in 2004 Cal was a national title contender -- but it's worth noting he inherited a heck of a team.
As in: QB Kyle Boller, CB Nnamdi Ashomugha, RB Joe Igber, DE Tully Banta-Cain, DT Lorenzo Alexander, OG Scott Tercero and WR Geoff McArthur, among others.
While it's well premature to suggest we're going all pollyanna on the Bears prospects being similar in 2014 in year two under Sonny Dykes, a case can be made for a strong turnaround, at least based on a lot of players coming back from the team's two depth charts.
Two depth charts? Yes, Cal has two depth charts:
The one from the spring
that Dykes expected to send out onto the field, and
the one that will play against Stanford
. They look almost nothing alike, particularly on defense.
"Cal has 13 players who have started or were projected starters prior to the season who are out for the season or have missed multiple games due to injury," notes the the school's official football release, and five others have missed at least one game with injury. Three other players from the spring depth chart, DE
Gabe King
, OLB/DE
Chris McCain
and LB
David Wilkerson
, left the program.
Every single starting offensive player on the depth chart for the Stanford game is projected to return in 2014. Nine will be back on defense. If you then revert to the spring depth chart, you add in six other players. And not just any players. Guys such as DE
Brennan Scarlett
, DT
Mustafa Jalil
, LB
Nick Forbes
, CB
Stefan McClure
and SS
Avery Sebastian
.
You'll notice that nearly all of those injured are defensive players, which makes for one of Dykes' postseason quandaries: Does he bring back defensive coordinator Andy Buh? That will be Dykes' first tough call as the Bears' coach.
California has allowed 79 plays of 20 yards or longer, most in the FBS. Youth is a major cause of that, but poor tackling and missed assignments tend to get traced back to coaches, too.
The offense hasn't been great shakes either. For one, the offense has been incredibly inefficient. It averages 460 yards per game but scores only 23.9 points per game. Stanford averages 383 yards per game and scores 30.4 points per game. Cal is last in the Pac-12 in passing efficiency, and the 33 sacks it has yielded are five more than anyone else (Cal has played 11 games compared to 10 for every other Pac-12 team).
The to-do list for the offseason is lengthy. It starts with conditioning.
"We've got to get bigger and stronger," Dykes said. "We're playing with so many young players now. Guys physically probably aren't ready to play. We've got to get mentally tougher. Obviously, we've got work on our fundamentals a lot."
But, believe it or not, there are reasons for optimism. True freshman QB
Jared Goff
is a promising player, and there's impressive young talent at the offensive skill positions. If all the aforementioned guys return on defense, the improvement next fall could be exponential.
"We think we have the makings of a good team," Dykes said. "It's going to be a process to get to that point, as young as we are. The good thing is we're going to get a lot of guys back off of injury, guys who will be substantial contributors, starters, as we move into spring football."
Of course, there has been a lot of "Just wait until next year!" around Cal football for a few years. More than a few fans have questioned Dykes. They see Mike MacIntyre, who was just down the freeway at San Jose State last year, taking a Colorado program that was far lower than Cal in 2012 and moving it past the Bears in the Pac-12 pecking order in his first year, in large part because his team is playing with hunger.
Dykes understands the sentiments.
"There's not much you can say really," he said. "If you've watched us play on Saturday, you're not going to be real encouraged up to this point. But there are a lot of good things going on in the locker room."
He then added, "Building a program is building a program. It doesn't happen overnight."
But if you want to be optimistic, then expect the Bears to take a big step forward in 2014.
August, 27, 2012
8/27/12
7:00
PM ET
This is the ninth in a series looking at potential dream and nightmare scenarios for all Pac-12 teams.
Understand:
These are not predictions.
They are extreme scenarios and pieces of fiction. You can read
last year's versions here
.
We're going in reverse order of my
post-spring power rankings
(which might not be identical to my preseason power rankings).
You can see previous
best case-worst case posts here
.

Up next
: Utah
Best case
Utah struggles to put Utah State away, but a pair of TD runs from
John White
IV give the Utes the 2-0 start everyone expected.
"I'm not happy," coach Kyle Whittingham says. "As noted above, we struggled to put the Aggies away. I don't care what everyone expected, we can't play like this and expect to beat BYU."
Tensions are high with the Holy War. Folks around the state are unhappy that Utah has opted to take a two-year hiatus from the rivalry, starting in 2014.
An alien from the planet Zumba Ho! named Fistlebicker arrives in Salt Lake City. After dinner at the
Red Iguana
, he shows up in Utah athletic director Chris Hill's office.
"Er, you're green and have a horn growing out of your forehead," Hill says. "That's OK, though. Just an observation."
Fistlebicker shoots Hill with a "Truth Ray." Then asks about the brief suspension of the Holy War. Hill's impulse for a political answer is overcome by the ray.
"I'm weary of the prattle from the BYU folks," Hill says. "Look, we're in the Pac-12. We make the rules. End of story. BYU long thought of itself as a sort of big brother in this rivalry. No more. We do home-and-home series with teams like Michigan. A long gulp from the cup of humility will be good for BYU."
Utah buries BYU 52-17.
Utah improves to 4-0 with a 33-24 win at Arizona State and rises to 13th in the AP poll. It has a bye before top-ranked USC comes to town for a Thursday night game on ESPN.
The MUSS, Utah's football student section, calls a meeting in its new headquarters, opened shortly after the Utes joined the Pac-12. It is filled with many leather-bound books and smells of rich mahogany. The bar features the finest selection of single malts in all of Salt Lake City.
MUSS president
: So everyone brought their new MacBook Pro, right? Remember: Don't tell you friends at BYU that everyone in the Pac-12 gets a MacBook Pro.
MUSS vice president
: Or the free ice cream. Don't tell them about that either.
MUSS president
: Right. So, I've sent each of you our plan for USC and
Matt Barkley
?
MUSS vice president:
Brain control? No more mind control, eh?
MUSS president
: Yep. Brain control beats mind control any day of the week.
"Barkley is not himself tonight, throwing his first two interceptions of the season," the announcer says. "The MUSS is all over the Trojans, who have jumped offsides four times."
With seven seconds remaining, the Utes face a fourth and goal on the Trojans 9-yard line, down 28-24. QB
Jordan Wynn
drops back, but is immediately under pressure, he spins, reverses field, then reverses field again. He sees some daylight between
T.J. McDonald
and
DeVonte Christopher
. From his 25-yard line, he fires a throw
"Touchdown!" the announcer says. "The Utes have upset No. 1 USC. Wow. That was a bullet. Wynn's surgically repaired shoulder looked good there."
The Utes, after rising to No. 5 in the nation, suffer a proverbial "let-down game" the following weekend at UCLA, losing 20-17. They win their next three before losing in overtime at Washington. After a victory at Arizona, the 9-2 Utes rise to 11th in the AP poll.
Up next: Archrival Colorado.
"This
red bike thing you guys keep asking me about
?" Whittingham says. "You know that was made up, right? The Pac-12 blog made it up. It never happened. It was amusing, yes. Brilliant even. But it was fiction."
Whittingham is met with silence and crestfallen looks from the media contingent.
Says Colorado offensive tackle
David Bakhtiari
, "I don't know what's worse: Whittingham saying something on the Pac-12 blog was fiction or him doubting the truth of the 'Red Bike Incident.' I've seen the red bike. And it isn't pretty."
Nonetheless, the Utes prevail 33-24.
"Star," Whittingham says to defensive tackle
Star Lotulelei
. "I just talked to Coach Embree. It seems his starting QB,
Jordan Webb
, is missing."
"Mmftphfa?" says Lotulelei.
"Star, you know you can't eat the opposing QB," Whittingham says.
"Meph mungry," Lotulelei says. "Meh morry."
Utah beats Texas in the Alamo Bowl 21-17. It finishes 11-2 and ranked eighth.
The postseason media consensus is Utah looks like the 2013 favorite in the South Division.
MUSS president
: OK guys, couple of things. These are your Pac-12 Diamond Cards. You flash these and you won't have to stand in line or wait for a reservation anywhere.
MUSS vice president
: And automatic first class upgrades for air travel and hotel suites. Now what is this doohickey?
MUSS president
: Every Pac-12 member gets a time machine, which is cool.
MUSS vice president
: That is cool! And, of course, you can't tell your friend at BYU about these.
Worst case
Just as Utah embarrassed BYU at home in 2011, the Cougars return the favor in 2012. And, with the Utes putting the Holy War on a two -year hiatus starting in 2014, it seems a 50-21 win in Rice-Eccles Stadium is particularly sweet.
"Is this particularly sweet?" BYU coach Bronco Mendenhall asks. "Maybe."
The Utes fall the next weekend at Arizona State, 27-24, with QB Jordan Wynn throwing a late interception on the Sun Devils 31-yard line. After a bye, USC rips the Utes 45-17, sacking Wynn five times.
The Utes are unable to get John White IV going and protection for Wynn has been terrible. Questions at offensive tackle obviously didn't get answered. On defense, inexperience at linebacker is showing, but the lack of a pass rush is most surprising.
UCLA slips the Utes after
Brett Hundley
leads a game-winning TD drive in the waning moments. Utah ends a four-game losing streak with a win at Oregon State, and Whittingham reminds his team it opened the 2011 Pac-12 season at 0-4. But California pulls away from the Utes in the second half to win 33-21.
Utah is competitive for the most part, but it still lacks the depth and variety of offensive weapons to consistently win against Pac-12 foes. The Utes nip Washington State at home, 35-33, but fall at Washington 28-20. A win over Arizona leaves Utah, at 5-6, needing to beat hated archrival Colorado to earn bowl eligibility. Same thing for the Buffaloes.
Utah, down 17-13 with 1:30 left, drives to the Buffs 17-yard line. On first down, Wynn underthrows a wide-open DeVonte Christopher in the endzone.
"As has been the case all season, Wynn's ability to deliver the ball has been inconsistent," the announcer says. "The key here is to not force things."
On second down, Wynn sees
Dres Anderson
at the 5-yard line, but his pass sails off target and is intercepted by
Ray Polk
, who high steps down the sideline for a 95-yard touchdown as the Folsom Stadium crowd goes nuts.
The Utes finish 5-7, their first losing record since 2002.
"It's pretty clear that we are still a work in progress as far as making the jump from the Mountain West Conference to the Pac-12," Utah coach Kyle Whittingham says.
BYU, which goes 3-0 vs. the Pac-12 and finishes 12-1, is invited to join the SEC after the Cougars beat Alabama in the Sugar Bowl.
"Oh, OK," BYU athletic director Tom Holmoe says. "If you twist my arm, we'll take that ole $25 million."
February, 15, 2012
2/15/12
2:30
PM ET
August, 23, 2011
8/23/11
9:40
PM ET
By
ESPN.com staff
| ESPN.com
Fifth in a series looking at potential dream and nightmare scenarios for all Pac-12 teams.
Understand: These are not predictions. They are extreme scenarios and pieces of fiction. You can read
last year's versions here
.
We're going in reverse order of my
post-spring power rankings
(which might not be identical to my preseason power rankings).

Up next
: Utah
Best case
When 94,000 people gasp at the same time, it creates something even more dramatic than the bedlam that inevitably follows.
Everyone in the Coliseum saw USC cornerback Nickell Robey fall down. They saw Utah receiver
DeVonte Christopher
turn and sprint alone up the visitor's sideline. And they saw Utes quarterback
Jordan Wynn
recognize the situation, and, with a notably relaxed setup and sendoff, launch what became an 85-yard touchdown pass for a 35-28 victory over the Trojans.
The Utes all-time Pac-12 record becomes 1-0.
"I think the Utes proved they belong," says ESPN GameDay's Kirk Herbstreit. "They will be a factor in the Pac-12 South."
Utes coach Kyle Whittingham seems amused with fans and reporters immediately building monuments to commemorate the moment. "It's one football game," he said. "You know, we've beaten some pretty good teams before."
The Utes don't have too much time to celebrate, considering their turnaround game is a visit to BYU for "Holy War."
A secret meeting of the MUSS executive counsel is set for Monday to plan a variety of "classless" strategies. The 12 members
properly devise all sorts of horrible things to do to BYU fans, particularly Cougars players' families
.
The Utes stomp the Cougars 33-10. Utah fans remains classy throughout. Smug, but classy.
The Utes move up to 10th in the nation with a win over Washington, which sets up a critical showdown with unbeaten South rival Arizona State.
Linebacker Brian Blechen grabs a late interception to preserve a 24-21 victory.
"Are the Utes going to go to the Rose Bowl their first year in the Pac-12?" ESPN's Chris Fowler asks. "What does that say about the old members of the Pac-10?"
"I don't know if it says anything other than it confirms what we suspected: The Utes are good," Herbstreit replies.
After whipping Pittsburgh 31-10, however, the wheels come off at California. The Utes yield four sacks and commit four turnovers in a 21-17 defeat.
They bounce back at home with a win over Oregon State, but the Utes secondary gets picked apart in Tucson by Arizona quarterback
Nick Foles
in a 38-24 defeat. That creates a three-way tie with the Utes, Wildcats and Sun Devils atop the South Division.
"Do I think the grind of the Pac-12 schedule is finally getting to us?" Whittingham says, repeating a reporter's question. "If you mean does playing a tougher schedule make it tougher to win every week, I'd say yes. That's not exactly quantum mechanics, is it?"
The Utes bounce back with a win over UCLA and a double-overtime victory at Washington State. After Arizona State beat Arizona, the Utes only need to beat Colorado to win the inaugural South Division championship.
But there is intrigue.
"Coach Embree's daughter's bike
was painted red
?" a befuddled Whittingham asks. "Is the Pac-12 going to be weird like this all the time?"
Despite the Buffaloes using the "Red Bike Incident" for motivation, Wynn tosses three touchdown passes in a 31-24 win.
The Utes finish the regular season 10-2 and ranked ninth. They also win the South Division and earn a berth opposite top-ranked Stanford in the first Pac-12 championship game.
Stanford prevails 38-24 as
Andrew Luck
passes for 305 yards and two TDs and rushes for another.
"The story here is Luck surely sewing up the Heisman and the Cardinal playing Alabama for the national title," Fowler says. "But what a first season in the Pac-12 for Utah."
The Utes whip Texas A&M in the Alamo Bowl 33-17 and finish ranked eighth.
They then sign their first top-25 recruiting class. "Coach," a reporter asks, "how's it feel to be ranked 21st in the ESPN.com recruiting rankings?"
"Oh, I don't care about recruiting rankings -- we just sign guys who want to come here and we think can help us," Whittingham says. "But it was 20th. Get it right."
Worst case
USC quarterback
Matt Barkley
throws for 380 yards and three touchdowns against a rebuilt Utah secondary as the Trojans roll over the Utes 42-20.
"No, that's a good team; we respect them," Barkley says afterwards. "But we wanted them to get a proper welcome to the Pac-12. This ain't the Mountain West."
The Utes still seem shell-shocked a week later, and rival BYU takes advantage.
Jake Heaps
throws a pair of fourth-quarter TD passes as the Cougars win the "Holy War" 28-17.
"They think they're all that because they're in the Pac-12," Heaps says. "But they're still just the second-best program in Utah."
After the game, it's revealed that Utes quarterback Jordan Wynn "tweaked" his shoulder and that
Jon Hays
will start against Washington after the bye week.
"We hope to get Jordan back for the Arizona State game," coach Kyle Whittingham says.
The Huskies roll over the Utes 31-17.
Wynn comes back against Arizona State, but struggles early and gets up slowly after a sack from Sun Devils linebacker Vontaze Burfict.
Hays starts the third quarter, and Burfict and the Sun Devils defense dominate, holding the Utes to 28 yards in the second half.
"Lots of talk in the preseason about Utah being immediately competitive in the Pac-12," remarks ESPN's Chris Fowler. "I know Wynn's been hurt, but so far the old Pac-10 is being fairly rude to its new member."
It's announced that Wynn is done for the season.
Hays and the Utes win at Pittsburgh to improve to 2-4, but they get dominated at California, 41-10. They slip Oregon State at home, but Arizona QB Nick Foles throws for 405 yards and four touchdowns in a 38-20 Wildcats win in Tucson.
UCLA doesn't have a quarterback who can exploit the struggling Utes secondary, but Washington State does. The Cougars win 33-30 in overtime, and the Utes fall to 4-7. The season finale is at home against Colorado.
"I've got a lot more things to worry about other than a vandalized bike, of which I know nothing about," Whittingham says.
Denver Post headline: "Whittingham doesn't care about Embree's daughter's bike. Or her feelings!"
Colorado picks up its seventh win with a 30-21 victory. Buffaloes 6-foot-8 guard Ryan Miller walks out of Rice-Eccles Stadium among his celebrating teammates holding a gold and black bike above his head, one that appears to have been vandalized with cheap, red spray paint.
BYU, now an Independent, signs a broadcast deal with ESPN that will pay it an average of $25 million a year over the next 12 years.
"We are classy," BYU athletic director Tom Holmoe says. "And rich!"
The Pie
closes.
November, 10, 2010
11/10/10
10:16
AM ET
It was a typical throw-away question to start a news conference: "Hey, California coach Jeff Tedford, how do you slow down Oregon's offense?"
But nothing is typical about Oregon's offense. "That's a good question," Tedford replied. See: The Ducks ludicrous-speed offense even transforms a mundane question into something good.
[+] Enlarge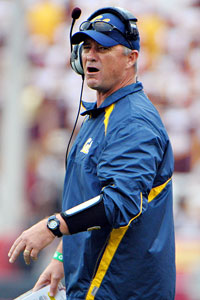 Kirby Lee/US PresswireJeff Tedford and Cal are looking to slow down the Ducks' offense and end Oregon's run to the national title.
Bears senior defensive end Cameron Jordan did a video interview this week on the
team's official website
. It's clear that he had just finished some extra conditioning, which most teams do before playing top-ranked Oregon, because he was winded while answering questions. His advice for some of his less-experienced teammates for when things get hectic Saturday?
"Sometimes people get a little razzled out of it," Jordan said. "Sometimes you've got to tell them, 'Just breathe.'"
Jordan wasn't channelling
Anna Nalick
-- "But you can't jump the track, we're like cars on a cable, And life's like an hourglass, glued to the table, No one can find the rewind button now!"
He was considering a task that few believe the Bears have any chance of doing: Slowing down the Ducks' offense, notching the upset and ending Oregon's run to the national title.
But here's the thing: There is a "maybe" here.
The Bears have a good, athletic defense, starting with Jordan, a likely first-day NFL draft pick this spring. He's coming off a 12-tackle, 1.5-sack performance at Washington State. The Bears are the only Pac-10 team yielding less than 300 yards per game. And they are stout against the run (119.9 yards per game).
Further, few teams in recent memory have been more Jekyll and Hyde than the Bears. But forget the ugliness of the Bears on the road this year because they will be safely ensconced inside Strawberry Canyon, where they are 4-0 and have outscored foes 189-34. That's an average of 47.3 to 8.5 ppg.
While some have focused on the 42-3 beatdown the Bears suffered at Oregon last year -- Cal was an unbeaten national title contender at the time and the Ducks were still associated with a humiliating opener at Boise State -- the Bears still have won four of five from the Ducks, who haven't won in Berkeley since 2001, when Cal went 1-10 in Tom Holmoe's final season.
Ergo: There's a "maybe" here. But there's also plenty of "maybe not."
A big question: How will first-year defensive coordinator Clancy Pendergast contend with an offense he never saw during his long career in the NFL? His first exposure to a distinctly college offense -- Nevada's pistol -- didn't go well in a 52-31 loss. In that game, the Bears weren't losing physical matchups; they were just out of position. Over and over again.
Out of position against Oregon is very, very bad.
"I think the biggest thing is assignment defense," Cal linebacker Mike Mohamed said. "Everybody has a gap, everybody has a responsibility. And when you look at film, when Oregon busts big plays, it's because guys get tired, they get out of their gap, they start to do their own thing, and Oregon exploits that and takes advantage of that. So it's going to come down to every guy doing their individual job within the defense."
That's a critical, two-pronged observation. Oregon doesn't just force you to show assignment discipline. It forces you to do so when you are beat-tired. It's the Ducks tempo that seems to break down a defense's will as much as a complicated scheme or speedy personnel.
"It's ridiculous," Jordan said. "That's what they expect. They expect you to get tired."
Jordan leads a good defensive line. Mohamed leads an athletic corps of linebackers. Both are NFL prospects. And the supporting cast makes this front-seven as good as any the Ducks have faced. UCLA coach Rick Neuheisel, whose Bruins lost badly to both teams, sees this matchup as the linchpin of the game.
"Cal has a very formidable defensive line," he said. "The question is can they withstand the pace. Can they hang in there and play at that tempo for that long? It will be interesting to watch."
The second question: If the defense slows the Ducks, can the Bears score enough with backup QB
Brock Mansion
, who will be making his second career start, for it to matter in the final tally?
Again, that's a "maybe" with plenty behind the "maybe not." But, really, if the upset is going to happen, it's going to start with the Bears D.
And Jordan thinks that gives them a chance. "We're pretty powerful ourselves at home," he said.
October, 16, 2010
10/16/10
5:19
PM ET
By
ESPN.com staff
| ESPN.com
Wow. That looked like old school USC. You know: 2002-2008. Not 2009-2010.
And California looked like it did during the Tom Holmoe era.
The Trojans are just whipping Cal, 42-0 at the half. Absolute dominance on both sides of the ball, and it's more about how well the Trojans are playing than how poorly Cal is.
Though, to be clear, the Bears look terrible.
If this sticks there is a HUGE sidebar: USC is off until Oregon visits on Oct. 30. Though you might think the Trojans would want to suit up again as soon as possible after this one, it also means they should have a renewed verve as they use the extra week to get ready for the Ducks spread-option.
And that game suddenly feels like it will be competitive instead of a Ducks coronation.
USC has 372 yards and 20 first downs. Cal has 65 yards and three first downs.
And I picked Cal to win. Yeesh.
Matt Barkley
has completed 20 of 29 for 257 yards with five touchdowns and no interceptions. He's now got 20 TD passes this year.
Cal's
Kevin Riley
? He's 3 of 12 for 51 yards with two interceptions.
Will he start the second half, or will coach Jeff Tedford give backup
Beau Sweeney
a shot? Maybe he should, and I never anticipated typing that at the beginning of the season.
It can't get any worse for Cal. Or any better for USC.
September, 25, 2009
9/25/09
5:15
PM ET
By
ESPN.com staff
| ESPN.com
Posted by ESPN.com's Ted Miller
Happy Friday... It's a sparkling day in Portland.
To your notes, the first earns an apology from me.
Mike from Atlanta writes
: Todd,I have never read your material, and after viewing your idea of the top 25 Power Rankings, I don't think I ever will. How can you possibly justify ranking BYU 23rd and not even listing FSU??? I am not even a Seminoles fan, but I have to believe you made a mistake or are trying to upset a lot of Seminole fans. They almost beat UM (ranked 9 on your list) and they crushed BYU, who by the way, beat Oklahoma (number 8 on your list). Maybe you are biased against East Coast teams, or maybe you honestly think that BYU is better than FSU. Whatever the case may be, those two teams played each other and the visiting team prevailed by more than three touchdowns. I hope you can take just a few minutes to answer my question. I would really enjoy reading your point of view. Thanks.
Ted Miller
: It's Ted, not Todd, but I guess I deserve that.
Got a lot of notes like this.
My response: A screw-up on my part. Florida State just got lost while I shuffled and re-shuffled
my rankings
.
If I could do it over -- which I do this week -- I'd drop the Seminoles in at No. 15.
My bad.
---
Nathan from Portland writes
: Are you surprised that the Ducks aren't better? A lot of analysts (wisely) predicted a step down from last year-- but their offense has been unimpressive. What do you see as the key for improvement?
Ted Miller
: First, we don't know the season's whole story. Recall things were iffy early on last year before
Jeremiah Masoli
became the nation's best pass-run quarterback and the Ducks rolled to a final top-10 ranking.
But, yes, I thought they'd win at Boise State. And I didn't think Masoli would be so out of sorts to start the season, though I can think of three or four long passes that were dropped that might have changed things significantly.
Yes, just a handful of plays can change everything -- imagine, Ducks fans, if you could ask this, "Will
Jamere Holland
ever drop a pass?"
As for what the problem is: It starts with a young offense line that got whipped at Boise and is still getting its legs under it. In fact, there isn't an area on offense that is thriving, though it seems like
LaMichael James
will offer some nice playmaking at running back.
The defense has been fine, perhaps better than expected after some big losses on the line and in the secondary.
As Chip Kelly
told me yesterday
, experience was the key ingredient in the improvement from game one to game three.
And if the Ducks win game four, well, full-steam ahead.
---
Andrew from Berkeley, Calif., writes
: Your discussion of the linebacker and cornerback depth in the Pac-10 is spot on. Based on how many playmakers there are in the conference, do you think this year that the Pac-10's defensive units from top to bottom are the best in the nation? (ie. better than the fabled stout SEC defenses)
Ted Miller
: Hey, thanks!
It's early. Alabama, Florida and South Carolina certainly have elite defenses. Let's see how the Pac-10 crews rate vs. them by mid-season.
That said, I've been covering the Pac-10 since 1999. This feels like the best year for defense in the conference since I started.
I also will be curious to see how things stack in the NFL draft this spring, particularly if a couple of big-names bolt early.
---
Kalin from Oakland writes
: Hello Mr Miller,My name is Kalin I'm 9 years old. My dad finally encouraged me to write you.I love my cal bears! Like I told my daddy back in December at the emerald bowl in San Francisco: "wouldn't be cool if cal and Miami ended up in the championship game next year?" both teams are very good this year. What do you think? (Dear Mr Miller I went ahead and told my son to write to you. He is very interested in covering sports at some capacity when he grows up, he tells me. Of course that could change. I worked in Miami for a few years.
Ted Miller
: Miami-Cal for the title, eh? Wouldn't be the nuttiest championship game.
Both teams, however, have a lot of work ahead -- just look at this weekend with Miami visiting Virgina Tech and Cal headed to Oregon. And then Cal gets USC and he Hurricanes get Oklahoma.
Yikes!
And, Kalin, there are a few Cal fans just a bit older than you -- some call them "Old Blues" -- who probably would be just as happy to see the Golden Bears in their first Rose Bowl since 1959.
As for sportswriting, good luck. My advice is to write, write, write and study hard in school. Also, you can't be a sportswriter if you don't always obey your parents and teachers.
Just please don't take my job.
---
Ben from Stanford, Calif., writes
: Some things have been said in the last week by Coach Sarkisian of Washington about his team practicing with the music turned off to simulate the quieter atmosphere in Stanford Stadium for their game this weekend. Whilst I would admit that Stanford Stadium is, at times, less than full, the student section is becoming rowdier by the minute encouraged by some encouraging performances and a Head Coach who truly cares about the program. So next time you are at Stanford for a game, I would like to invite you to come and spend some time with the students down in the RedZone and get a sense of how the nerds at Stanford do it.Thanks
Ted Miller
: Only if you find out why the graduate English program at Stanford rejected me in 1991.
"Dear Mr. Miller: You are not smart enough to attend graduate school here. Go away. But thanks for the application check.
Sincerely,
Stanford"
Got a curiously similar note from Cal, by the way.
Oh, wait. Football.
Winning is the key. Just look over at your friends at Cal. During a few games I covered during the Tom Holmoe Era, I can recall hearing mostly crickets in Strawberry Canyon.
Stanford is a rising program, with a nice stadium and the most entertaining band in the country. My guess is that as the wins pile up, more folks will notice.
---
Mike from Phoenix writes
: ASU is going to take it to Georgia. 42 - 30.
Ted Miller
: I'd be fairly surprised if these teams combined for 72 points, but your prediction is duly noted.
---
Samuel from Helmand, Afghanistan writes
: What is the deal with
Mitch Mustain
? He got better arm strength, more experience and decision making in the pocket than
Aaron Corp
, but he's going to do punts now? Is this a move to prevent Corp from transferring to another school or is Mustain that deep in the doghouse? While watching the Washington game going into the 4th quarter and Aaron Corp still under center, it showed very poorly on the coaching staff. I'm still an avid Trojan fan, but reality is that we may end up losing a couple more games, and is not from rebuilding, but for poor coaching and poor playcalling.Thanks
Ted Miller
: No, Samuel, thank you. From all of us.
As for your question: You are not alone. I get the feeling many USC fans just want to see what Mustain can do, even if the message coming from Heritage Hall is that he's not playing because he's the third-best quarterback.
As Pete Carroll noted, the most popular player on a team with a struggling offense is the backup QB -- or in this case, No. 3.
Even during the Mark Sanchez Era, however, Corp's advantage vs. Mustain was decision-making. The feeling I get from watching practices, talking to coaches and guys who cover the team is that Mustain has never consistently outplayed Corp -- even though he's had a couple of impressive scrimmages when he did just that.
The folks who want to see Mustain now, though, are wondering if Mustain might just be a mediocre practice player who can thrive in games. The early returns are that Corp was worse under game pressure, though it's not fair -- or wise -- to judge a player by his first-career start.
I don't think many would have been disappointed if Carroll had inserted Mustain in the fourth quarter against Washington.
Still, any coach will tell you, a quick QB change can come back to bite you.
So Carroll's position is:
Matt Barkley
is No. 1, Corp No. 2 and Mustain No. 3 because that's the competitive pecking order and the pecking order that gives USC the best chance to win.
As for the play calling, feel free to question it. It didn't work against a defense that lacks speed in the secondary, so Carroll and Jeremy Bates deserve as much blame as Corp.
---
Eric from Corvallis writes
: Ted, im confused. Most of the time everyone seems to think that Oregon State isn't any good, and yet showers a ranked Cincy team with mounds of praise after winning "a huge" game. If the beavs are so bad, then what gives? Help me out.
Ted Miller
: I noticed that, too.
It was like folks wanted to praise Cincinnati for winning a tough road game but didn't want to give too much credit to the Beavers, a team that has finished ranked in the final top-25 three consecutive seasons.
Still, Oregon State has earned enough street cred that it will return to the top-25 if it wins is next two games: Arizona and at Arizona State. Losing to the eventual Big East champ won't damage the final sheet too badly.
---
Dalton from Austin, Tx., writes
: That's the best quarterback
we've played in nine years here." HERE, meaning HERE at WASHINGTON. Carroll was NOT referring to all of the teams that USC had played.Very, very sloppy Ted. You misunderstood a statement by one of college football's top authorities. Based on that misunderstanding, you wrote an erroneous article. You need to withdraw your article and post an admittance of error.
Ted Miller
: Dalton is
referring to this
.
No,
I wasn't wrong
.
Glad to clear that up for you though.
September, 18, 2009
9/18/09
9:30
AM ET
By
ESPN.com staff
| ESPN.com

Posted by ESPN.com's Ted Miller and Adam Rittenberg
Holy Rose Bowl! It's another Big Ten-Pac-10 weekend, with No. 8 California visiting Minnesota and Arizona headed to Iowa. All four teams are 2-0. Seems like a good time for another blogger debate.
Ted Miller
: You again! Adam, we need to stop meeting like this. Or at least the Big Ten should stop meeting like Ohio State did with USC. Perhaps there will be some redemption on Saturday when California visits Minnesota and Arizona takes a gander at Iowa.
| | |
| --- | --- |
| | |
| | Icon SMI/US Presswire |
| | Golden mascots square off in the Twin Cities on Saturday. |
Let's start with your game Saturday in fancy pants TCF Bank Stadium. (Nice job, Minnesota.)
I look over Minnesota's particulars and I can't get a good vibe about what Cal should expect, particularly after the Gophers struggled to beat Syracuse and Air Force. Who are these guys ... and whose mascot is more golden?
Adam Rittenberg
: Ted! Buddy! Good to be with you again. OK, full disclosure here. I grew up in Berkeley, attended pretty much every Cal home game between 1994 to 1999. Witnessed the one Mariucci season in '96 (still have nightmares about the Pat Barnes fumble at Washington State) and the insufferable Tom Holmoe era. But I was never a huge Oski the Bear fan. Too subdued of a mascot. Looked like a glum professor who hadn't had his sweater ironed in 50 years. And he doesn't wear pants, which is perfect for Berkeley (I grew up there, so I can say that!) So Goldy Gopher gets my vote. He's goldier.
As for Minnesota, they did struggle against the Cuse, but the Air Force win is pretty solid in my book. The defense has been the big plus so far, especially the three linebackers (Nate Triplett, Lee Campbell and Simoni Lawrence). Triplett has gone from special teams all-star to major playmaker. The offense has struggled quite a bit, as Minnesota incorporates a new pro-style system under Jedd Fisch. It's a pretty dramatic departure from what they did the last two seasons, and it has taken a bit of time to click. Quarterback
Adam Weber
has loads of experience and can be effective when he limits interceptions, and
Eric Decker
is a freaking stud. Might be the best wide receiver in America that no one talks about. The problem is Minnesota hasn't found many weapons other than Decker. The Gophers need to spark their rushing attack behind
Duane Bennett
and
DeLeon Eskridge
and hope a No. 2 wide receiver emerges, possibly speedster Troy Stoudermire.
I saw Cal is flying in Thursday for the game. Will the Bears be ready to play this time around for a 9 a.m. Pacific kickoff, and can anyone slow down
Jahvid Best
and
Shane Vereen
? How has
Kevin Riley
looked so far?
| | |
| --- | --- |
| | |
| | Paul Jasienski-US PRESSWIRE |
| | Cal QB Kevin Riley ranks eighth in the nation in pass efficiency. |
TM
: Gosh, Cal coach Jeff Tedford HATES being asked about the 9 a.m. PT kickoff, because that was the prime excuse for the Bears' terrible effort last year at Maryland, an excuse, by the way, that Tedford has rejected from the get-go. Still, it's obvious he's doing everything he can to get his team ready for the early start, changing his previous plan and flying in on Thursday.
As for Best and Vereen, they are a great combination for sure. Best is going to make a play or two, mostly because he always does. The question is whether he can be such a bothersome threat that he forces Minnesota to load up the box. If that happens, a much-improved Kevin Riley and a receiving corps that has grown up could make big plays down field. Riley ranks eighth in the nation in pass efficiency and has yet to throw a pick, so he's started off as a completely different quarterback from the guy who was so inconsistent last last season.
The big issue for Cal is playing on the road: They've lost four in a row on the road. Moreover, they've not been challenged by a team so far that can approach them physically. Minnesota will be a far tougher test, and we just don't know whether Riley and the Bears can maintain their cool efficiency away from Berkley.
As for the other game: Iowa seems to have righted itself with the big win over Iowa State. But Arizona has a fast defense. Can quarterback
Ricky Stanzi
and running back
Brandon Wegher
lead an effective attack against the Wildcats?
AR
: As I like to say, Stanzi is the Manzi. Actually, Stanzi has been inconsistent throughout his time as the starter, mixing big plays with too many picks. But he has more targets this year with
Derrell Johnson-Koulianos
, Tony Moeki,
Trey Stross
and
Marvin McNutt
. The running game has been a bit messy this year because of departures (Shonn Greene) and injuries (
Jewel Hampton
,
Jeff Brinson
).
Brandon Wegher
likely would have redshirted but stepped up big last week. He and another freshman,
Adam Robinson
, will get most of the carries Saturday. It's rare to see Kirk Ferentz play so many young players, but these guys seem up to the task. The offensive line could be without star left tackle Bryan Bulaga (illness) again, so those two speedy Arizona pass-rushers will have their ears pinned back for sure.
Let's talk about the Wildcats offense. How good is
Nic Grigsby
and does Arizona have a passing game to complement the nation's second leading rusher?
TM
: Grigsby is off to a fast start, but the Iowa defense will offer a far tougher test than Central Michigan and Northern Arizona. Also, Grigsby had some fumbling problems a year ago -- he got benched a couple of times and capable back
Keola Antolin
took over -- but that has yet to be an issue in 2009. My guess is the Hawkeyes load the box, gang up on Grigsby and will dare Arizona's new quarterback, sophomore
Matt Scott
, to pass, which is never easy on the road.
And therein lies a huge issue for this game. Arizona's best player, tight end
Rob Gronkowski
, is out with a back injury. Gronkowski is a beast. More than a few folks in the Pac-10 believe he's every bit the player that Oklahoma's
Jermaine Gresham
is. Think having a 6-foot-6, 265-pound safety valve would help a young QB? It also doesn't help that No. 1 receiver
Delashaun Dean
has been slowed by a hamstring injury, though he will play.
So, the Wildcats passing game, with Scott making his first road start, is a huge question.
Speaking of road games, seems like all the Big Ten owns home field advantage in all these matchups with the Pac-10 ... no fair. But, seriously, which place will be more difficult for a visitor from the West Coast? I love Minnesota's new digs but I've heard a lot about pink bathrooms and the nutty horde at Kinnick Stadium.
AR
: Well, you guys do have this game called the Rose Bowl. If memory serves, it's in Pac-10 country. Like in USC's backyard. That reminds me, Ted, can you find a way to make sure the Trojans don't go to Pasadena this year? The Big Ten would like a break from the Trojans after all these years of punishment. I stayed on the same floor as Pete Carroll last week in Columbus but forgot to ask him myself. Let me know what they say over at Heritage Hall. Thanks, dude.
| | |
| --- | --- |
| | |
| | AP Photo/Charlie Neibergall |
| | Ricky Stanzi has passed for 439 yards and five touchdowns so far this season. |
TCF Bank Stadium is pretty freaking awesome, and I'm excited to see the finished product in person. But I'd have to go with Kinnick Stadium as a tougher place right now. Iowa always sells it out and the fans are right on top of the field. It's a tremendous atmosphere, one of my favorites in the league. The early start time at Minnesota could be tougher for a Pac-10 team, but Kinnick definitely is less hospitable.
OK, prediction time. Who you got in Minnesota-Cal? Arizona-Iowa?
TM
: Rose Bowl in Detroit, which is beautiful in midwinter!
I don't think anyone wants to see USC in the Rose Bowl again -- even USC's fans and players. The Trojans, however, wouldn't mind being in Pasadena again this January, if you catch my drift (nudge, nudge).
As for the predictions: For folks who read the Pac-10 blog, they know I've been advocating Cal as the team that might challenge USC's seven-year run atop the conference. They also know that for weeks I've been ranting about how underrated Arizona is.
So I've got pick a road warrior weekend for the Pac-10.
Let's say: Cal 35-21
And: Arizona 24-21.
Now, for the pick you should take to Vegas ...
AR
: Call me a homer, but I've got to go with Cal. Minnesota has really struggled to make plays on offense, and while the Gophers' defense looks much improved, it'll be hard to contain Best and Vereen for 60 minutes and keep Cal off the scoreboard. Minnesota will have its crowd going and should keep things relatively, close, but I have Cal winning by 11, 34-23.
We'll probably see a defensive struggle at Kinnick Stadium. Iowa's defense is always solid under Norm Parker, and the front seven should prevent Grigsby from going nuts. I think Iowa got its mojo back last week and pulls this one out, 21-17 Hawkeyes.
March, 13, 2009
3/13/09
7:34
PM ET
By
ESPN.com staff
| ESPN.com
Posted by ESPN.com's Ted Miller
A month ago, Eugene Register-Guard columnist George Schroeder did a wide-ranging Q&A with Oregon athletic director Pat Kilkenny.
This is what Kilkenny said of the plan, announced in December, for offensive coordinator Chip Kelly to take over for head coach Mike Bellotti when Bellotti decided to step down.
That's my proudest accomplishment, the succession plan. That was really my proudest accomplishment.

I just think the guy (Kelly) is a moon shot. And it's not because he's just a brilliant offensive guy. He's this leading-edge thinker who has this football toughness. And it doesn't come in the same package very often. Most of those mad scientists aren't tough.

Chip's no-nonsense, and he sees a different game than almost anybody sees. You watch how that Oklahoma State game worked? They had 12 plays scripted and they went really fast, but then they went really slow. We went really fast the whole game. It's hard to do that on your feet.
"A moon shot."
"A leading-edge thinker."
"Football toughness."
"No-nonsense."
I am no pom-pom waver for Kilkenny, who unnecessarily killed the Oregon wrestling program, but it's not up for debate whether he's a sharp guy. He is.
And how he chose to describe Kelly here should indicate that he's seeing critical head coaching qualities in Kelly. Or believes he sees them.
Kelly, 45, without question, is one of the sharpest offensive minds in the country. His spread-option at Oregon has been a thing of beauty.
That offense has established 24 school records, including scoring, rushing yards and total offense, over the two seasons since Kelly bolted New Hampshire for Eugene. The Ducks have scored 50 or more points in 10 games since he arrived.
Kelly knows his Xs and Os. That made him a hot head coaching candidate that Kilkenny and company didn't want to lose.
But being a great head coach isn't about Xs and Os.
It's about managing a program. It's about leading and motivating -- not to mention choosing -- staff and players.
It's about commanding a locker room. It's about connecting with young men. And scaring the hell out of them with one cross glance.
It's about authority. It's about making decisions. It's about building unbreakable loyalty and trust within a program.
Kilkenny was telling Oregon fans that Kelly isn't just a big-brained football nerd -- a "mad scientist" or a "leading-edge thinker."
He's telling them that the locker room will hush when Kelly walks in. He's telling them that players will think twice about cutting class or hitting the town because they'll be convinced that the moment they do, Kelly will know and then, well, things will get real uncomfortable.
It's fair to wonder, however, if Kelly is ready. He's only been a BCS conference coach two seasons.
Even if he is "a moon shot," it's inevitable that lack of experience will lead to mistakes.
You've got to learn by doing, and we all know we learn the most from mistakes, so Duck fans need to be prepared for fits and starts and a moment or two when it's impossible not to slap your forehead.
Still, some of the best coaching hires of the past 10 years were guys with no head coaching experience: Bob Stoops, Jeff Tedford, Chris Petersen and Kyle Whittingham come immediately to mind.
Of course, there also have been plenty of coordinators who failed after getting promoted.
It's impossible to tell for sure if Kelly is the next Stoops or if he's closer to Tom Holmoe or Mike DuBose.
But it's clear he's got the mind for the job.
And Kilkenny believes he's got the leadership skills for it.
Oh, and it's worthwhile noting that Kilkenny figures to be risk-averse. Know how he made his millions?
Insurance.