October, 21, 2013
Oct 21
5:00
AM ET
1. We are fooled easily in the excitement of the moment. Yet Florida State so dominated at Clemson that the 51-14 victory will be one of the seminal moments of the season. It will mark the emergence of redshirt freshman quarterback
Jameis Winston
in prime time, literally and otherwise. As good as Winston played, the Florida State defense played better. The Seminoles are back, and what better time? The university that dumped Hall of Fame head coach Bobby Bowden four years ago will honor him this Saturday.
2. The one complaint against the makeup of the College Football Playoff Selection Committee that has merit is that West Virginia athletic director Oliver Luck, at age 53, is the youngest member. It makes sense that the commissioners wanted gravitas on the committee, and with the presence of members such as Tom Osborne, Mike Tranghese and Pat Haden, they have it. But they made room for a woman and a retired sportswriter. However hard they searched for a member under 40, they should have looked again.
3. The old protocols are butting heads with the new spread offenses, and everyone is groping for the right way to act. Should the offense throw when it's way ahead? Baylor is averaging 64.7 points per game, and judging by the Bears' No. 8 ranking, no one is holding that against them. Should the offense throw if it's way behind? Oregon defensive coordinator Nick Aliotti ripped Washington State head coach Mike Leach for throwing 89 times, then apologized last night. No one knows what the rules should be any more.
October, 8, 2013
Oct 8
5:00
AM ET
1. No. 7 Georgia lost two receivers and a tailback to knee injuries Saturday, which is something to which the Dawgs' next opponent, Missouri, can relate. The Tigers had so many injuries during last season's 5-7 SEC debut that head coach Gary Pinkel revamped his entire practice and training regimen, eliminating two-a-days and reducing contact drills. Missouri is 5-0, ranked No. 25 and its starters have a missed a total of three games because of injury.

2. Here's what I noticed about the 13 names reported to be on the College Football Playoff Selection Committee. Three people have won a national championship (Pat Haden as a player, Tom Osborne as a coach and Barry Alvarez as an assistant). There are more former quarterbacks (four) than former head coaches (three, and Ty Willingham is on both lists). If Stanford comes up for discussion, Willingham and Condoleezza Rice would have to leave the room, but what would West Virginia athletic director Oliver Luck do?

3. No. 11 UCLA should move to 5-0 this week by defeating a Cal team that is 0-4 against FBS opponents. That would set up not only a showdown the following week at No. 4 Stanford but it would put the Bruins on the cusp of returning to the top 10 for the first time in eight seasons. Since the glory days under Bob Toledo, when the Bruins appeared in the top 10 in four of five years from 1997-2001, UCLA has appeared in the top 10 for a total of three weeks. A long drought appears to have ended in Westwood.

February, 1, 2013
Feb 1
11:00
AM ET
With the hiring of Ron Aiken as
defensive line coach
and the promotion of Scott Frost to
offensive coordinator
, Oregon has completed the post-Chip Kelly coaching staff under Mark Helfrich.

Good hires. And both coaches inherit loaded decks.
Frost gets eight starters back from the nation's best offense, including a Heisman Trophy candidate at quarterback. Aiken gets an experienced crew that
goes seven deep
.
Frost, of course, will be on the spot, and we mean that in a good way.
While Oregon's staff under Kelly was known for its notable continuity, Frost has long been viewed as an up-and-comer. He's had opportunities to leave Oregon, but he seemed content in Eugene, at least until someone handed him his own offense.
It was just a matter of time before he'd get one. In fact, if Kelly had stuck around, I'd rate the chances of Frost being at Oregon in 2014 at less than 50 percent.
Frost, 38, brings a compelling resume. Not only has he been working under Kelly and Helfrich -- a dynamic mentoring duo -- as receivers coach for four seasons, he knows both sides of the ball as a player and coach.
After starting his college career at Stanford, he won a national championship as Nebraska's quarterback in 1997. He then played safety in the NFL. Before he came to Oregon, he was the defensive coordinator at Northern Iowa.
As the Ducks' new quarterbacks coach, he'll bring plenty of perspective to the position he'll oversee.
He's played for Stanford's Bill Walsh and Nebraska's Tom Osborne as well as the New York Jets' Bill Parcels in the NFL. Toss in his needing no get-to-know-you period at Oregon, and you see there are plenty of reasons to have faith in his taking the keys to the Ducks' offense.
All Frost needs to do is make sure Oregon continues to average 50 points and 540 yards per game. No problemo?
As for Aiken, he's spent the past six season coaching defensive line with the Arizona Cardinals. NFL experience will give him immediate credibility with his players. He also knows college football, as he coached the defensive line at Iowa for eight season (1999-2006). He's also had stints at San Diego State, Texas, Vanderbilt and New Mexico.
He's also filling big shoes, though.
Jerry Azzinaro, the lone full-time assistant who followed Kelly to the Philadelphia Eagles, was a critical part of the Ducks' staff. For one, he brought an emotional intensity to practices and games that will be hard to replace. He also played a key role in the changes -- improvements -- over the past couple of years, including the adoption of a base 3-4 look, which Kelly ridiculously acted like hadn't happened.
Still, you'd have to say Helfrich has deftly handled the first decisions following his elevation to head coach.
Kelly's decision to leave surely inspired some handwringing among Ducks fans. These staff moves should ease those initial concerns.
May, 15, 2012
5/15/12
4:38
PM ET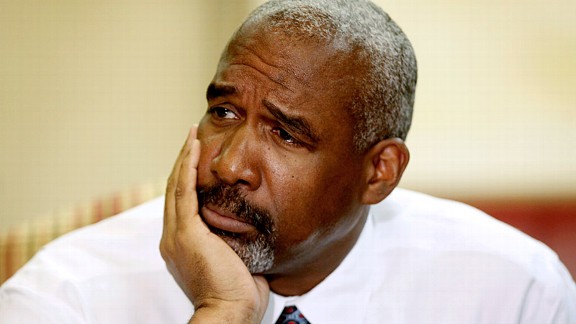 AP Photo/Terry GilliamOhio State's Gene Smith and Pac-12 members seem to agree on a criteria for future playoff teams.
The Big Ten is holding its spring meetings in Chicago this week, and it appears the thinking among administrators is in line with what the Pac-12 athletic directors and commissioner Larry Scott said two weeks ago: Any potential college football playoff needs to prioritize teams that win their conference.
Adam Rittenberg over at the
Big Ten blog
chatted with Ohio State AD Gene Smith, who was unequivocal about his top priority:
"The conference champion piece," Ohio State athletic director Gene Smith said. "We're a collegiate environment, and we've set everything up for competition to be conference champions, and we have it in every single sport that we have. ... When you go through your conference and you win your conference championship, that's pretty strong."
Other parties at the table in this playoff debate favor a "Four best teams plan," one that would only ensure the process remain just as subjective as the present BCS standings.
The good news is there is plenty of room for compromise between the folks who are right (winning a conference championship matters) and those who are wrong (let's pretend we can rank the four best teams).
The Pac-12 blog is on record supporting the "
Top-six plan
": Conference champions would be required to be ranked in the top six of the final rankings in order to earn automatic berths in the four-team playoff. If four conference champions aren't ranked in the top six, then the highest ranked at-large teams would fill however many voids there are.
But there's wiggle room here:
[Nebraska athletic director Tom] Osborne told ESPN.com that there has been "a lot of discussion" this week about having the top three conference champions and the highest-ranked at-large team in the four-team playoff. This model would give access to a team like reigning national champion Alabama, which didn't win its league or its division but finished No. 2 in the final BCS standings and beat LSU for the title.
"I don't think you can say all four placements are conference champions," Smith said. "You have to leave some room for that type of scenario, that best high-ranked team that is not a conference champion has some room to get in there."
Of course, you can immediately see how this could get controversial. What happens if a fourth conference champion has the same record as a more highly rated at-large team? Further, we still don't know the rating system -- the old BCS rankings, a new ratings system, a selection committee, etc.
The good news is that the Pac-12 and Big Ten are aligned on their thinking: Any playoff format needs to give priority to teams that win their conference championship.
October, 9, 2009
10/09/09
7:49
PM ET
Posted by ESPN.com's Ted Miller
The mailbag likes diversity, but there wasn't much this week.
Lots of California. Lots of Washington got screwed. Lots of LeGarrette Blount.
California fans were shaking their fist at the heavens. And some folks were eager to tell me how stupid I was for overrating the Bears. Not sure how I can respond other than, "Yep."
As for the Huskies gripes with the officials: Mostly valid. But the territory feels sort of stale. Look forward, Huskies! Arizona's visit is a critical game in the Pac-10 pecking order.
Took one Blount question.
And away we go.
Jeff from Dallas writes
: Theoretically speaking, if the Ducks win out, would they have a chance at breaking into the top 5? If so, would we jump Boise State? I know I'm getting way ahead of myself here but as a loyal Duck fan, I cant help but set myself up for heartache.
Ted Miller
: Yes and yes.
At 11-1, with a win over USC, the Ducks likely would be top-five. Now, would Oregon jump Boise State if the Broncos remained unbeaten?
I think so. Why? Because Oregon's schedule is exponentially tougher -- none of Boise State's other 12 foes would finish in the top-half of the Pac-10. More than a few are among the worst FBS teams.
Moreover, season-openers are often treated differently than games in the middle or end of the season, and not just because of rankings momentum. The Ducks are clearly a better team today than they were in the season-opener.
I know that won't go over with Broncos fans but there is a solution: Schedule a BCS foe early and late -- even if they won't do a home-and-home series.
If Boise State played, say, Kansas -- I pick Kansas because the Jayhawks would hide behind the sofa if Boise called for a game -- on Dec. 5 instead of New Mexico State, thereby bookending their season with legitimate BCS foes, it would make up for the perception that the Broncos poured their hearts into one season-opening game and then coasted through a milquetoast schedule.
---
Mike from Berkeley writes
: As a Cal fan I have nothing but respect for what Coach Tedford has achieved. He took over a program that was a perennial doormat in the Pac-10 and made it relevant. That said 2007 was a major disappointment, and while Cal will probably finish with 9 or 10 wins this season that is a major disappointment given the talent level. So do you think Tedford can ever lead the bears to the Rose Bowl? If not do you think another coach could, or will Cal just never have the recruiting power to reach that level?
Ted Miller
: Remember when Nebraska fans use to say that about Tom Osborne?
Bobby Bowden went 10-2 in 1977, his second year at Florida State. Before he won his first national title in 1993, his team rolled through six consecutive "disappointing" seasons of 10 or more wins.
Mack Brown just couldn't win the big won. Then he did.
Is Jeff Tedford the coaching "genius" he was touted as in 2004? Probably not. Is it fair to question how he coaches and who he hires and other aspects of his job? Sure. He makes a lot of money and that comes with the territory.
The quarterback magic has worn off. The "failing to live up to high expectations" issue feels more legitimate today than it ever has.
But to your question as to whether Tedford can lead the Bears to the Rose Bowl: Absolutely.
If Tedford remains the Bears coach for another decade, I guarantee the Bears will go to the Granddaddy during that span. [Cut that out and we'll meet back here in 2019].
And to your final question: Yes, another coach probably could do better.
Urban Meyer could. Pete Carroll probably could. Nick Saban maybe (he'd be out of his element on the West Coast). Bill Belichick is another possibility. Maybe Tony Dungy would come out of retirement.
But if Cal doesn't feel its chances are good to hire one of those guys, my advice would be to stick with the coach who got the long-suffering program consistently inside the velvet ropes.
---
Spencer from LA writes
: It turns out LeGarrette Blount lawyered up. And what about that fake apology? The real story isn't that Chip Kelly changed his mind, it's that he was forced to by the fear of a lawsuit.
Ted Miller
: You refer to
this story
.
That was a valid story, reported straight by Mark Fainaru-Wada, one half of the combination that broke open the story of steroids in sports and wrote the landmark book, "Game of Shadows."
But this is a prime example of the need to read between the lines.
First, let's say a lawyer was brought in to force Oregon to reconsider Blount's season-long suspension. What was that lawyer going to do? Where was his traction? What was the legal argument?
The only thing I can think of would be the
different treatment
given Oregon point guard Aaron Brooks when he clubbed Washington's Ryan Appleby during a game.
You'll also note that the actual lawyer, Rob Carey, had no comment.
Who did comment? A guy named Chris Horn, whose apparent motive for talking is a desire for publicity for his "newly formed nonprofit designed to advocate for student-athletes."
He's a -- to use his phrase -- "quiet voices in the background" guy. Only he's shouting "look at me!"
Maybe Horn did help Blount (that's not my take, but let's give him the benefit of the doubt). The problem is Horn's subsequent publicity-seeking is a disservice to Blount.
The story before Horn went public was that Blount had earned the opportunity to possibly play again this season because of how he had behaved after his meltdown at Boise State. How he responded to his worst moment had won over coach Chip Kelly and Oregon administrators.
It's a redemption story.
Horn, instead, wants the story to be that he and Blount's parents pressured Oregon into changing their position. He wants everyone to know that.
It's about lawyers and potential lawsuits.
So which story helps Blount get to the NFL?
If Kelly and Oregon feel like they were pressured, or are embarrassed by Horn going public with his account, do you think they are going to support Blount's cause when NFL GMs call?
And I know Kelly well enough to know that if he feels lawyered up and pushed around, Blount won't see significant action even if he manages to get reinstated.
By the way, no one at Oregon backs up Horn's
account
. An anonymous source in Fainaru-Wade's story is quoted as saying that Blount "met with Harry Edwards for 10 minutes." Edwards said he
talked to
Blount for six hours.
And if this is mostly about the Ducks wanting to get back a star player who can help them win, why will they wait until Nov. 7 -- after the USC game -- to allow his earliest possible reinstatement? Heck, if the program had the threat of a lawsuit as potential cover, why not bring him back for the Oct. 24 date at Washington? A five-game suspension is a nice number, and that would give Blount a warmup game before the Trojans come to town.
As for Blount's
letter of apology
, yes, it doesn't read like he wrote it.
I respect how Oregon has handed this process, both in the early going and during the redirection. I'm rooting for LeGarrette Blount to get his life back in order.
I'm not sure this third-party advocacy has much merit.
---
April, 29, 2009
4/29/09
10:33
AM ET
Posted by ESPN.com's Ted Miller
There are a lot of reasons to like Oregon's chances next season.
The Ducks are coming off a 10-3, top-10 finish, which includes a massacre of Oklahoma State in the Holiday Bowl.
They've got more certainty at quarterback with Jeremiah Masoli than just about any other team in the Pac-10. They've also got a 1,000-yard rusher returning in LeGarrette Blount, a marquee tight end in Ed Dickson and two of the best defensive backs in the conference in corner Walter Thurmond and safety T.J. Ward.
| | |
| --- | --- |
| | |
| | Geoff Thurner/Oregon Media Services |
| | Chip Kelly takes over an Oregon team that finished 10-3 last season. |
On the other hand, both lines need to be rebuilt. Not to get too technical about football, but lines are important in this game.
Chip Kelly will finish up his first spring as Oregon's head coach with the spring game on Saturday, so it seemed like a good time to check in.
So any thoughts on firing your quarterbacks coach [former head coach and incoming athletic director Mike Bellotti] this spring?
Chip Kelly: No, I actually gave him an incentive package to stay, but I don't think that's going to work out.
Any surprises in the process of going from offensive coordinator to head coach?
CK: No. It was exactly what I thought it would be. A lot more time needed for things outside of football. Trying to manage your day and your schedule and whatnot -- you don't get to just go off to practice or lock yourself away in a film room and watch tape all day. There are other things you have to attend to. But I knew that going in. It's just trying to get a set schedule and stick to it. You've got to learn to say no to some things. But it's what I expected.
Can you give me a couple of examples of changes you've made on how things might have been done in the past?
CK: I think we're practicing -- trying to get as much as we can out of practice. Our attention to detail and focus on the individual practices. I think that's a hard thing, no matter where you are during the spring. Obviously, your first couple of practices in the spring, you're flying around. On your scrimmage days, you're flying around. We've tried to increase the intensity in every practice and tried not to waste a day. I think that's kind of our philosophy. Our goal as a team is to win the day, and I think our kids have really adopted that, knowing that no matter if it's practice nine or practice 14, we've got to maximize it because we only get X amount of chances during the spring to be together as a group. So it's about not just going through the motions but to actually invest yourself. And our players have done that. It's really just changing the mindset a little bit. They've really done that and it's really a credit to our kids and the coaches here. Same thing as a coach. You can think, 'Ah, it's only spring ball.' But we need to get better every day and our players have bought into that.
We've joked about how Mike Bellotti is a West Coast guy and you're an East Coast guy. Have there been moments when some of the players saw some of that edgy East Coast come out and it was a little shock to their systems?
CK: I don't know if it's a shock to their system because I've been here for two years. But I think maybe because I will talk to defensive players now and special teams players -- things that weren't in my realm as offensive coordinator. During special teams [the previous two years], I'd take the quarterbacks off to the side and it was an individual period. Now, I'm trying to help Tom Osborne, our special teams coordinator, get the best looks we can possibly get. That's a little different. But because I've been here I think our players understand my personality.