June, 8, 2011
6/08/11
3:30
PM ET
By
ESPN.com staff
| ESPN.com
A memorial service for Homer Smith, one of football's great offensive innovators, will be held Sunday in the UCLA Athletics Hall of Fame at 2:00 pm.
Smith had three separate coaching stints at UCLA and also was an assistant at Stanford and Arizona.
Among those scheduled to speak at the service include former UCLA head coaches Terry Donahue and Pepper Rodgers, former Arizona head coach and UCLA assistant Dick Tomey and current Bruin head coach Rick Neuheisel, who played for Smith and worked with him as an assistant. Other Bruins alums scheduled to speak are quarterbacks Tom Ramsey, Jay Schroeder, David Norrie, Matt Stevens and Wayne Cook, as well as wide receiver Paco Craig.
[+] Enlarge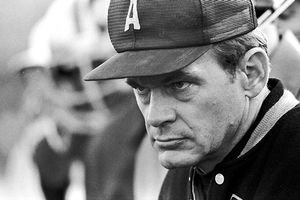 AP Photo/Rusty KennedyHomer Smith coached for nearly 40 years.
Smith passed away on Sunday, April 10, in Tuscaloosa, Ala., after an extended illness. Smith, 79, served three stints as a UCLA assistant coach (1972-73; 1980-86; 1990-93).
Smith spent 39 years coaching the game, 37 of them at the collegiate level and two more years in the NFL. He started his coaching career at Stanford in 1958 and then moved on to the Air Force Academy for four seasons before earning his first head-coaching appointment at Davidson in 1965. He spent five years with the Wildcats, including a co-Southern Conference championship season in 1969 and a berth in the Tangerine Bowl. Smith then headed back west and spent two seasons as the head coach at the University of the Pacific.
He began the first of his three stints at UCLA in 1972 under Pepper Rodgers and served as the architect of the wishbone offense that enabled Kermit Johnson to gain over 2,000 yards rushing in two seasons. Smith served the next five years (1974-78) as the head-coach at Army, where he was named 1977 Eastern College Coach of the Year after his team broke all the existing school passing records. He returned to UCLA in 1980, serving as the offensive coordinator and coaching quarterbacks and receivers under head coach Terry Donahue. Quarterback Tom Ramsey led the nation in passing efficiency in 1982 and ranked seventh in total offense. A year later, Neuheisel set a school record by completing 25 of 27 passes in a game against Washington and ranked fifth nationally in passing efficiency. Both earned Rose Bowl Player of the Game honors by leading the Bruins to victory in their final collegiate game. Smith stayed through the 1986 season, before moving on to the professional ranks as offensive coordinator for the Kansas City Chiefs.
Smith re-entered the college ranks in 1988 at Alabama. In his second season with the Crimson Tide, he helped lead the team to a 10-2 record, a Southeastern Conference championship and the first Sugar Bowl appearance in a decade. Smith returned to Donahue's staff at UCLA as coordinator for the 1990-93 seasons and then headed back to Alabama in 1994 and 1995 as offensive coordinator. Smith joined the Arizona staff as offensive coordinator in 1996 and retired from coaching the following year.
April, 22, 2011
4/22/11
3:02
PM ET
LOS ANGELES -- The savior is going to prom next week.
That would be UCLA's true freshman quarterback Brett Hundley, a charismatic, strapping young man who left high school early to compete for the starting job and immediately discovered that many believe that he will lead the football program out of the wilderness of mediocrity into the promised land of Pac-12 championships. And, of course, while on that glorious path, he will plant a footprint on USC's collective forehead.
Hundley admits it's been a bit surreal having folks he doesn't know know who he is, even when it's "volleyball girls" saying "
Hey, you're the savior
!" He's enjoying taking it all in. But any euphoria over his newfound celebrity has been put in perspective by the realities of the practice field this spring.
"Going from high school to college, it's really a big difference," he said.
Yes, it is. Just ask
Kevin Prince
and
Richard Brehaut
, who have struggled as UCLA's starting quarterback in the previous two seasons.
What's clear is the quarterback quandary in Westwood won't be resolved until the fall. Prince, who has flashed ability when healthy (which hasn't been often), is sitting out while still recovering from a knee injury. Brehaut has turned in a solid spring but hasn't yet won over his coaches. Hundley, the best athlete of the three, is still trying to digest the playbook and get a feel for the speed of the game.
"It's to be continued," offensive coordinator Mike Johnson said. "I don't think anyone has clearly put themselves in position to say they are going to be the starter."
UCLA has a strong history at the position: Bob Waterfield, Heisman Trophy winner Gary Beban, Tom Ramsey, Troy Aikman and Cade McNown come to mind. But the position has been pretty lousy since Drew Olson left in 2005.
More than a few observers believe Prince will be the starter if he is 100 percent in fall camp. But that's a big if. As a redshirt freshman in 2009, Prince threw the ball fairly well at times. And he did a solid job with the options portion of the pistol last year, particularly in the upset win over Texas. Of course, that's also when he also first hurt his knee.
"He's a proven player ... not a proven consistent player," coach Rick Neuheisel said. "The question for him is whether he can stay healthy."
Brehaut replaced Prince but struggled. In seven starts, his efficiency rating ranked 96th in the country and ninth in the Pac-10. Brehaut said he's focused on his footwork this spring, while Neuheisel wants Brehaut to become more proficient checking down to his second and third options.
"I think Richard has played well," Neuheisel said. "I still thing there is a lot more improvement to be had, whether it's by him or someone else, before we're going to be playing the position as well as it needs to be played. He still has too much predetermination in him. That's got to get weaned out."
That leaves the savior.
"He's taking strides, but a lot has been thrown at him that he's never done before," Johnson said. "So there are times he is a deer in headlights."
And when those headlights are on him, Hundley typically chooses to run. That's not the right thing to do based on the play call, but Hundley can make the wrong thing seem right when he busts a big gain with his feet, and that's not lost on his coaches.
"He's going to be a guy who is wrong sometimes," Johnson said. "But we encourage him that if he is going to be wrong, do it fast, do it hard. Because he has the athletic ability to overcome some of those mistakes."
Prince and Brehaut are aware that fans are clamoring for Hundley.
"Of course, everyone roots for that incoming guy who no one has seen yet," Brehaut said. "That's something Kevin and I, as veteran guys, can't worry about. There's nothing we can do that's going to affect Brett. It's all about making sure we know what we are doing and are executing like we know how. As long as we're doing that, we're doing our part."
While Hundley admits to struggling this spring, he still has his eyes affixed to the prize: the starting job. He left high school early because he had a clear goal to get on the field as soon as possible.
That savior stuff? It's amusing for now. But the business ahead is serious and far more taxing.
"It's pretty funny. When I first got here, that's how some people knew me," Hundley said. "Everyone jokes around about it. But I make sure everyone knows I'm only one person. You can't really save a team. And that's not really what I'm here for."