June, 4, 2013
6/04/13
11:00
AM ET
ESPN.com's Ivan Maisel looks at which conferences send head coaches to the NFL and
makes a conclusion
: "The shortest road for any FBS head coach to the NFL is through the Pac-12. In fact, no other conference even comes close."
He points out that Chip Kelly (Oregon to the Philadelphia Eagles) was the 15th Pac-12 coach to jump to the NFL since "Tommy Prothro moved crosstown from UCLA in 1971 to coach the Los Angeles Rams."
And during that span the SEC has sent three to the NFL. The Big Ten one.
Figuring out exactly why this is true is more of a challenge, particularly because folks in other regions will get mad hearing the real reason: Brains and sophistication.
[+] Enlarge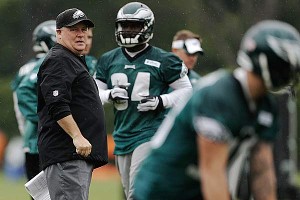 Matt Rourke/AP PhotoChip Kelly's offensive creativity helped him become the latest Pac-12 head coach to land an NFL head coaching gig.
Hey... take it easy. Just saying. And you Pac-12 folks need to behave.
Just look at the list: Dick Vermeil, Bill Walsh, John McKay, Mike Riley, Dennis Erickson and Chip Kelly. Those are some of the most innovative minds in football history, particularly offensive football.
Schematically, the Pac-12 -- historically and I think still at present -- is the nation's most sophisticated league. There's just more ... stuff. Playbooks are thicker. That, by the way, includes both sides of the football. The QBs are asked to do more. And that forces defenses to do more, too.
This, by the way, fits in with those who -- wrongly -- view the Pac-12 as a finesse league: A conference that is physically inferior has to use its wits to succeed.
But sophistication is about more than scheme. It's about psychology and managing people. There's more diversity on the West Coast. That complicates the job, so doing it well is meaningful. John McKay probably would have been successful coaching in Tuscaloosa. Not as sure the same could be said of Bear Bryant in Los Angeles.
Part of that is this: There's not as much "Yes, sir," "No, sir" on the West Coast as there is in other regions, particularly the Southeast and Texas, though that as a historical trend is likely narrowing. Going old school on an 18-to-23-year old from L.A. or Seattle probably won't work as well as it would on a kid from small town Alabama. The way a successful Pac-12 coach talks to and motivates his team is, in general, different. And, historically, it's probably closer to the NFL model, where the players are paid professionals and less willing to respond positively to a ranting coach.
Understand, there are plenty of exceptions to that. Frank Kush at Arizona State and Don James at Washington were as old school intimidating to their players as any of their contemporaries.
There's another level to that sophistication: Big cities. The NFL is a big-city league. So is the Pac-12. Maisel thinks this matters:
It could be that universities that share a market with NFL teams lose more coaches to the league. A school such as Boston College, clamoring for attention in a crowded market, might be more liable to hire a prominent NFL assistant coach such as Tom Coughlin, who left the Eagles for the Jacksonville Jaguars in 1994. That best explains why, even without counting Johnson or Erickson, the 22-year-old Big East has lost five head coaches to the NFL.
But there are other potential reasons:
Out of the box hires create fast-rising stars: Kelly, Jim Harbaugh and Pete Carroll each arrived in the Pac-12 in creative ways. Mike Bellotti made the inspired decision to hire Kelly away from New Hampshire. Harbaugh mostly generated head scratches when Stanford hired him away from San Diego. And Carroll was USC's 174th choice after a bumbling search. Heck, even Bill Walsh was a frustrated NFL assistant when he arrived at Stanford.

Previous NFL experience: Carroll had previous NFL coaching experience. So did Dick Vermeil, Bill Walsh and Dennis Erickson. Harbaugh was a longtime NFL QB. Several other guys on the list at least had a cup of coffee as an NFL assistant before taking over a Pac-8/10/12 team. You could conjecture that many of them viewed returning to the NFL as their ultimate ambition, unlike a college coaching lifer.

Recruiting rules in SEC: The most important skill for a head coach in the SEC is without question: Recruiting. The competition for recruits nationwide is brutal, but it's a blood sport in the Southeast. And that is not really a skill that translates in the NFL.

Money: Some conferences' pay scales are competitive with the NFL. The Pac-12's is not.
November, 23, 2009
11/23/09
6:31
PM ET
By
ESPN.com staff
| ESPN.com
That a bus full of men driving out of Eugene, Ore., was cheering the Ducks on Saturday night is not surprising at all. That it was full of Oregon State Beavers, well, that's something entirely different.
But the Beavers celebrated the Ducks thrilling
44-41
double-overtime win over Arizona just like many residents of the state that will become the center of the college football universe on Dec. 3.
"I think everybody saw the irony in that," Oregon State coach Mike Riley said.
Forgive the Beavers if they found a way to love on their rival Ducks. Their reasoning is sound, even from the perspective of this being another college football case of Hatfields and McCoys, though some Beavers fans may still be shaking off a frisson of disgust over such behavior.
"What they wanted for everybody's sake was a clear-cut deal," Riley said.
Clear cut? How about a Civil War with the stakes being nothing less than the Rose Bowl for the No. 8-ranked Ducks (9-2, 7-1) and the 16th-ranked Beavers (8-3, 6-2)?
The winner goes. The loser doesn't.
Two teams enter, one team leaves for Pasadena. The other listens to trash talk for 364 consecutive days.
Oregon hasn't played in a Rose Bowl since after winning the Pac-10 in 1994 (it also won the conference title in 2001 but was forced to play in the Fiesta Bowl because the Rose Bowl was the BCS championship game that year).
The Beavers Rose Bowl drought stretches all the way back to 1965.
Funny fact about 1965: That's the year a 12-year-old Riley moved from Wallace, Idaho, to Corvallis. The coach who led the Beavers to the Rose Bowl, Tommy Prothro, had bolted for UCLA, and the school replaced him with Dee "The Great Pumpkin" Andros, who hired Bud Riley as his defensive coordinators.
So Riley is well aware of how long it's been since the Beavers played in a Rose Bowl.
"Hopefully, there's some kind of significance there," he said, politely playing along with a reporter's insisting that there was.
Both teams will be off this weekend. It would seem to benefit the Beavers that they get extra time to prepare for the Ducks spread-option attack. Last year, the Beavers could have earned a Rose Bowl berth with a Civil War victory at home, but the Ducks and quarterback Jeremiah Masoli whipped them, 65-38.
The extra days, however, mean extra hype and extra thinking time. That's why Riley broke his normal routine and immediately talked to his team Sunday about the game and its meaning.
"It's lurking out there and everybody knows it," he said. "There's no sense not talking about it."
But his message probably sounded a lot like what Chip Kelly is telling his Ducks. The Ducks mantra is "win the day." Riley instructs his Beavers to "stay in the moment."
It might sound yawningly simple, but a consistent applying of both takes on the same message is a notable reason why these teams are in position for the big prize. Neither, after all, got caught up in dwelling on the past when things didn't start well.
Oregon's slow start at Boise State is a part of the permanent, national tapestry of the 2009 season. Oregon State's consecutive defeats to Cincinnati and Arizona were less loud but no less dispiriting for a program that was hoping to end a pattern of starting slowing.
"I had no idea who this team could be early-on," Riley said. "And when we lost those games, you naturally worry."
What happened next is Oregon State became itself -- a team that makes a late charge into the national rankings seemingly every season. The Beavers have won six of seven since the calendar flipped into October.
Now, to quote, Riley, "It's all out there in front of you."
They've got nine days to "live in the moment" and try to avoid thinking about the Rose Bowl.
Good luck with that.