May, 4, 2012
5/04/12
1:30
PM ET
PHOENIX -- The first reaction was shock: Junior Seau dead at just 43, his death ruled a suicide. Quickly came grief: An all-time USC and NFL great, a good guy known for his accessibility and philanthropy away from the field who didn't want to live anymore.
Then shortly thereafter: Anger. Another football player dead before his time. Surely head injuries -- concussions -- were to blame.
Surely the game is to blame
. These three stages have been repeated too often of late, and their repetition threatens our love affair with a sport that obsesses our country like no other.
We can't make you feel any better about Seau. That's a still-resonating tragedy. We can only note it's premature to arrive at any overriding conclusions as to why he did the unthinkable.
[+] Enlarge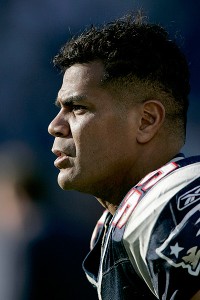 Greg M. Cooper/US PresswireSpecialists are trying to determine whether Junior Seau's suicide could be related to the growing link between football and concussions.
But we might be able to make you feel a little bit better about football.
The takeaway from a timely Fiesta Bowl Summit panel Thursday, "Sports-Related Concussions: Facts, Fallacies and New Frontiers," was twofold: 1. The NCAA and NFL, after the media forced them to pay attention, have been working hard to get their arms around the issue; 2. It's not unreasonable to believe they can.
Of course, there always will be head injuries in contact sports, and repeated head trauma can lead to long-term health problems. This knowledge isn't new. Doctors were aware of boxers becoming punch drunk -- dementia pugilistica -- in the 1920s.
Understanding concussions and how best to prevent and then treat them, however, isn't easy. As Dr. Margot Putukian, one of four panelists at the Arizona Biltmore, said, concussions are "a moving target." Each one is different, and each person is different. They are not anything like a torn ACL.
Yet there has been recent research progress that is particularly meaningful for football. Said Dr. Michael McCrea, "The news is promising."
McCrea's research found that 28 percent of athletes suffering a concussion no longer show symptoms from their injury after 24 hours. Sixty percent are asymptomatic after a week to 10 days. So nearly 90 percent of athletes passed tests that showed their symptoms were gone inside of 10 days. But that's not the good news. Passing tests that show symptoms are gone doesn't mean the brain has fully healed -- achieved full clinical recovery.
The good news is this: Those numbers, it turns out, do indeed run roughly parallel to a full clinical recovery. Using a multi-dimensional approach -- symptoms tests as well as MRI -- for assessing the recovery process can, McCrea said, "take the guesswork out of concussion management."
These numbers should make it easier to convince athletes who are eager to get back on the field and coaches who want them there to be patient. Simply, coming back too early greatly increases the risk of another concussion, and a second concussion almost always requires a far longer recovery time. Waiting the full seven to 10 days -- and missing a game -- greatly reduces the risk of re-injury, McCrea said. Ergo, there are now specific numbers that show it's better for athlete and team not to rush things.
But the issues with concussions extend beyond understanding them, treating them and even preventing them. Every institution needs well-drilled standards and procedures for dealing with them: A concussion management plan. And coaches and training staff need to know them and know them well. Putukian asked a rhetorical question that all parents of athletes should be asking coaches (non-rhetorically): "What medical personnel do you have there, and what do you do in case of emergency?"
How many layers of procedure are involved here? Lots. Here's one you probably didn't think of: Academic accommodation. A player who suffered a concussion on Saturday might have issues taking a test the following Wednesday.
There was a consensus among the four doctors about how the NFL and NCAA can continue to improve their approach to concussions.
Education: Players and coaches need to understand how serious head injuries are, and the potentially harmful long-term consequences for returning to play too soon. This could include, for example, coaches deciding to limit contact during practices.

Equipment: There are no helmets that prevent concussions, and there won't ever be. That doesn't mean some helmets aren't better than others. Virginia Tech has devised a respected helmet ratings system, and the Riddell 360, Rawlings Quantum Plus and Riddell Revolution Speed all achieved five-star ratings.

Rules changes: Obviously, an emphasis on stopping head-to-head collisions has been front-and-center. A lot of attention also is being paid to when concussions are most likely to happen in a football game -- on special teams, in the open field and for specific positions.

Culture change: This might be one of the most difficult to enact -- see the bounty scandal involving the New Orleans Saints. Football is a physical game. That's why it's fun to play and to watch. But there needs to be a recognition that brutality for brutality's sake, a zeal for hurting opponents, can have horrific ramifications after the cartoonish strut and taunt end.
Coaches seem to be taking this issue seriously. Among those who attended the concussion summit, which was presided over by NCAA president Mark Emmert, were Stanford's David Shaw, Wisconsin's Brett Bielema and Texas Tech's Tommy Tuberville. When it was over, UTEP coach Mike Price stood up to say it was the best talk on the subject he'd heard.
This was a sad week for football. A few folks are seriously raising the question of
whether college football should be banned
. Seau's death made it less easy to scoff derisively at such talk.
Concussions are a serious problem in football. The first step toward solving a problem is recognizing it. The concussion panel this week suggested that football now might be taking a second and perhaps third step.
November, 30, 2011
11/30/11
5:45
PM ET
At least in terms of name recognition, the Pac-12 is ramping up with its coaches.
First, Arizona hired former Michigan and West Virginia coach Rich Rodriguez. Now Washington State has perhaps trumped that by
hiring former Texas Tech coach
Mike Leach, the pirate himself, to replace Paul Wulff, who was fired only Tuesday.
Leach, 50, went 84-43 in 10 seasons at Texas Tech before his controversial firing. One of the high priests of the spread offense -- the "Air Raid" -- he produced eight QBs who led the nation in passing. Five times he guided the Red Raiders to top-25 national rankings, including a final No. 12 ranking in 2008.
And, not unlike Pullman in the Pac-12, Lubbock, Texas, is considered a Big 12 backwater, a place where it's widely viewed as difficult to win consistently. Leach's replacement, Tommy Tuberville, whose team is 5-7 and 2-7 in the conference this season, is finding that out.
So Leach knows what he's getting into, although after living in Key West, Fla., for a couple of years, he might need to invest in some cold-weather gear.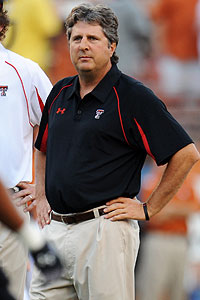 John Albright/Icon SMINew Washington State coach Mike Leach went 84-43 in 10 seasons at Texas Tech.
Let's say it now: Perfect fit. Well done, athletic director Bill Moos.
Moos said Tuesday he wanted a guy who produces "flashy offenses." Leach is among the flashiest. Oregon's Chip Kelly now has two guys -- Leach and Rodriguez -- who want to match the Ducks' ludicrous speed approach.
Said Pac-12 defensive coordinators: "Drat."
Leach's contract is for five years and will make him the third-highest paid coach in the Pac-12, CBS Sports reported, citing an unnamed source. That means he will eclipse Washington's Steve Sarkisian, who makes $2,250,000 annually.
Wulff was the Pac-12's lowest-paid coach at $600,000.
So this signals a big transformation in thinking in Pullman. And an expectation of big results.
The job sets up well for Leach, too. He's got two quarterbacks, junior
Jeff Tuel
and redshirt freshman
Connor Halliday
, who might be more talented as passers than any of the QBs who put up big numbers for Leach at Texas Tech. Leach also has an A-list receiver in
Marquess Wilson
. The Cougars lose their Nos. 2 and 3 receivers,
Jared Karstetter
and
Isiah Barton
, but there are a handful of promising young receivers on the roster, most notably freshmen
Bobby Ratliff
and
Kristoff Williams
.
The offense Wulff ran wasn't that different from what Leach does. The transition should be smooth.
A big first question: How much money is left over at Washington State to pay an A-list staff, particularly a defensive coordinator? A good head coach becomes a mediocre one with a mediocre staff.
While the program dramatically improved the past two seasons under Wulff, the bottom line after four years was terrible: a 9-40 record including a 4-32 mark in conference play. Moos said his firing of Wulff was based as much on the apathy among fans -- "butts [not] in the seats" of Martin Stadium -- as where the program stood with wins and losses and talent.
Leach's hiring is generating national buzz that should invigorate the fan base. It also should immediately bolster recruiting. And fundraising, which Moos said is at a red-alert level of need.
While the Cougs have gone through a dreary downturn, this program has won before -- and recently. It's been to two Rose Bowls since 1997, and it finished ranked in the nation's top 10 three consecutive seasons from 2001 to 2003.
The short-term expectation for Leach in 2012 is a bowl game, which the Red Raiders played in every year under him. The long term will be getting the program back to where it was from 2001 to 2003.
Not unlike what he did in Lubbock.
May, 18, 2010
5/18/10
9:50
AM ET
By
ESPN.com staff
| ESPN.com
Seeing that every misdeed in the state of Oregon this offseason got plenty ink, here's one for the good guys: Oregon's Chip Kelly not only is joining other coaches on an overseas tour of U.S. military installations this month, he
volunteered for the mission
.
According to the Eugene Register-Guard: "Kelly will travel Friday to McConnell Air Force Base in Wichita, Kansas, before heading overseas along with Army's Rich Ellerson, Harvard's Tim Murphy, Tommy Tuberville of Texas Tech and Ron Zook of Illinois. The first foreign stop will be at Ramstein Air Base in Germany, and Kelly said the tour will also take them to Iraq and Afghanistan."
The coaches, who will spend at least one night aboard a naval ship, not only chat with troops and sign autographs, they also will conduct "combine-style workouts" as well as coach a couple of flag football games, one of which will be the annual Under Armour Dust Bowl, which is Army vs. Air Force "with some Marines sprinkled in."
Guess here is that one might get fairly intense.
Kelly & Co. are scheduled to return to Andrews Air Force Base in Maryland on May 31, Memorial Day. They also may visit the White House.
May, 22, 2009
5/22/09
7:37
PM ET
By
ESPN.com staff
| ESPN.com
Posted by ESPN.com's Ted Miller
UCLA coach Rick Neuheisel will participate in the 2009 Armed Forces Entertainment college football "Coaches Tour" beginning late next week, an effort to help rally U.S. servicemen and women in the Middle East and Europe and show appreciation for their efforts.
"I am honored to be participating in this tour," Neuheisel said in a statement. "Our men and women overseas put their lives on the line every day, and I'm thrilled to be able to personally thank them for all they do. They are a long way from home, and if we can bring a little bit of home to them, then we have accomplished the goal of the tour."
Other coaches on the tour include former Auburn coach Tommy Tuberville, Mack Brown (Texas), Troy Calhoun (Air Force), Jim Tressel (Ohio State), Jim Grobe (Wake Forest), and Houston Nutt (Mississippi).
The tour will depart from McConnell Air Force Base, near Wichita, Kan., on May 27. The coaches will visit troops stationed at U.S. military installations in Germany, Turkey, Spain, Iraq and Djbouti (Africa) and will return to the U.S. on June 4.
On the tour, the coaches will personally interact with the troops, hold formal college football symposiums where troops will have an open microphone to ask questions, and at some locations, will host flag football games for the military members and serve as honorary coaches.
December, 5, 2008
12/05/08
11:20
AM ET
By
ESPN.com staff
| ESPN.com
Posted by ESPN.com's Ted Miller
Talk about a coaching tree suddenly taking root.
First, Tennessee hires Lane Kiffin. Then, Washington, according to reports, taps Steve Sarkisian.
That's two Pete Carroll disciples landing BCS conference jobs within weeks of each other.
There are many famous coaching trees -- Bill Parcells, Bill Walsh and Dean Smith come to mind. In college football, Hayden Fry's tree ( Bill Snyder, Barry Alvarez, Bob Stoops, Kirk Ferentz, Jim Leavitt, Bret Bielema, among others) is often celebrated.
In the Pac-10, there's Dennis Erickson's tree: Joe Tiller, Tommy Tuberville, Sonny Lubick and John L. Smith. And Mike Bellotti's: Jeff Tedford, Dirk Koetter, Chris Petersen and (in-waiting) Chip Kelly.
Carroll's coaching tree from USC has previously misfired. Nick Holt bolted to become the head coach at Idaho before returning to the Trojan fold after just two losing seasons. Ed Orgeron proved an outstanding recruiter but couldn't build a winner in three seasons at Ole Miss.
Norm Chow and DeWayne Walker, now the offensive and defensive coordinators at UCLA, have been perennial bridesmaids -- respected assistants who have yet to land a head-coaching job.
Kiffin, 33, and Sarkisian, 34, both have been handed broken former powers. Their connection to Carroll surely played a huge role in the pair of young coaches -- both will be the youngest coaches in their respective conferences by a wide margin -- getting a chance to enthuse their way through reportedly dynamic interviews.
What both Tennessee and Washington see is this: Jeff Tedford, Bob Stoops, Mark Richt, Chris Petersen, Kyle Whittingham, etc.
Each of them was a touted coordinator who made a successful jump to head coach (should we really count Kiffin's one-plus season leading the Oakland Raiders as true head-coaching experience?).
Most fanbases want a splashy hire -- think Nick Saban at Alabama or Urban Meyer at Florida.
And it's reasonable to worry about an inexperienced youngster taking over a BCS conference team and going nose-to-nose with more accomplished and savvy veteran head coaches.
Ah, but the upside. That's what both programs are crossing their fingers over.
As for Carroll, if his two protégés succeed, it will only add to his already extraordinary college legacy.
Of course, neither situation is a slam dunk. Far from it.
Kiffin has been fed to the wolves -- the SEC boasts an extraordinary collection of coaches. And patience isn't really part of the plan.
Sarkisian takes over a program in complete disarray, a winless season -- pending a loss at California on Saturday -- capping a five-year span of losing the Huskies have never experienced before.
Sark will get far more patience, though his hiring doesn't appear to be inspiring a widespread celebration within a Husky fanbase that was hoping for Jim Mora or Mike Leach or Chris Petersen.
It will take at least a couple of seasons for him -- or anyone -- to lead the Huskies back to a bowl game.
What Husky fans will start dreaming about, though, is Sarkisian, a few years hence, shaking hands with Carroll after a game, and Carroll frowning into the glow of a wide grin from his protégé.
December, 4, 2008
12/04/08
5:19
PM ET
By
ESPN.com staff
| ESPN.com
Posted by ESPN.com's Ted Miller
Talked to a pretty good Washington source today, shortly after reports surfaced that Texas Tech coach Mike Leach had ended his candidacy. Know what he told me was going on with the Washington coaching search?
"Honestly, I'm not sure what's up," he said.
Will you think less of me if I type the same?
This from Bob Condotta of the Seattle Times sums things up pretty well.
Seems like lots of names are getting thrown around -- what about Tommy Tuberville! or Phillip Fulmer! -- and few would argue with a hard pursuit of either Chris Petersen or Kyle Whittingham.
And coordinators like USC's Steve Sarkisian or Oklahoma's Brent Venables would jump at the opportunity.
But as far as good info on what's next after Leach joined Pat Hill and Jim Mora on the "no thanks" list, not sure if any is presently out there as of this typing.
PAC-12 SCOREBOARD
Friday, 12/26
Saturday, 12/20
Monday, 12/22
Tuesday, 12/23
Wednesday, 12/24
Saturday, 12/27
Monday, 12/29
Tuesday, 12/30
Wednesday, 12/31
Thursday, 1/1
Friday, 1/2
Saturday, 1/3
Sunday, 1/4
Monday, 1/12
Tweets from https://twitter.com/ESPNCFB/lists/pac12