April, 17, 2014
4/17/14
12:00
PM ET
BERKELEY, Calif. -- Headed into his second season at Cal, there's still a lot coach Sonny Dykes needs to learn about his team. Seemingly left with more questions than answers at the end of Year 1, it was clear the spring would be a fact-finding mission as much as anything.
Except at receiver.
There has been some minor tweaking going on during the first two-thirds of spring practice, but it's clear that the coaching staff is confident in the receivers -- perhaps more than any other group on the team.
[+] Enlarge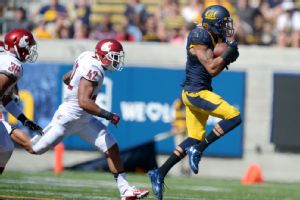 Kirby Lee/USA TODAY SportsChris Harper had 70 catches for 852 yards and five touchdowns in 2013.
'There's some [Pac-12 teams that] probably return, maybe more productive guys than we did, but we've got a lot of guys who can play," Dykes said. "I think our depth has got to be probably as good as anybody's in terms of guys who have played and guys who are starting to to come into their own."
It starts with the duo of
Chris Harper
and
Bryce Treggs
, who combined for 147 catches for 1,603 yards a year ago, but
Kenny Lawler
also was productive (37 catches, 347 yards, 5 TD) -- especially late in the season -- and several others are fighting for playing time.
Assistant head coach Rob Likens, who is responsible for the outside receivers, doesn't hesitate to call the receivers the team's strongest unit -- and that he tells them that every day.
"They have to put it on their shoulders," Likens said of the group's importance to the team. "Experience breeds confidence, and that's the thing we were lacking last year.
"Obviously, when you're running a new offense, that first year they don't know what to expect in a game, how its all going to work out. So we've gone through that process already, so they know coming into the spring how [the rest of the conference] is going to play."
The most notable change has been Treggs' move from outside to inside receiver. The move was done as part of an effort to get him the ball more often and engineer more matchups against safeties and linebackers. Making the same position change is 6-foot-6
Drake Whitehurst
, who provides the closest look to what the Bears had from
Richard Rodgers
a year ago.
On the right side,
Stephen Anderson
and
Darius Powe
are battling at the inside spot, but Likens said both struggled with too many drops last fall. With Treggs inside, the left outside receiver spot is a competition between Hawaii transfer
Trevor Davis
and junior
Maurice Harris
. They are splitting time with the first team.
With such a talented group of receivers and a promising young quarterback in
Jared Goff
, Cal certainly has the potential to evolve into a dangerous Pac-12 offense, but other deficiencies need to get cleaned up. Namely the running game.
"And we know that. We stressed that this spring," Likens said. "[Last year,] we got into games and we realized that everybody realized that we couldn't run the ball, so it is a lot of pressure on some very young skill guys."
Likens said Cal will "rely heavily on" a pair of incoming freshman running backs,
Tre Watson
and
Vic Enwere
.
Cal will plays its spring game on April 26, at which point the coaching staff will turn the responsibility over to the players to get better. Most, if not all, are expected to be around for a majority of the summer.
"In this offense, that's crucial," Likens said. "If you don't do that, you don't have a chance."
It's an expectation Lawler said the players have bought into, and only partially because of the 1-11 season.
Lawler doesn't believe the lack of success had anything to do with last offseason's effort -- "We actually worked out really hard," he said -- but admitted he's willing to work harder and give more things up this time around.
March, 21, 2013
3/21/13
9:00
AM ET
BERKELEY, Calif. -- While California has hired two coaches over the past 12 years, it didn't hire them to do the same job.
Jeff Tedford took possession of a dilapidated and unlivable house on college football's skid row in 2001. Sonny Dykes this winter moved into a nice home in a posh neighborhood that needs some minor interior renovations.
Sure, Cal went a dreary 3-9 last season, its second losing season in three years, which got Tedford fired. But he took over a program that went 1-10 in 2001, played in a crumbling stadium that averaged 30,000 in attendance and featured some of the worst facilities in major college football.
Dykes has inherited a team that went 82-57 under Tedford and plays in front of 55,876 fans even during a 3-9 season. And the facilities? Sparkling. Brand freaking new. Among the best in the Pac-12 and the nation.
Tedford made the Bears respectable and then made a push for the top of the Pac-10. That initiated the process -- glacial in pace -- of facility upgrades. But he couldn't reach the top of the conference. The program plateaued and then reversed course. In 2004, it seemed certain Tedford would get the Bears to their first Rose Bowl since 1959. In 2012, the Rose Bowl seemed infinitely far away, and it didn't help that stricken Old Blues had to watch crosstown rival Stanford win the darn thing.
Enter Dykes.
"Jeff had a rebuilding job. His job was different," Dykes said. "He made this place credible. He made people take notice and say, 'Cal is a good job. You can do things at Cal.' If it hadn't been for his success, we wouldn't be sitting in this facility right now. He did a great job with the program. They kind of fell off the last couple of years, but he's what made this place a good place."
Dykes is expected to make it a great place.
That won't be easy. Stanford and Oregon are in the way, for one. Washington and Oregon State, potential top-25 teams in 2013, also are looking to take the proverbial "next step." And that's just the North Division.
Further, there are some things that need to be cleaned up, not the least of which is team academics.
Cal is the nation's most celebrated public university. It's difficult to walk around campus without running into someone wearing a Nobel Prize medal. Yet the football program not only ranked
last in the Pac-12 in graduation rate
last season at 48 percent -- 5 percent behind No. 11 Arizona -- it ranked second worst among automatic qualifying conference teams, 1 percent ahead of Oklahoma, where folks believe the Nobel Prize is something a person gets for visiting the "
Rock Rose Capital of the World
."
On the football side of things, the Bears seemed mired in a general malaise over the past few seasons. Quarterback play, upon which Tedford built his strong reputation, was mediocre to bad post-Aaron Rodgers. Further, when Cal lost, it didn't mess around. Over Tedford's final four years, the Bears lost 16 games by at least 17 points. That happened while the Bears nonetheless remained a
major pipeline to the NFL
.
Top-to-bottom talent didn't seem like the problem. It seemed like the Bears had become a bit of a head case. Chief among Dykes' first-year tasks is creating a mentally tougher team.
"This is not a traditional rebuilding job," Dykes said. "But some things do need to be rebuilt. I think the psyche needs to be rebuilt. Maybe expectations need to be rebuilt. We need to do a good job of balancing athletic and academic success."
As for X's and O's and quarterback woes, Dykes and his spread-guru offensive coordinator Tony Franklin averaged 51.5 points per game last season at Louisiana Tech, with quarterback
Colby Cameron
ranking 22nd in the nation in passing efficiency while throwing 31 TD passes with just five interceptions.
Too pass-happy? The Bulldogs averaged 227 yards rushing, which ranked 17th in the nation. Dykes, who also coached Nick Foles as Arizona's offensive coordinator before going to Louisiana Tech in 2010, has the offensive bona fides, without question.
In terms of putting it all together at an elite academic institution -- Cal fans might want to cover their ears -- Dykes sees a pretty good model playing ball a bit to the south.
"The thing Stanford has done is they've done it the right way," he said. "Their kids are graduating. They've proven you can have high academic standards and still have success on the field."
Dykes says his charge is "not about building a team; it's about building a program." That means creating a culture aimed at long-term and high-level success.
Yes, more than a few Old Blues have related to Dykes their singular wish to experience a Rose Bowl before they die. Tedford used to joke that many Cal fans wanted the Rose Bowl more than a national title.
Tedford took over a team that hadn't posted a winning season in eight years. He made winning seasons the standard. Now Dykes is charged with pushing the Bears back into the national rankings and into the Pac-12 title picture, while maintaining high academic standards.
And if he produces a Rose Bowl victory, they'll probably build a statue of him outside remodeled Memorial Stadium.
March, 11, 2013
3/11/13
6:55
PM ET
California quarterback
Allan Bridgford
has decided to make his departure from Cal official. After
taking a hiatus from the team
last week to decide his future, the school announced Monday that Bridgford would leave the team.
"I was recruited by former coach Jeff Tedford to play quarterback in a pro-style offense that was tailored to my strengths, which are my abilities to make all the throws, my decision making and my leadership," Bridgford said in a statement released from the school." As the team's most experienced quarterback, I expected to take the majority of reps this spring. But after having limited reps in the first four spring practices, I met with both offensive coordinator Tony Franklin and head coach Sonny Dykes. It was made clear to me that they had decided to go in a different direction. Therefore, it is time to move on and find a school where I can play right away and hopefully for two seasons if I'm granted a sixth year of eligibility."
Of the quarterbacks who started spring ball, Bridgford was the only one with game experience. Last year he backed up
Zach Maynard
and appeared in four games, completing 31 of 68 passes for 277 yards with one touchdown and three picks.
But it seems pretty clear he's not the best fit for Dykes' system, which led the nation in total and scoring offense last season when Dykes was the head coach at Louisiana Tech.
"We wish Allan all the best both on the football field and in the classroom," Dykes said in a statement. "He is a quality quarterback that should have success in an offense suited for his skill set. His contributions to Cal football over the past four years are appreciated, and we are pleased that he has decided to graduate from Cal this summer."
From spring reports, it looks like Jared Goff,
Zach Kline
and
Austin Hinder
are getting the bulk of the work.
Kyle Boehm
worked just one series in a weekend scrimmage with three attempts while Goff had 23 attempts, Kline had eight and Hinder had 10.
December, 11, 2012
12/11/12
6:36
PM ET
Two Louisiana Tech assistant coaches will follow new California coach Sonny Dykes to Berkeley: Offensive coordinator Tony Franklin and receivers coach/assistant head coach Rob Likens.

Franklin, who's been an offensive coordinator for Kentucky, Troy, Auburn and Middle Tennessee, was with Dykes at Louisiana Tech the past three years. This past season, the Bulldogs led the nation with 51.5 points per game. He was a 2012 nominee for the Broyles Award given annually to the nation's top assistant coach and one of four finalists for the
FootballScoop.com
Offensive Coordinator of the Year.
"Tony Franklin is an innovative and creative mind who is one of the top offensive coaches in the nation," Dykes said in a statement. "He's had a tremendous amount of success producing some of the most prolific offenses in college football. I'm excited that he is joining our staff at Cal and look forward to much more success in the years ahead."
Said Franklin in the same statement, "I've been recruiting California for a long time and this is where my wife and I wanted to live. It's funny how dreams sometimes do come true. ... This is our last stop, this is where we want to finish. I have no desire to be a head coach. I wanted to be here to make this thing work for Sonny and give the Cal alumni something they can be proud of. As much pride as they have in their academics, we want it to be the same for their football program. That's our goal."
Likens served as an assistant head coach and wide receivers coach for Dykes at Louisiana Tech the past three seasons. He coached 2012 second-team AP All-American and Biletnikoff Award semifinalist
Quinton Patton
, who was a major contributor to the team's prolific scoring offense.
In 2012, Louisiana Tech ranked among the NCAA's top 20 in total offense (2nd, 577.92 yards per game), passing offense (4th, 350.75 ypg), fewest sacks allowed (8th, 0.83 spg) and rushing offense (18th, 227.17 ypg). The Bulldogs scored more than 40 points in 11 of 12 games and over 50 points on eight occasions. Louisiana Tech's 13 turnovers were tied for the 10th-lowest total in the country, while the team's turnover margin of plus-1.08 per game was also tied for 10th nationally.
Quarterback
Colby Cameron
was named the WAC Offensive Player of the Year and earned the Sammy Baugh Award, presented to college football's top passer by The Touchdown Club of Columbus. Cameron completed 359 of 522 passes for 4,147 yards and 31 touchdowns with just five interceptions. He ranked fourth nationally in total offense (360.33 ypg) and 24th in passing efficiency (153.19) at the end of the regular season.
Likens directed one of the most potent wide receiver corps in the country in 2012 led by Patton, who paced the WAC in both per-game receiving yards (116.00 ypg) and receptions (8.67 rpg), while ranking fourth in the nation in both categories while compiling totals of 104 catches and 1,392 receiving yards. Patton was also tied for fifth in the nation among wide receivers with 13 touchdowns receptions. Overall, Tech's receivers recorded 4,209 receiving yards and had more receiving yards than 28 FBS teams had yards of total offense.
Prior to his three-year stint at Louisiana Tech, Likens served for four seasons as the offensive coordinator and quarterbacks coach at Central Connecticut State (2006-09) and led the Blue Devils to more wins than in any other four-year period in school history.
In addition to his coaching career, Franklin is the owner of The Tony Franklin Systems that conducts a series of football seminars for coaches emphasizing winning solutions. Franklin also has written two books, including "Victor's Victory," which chronicled the tragic death and spectacular life of 15-year-old Hoover High football player Victor Dionte Hill.
Hill died from sudden cardiac arrest on the football practice field during one of Franklin's consulting sessions. The book has helped to continue the mission of Cheryl Hill, Victor's mother, to make teachers, coaches, and parents aware of the need for automatic external defibrillators (AED's) in every school and youth organization in Alabama.