Pac-12:

top performances 2011
February, 24, 2012
2/24/12
4:30
PM ET
We're looking at the top individual performances in the Pac-12 in 2011.
Up next
: James the Cardinal crusher.

Who & against whom
: Oregon running back
LaMichael James
-- no stranger to top performances -- scorched the Stanford Cardinal on the road in a 53-30 win.
The numbers
: James rushed for 146 yards and three touchdowns on 20 carries.
A closer look
: It was a game with enormous postseason ramifications for both teams. Oregon, ranked No. 7 in the BCS standings and Stanford at No. 4, squared off in the biggest game on the conference schedule. Stanford had the nation's third-best rush defense -- allowing 78.9 yards per game. Oregon had the fifth-best rushing attack, averaging 298.4 yards per game. But it was James who stood out. Oregon's win snapped Stanford's 17-game winning streak, which was the nation's longest (its last loss was more than a year earlier at Oregon). His 58-yard touchdown run early in the second quarter put Oregon ahead by two scores and the Ducks never looked back.
How good was James' vision on that run, by the way?
James would add a 4-yard touchdown in the third quarter and a 1-yard touchdown in the fourth. Here's the most impressive part: James did most of his damage running straight at Stanford's 3-4 defense. He accounted for 132 yards and all three of his touchdowns running between the tackles on 17 carries. The win propelled the Ducks to the top of the Pac-12 North and eventually to the Rose Bowl, while also shattering Stanford's national championship hopes.
February, 21, 2012
2/21/12
7:00
PM ET
We're looking at the top individual performances in the Pac-12 in 2011.
Up next
: Welcome to the Holy War, Mr. White.

Who & against whom
: Utah running back
John White IV
, playing in just his third major-college football game, scorches in-state rival BYU in the second half of the lopsided victory.
The numbers
: At the time, it was a career high 174 rushing yards (he would add a 205-yard game and a 185-yard game later in the season) to go with three touchdowns on 22 carries for a 7.9 yards per carry average.
A closer look
: It was the first time in 113 years the schools had met as non-conference opponents -- and White's introduction to the rivalry. After being held to just 9 yards on nine carries in the first half, White erupted for three scores in the second half. White's first score, a 1-yard push up the middle, put Utah ahead 30-10. The second was an
ankle-busting 62-yard touchdown run
that showed off his speed and athleticism. And on his
35-yard touchdown run to put the Utes ahead 46-10
, White looked like he was shot out of a cannon after he made his first cut at the line of scrimmage. Utah went on to a very satisfying 54-10 win to stretch its overall hold on the series to 55-34-4.
February, 17, 2012
2/17/12
5:00
PM ET
We're looking at the top individual performances in the Pac-12 in 2011.
Up next
: Malcolm up the middle.

Who & against whom
: Oregon State true freshman running back
Malcolm Agnew
made a splash in his collegiate debut against Sacramento State, looking very much like the replacement back to Jacquizz Rodgers.
The numbers
: Agnew broke loose for 223 yards and three touchdowns on 33 carries. Two of the touchdown runs came in the fourth quarter and the third -- a 17-yard score -- came in overtime.
A closer look
: One problem. Oregon State lost. And to an FCS team no less. Sacramento State opted for a 2-point conversion in overtime, which it converted to lock up the 29-28 upset win. If you can get over that fact, then you shouldn't let it damper a very good debut by an up-and-coming back in the conference. If you can't, it's understandable. Sacramento State (4-7, 3-5 Big Sky) didn't exactly go on to do great things last season. Unfortunately for Agnew, this was as good as it was going to get in 2011. Injuries kept him out of six games -- though he did bounce back briefly to rush for 103 yards and a score against Washington State. Coach Mike Riley said hopes Agnew
will be at full speed for spring ball
and if the Beavers get their offensive line situated, Agnew could be one of the more intriguing backs to keep an eye on in the coming years.
February, 16, 2012
2/16/12
7:00
PM ET
We're looking at the top individual performances in the Pac-12 in 2011.
Up next
: Criner's hat trick.

Who & against whom
: Arizona wide receiver Juron Criner broke loose (and all of Arizona's offense for that matter) in a wild 48-12 win at home over UCLA.
The numbers
: Criner caught 10 balls for 101 yards to go with three receiving touchdowns of 4, 7 and 25 yards.
A closer look
: This Thursday night game will be most remembered for the brawl. Ugly. It might also be remembered as the straw that broke Rick Neuheisel's back. But what shouldn't go unmarked is the way Arizona rallied around interim coach Tim Kish and the offensive shellacking they put on the Bruins. Criner and quarterback Nick Foles were clicking from the start. They marched the opening kickoff 80 yards before Foles found a wide-open Criner for a 4-yard score. They connected again to start the second quarter -- capping another 80-yard drive. This 7-yard score might have been Criner's best catch of the year, reaching around UCLA's Aaron Hester (who had really good coverage) to haul in the lofting ball. Then he added a 25-yard strike near the end of the first half that gave Arizona a 35-7 lead.
February, 14, 2012
2/14/12
7:00
PM ET
We're looking at the top individual performances in the Pac-12 in 2011.
Up next
: Thomas, unleashed.
Who & against whom
: Stanford outside linebacker
Chase Thomas
set up his own Occupy Notre Dame's Backfield rally in a
28-14 win
over the Irish in the regular-season finale for both teams.
The numbers
: Thomas wreaked havoc on the Irish quarterbacks and running backs, tallying three tackles for a loss, two sacks, and a pair of quarterback hits to go with a forced fumble and five total tackles.
A closer look
: It was a night to celebrate quarterback
Andrew Luck
, who set the Stanford career touchdown passing record. But it was Thomas who excelled on the defensive side of the ball. Thomas got to work early, sacking
Tommy Rees
and forcing a fumble on Notre Dame's second possession, just outside the Stanford red zone. On Notre Dame's next offensive play following a Stanford punt, he recorded his first tackle for a loss. He added his second sack of the game — this time for minus-6 yards on
Andrew Hendrix
— five plays into the second half. Thomas is
projected as the top senior outside linebacker
in the country next year.
February, 13, 2012
2/13/12
5:00
PM ET
We're looking at the top individual performances in the Pac-12 in 2011.
Up next
:
Tevin McDonald
's pick-three.
Who & against whom?
UCLA's redshirt freshman safety helped the Bruins rebound from the 48-12 debacle in the desert at Arizona just one week before by leading a defensive charge against Cal.
The numbers
: McDonald did in one day what a lot of college football players accomplish in a career. He picked off Cal quarterback
Zach Maynard
three times to help the Bruins to a 31-14 win. Three interceptions in one game matches a UCLA school record.
A closer look
: Not that UCLA's cup was ever overflowing with confidence this season. But it hit an all-time low following the embarrassing loss to Arizona the week before. Cue McDonald and his secondary hat trick. More importantly, the Bruins didn't let his efforts go to waste. All three interceptions resulted in points -- two touchdowns and a field goal. Cal had five turnovers on the day and 24 of UCLA's 31 points came off of Cal mistakes. Two of McDonald's interceptions came in the fourth quarter. Holding on to a 17-14 lead early in the fourth, McDonald grabbed his second pick of the game, which set up a 20-yard
Derrick Coleman
run. Later in the fourth, he got his third interception just outside the UCLA red zone, which the Bruins turned around and marched 83 yards to close out the win.
February, 10, 2012
2/10/12
2:30
PM ET
By
ESPN.com staff
| ESPN.com
We're looking at the top individual performances in the Pac-12 in 2011.
Up next
:
Brock Osweiler
's arrival
Who & against whom
? Arizona State quarteback Brock Osweiler, a question in the preseason, produced his "hello world" performance in the Sun Devils 37-30 overtime victory over Missouri in Week 2 of the 2011 season.
The numbers
: Osweiler completed 24 of 32 passes for 353 yards and three touchdowns with no interceptions. He also rushed five times for 34 yards and a 12-yard touchdown.
A closer look
: Arizona State's season ended so dismally -- five consecutive defeats -- that many forget just how good the Sun Devils looked early in the season, when they were nationally ranked and appeared to be the overwhelming favorite in the Pac-12 South Division. And here's a guess that this game is a major part of the highlight package Osweiler wants NFL teams to see after he opted to enter the draft after his junior season. In this game, Osweiler's touchdown run gave the Sun Devils a 30-16 lead early in the fourth quarter. But the Tigers charged back and had a chance to win in regulation but missed a 48-yard field goal. Osweiler's 11-yard touchdown pass was the difference in OT. A tip of the cap goes out to Osweiler's top target in this game,
Aaron Pflugrad
, who hauled in eight passes for 180 yards and two scores.
February, 9, 2012
2/09/12
9:00
AM ET
We're looking at the top individual performances in the Pac-12 in 2011.
Up next
: Polk finds paydirt five times.
[+] Enlarge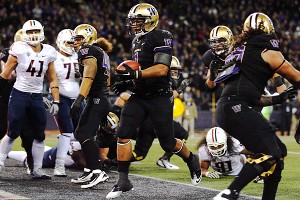 Joe Nicholson/US PresswireChris Polk's five-touchdown game -- with 100-plus yards rushing and receiving -- against Arizona was among the top Pac-12 highlights of 2011.
Who & against whom
? Washington running back
Chris Polk
carries the Huskies with a record-setting performance in a
42-31 victory
over Arizona.
The numbers
: Polk carried the ball 34 times for 144 yards and touchdown runs of 1, 1, 5 and 2 yards. He also caught four balls for 100 yards and a score.
A
closer look
: Coming off a 65-21 thrashing at Stanford the week before, the Huskies righted the ship against the Wildcats. And along the way, Polk became the first player in school history to have 100 or more yards rushing and receiving in the same game. Arizona jumped out to a 10-0 lead in the first quarter; Polk picked up his first score midway through the second quarter to give Washington its first lead of the game. They would relinquish it in the fourth before Polk scored a pair of touchdowns in the final quarter to close out the game.
February, 7, 2012
2/07/12
9:00
AM ET
We're looking at the top individual performances in the Pac-12 in 2011.
Up next
: Four scores and a freshman record.
Who & against whom
? Washington State quarterback
Connor Halliday
lifts the Cougars to a 37-27 win over fair-weathered Arizona State on a cold, wet and snowy November day in Pullman, Wash.
The numbers
: Pretty darn good for his first significant playing time. The redshirt freshman threw for 494 yards and four touchdowns on 27-of-36 passing. The yardage was a freshman passing record for Washington State.
A closer look
: There's nothing like an 85-yard touchdown pass to get a young player's confidence going. After ASU's
Jamal Miles
took the opening kickoff 95 yards to give the Sun Devils a 7-0 lead, Halliday clicked with
Marquess Wilson
(eight catches, 223 yards, three touchdowns) on the Cougars' third offensive drive with an 85-yard strike to tie the score. He also showed good poise late in the game, engineering a pair of fourth-quarter touchdown drives. The first was a 9-play, 89-yard drive that ended in his fourth touchdown pass of the game. The second was an 11-play, 80-yard march. Both drives consumed more than four minutes of clock.
February, 3, 2012
2/03/12
4:00
PM ET
We're looking at the top individual performances in the Pac-12 in 2011.
Up next
: KP1 goes all RG3.

Who & against whom
: Washington quarterback
Keith Price
turned in a jaw-dropping performance in the Alamo Bowl vs. Baylor, but the Huskies still fell to the
Robert Griffin III
-led Bears 67-56.
The numbers
: Where to start? Price threw for 438 yards on 23-of-37 passing and accounted for seven touchdowns -- four through the air and three on the ground. One of those passing scores was an 80-yard strike to
Jermaine Kearse
. He also rushed for 39 yards. The seven touchdowns matched a Washington record established in 1919.
A closer look
: Price had been labeled as a "scrambling" quarterback, but injuries kept him in the pocket the entire season. That helped him refine his game as a pocket-passer. When finally healthy, he was able to unleash his legs to score his first three rushing touchdowns of the season. Oh yeah, the other quarterback in this game -- Heisman Trophy winner Griffin III -- had 295 yards passing, one rushing touchdown and one passing touchdown. The performance elevated Price into the national conversation as an elite quarterback, but the result of the game spawned an overhaul of the Washington defensive staff.
January, 31, 2012
1/31/12
6:00
AM ET
We're looking at the top individual performances in the Pac-12 in 2011.

Up next: Stanford's running back corps.

Who & against whom? Stepfan Taylor, Tyler Gaffney, Anthony Wilkerson and Jeremy Stewart (among others) at home against Washington on Oct. 22.

The numbers: Taylor rushed for 138 yards and a touchdown, Gaffney rushed for 117 yards and a score, Wilkerson added 93 and two touchdowns and Stewart tacked on 20 and a score as Stanford rushed for a school record 446 yards against the Huskies. Worth noting that Andrew Luck, contributed 23, wide receiver Chris Owusu had a 45 yard end-around and fullback Geoff Meinken added a 10-yard run.

A closer look: First, no rushing record is complete without a tip of the cap to the big boys up front, who punctured holes that allowed Stanford five touchdowns on the ground and a ridiculous 10.1 yards per carry average. And negative rushing yards? Zero. That said, some of the praise also goes to Luck, who called a good chunk of the plays at the line of scrimmage and -- as David Shaw tells the story -- told his coach it was the finest game of his career. Washington's Chris Polk set the standard with 144 yards (including touchdown runs of 46 and 61 yards). But the Cardinal answered with a 70-yard touchdown run by Taylor (the longest of the season) and then a 38-yard touchdown by Wilkerson that set the school record. Oh yeah, Stanford also won 65-21. A historical night on The Farm.
January, 30, 2012
1/30/12
4:00
PM ET
By
ESPN.com staff
| ESPN.com
We're looking at the top individual performances in the Pac-12 in 2011.
Up first
: The Buff Duo.

Who & against whom
? Colorado quarterback
Tyler Hansen
and receiver
Paul Richardson
vs. California on Sept. 10.
The numbers
: Richardson caught 11 passes for a school-record 284 yards and two TDs, and Hansen passed for a school record 474 yards and three scores and no interceptions in a 36-33 overtime loss to California.
A closer look
: It takes a lot for a losing performance to earn a top performance nod, but setting a pair of major offensive school records is a lot. Richardson's total was the top receiving performance in the conference this season, and Hansen's passing yardage total ranked third. The pair helped the Buffaloes rally from a 10-point second-half deficit to force overtime. Further, these numbers were compiled by a bad offense against a good defense. The Buffs ranked 11th in the Pac-12 in total offense and 12th in scoring, while the Bears ranked first in total defense, fourth in scoring and No. 1 in pass efficiency defense. Hansen's 474 yards passing was 15 percent of the Buffs' total passing yards in 2011. While it was a so-close-but-yet-so-far ending for Colorado, that doesn't subtract from a scintillating performance.