April, 13, 2012
4/13/12
9:00
AM ET
All players are equal, but some players are more equal than others. That's the basis of our Most Important Player series.
First off, quarterbacks are excluded to make things more interesting. It goes without saying that Arizona's
Matt Scott
, USC's
Matt Barkley
and Washington's
Keith Price
are their teams' most important players. Their losses would be catastrophic.

And most important doesn't necessarily have to be "best." An All-American's backup can be pretty darn good, too.
Our most important guys are players who could swing a win total one way or the other, based on their living up to expectations. Or their absence.
Oregon
: RB
Kenjon Barner
2011 production
: Barner rushed for 939 yards with 11 touchdowns -- 6.2 yards per carry -- and caught 17 passes for 184 yards with three TDs.
Why Barner is so important
: The good news for the Ducks is their depth makes few players irreplaceable (alternatives here might have been DE
Dion Jordan
or safety
John Boyett
). But Barner is the clear choice for his own value and for what losing him would force the Ducks to do in order to adjust. Start with who Barner is: He's gained 1,836 yards rushing -- 6.1 yards per carry -- and scored 20 rushing TDs over the previous three seasons as
LaMichael James
' backup. He's also caught 34 passes for 335 yards with five scores and returned kicks and punts. The 5-foot-11, 195-pound senior has long been one of the best and most versatile running backs in the Pac-12, only he played behind one of the best RBs in conference history. This season is his chance to shine, so you'd expect him to be highly motivated to showcase his own skills. Further, Barner is a cool customer. His veteran presence in the huddle, which will feature a new starting QB, will be critical. He's been there, done that. He won't care if the entire college football world is watching on Nov. 3 when the Ducks visit USC in a game with almost certain national title implications. But if the Ducks were to lose him, things would get, well, interesting. For one, the transfer of promising
Tra Carson
, who would have played the "big" back role, was a blow. Second,
De'Anthony Thomas
is obviously fully capable of being spectacular wherever he plays, and if Barner were gone, he'd likely line up in the backfield more often than at receiver. Of course, it's fair to question Thomas' durability as a full-time running back, and obviously Thomas lining up without Barner significantly reduces stress on an opposing defense. My guess is that coach Chip Kelly would be thrilled if touted incoming freshman
Byron Marshall
proves he can be Barner's backup, with Thomas being the situational guy who lines up all over the place. It's odd to say this because just a few years ago Oregon's roster was chock full of talented RBs, but the lack of depth in the backfield is a legitimate concern heading into 2012.
April, 3, 2012
4/03/12
2:30
PM ET
Through me the way to the suffering city; Through me the everlasting pain; Through me the way that runs among the Lost. Justice urged on my exalted Creator: Divine Power made me, The Supreme Wisdom and the Primal Love. Nothing was made before me but eternal things And I endure eternally. Abandon all hope - You Who Enter Here.
April, 3, 2012
4/03/12
11:33
AM ET

In news that is no surprise, Oregon officially announced Monday that running back
Tra Carson
, who was in line to be the Ducks' power back behind
Kenjon Barner
and
De'Anthony Thomas
,
is transferring
.
In a news release, the school said Carson "did not return to school for the start of the spring term classes Monday, and intends to transfer closer to home."
The 6-0, 227-pound Carson ran for 254 yards and one touchdown in 10 games as a true freshman in 2011, in addition to catching one pass for six yards.
Carson's transfer opens the door for incoming freshman
Byron Marshall
to earn playing time this fall.
March, 16, 2012
3/16/12
6:52
PM ET
Happy Friday.
Follow me on Twitter
.
This mailbag is being done at Bunk Sandwiches in Portland. I am about to eat a pork belly cubano. You should hate me for this.
To the notes:
Jeff from Salem, Ore., writes
: With yet another transfer how big of an issue is RB depth at Oregon? And is Josh huff next to leave?
Ted Miller
: You refer to the expected transfer of
Tra Carson
, who rushed for 254 yards as a true freshman and was expected to be the Ducks No. 3 RB -- and power option -- behind
Kenjon Barner
and
De'Anthony Thomas
. When you toss in the other recent transfers of Dontae Williams and
Lache Seastrunk
, an abundance of riches at the position is no longer so abundant.
Things are tight but hardly desperate. Barner replaces
LaMichael James
as the starter and Thomas takes on a hybrid role as a RB/WR. With no Carson, the need now is to find a No. 3. While that likely will include plenty of in-game touches, fretting the No. 3 RB is digging fairly deep in the worry bag. The most likely No. 3 now is incoming freshman Byron Marshall, younger brother of Arizona State's
Cameron Marshall
-- ergo, good bloodlines.
If everyone stays healthy, that sounds like a solid threesome. But if Barner or Thomas were to get hurt, things would be iffy.
What about receiver
Josh Huff
? My feeling is Huff will be with the Ducks next year after he
resolves his off-field issues
, though my guess is he'll get a great big frowny face from coach Chip Kelly. As he should. I also suspect he stays at receiver, though his talents do translate well to running the football. Remember: Kelly isn't the sort to feel bound by traditional position names. But Huff rushed for 214 yards in 2010 -- 17.8 yards per pop -- and zero in 2011. That suggests he's a receiver, particularly with his being the most experienced returning receiver on the team.
And don't be surprised if sometime this spring or in the fall that you read about a position change. Kelly is obsessed with recruiting speed, so he could always switch a defensive back or receiver to running back. You know, like he did with Barner.
---
Rabid Husky from Everett, Wash., writes
: You know how proud [Washington fans] are of our history of stout, intimidating defenses.The Alamo was disappointing on so many levels defensively.Husky fans like my self are excited but nervous about the guys we've hired on that side of the ball. My question to you is two fold:-Do you think Wilcox and co can get this unit to the middle of the pack in the conference? While i know we lacked talent at spots, i refuse to believe this was a unit-wide dilemma. We do have some talent on the defense that is young and needs coaching up and i think Wilcox's freshman friendly system and his flexibility will show that. Do you agree?-With a mediocre defense we won 7 games. Improved defense and offensive line play will be the key to being competitive with the elite teams like USC and LSU. How much improvement do you see from the defense? If the defense is average (middle of the pack), how do you see our season turning out?
Ted Miller
: One of the bigger surprises to me was how bad the Washington defense was in 2011. I wrote a lot in the preseason about how I expected it to improve, so it's general turrible-ness bothered me because it allowed people to remind me how wrong I was. Some of you seem to enjoy that.
The talent coming back in 2012 is OK. I'd rate the talent middle-of-the-road in the conference already.
But I believe that new coordinator
Justin Wilcox
is a game-changer, a guy who has instincts about both understanding the nuanced talents of his players as well as the Xs and Os side of things.
The question is how quickly Wilcox and his players get in sync. His defense at Tennessee made a big jump in year two after surging late in 2010.
If the Huskies defense improves 20 percent in scoring, it will give up 26.7 points per game, which would have rated sixth in the conference in 2011.
That's my prediction. And if it comes true, the Huskies will win eight games.
---
Jeff from Salt Lake City writes
: Considering we still do not know Oregon's fate, this may be a waste of breath. But in the event that they do receive a bowl ban in 2012 and USC runs the table on the way to the BCS NCG, we may be looking at the most hotly contended 3rd place battle in Pac-12 history. Stanford and Utah both appear to have an outside shot as Rose Bowl replacements, but I want to know your take. Do you believe that there's a team behind USC and Oregon in 2012 that could win 10 games and finish within the Top-15 of the final rankings to receive that hypothetical Rose Bowl bid? And if you do, who do you think stands the best chance to do so?
Ted Miller
: I doubt Oregon will be banned from the 2012 postseason. At this point, I also doubt that, if USC and Oregon are the top two teams in the Pac-12, that there will be a third team ranked in the top 14 of the final BCS standings as required to be an at-large selection for a BCS bowl game, though I would rate Utah and Stanford as the most likely possibilities.
The question is this: Is there a team, other than Oregon or USC, that is capable of finishing 10-2? Last year, only two three-loss teams -- Baylor and Oklahoma -- were in the final top 14 of the BCS standings with three defeats. Of course, there are plenty of variables here because every season is different.
There also might be a question of whether the Rose Bowl would stick to its traditional matchup in the event that, say, Stanford was 9-3 and ranked 14th. With all the playoff talk of late, which could threaten the Rose Bowl's previously thought unbreakable connection to the Pac-12 and Big Ten, would the Rose Bowl pass up, say, No. 6 Texas in favor of a three-loss team that finished third in the Pac-12 pecking order? Recall the joke of a matchup when the Rose Bowl put No. 13, three-loss Illinois in the Rose Bowl opposite USC after the 2007 season. As the college football landscape changes, would the Rose Bowl want to relive that, instead of going with a potential top-10 matchup that would produce higher ratings?
As for looking at Stanford and Utah, the Cardinal has a tougher schedule. It plays Oregon, USC and Notre Dame, as well as in the tougher North Division. Utah misses Stanford and Oregon and plays host to USC and BYU. It wouldn't surprise me if one or the other ended up 9-3. But I don't see the dominoes falling in a way that either ends up in the Rose Bowl as an at-large selection.
---
Nick from Los Angeles writes
: Can you do me a favor and write an article about how good Oregon will be on defense next year. Please highlight
Dion Jordan
,
John Boyett
,
Michael Clay
,
Kiko Alonso
,
Boseko Lokombo
. Please use the word "scary." And can you get it on the front page of the ESPN college football page, with a picture. Thanks a million.Nick
Ted Miller
: Nick is being witty, but after chatting with John Boyett this past week, I'm starting to buy-in. He was able to selling me pretty well that some of the concerns -- replacing DE
Terrell Turner
and rover
Eddie Pleasant
-- won't be that big of a deal.
The Ducks' defense was solid last year, ranking fifth in the conference in scoring and total defense. And, as Ducks fans often note, the defense's yards per play of 5.07 was second in the conference behind Utah.
I'd rate it a high degree of certainty the defense doesn't take a step back. A significant step forward would mean it ranking in the top fourth of the Pac-12 and top 25 in the nation.
March, 4, 2012
3/04/12
6:31
PM ET
Wouldn't it be great if we could get to fall camp with no stories about off-field issues, other than perhaps a trip or two by players to the children's hospital?
Alas, with 18-to-25-year-olds there are going to be troubles, and players from Oregon and Washington State both have made news for the wrong reasons.
At Oregon, junior receiver
Josh Huff
was charged with
DUI early Saturday morning
. Huff is the Ducks second-leading returning receiver heading into 2012, though
De'Anthony Thomas
is a hybrid receiver-running back, so he could be considered the leading returning wideout. Huff caught 31 passes for 430 yards and two touchdowns last season as a sophomore.
At Washington State, junior linebacker
Sekope Kaufusi
was
kicked off the team after his arrest last week
for possession of marijuana and drug paraphernalia. New coach Mike Leach is clearly setting strict standards for discipline, but his LB corps is paying for it. Leach previously booted C.J. Mizell after he was arrested on an assault charge on Feb. 5. Both Mizell and Kaufusi were returning starters at a position that now lacks any significant experience.
The Ducks also appear to be losing a backup running back, though
Tra Carson
is
opting to transfer
. A 227-pound true sophomore who rushed 254 yards and a touchdown last year, he was expected to give the Ducks a power back to compliment Thomas and
Kenjon Barner
.
His transfer could open the door for touted incoming freshman Byron Marshall.
October, 13, 2011
10/13/11
2:00
PM ET
The facetious question was met with a laugh from Arizona State coach Dennis Erickson.
So, with Oregon running back
LaMichael James
almost certainly out with a dislocated elbow for Saturday's game against the Sun Devils, the Ducks' offense is likely hamstrung and lacking weapons, correct?
Hardy-har-har. Replied Erickson, "You name them, they've got them."
Oregon coach Chip Kelly was asked who would replace James and what would change with his offense. He listed his depth chart:
Kenjon Barner
and a pair of true freshmen,
De'Anthony Thomas
and
Tra Carson
.
[+] Enlarge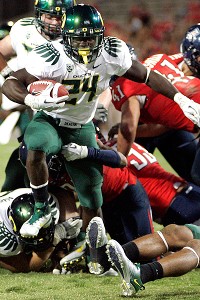 AP Photo/Wily LowKenjon Barner will look to fill the void with LaMichael James out of the lineup.
As for changes, Kelly was his typical, expansive self: "Nothing changes."
Well, he could have just said, "Nothing."
He's mostly right. Sure, James is the nation's best game-breaking back. Sure, he's had more 20-yard runs in his career than any other back in college football. Sure, he is an outstanding return guy and has dramatically improved in the passing game.
But Barner, James' best buddy on the team, is a pretty good backup plan. He'd be the starter for, oh, about 110 teams in the nation.
"Very similar," Kelly said of Barner and James. "I've always felt they were 1 and 1A here. They are both explosive. They both can go the distance."
And, according to Oregon's top-of-the-line stopwatches, Barner and James, who both tip the scales at 195 pounds, are a push in terms of speed and quickness. Barner's electronically timed 40-yard dash is the equal of James', but Barner beat James in the shuttle run and vertical jump.
Barner had 228 all-purpose yards at Tennessee last season, including an 80-yard punt return for a TD. He eclipsed 100 yards rushing twice last season on his way to 551 yards, despite missing two games with a concussion.
So, he's good.
And Thomas looks like a budding star. The multipurpose threat is the Ducks' leading receiver and has accounted for six TDs, four receiving. He averages 7.6 yards per rush and 16.8 yards per reception.
Carson, meanwhile, is the 227-pounder who offers the power element, a la former Duck RB LeGarrette Blount.
"They have got so much depth," Erickson said. "You take Barner, you take De'Anthony Thomas -- who we tried to recruit -- and they're something special. They're solid in all areas. They're not going to try to change anything. They do what they do and they've got depth to do it, so you don't treat it any different whether he plays or whether he doesn't."
Still, it's hard not to turn more focus to Ducks quarterback
Darron Thomas
. He's been fairly efficient this season -- 15 TD passes, just two interceptions -- but his 208 yards passing per game ranks 10th in the Pac-12, and he's been far less of a running threat than last season (see: just 18 carries for 100 yards).
"Darron has done a really good job for us, managing the game, taking what the defense gives him," Kelly said. "He's been very efficient with the ball."
Kelly, who's not one to give in to reporters' questions, actually admitted that, yes, Thomas is running less this season due to play calling. (Sure, that's a "duh" admission, but it feels notable for reporters who regularly hear Kelly quibble over every detail: "No, Ted, the sky isn't really blue. That's about Rayleigh scattering -- light waves from the sun passing through our atmosphere.")
Part of that is Thomas taking what the defense gives him. Kelly said Thomas has been making the proper reads in the Ducks' diverse option game. But Kelly also said that he's called fewer zone-read plays this season.
Still, Thomas has shown in the past that he can run the ball well, and that forces a defense to account for him. The Sun Devils' defensive coaches surely asked themselves whether Thomas might be more of a factor in the running game with James out.
"For us to be successful, he has to be a viable running threat," Kelly said. "When defenses have forced him to run, he's done a good job with it."
Of course, the Sun Devils will focus first on containing the Ducks' running game, which they mostly stymied last season. That means Thomas, the passer, likely will need to make plays, and that receivers
Lavasier Tuinei
and
Josh Huff
, as well as De'Anthony Thomas, will need to step up.
Might this be a coming out party for the Ducks' passing game, which has been prolific just once this season, when Thomas passed for 295 yards and six TDs (although on just 19 attempts) against Nevada?
That's the thing about the Ducks: You don't know. Their offense can beat you a lot of ways, even without the nation's best running back.
"You try to make them earn it and keep the big plays down," Erickson said. "You run to the football and tackle."
In other words, nothing changes.
February, 18, 2011
2/18/11
9:42
AM ET
More than a few Oregon fans were curious how Ducks coach Chip Kelly would get enough touches for his talented stable of running backs to keep them happy. Well, one way is to have fewer hands wanting the ball.
Dontae Williams
, a touted redshirt freshman from Houston, has been granted a release to transfer from Oregon,
according to the school
.
Williams and
Lache Seastrunk
, another touted redshirt freshman who apparently eclipsed Williams in the pecking order in 2010, were expected to compete for carries behind juniors
LaMichael James
and backup
Kenjon Barner
. The Ducks also signed two highly rated running backs in the 2011 recruiting class: De'Anthony Thomas and Tra Carson.
So now Kelly will have five sets of hands who want the ball instead of six.