Pac-12:

Trojans-Wildcats-102712
October, 27, 2012
10/27/12
10:14
PM ET
TUCSON, Ariz. -- The Arizona defender had fallen down, and USC receiver
Robert Woods
was all alone running down the sideline. Quarterback
Matt Barkley
leaned back and heaved the ball. Woods ran, the ball arced. It looked like a sure touchdown, one that probably would have started the conversation about the Trojans' huge game with Oregon the following weekend.
Woods ran. It felt perfectly scripted, a pair of superstars hooking up and making a definitive statement together.
Then the ball thudded to the turf a few yards in front of Woods. Barkley flat-out missed what should have been an easy 87-yard touchdown midway through the third quarter that would have pushed the USC lead to 22.
"I'll be thinking about that play all night," Barkley said. "I got a little too excited. I just didn't put enough air under the ball."
When your singular goal is a national title, every play matters. The details matter.
What happened next is Arizona took over the game, scoring 26 consecutive points, then holding on at the end for a
39-36 victory
, with a Barkley Hail Mary pass falling harmlessly to the turf on the game's final play.
Just like that -- poof! -- USC's national title hopes died. The Trojans, who in the preseason looked like they were again ready for their national close-up after an NCAA-imposed two-year hiatus, now merely become the potential spoiler when the Ducks come to the Coliseum hoping to keep their national title run alive.
Arizona outlasted USC in this infinitely sloppy four-hour affair. The Trojans lost despite one of the all-time great performances from
Marqise Lee
, who broke the Pac-12 single-game receiving record with 345 yards on 16 receptions with two touchdowns. He also had a 72-yard kickoff return that set up a quick touchdown with 4:40 remaining that briefly perked up USC's hopes.
[+] Enlarge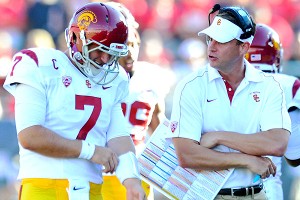 Matt Kartozian/US Presswire"There are plays in every game that haunt you," USC coach Lane Kiffin said -- and quarterback Matt Barkley, left, agreed.
All USC needed to do was get a quick stop on defense. It didn't. The Wildcats got two first downs, forced USC to burn its final two timeouts and left Barkley and company with just 55 seconds from their 13-yard line to make a miracle comeback.
But this USC team, which seemed destined for greatness in the preseason, couldn't find that miracle.
And now the hard question: With its chief goals dashed, how will the Trojans (6-2, 4-2 Pac-12) react?
"We stick together," Barkley said. "That's the beauty of football. You experience the most exhilarating moments of your life and you learn how to cope and deal with some of these losses."
He then added, "We can still do something special."
USC could still go to the Rose Bowl. It could still win the South Division and then win the Pac-12 title game. Or it could collapse, losing four or five games. None of USC's final four games -- Oregon, Arizona State, at UCLA and Notre Dame -- are gimmes.
While Arizona (5-3, 2-3) played well in the second half, asserting itself as the Trojans seemed to wilt, the Trojans also were stunningly mistake-prone. Two of the Trojans' five turnovers were baffling Barkley interceptions. Arizona had only one turnover, a
Jawanza Starling
interception that he immediately fumbled back to the Wildcats on his return.
USC also surrendered a 60-yard pass from Arizona quarterback
Matt Scott
to
Austin Hill
on a third-and-22 play from the Wildcats' 16-yard line. That play set up the Wildcats' go-ahead score early in the fourth quarter.
"There are plays in every game that haunt you," USC coach Lane Kiffin said.
Kiffin further expressed bafflement at how penalty-prone the Trojans are. USC was flagged 13 times for 117 yards. Of course, Arizona had 14 penalties for 129 yards, So, yeah, it was sloppy for both sides.
Arizona coach Rich Rodriguez immediately noted that his team "didn't play very well." But he also liked what beating the Trojans means for his team.
"I think it makes us more relevant -- it should," he said. "I don't think we're a top-10 team, we've lost three games, but it gives us confidence. I hope it makes people notice. I hope it makes recruits notice."
On this day, Arizona's chief relevance came in making USC irrelevant nationally.
In one of the most celebrated moments of the offseason, Barkley stood in front of a Christmas tree last December in Heritage Hall and announced he was returning to USC for his senior season to take care of "unfinished business."
It will remain that way.
October, 27, 2012
10/27/12
7:45
PM ET
TUCSON, Ariz. -- Arizona notched a huge upset over No. 9 USC,
winning 39-36
. Here are some initial thoughts.


It was over when
: USC quarterback
Matt Barkley
's Hail Mary pass was knocked down in the end zone and the clock struck zero.
Game ball goes to
: Arizona. Just a gritty, tough effort. Scored 26 consecutive points in a 15-minute span of the second half to take down the Trojans. The offense wore down USC, while the defense had just enough for the Wildcats to win.
Stat of the game
: 1,206. That's the total yards in the game. USC had 618.
Stat of the game II
: 5. Number of USC turnovers, including two interceptions from Barkley.
Unsung hero of the game
: Well ... he'll be pretty "sung," but he doesn't get the game ball. In a losing effort, USC's
Marqise Lee
turned in perhaps the greatest performance by a receiver in Pac-12 history -- the greatest if you judge by receiving yards. He set a new Pac-12 record with 16 catches for 345 yards. He also had a 72-yard kickoff return.
Best call
: On third-and-22 from the Arizona 16, Wildcats quarterback
Matt Scott
threw a 60-yard pass to
Austin Hill
. It set up Arizona's go-ahead score.
Second-guessing
: On fourth-and-2 from the Arizona 29-yard line, USC called a reverse to Lee.
What USC learned, what Arizona learned
: USC learned that its national title hopes are over. It will be interesting to see how the Trojans react next week when Oregon comes to visit. And thereafter. Arizona learned that it has advanced much faster than just about anyone thought possible under new coach Rick Rodriguez. This team is banged up, but it plays with resolve. At 5-3 overall and 2-3 in the Pac-12, it might still end up having a say in the South Division.
What it means
: It means the game we all fingered in the preseason as the Pac-12 game of the year -- perhaps the national game of the year -- won't be nearly as epic. It will be meaningful, of course, for Oregon, which is still in the national title hunt, but USC's loss also takes some starch out of the Ducks, who need quality wins to bolster their BCS standing.
October, 27, 2012
10/27/12
5:45
PM ET
TUCSON, Ariz. -- It was a horrible
first half
of football between USC and Arizona, but it was partially redeemed by Trojans receiver
Marqise Lee
, who was unstoppable.
Lee caught 12 passes for 255 yards with a TD in the first half. Yes, you read that correctly.
USC quarterback
Matt Barkley
completed 21 of 29 passes for 321 yards with two TDs. He also had two bad interceptions and a couple of throws that should have been intercepted.
Lee's brilliance made normally "wow!" numbers from Arizona receiver
Austin Hill
-- 7 receptions for 143 yards -- seem almost mundane.
But all of the fine playmaking at receiver was overshadowed by the sloppiness. The Trojans had eight penalties for 79 yards and four turnovers. The one turnover they forced from Arizona, they promptly fumbled away.
Both teams killed big plays with drops -- receptions and interceptions.
Arizona got into the act with 10 penalties for a season-high 99 yards. The Wildcats saw a made field goal on the last play of the half taken off the board after a holding call. The subsequent 36-yard effort was no good.
The Trojans came back from a 10-0 deficit. They are trying to get to a marquee matchup with Oregon next weekend, but they probably need to play better in the second half to get out of Tucson with a W.
Arizona gets the ball to open the third quarter.
October, 27, 2012
10/27/12
1:44
PM ET
TUCSON, Ariz. -- Pac-12 folks have been talking about Nov. 3 all season. Arizona is hoping to make Oct. 27 memorable.


And if USC isn't careful -- fully focused on the task at hand --
Matt Scott
and the Wildcats could finish
Matt Barkley
's "unfinished business" well before anyone expected it to happen.
Oregon can wait. This Wildcats' offense is too dangerous to be trifled with. Heck, ESPN GameDay's Kirk Herbstreit already predicted the upset.
Arizona, which runs an offense similar to Oregon's, though far more pass-happy, leads the Pac-12 with 548.7 yards per game. They were notoriously shut out at Oregon, but that game appears to be an anomaly. They've averaged nearly 46 points in their other six games, including scoring 48 against Stanford's rugged defense.
USC defense has been very good this season, ranking second in the Pac-12 and 18th in the nation in scoring, giving up just 16.7 points per game. If the Trojans hold the Wildcats under 30 on the road, that would be a respectable performance. Under 20, and they'd make a declarative statement heading into The Game That Shall Not Be Named On This Day.
Then, of course, there's the obvious mismatch. The Wildcats scrappy but often overwhelmed defense vs. USC's star-studded offense. Arizona has yielded 30.4 points per game. There's a sense that Barkley and his receivers,
Robert Woods
and
Marqise Lee
, as well as the Trojans' outstanding tight end tandem of
Randall Telfer
and
Xavier Grimble
, should feast today.
On the other hand, the Wildcats' defense is better against the pass -- sixth in the conference in pass efficiency defense -- than the run, where they rank 10th in the conference and surrender 174 yards per game.
Still, while USC will seek balance, Barkley is the Trojans' bell cow. Arizona coach Rich Rodriguez gushed about him this week as perhaps the best quarterback in Pac-12 history, and he's looked that way in two of the past three weeks. That said, the Trojans' offense looked awful two weeks ago against Washington, a team the Wildcats sliced and diced last weekend.
If things go according to the grand scheme, USC and Barkley will win decisively and set up a game next weekend of national import in the Coliseum against the Ducks.
But what is it they say about the best laid plans?