July, 9, 2013
7/09/13
5:30
PM ET
The preseason awards roll-out continues today with the Mackey Award preseason watch list, which honors the most outstanding college tight end.
As expected, the Pac-12 is well represented with seven of the 37 players on the watch list. You can see the complete list of players
here
.
Here are the Pac-12's players on the watch list:
Solid list. The Pac-12 has had some elite tight ends the past few years. Though Stanford fans are probably still bitter over last year's selection of Notre Dame's Tyler Eifert over Zach Ertz. In case anyone needs reminding, it was the first time a unanimous All-American didn't win the award.
Grimble and Telfer are a dangerous one-two punch. Coyle and Murphy are sneaky good, and considering the way Stanford has used the tight end under David Shaw, it makes sense that Kaumatule is on the watch list.
Seferian-Jenkins is widely considered the top tight end in the country, and Lyerla isn't far behind, if at all. Should be another strong year for tight ends in the Pac-12.
May, 28, 2013
5/28/13
12:30
PM ET
There should be no joy when a college football player shows "
poor academic judgment
," as Notre Dame quarterback
Everett Golson
described his turn of misfortune, thereby earning a suspension that ended his 2013 season before it began.
So stop smiling, particularly you guys in Tempe, Los Angeles and Palo Alto.
Seriously, that's not terribly charitable.
In any event, Golson's academic pratfall dramatically changes the complexion of the three Pac-12 games with Notre Dame this season: Arizona State in Cowboys Stadium on Oct. 5, USC on Oct. 19 and at Stanford on November 30.
While Golson was inconsistent as a redshirt freshman starter last fall, he still was good enough to lead his team to an undefeated season and a berth in the national title game. Word this spring was
he looked more in command
and greatly improved, which makes sense for a second-year starter. It's not unreasonable to believe the big-armed, speedy dual-threat QB would have been more of a dual threat this fall, perhaps significantly more, a guy who well fit what coach Brian Kelly wants to do on offense.
There is no way to sugarcoat it: Notre Dame just got worse. And that benefits the Irish's opponents.
With Golson back, one could overlook obvious issues for an offense that only finished 78th in the nation in scoring last year. Now, not so much. As ESPN.com's Matt Fortuna pointed out, this offense "features two new starting linemen, is down its top two running backs from last year, and has no sure answer to replace record-setter Tyler Eifert at tight end."
So the Irish are going to -- again -- lean heavily on their defense. Arizona State, USC and Stanford each have offenses that, at least in terms of potential, can more than match up with what should again be a good Notre Dame defense. And all three should have an advantage when their defense squares up with the new-look Irish offense, particularly Stanford.
With Golson gone, the most obvious answer is experienced senior
Tommy Rees
. He has 18 career starts and has played well at times, but he's far from big armed and he doesn't have the running ability Golson has. Life gets much easier for a defense when the opposing QB isn't a substantial run threat.
While it's unseemly to leap into the air and click your heels together over a foe's misfortune, it is fair to say that Todd Graham, Lane Kiffin and David Shaw didn't have their Memorial Day weekend ruined by this news.
April, 24, 2013
4/24/13
9:00
AM ET
Tomorrow, we'll know. But for one more day, we mock.
The
Darrelle Revis
trade forced ESPN.com's Todd McShay to go back in and reevaluate the
Mock Draft 5.0

that he released earlier this month. That was a good looking mock draft for the Pac-12, which had Oregon's
Dion Jordan
going No. 2, Utah's
Star Lotulelei
going No. 4, Washington's
Desmond Trufant
at No. 21 and UCLA's
Datone Jones
going No. 29.
But the Revis trade sent shockwaves -- at least through the mock world. Things
look a little different

for the conference in Mock Draft 5.1.
The trade also has Mel Kiper Jr.
re-thinking his first round

. Here's where the Pac-12 players stand in his updated mock draft.
Interesting to see that McShay dropped Trufant all the way off his board, while Kiper has him in the top 20. Also, an appearance from Long in the first round suggests that his stock has risen considerably in the last few weeks.
Obviously, tomorrow will settle the debate. But we've now seen anywhere from three to nine Pac-12 players who could go in the first round. As of Feb. 19,
the consensus among the fans
(though not by much) was that the Pac-12 would have four players go in the first round.
Right now Jordan and Lotulelei seem like locks. We thought Trufant was a lock (and the Pac-12 blog still believes he is), though McShay thinks otherwise. Ertz has been on the fence -- though Notre Dame's
Tyler Eifert
has widened the gap between the top two tight ends. One scout
told the San Jose Mercury News' Jon Wilner
that Ertz's "lack of being a blocker " likely has him targeted for the second round.
Stepfan Taylor
might disagree.
Jones and Long are intriguing possibilities. Jones' stock has been climbing since the NFL scouting combine in February. Woods, USC quarterback
Matt Barkley
and Cal's
Keenan Allen
are all up in the air and have been projected anywhere from the first to third rounds.
March, 13, 2013
3/13/13
7:00
PM ET
Yesterday we brought you the
latest mock draft updates
from Mel Kiper Jr. and Todd McShay and as you can see from the post, there are as many as six Pac-12 players who could go in the first round.
Along with his mock draft, Kiper also updated his
Big Board

and
top five player rankings for each position

. There are just two players on the Big Board --
Dion Jordan
and
Star Lotulelei
-- but among the position rankings the conference is well-represented. The position groups that don't have a top five player from the conference are fullbacks, offensive tackles, inside linebackers, safeties and kickers.
Here's how the Pac-12 players rank in their respective positions:
Quarterbacks
No. 2
Matt Barkley
, USC
Kiper's take:
I have
Geno Smith
now ahead of Matt Barkley, but Smith must perform well at his pro day this week.
Running backs
No. 3
Johnathan Franklin
, UCLA
Wide receivers
No. 4
Keenan Allen
, Cal
Tight ends
No. 2
Zach Ertz
, Stanford
Kiper's take
: (Notre Dame's Tyler) Eifert has created a little separation. He has the best range of traits and athleticism. Ertz is likely the No. 2 tight end taken. Both have the pass-catching skills of wide receivers and, given their size, can also overwhelm corners. There are about 10-12 intriguing tight ends in the class.
Offensive guards
No. 3
Kyle Long
, Oregon
Kiper's take
: The guy who has really leapt in the eyes of evaluators in recent weeks is Long, who worked out really well in Indy, and could at least fill in at tackle in a pinch, though guard will be his best position.
Centers
No. 2
Brian Schwenke
, Cal
Defensive ends
No. 3
Datone Jones
, UCLA
Defensive tackles
No. 2 Star Lotulelei, Utah
Kiper's take
: Lotulelei is a certain top-10 pick if everything with his heart checks out, but we're waiting.
Outside linebackers
No. 2 Dion Jordan, Oregon
Kiper's take
: Jordan has shown the ability to move and tackle in space, and really jumped from his combine performance.
Cornerbacks
No. 2
Desmond Trufant
, Washington
Punters
No. 1
Jeff Locke
, UCLA
No. 3
Josh Hubner
, Arizona State
Kiper's take
: Locke very well could end up being the top punter taken.
March, 4, 2013
3/04/13
7:00
PM ET
For those on the
Zach Ertz
side of the Ertz. vs.
Tyler Eifert
debate -- you'll probably enjoy listening to what Colin Cowherd had to say about the former Stanford tight end.
Ertz joined Cowherd on "The Herd" this morning and Cowherd
couldn't stop singing his praises
.
I think he will emerge in this league initially and just blowup. He is a tight end who they say is the best blocking tight end in this draft and can go vertical. He did not play on a team with another passing threat. And yet had several catches over 30 and 20 yards.
The unanimous All-American was the leading receiver for the Cardinal, catching 69 balls for 898 yards and six touchdowns. He averaged 64.1 receiving yards per game. Cowherd even went so far as to say he believes Ertz will be a better NFL player than
Coby Fleener
, who paired with Ertz at Stanford and was a favorite target of
Andrew Luck
.
Said Ertz:
I think I can play in any system to be honest. I was used all over the field at Stanford. Whether it's a pro-style or more of a spread offense, I'd fit in great in either one. Stanford is a run-first team and being in that run-first offense has set me up well for the next level.
Ertz showed up big time in Stanford's biggest games in 2012. He had either the tying or go-ahead touchdown catch versus USC, Oregon State and Oregon.
Depending on which mock draft you believe, Ertz is either going late in the first round or early in the second round. ESPN's Todd McShay rated Notre Dame's Eifert -- the Mackey Award winner -- as the No. 22 player
in his top 32

with Ertz checking in at No. 28. Mel Kiper Jr. has Eifert at No. 18
on his Big Board

and does not list Ertz.
Ertz said he met with just about every team at the combine.
I met formally with well over half of the league and then I met informally with the other half. I thought each team was somewhat interested. I think I had a very good college career so I think all of the teams were pretty interested.
You know which side of the debate the
Pac-12 blog comes down on.
February, 25, 2013
2/25/13
11:00
AM ET
Some tough news coming out of the scouting combine this weekend for Utah defensive tackle
Star Lotulelei
. ESPN's Chris Mortensen first reported that Lotulelei -- a projected top-five pick --
would not be allowed to work out today
with the rest of the defensive lineman after an echocardiogram revealed a heart condition that requires additional testing.
From Mortensen's story:
Lotulelei was discovered to have an abnormally low Ejection Fraction, detecting that the left ventricle of his heart was pumping at only 44 percent efficiency, sources said. The normal range is between 55-70 percent efficiency.

The 6-foot-2, 311-pound Lotulelei will undergo further testing in Salt Lake City in an effort to seek more clarity with the condition, a source said. If it's a confirmed chronic condition, medical experts consider it an indication of possible heart damage.
The All-American posted 42 tackles in 2012, including 10 tackles for a loss and five sacks. He's expected to visit a specialist this week and plans to participate in Utah's Pro Day on March 20.
Scouts Inc. ranks Lotulelei as the No. 1 overall player in the draft.
Schwenke rising
Former Cal offensive lineman
Brian Schwenke
, longtime
friend of the Pac-12 blog
, had a strong combine performance. He was among the top performers in the 3-cone drill and 40-yard dash (see results below). Daniel Jeremiah of NFL.com said Schwenke's stock is
trending up
.
Writes Jeremiah:
I really liked Schwenke on tape and he continued to impress with an excellent week at the Senior Bowl. On Saturday, his draft stock received another boost. Schwenke posted a great 40 time (4.99) and enjoyed a fine field workout. I could see his name being called in the early portion of the third round.
Zach Ertz versus Tyler Eifert
One was a unanimous All-American. The other won the Mackey Award for the nations' best tight end. The battle for the top tight end taken in the draft might be too close to call at this point.
Per ESPN's Todd McShay
,

Ertz had a good day, but Eifert may have closed the gap.
Depending on who you ask, there are varying opinions on which of the two is the best tight end. If you took a poll, it would probably come out even at this point. So, of the two who are jockeying for position as the top TE in this class, Eifert won the day. It doesn't mean he'll be the first TE drafted, and if he is, it doesn't mean he's going to be the better NFL player. But for what it's worth, he had the better Saturday. At 6-foot-5½, 250 pounds, he's slightly bigger and longer. He ran an unofficial 4.6 in the 40 and had an impressive 35-inch vertical leap.
Here's John Clayton's take
:
Notre Dame's Tyler Eifert and Stanford's Zach Ertz were considered the top two tight ends in the draft, and it's starting to look like it will be a good battle for the top spot. Eifert may have challenged for the lead after running a 4.68 compared to Ertz's 4.76.
40 times/bench
For complete workout results, you can check out the
NFL.com combine page
. Here's some of the top results for the fleet-footed and pectorally gifted (per NFL.com).
Running backs

Johnathan Franklin
, UCLA: 4.49/18 reps
Kenjon Barner
, Oregon: 4.52/20 reps
C.J. Anderson
, Cal: 4.60/17 reps
Stepfan Taylor
, Stanford: 4.76/17 reps
Wide receivers

Markus Wheaton
, Oregon State: 4.45/20 reps
Marquess Wilson
, formerly of Washington State: 4.51/7 reps
Robert Woods
, USC: 4.51/14 reps
Quarterbacks

Matt Scott
, Arizona: 4.69/Did not lift
Offensive line

Kyle Long
, Oregon: 4.94/Did not lift
Brian Schwenke, Cal: 4.99/31 reps
Jeff Baca
, UCLA: 5.03/ Did not lift
David Bakhtiari
, Coloraod: 5.09/28 reps
Khaled Holmes
, USC: Did not run/13 reps
Tight end

Nick Kasa
, Colorado: 4.71/22 reps
Zach Ertz, Stanford: 4.76/24 reps
Levine Toilolo
, Stanford: 4.86/17 reps
December, 12, 2012
12/12/12
12:00
PM ET
UCLA tight end
Joseph Fauria
-- never one to be shy with words -- took a few minutes to chat with the Pac-12 blog this week about his college career, his future as a professional, and offered up a very politically correct answer about the Mackey Award.
You guys were very emotional after the Pac-12 title game. Have you put that one behind you and moved on?
Joseph Fauria
: Yeah. It takes a few days. It took me a few days to get over it. But as soon as we found out we had Baylor, we moved on to the next challenge and we're looking forward to finishing off the season with a win.
What's the feeling like heading into a bowl game this year versus last year?
JF
: I think there were a few guys last year that didn't want to be there. They just wanted to graduate. But I think it was a good decision to play that game in the end. We got some extra practices in and that was a good thing. This year, we had a better season, obviously. More wins and a better overall feeling. Our team is really close and we're going to get a lot of fans in San Diego.
[+] Enlarge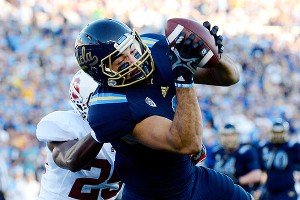 Richard Mackson/US PresswireThis season has seen UCLA turn around the "rough culture" of its program, Joseph Fauria said.
Was there a feeling that guys were going through the motions last year?
JF
: I don't want to get too much into last year. We're focused on what we've done this year and all of the guys are ready to send the seniors out right and hopefully we get a 10-win season.
Certainly a strong argument can be made that you deserved to be a finalist for the Mackey Award. Offering a tight end's perspective, do you think they got the right guy in Notre Dame's Tyler Eifert?
JF
: Sure. I don't know him too well. He came in right after I left Notre Dame. I congratulate him. I'm pumped for him. He's on one of the best teams -- maybe the best team in the country right now. He's had a good career and good numbers and I'm excited for him. It's cool. Props to him.
What's the legacy of the 2012 UCLA team?
JF
: It's special. After last year, it was a rough culture. We weren't a very good team. We didn't have a good outlook. But as a senior class and with the new coaches, we changed the whole culture of the program. We were determined to get the young guys ready for the change of tradition and the change of culture and bringing UCLA back to glory. That almost feels better than coming into a team that was winning and already had success. I think it's a better feeling to change a team. I think that's better than going to a BCS bowl game.
As you look ahead to your professional career -- not too far though, since you do have one game left -- do you feel like you accomplished what you wanted to as a player at the college level?
JF
: My career didn't go as I planned it out of high school. I thought I was going to play right away -- that's how everyone always thinks it's going to be. But I struggled with one school then sat out, then got hurt and then finally had a breakout season last year and I think I capped it off pretty well. Like I said earlier, we're changing the culture. It was great to help the team have success and I think I showed what I can do in the red zone and show that I can be a next-level tight end and show that I can be successful.
If you could sum up UCLA's season in one word, what would it be.
JF
: (Very long pause) I think if we can get this 10th win, we have to be considered one of the best UCLA teams that's ever played. I know that's not one word, but I like that so I'll stay with that.
December, 6, 2012
12/06/12
11:00
AM ET
It's too bad you couldn't make the chat yesterday. There was cake. (
For those who were there, just follow my lead
). Yummy, yummy cake. You should come by next week. There will be more cake.
You can go here to see the complete chat
or you can just mooch off of the brilliant questions of others.
Jeremy (Honolulu): Do you think Oregon's loss to Stanford helped or hurt the perception of the Pac-12 this year? I.E. Would it be better to have one Pac team in the NCG or two teams in BCS games? Please advise.
Kevin Gemmell (2:07 PM): I think Stanford doesn't care about the perception of anyone else in the conference. We care about it -- a lot -- but they don't. With that said, I think a national championship would have been nice. But two BCS games means more revenue for everyone in the league.
Zach Ertz (Palo Alto, CA): I just lost the Mackey Award to Tyler Eifert of Notre Dame. Below are our stats for the year. Can you explain to me any possible rationale for this snub? Zach Ertz: 66 catches, 837 yards, 6 TD. Tying/winning TD's against Oregon, USC and Oregon State.Tyler Eifert: 44 catches, 624 yards, 4 TD. No game winning catches.
Kevin Gemmell (2:10 PM): Undefeated team -- traditional power -- playing in the national championship. None of that SHOULD matter, but it does. And I'm thinking Ertz was a victim of that. Because on stats alone, it's not a question.
SDZald (San Diego): Kevin now that you guys have posted the Face Plants of the year, which game do you think was the worst Face Plant in the PAC this year, UCLA/CAL or Washington forgetting they had to play 4 qts against WSU?
Kevin Gemmell (2:11 PM): Boy, both were bad. UCLA really showed its youth and inexperience in that game ... but then again, Maynard was unreal in that game. Leaning toward the UW game as probably worse ... but not by much.
Jason (Vancouver, WA): 2 years in a row now the North has been MUCH better than the South in the PAC 12. Do you see this changing any time soon? Oregon and Stanford don't appear to be dropping off anytime in the near future.
Kevin Gemmell (2:15 PM): And Arizona, ASU and UCLA are on the rise. USC won't be down forever. I think the North is still the better division, but the South is closing the gap quickly. (And let's not forget Oregon State in the North, either).
FV (Enemy Territory (Eugene)): The Great Mr. Gemmell, As a Cal fan I am already on to next season and the North looks STACKED. Do you see the North surpassing the SEC West for top division (if that didn't happen this year)?
Kevin Gemmell (2:16 PM): The great FV! Glad you've moved on. If Washington can close the gap and Oregon State maintains -- maybe. But the nine-game schedule and the surging south teams make it tough. As Ted wrote last week, the conference has 7-5 disease.
californiamichael (La Verne): What players would add to the top 25 that were not in your original listing of the top 25 at the beginning of the year? One player you would delete from the list?
Kevin Gemmell (2:19 PM): Ted and I need to sit down and hammer out that list. Not going to be easy. I can tell you
Anthony Barr
,
Will Sutton
and
Ka'Deem Carey
will be on it. And I'm going to make a hard push for
Reggie Dunn
also. Don't see how you can leave him off. Players coming off...
Jeff Tuel
has to be up there. I really, really like him. Maybe my favorite player to talk to because he's so candid. But the season wasn't there.
Brian (San Diego): How do you see the 4 new coaches from this year, doing next year?
Kevin Gemmell (2:25 PM): I think we'll see a little more progress at Washington State. Probably not a bowl game, yet, but progress. The other three in the South have their programs trending up. I think all three will be in the hunt for the south title next year.
Ken (Corvegas): Which QB is the best fit against Texas, Vaz or Mannion?
Kevin Gemmell (2:27 PM): Only Mike Riley knows the answer to that one. Mannion has the better frame, but Vaz has shown plenty of poise in his starts. I'm going to offer some free coaching advice to Mike: Throw the ball to Wheaton and Cooks. I know, it's a little out of the box, but it will work. Both QBs know where their bread is buttered and it's the receivers. That's the big mismatch in this game.
Jimmy Galvan (Eagle Rock): We all know Jim Mora is an NFL guy, so how long before he heads back there?
Kevin Gemmell (2:36 PM): I've talked with Jim a lot about this and he really, really likes being a college coach. Honestly, I don't know if he moves back and if he does, it will be a while. He's at a point in his life right now where this was a perfect decision for him. And you can't argue with the results thus far. He has a chance to really build something special at UCLA and he recognizes that.
Chris (Baltimore): Do agree with Ted that Stanford should be #1 in the Power Rankings? I know they beat Oregon, but do you think they are ultimately the better team just because they managed to win the Pac?
Kevin Gemmell (2:44 PM): "Just because they managed to win the Pac." Managed? They beat Oregon at Oregon. They won the conference championship game. Not sure what other qualifications you need.
November, 19, 2012
11/19/12
6:15
PM ET
The finalists for college football's national awards have been named and five from the Pac-12 are up for postseason honors.
Running backs
Kenjon Barner
(Oregon) and
Johnathan Franklin
(UCLA) are finalists for the Doak Walker Award for the nation's best running back along with Wisconsin's
Montee Ball
.
Franklin (1,441 yards) and Barner (1,426 yards) rank fifth and sixth respectively in the country in rushing yards. Barner is second nationally in yards per carry (6.48) among players with at least 200 carries. He has 19 rushing touchdowns and Franklin has 10.
USC wide receiver
Marqise Lee
is one of three finalists for the Biletnikoff Award, which goes to the nation's top wide receiver. He's joined by West Virginia's
Stedman Bailey
and Baylor's
Terrance Williams
as finalists.
Lee leads the nation with 107 receptions and 1,605 yards. He has 14 receiving touchdowns.
Tight ends
Austin Seferian-Jenkins
(Washington) and
Zach Ertz
(Stanford) are up for the Mackey Award along with Notre Dame's
Tyler Eifert
.
Ertz and Seferian-Jenkins have almost identical numbers. Both have 58 catches, Seferian-Jenkins has 753 yards and five touchdowns to Ertz's 747 yards and six touchdowns.
You can see the
complete list of finalists for all of the awards here
.
The awards will be given out during the Home Depot College Football Awards Dec. 6 at 7:30 p.m ET on ESPN. A nomination special will air on Nov. 20 at 6 p.m. ET on ESPNU.
October, 13, 2012
10/13/12
10:23
PM ET
SOUTH BEND, Ind. -- The secret to
Tommy Rees
' ability to step in without a moment's notice and lift Notre Dame out of its second deficit of the season is really no secret at all. It's plain on the sideline for all of his teammates to see. It's the reason why, when the trailing team's starting quarterback goes down in the final minutes with an undefeated season on the line,
Manti Te'o
said, the Irish "don't have any worries."
"It's just: OK, Tommy's in now," Te'o, one of four captains, said after Notre Dame's
20-13 overtime victory
Saturday over Stanford.
"Good luck, defense."
Why?
"He's watching the game, relaying stuff to coaches,"
Tyler Eifert
, another captain, said. "His knowledge of the game is so good that the coaches sometimes depend on him to talk to him [starting QB Everett Golson] and tell him what he's seeing out there for the sideline. He's focused on the game and not distracted during the game at all."
The clock showed 3 minutes, 27 seconds left in the fourth quarter when the white and gold helmets clashed at the Notre Dame 47-yard line, and the best backup quarterback in the country immediately went searching for his own headgear.
"Get your helmet and let's go," coach Brian Kelly recalled telling Rees. "He couldn't find his darn helmet."
[+] Enlarge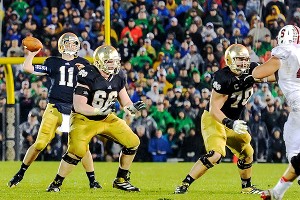 Robin Alam/Icon SMTommy Rees completed all four passes he threw against Stanford, including the winning score in OT.
That's as unprepared as the junior would be on a Saturday when he helped the Irish get to the season's halfway mark undefeated, completing 4 of 4 passes -- three of them in overtime -- in setting up
Kyle Brindza
's game-tying field goal before a 7-yard touchdown pass to
T.J. Jones
proved to be the deciding score in Notre Dame's sixth and most dramatic win of the season.
When
Everett Golson
was shaken up after a helmet-to-helmet hit from Stanford's
Usua Amanam
, his chance at lifting the Irish out of a three-point hole gave way to four support staff members crowding him on the sideline, his helmet off, his vision blurred from what Kelly later called a blow to the head.
The redshirt freshman's most uneven start of the year featured three fumbles but enough scrambling ability and resiliency against a hungry defense to keep Notre Dame alive, the calls for his backup to replace him coming the loudest after a fumble in his own end zone led to a Cardinal touchdown and the first Notre Dame deficit of the season.
And yet few have done more in a shorter period of time than Rees has in going from one of the most vilified students on Notre Dame's campus to one of the most popular, and not just because, like every No. 2 signal-caller on every level of this game, he is not the guy on the field making the mistakes. The twist has taken a sharper turn than the breaks that had so often been going against the Irish before this season.
Two closing jobs through Notre Dame's first five games of 2012 have Rees ready and waiting for his number to be called. But even he admitted afterward that this call was unlike any other so far.
Still, staying engaged while watching on the sideline for three-plus hours has not been the hard part for the aspiring coach.
"I like it," Rees said. "I love football and I love the game and I love learning and I love paying attention and trying to help Everett and the rest of the guys as much as I can. I stand with
[Andrew] Hendrix
most of the game and we talk about what the looks are out there. We just try to relay some of that."
Kelly added: "He's an incredible young man that he can stay so focused in the game, know what's going on during the game. At halftime I'm talking with him and Everett and he's pointing out some things about the outside coverages that we should maybe think about running, as well. He's just a very smart football player."
And so despite the biting rain pouring down shortly after his entrance -- creating a muck of a field -- and despite a big hit from
Trent Murphy
on the first play of overtime that threatened to unsettle things, Rees delivered.
He completed three consecutive passes in the extra session, his biggest a 16-yarder to
Theo Riddick
on a third-and-8 that saw the Irish staring at a long field goal in anything-but-simple conditions. He hit Jones for the score, and he watched his defense make a goal-line stand, celebrate, wait for an official's confirmation, then celebrate again.
Notre Dame is 6-0, with two different quarterbacks playing pivotal roles in three wins apiece.
"Not exactly, no, I didn't imagine this," Rees said. "For good, bad or different, it's worked out this way and it's going well, I guess, we are 6-0 I think."
October, 9, 2012
10/09/12
9:00
AM ET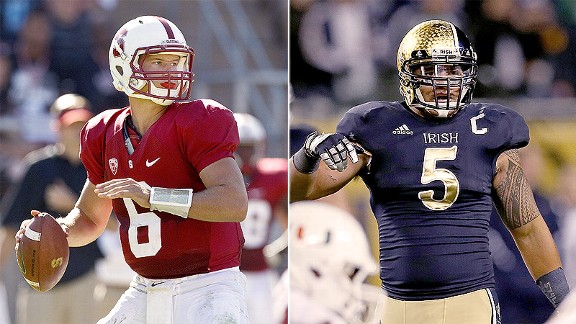 Getty ImagesHow will Josh Nunes and the Cardinal fare against Manti Te'o and Notre Dame's shut-down defense?
"College GameDay" will be in South Bend this week, bringing more hype to an already highly anticipated matchup between No. 7 Notre Dame and No. 17 Stanford. Notre Dame blogger Matt Fortuna and Pac-12 blogger Kevin Gemmell got together to throw out some early thoughts on the game.
Kevin Gemmell
: Well Matt, I'd imagine this is going to be a much different blogger discussion than the one we did to close out the 2011 season, when Andrew Luck was gunning for a Heisman, Stanford was looking for a BCS bowl berth and Notre Dame was playing quarterback roulette.
Lots of changes from both teams since the end of last November.
Kick it off and give those of us on the Left Coast a feel for what's happening with the Irish right now. I know they are a spread team. But it's different from the spread Stanford saw last week against Arizona and the one they will see later this year at Oregon. What's the skinny?
Matt Fortuna
: Kevin, the Irish offense is still very much in the developmental stages, largely because its quarterback,
Everett Golson
, is a redshirt freshman who has played only five games. They let him loose a bit against Miami, as he showed some running ability that the Irish haven't seen at the position in recent years, but he was not exactly facing Stanford's defense, either.
Notre Dame has a big, physical offensive line that allows the team to run the ball effectively and take much of the pressure off Golson.
Tyler Eifert
may be the best tight end in America, but he has been the focus of every defense so far and has not put up the numbers he did last season. The Irish have a number of reliable upperclassmen receivers, but no real game-breaker who has stepped up to be that go-to guy yet.
Conversely, what in the world do we make of this Stanford defense? I thought we'd be looking at two similar teams slugging it out in a 10-7 battle, but then I saw this past Saturday, when Arizona put up 48 points on the Cardinal.
[+] Enlarge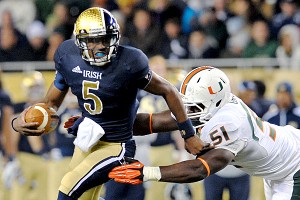 Matt Cashore/US PresswireEverett Golson had one of his best games of the season against Miami on Saturday.
Kevin Gemmell
: First off, bold statement to make about Eifert with the tight end duo of
Zach Ertz
and
Levine Toilolo
coming to town. Toilolo caught five balls for 141 yards and a score against Arizona and Ertz had six catches for 64 yards and a score. The Cardinal are 10-1 when Ertz catches a touchdown ... just sayin'.
Now, about that defense. Yikes, indeed. The Wildcats had 617 total yards. But the most disturbing part about it -- according to Stanford head coach David Shaw -- was that Arizona got some big plays over the top of the secondary. The Cardinal are happy to give up the short passes, so long as they make tackles at the point of the catch. But getting beat over the top is a no-no. Shaw said that's just a technique issue and can be corrected in the film room. We'll see.
But we can't dump on the defense too much. Because when they absolutely needed a stop -- or a couple of them -- they got it. They clutched up in the fourth quarter, got the ball back for the offense and the Cardinal scored twice in the fourth to overcome a 14-point deficit. And
Chase Thomas
had the interception in overtime that led to Stanford's win.
Tell me about the Notre Dame defense. No touchdowns in the past three games and the state of Michigan is 0-for-end zone against the Irish. Are they as advertised?
Matt Fortuna
: Miami didn't score a touchdown, either, making it three straight games that this defense has held an opponent out of the end zone. The simple answer so far is yes. The Irish are giving up 7.8 points per game, second-lowest in the country. They have forced 13 turnovers and recorded 14 sacks. The front seven has looked as good as any in the country, and
Manti Te'o
may just be the best defensive player in the country.
The secondary has had two starters go down since camp -- and was entering this campaign with no returning starts at cornerback to begin with -- but has more than held its own through five games, surviving a couple of early drops against Miami and not letting any Canes receivers get over the top after the game's opening drive.
Does
Josh Nunes
have the ability to make life difficult for the defensive backs this week?
Kevin Gemmell
: And therein lies the $1 million question. Nunes was adequate the first two games, solid in the second half against USC, terrible at Washington and then he blew up last week against Arizona, throwing a pair of touchdowns and running for three more. So far, he has done his best work at home and his worst performance was in their only game away from Stanford Stadium.
So this will be a huge test for him to see if he can get it done outside of Palo Alto. A lot of people were calling for his ouster after the Washington debacle, so credit Nunes for pushing out the noise and refocusing with a possible season-saving performance against the Wildcats. He's still not where Shaw and the Cardinal need him to be from a consistency standpoint. But I don't think anyone is going to question his toughness, determination or character after last week.
As for whether he can make it tough -- a lot of that falls on the Stanford receivers. Wide receiver
Ty Montgomery
needs to play better.
Jamal-Rashad Patterson
came through with a big catch and, of course, the tight ends will play a major role. If the Cardinal can run the ball effectively (no promises against a good Notre Dame front), then it will force those safeties down and create some matchup problems with the tight ends. Nunes has to consistently get them the ball as he did against Arizona. Because if he falters on the road as he did against Washington, it will be another touchdown-free performance for the Irish.
So closing it out, it seems as though Stanford's tight ends will be the biggest X factor for the Notre Dame defense. Can they hang with the 6-foot-6 Ertz and 6-8 Toilolo?
Matt Fortuna
: I still have images of Stanford's tight ends dragging Irish corners during last year's contest. Those were a pair of seniors with multiple starting seasons under their belts. This is a pair of first-year starters who came to Notre Dame as offensive players.
I still think a big part of it comes down to the pressure Notre Dame gets up front. It didn't have any sacks against Miami, but it took the pocket away from
Stephen Morris
and threw off timing. That has been the Irish's defensive formula so far, and I expect them to try it again Saturday, even against an offensive line as good as the Cardinal's.
October, 23, 2011
10/23/11
1:25
AM ET
SOUTH BEND, Ind. — They tailgated all day and they waved blue towels and they bounced up and down to seemingly every possible sports pump-up song imaginable. They enjoyed the bright lights and marveled at the shiny new helmets and saw Saturday's matchup build into more than just another game on their schedule.
And though it wasn't exactly clear what Notre Dame fans could have expected when looking back at a USC squad that ran through the home team and slowed its ground game to a halt, it was certainly more than this:
A
31-17 loss
to the arch-rival, its ninth defeat in the past 10 meetings. A turnover-plagued performance that brought to mind the adventures of the season's first two weeks. And, most of all, the harsh reality that the BCS-bowl dreams that began before the season are all but officially over just seven games into 2011.
"I think from a player's standpoint, maybe we didn't stay true to who we were," fifth-year safety and captain Harrison Smith said. "Maybe we did buy into the hype, and we can't do that again. We didn't play with poise and there were penalties that you just can't have if you wanna win."
The five penalties will sting but not as much as the three turnovers, particularly after consecutive games without any. An early and surprising 17-0 deficit gave the Irish no margin for error in attemping their comeback, one made easier by — who would have thunk it? — special teams.
George Atkinson's 96-yard kick return for a touchdown brought the Irish to life in the second quarter, and they managed to tack on a field goal before the break to somehow make a seven-point game out of a half that saw them outgained by nearly a 2-to-1 margin.
[+] Enlarge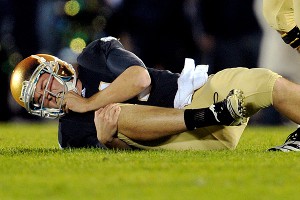 Matt Cashore/US PRESSWIRETommy Rees hyperextended his knee during a painful evening for the Irish.
Tommy Rees
went down with a hyperextended right knee midway through the third quarter and
Dayne Crist
stepped in — and this looked like redemption for the California kid against USC, first hitting
Cierre Wood
for 4 yards, then hitting
Tyler Eifert
two plays later on a crucial fourth down, the ball moving and Notre Dame closing in on the Trojans after being outplayed for a majority of the game before that point.
Three plays later, third-and-goal at the 1, Crist fumbled the snap. Eighty yards later and Jawanza Starling was in the end zone with the ball and a 14-point Trojans lead, one that looked so big yet so familiar given Crist's last third-and-goal-from-the-1 play this season, even if he wasn't to blame for the opening-drive gaffe against South Florida in Week 1.
"Losing stinks. For me, it's hard for me to put a stink-meter on losing. They all stink," coach Brian Kelly said. "You know what I'm disappointed in? This is the first time that I've leaned on my guys pretty hard in the locker room. I was not happy. Because we're better than that. We're better than that. And, to turn the ball over in the ridiculous fashion that we have, I just, just makes me crazy. In terms of, I just don't understand how something so easy can come out the way it does.
"So I told our guys, 'Listen, every time we try to take a step forward, we seem to wanna take one step back.' I'm not gonna tolerate it. It's not gonna be pretty this week in practice. If we gotta go back and tackle every day, we'll tackle every day, because they know how I feel about the way we played."
The hypothetical playoffs that Notre Dame talked about so much have come to an unceremonious end, and now comes the more challenging part, re-focusing on the next-best-thing with plenty of season remaining, five games to prove to all that this is not a lost cause after its record fell to 4-3 with a return of similar frustration.
Perhaps the normal 3:30 p.m. start next week against Navy will spark what had become a familiarity with this team in its previous four games, moving the ball efficiently while eliminating the bad mistakes.
For now, rebounding from this letdown and controlling emotions is the next step, one Notre Dame received a hard lesson in Saturday night from its rival out West.
"You're trying to get at something that I think is real, and we talked about this," Kelly said when asked if his players could have been too excited going into Saturday. "We had some guys that didn't play with poise that need to play with poise. Championship football teams play with competitive greatness, which means when the stakes are high and the stage is great, they raise their game.
"Today, in that same situation, some of our players didn't raise their level of play. That to me is poise, and we're still building that. That's a hard thing to dig at. But we're still building that."