January, 25, 2012
1/25/12
10:30
AM ET
Every team needs to hit every position group each recruiting season, but there are always priorities. It's not just positions where starters are lost or going to be seniors, it's about addressing weaknesses where a true freshman might be a better answer than a returning player.
Up next is the North Division.

California
QB
:
Zach Maynard
will be a senior, and it says something about the depth behind him that he never lost his job during his midseason swoon.
WR:
Keenan Allen
is back, but that's it in terms of returning production and experience.
S:
Three of the top four safeties from 2011 are gone.

Oregon
Skill:
In Chip Kelly's offense, you can never have enough fast guys. Sure,
Kenjon Barner
,
De'Anthony Thomas
and
Josh Huff
are back, but there's a lot of youth and uncertainty after that at running back and wide receiver.
TE:
His name is
David Paulson
, but he's gone.
Colt Lyerla
was a productive backup -- at least in terms of finding the end zone -- but after him things are uncertain. Tight end is one of the most underrated positions in the Ducks offense, so having more than one Kelly trusts is significant.
S:
Eddie Pleasant
is gone and
John Boyett
is a senior.
Avery Patterson
,
Erick Dargan
and
Brian Jackson
are next in line, but the young talent isn't as certain as it is at corner.

Oregon State
OL:
Oregon State lost three starters from a line that led the worst rushing attack in the conference and surrendered 27 sacks. Quarterback
Sean Mannion
has potential, but he needs time. And a running game.
DT:
The Beavers had the worst rushing defense in the Pac-12 in 2011. 'Nuff said.
LB:
The Beavers had the worst rushing defense in the Pac-12 in 2011. Almost enough said.
Cameron Collins
is gone, and all the contributors on the two-deep will be seniors, other than junior
Michael Doctor
.

Stanford
WR
: Perhaps the weakest position for the Cardinal in 2011, this need is augmented by the loss of
Griff Whalen
and
Chris Owusu
and the lack of up-and-comers other than sophomore
Ty Montgomery
.
DB:
Three of four starters are gone, including both safeties. In the Cardinal's two losses -- to Oregon and Oklahoma State -- an absence of top-end athleticism in the back half was exploited.
OL:
Three starters are back, but the losses are huge: Tackle
Jonathan Martin
and guard
David DeCastro
. And backup tackle
Tyler Mabry
and backup guard
Matt Bentler
also are gone. If coach David Shaw intends to remain a physical, downhill running team -- and he does -- he'll need to continuously stock up on linemen who can get the job done.

Washington
DB:
Lots of guys are back in the secondary, but the Huskies gave up 284.6 yards passing per game, which ranked 11th in the Pac-12. They couldn't cover anybody and often seemed out of position. So new blood might help.
DL
: (See if you can notice a theme here that ignores questions at wide receiver and running back). Two starters are gone from a line that consistently underperformed based on preseason expectations.
LB:
Second-team All-Pac-12 middle linebacker
Cort Dennison
is the only one of the eight men on the depth chart who won't be back, but he was the team's only consistent linebacker.

Washington State
DL:
Three of four starters are back, but all three will be seniors.
OL:
Three starters are back, but to make the next step on offense, the Cougars need to run the ball better. They ranked 10th in the conference in rushing offense. And that might reduce a conference-high 3.3 sacks per game. Mike Leach's quick-hit offense also might help.
RB:
170-pound sophomore
Rickey Galvin
is back, as is senior
Carl Winston
, but the backs need to share responsibility for a 3.1-yards-per-carry average, worst in the conference (of course, losing 237 yards to sacks doesn't help).
November, 1, 2011
11/01/11
9:37
PM ET
What does the loss of tight end
Zach Ertz
mean for Stanford over the next two weeks? Here's five things to keep an eye on as the Cardinal move forward without one-third of the "Tree Amigos."
Don't expect the offense to be as shell-shocked as it was against USC in the opening half. Realize that losing 25-30 percent of your playbook 10 seconds before your offense takes the field is a very difficult adjustment to swallow. All things considered, it was pretty impressive the way they pulled it all together under strenuous conditions.
Assuming Ertz is out for the Oregon game, Stanford will have two weeks and one game to prepare. We've seen all season long Stanford experiment with different schemes and formations -- especially in games that have already been decided by the end of the end of the third quarter. Head coach David Shaw said that about another 25 percent of the offense involves two tight end sets. That leaves Levine Toilolo and Coby Fleener on the field at the same time, and that's still as good a double-threat as you'll find in college football.
Look for Ryan Hewitt to get more involved in the passing game. The tight-end-turned-fullback has already been outstanding coming out of the backfield. But I wouldn't be surprised to see more of him lining up in the slot with Geoff Meinken lining up at fullback. Luck has targeted Hewitt 21 times and Hewitt has 19 catches (90.5 completion percentage) for 171 yards and four touchdowns. He's averaging 7 yards after the catch per reception and of his 171 yards, 133 have come after the catch (77.8 percent according to ESPN Stats & Information).
Between Griff Whalen and Ertz, quarterback Andrew Luck had two very reliable options on third down. Who is going to be the second guy to fill that role? Fleener is best used stretching the field. Could be Toilolo over the middle, or Hewitt out of the slot. Ty Montgomery also came on strong last week with five catches for 87 yards. Luck can use all the receiving options he can get and Montgomery is starting to emerge.
The Cardinal have plenty of other formations to work around. Not only are the Cardinal innovative in their three-tight-end sets, they also do plenty of work with their jumbo packages -- adding extra offensive linemen like Kevin Danser and Tyler Mabry to an already stout offensive line. The mid-range passing game might take a temporary hit, but the running game shouldn't.
March, 1, 2011
3/01/11
5:13
PM ET
Stanford has a secret: 2010 wasn't only about
Andrew Luck
. And, if things go according to plan, 2011 won't be either.
[+] Enlarge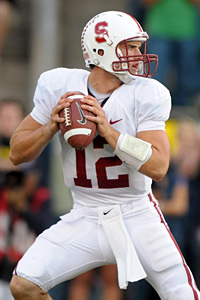 Kirby Lee/Image of Sport/US PresswireAndrew Luck is just part of the reason Stanford has high expectations this season.
It's not that Stanford doesn't recognize the benefit of having the best quarterback in the nation. It does. But the program's transformation from also-ran to BCS bowl winner was more about attitude than Luck.
That attitude -- play with "
character and cruelty
" --started up front under former coach Jim Harbaugh, and that attitude will remain in place under new coach David Shaw, at least according to offensive coordinator Pep Hamilton, whom Shaw promoted from receivers coach.
"We are a power running team," Hamilton said. "We are going to get off the bus running power. We're going to establish and control the line of scrimmage. We want to out-physical our opponent."
Of course, when you're beating a defense up at the line of scrimmage, it makes it a lot easier for any quarterback. And when your quarterback likely would have been the top pick in this spring's NFL draft, well, you're in pretty good shape when the goal is to keep a defense guessing and off-balance.
Just consider the numbers from the
40-12 beatdown
of Virginia Tech in the Orange Bowl. Sure, Luck got lots of attention for throwing four pretty touchdown passes. But the Cardinal rushed for 247 yards and two scores, and averaged eight yards a carry.
There, however, is work to be done this spring. The Cardinal needs to replace three starters from its 2010 line, including All-American center Chase Beeler. So it's not unreasonable to wonder if the offensive line will continue to be -- to use Hamilton's phrase -- "big, tough guys who enjoy imposing their will on their opponent."
Hamilton thinks so, in large part because of the two coming back: left tackle Jonathan Martin and right guard David DeCastro, who both earned first-team All-Pac-10 honors.
"Their personalities, their physical mentalities will permeate amongst the rest of the offensive line group," he said.
Khalil Wilkes and Sam Schwartzstein are battling to replace Beeler. Kevin Danser has been running with the first unit at left guard, while Tyler Mabry is the right tackle. Cameron Flemming and David Yankey also could play their way into the mix.
Still, the Cardinal might take a step back at the line of scrimmage, at least early in the season. Last year's unit welcomed back four starters, and it was widely hailed in the preseason as perhaps the best unit in the Pac-10 after it had paved the way for Toby Gerhart's runner-up finish in the 2009 Heisman Trophy race. As good as Martin and DeCastro are, and as intriguing as the new talent is, it often takes lines time to mesh.
That's where Luck comes in. As a third-year starter, he should be able to carry the load at times in the passing game. An outstanding athlete, he's fully capable of making plays outside of the pocket or with his feet if protection breaks down. But he's also adapting to change with the departure of his two leading receivers,
Doug Baldwin
and
Ryan Whalen
.
"He has some new wide receivers, so he has to work to develop some continuity with those guys," Hamilton said.
With
Chris Owusu
sitting out, those "new" receivers include
Griff Whalen
,
Jamal-Rashad Patterson
and
Drew Terrell
(each is at least a third-year player).
Hamilton doesn't envision Luck's role changing this year, even with his national celebrity as the leading Heisman Trophy candidate. He certainly doesn't want Luck to feel like he needs to transform into an alpha dog in the locker room. That would mean Luck isn't being himself.
"His personality is something that teammates gravitate towards. They all want to reach his level of success. He has field credibility in our locker room," Hamilton said. "He says the right thing at the right times. I don't see that changing."
The offense will try to retain the identity from the "Harbaugh Transformation," but there will be some tweaks to schemes, without question. Said Hamilton, "It's premature to say we've established our offensive identity."
As for life post-Harbaugh, Hamilton said he doesn't expect things to be any less emotional or edgy in the locker room. Sure, Shaw is smoother and less eccentric than Harbaugh. But that doesn't mean he lacks intensity.
"Coach Shaw brings a lot of emotion as well," said Hamilton, who also coached with Shaw when both were with the Baltimore Ravens. "When he's in front of the cameras, he gives a perception that he's laid back. But he's a fiery guy. He's as competitive as any other coach in college football, or in the NFL for that matter."
And if he is successful in 2011, it won't all be about Luck.
February, 23, 2011
2/23/11
10:23
AM ET
An interesting item came out of Stanford's first spring practice Monday: tailback
Jeremy Stewart
has been granted a medical redshirt, so he'll be in the backfield mix next fall.
Stewart did very little last year before rushing for 99 yards in the Orange Bowl, but he bolsters an already strong group of running backs led by
Stepfan Taylor
, who rushed for 1,137 yards in 2010. Toss in junior
Tyler Gaffney
and sophomore
Anthony Wilkerson
, and the Cardinal backfield looks as deep as any in the conference.
Jon Wilner
further reported
that
Usua Amanam
, who played tailback last year, is getting a look at cornerback.
Also, per Wilner, the starting O-line went line this: right tackle Tyler Mabry, right guard David DeCastro, center Khalil Wilkes, left guard Kevin Danser and left tackle Jonathan Martin.
While that's three new starters -- and count on there being lots of competition this spring as some younger guys make pushes -- let's just say that Martin and DeCastro, both first-team All-Pac-10 performers in 2010, form a pretty salty foundation.