August, 16, 2013
8/16/13
10:30
AM ET
We continue our day-by-day snapshots of each Pac-12 team heading into the 2013 season in reverse alphabetical order with the
Colorado Buffaloes
.
Colorado
Coach
: Mike MacIntyre (16-21, 0-0 at Colorado)
2012 record
: 1-11, 1-8 Pac-12 South
Key losses
: OT
David Bakhtiari
, TE
Nick Kasa
, OLB Jon Major, DT
Will Pericak
, FS
Ray Polk
.
[+] Enlarge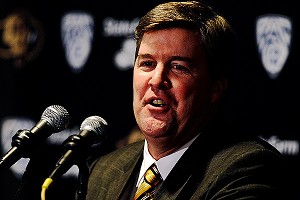 AP Photo/Brennan LinsleyMike MacIntyre is charged with turning around Colorado after making a winner out of San Jose State.
Key returnees
: C
Gus Handler
, TB
Christian Powell
, WR
Tyler McCulloch
, S
Marques Mosley
, DE
Chidera Uzo-Diribe
, P
Darragh O'Neill
, WR
Paul Richardson
,
Derrick Webb
.
Newcomer to watch
: It's too early to tell which one, but three freshmen wide receivers --
Elijah Dunston
,
Devin Ross
and
Bryce Bobo
(ironically numbered 1, 2 and 3) -- are all making a case to be in the rotation and two-deep.
Biggest games in 2013
: The season opener against Colorado State (Sept. 1) is always a big one, and the rivalry with Utah (Nov. 30) is starting to take shape.
Biggest question mark
: While no official word has come down on who will start at quarterback, it's looking more and more like
Connor Wood
will at least begin the season as the starter. So we can at least put a partial check mark there. The biggest question is really what sort of progress -- if any -- we'll see in Mike MacIntyre's first season as the new head coach. He comes in with solid credentials and was Mr. Fix-It at San Jose State. But with the new job comes a new set of challenges. Chief among them, the proverbial challenge of "changing the culture." MacIntyre made it clear that he wants to win and compete immediately, and he believes that his players have bought in. We'll see how much on Sept. 1.
Forecast
: The media
doesn't have much faith
in the Buffs, picking the team that went 1-11 last season to finish last again in the Pac-12 South. This might be one of those situations in which the team shows improvement -- just not in the win department. Remember, San Jose State appeared to take a step back in MacIntyre's first season, going 1-12, but it was during that time that he was establishing his schemes and philosophies, and in Year 2 they went 5-7. By the third season, the Spartans were 11-2 (10-2 under MacIntyre) and ranked in the top 25. No one is saying the Buffs will be ranked in three seasons, and most people probably aren't expecting it. The Pac-12 is a different animal than the now football-less WAC, but it's not wrong to hope for a postseason berth in the next 3-5 seasons.
And this season, the Buffs are loaded with young players who gained a ton of experience last season. They return 17 starters (eight offense, nine defense) including a young secondary that took its licks last season. Mosley,
Kenneth Crawley
and
Yuri Wright
all started last season, and
Greg Henderson
and
Parker Orms
are the veterans of the group. Up front defensively, Uzo-Diribe is a talented pass-rusher, and linebackers
Derrick Webb
and
Paul Vigo
should be the anchors on defense.
Offensively, they lose Bakhtiari to the NFL and Alex Lewis announced a transfer, which was followed by
some bizarre and unfortunate circumstances
. But they get Richardson back after he missed all of 2012 with a knee injury. When he's healthy, he's one of the most explosive wide receivers in the country and should give the Buffs a stretch-the-field threat they were lacking.
Powell also quietly put together a strong second half last season, posting a pair of 100-yard games and four touchdowns over the final five. If they can plug the left side of the line (it's looking like veteran
Jack Harris
at left tackle and
Kaiwi Crabb
at left guard), he could inch closer to 1,000 yards on the ground after posting 691 and a 4.4 yards per carry average last season.
There is talent on Colorado's roster, but, as what's becoming a trend with Colorado, fans are going to have to be patient until the new staff figures out how best to use it.
September, 1, 2012
9/01/12
8:00
PM ET
Rough Saturday so far for the Pac-12.


NEVADA 31, CAL 24:
Cody Fajardo
,
Stefphon Jefferson
and the
Nevada Wolf Pack
spoiled the grand re-opening of Memorial Stadium.
Fajardo, Nevada's quarterback, rushed for 97 yards on 21 carries with a touchdown and also completed 25 of 32 balls for 230 yards. Jefferson carried the ball 34 times for 145 yards and three scores.
The Bears fell behind 14-0 in the first quarter after Jefferson capped a 16-play drive for the Wolf Pack and then Fajardo scored on a 49-yard run. The Bears were kept off the scoreboard until 4:38 in the second quarter and struggled to keep drives going, converting just 3 of 14 third-down attempts.
Cal quarterback
Zach Maynard
, who didn't start the game because he missed a tutoring session during the summer, came in late in the first quarter and finished the game 17-of-30 for 247 yards and two touchdown passes; one to
Bryce Treggs
and another to
Chris Harper
.
Keenan Allen
(five catches, 69 yards) scored on a 39-yard reverse.
C.J. Anderson
took the bulk of the carries for Cal, carrying 14 times for 66 yards.
Isi Sofele
, a 1,000-yard rusher last season, carried five times for 21 yards.
With the score tied at 24-24, Cal took over at their own 2 with 5:44 remaining and a chance to drive for the lead. But the Bears couldn't get past their own 12. Nevada took the punt and marched 61 yards for the winning score, a 2-yard run by Jefferson.
Cal's defense -- which has been tops in the conference the last two seasons -- gave up 450 yards, including 220 on the ground from Nevada's pistol offense.


COLORADO STATE 22, COLORADO 17:
Speaking of spoilers, the
Colorado State Rams
muscled their way to victory over Colorado in Denver, wrecking the debut of Kansas transfer
Jordan Webb
, who won Colorado's starting quarterback job after just a month on campus.
Webb ran hot-and-cold most of the night, missing his first four passes as the Buffaloes fell behind 3-0 on a
Jared Roberts
47-yard field goal.
Then Webb put it together in the second quarter, coordinating a nine-play, 81 yard drive that ended with a 15-yard dart to
Nelson Spruce
and a 7-3 Colorado lead. Later in the quarter,
Tyler McCulloch
scooped up a one-handed grab on a 9-yard throw to give Colorado a 14-3 advantage.
But Colorado State's pursuit of Webb was relentless, sacking him five times and putting him on the ground several more. He finished 22-of-41 with 187 yards.
Tony Jones
did the bulk of the work on the ground for Colorado, carrying the ball 16 times, but managed just 43 yards. As a team, Colorado mustered just 58 rushing yards and was out-gained by the Rams 298-245.
Colorado re-took the lead in the fourth quarter when
Will Oliver
's 30-yard field goal gave the Buffs a 17-16 advantage. But Roberts converted back-to-back field goals to give CSU the lead and extend the score to 22-17.
Colorado had a chance to drive for the win in the closing minute, but failed to convert on a fourth-and-2 at the Colorado State 39.
June, 8, 2012
6/08/12
12:00
PM ET
We've looked at the potential
3,000-yard passers
and the
1,000-yard rushers
in the Pac-12 over the last few days. But this is the conference of wide receivers -- a place for Biletnikoff's boys to run free and unabated up and down the field. So who's going to be in 2012's 1K club?
First, here's last year's 1,000-yard receivers:
Gerell Robinson, Arizona State, 1,397
Marquess Wilson, Washington State, 1,388 (returning)
Keenan Allen, Cal, 1,343 (returning)
Robert Woods, USC, 1,292 (returning)
Nelson Rosario, UCLA, 1,161
Marqise Lee, USC, 1,143 (returning)
With only four returning 1K receivers coming back from last season -- and two of them are on the same team -- how does that bode for the rest of the teams in the conference?
Arizona
: The Wildcats lose their top three receivers from last year -- including headliner Juron Criner and his 956 receiving yards. Big boy
Dan Buckner
(6-foot-4, 214) returns after 42 catches and 606 yards last year, when he averaged 14.4 yards per catch. But the Wildcats will run the ball more this year. Buckner will likely improve on his numbers, but reaching 1K will be tough.
Arizona State
: Another team shifting its mentality from pass first to run first, and they lose their top receiver in Robinson.
Jamal Miles
had 60 catches and six touchdowns last year, but only 361 yards. His yard total should go up as the No. 1 guy, but with more focus on the run game, 1,000 yards might be a stretch.
[+] Enlarge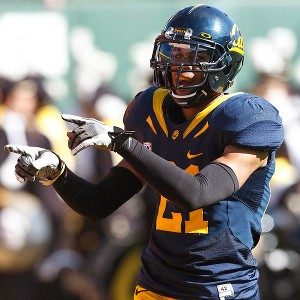 Jason O. Watson/US PresswireWith quarterback (and half-brother) Zach Maynard more comfortable, Keenan Allen could put on a show for Cal during his junior season.
Cal
: Keenan Allen. Yes. Quarterback
Zach Maynard
reportedly had a great spring and looks more comfortable in the offense -- and Allen might be the best all-around receiver in the conference (that phrase will be written a couple of times throughout this post). The Bears will lean heavily on Allen and he'll reward them with another 1,000 yard season.
Colorado
: Prior to
Paul Richardson
's injury, it still would have been 50-50 with a new quarterback. But without their top receiving threat it leaves relatively inexperienced players like
Tyler McCulloch
and
Nelson Spruce
in the mix. The quarterback position is still in flux and with a pretty good offensive line and a talented running back in
Tony Jones
, the Buffs' focus will probably be more ground-based.
Oregon
: Whether
De'Anthony Thomas
reaches 1,000-1,000 is a debate for another day. But I like his chances of 1,000 yards receiving. He caught 46 balls for 605 yards and nine touchdowns last season. Coach Chip Kelly finds creative ways to get Thomas the ball in space and then he just takes off. He'll make the new quarterback look good and suck up receiving yards in the process. My crisp $1 bill says yes to 1K.
Oregon State
:
Markus Wheaton
returns after catching 73 balls for 986 yards. He's an extremely gifted wide receiver who is often forgotten among the Pac-12's A-list of pass catchers. But he shouldn't be.
Sean Mannion
should be more steady in his second year and as
Brandin Cooks
develops opposite Wheaton, it should open up more opportunities. He'll break 1K this season.
Stanford
: Run-first team. The top three receivers (which includes tight end Coby Fleener) are gone and the leading, returning receiver is fullback
Ryan Hewitt
. Even if Andrew Luck were back it would be tough. The Cardinal spread the ball around so much that it's unlikely one guy would get all the catches. Wide receiver
Ty Montgomery
, however, is a rising star in the conference and should have a very good season. He's Stanford's best chance at 1K.
UCLA
: If the Bruins can get the quarterback spot situated and if they take to the new pass-happy offense relatively quickly, there is a good chance someone could emerge as a 1K receiver.
Joseph Fauria
is the strongest pass catcher, but
Shaq Evans
and
Ricky Marvray
will have plenty of chances to emerge.
USC
: Yes and yes. Robert Woods and Marqise Lee are two of the best wide receivers in the country and with the quarterback they have throwing the ball, there is no reason to think both won't return as 1,000-yard receivers. This one is a no-brainer.
Utah
: The Utes were dead last in the conference last year in passing offense. That's expected to change with new offensive coordinator Brian Johnson taking a more aggressive approach and quarterback
Jordan Wynn
staying healthy, they hope. When
DeVonte Christopher
did catch the ball (42 times) he made the most of it with one of the league's highest averages per catch (15.8). But running the ball is still going to be Utah's bread and butter. The numbers will improve, but a 1K receiver will be tough.
Washington
: This is a tough call. Quarterback
Keith Price
has another year of experience, but there is so much distribution in the Huskies offense -- which includes a tight end who should see the ball at least five to seven times per game -- that there might not be a chance for one guy to separate himself.
Kasen Williams
and
James Johnson
both have big-play potential -- which might be part of the problem because they could take yards away from each other. And without Chris Polk running the ball, teams might not be as quick to send safeties down to defend the run.
Washington State
: Not if, but when. Marquess Wilson, last year's yardage runner up is in a system that's tailor-made for him. Of the league's top receivers -- Allen, Woods, Lee, Wheaton -- Wilson might be the best of them all (doesn't that make for a fun debate?). There are plenty of other good receivers at Washington State. But Wilson is the guy. He'll clear 1K about the time you're recovering from your Halloween candy hangover.
April, 10, 2012
4/10/12
4:45
PM ET
Year one was rough for Jon Embree and Colorado. Year two might be worse.
The Buffaloes learned that wide receiver
Paul Richardson
would be lost for the year with a torn knee ligament
-- an injury that occurred during a non-contact special teams drill.
[+] Enlarge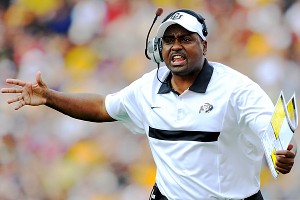 Ron Chenoy/US PresswireJon Embree's Buffaloes will need receivers to step up in 2012 in the wake of news that starting wideout Paul Richardson has a torn knee ligament.
Richardson is hands-down Colorado's best offensive weapon. And he will be again if/when he returns for the 2013 season as expected. He has a redshirt year to burn, which helps, but it doesn't change the fact the Buffaloes will be scrambling for playmakers this season.
"I told him that when I played, a torn ACL was doomsday for a skill position player," Embree said in statement. "Now, he'll be able to come back stronger and faster. He's obviously disappointed, but he is in great spirits about what happened and will make the most of his redshirt year available to him."
Last year's leading receiver, running back Rodney Stewart, is gone. The leading receiver who actually played receiver,
Toney Clemons
is gone. Richardson was third, he's gone. Tight end
Ryan Deehan
, gone. Wide receiver
Logan Gray
, gone.
Starting to get the picture? And hanging over all of this is, of course, a question mark at quarterback. Texas transfer
Connor Wood
is getting all of the work with the first team, though that will change when
Nick Hirschman
returns from a broken foot in the fall.
So with Richardson out who are these guys going to be throwing to?
Keenan Canty
probably has the most speed of anyone in the group. He caught 14 balls for 161 yards last season.
Tyler McCulloch
has pretty good size at 6-5, 210, but he's not as fast as Canty. McCulloch had 10 catches for 96 yards and a score last season.
Nelson Spruce
is coming off a redshirt year and there are a handful of walk-ons that could get into the mix.
Maybe that anonymity is a good thing and someone could emerge from that pack as a viable receiving option. But Richardson has the type of speed that defenses have to game-plan for. He could be counted on to draw extra attention which would have opened up more for the rest of the receivers.
Last year he set a school record with 284 receiving yards in Colorado's overtime loss to Cal. In that game he caught 11 balls -- matching a school record. In two years, he's climbed to 21st on Colorado's all-time list of receiving yards (1,069), 25th in receptions (73) and tied for ninth in touchdown receptions (9).
His loss is a significant one, and yet another challenge Embree must face in year two.