Pac-12:

Tyrequek Zimmerman
August, 16, 2013
Aug 16
6:30
PM ET
Make sure you send Ted a great big thank you in his mailbag for doing the Best/Worst for another year. I've enjoyed them as much as you all have.
As always, follow the Pac-12 blog on
Twitter
.
To the notes!
---
Jon in Tumalo, Ore., writes:
Kevin where is (Taylor) Lewan in
your Heisman Poll
? Clowney had one highlight play against Michigan. Lewan was dinged up and still more than held his own in this game. Clowney's sack total vs. the SEC comp is not all that. In fact,
Will Sutton
put up equally impressive numbers. We'll see this season, but Clowney simply takes too many plays off IMO to win the Heisman. But never underestimate the SEC hype machine. All the best.
Kevin Gemmell:
That's a fair question, and, unfortunately, Lewan wasn't in my preseason top five. Not because I don't think he's an outstanding lineman (and I know that Michigan coaching staff really well and spent a lot of time with O-line coach Darrell Funk when he was at San Diego State), but because the metrics –- unfairly -- aren't available to compare Lewan to other players in Heisman consideration. For example, last year, Michigan ranked 28th in the country in sacks allowed, giving up 1.38 per game. Lewan might not have given up any, but he's part of a unit that did. It's really tough to compare what impact an offensive lineman makes because with them it's more about what you don't see.
And that's also one of my biggest gripes with the award, that offensive linemen are overlooked. I would love it if the Outland Trophy were held in the same regard as the Heisman. But that's not the case. And I fall prey to it sometimes as a writer -– using the phrase "skill position," for example, to describe quarterbacks, running backs and wide receivers. I usually catch myself, knowing, as we all do, that it takes just as much skill to play on the line. Maybe I'll re-think my top five after Week 1 and go against the grain.
I would, however, argue your point that Clowney's sack total against SEC competition "is not all that." Actually, I think it's more impressive because they simply don't pass as much in the SEC, so there are fewer opportunities for sacks. The SEC's 14 teams averaged 386 passing attempts last year. The Pac-12's 12 averaged 447. More opportunities for Sutton or
Anthony Barr
, but the same sack total. And I know, Sutton missed time last year so we can get down to the nitty gritty if you want. I get all that. That's why we get to wipe the slate clean and start fresh.
Sutton and Barr are very much on my Heisman radar and I'm looking forward to what should be an outstanding defensive season for the Pac-12.
---
Tim in Salt Lake City writes:
I'm not sure I buy your logic
for ranking
De'Anthony Thomas
so low. I understand that he's tough to classify, but that should only matter when trying to compare him to running backs, receivers, or return specialists, but this is a list of top players overall. He's easily a top-10 candidate and probably a Heisman contender. No homerism here (I'm a Utah man!) but I have to give credit where credit is due. I don't know what else he needs to prove.
[+] Enlarge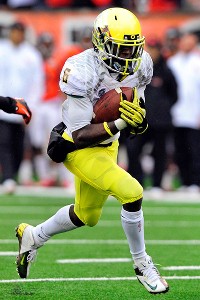 Steve Dykes/Getty ImagesDe'Anthony Thomas is ranked No. 14 in the preseason Pac-12 player rankings, but has the potential to be No. 1.
Kevin Gemmell
: I hear ya, which is why I stipulated that he could end up No. 1 on the postseason list. What we tried to do is really focus on the returning players and rank them based on their credentials from last season and not as much projection. I'm guessing the postseason list will look a lot different because players such as
Shaq Thompson
,
Dion Bailey
,
Isaac Seumalo
,
Jordan Richards
,
Eric Kendricks
, maybe even a
Connor Halliday
, etc. will garner some postseason honors.
In coming up with this list, we first looked at returning All-Americans and then returning all-conference players. Hard to believe that DAT was only an honorable mention last year – but it's true. Yet he's ranked on this list ahead of several players who got first- or second-team all-league honors last year such as
Hroniss Grasu
,
Ben Gardner
,
Xavier Su'a-Filo
and
Morgan Breslin
.
No one is disputing his big-play ability and explosiveness. I think most folks are just waiting to see what his role is going to be in 2013. And if he continues the same production with increased touches, we're going to see him ranked much higher in January.
---
Brett in Portland, Ore., writes:
Is it just me or is the Stanford hype this year a little premature. It seems like the trendy pick is to pick the Cardinal over the Ducks for the North title, but looking at the results from last year, eight of Stanford's 12 wins were by a touchdown or less, compared to 0 for Oregon. In fact, outside of the loss to Stanford, the only game Oregon played that was in doubt in the fourth quarter was against USC. Teams like Oregon State, Washington, Arizona, and Washington State were close to Stanford -- a few different bounces and the Cardinal are an eight-win team. These teams were simply not overmatched against Oregon. Even looking at the bowl games, Oregon notched a much more impressive win, blowing out No. 6 Kansas State while Stanford only beat unranked Wisconsin by 6. Are these preseason predictions based on uncertainty over Oregon's coaching situation, or is there something else I'm missing?
Kevin Gemmell
: Actually, the Pac-12 blog is
going against the grain
in picking the Cardinal to win the conference. The rest of the media that covers the Pac-12 picked Oregon to win the division and the Ducks are ranked ahead of Stanford in the ESPN.com power rankings and the coaches poll.
This wasn't an easy selection – at least on my end – for some of the reasons that you mentioned. But anytime there is a coaching change, there is some hesitation. And it's actually some of those reasons that you mentioned about Stanford winning close games that gave them a 51-49 edge when I filled out my ballot.
If the Cardinal had graduated a ton of players from last year's team, it would be a completely different story. But the fact that they have so many of those veterans back who are used to playing in tight games should actually be more reassuring. It's unlikely Stanford will be in a situation they haven't seen before. When you look at Oregon, however, the only time they got into a tight game in the fourth quarter, they lost. That's not to say it will happen again -– some of Oregon's pups from last season are more mature and hopefully learned from that. The fact that Oregon hadn't really been in a tight game before the Stanford showdown worked against them. Even the USC game -– which was 34-31 with 10 minutes left in the third –- never really felt like a close game.
The bottom line is these two teams play very different styles of football. Once again, Stanford probably won't be the sort of team that wins by 28 points every week, which is fine. They aren't built that way. A win is a win. Both should be really, really good this year and both should be fun to watch. Can't wait until Nov. 7.
I put a lot of time and thought into my power rankings and predictions. But I also know, just as fans, coaches and players do, that the only rankings that matter are at the end of the season.
---
Jim in Chicago writes
: Is there an appreciable aftereffect from playing an especially physical team? The reason I ask is because two of the tougher games on Oregon's schedule (since they don't play USC or ASU, or a nonconference opponent with a pulse) are UCLA and Washington, who conveniently enough are playing Stanford the week before the Ducks.
Kevin Gemmell
: Depends on what your definition is appreciable aftereffect is. Are players more likely to be sore after a physical game? Of course. Is there a greater chance for injury –- maybe? Though I don't think so. Every team hits hard. And sometimes it's the hits that don't look as hard on the outside that ring the most on the inside.
The idea of "physical" football, I think, is more applicable to within the game. A physical team wears down opponents over the course of the game. Five-yard runs in the first-half turn into 2-yard runs in the second half because of a physical defense. Likewise, 2-yard runs in the first half turn into 7-yard runs in the second half with a physical offense. A quarterback who takes a number of hits in the first half will start to feel it more in the second half. QB hits is a very important, yet underrated stat. As for week-long impact, I wouldn't read too much into it. These are young men who are in phenomenal shape. They tend to bounce back pretty quickly from soreness and other ailments that would keep most of us on the couch for two weeks.
---
Jon in Salt Lake City writes:
Why is everyone just penciling a win for OSU against Utah. Utah steamrolled OSU in 2011 and held them to their lowest total yards (263) and yards per play (3.51). Utah was ultimately undone by four turnovers. This just isn't a good matchup for the Beavs; expect a close one.
Kevin Gemmell:
I think "pencil" is the operative word here. I'm certainly not putting it in ink. But I think it'd be fair to say that the Beavers will at least be road favorites.
I mentioned in
the Oregon State season preview
that I thought they had a good chance to start 7-0 or 6-1. I'd say if there was going to be a loss, Utah would probably be the team to do it. It's a home game for Utah, which helps, and we've all been looking forward to some improvement in the Utes offense this year.
However, I still think, as of today, Oregon State is still favored. They're going to pass it quite a bit and there are a lot of question marks in the Utah secondary right now. I'm certainly not saying it's a 100 percent win for the Beavers. But it's hard not to look at Utah as an underdog in that game given some of the question marks surrounding the defense.
---
Larry in Los Angeles writes
: You made a funny with your all-scrabble team reference. I liked that. Who else is on your all-scrabble team?
Kevin Gemmell
: Ted and I have been known to make the occasional funny. During
that media day chat
, however, I think the best line went to Ted with this gem:
Ted Miller: BREAKING: Graham just said that Arizona State would attempt to play 2 games at a time this year.

Ted Miller: CORRECTION: He said one game. My bad.
But back to the original question. I quickly eye-balled all of the rosters – but I didn't go through and do the math on every player. After all, we're not in the business of goofing off on the Pac-12 blog.
After a quick scan, I've decided that the MVP of my all-scrabble team is Oregon State's
Tyrequek Zimmerman
. By my count, 43 points without double or triple scores. It's money when you can get a "Q" a "Z" and a "K" all put together. I'm sure there is a higher-scoring name out there. I'd encourage you all this weekend to go over every name on every roster and report back to me on Monday. Go forth and get your scrabble on.
August, 14, 2013
Aug 14
10:30
AM ET
We continue our day-by-day snapshots of each Pac-12 team heading into the 2013 season, in reverse alphabetical order, with the
Oregon State Beavers
.
Oregon State
Coach
: Mike Riley (81-67, 13th year)
2012 record
: 9-4 (6-3 Pac-12 North)
Key losses
: WR Markus Wheaton, CB Jordan Poyer, DT Castro Masaniai, RT Colin Kelly, TE Colby Prince, DT Andrew Seumalo.
Key returnees
: WR
Brandin Cooks
, RB
Storm Woods
, DE
Scott Crichton
, LB
D.J. Alexander
, CB
Rashaad Reynolds
,
Michael Doctor
, S
Ryan Murphy
, DE
Dylan Wynn
.
Newcomer to watch
: With the departure of Poyer, the coaching staff will look to replace him with a rotation of
Sean Martin
-- who saw some time last season -- and newcomer
Steven Nelson
, rated by one service as the No. 2 junior college cornerback in the country. Nelson, once a Georgia commit, comes from the College of Sequoias and, by all accounts, has had a solid spring and fall camp thus far.
Biggest games in 2013
: The Civil War at Oregon (Nov. 29) is always huge. But Stanford (Oct. 26) and Washington (Nov. 23) -- both home games -- will be big for establishing the pecking order in the Pac-12 North.
[+] Enlarge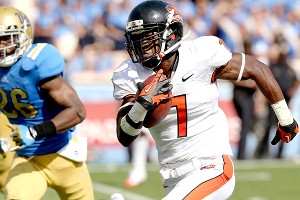 Stephen Dunn/Getty ImagesReceiver Brandin Cooks will surely be the top target for the winner of Oregon State's QB race.
Biggest question mark heading into 2013
: On the surface, the outcome of the quarterback competition seems like the biggest question. And it's an important one. Yet
Sean Mannion
and
Cody Vaz
have both shown they can win big games. Who they'll be throwing to, however, might be the more important question. Without a doubt, Cooks is an explosive playmaker. But we're still waiting to see who steps up opposite him. Much of Cooks' success last season (67 catches, 1,151 yards, five touchdowns) was because of Wheaton playing on the other side. Double-teaming either one was a nightmare because the other would break out.
Kevin Cummings
is a solid slot receiver. But the Beavers will need someone like
Obum Gwacham
or
Richard Mullaney
to provide a threat that opens things up for Cooks, or vice versa.
Forecast
: The Beavers are a really interesting team this season because of the way their schedule shapes up. You have to think they'll be favorites in their first seven games (though at Utah, at San Diego State and at California probably won't be walkovers). Just before Halloween, it starts to get nasty, with five straight against teams that will likely be in or hovering around the Top 25: Stanford, USC, ASU, Washington and Oregon.
It's not hard to believe the Beavers could replicate last year's 6-0 start, and possibly even press it to 7-0 before the schedule ramps up. There are a couple of ways to look at it; it's a good thing because it will give Riley more time to settle on either Mannion or Vaz, and it allows ample time for the receiving corps to come together. There are also some plug-and-play JC defensive linemen who could also use a few warm-up games.
The flip side is that outside of San Diego State, the Beavers won't be facing an FBS team that had a winning record last year until Stanford comes to town. How much will we really know about this team? Unlike last season -- when the Beavers scored quality wins at home against No. 13 Wisconsin and on the road at No. 19 UCLA and BYU in the first half of the season -- the Beavers will probably achieve a high ranking, though the résumé won't be there to support it.
But as they say, you can only play the teams on your schedule, and Oregon State should come out of the gates blazing.
Aside from Cooks, the Beavers have an explosive running back, Storm Woods. The ground game took a big step forward in 2012, and Woods is on the verge of becoming a 1,000-yard rusher (940 yards last year, 13 touchdowns). The offensive line continues to improve and returns four of five starters across the front -- headlined by center
Isaac Seumalo
, who was phenomenal as a freshman and has emerged as one of the top anchors in the country.
The secondary should also be one of the best in the league with the Martin/Nelson duo playing alongside Ryan Murphy,
Tyrequek Zimmerman
and Reynolds.
No doubt excitement will bubble over if the Beavers start 7-0. But what they do after those first seven will go a long way toward determining the program's success in 2013.
August, 1, 2013
Aug 1
7:00
PM ET
Safety is a strong position in the conference. Only UCLA has almost no experience returning to man the middle of its back-half, while the battle for the two All-Pac-12 teams should be tight.
So how do things stack up?
GREAT SHAPE
[+] Enlarge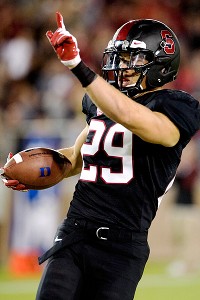 Ed Szczepanski/US PRESSWIREStanford's Ed Reynolds had six interceptions last season, returning three for a touchdown.
Stanford
: Just as Oregon might have the best combination of cornerbacks in the nation, so do the Cardinal at safety.
Ed Reynolds
is a preseason All-American and
Jordan Richards
is an all-conference sort.
Devon Carrington
-- recall a certain notable play in the Oregon game -- is a strong No. 3. Stanford yielded just 13 touchdown passes last year.
Oregon
: The Ducks welcome back
Erick Dargan
and
Brian Jackson
, but
Avery Patterson
is back from injury, so expect him to break back into the starting lineup. Again, this might be the nation's best secondary, with the Cardinal also in that discussion.
Oregon State
:
We're already on record
noting
Ryan Murphy
could be poised for a breakout season, but veteran
Tyrequek Zimmerman
also is back. Depth is a little questionable. The Beavers, who welcome back three of four secondary starters, ranked third in the conference in pass efficiency defense in 2012.
GOOD SHAPE
USC
: Although the Trojans lost mainstay T.J. McDonald, they welcome back
Josh Shaw
, who mostly played corner last year, and
Dion Bailey
, who mostly played linebacker. Both were mostly out of position and are highly skilled. Throw in big-time talents such as frosh Leon McQuay and
Su'a Cravens
, and there aren't many teams that wouldn't trade their safeties for USC's. And no more Tampa 2 confusion also should help.
Arizona State
: Team leader
Alden Darby
was second-team All-Pac-12 last season as the Sun Devils led the Pac-12 in pass efficiency defense. Redshirt freshman Viliami Moeakiola topped the post-spring depth chart at free safety, but the competition remains open heading into fall camp. Watch out for
Damarious Randall
.
Washington
:
Sean Parker
is back, and he was honorable mention All-Pac-12 a year ago. Redshirt freshman
Brandon Beaver
is competing with experienced senior
Will Shamburger
for the other spot.
Arizona
: Everyone is back in the Wildcats secondary, and just like the cornerbacks, the safeties will look good if the pass rush is at least adequate. Former walk-on
Jared Tevis
was a revelation last season, while
Jourdon Grandon
also returns.
Tra'Mayne Bondurant
is a hybrid linebacker/safety sort.
Patrick Onwuasor
was
kicked off the team
.
Washington State
:
Deone Bucannon
was second-team All-Pac-12 last season and he packs a punch, while
Casey Locker
also is a returning starter. Sophomore
Taylor Taliulu
is in the mix. What holds the Cougars back here, not unlike Arizona, is poor 2012 pass efficiency defense.
Utah
:
Eric Rowe
is back and he's flashed plenty of potential, but
Brian Blechen
is -- wisely, the Pac-12 blog thinks -- moving back to linebacker. Though Tevin Carter was listed as an "Or" beside Rowe on the post-spring depth chart, expect him to compete with
Tyron Morris-Edwards
for the spot opposite Rowe.
Charles Henderson
offers depth.
California
:
Michael Lowe
is a returning starter, but he was listed behind
Alex Logan
on the post-spring depth chart.
Avery Sebastian
is solid at strong safety. Again, this seems like a solid crew, but Cal gave up 32 touchdown passes last season, second most in the conference.
WE'LL SEE
UCLA
: It was a big blow when
Tevin McDonald
, brother of T.J. and the secondary's lone returning starter, got kicked off the team. It also didn't help when the career of the star-crossed
Dietrich Riley
ended because of injuries. Sophomore
Randall Goforth
is the likely starter at free safety, while touted incoming freshmen Tahaan Goodman and Tyler Foreman figure to be in the mix opposite him. There are plenty of opportunities here for youngsters and veterans to make a fall camp move.
Colorado
: The Buffaloes lose Ray Polk, but there's no lack of returning experience here among
Josh Moten
,
Terrel Smith
,
Parker Orms
,
Marques Mosley
and
Jered Bell
. But, as we noted with the corners, when you rank last in the nation in pass efficiency defense, it's difficult not to rank a "we'll see."
You can see previous previews here:
Quarterback
Running back
Receiver
Tight end
Offensive line
Kicker
Linebacker
Defensive line
Cornerback
May, 10, 2013
May 10
6:00
PM ET
Have a great weekend.
As always, follow
the Pac-12 blog on Twitter
.
To the notes.
Ryan in New York City
:
Did you read [Brian] Fremeau
? He makes you and Miller look like clowns. Try objective analysis and not who's the most charming coach when making your selections. Really, read Fremeau. Brutal.
Matt in Ontario, Calif. writes
: Your
Post Spring Power Rankings
are (crud). If you say UCLA and Arizona St are 3A and 3B then you should give the edge to the two time defending PAC 12 South Champ. Tell me what other school has played in every PAC 12 Championship game. Give the Bruins a little love.
Kevin Gemmell
: I packaged these two questions together for a reason.
Ryan, first off, how did you get
an advanced copy of the Christmas card
Ted and I are sending out this year?
I'm going to go out on a limb and guess you like Fremeau's projections because he has USC winning the South and UCLA finishing fourth. Clearly, you think we don't give USC enough love (even though the stipulation is there that USC could be a 10-win team and take the South) and give too much to UCLA.
Matt, you don't like our power rankings because we didn't clearly have UCLA as the top team in the South -- rather we separated the Bruins and Sun Devils with "A/B."
One guy is mad for giving UCLA too much love. Another is mad for not giving them enough.
When I started out in this business, around the time our hearts sank for Titanic and Dirk Diggler's name was so bright it burned out light bulbs, one of my first editors said if you've got both sides mad, you're doing something right. By the way, Matt, I'd like to refer you to
my daily UCLA ritual
. Ryan, I've always found Lane Kiffin
to be extremely charming
. Yet while the Pac-12 blog got along great with Chip Kelly, we wouldn't call him the most charming guy -- but his team sat atop the power rankings for a long time. Just sayin'.
---
Brent in Salt Lake City writes
: Kevin,I liked your
draft updates on the Pac-12
, however, I think only including the last two years for the Utes is deceiving for us as a school. It makes it look worse (and we don't need help looking bad right now). Maybe consider a follow-up post where you look at including Colorado and Utah's performance in the same window (since 2000) and include all our draft picks?The Utes have put tons of players into the NFL via the draft since 2000. We've been [cruddy] enough since joining the Pac-12, I'd prefer to think fondly on our draft history. Thanks - enjoy your work.
Steve in Salt Lake City writes
: While I understand your keeping to the PAC10/12 for your article I think you probably should have used Utah's and Colo's past history to 2000 since they are certainly in the conference going forward.
Kevin Gemmell
: Colorado and Utah fans, I did you wrong. But know that this slight wasn't intentional. It was a Pac-12 writer writing a Pac-12-centric story. Sometimes I forget that there were other conferences before ours. Maybe I was jealous. Maybe I don't like to think about you running around with all of those other teams in all of those other locker rooms. I didn't want to recognize the life you had before the Pac-12.
But fair is fair -- and I owe you a statistical breakdown. I already included the 2013 and 2012 drafts in the original post. Here's the rest of the years.
Since 2000, Colorado has had 34 players drafted -- including four first-round draft picks. Their best draft was 2003 with six players taken and the low end was zero players drafted in 2010, 2005 and 2001. By round, it's four in the first, five in the second, three in the third, two in the fourth, five in the fifth, six in the sixth and nine in the seventh.
2011 (4): Nate Solder (No. 17), Jimmy Smith (27), Jalil Brown (118), Scotty McKnight (227).
2010 (0)
2009 (1): Brad Jones (218).
2008 (2): Jordon Dizon (45), Terrence Wheatley (62).
2007 (2): Mason Crosby (193), Abraham Wright (238).
2006 (4): Joe Klopfenstein (46), Jeremy Bloom (147), Quinn Sypniewski (166), Lawrence Vickers (180).
2005 (0)
2004 (2): D.J. Hackett (157), Sean Tufts (196).
2003 (6): Tyler Brayton (32), Donald Strickland (90), Chris Brown (93), Justin Bates (219), Brandon Drumm (236), Wayne Lucier (249).
2002 (5): Daniel Graham (21), Andre Gurode (37), Michael M. Lewis (58), Justin Bannan (139), Victor Rogers (259).
2001 (0)
2000 (4): Ben Kelly (84), Damen Wheeler (203), Brad Bedell (206), Rashidi Barnes (225).
Since 2000, Utah has had 34 players drafted, including three first-round draft picks and the No. 1 overall pick in Alex Smith in 2005. The high was in 2010 with six players taken and the low was 2008 and 2004 when no players were drafted. By round, it's three in the first, six in the second, three in the fourth, two in the fourth, four in the fifth, six in the sixth and nine in the seventh.
2011 (2): Brandon Burton (139), Caleb Schlauderaff (179).
2010 (6): Koa Misi (40), Zane Beadles (45), Robert Johnson (148), David Reed (156), Stevenson Sylvester (166), R.J. Stanford (223).
2009 (4): Paul Kruger (57), Sean Smith (61), Brice McCain (188), Freddie Brown (252).
2008 (0)
2007 (2): Eric Weddle (37), Paul Soliai (108).
2006 (2) Spencer Toone (245), Quinton Ganther (246).
2005 (5): Alex Smith (1), Sione Pouha (88), Chris Kemoeatu (204), Paris Warren (225), Jonathan Fanene (233).
2004 (0)
2003 (3): Jordan Gross (8), Lauvale Sape (187), Antwoine Sanders (258).
2002 (2): Cliff Russell (87), Ed Ta'amu (132).
2001 (2): Andre Dyson (60), Steve Smith (74).
2000 (3): John Frank (178), Mike Anderson (189), Richard Seals (218).
---
BDAZzler in Phoenix writes
: Considering that ASU will be facing
a much tougher schedule
this year than they have in the past few years, and that they have been underwhelming against the softer schedules in those years, how many early-season losses will it take for us to say that the Giant will continue to be sleeping this year?
Kevin Gemmell
: Arizona State's schedule is interesting this year. We're going to give them the benefit of the doubt against Sacramento State. Then they've got back-to-back Pac-12 games sandwiched between a home game against Wisconsin and a neutral field game against Notre Dame.
Obviously, going 4-0 during that stretch would be outstanding. I don't think they will. It has nothing to do with talent or coaching. Those are just four really hard games to play without any bye weeks in between. 3-1 would also be great. 2-2 would be solid and even 1-3 would be OK -- so long as that one win was USC for South Division tiebreaking purposes. No promises there.
Losing all four would be a huge blow. ASU could still win the South Division with a 1-4 start -- but they'll have to run out seven straight (which is unlikely) and hope that USC loses. Taking at least one of those games will be critical.
If they win a couple of those games early, it will be a huge boost to their national credibility. And I think they can beat Wisconsin and Notre Dame. I'd say they are underdogs at Stanford, though not by much, and depending how USC's quarterback competition shakes out and the new defense comes together, that could be a coin flip. But it's at home, so maybe they get an edge.
But it's also not the end of the world if they have a slow start. It just means they'll have a lot of making up to do on the back end.
---
Derek in Portland writes
: I liked the
Oregon State cornerback article
. But please explain to me how this is more important than the quarterback competition?
Kevin Gemmell
: Just for the record, I said it
might
be. And here's my thinking. You know what you are getting with
Sean Mannion
and
Cody Vaz
. Both of them have won big games and both have quality experience/starts.
This isn't a situation with two or three young quarterbacks who have never taken a collegiate snap learning an entirely new offense and trying to build continuity with receivers. These guys have been in the system for multiple years and they know who they are going to be throwing to.
Of course, the quarterback is the most important position on the team. You'll never hear either half of the Pac-12 blog say otherwise.
However -- the cornerback spot -- and we're just talking about Oregon State, not making a sweeping statement about all teams -- that position battle is extremely important because whoever fills in for Jordan Poyer will be joining an experienced secondary. And if I'm an offensive coordinator scouting Oregon State and putting together my passing game plan, I'm looking at the experience of
Rashaad Reynolds
,
Ryan Murphy
and
Tyrequek Zimmerman
-- and also the lack of starting experience at left corner -- and that's where I'm testing the waters.
The combination of
Sean Martin
and Steven Nelson (and it sounds like Mike Riley wants to use them as a duo -- which makes sense) might end up being as lockdown as Poyer was. And for the record I think Martin did an outstanding job last season in spot duty -- so much so that I bestowed on him the highest honor we have on the Pac-12 blog back in Week 10:
a helmet sticker
.
But until we see what he/Nelson can do each week, that position is more of an unknown than what we'll be getting at quarterback. And that's why it
might
end up being the more important position battle.
May, 10, 2013
May 10
12:00
PM ET
While so much of the attention on Oregon State this spring has been on the quarterback competition -- one of the most intriguing in the nation between
Sean Mannion
and
Cody Vaz
-- there are other critical position battles.
And the one at cornerback might even be of greater importance.
Post spring,
Sean Martin
sits atop the depth chart at left corner, opposite returning starter
Rashaad Reynolds
on the right side. This position is of great interest because it was formerly held by the departed Jordan Poyer -- one of the school's top secondary players of all-time who sits fourth on the school's career interceptions list with 13.
[+] Enlarge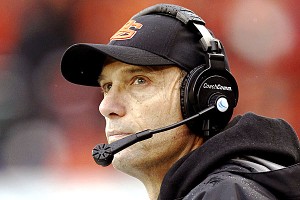 AP Photo/Don Ryan"I'm not ready to say which one of them is going to come out of the fold as 'the starter,'" Oregon State's Mike Riley said of cornerbacks Sean Martin and Steven Nelson.
Pushing Martin is junior college transfer Steven Nelson -- who was rated by one service as the No. 2 JC cornerback in the country.
But head coach Mike Riley isn't approaching it with the thought that one will be a starter and one will be a backup. If all goes according to plan -- it's likely we'll see them on the field at the same time.
"That competition is good for the Beavers because my goal out of this thing is that both of these guys become bona fide starters," Riley said. "They both won't necessarily start on first down, but if they proceed to grow as we've seen them through their competition in the spring, then you'll see them both playing together a lot. Third-down defenses, nickel or dime. We actually need both of them to be considered as starters."
He says that with the caveat that he's not ready to say which one has pulled ahead in their competition. Spring depth charts offer a little insight, but not nearly enough to pass judgment.
Once a commit to Georgia, Nelson comes to Oregon State from the College of Sequoias in California, and has spent the spring playing catch up. Martin, however, started three games last year -- twice as a nickel and one at corner against Arizona State when Poyer was out with an injury. After missing the majority of 2011 with a broken foot, Martin bounced back in 2012 to register 43 tackles, two interceptions and three pass breakups.
Martin's experience might be what keeps him atop the depth chart -- at least for now.
"I think Sean Martin has improved dramatically in the course of two years here and I think Steven has all the athletic tools to be a corner in our league and be a good player," Riley said. "He needs to learn more and more about what we do and how he fits into that, but I think he's very conscientious and I think he'll make that move. I think this has all been very good."
After a rough 2011, where the Beavers ranked 104th in pass-efficiency defense, they bounced back and were 20th nationally last year. After giving up 28 passing touchdowns in 2011, they cut that number in half to 14 in 2012. Poyer was a huge part of that, hauling in seven of OSU's 20 interceptions last season.
With Reynolds (25 career starts) on the other side and returning safeties
Tyrequek Zimmerman
(13 starts) and
Ryan Murphy
(15 starts), the secondary should again be solid with just the one hole to fill.
But Riley isn't as concerned with finding one guy who can step in for Poyer as he is developing them to work together in unison.
"I'm not ready to say which one of them is going to come out of the fold as 'the starter,'" Riley said. "But my goal is for both of them to be ready to play and be good, solid players in the fall."
March, 20, 2013
Mar 20
11:00
AM ET
Get comfortable, Oregon State fans. It's going to be a long quarterback competition.
Addressing the media Tuesday in a pre-spring conference call, Oregon State head coach Mike Riley said it's doubtful anything will be decided between
Sean Mannion
and
Cody Vaz
this spring. Mannion is listed No. 1 on the depth chart -- only because Riley and Co. didn't include an "or" between the two names. Anyone looking for meaning to Mannion being No. 1 can keep looking.
"You can't read anything into that," Riley said. "We're going to split their time evenly. You don't need to ask them daily about what's going on because I probably won't make a decision until the end of fall camp. I'm just going to let them play and grow and try to get better this spring. We'll give them absolute even turns as we go -- unless somebody just takes the bull by the horns and separates. But I don't know if that's going to happen. I think they both did a lot of good things and they both had some rough moments. It's a matter of who comes out of it with the most consistent, best play. And that might take some time. I think they are both knowledgeable. They both work hard and are well-respected. We're going to let them get as much preparation as they can."
This will be one of the more closely watched quarterback competitions in the conference -- and nationally, as the Beavers are expected to start the season in the preseason top 25.
Mannion helped the Beavers to a hot start in 2012, guiding them to victories in their first four games before hurting his knee against Washington State. That paved the way for Vaz, who engineered back-to-back wins at BYU and against Utah.
[+] Enlarge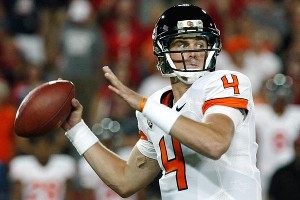 Rick Scuteri/US PresswireSean Mannion is listed as Oregon State's No. 1 QB, but nothing's been decided, coach Mike Riley said.
Then came the first loss of the season, to Washington, in which Mannion threw four interceptions. Oregon State was off and on the rest of the season -- as were its quarterbacks. After a 6-0 start, the Beavers went 3-4 down the stretch, culminating with a 31-27 loss to Texas in the Alamo Bowl.
Mannion finished the year with 2,446 yards and 15 touchdowns to 13 interceptions on 64.7 percent passing. Vaz completed 58.9 percent of his throws for 1,480 yards, but also had 11 touchdowns to just three interceptions.
"We've talked to both of them about the fact there is going to be competition," Riley said. "They have to learn to handle that and be a great leader and a great teammate and focus on doing their best. I think it will be good for both of them. I think it will bring the best out in both of them and then we'll have to see what we're going to do from there. I suppose in the long run we could come out of it stronger."
Other notes:
Players who will miss spring ball include: Safety Tyrequek Zimmerman, left tackle Garrett Weinreich, defensive end Scott Crichton, wide receiver Richard Mullaney and fullback Tyler Anderson. Left guard Chase Eldredge and center Isaac Seumalo will be limited.

Riley talked about the competition between Sean Martin and junior-college transfer Steven Nelson to replace departed cornerback Jordan Poyer: "[Martin] got more opportunities to play last year and that was all good for him, and we'll see if he can step up into what can be a reliable starting role. ... [Nelson] is always around working out, and in a short amount of time has seemed to fit in real well. I anticipate good things from him in spring ball. The best thing that can happen to this team is really develop good competition with good players at the corner. "

Riley on the depth at running back with Storm Woods, Terron Ward and Chris Brown: "That right there is good depth. I hate losing Malcolm [Agnew] because he's a good football player. He's all over special teams and when you watch our cutups or games, he's always doing something. But I think we have good players there. Storm can build on his freshman year for sure and Terron Ward looked really good in the offseason running and has really worked hard. Chris Brown is a young talent trying to break in where he can hopefully fill some of those roles that Malcolm Agnew played and bust into the rotation of playing in the game."
May, 14, 2012
5/14/12
9:00
AM ET
2011 overall record
: 3-9
2011 conference record
: 3-6 (fifth in North)

Returning starters
: offense: 8; defense: 8; kicker/punter: 1
Top returners
QB
Sean Mannion
, DB
Jordan Poyer
, WR
Markus Wheaton
, WR
Brandin Cooks
, DE
Scott Crichton
, DB
Rashaad Reynolds
, OL
Josh Andrews
, S
Anthony Watkins
.
Key losses
WR James Rodgers, S
Lance Mitchell
, C
Grant Johnson
, DT
Fred Thompson
(passed away last December, could have been in contention for starting spot).
2011 statistical leaders (*returners)
Rushing
:
Malcolm Agnew
* (423 yards)
Passing
: Sean Mannion* (3,328 yards)
Receiving
: Markus Wheaton* (986 yards)
Tackles
: Anthony Watkins* (85)
Sacks
: Scott Crichton* (6)
Interceptions
: Jordan Poyer* (4)
Spring answers
1. Running game revival
: Head coach Mike Riley has been adamant that his team will be better at running the ball in 2012. The Beavers rotated through four backs last season -- mostly because of injuries -- but redshirt freshman
Storm Woods
has come on strong in the spring. Though a pecking order hasn't been established, it's safe to say that the Beavers will have a deep rotation.
2. Secondary depth is solid
: With Watkins sidelined during the spring with a shoulder injury, it opened up opportunities for
Ryan Murphy
and
Tyrequek Zimmerman
to replace the graduated Lance Mitchell. Murphy, last year's nickelback, looks like he's won the job to start along Watkins. Pair that with Poyer and Reynolds and the Beavers should be solid in the defensive backfield.
3. LB corps filling out
:
D.J. Welch
looks like the heir apparent to Cam Collins on the strong side.
Feti Unga
, who was among the conference leaders in tackles last year prior to a knee injury, appears to be back and ready to go for the fall.
Michael Doctor
also appears more comfortable as he readies for his second year as a starter.
Rueben Robinson
and Cade Cowdin should provide the Beavers with some good depth across the board.
Fall questions
1. Offensive line issues
: With only eight healthy linemen this spring, there wasn't much of an opportunity to fill out a starting five. Riley said he doesn't like leaving spring without knowing who his starters are, but it's just something they have to deal with. Andrews helps solidify the line and
Grant Enger
and
Colin Kelly
will be in the mix when they return from injury. But with a big influx of freshmen, Riley has essentially said all positions are up for grabs.
2. Has Mannion taken the next step?
If you ask Riley, he has. If you ask Mannion, he has. But it won't be known until he steps on to the field. He showed last season that he has the potential to be an A-list quarterback in this conference. Better decisions should improve his 16-to-18 touchdown to interception ratio and an improved running game will almost certainly be a plus.
3. Who is No. 3 at WR?
We know about Wheaton. We know that Cooks is up and coming. But who is going to be that No. 3 option for Mannion?
Jordan Bishop
is penciled in as the slot guy, but he missed his second straight spring. That opened the door for
Obum Gwacham
to emerge as the potential No. 3. He's Wheaton's immediate backup on the outside, but Riley couldn't help but gush about Gwacham's performance this spring.
April, 27, 2012
4/27/12
4:30
PM ET
As Oregon State wraps up its spring session Saturday with its Fan Fest activities at Reser Stadium, head coach Mike Riley said he's feeling pretty good about what the Beavers accomplished this spring.
Last year's growing pains, which led to a 3-9 season, also produced a lot of first-time starters who now have some game experience. In fact, there will be 27 players on the 2012 roster who have started at least one game. That depth allowed Riley to really focus on the details this spring.
"I'm not sure we got the whole volume of what we wanted to get in, but we got to repeat a lot of stuff," Riley said. "We took this spring as a fundamentals look. We tried not to be too exotic. We worked on the timing of certain routes with the receivers and quarterbacks, worked on the details of fundamentals and blocking schemes. It was a good mixture of coverages, but not too much that we can't get good reps. Volume hasn't been great, but our work on the details has vastly improved."
[+] Enlarge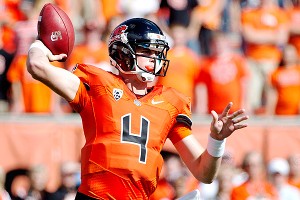 Jim Z. Rider/US PRESSWIREOregon State QB Sean Mannion said he improved his confidence and throwing accuracy this spring.
Riley said he's liked the growth of the quarterbacks, citing an improvement in efficiency and overall production. Starter
Sean Mannion
said he's a much more confident quarterback as well.
"The Sean Mannion now is more comfortable," Mannion said,
when asked to describe himself from last year to this year
. "I think he's more experienced. I think he's improved his accuracy, improved his decision making. But that being said, I know there is a long way to go."
The biggest frustration for Riley this spring was the lack of depth on the offensive line. With players like
Colin Kelly
and
Grant Enger
out, Riley said it was a good chance for other players to compete. Plus, with an influx of offensive linemen coming in this fall, there is more uncertainty across the line than any other position group on the Beavers' roster.
"You always want to come out of spring set on starters," Riley said. "But we're not going to be able to do that on the offensive line. We'll still be scratching and clawing to find the right group of guys."
Riley said he's been very pleased with the development of safeties
Ryan Murphy
and
Tyrequek Zimmerman
. With
Jordan Poyer
and
Rashaad Reynolds
returning at both cornerback spots, Riley thinks he's got a pretty good secondary.
"I like the look of that group a lot," he said. "They are all really instinctual players as well as talented. That goes a long way to being successful. Reynolds has grown a lot and Poyer is a proven commodity and it's been fun watching the two safeties grow."
Oregon State also was one of its deepest wide receiving corps in years. And Riley has previously said he wants to take more shots down the field this season. He's moved
Obum Gwacham
into the slot as a third receiver (though he'll continue to back up
Markus Wheaton
) in an effort to get more playmakers on the field.
"It's a good step for the growth of this offense and we really like [Gwacham] in that spot," Riley said. "We've gotten a good look at him inside and we've been really pleased how he's adapted to the role."
PAC-12 SCOREBOARD
Saturday, 12/21
Monday, 12/23
Tuesday, 12/24
Thursday, 12/26
Friday, 12/27
Saturday, 12/28
Monday, 12/30
Tuesday, 12/31
Wednesday, 1/1
Thursday, 1/2
Friday, 1/3
Saturday, 1/4
Sunday, 1/5
Monday, 1/6
Tweets from @ESPNCFB/pac-12