July, 9, 2014
Jul 9
12:00
PM ET
We're continuing our preseason position reviews. Please, hold your applause until we are finished.
Here's how we do this. We provide three evaluative categories: "Great shape," "Good shape" and "We'll see."
Hint: You'd prefer your team to be in "Great shape."
"We'll see" doesn't mean you're going to stink at said position. It means just what it says -- we'll see, because there's no way at present to know.
You can review last year's rankings here
.
Up next: Linebacker. Teams in each category are listed in alphabetical order.
GREAT SHAPE
Oregon
: The Ducks are in great shape with inside linebackers
Derrick Malone
and
Rodney Hardrick
returning next to outside linebacker
Tony Washington
. The only departure they'll have to account for is Boseko Lokombo, and that spot appears destined for
Tyson Coleman
once he's completely healthy following a knee injury that sidelined him for the Alamo Bowl. Sophomore
Torrodney Prevot
is one of several talented young players to keep an eye on when the Ducks empty their bench during blowouts.
Oregon State:
The Beavers are deep at linebacker with
D.J. Alexander
,
Jabral Johnson
and
Michael Doctor
projected to start in their 4-3 scheme.
Rommel Mageo
was a starter down the stretch last season and should see plenty of playing time, as will
Caleb Saulo
and
Darrell Songy
.
USC:
Only outside linebacker Devon Kennard is gone from a a solid group that should have a rather seamless transition playing in new defensive coordinator Justin Wilcox's 3-4 defense.
Hayes Pullard
and
Anthony Sarao
figure to start inside, with
Jabari Ruffin
or
Quinton Powell
playing outside opposite
J.R. Tavai
.
Washington:
The Huskies weren't fully stocked during the spring, but figure to have one of the best groups in the conference with
John Timu
playing between
Shaq Thompson
and
Travis Feeney
.
Cory Littleton
can be listed at defensive end or outside linebacker -- UW calls him a rush end -- and is coming off a productive sophomore season.
GOOD SHAPE
Colorado:
Addison Gillam
led the Pac-12 in tackles per game last year (8.9) and will likely start between sophomore
Kenneth Olugbode
and senior
Woodson Greer
. The Buffaloes have depth, too, with
Brady Daigh
, a reliable backup for Gillam, and outside linebacker
Deaysean Rippy
, who sat out last season after transferring from Pittsburgh. Rippy was listed as an alternative starter to Greer on Colorado's post spring depth chart.
Stanford:
There might not be a more difficult task in the conference than replacing outside linebacker Trent Murphy and inside linebacker Shayne Skov, both of whom drew All-American accolades in multiple season. Inside linebacker
A.J. Tarpley
, already a three-year starter, is one of the conference's unheralded players and outside linebacker
James Vaughters
is poised for a breakout senior season. Kevin Andersen has seen a lot of playing time over the past two years at outside linebacker, but the other inside spot needs to be ironed out.
UCLA:
Like Stanford, the Bruins have a tough task in replacing Anthony Barr and Jordan Zumwalt, but have two talented returners in
Eric Kendricks
and
Myles Jack
. UCLA could very well end up one of the best groups in the conference pending the development of
Kenny Orjioke
,
Deon Hollins
,
Isaako Savaiinaea
and
Zach Whitley
.
Utah:
Junior
Jason Whittingham
is a potential first-team all-conference type player and the Utes are high on
Jared Norris
, who started seven games last year. The group looked even better when Miami-transfer
Gionni Paul
was projected to contribute, but the start to his season is expected to be delayed by a broken bone in his foot.
Uaea Masina
, after contributing on special teams last year, will likely see a lot of playing time.

Washington State:
Darryl Monroe
and
Cyrus Coen
return as starters and
Tana Pritchard
, who saw his role grow as the season went along, will be leaned on heavily. The final spot up for grabs is the 'buck,' which looks like it will come down to
Kache Palacio
, a slight favorite who started at the end of the season, and
Ivan McLennan
.
Chester Su'a
could also make some noise after missing last season with an injury.
WE'LL SEE
Arizona:
The Wildcats need to replace three-year starter Marquis Flowers and two-year starter Jake Fischer.
Scooby Wright
started 12 games as a true freshman last season and gives the Wildcats a good piece to start with, but we'll take a wait-and-see approach once the other pieces are in place. The good news is that Arizona has recruited well at linebacker.
Arizona State:
Salamo Fiso
returns, but having to replace three of the four starters from a year ago leaves more questions than answers. Early-enrollee
D.J. Calhoun
drew rave reviews during spring practice, but will have to beat out redshirt junior
Antonio Longino
for a starting job.
Eriquel Florence
(devil), and
Laiu Moeakiola
/
Marcus Washington
(spur) were also listed as starters at the end of spring practice.
Cal:
Jalen Jefferson
,
Michael Barton
and
Hardy Nickerson
are all back, but after last season's defensive woes it's hard to go in with much optimism. The situation at linebacker is clearly better than it was last year, but that's not inspiring enough not to erase speculation.
OTHER POSITION REVIEWS:
April, 4, 2014
Apr 4
11:00
AM ET
It might be a very different looking
Oregon
team that takes the field next fall … and not because of the uniform changes (though, those are sure to be something different). Instead, the guys wearing those uniforms might fill them out a bit differently.
[+] Enlarge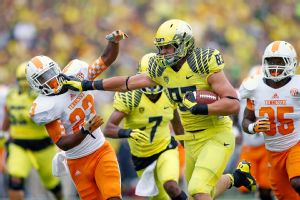 Jonathan Ferrey/Getty ImagesOregon is hoping the weight gained by player like Johnny Mundt will not affect the team's speed advantage.
Through this winter, several players went through some significant weight changes by making minor tweaks in the strength and conditioning program. But coach Mark Helfrich is hoping that the weight gains aren't just shown physically but in how the players take the field, as well.
"Hopefully a lot of that is confidence," Helfrich said. "Just that edge of you feeling a little better about yourself, you're moving a bit more, you're physically bigger. It's just you're coming into the play with more confidence and that's a big deal."
Defensive lineman
Sam Kamp
put on the most weight of any player, packing on another 29 pounds and fellow lineman
T.J. Daniel
added 22. Not to be outdone, the offensive linemen packed on more than 100 pounds as a unit, with guard
Doug Brenner
leading the way with 26 pounds and
Matt Pierson
,
Cameron Hunt
and
Elijah George
all bulking up at least 20 pounds.
"I think we've kept our speed and athleticism," center
Hroniss Grasu
said. "The added weight gain is just there to get us more physical and blowing the defensive line off the ball where we lacked that toward the end of the season."
But it wasn't just the big men making significant changes. Tight end
John Mundt
packed on 20 pounds and in the linebacker group, guys like
Tyson Coleman
,
Joe Walker
and
Tyrell Robinson
all put on at least 15 pounds.
Quarterback
Marcus Mariota
is up to 218 pounds and hopes to be at 220 for the start of the 2014 season, while both leading backs made some important changes --
Byron Marshall
lost six pounds (down to 201 pounds) while
Thomas Tyner
added 14 pounds and is up to 215.
With all of the weight gain the main concern would be that the high-powered offense the Ducks feature might be lacking some of that Oregon speed, but the players have tried to keep up their speed with the added weight. Mundt said that one of the focuses was finding that sweet spot for each player at which he stayed as fast as possible but got as big as possible.
"We were all pushing each other in the weight room and in conditioning," Mundt said. "We've all gotten better and stronger, so that's a good thing. … I think we have more strength and size across the board, but we're still moving fast."
Added bulk is certainly going to benefit this team,and as long as each guy can still move the same, the only teams struggling with the weight gain with be opponents. In May, if a player doesn't appear the same when he takes the field for the spring game, it's not the uniform, it's the guy in the uniform.
August, 28, 2013
8/28/13
5:30
PM ET
Just because a position is questionable in the preseason doesn't mean it's not answerable.
Questionable: Oregon is replacing three A-list linebackers. Dion Jordan was first-team All-Pac-12 and the third overall pick in the 2013 NFL draft. Kiko Alonso and Michael Clay were both second-team All-Pac-12, with Alonso getting picked in the second round of the draft. Clay was cut this week by the Miami Dolphins.

The lone returning starter is
Boseko Lokombo
, who only ranked 10th on the team in tackles last year.
Answerable: Lokombo, a fantastic all-around athlete, has been a dominant playmaker during preseason practices, and the Ducks have five other linebackers with significant playing experience.
With the first official depth chart out,
Tony Washington
, as expected, will step in for Jordan at the position listed as defensive end opposite
Taylor Hart
, though everyone and their grandmother knows the Ducks defense is a base 3-4 and Washington will be an outside linebacker opposite Lokombo.
Juniors
Rodney Hardrick
and
Derrick Malone
, who were injured during spring practices, are the starters inside.
The three new guys are hardly green. Washington started twice for Jordan last year and finished with 20 tackles. Malone had one start and finished with 41 tackles, which ranked eighth on the team. Hardick had 11 tackles.
Depth? Backup
Tyson Coleman
, who can play inside and outside, had 34 tackles last year, and
Rahim Cassell
had 19. In fact, it wouldn't be surprising if the Ducks played nine linebackers against woeful Nicholls State on Saturday.
Still, Lokombo is the one to watch. The 6-foot-3, 232-pound senior could play his way into the early rounds of the NFL draft next spring if his production equals his potential this fall.
"He's a guy who is almost limitless from a potential standpoint," Oregon's first-year coach Mark Helfrich said. "We expect huge things from him. But he needs to be more consistent."
Lokombo had 39 tackles last year, with 4.5 tackles for a loss, two sacks and two interceptions. Look for the sack numbers, in particular, to go up. Lokombo is powerful -- 500 pound squat -- and fast, though he's more quick than a 40-yard dash guy. He started all 13 games last year and the native of Congo has seen action in 40 since arriving at Oregon from Abbotsford, British Columbia four years ago.
He doesn't seem too worried about the new starters surrounding him.
"Some of them already played a lot last year," he said. "They are ready to take on their roles. It's next man up and that's that."
It also helps that Oregon's defensive line and secondary are both among the best units in the Pac-12, with the secondary widely considered as good as any in the nation.
The Ducks 2012 defense was very good. This one might still be able to match it, even with a question at linebacker.
Said Helfrich, "We have a lot of unproven guys, but a bunch of guys who have played to this point in camp really hard and really well."
August, 5, 2013
8/05/13
2:30
PM ET
Let me ask you something. When you come in on Monday and you're not feeling real well, does anyone ever say to you, "Sounds like someone has a case of the Mondays?"
April, 9, 2013
4/09/13
2:30
PM ET
So I was sitting in my cubicle today, and I realized, ever since I started working, every single day of my life has been worse than the day before it. So that means that every single day that you see me, that's on the worst day of my life.