June, 9, 2011
6/09/11
6:59
PM ET
By
ESPN.com staff
| ESPN.com
The Pac-12 and New Mexico Bowl are hooking up
a year earlier than originally planned
.
The conference's No. 7 team will play a Mountain West team on Dec. 17, in the first bowl game of the 2012 season. Kickoff will be at 2 p.m. ET at University Stadium in Albuquerque. The game will be broadcast by ESPN.
The Pac-12 was supposed to pick up the New Mexico Bowl in 2012, but the bowl dropped its WAC affiliation, opening the door for an earlier marriage.
In the first four New Mexico Bowls, the Mountain West and WAC squared off, with the MWC winning three of four. In the fifth annual game, the bowl welcomed UTEP, a Conference USA member, which fell to departing MWC-member BYU.
What this means for the Pac-12 is that it's almost certain any team that is at least 6-6 will be able to play in a bowl game (keep in mind that USC isn't eligible for the postseason).
Here's the Pac-12 bowl lineup for 2011-12.
No. 1 : Rose Bowl Game presented by VIZIO, Jan. 2 (Jan. 1, the bowl's traditional date, falls on a Sunday, when no bowl game will be played this year)
OR
Allstate BCS National Championship, Jan. 9
No. 2: Valero Alamo Bowl vs. Big 12 No. 3, Dec. 29.
No. 3: Bridgepoint Education Holiday Bowl vs. Big 12 No. 5, Dec. 28.
No. 4: Hyundai Sun Bowl vs. ACC No. 4, Dec. 31.
No. 5: MAACO
Las Vegas vs. Mountain West No. 1, Dec. 22
No. 6: Kraft Fight Hunger vs. Army (if eligible), Dec. 31.
No. 7: New Mexico Bowl vs. Mountain West, Dec. 17
June, 10, 2010
6/10/10
3:46
PM ET
By
ESPN.com staff
| ESPN.com
Turns out the NCAA did give USC the
Alabama slammer
. And then some.
The NCAA hammered USC with sanctions on Thursday, as the Trojans were banned from postseason play for two seasons, lost 30 scholarships over the next three years and must vacate all wins from December 2004 -- the BCS title game included -- through the entirety of the 2005 season.
USC was cited for a lack of institutional control, impermissible inducements, extra benefits, exceeding coach staff limits and unethical conduct by a running backs coach Todd McNair. Because of violations in 2001, the program also was considered a "repeat violator."
The penalties, USC's sixth case of major infractions since 1957, exceed in severity sanctions Alabama received in 2002 and what Washington received in 1993 -- major violations cases you
can review here
.
USC can appeal the ruling, but then it runs the risk of simply delaying the penalties further into the future.
The first question: Why did the NCAA hit USC so hard with sanctions?
Answer: It didn't buy any of USC's defenses.
"The general campus environment surrounding the violations troubled the committee," the report said.
"The committee noted that the violations in this case strike at the heart of the NCAA amateurism principal, which states that intercollegiate athletics should be motivated primarily by education and its benefits," the report said.
The 67-page public report recounts a laundry list of extra benefits provided to Reggie Bush and his family, much of which has been widely reported. The committee also found that McNair not only knew about Bush's dealings with would-be agents and sports marketers, he lied about what he knew to NCAA investigators. McNair, whom new coach Lane Kiffin retained as the Trojans running backs coach, is banned from all recruiting activities for a year.
"The committee finds ample reason in the record to question the credibility of the assistant football coach [McNair]," the report said.
The only gesture of mercy: No television ban. Said the report, "The committee seriously contemplated imposing a television ban penalty in this case. However, after careful consideration, it ultimately decided that the penalties below adequately respond to the nature of violations and the level of institutional responsibility."
So what does it mean?
First, there's the embarrassment of the vacated wins, which could mean the BCS takes away the 2004 national title.
But the NCAA obviously wanted to make a strong statement, and the only way to do that is to hit a program where it hurts: The present and future.
Losing 10 scholarships from each of the next three recruiting classes is a significant blow. Losing potential bowl berths for the next two seasons also will be a blow to recruiting as well as school finances.
In other words, these penalties will send the program that has won seven of the past eight Pac-10 titles back to the pack. Will it crush the program? Probably not. But let's just say the Trojans probably won't win the Pac-10 when they are again eligible for the postseason in 2012.
The unfortunate thing is the folks who will suffer most under these penalties -- players who weren't around in 2004 and 2005 -- are not the ones to blame. Most of the principals have moved on to bigger and better things. Bush and O.J. Mayo are NFL and NBA millionaires. Bush's parents, stepfather Lamar Griffin and mother Denise Bush, used their son's fame for profit, breaking NCAA rules in the process, probably couldn't care less. Former coach Pete Carroll signed a five-year, $33 million contract with the Seahawks. Tim Floyd is the basketball coach at UTEP.
USC looked like a slight Pac-10 favorite entering the 2010 season. Now that they are only playing for pride, who knows what the product will look like on the field.
The door is open for another program, or two, to make its move. Further, in 2012, the Trojans will re-enter the race after Pac-10 expansion in a weakened state, which means the opportunity window figures to be open for a few more years.
The NCAA doesn't like to talk about sending a message, but the USC ruling should do just that.
You can run -- or run your program loosely -- but ultimately you can't hide. Even if it takes four years, the NCAA will eventually have its say.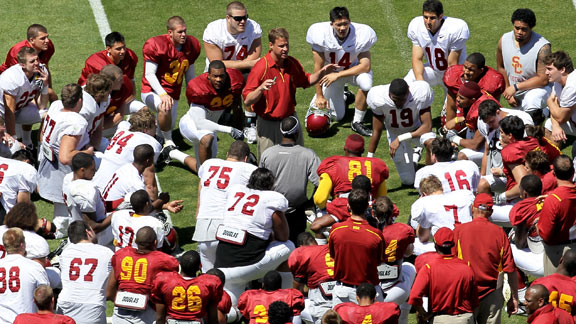 May, 28, 2010
5/28/10
3:00
PM ET
By
ESPN.com staff
| ESPN.com
Howdy. Still on vacation, but the mailbag is not.
To the notes.
Josh from Lynden, Wash., writes
: There is a lot being made of the Pac 10 not having a national title contender. Did you see anything in spring ball that would lead you to believe that USC, Oregon or Oregon State could get on a roll this season and be a player in the national picture?
Ted Miller
: Couple of things to understand: First, watching one or two practices doesn't typically yield profound insights about a team's ultimate standing. Consider
what I wrote
about USC last spring. D'oh. Heck, watching every spring practice actually can lead to a false perception inflation or deflation. As in: That defense might look dominant because the O-line is struggling. Or vice versa. Or all those dropped passes or wayward throws might just be a momentary loss of concentration. During practices, success of one unit means a failure on the other. Things on fall Saturdays could look very different.
Second, just because it doesn't look like the Pac-10 has a national title contender right now doesn't mean that will be the case in December. What if USC reverts to its pre-2009 self? Or what if Chip Kelly clicks his heels three times and
Nate Costa
(or
Darron Thomas
) seamlessly replaces
Jeremiah Masoli
as the Oregon QB? And what if Oregon State starts 3-0 with two wins over top-10 teams?
My hunch is the Pac-10 will not contend for a national title this season. But, as many of you enjoy noting, I've been wrong before.
I'm still mad about that one time, by the way.
---
Sean from Pullman, Wash., writes
: If Paul Wulff has another abysmal with the Cougars, and he is ultimately replaced, who do you think they would hire? According to the CBSSports Hot Seat rankings, it seems as though UTEP's Mike Price might be looking for work somewhere else if he doesn't put up. Do you think Bill Moos would go down that road again or would he want to make a bigger splash with his first big hire as AD?
Ted Miller
: My first response is that new athletic director Bill Moos, who played a role in Wulff's hiring, is going to try his best to be patient. If the Cougars are consistently more competitive in 2010; if they show clear improvement -- even if that doesn't mean more than three or so wins -- I think Wulff will get a fourth year. At least, that seems like the wise course to me. Moos isn't the "look-at-me!" sort who is eager to make a big splash just for the heck of it. He wants to do what's best for the program.
But to entertain your negative scenario: Price? I'm not sure that (re-)hiring a coach who just turned 64 is the solution.
Also, as a Pac-10 blog principle, I avoid speculating on whom a program might hire if a sitting coach is fired (unless it's an obvious case of "dead man walking"). I would suggest to Cougars fans your best course is to get behind Wulff and his team with a frenzied, unquestioning optimism. No sense worrying until you absolutely have to.
---
Nate from Houston writes
: When it comes to USC's non-conference schedule, you believe the Trojans will go 4-0. Virginia at home seems to be the biggest gimme, but between Hawaii, Minn., and ND, which team do you think will be the biggest challenge for the Trojans and why?
Ted Miller
: I think USC will win all four by double-figures. Biggest challenge? Probably Notre Dame because the Fighting Irish, who welcome back 17 starters, are the most talented team among the four. The game is in the Coliseum and the Irish haven't beaten the Trojans since 2001. That weighs heavily in USC's favor. On the other hand, I think Brian Kelly is an outstanding coach and by Nov. 27 his players should know him and his system far better than they would in September.
---
Sweatervested from Mobile, Ala., writes
: Good day to you sir! In
your conference rankings
you had the SEC 1st (of course.) However, being the wise guy that you are, you said "I have a hunch the SEC won't be on top at season's end." Who are you? Sister Cleo? Who is going to challenge us? Lets see! Texas? Oklahoma? Ohio St.(please)? USC? Oregon (at the very least, you will be able to brag that the best team in the LAC-10 beat a bottom tier SEC team.) Don't you just love us fans of SEC teams?
Ted Miller
: It's possible the SEC will take a step back next year, though the conference has earned the benefit of the doubt. The depth is questionable while all the top teams have significant questions, including Alabama (eight defensive starters gone) and Florida (Tim Tebow and eight other guys off to the NFL).
Which conference might prove better? Big 12 for one: Texas, Nebraska, Oklahoma, Texas A&M and Missouri look like top-25 teams. My darkhorse is the ACC, which nonetheless I ranked fifth at this point. I think Miami is close to a breakthrough and Florida State will move up under Jimbo Fisher, while Virginia Tech, Georgia Tech and North Carolina look like top-25 teams. Further, Clemson, Boston College and Wake Forest are solid teams that give the conference depth.
And what if Ohio State, Wisconsin and Iowa all end up in the top-10? Pac-10? It's as deep as any league.
And, yes, I do love you SEC fans.
---
Kim from Seattle writes
: You may find interest in my Spring Stats blog which displays team losses by position, expressed via percentage of stats lost.
Ted Miller
: You stat-heads will enjoy Kim's page --
go here
.
---
Ken from Seattle writes
: Love the "Dirty Job"
line drop
! That was one of the best lines from
a book full chock full of 'em
."Don't be ridiculous, Charlie, people love the parents who beat their kids in department stores. It's the ones who just let their kids wreak havoc that everybody hates. "
Ted Miller
: You can see my summer reading has started, eh? That was my first Christopher Moore experience and it won't be my last. Hilarious and a page-turning yarn. Seems to me it would make a great movie. A studio should give Moore a wheelbarrow full of money and let him write up a screen play.
---
Azhar from Berkeley writes
: I liked your old picture better. Make it come back!
Ted Miller
: The best way to take in my mug shot is with closed eyes.
But here's a
link for the old one
if you miss it.
November, 12, 2009
11/12/09
12:11
PM ET
By
ESPN.com staff
| ESPN.com
Posted by ESPN.com's Ted Miller
Stanford's
Toby Gerhart
and Oregon State's
Jacquizz Rodgers
are among the 10 semifinalists for the Doak Walker Award, which is given annually to the nation's best running back.
Three finalists for the award will be named on Nov. 23, and a second vote by the Doak Walker Award National Selection Committee will determine the recipient. The winner will be announced live on The Home Depot ESPNU College Football Awards on Dec. 10.
The award is named after three-time SMU All-American running back and 1948 Heisman Trophy winner Doak Walker.
Besides Gerhart and Rodgers, the other semifinalists are (in alphabetical order):
Donald Buckram
of UTEP,
Jonathan Dwyer
of Georgia Tech,
Mark Ingram
of Alabama,
Dion Lewis
of Pitt,
Ryan Mathews
of Fresno State,
C.J. Spiller
of Clemson,
Ben Tate
of Auburn and
Ryan Williams
of Virginia Tech.