November, 20, 2012
11/20/12
6:30
PM ET
The Pac-12 conference has announced its 2012 All-Academic team. To be eligible, the player must have a minimum 3.0 overall grade-point average and be either a starter or significant contributor.
FIRST TEAM OFFENSE
QB
Connor Wood
, Colorado, So., 3.55, Finance
RB
Jared Baker
, Arizona, RS, Fr., 3.56, Undeclared
RB
Patrick Skov
, Stanford, So., 3.41, Undeclared
WR
Andrei Lintz
, Washington State, RS Sr., 3.72, Sport Management
WR
Luke Matthews
, Utah (2), Sr., 3.69, Mass Communication
TE
Koa Ka'ai
, Oregon, RS Fr., 3.94, History
OL
Chris Adcock
, California, So., 3.57, Business Administration
OL
Jake Brendel
, UCLA, RS Fr., 3.60, Math/Applied Science
OL
Khaled Holmes
, USC , Sr., 3.31, Communication
OL
Tevita Stevens
, Utah (2) , Sr., 3.54, Spanish
OL
Matt Summers-Gavin
, California, Sr., 3.27, Political Science
FIRST TEAM DEFENSE
DL
Henry Anderson
, Stanford, Jr., 3.43, Political Science
DL
Nate Bonsu
, Colorado, Jr., 3.42, International Affairs
DL
Will Pericak
, Colorado (2), RS Sr., 3.45, Accounting
DL
Danny Shelton
, Washington, So., 3.47, Anthropology
LB
Dave Fagergren
, Utah, Sr., 3.51, Business
LB
Jake Fischer
, Arizona (2) , Jr., 3.32, Marketing
LB
Brandon Johnson
, Arizona State, RS Jr., 3.44, Sociology
DB
Brian Blechen
, Utah, Jr., 3.18, Sociology
DB
Jordan Richards
, Stanford, So., 3.34, Undeclared
DB
Eric Rowe
, Utah, So., 3.54, Undeclared
DB
Jared Tevis
, Arizona, So., 3.25, Finance
PK
John Bonano
, Arizona (3), Sr., 3.93,Physiology
P
Jeff Locke
, UCLA (3), RS Sr., 3.70, Economics
ST
Justin Gorman
, Colorado RS So., 3.61, Finance
(2) Two-time first-team All-Academic selection; (3) Three-time first-team All-Academic selection
SECOND TEAM OFFENSE
QB
Matt Barkley
, USC, Sr., 3.21, Communication
RB
Kenny Bassett
, Oregon, So., 3.31, Business Administration
RB
Steven Manfro
, UCLA, RS Fr., 3.20, Undeclared
WR
Dustin Ebner
, Colorado, RS Sr., 3.47, Integrative Physiology
WR
Nelson Spruce
, Colorado , RS Fr., 3.73, Business
TE
Michael Cooper
, Arizona, So., 3.92, Pre-Business
OL
Trace Biskin
, Arizona, Sr., 3.29, Political Science
OL
Zach Brevick
, Washington State, RS Jr., 3.23, Entrepreneurship
OL
Brad Cotner
, Colorado, RS Fr., 3.34, Arts and Sciences
OL
Kevin Danser
, Stanford, Sr., 3.13, Biomechanical Engineering
OL
Stephane Nembot
, Colorado , RS Fr., 3.20, International Affairs
SECOND TEAM DEFENSE
DL
Nate Fakahafua
, Utah, So., 3.19, Undeclared
DL
Ben Gardner
, Stanford, Sr., 3.01, Science, Technology and Society
DL
Taylor Hart
, Oregon, Jr., 3.17, Sociology
DL
Andrew Seumalo
, Oregon State, Sr., 3.17, Finance
LB
Michael Clay
, Oregon, Sr., 3.10, Family and Human Services
LB
V.J. Fehoko
, Utah, So., 3.31, Economics
LB
Travis Long
, Washington State, Sr., 3.02, Management and Operations
DB
Isaac Archuleta
, Colorado, RS Fr., 3.09, Business
DB
Tyré Ellison
, California, Sr., 3.01, Social Welfare
DB
Ronnie Harris
, Stanford, So., 3.13, Undeclared
DB
Charles Henderson
, Utah, RS Fr., 3.47, Undeclared
PK
William Oliver
, Colorado , So., 3.66, Management
P
Sean Sellwood
, Utah, Sr., 3.70, Exercise and Sport Science
ST
Richard Yates
, Colorado, RS Fr., 3.60, Mechanical Engineering
For the list of all players who were named honorable mention, you can see
the complete release from the Pac-12 conference here.
August, 1, 2012
8/01/12
12:00
PM ET
With Utah kicking off camp on Thursday, we thought it'd be nice to catch up with the always-accomodating Kyle Whittingham to talk some defensive depth, quarterback issues and whether we should believe the hype surrounding the Utes.
Let's get to the most important question first: Would you go hunting with Mike Leach?
Kyle Whittingham
: Absolutely. The entertainment value alone is priceless.
There were some conflicting reports last week that Jordan Wynn's job might not be secure. Is he your starting quarterback or is the job up for grabs?
[+] Enlarge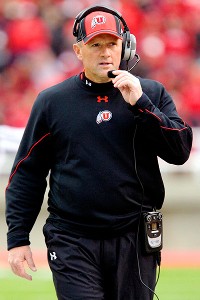 Russ Isabella/US PRESSWIREUtah coach Kyle Whittingham says he would go hunting with Mike Leach.
KW
: Jordan is our starter. But in this program, everyday is a competition. Nobody's job is etched in stone. It's all about what you've done lately. Jordan had a very good spring and performed as well -- or better -- than he ever has in this program. But the talent level at the quarterback position has been increased dramatically. All I was trying to point out was that the gap has closed and the level of competition is extremely high at that position. You have to play well to hang onto your job. But Jordan is the guy going in as the starter.
With Brian Blechen out for three games and Keith McGill taking a redshirt year, how confident are you in the secondary and its depth?
KW
: It certainly is something that's not ideal for us, to be in that situation. But we've got a lot of good players in the program. When one guy is out of the lineup, the next guy's got to step up and pick up the slack and get the job done. We fully expect that to happen.
Quade Chappuis is most likely going to step in for Brian?
KW
: Most likely. He's the guy right now that's scheduled to fill in for Brian.
Nate Fakahafua is preparing to start for the first time. What does he bring to the defensive line that complements Star Lotulelei and the Krugers?
KW
: Nate plays with a great deal of quickness and athleticism. Speed is his primary asset. He's a strong kid -- about 245 pounds. Since he's been in the program he's probably added 40 pounds to his frame. He was a wide receiver and defensive end in high school, which is a strange combination. He's a speed rusher and he relies on his athleticism and agility to get the job done.
Same question for V.J. Fehoko. What were the indications he's ready to take over as the starting middle linebacker?
KW
: V.J. is a very physical middle linebacker. He plays the run exceptionally well. He's tough at the point of attack and really a bit of a throwback. He's an old-school middle linebacker. A plugger type.
Some of these position battles -- the rover linebacker, the two offensive tackle spots -- when do you want to have those settled by?
KW
: The sooner the better, obviously. We don't have a time frame. We're hoping there is some natural separation that occurs and the sooner that happens in camp, the better off we'll be. I'd say, if we get to the point where we are a week out from the game and there hasn't been a clear-cut division, we'll have to make a decision at that time.
You guys are getting a lot of preseason love -- full disclosure -- a lot of it on this blog. Do you feel its deserved?
KW
: Well, last season we felt was a good transition to the Pac-12. It was a mixed bag. There were a lot of positives, but there were definitely some negatives in the season as well. We'd like to be more consistent this year. We were too hot and cold last season. We need to develop more consistency in our play this season and that's our primary objective.
May, 17, 2012
5/17/12
11:00
AM ET
Every spring, players break out. Here are a few that stood out in the Pac-12.

Ka'Deem Carey, RB, Arizona
: Carey was a hyped recruit from Tucson -- Canyon del Oro High -- and the local boy seems likely to make good this year after rushing for 425 yards as a freshman. He led a solid crew of backs this spring.
Brice Schwab, OT, Arizona State
: It's been a long time coming for Schwab, who has gone from heralded junior-college transfer to bust to likely starting right tackle. Schwab's problem when he arrived was conditioning: He was huge but it wasn't good weight. And he was way too weak. He started four games in 2010 and struggled, then redshirted last season in order to get in better shape. Once a 340-pounder, he's now 6-foot-7, 295. And he's a better player.
Deandre Coleman, DE, California
: Said coach Jeff Tedford of the 6-5, 311-pound junior: "He may be one of the best that we've ever had." That about sums it up. Coleman dominated this spring, looking like an all-conference candidate.
Tony Jones, RB, Colorado
: Replacing the highly productive Rodney Stewart was a spring priority and Jones, a sophomore, answered the bell. Jones is built a little like the diminutive "Speedy" -- 5-7, 175 pounds -- and he has a versatile range of skills, just like Stewart. With questions at quarterback, he will be asked to do a lot. Just like Stewart.
Colt Lyerla, TE, Oregon
: Lyerla should be a big weapon for whomever wins the Ducks' quarterback job. The 6-5, 238 pound sophomore should step in for the departed David Paulson and could end up as one of the Ducks' leading receivers. He caught just seven passes last year, but five went for touchdowns. He's a special athlete with a year of seasoning, which often is the foundation for a breakout.
Brandin Cooks, WR, Oregon State
: Cooks has speed and quickness and will play opposite one of the best receivers in the conference in
Markus Wheaton
. He caught 31 passes for 391 yards and three TDs last year while being extremely raw. He's less raw now and has good upside. And it will help that defenses will obsess over Wheaton.
James Vaughters, LB, Stanford
: The coaches have said they are going to let the leash off of this aggressive, physically imposing linebacker and see what happens. We know he'll be at middle linebacker (as opposed to just a third-down specialist last year) where he's expected to wreak havoc.
Steven Manfro, RB, UCLA
: Speed and quickness. There is a difference, but Manfro has both. He excelled in the spring sessions and though he sits third on the UCLA depth chart, he might work his way into carries if he continues to show explosive breakaway ability.
Isiah Wiley, CB, USC
: Wiley quietly started the final six games in 2011 and played fairly well. While he's a senior, this is only the JC transfer's second year in the program. This spring, he took a step forward and seems likely to start opposite
Nickell Robey
.
V.J. Fehoko, LB, Utah
: With possibly the best defensive line in the conference in front of him and offenses keying in on
Trevor Reilly
, Fehoko could be in position to be extremely productive filling the shoes of
Chaz Walker
. Similar build as Walker, who tallied 118 tackles last year.
James Johnson, WR, Washington
: After an injury-plagued career, Johnson is finally healthy and in the starting lineup. The physical tools are all there and the quarterback is in place for him to put up some solid numbers -- if he can stay on the field.
Andrei Lintz, WR, Washington State
: This converted tight end was the talk of WSU's spring session. He has the hands and size to be effective over the middle and he showed great chemistry with
Jeff Tuel
during the 15 practices. The more attention
Marquess Wilson
draws, the more opportunities there will be for Lintz to excel.
May, 14, 2012
5/14/12
7:00
AM ET
2011 overall record
: 8-5
2011 conference record
: 4-5 (T 3rd, South)
Returning starters:
Offense: 9; defense: 7; punter/kicker: 2

Top returners
QB
Jordan Wynn
, DT
Star Lotulelei
, RB
John White
, WR
DeVonte Christopher
, S
Brian Blechen
, OL
Sam Brenner
.
Key losses
OL Tony Bergstrom, DE Derrick Shelby; LB
Chaz Walker
, OL John Cullen.
2011 statistical leaders (*returning)
Rushing:
John White* (1,519 yards)
Passing:
Jon Hays
* (1,459 yards)
Receiving:
DeVonte Christopher* (663 yards)
Tackles:
Chaz Walker (118)
Sacks:
Derrick Shelby,
Trevor Reilly
* (5)
Interceptions:
Conroy Black (4)
Spring answers
1. High hopes:
Quarterback Jordan Wynn is healthy -- hopefully for more than just a few weeks at a time. After a fantastic true freshman year, Wynn's career has been hijacked by multiple injuries that have limited his time. He's put on more weight (up to about 210) and if he stays healthy, should have great success with Brian Johnson running the offense.
2. LB answers:
The Utes had some holes to fill at the linebacker spot with the departures of Chaz Walker and
Matt Martinez
, leaving Trevor Reilly as the only returning starter. But
V.J. Fehoko
appears to have won the job at the middle linebacker spot and either
Jacoby Hale
or LT Filiaga will fill the rover spot.
3. RB depth:
John White had more carries than any other running back in the conference last season. That's a lot of wear and tear, so developing some guys behind him was crucial.
Harvey Langi
and
Kelvin York
established themselves as the guys behind White. Both are bigger -- Langi is 228 and York is 225 -- so they'll be a nice change of pace from the speedier White.
Fall questions
1. Who has Wynn's back?
Developing a guy behind Wynn -- giving his history of injury -- is pretty crucial. It looks like Jon Hays would probably be the guy if Wynn goes down again -- which makes sense -- because the Utes probably don't want to burn a redshirt year on
Travis Wilson
or
Chase Hansen
. But on his latest depth chart, head coach Kyle Whittingham left an "OR" between Hays and Wilson, leaving the door open that maybe he has a little more faith in Wilson.
2. Who has Wynn's backside?
The Utes have to fill two substantial holes left by departed tackles John Cullen and Tony Bergstrom. As of now,
Percy Taumoelau
is penciled in at left tackle and
Daniel Nielson
is slotted for the right tackle. But Whittingham has said those aren't set in stone. Cullen and Bergstrom were two of the best in the conference. No easy job stepping in for those guys.
3. DL depth:
Up front, Utah is probably as good as anyone in the conference with Lotulelei, Joe and
Dave Kruger
and
Nate Fakahafua
. But behind them, there are questions. Converted running back
Thretton Palamo
,
Hunter Dimick
and junior-college transfer
Niasi Leota
figure to be in the mix. But like the offensive-line spots, nothing is written in ink. Junior Salt and
Tenny Palepoi
could also see time in the rotation.