September, 1, 2013
9/01/13
2:56
AM ET
Northwestern lost quarterback
Kain Colter
minutes into Saturday's game and never had full use of star running back
Venric Mark
.


One of the nation's most dynamic offensive backfields wouldn't be a factor in a tricky road opener against Cal and its potent "Bear Raid" offense.
So what did Northwestern do? It found another way to win. Linebacker
Collin Ellis
recorded two interceptions for touchdowns, tight end
Dan Vitale
sparked the passing game and third-string running back
Treyvon Green
stepped up for Mark on the ground.
Aaaand ... there might have been a few injury flops involved.
It added up to an exhausting
44-30 Northwestern victory
against a plucky Cal team that gave the 22nd-ranked Wildcats all they could handle. Bears true freshman quarterback
Jared Goff
passed for 445 yards and two touchdowns, but he showed his age with three second-half interceptions, including the game-changer, which Ellis returned 56 yards to the end zone late in the third quarter.
Ellis, who beat out
Drew Smith
for Northwestern's third starting linebacker spot, was all over the field in an effort that at least will earn him Big Ten Defensive Player of the Week. Northwestern also generated a decent pass rush, and safety
Ibraheim Campbell
picked off Goff in the closing minutes.
Cal made plenty of plays, attacking through the air with talented receivers
Chris Harper
(11 catches, 151 yards, 2 TDs) and
Bryce Treggs
(13 receptions, 145 yards). Despite a limited playbook, the Bears showed how dangerous they could be.
Northwestern was limited, too, but not by design. Colter left the game early after taking a shot to his head and his left shoulder. He was re-evaluated at halftime but ruled out, left to stew on the sideline, unable to run the nearly unstoppable zone-read with Mark.
As for Mark, the All-America returner wasn't used on returns and only played for stretches. He wasn't listed on the team's injury report and practiced throughout the preseason. It'll be interesting to see what Coach Pat Fitzgerald says about Mark's status going forward.
Northwestern surged on special teams in 2012, but Cal held a decided edge in the kicking game, scoring its first touchdown on a fake field goal and recovering a Wildcats fumble on a kickoff return. At least All-Big Ten kicker
Jeff Budzien
came through three field goals.
The little-used Green also stepped up late with a 55-yard burst to take Northwestern out of its own territory. He finished off the drive with a 6-yard plunge. Backup quarterback
Trevor Siemian
had a big first half in relief of Colter but struggled a bit down the stretch.
Injuries were a big story for Northwestern throughout the game, both real and (possibly) imagined. Wildcats players were down after many plays in the second half. Cal coach Sonny Dykes clearly thought something was up (the Bears, ironically, were the team accused of faking injuries against Oregon). Northwestern also caught a break when Cal standout linebacker
Chris McCain
was ejected for targeting.
A wild game for the Wildcats, but it usually is just that. They survived and advanced in a Pac-12 stadium, not an easy place for Big Ten teams to win.
It's a good bet Northwestern enters its Oct. 5 home showdown against Ohio State at 4-0. The Wildcats still have never lost an opener under Fitzgerald.
August, 29, 2013
8/29/13
7:15
PM ET
Since new California coach Sonny Dykes named true freshman
Jared Goff
his starting quarterback, Goff has taken on the role of, well, Jared Goff. He's pretty much acted a lot like he did before.
That's a good thing.
"He seems really relaxed," Dykes said. "He hasn't changed. That's been the great thing about Jared. He hasn't changed since he got here in the spring."
Other, Dykes said, than get better.
[+] Enlarge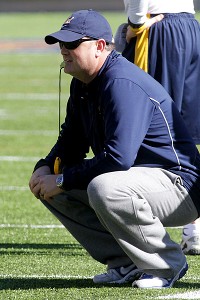 Norbert von der Groeben/GoldenBearSports.comWith such a young team, Sonny Dykes knows Cal will experience some growing pains.
Unfortunately for Dykes, Goff doesn't get an FCS team with which to get his college football feet wet. He doesn't get a preseason sort of game to see how fast things move and what it's like to play in front of 63,000 fans. He gets No. 22 Northwestern, a team with legitimate aspirations to win the Big Ten.
The way Dykes continues to talk about Goff, however, makes it seem as if he believes his young QB has the proverbial "It Factor." It's hard to describe exactly what "It" is but you know it when you see it in a QB because he seems to be smiling with his teammates after the game more often than not.
"It all begins with, how does this guy handle the team? Do they believe in him?" Dykes said. "The good thing about Jared is he has inspired confidence in our players and our football team. He does a lot of the little things well."
The Wildcats aren't really known for their defense, though they certainly were respectable on that side of the ball last year during a 10-3 season. They offer up an offense that looks more like something you'd see in the Pac-12 than the Big Ten. They ranked third in the Big Ten in scoring with 31.7 points per game in 2012 and 19th in the nation with 225.5 yards rushing per game. Quarterback
Kain Colter
and running back
Venric Mark
combined for over 2,200 yards rushing last year.
The good news is new Cal defensive coordinator Andy Buh has seen plenty of Northwestern on film because he coached at Wisconsin last year. The bad news is the Badgers didn't play the Wildcats.
Still, said Dykes, "He's familiar with their style of play to an extent."
Buh's defense is going to be hamstrung by a couple of injuries. Middle linebacker and vocal leader
Nick Forbes
is doubtful, and defensive end
Brennan Scarlett
is questionable. It appears that strong safety
Avery Sebastian
, who had a scary moment during preseason camp when he was hauled off the field and then hospitalized, is going to play.
The worst thing that could happen to Cal is Northwestern jumping to an early lead. That would take the crowd out of the game and put pressure on Goff. While Goff is reputed to be a cool dude, this isn't like his opener last fall for Marin Catholic at Miramonte. The stage is just a bit bigger.
Yet an ability to focus on what matters is part of what appeals to Dykes about Goff. He's a details guy.
Cal is not only breaking in two new schemes on offense and defense, both of which are significantly different than what the Bears ran a year ago, it will also start 10 sophomores or freshmen. While the talent is promising, this is a young team that could experience some growing pains on Saturday.
"I think there will be some, some growing pains, some kinks we have to work out," Dykes said. "A part of that is not only a new scheme, but we're just so young."
Dykes named Goff his starter early in preseason camp because he wanted his offense to have "clarity." He says Goff has embraced his role, mostly by continuing to do the things that won him the job in the first place.
Said Dykes, "He's done nothing but get better and better every week."
August, 26, 2013
8/26/13
8:00
PM ET
Here's a quick look at Week 1 in the conference. All times are ET.
Thursday

Utah State at Utah, 8 p.m. Fox Sports 1
: Utah leads the series 77-29-4 but the Aggies won 27-20 in overtime last year in Logan. That ended the Utes 12-game winning streak in the series. The Aggies went 11-2 last year but lost coach Gary Andersen to Wisconsin. Former offensive coordinator Matt Wells takes over, and he has 15 starters back, including QB Chuckie Keeton, who put up big numbers last year. This will be the debut of Utes new co-offensive coordinator Dennis Erickson.
No. 21 USC at Hawaii, 11 p.m. CBS Sports Network
: USC leads the series 8-0. Hawaii is coached by Norm Chow, who went 3-9 in his first season. Trojans fans might have heard of him, and there isn't a warm relationship between Chow and USC coach Lane Kiffin. The Rainbow Warriors have 17 starters back. Chow made some news before the season when he
dismissed offensive coordinator Aaron Price
-- son of former Washington State coach Mike Price -- before he'd even coached a game. Chow now will run the offense.
Friday
Northern Arizona at Arizona, 10 p.m. Pac-12 Network
: Arizona leads the series 11-1, and that defeat occurred in 1932. The game likely will feature the debut of Wildcats QB
B.J. Denker
, though coach Rich Rodriguez has been coy about his starting QB, separating the top-three guys with an "Or" on his depth chart. The Wildcats beat the Lumberjacks 41-10 in 2011.
Saturday
Nicholls State at No. 3 Oregon, 4 p.m. Fox Sports 1
: These teams have never met, and it's unfortunate they will Saturday. Nicholls State went 0-7 in the Southland Conference last year, its lone 2012 win coming over NAIA Evangel. Oregon State beat Nicholls State 77-3 last year when the Beavers were legitimately trying not to score.
As The Oregonian has pointed out
, it's likely the Autzen Stadium points record (72, recorded against New Mexico in 2010 and Nevada in 1999) will be broken.
Eastern Washington at No. 25 Oregon State, 6 p.m. Pac-12 Network
: Oregon State leads the series against the FCS power 2-0, last winning 56-17 in 2006. It was announced Monday afternoon that
Sean Mannion
will start at QB for the Beavers over
Cody Vaz
, who still might see some playing time.
Washington State at Auburn, 7 p.m. ESPNU
: Auburn leads the series 1-0, beating the Cougars 40-14 in 2006. This will be the debut of Tigers coach Gus Malzahn, as well as his starting QB
Nick Marshall
. Two years removed from a national title -- won in a nailbiter over Oregon -- Auburn went 3-9 last fall and fired coach Gene Chizik. Malzahn was the Arkansas State coach last year, but he also was Chizik's offensive coordinator in 2010. The Tigers welcome back 17 starters.
[+] Enlarge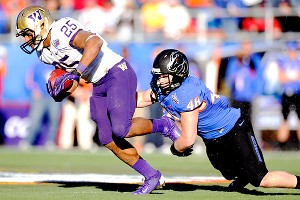 Josh Holmberg/USA TODAY SportsBoise State and Washington played in the Las Vegas Bowl last year, with the Broncos winning 28-26.
strong>Nevada at No. 21 UCLA, 10 p.m. Pac-12 Network: First meeting. After Chris Ault retired -- again -- Brian Polian became the Nevada coach. The Wolf Pack has 12 starters back from a 7-6 team, most notably QB Cody Fajardo, a dynamic pass-run threat. He rushed for 1,100 yards and passed for 2,786 yards last year, accounting for 32 total TDs.
No. 19 Boise State at Washington, 10 p.m. Fox Sports 1
: The series is tied 1-1. Boise State beat the Huskies 28-26 in the Las Vegas Bowl last year, while the Huskies prevailed in the 24-10 in 2007. The Broncos have only 10 starters back from their 11-2 team, while the Huskies welcome back 20. While Boise State QB
Joe Southwick
didn't put up big numbers last year, he was extremely efficient over the latter third of the season.
No. 22 Northwestern at California, 10:30 p.m., ESPN2
: Northwestern leads the series 1-0 -- a 20-14 win in 1949. The Wildcats welcome back 17 starters from a 10-3 team that beat Mississippi State in the Gator Bowl last year. That includes the outstanding combination of QB
Kain Colter
and RB
Venric Mark
. They combined for over 2,200 yards rushing last year. This is the debut of Cal coach Sonny Dykes, who replaced Jeff Tedford, as well as true freshman QB
Jared Goff
.
Sunday
Colorado vs. Colorado State (Denver), 6 p.m., CBS Sports Network
: Colorado leads the series 61-21-2 but the Rams won 22-17 last year. The game will be played on Sports Authority Field at Mile High, previously known as Invesco Field, home of the Denver Broncos. The Rams welcome back 18 starters from a 4-8 team in Jim McElwain's second season. Colorado coach Mike MacIntyre, who is making his debut leading the Buffaloes, announced this week that
Connor Wood
will start at quarterback.
June, 20, 2013
6/20/13
7:00
PM ET
We continue our series taking a closer look at each Pac-12 team's nonconference schedule.
California

Northwestern, Aug. 31
Coach: Pat Fitzgerald (50-39) eighth year
2012 record: 10-3, 5-3 Big Ten
Returning starters: eight offense, seven defense
Offensive headliner: Running back Venric Mark returns after rushing for 1,366 yards and 12 touchdowns -- enough to earn him second-team all-conference. But he also makes his mark on special teams, where he was an All-American punt returner last season.
Defensive headliner: Safety Ibraheim Campbell is an all-league candidate after posting 89 stops last year with two interceptions and a team high 12 breakups.
The skinny: Since 2008, Northwestern is 17-10 on the road. With a good chunk of talent returning from last year's team -- which won its first bowl game since 1949 -- most are projecting the Wildcats to be a preseason top 20 team ... maybe even top 15. Sonny Dykes' first game as head coach won't be easy.
Portland State, Sept. 7
Coach: Nigel Burton (12-21, fourth year)
2012 record: 3-8, 2-6 Big Sky
Returning starters: six offense, five defense
Offensive headliner: Quarterback Kieran McDonagh returns at quarterback after completing 54.5 percent of his throws last year with 14 touchdowns to 13 interceptions as a freshman. He also ran 89 times for 406 and nine touchdowns and he even caught a 22-yard touchdown.
Defensive headliner: Linebacker Jaycob Shoemaker is the top returner on defense after posting 70 tackles -- including a team-high 12 for a loss -- last season.
The skinny: The Vikings have been a familiar foe to the league in recent years -- having played Oregon State, Oregon, Washington State, ASU and Washington since 2005. They lost to Cal 42-16 in 2006. After a nice 2011 season, when they went 7-4, they took a step back last season. Part of that was holes in the pass defense. Cue up the Bear Raid.
Ohio State, Sept. 14
Coach: Urban Meyer (12-0) second year
2012 record: 12-0, 8-0 Big Ten
Returning starters: nine offense, 4 defense
Offensive headliner: Quarterback Braxton Miller is going to get plenty of Heisman hype -- especially if he can keep the Buckeyes perfect. Last year he threw for 15 touchdowns and 2,039 yards ran for 13 touchdowns and 1,271 yards.
Defensive headliner: Cornerback Bradley Roby is considered one of the best in the country at his position. He broke up 17 passes last year with two interceptions and was third with 63 tackles.
The skinny: The Buckeyes will enter the season likely as the No. 1 or No. 2 team in the country. They ran the table in 2012 -- including a late fourth-quarter touchdown to beat the Bears in Columbus. The schedule sets up nicely for them to make another run at perfection -- and possibly a BCS championship.
Thoughts
: Dykes knew it wasn't going to be easy when he took this job -- and this nonconference schedule, save Portland State, is vicious. He'll get two top 20 teams -- and potentially the No. 1 team in the country -- in his first three weeks. Throw in a quarterback who will be getting his first collegiate playing time and a defense transitioning to a new scheme and it could make for a couple of long Saturdays. Then again, they did give Ohio State a run last season and they get all three games at home. At least they get a whole week off before traveling to Oregon to start league play in the 28th. A 1-2 record seems the most reasonable. Beating either Big Ten team would be a massive confidence boost and 3-0 would send shockwaves through the rankings. 0-3 would be a disaster. The Bears aren't exactly lacking in talent -- and Dykes' system has shown it can work. At question is whether or not Cal is mature enough to handle such a demanding schedule so early in this time of transition.