September, 4, 2013
9/04/13
9:00
AM ET
After he sliced and diced Oregon State's defense last Saturday, Eastern Washington quarterback
Vernon Adams
recalled his team's dispiriting conclusion to an otherwise good 2012 season. Just like the Beavers, the Eagles had seen their strong campaign a year ago end on a down note against a team from Texas.
The Eagles lost to Sam Houston State in the FCS semifinals, a massive comeback from a 35-0 halftime deficit falling just short, 45-42. The Beavers self-immolated in the fourth quarter and lost to Texas in the Alamo Bowl, 31-27.
Sort of a vast distance betwixt the two, eh?
[+] Enlarge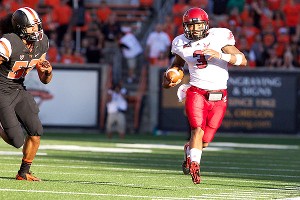 Jaime Valdez/USA TODAY SportsThe Oregon State defense yielded big numbers in the loss to Eastern Washington.
So Eastern Washington, after beating the then 25th-ranked Beavers 49-46, moves on to the Big Sky Conference -- Cal Poly, Weber State, UC Davis -- with big intentions in the FCS playoffs, while Oregon State … well, does what?
Serves as a national punch line? Suffers through another season like 2011, when a loss to another FCS team -- Sacramento State -- presaged a horrid 3-9 campaign that had folks calling for coach Mike Riley's head?
Or Oregon State rights itself and redeems its season, transforming the inglorious opener into a fluke, a tough lesson that can be later referenced after a bowl victory as the touchstone for ultimate and satisfying success.
"[Cornerback]
Rashaad Reynolds
said something great in the locker room," quarterback
Sean Mannion
told reporters after the defeat. "He said that there are two ways that we can go about this: We can either lay down or stand up and overcome this by working harder than we ever have. Obviously, that is the route that we are going to take."
Of course, that's also pretty obvious. The same thing was said after the Sacramento State loss, though it's worth noting the Beavers were riven after that game by the QB switch from the popular Ryan Katz to Mannion, then a redshirt freshman.
Still, the perception of Oregon State has taken a hit. Again. The preseason take on the Beavers was they were headed for a 7-0 start and potential top-10 ranking that would make the Oct. 26 visit from Stanford a red-letter date nationally. Now the visit from woeful Hawaii on Saturday doesn't feel like a sure thing.
Oregon State welcomed back seven starters from one of the nation's best defenses in 2012, yet it yielded ludicrous numbers against the Eagles -- 625 total yards, 8.8 yards per play, 31 first downs, 448 passing yards, etc. The big preseason question for the Beavers was the quarterback competition between Mannion and
Cody Vaz
, but Mannion was lights-out and the offense rolled up 46 points, which would have been enough to win every game the team played since 2006, other than matchups with Oregon in 2008, 2011 and 2012.
Think of all the great offenses Oregon State has faced over the past few years. Yet when the Beavers gave up 29 first-half points, it was the most they'd yielded since 2008 against Oregon. The Eagles' 23 second-quarter points were the most the Beavers have surrendered in any quarter since UCLA scored 28 in the fourth on Sept. 29, 2007.
No matter how dynamic Adams was, this probably ranks as one of Oregon State's worst defensive performances of the modern era, particularly when you factor in that the foe was from a lower division.
So what was the problem?
"We got totally disrupted," Riley said. "We were way out of sorts in pass rush, pass-rush lanes, we were misaligned defensively. We made some crucial technical errors, just playing Cover 3 and giving up a deep ball right down the middle of the field. Just kind of simple football mistakes, whether it's just lining up or maintaining a pass-rush lane or maintaining position on a receiver."
Throw in poor tackling and that just about covers it. The defensive failure was a total team effort. All-Pac-12 defensive end
Scott Crichton
was invisible, recording just two tackles.
"The quarterback gave us fits," Riley said. "Scott could never quite get there or finish a play."
The Beavers were the only ranked team to lose to an FCS foe on the opening weekend, but they certainly weren't the only AQ conference team to get toppled. Kansas State, the defending Big 12 champions, lost to North Dakota State. Folks aren't going to start questioning Bill Snyder's coaching acumen, at least not anyone with a brain.
Stuff happens.
The question now is whether this is just one of those games -- an anomaly -- where things go haywire. The answer to that only will be revealed in coming weeks. But know that the visit to Utah in Week 3 suddenly seems freighted with far more meaning than in the preseason.
Not that the Beavers should be overlooking anyone at this point.
"I think everybody takes it on themselves, coaches, players," Riley said. "Everybody has to take responsibility."
September, 3, 2013
9/03/13
11:00
AM ET
Thoughts, musings and rants from Week 1.
To the notes!
Jon in Nashville, Tenn. writes:
Already looking forward to the UCLA-USC game, which made me wonder, who was the stronger opponent, Hawaii or Nevada?
Kevin Gemmell
: That one is a long ways off, but I certainly think Nevada is the stronger team. We'll know for sure, I suppose, when Hawaii travels to Nevada on Sept. 21 for their Mountain West opener. But after watching both games, I'd pick Nevada.
As you may know, we on the Pac-12 blog are big believers in good quarterback play.
Cody Fajardo
was the stronger quarterback of those two teams. The Bruins were only able to sack him twice -- and neither of those came from
Anthony Barr
(though he did have two tackles for a loss).
Both of those games served a good purpose for the Pac-12. I thought USC's defense looked solid. And it provided the proper audition for the quarterbacks. Granted, I don't think either passed the audition, but it was the kind of game that allowed the Trojans to try out both guys.
In the case of UCLA,
as I wrote on Sunday
, I think it was invaluable for the Bruins to face a talented, mobile quarterback like Fajardo because their schedule is laced with dual-threat guys. Considering where both teams are at, it's an apples-and-oranges comparison. If the scenarios were swapped, I think USC would have had a tighter game against Nevada and UCLA would have had a wider margin of victory over Hawaii. But I don't think either UCLA or USC would have gotten the same benefits had the roles been reversed.
Sam in Portland writes:
During the nightcap some of the TV commentators were mocking (Mike) Leach's comment that the bottom of the Pac-12 is better than the bottom of the SEC, stating that WSU's loss to Auburn is definitive proof that he's wrong. Would you consider WSU completely outplaying the Tigers in Auburn and only losing by 1 TD because they shot themselves in the foot proof that he's wrong or evidence that Leach is in fact right?
Kevin Gemmell:
I didn't see or hear those remarks, so I'll take your word for it. "Definitive" seems pretty strong.
I think as far as tinkle contests go, this might be the dumbest of them all. The whole "your worst is worse than our worst" is ridiculous. With that said, Washington State couldn't have "completely" outplayed Auburn. If they did, the Cougs would have won.
But since you brought it up, let's compare the bottom of the leagues as of right now: Georgia, Kentucky, Vanderbilt and Mississippi State all lost for the SEC. Cal, Oregon State and Washington State all lost for the Pac-12.
Georgia lost to No. 8 Clemson by three, no real disgrace there. Kentucky lost to Western Kentucky, an FBS team from the Sun Belt. We'll call that a bad loss. Vanderbilt lost to a conference opponent in Ole Miss, so that's a push. Mississippi State lost to No. 13 Oklahoma State by 17. It's not a horrible loss, but it was pretty convincing.
No. 25 Oregon State lost to FCS Eastern Washington. A good FCS team, mind you, but an FCS team nevertheless. Cal lost to No. 22 Northwestern by 14. It was a very respectable effort from the Bears. And then we have Washington State's loss, another gutty effort that the Cougs probably could have pulled out.
So each conference had a bad loss (though I'd say OSU's was worse, considering the Beavers were ranked and lost to an FCS team). Both conferences also had "respectable" losses.
Now, ask yourself what would happen if Oregon State played (for the sake of argument, we'll say at a neutral site) Mississippi State, Vanderbilt, Kentucky or Georgia? I think they probably go 3-1. WSU probably goes 2-2 and Cal probably goes 2-2.
Of course, Georgia isn't going to stay at the bottom of the SEC. Just as Colorado probably isn't going to stay at the top of the Pac-12.
So what's the morale of this story? Who cares whose worst is worse. They are all 0-1. That's all that matters.
Clint in Honolulu writes
: Kevin, what did you think of the Northwestern players faking injuries to slow the Cal offense? Do you think any of their coaches should be suspended?
Kevin Gemmell:
As others have already pointed out, Cal fans should be cautious about calling the kettle black. A simple Google search reveals some awfully amusing and indicting video of a similar incident a few years back.
That said, if that was the case, it was pretty weak. I was at the UCLA game and was streaming the Cal game on my laptop, checking in every couple of minutes, so I didn't see any specific instances. But I've read reports of defensive linemen looking to the sideline and then collapsing. I don't know how you could prove a guy wasn't injured -- outside of a full admission from the coach or player -- but if it happened, it's pretty weak sauce.
Just as the act itself is hard to prove, making suspensions stick for something like that would be just as difficult. As it stands, public humiliation and shaming will have to suffice. The internet has a way of taking care of that.
Alex in Portland writes:
Biggest surprise of Week 1? (don't say Oregon State, don't say Oregon State).
Kevin Gemmell:
I think when you look at the combined quarterback completion rate in the USC-Hawaii game you first have to evaluate the … OF COURSE IT'S OREGON STATE! Come on Alex. If you're going to serve them up for me, at least try to do it with a little dignity. This one feels like bait to rip into the Beavers. And it would be pretty easy to do, considering how that defense played.
I picked Oregon State to win that game straight up. As did Ted Miller and just about everyone else in America outside of Cheney, Wash. However, let's hop in the way-back machine to June 25 and
Oregon State's nonconference primer post
. You can click the link, if you'd like. Or I can simply cut-and-paste what I wrote back then:
The skinny: This is not a team to be taken lightly. It pushed Washington State last season and advanced to the semifinals of the FCS playoffs, finishing ranked fourth nationally among all FCS schools. [Vernon] Adams is a playmaker and, as a team, the Eagles set a school mark for passing yards in 2012 with 4,469. It's still an FCS school, but the Eagles are certainly an upgrade over Nicholls State.
You were sufficiently warned.
However, at the Pac-12 blog, we try to look for positives. And if you want to find some silver linings, look to the play of quarterback
Sean Mannion
, who along with
Brandin Cooks
, kept the Beavers in the game. Mannion was 37 of 43 for 422 yards and three touchdowns with a QBR of 93.3. Cooks caught 13 of those balls for 196 yards and two scores.
And this is what you want to hear out of your quarterback, who very easily could have used his pulpit to point the finger at his defense. Lord knows he's had plenty of fingers pointed at him over the last couple of years:
No one played a perfect game, the offense especially. We have our defense's back a hundred times out of a hundred and they would do the same for us. I am not going to sit here and say that the offense played well because that isn't true. Our defense fought hard. I think that our offense left some plays on the field, but all that we can do as a team is continue to grow and overcome this by working hard next week.
And he's right. The Beavers offense did have three, three-and outs. But you can hardly saddle this one on the offense. By the way, when you're playing an FCS team, you never want to see this.
"Eastern Washington" is now trending on Twitter. Thank you to our awesome fans!! #GoEags

— EWU Athletics (@EWUAthletics) September 1, 2013
But perhaps the most frustrating part of that game was the Beavers ruined my perfect week of predictions. 10-0 would have looked a heck of a lot better than 9-1. Or in Ted's case, 8-2.
August, 31, 2013
8/31/13
10:45
PM ET
Excuse me, Kansas State. Pardon me, UConn. Hey, USF, is this seat taken? No? Thanks, we'll join you.
The
Oregon State Beavers
became the sixth FBS team to fall to an FCS opponent in Week 1 after the
Eastern Washington Eagles
-- the fourth-ranked FCS team -- shocked the No. 25 Beavers 49-46 in Corvallis.
The Beavers are the first ranked FBS team to lose to an FCS team since 2010.

Eastern Washington quarterback
Vernon Adams
threw for 411 yards and ran for 107, accounting for six touchdowns (four passing, two rushing). In total, the Eagles gutted the Oregon State defense for 625 yards and 31 first downs.
Much of the Beavers' offseason was focused on the quarterback competition. And Mike Riley's choice –
Sean Mannion
– did everything he could to keep the Beavers in the game. Mannion completed 37 of 43 attempts for 422 yards and three touchdowns with no interceptions.
Wide receiver
Brandin Cooks
caught 13 of those passes for 196 yards and two touchdowns.
But the Beavers defense had no answer for Adams and Co., who scored on their first six possessions. The only reason they didn't score on their seventh was the end of the half. Then they went on to score on three of their four second-half possessions.
After the Beavers had retaken the lead at 46-43 on a 4-yard
Terron Ward
touchdown run, the Eagles answered with an 11-play, 75-yard drive that ended with a 2-yard Adams run with 18 seconds to go. The bad snap on the PAT (categorized statistically as a failed 2-point attempt) made the score 49-46 and gave the Beavers a small window of hope. A pair of quick completions from Mannion gave kicker
Trevor Romaine
a shot at a 52-yard field goal to tie the game as time expired. But Romaine's kick was off and the Beavers looked stunned.
This is the second time in three years the Beavers have opened the season with a loss to an FCS team. They opened the 2011 season with a 29-28 overtime loss to Sacramento State.
June, 25, 2013
6/25/13
7:00
PM ET
We continue our series taking a closer look at each Pac-12 team's nonconference schedule.
Oregon State

Eastern Washington, Aug. 31
Coach: Beau Baldwin (44-19), sixth year
2012 record: 11-3, 7-1 Big Sky
Returning starters: 7 offense, 5 defense
Offensive headliner: Quarterback Vernon Adams was last season's FCS Freshman of the Year and a Freshman All-American. In a two-quarterback system, he completed 60.4 percent of his throws with 20 touchdowns to eight interceptions.
Defensive headliner: An FCS All-American last year, cornerback T.J. Lee posted 90 tackles with 11 pass breakups. He also had 2.5 sacks, nine tackles for a loss and an interception.
The skinny: This is not a team to be taken lightly. It pushed Washington State last season and advanced to the semifinals of the FCS playoffs, finishing ranked fourth nationally among all FCS schools. Adams is a playmaker and, as a team, the Eagles set a school mark for passing yards in 2012 with 4,469. It's still an FCS school, but the Eagles are certainly an upgrade over Nicholls State.
Hawaii, Sept. 7
Coach: Norm Chow (3-9), second year
2012 record: 3-9, 1-7 Mountain West
Returning starters: 9 offense, 8 defense
Offensive headliner: The offensive line returns four of five starters from last season -- and we all know continuity on the line is huge -- so Ben Clarke, Dave Lefotu, Mike Milovale and Chauncy Winchester-Makainai get the nod as a single unit.
Defensive headliner: Defensive back Marrell Jackson was the co-leader in tackles last year with 56, also defending five passes and forcing a pair of fumbles.
The skinny: Hawaii has a nice core returning -- quarterback, running back, a couple of wide receivers and four of five offensive linemen. Defensively, half of the line and the entire starting linebacking corps returns. They lose punter Alex Dunnachie, an All-America honorable mention. But if Chow's offense shows improvement from last year -- when it ranked 100th in scoring at 21.2 points per game -- then maybe there will be fewer punts?
at San Diego State, Sept. 21
Coach: Rocky Long (17-9), third year
2012 record: 9-4, 7-1 Mountain West
Returning starters: 7 offense, 9 defense
Offensive headliner: Running back Adam Muema was quietly one of the top rushers in the country last year, going for 1,458 yards with 16 touchdowns.
Defensive headliner: Linebacker Jake Fely was second on the team with 90 stops last year and posted a team-high seven sacks with 11.5 tackles for a loss.
The skinny: What Brady Hoke started, Long has continued. The Aztecs set a team rushing record last season, piling up 2,869 yards while grabbing a share of the league title. They lose a pair of talented corners, Josh Wade and Leon McFadden, and tight end Gavin Escobar. But the defensive front seven is nasty, and Muema is the real deal and should continue to flourish as Bob Toledo takes over the offense for the departed Andy Ludwig.
Thoughts
: The Beavers aren't without questions heading into 2013. Chief among them is the quarterback spot. But we think we have a pretty good feel for who this team is going to be, regardless of whether
Cody Vaz
or
Sean Mannion
gets the nod. So the first two games should be about the starter growing (or re-growing) into his role while continuing to develop a reliable receiver opposite
Brandin Cooks
. By Week 4 (the Beavers have a league game against Utah before SDSU), most of the questions should be answered. Just in time to face a San Diego State team that has enjoyed some success over the past three years. No team should ever be taken lightly -- and this game in particular could prove challenging. Plus, Qualcomm Stadium was never that kind to Mike Riley. With all that said, the Beavers clearly have the talent to go 3-0 in nonconference play and 4-0 the first month of the season.
PAC-12 SCOREBOARD
Saturday, 12/20
Monday, 12/22
Tuesday, 12/23
Wednesday, 12/24
Friday, 12/26
Saturday, 12/27
Monday, 12/29
Tuesday, 12/30
Wednesday, 12/31
Thursday, 1/1
Friday, 1/2
Saturday, 1/3
Sunday, 1/4
Monday, 1/12
Tweets from https://twitter.com/ESPNCFB/lists/pac12