March, 25, 2011
3/25/11
7:41
PM ET
By
ESPN.com staff
| ESPN.com
Who owns Robert Redford?
We may have an angle to fire-up the Utah-Colorado rivalry (albeit a contrived, forced one)!
The response to the Pac-12's blog request for
food and drink recommendations in Salt Lake City and Boulder
from Utah and Colorado fans has been huge. And when I say "huge," I mean it took me three days to shuffle through all of the notes.
And from reading the notes, it became clear that Colorado fans particularly like "
The Sink
" -- a Boulder institution -- and many noted that Redford used to work there.
And, of course, Utah fans also know that Redford founded the
Sundance Resort
in Utah.
So where does Redford's heart belong? Colorado, where he went to school, or Utah, where he built a resort community and lives?
Ready, set ... insult each other! (You may need to consult Oregon and Washington fans about generating endless supplies of bile, though you, of course, have experience with Nebraska and BYU fans).
Anyway, just a thought.
Follow me on Twitter
. (Talking to you,
Sundance
!)
To the notes.
Pedro from Eugene writes
: Ted, Today the
headline of your links
was, "Another Duck knows Lyles." Who cares? Because of who this guy is, hundreds if not thousands of current and past college football players know him. This Oregon thing has been blown so far out of proportion they are writing articles about a guy with a different mentor knowing him; a guy who didn't even play a down of football for Oregon. Wow.
Ted Miller
: Pedro, the simple answer is the
NCAA is investigating
Willie Lyles and other "street agents," and if the NCAA cares, you should care.
Lyles doesn't know thousands of college football players. I doubt he even "knows" a hundred. What I do know is that he knows a lot of players who were highly rated high school prospects, some of whom ended up at Oregon, including
Dontae Williams
, the player the article is about. Whether Williams played a down or not is irrelevant. He signed with Oregon and was on the team in 2010.
You say "wow," as if you're dumbfounded. You're either trying to spin things or you aren't paying attention. This a serious NCAA matter, whether or not the Ducks are found, in the end, to have violated NCAA rules.
The fundamental lesson in all this, however, is simple. Dear top high school prospects. You do not need to suddenly adopt a "mentor" your junior or senior years of high school. If a guy shows up and offers his mentorship
AFTER
you already are a nationally known prospect, know that what he offers is worthless to you but probably is valuable to him.
---
Dustin from Soldotna, Alaska writes
: Ted,I was just reviewing your "
Who's back from the top-25
?" list. I can agree with all of them, but at the bottom you have the players on the left-out list. I have failed to see anywhere James Rogers being mentioned. I understand there is still a question mark by his name pending his full recovery, but shouldn't he still be considered at the very least with an * by his name? If he is able to play this year, knowing his love and intensity for playing the game he will shine like he has year in and year out. He would have no doubt been on your top-25 at the end of the season and the Beavs would have played in a bowl game without question if he had not been injured in Arizona. Alas that is all just would have, could have, should have stuff, but none-the-less I still think there should be consideration regarding the upcoming season when you compile your list this summer and James Rogers being included.I would love to hear your thoughts.
Ted Miller
: Because he was out most of the year,
James Rodgers
was not considered for the top-25, but it would have been wise of me to at least mention his expected return (hopefully) in 2011. Rodgers WILL be in the preseason top-25 if he is cleared to play.
After all, he was ranked
No. 6 heading into the 2010 season
.
---
Greg from Hillsboro, Ore., writes
: Wazzu. 2011 in the Pac-12. No one is paying any attention. I think they will surprise people this next season. I think they will win at least 5 games, maybe as many as 7. Wins: Idaho State, UNLV, @SDSU, @Colorado (they are terrible too), Oregon State. Losses: Stanford, @Oregon, @California, Arizona State. Unknowns/Swings: @UCLA, Utah, @Washington.They might even shock me and win all those swing games and win 8 games.Their DL has more depth, as does the LB group. DB's are a BIG question. Their OL is going to be better, and their WR group is pretty decent/good. And Tuel is a good QB. Lots of returning starters and players with an upgraded talent level. They gave OSU, UCLA, Stanford, Cal and UW all they could handle last year.... WSU will be better than many predict or think.As Gomer Pyle (in)famously said, "Surprise, surprise, surprise!"Doubt not Oregon fans Ted, you know better.
Ted Miller
: If Washington State avoids the injury bug, I see it as a threat to win six games and be competitive with just about any team they play. I think the key is line play on both sides of the ball. If the Cougs can run and stop the run -- at least moderately -- much will be different in 2011. I think they are better than "decent" at receiver, and the secondary will be much improved in 2011, particularly if it gets help from a pass rush.
Not sure I'd write in road wins at San Diego State, Colorado and Oregon State. The Aztecs are no pushover, and I'm getting a feeling many of you old school Pac-10 fans are underestimating Colorado. And the Beavers are going to be plenty motivated at home to get revenge versus the Cougars.
Still, your point is solid. Washington State was competitive in 2010. The Cougs will take another step forward in 2011. They are no longer an easy out.
---
Eric from Albany, Ore., writes
: Hey Ted, I love the
coaching changes
Riley has made this off-season. I have felt that the beavers have looked a little "old skool" on both sides of the ball for a while now. Last year was certainly a disappointment, but not entirely unexpected. What do you think about the changes at Oregon State? Do you think we can expect an immediate impact or are we more likely to only see an impact in recruiting, which could take a few seasons?
Ted Miller
: Considering Oregon State had built a reputation over the past decade-plus of producing plenty of top-flight linebackers, it's hard to say that Greg Newhouse, the longest tenured coach in the program at 14 seasons, was dispatched because of his coaching. Though the Beavers LB play wasn't terribly good in 2010. The move did clearly show that coach Mike Riley was unhappy with the way things were going and he was willing to make a bold move. Riley is known for his loyalty to his staff, so it's doubtful that he made a change just to shake things up.
I don't know much about Brent Brennan (receivers) and Chris Brasfield (running backs). Both will be coaching critical positions for the Beavers in 2011. It would be easier for both to break in if they saw a Rodgers brother lining up with their unit this spring. From what I gather -- and a number of Beavers observers have written it -- recruiting was a big reason for making changes.
One of the more notable changes was defensive coordinator Mark Banker taking over the linebackers and Keith Heyward, who coached cornerbacks in 2010, taking over the entire secondary. That seems like a nice vote of confidence in Heyward. Coaching secondary is the quickest route to a coordinator role.
As for immediate impact, hard to say. Having good players helps. Brennan probably will look like a really good coach if he gets to pair a healthy Rodgers with
Markus Wheaton
. As for an impact in recruiting, we'll see next February.
---
Ryan from Tacoma writes
: Just curious, wondering if you can quickly indulge me (and fully aware that if you do indulge me you possibly open yourself up to eventually making statements like "Player X is not in my top 350 because of Y"), but why did you leave Victor Aiyewa out of your top 45?Being a Dawg fan I know how inconsistent he was, but it seems that the conference's leader in tackles for loss should be one of its top 45 players.
Ted Miller
: Aiyewa was a tough player to judge. He led the Pac-10 with 21 tackles for a loss, but he didn't earn All-Conference honors. I asked a couple of people about him during the season, and it seemed he was a bit of a "feast or famine" guy. He either made a big play or got blocked.
That was sort of what happened with Arizona DE Ricky Elmore. He led the Pac-10 in sacks with 11 but also was inconsistent at times, though he did end up second-team All-Pac-10.
---
Casey from Parts Unknown writes
: I understand your perception of Havili being the
number #1 fullback in the conference
, but let me say you are wrong here. This perception has been driven by all the media. Every time you turn on a USC game the announcers massage the USC ego and talk about what a great player he is. But talk to people who critically watch what happens on the field, NFL scouts, etc and see who they would rather have blocking for Chris Johnson, Adrian Petersen, or Maurice Jones-Drew. Havili is no doubt a good player, but he is not a fullback in the traditional sense. He is a tailback who happens to line up in the fullback position on the field. While he is a good receiver and runner, the main job of a fullback is to block and Havili pales in comparison to Owen in this regard. Ask any linebacker in the Pac-10 who they would rather go up against in the middle of the hole and there would be no stuttering on their part. Let's see, Owen was selected to the Senior Bowl to play fullback, where was Havili? As you stated Owen was 10th in the Heisman voting, where was Havili? Owen won the Paul Hornung Award, where was Havili? As you stated some of this is due to Owen playing linebacker, but it is clear that he will be playing fullback at the next level. When it comes to playing fullback in the traditional sense, I am sorry, there is no comparison.
Ted Miller
: I did notice the other day that
ESPN.com's NFL draft folks
actually have Marecic rated ahead of Havili, which did surprise me.
It will be interesting to see who gets picked first. Marecic is a better blocker than Havili, though I've heard that Havili is a better pass blocker. Also, Marecic is not a natural receiver and Havili is. That's a big skill for a fullback.
There aren't many traditional, lead-blocker fullbacks in the NFL anymore. My feeling is that Havili will be drafted before Marecic because of his versatility. But I could be wrong.
And, again, I love Marecic as a player and student-athlete.
---
Scott from Gilbert, Ariz., writes
: Cliff Harris on the top 25. No doubt that the guy has skills but it may be his real talent is getting coaches, sports writers, teammates and fans to all shake their heads and say "Man, if that guy just , he would be a top 5 pick!". It takes real talent to get that many people to speak the same phrase in unison.
Ted Miller
: The best analysis on Cliff Harris yet.
January, 27, 2011
1/27/11
10:00
AM ET
By
ESPN.com staff
| ESPN.com
National signing day is now less than a week away. Time to take a final look at recruiting needs for the Pac-12, moving on to the North Division.
See the
South Division here
.
California
Defensive line
: The Bears lost two starters -- end Cameron Jordan and noseguard Derrick Hill -- and you can never have too many D-linemen. This class is particularly strong in that area, with four of 18 commitments listed as D-linemen, including two tackles (
Todd Barr
,
Viliami Moala
) who are ESPNU 150 members.
Linebacker
: The Bears lost two starters, including Mike Mohamed, and linebacker has been an inconsistent position the past couple of years in the 3-4. The Bears have commitments from two outside and one inside linebacker.
Running back
: With the early but not unexpected departure of Shane Vereen, the Bears are uncertain at running back for the first time in the Jeff Tedford Era. Three running backs have already committed.
Oregon
Receiver
: The Ducks need to restock at receiver with the departures of Jeff Maehl and D.J. Davis. They have three commitments from players listed as receivers and three others listed as "athletes" who could end up at the position. They could end up with as many as six in this class.
Defensive line
: Three of four starting D-linemen from 2010 are gone. So far the class includes two tackles and two ends, but one of the four players listed as an outside linebacker also could end up as a rush end.
Linebacker
: Two 0f three starters and a key backup need to be replaced, though there's solid, experienced depth. Five of the 23 commitments are listed at linebackers, a position that one of the "athletes" also could end up playing.
Oregon State
Defensive line
: The Beavers lost their two best defensive linemen -- DT Stephen Paea and DE Gabe Miller -- from a group that didn't play terribly well in 2010. That's why they have 11 incoming D-linemen -- eight listed as ends -- including four JC transfers, two of whom are already enrolled.
Offensive line
: The line struggled last year and three projected 2011 starters are seniors. It's time to restock and upgrade. The Beavers top recruit,
Darryl Jackson
, is a 6-foot-7 tackle and one of three commitments from O-linemen.
Receiver
: The Beavers are solid at receiver for 2011, particularly with the return of James Rodgers, but they need to restock depth. Five already have committed.
Stanford
Defensive backs
: While Stanford welcomes back three of four starters in the defensive backfield, the secondary still is an area that needs an athletic and depth upgrade. Two safeties are among the Cardinal's 18 commitments. It would be ideal to add a cornerback or two.
Defensive line
: Two of three starters are gone from the 2010 line, and end Matt Masifilo will be a senior. That's a good reason five of the committed players are D-linemen, including three tackles.
Receivers
: Leading receivers Doug Baldwin and Ryan Whalen are gone, and Chris Owusu will be a senior. Some of the players expected to step up last year didn't. At present, the Cardinal have one commitment from a receiver, though
Jordan Richards
could end up as a corner or receiver (and address a need, one way or the other).
Washington
Quarterback
: Jake Locker is gone and only two scholarship quarterbacks are presently on the roster: sophomore Keith Price and redshirt freshman Nick Montana. The Huskies lured
Derrick Brown
away from his Utah commitment, and would like to sign one more, with Florida prospect
Jacoby Brissett
being a dark-horse possibility.
Linebacker
: The Huskies lost two quality senior starters in Mason Foster and Victor Aiyewa, and middle linebacker Cort Dennison is a senior. The depth is young and uncertain. JC transfer Thomas Tugoti should immediately compete for playing time, and he is just one of five incoming linebackers.
Cornerback
: Both starters are back, but Quinton Richardson is a senior and Desmond Trufant is a junior and there isn't much reliable depth behind them. Only one committed player is listed as a cornerback.
Washington State
Offensive line
: It's not just that two starters must be replaced this season and two projected 2011 starters are seniors. The Cougars gave up 51 sacks last year and ranked last in the Pac-10 in rushing with 91 yards per game. Three O-linemen are committed, and two already are enrolled.
Defensive line
: Two D-linemen and a top backup need to be replaced, and the Cougars only had 23 sacks and surrendered 220 yards rushing per game, with both numbers ranking last in the Pac-10. Seven of 23 current commitments are D-linemen.
Running back
: While the Cougars lost top running back prospect
Bishop Sankey
to rival Washington, there are two running backs still in the class for a position that offers the possibility of immediate playing time.
January, 14, 2011
1/14/11
11:00
AM ET
Who distinguished themselves during the bowl season? Here's our All-Bowl Team.
Offense
[+] Enlarge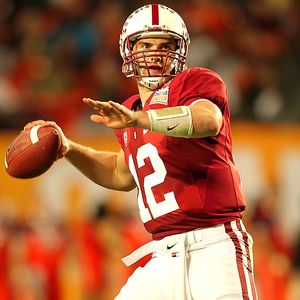 Mike Ehrmann/Getty ImagesAndrew Luck's performance helped key Stanford's blowout win against Virginia Tech.
QB Andrew Luck, Stanford
: Luck completed 18 of 23 passes for 289 yards and four touchdowns in the Cardinal's 40-12 win over Virginia Tech in the Discover Orange Bowl. He also rushed for 15 yards and was sacked just once.
RB Chris Polk, Washington
: Polk rushed for 177 yards on 34 carries with a touchdown in the Huskies win over Nebraska in the Bridgepoint Education Holiday Bowl.
RB Jeremy Stewart, Stanford
: Sophomore
Stepfan Taylor
actually rushed for more yards, but Stewart, a senior who's battled injuries throughout his career, had 99 yards on just five carries, including a 60-yard touchdown against Virginia Tech.
WR Jeff Maehl, Oregon
: Maehl caught nine passes for 133 yards with a long reception of 81 yards in the Tostitos BCS National Championship Game.
WR David Douglas, Arizona
: Douglas caught six passes for 91 yards in the Valero Alamo Bowl.
TE Coby Fleener, Stanford
: Fleenor had a career night in the Orange Bowl, catching six passes for 173 yards and three touchdowns.
OL Jonathan Martin, Stanford
: Stanford rushed for 247 yards and allowed just one sack. Martin will be an All-American candidate in 2011.
OL Chase Beeler, Stanford
: Beeler, the consensus All-American center, is the brains behind the bullies, leading one of the nation's best lines.
OL David DeCastro, Stanford
: The first-team All-Pac-10 performer had a number of key blocks against the Hokies.
OL Senio Kelemete, Washington
: Kelemete has a chance at All-Conference honors as a senior.
OL Cody Habben, Washington
: The Huskies rushed for 268 yards and allowed no sacks versus Nebraska. A nice way for the senior right tackle to go out.
Defense
LB Mason Foster, Washington
: Foster had a game-high 12 tackles, including two sacks in the Huskies win over Nebraska.
LB Shayne Skov, Stanford
: Skov had a game-high 12 tackles, with three sacks and another tackle for a loss against the Hokies. He also broke up a pass.
LB Casey Matthews, Oregon
: Matthews had six tackles, split a tackle for a loss and, most important, forced the late fumble from
Cameron Newton
that set up the Ducks touchdown that tied the count 19-19 late against Auburn.
LB Victor Aiyewa, Washington
: Aiyewa had three tackles for a loss and two forced fumbles in the Holiday Bowl.
DT Alameda Ta'amu, Washington
: Ta'amu dominated inside, recording a sack and recovering a fumble against the Cornhuskers.
DE Hau'oli Jamora, Washington
: The true freshman had three tackles for a loss and a sack versus Nebraska.
DE Kenny Rowe, Oregon
: Rowe was second on the Ducks with nine tackles, four of which came for a loss. He also had a sack and a forced fumble.
CB Cliff Harris, Oregon
: Harris had three tackles, two pass breakups and an interception. A second interception was not upheld by replay officials.
CB Richard Sherman, Stanford
: Sherman had just one tackle against Virginia Tech. It appears that the Hokies, who completed just 16 of 31 passes, decided not to throw his way.
S Delano Howell, Stanford
: Howell had an interception, a sack and four tackles in the Orange Bowl.
S Nate Felner, Washington
: Felner had four tackles and an interception in the Huskies win over Nebraska.
Special teams
K Rob Beard, Oregon
: There wasn't a lot of great kicking this bowl season in the Pac-10, but Beard connected on a 26-yard field goal against Auburn and scored a 2-point play on an option pitch.
P David Green, Stanford
: Green didn't punt much in the Orange Bowl, but he did average 46 yards when he did (three times).
KR Travis Cobb, Arizona
: Cobb returned five kickoffs for 179 yards, with a long of 64 yards.
December, 14, 2010
12/14/10
12:04
PM ET
By
ESPN.com staff
| ESPN.com
Not every player earns All-American or All-Conference honors. Not everyone plays in the NFL. But lots of guys turn in outstanding college careers, even if they don't get a lot of publicity.
Here are some outstanding senior Pac-10 players, none of whom made first- or second-team All-Conference teams.
Arizona: NT Lolomana Mikaele

The fifth-year senior was a co-captain this season who matured significantly during his time in Tucson. He missed the 2008 season because of a suspension for violating team rules, but he returned in 2009 and 2010 as one of the Wildcats quiet leaders and became well-respected by his teammates. He started all 12 games and finished with 32 tackles, including 7.5 for a loss.
Arizona State: S Max Tabach

The Scottsdale native grew up a Sun Devils fan: He's quoted in his bio as saying that "the day he received a scholarship from ASU was 'one of the best days' of his life." Despite only starting six games -- out of the final seven -- he tied for third on the team with 64 tackles. He also chipped in a sack and two interceptions. He was ASU's most consistent safety in 2010.
California: C Chris Guarnero

It's not easy to replace the best center in program history: Alex Mack. And Guarnero is not terribly big -- 6-foot-2, 270; Mack is 6-5, 316 -- but he started 27 career games and earned honorable mention All-Pac-10 honors the past two seasons.
Oregon: WR D.J. Davis

Davis, the Ducks second-leading receiver, has started 20 games, but his 36 receptions for 410 yards don't tell his whole story. For one, he's a tenacious blocker, a key part of the Ducks rushing success the past two seasons. Second, he's a class guy. Davis, who in high school won the Watkins Memorial Award as the nation's top African American male scholar athlete, was so moved by the death of Notre Dame student videographer Declan Sullivan, he decided to make
a touching tribute this season
.
Oregon State: WR Aaron Nichols

Nichols is a former walk-on who ended up tied for third on the Beavers with 29 receptions for 330 yards. When the Beavers needed a clutch play this year -- particularly after
James Rodgers
went down -- Nichols was often the go-to guy. And he's been accepted into Oregon State's highly competitive Doctor of Pharmacy Program.
Stanford: OG Andrew Phillips
Phillips is the unsung leader of one of the nation's best offensive lines, and he played well this season despite a heavy heart: In August, his father, Bill Phillips Sr.,
died in a plane crash
.
UCLA: DT David Carter

Carter never started until he was a fifth-year senior, yet he led all Bruins defensive linemen with 42 tackles and 3.5 sacks. Further, he's a history major and honor roll student.
USC: FB Stanley Havili

Havili is a four-year starter who's made so many big plays he's hardly "unsung." But he's still underappreciated. He was named USC's Most Inspirational Player Award and was named Co-Lifter of the Year. He played the entire season with a shoulder injury. His 116 career receptions are the most of any fullback in program history.
Washington: OLB Victor Aiyewa

He's a two-time first-team Pac-10 All-Academic selection (2nd team this year) and made All-Pac-10 honorable mention. A former safety who moved to "Sam" outside linebacker this season, he ended up leading the Pac-10 in tackles for a loss with 18, 11th-most in school history.
Washington State: OT Micah Hannam
The four-year starter and three-time Pac-10 All-Academic first team member
started more losses
than any player in the 107-year history of Cougars football. That's perseverance.
November, 10, 2010
11/10/10
11:40
AM ET
By
ESPN.com staff
| ESPN.com
Tracking the offensive, defensive and coach of the year races in the Pac-10.
Offensive Player of the Year
1.
LaMichael James, RB, Oregon
: He leads the nation in rushing (166.38 yards per game) and has 17 rushing touchdowns, which is No. 1 in the national. He's a leading Heisman Trophy candidate and the star of the nation's No. 1 team.
2.
Andrew Luck, QB, Stanford
: He's seventh in the nation in passing efficiency leading the nation's sixth-ranked team and remains in the Heisman Trophy race. He's also rushed for 370 yards and three touchdowns.
3.
Darron Thomas, QB, Oregon
: He ranks 15th in the nation in passing efficiency -- leading the nation's No. 1 team -- and is tied with Luck for second in the Pac-10 with 22 touchdown passes. He's also rushed for 400 yards and four TDs.
Defensive Player of the Year
1.
Ricky Elmore, DE, Arizona
: He leads the conference with eight sacks, which is two more than anyone else. But he got shutout at Stanford, so he probably needs to get USC's Matt Barkley on Saturday to hold onto the top spot.
2.
Brandon Bair, DT, Oregon
: He's second in the Pac-10 with 13 tackles for a loss. He also has six pass breakups. And Oregon's defense continues to climb the statistical ladder.
3.
Akeem Ayers, LB, UCLA
: The All-American candidate and likely first-round NFL draft pick has recorded nine tackles for a loss, including four sacks, with two interceptions and he's forced and recovered two fumbles.
4.
Cliff Harris, CB, Oregon
: Harris joins the list because he is now, apparently, a starter. While fans have been in love with his playmaking -- he's scored four TDs this year without playing offense -- Ducks coaches have grumbled about his tendency to freelance and not play within the scheme. Apparently, Harris is getting better at, to use coordinator Nick Aliotti's term, "conforming." And it's hard to ignore his five interceptions and 14 pass defenses, which both lead the Pac-10.
5.
Mason Foster, LB, Washington
: He leads the Pac-10 with 12.7 tackles per game, with 6.0 coming for a loss. He's also forced two and recovered two fumbles. The badness of the Huskies defense likely dooms his candidacy. (And makes it hard to know what to make of Huskies OLB Victor Aiyewa, who leads the Pac-10 with 16 tackles for a loss).
Coach of the Year
1.
Chip Kelly, Oregon
: The Ducks are undefeated and ranked No. 1 in the BCS standings and both major polls. We
did find someone who was unimpressed
, though.
2.
Jim Harbaugh, Stanford
: Stanford is ranked sixth in the BCS standings and remains a Rose Bowl contender. The dominant performance on both sides of the ball versus Arizona indicated things are coming together at the right time for the Cardinal. There, however, are reports that archaeologists have discovered an ancient civilization where everyone
was actually much more enthusiastic than Harbaugh
.
3.
Mike Stoops, Arizona
: The loss at Stanford hurt. But if the Wildcats win-out, which would include a win at Oregon, Stoops could still win this honor.
August, 20, 2010
8/20/10
6:44
PM ET
By
ESPN.com staff
| ESPN.com
Just one more Friday before College Football Eve.
Follow me on Twitter
. It's like eating a bowl of ice cream, only with the nutritional value of broccoli.
To the notes.
Danny from Los Angeles writes
: We all know Mike Stoops is a defensive oriented coach. Anyone following the Cats this year can see that we might have our best offense under Stoops ready to take the field, however, our defense is not as loaded as it has been in the past. I see most of our games being high scoring affairs with our defense struggling. Like 38-35, 48-40, 48-45. How long should it take me to realize what our defense is capable of? Will I be able to see week 1 what we got, or is Stoops going to have this unit evolving week to week? Also, do you think the offense will be able to reverse its attitude from "lets not blow this game for the D" to "lets go out and score every drive because the defense can't stop anybody" and still be successful.
Ted Miller
: I don't think things are that dire defensively, nor do I think the Wildcats offense will be so dominant that it averages 40 points per game.
There are reasons to be optimistic defensively, starting with ends Brooks Reed and Ricky Elmore and cornerback Trevin Wade. Having perhaps the conference's best pass rushing tandem and a shutdown corner is something a lot of other teams would envy. The issues are fairly obvious: Two new defensive tackles and three new linebackers. That means questions for the up-the-middle defense and the counter to the short passing game, which has been a problem during preseason practices.
It's possible you will see some interesting personnel mixing and matching -- more nickle and dime sets, which might make the Wildcats look like a 4-2-5 at times -- because there seems to be more depth in the secondary than at linebacker.
I think the Wildcats will give up some points this season, but you'd think the defense -- barring injuries -- would improve as the year goes on.
You'll have a pretty good idea where things stand for the Wildcats -- nationally and in the Pac-10 -- before the middle of October. Games vs. Iowa, Cal and Oregon State should be revealing.
---
Ben from Pullman, Wash., writes
: I was wondering why ESPN and everyone is in love with
Jake Locker
. ... I know he has the athleticism and talent, but his statistics are not even close to a Heisman or a first round quarterback pick. If you look at his
career stats page
, you will see he only completed 58 percent of his passes last year.
Ted Miller
: People are impressed by Jake Locker because: 1. he's big; 2. he's fast; 3. he's smart; 4. he's a great "character" guy; 5. he's got a great arm; 6. his passing has progressively improved; 7. when you watch him on film, it doesn't take long before you go "Wow."
His numbers haven't been terribly impressive because he began as a raw talent and his supporting cast was mediocre-to-bad. He'll pile up plenty of numbers this season.
And, by the way, I get a lot of this in the mailbag. I wish no ill on any team, but the obsessive Locker-doubting makes me wonder if there might be some karmic problems hitting some teams this season when the Huskies come to town.
---
Drew from Lake Oswego, Ore., writes
: Based on what you have seen and heard, do you think that Cal's new defense under [Clancy] Pendergast will be significantly better?
Ted Miller
: Cal's practices are closed, so it's hard to say.
Pendergast is a respected NFL coach whose marching orders are to attack the opposing quarterback. My guess is he's got plenty of fancypants blitzes that might confuse opposing quarterbacks, particularly early on before offensive coordinators get a lot of film on him.
Further, I think the Bears' defensive line is sneaky good. There's experience at linebacker, led by Mike Mohamed. And the questionable secondary should benefit with quarterbacks getting less time to throw.
So my answer is, being optimistic is perfectly reasonable.
---
Bryan from Oakland writes
: I think Wazzu has turned the corner enough to win a pac 10 game this year. Where do you see said win taking place?
Ted Miller
: I think the Cougs will win at least one Pac-10 game, too.
The likely candidates? My guess is home games late in the season are the best best -- Pullman can be pretty chilly in November-December. The problem is, there are two open dates between a visit to Oregon State and the Apple Cup, which means two missed opportunities to put the deep freeze on a foe.
The best home home options would then be California on Nov. 6 (revenge for recent Bears whippings?) or rival Washington on Dec. 4. You'd also think visits to UCLA and Arizona State might supply opportunities for an upset.
---
RS from Portland writes
: Watching OSU this summer, Katz precision and go deep capabilities, the most talented deep receiving group ever, Quizz, proven TE's that can catch and the defense looks ... stifling. And when I see the 1's going against the 1's -- its steel sharpening steel. Stopping Paea is turning our OL into elite blockers! I know the rest of the country probably doesn't give us a chance against TCU but I'm thinking big time upset. TCU comes out over confident, relying on a typical OSU slow start ... and TCU really has everything to lose and nothing to gain on the big national stage.
Ted Miller
: First off, Oregon State has been around long enough that no one will write-off its chances vs. TCU. I also think the chances are zero that the Horned Frogs will take the game lightly or overlook the Beavers. They're going to watch film, you know: You can't hide what the Rodgers brothers and Paea can do.
As for Katz: There's little else to say before the lights go on. He's clearly an intriguing talent. But, again, practice is one thing. A game on ESPN in Cowboys Stadium is another. You can look at his natural swagger and big arm and project that he won't be overwhelmed by the moment or won't make critical mistakes or won't let frustrations linger and cause his confidence to evaporate, but you won't know until the curtain goes up on Sept. 4.
That said: I might be starting to feel a desire in my gut to flag an upset, too. Either that or I'm just hungry.
---
Mike from Seattle writes
: I was reading about the 4-2-5 defense which replaces one of the linebackers with a hybrid DB who is fast enough to cover receivers but big enough to stop the run. Basically it seems to be a nickel base defense with a safety playing one of the linebacker spots. U-Dub Defensive Coordinator Nick Holt says the Huskies are a 4-3 but since they have converted safety Victor Aiyewa playing SLB does this make them a de facto 4-2-5?
Ted Miller
: I see your point: Aiyewa brings safety skills to his new position, ergo he figures to be comfortable if he ends up going one-on-one with a slot receiver. But my overall thought is sometimes fans and media overthink schemes.
Ever since I was first in a press box in the mid-90s and said, "Did the 330-pound defensive tackle just drop into coverage?" and someone replied, "Zone blitz," I've sort of been of the mind that most defenses operate in a gray area of scheme. A 4-3 is a 4-3 until its third and 8 and a nickel back jogs onto the field. A 3-4? Is that 6-foot-5, 275-pounder really an outside linebacker or just another rush end who drops into coverage three or four times a game? Chip Kelly thinks it's sort of silly that when one of his ends doesn't put his hand on the ground he gets asked about a new 3-4 look.
90 percent of football if fairly simple. The other 10 percent is highly nuanced. And typically hard to explain (I remember doing a bunch of dishonest head-nodding when "Brother" Bill Oliver tried to explain some concepts to me back in my Auburn-covering days).
As far as I understand it, Washington has and will play a 4-3. Aiyewa's responsibilities will be those of a strongside linebacker -- an often thankless job that starts with the big, athletic tight end who might be trying to block you or run a deep seam route -- not those of a strong safety.
Doesn't mean Holt won't tweak some things. But I doubt that will mean the change of his base scheme to the 4-2-5.
---
Jon from Palmdale, Calif., writes
: Ted,I want you honest opinion on what are USC chances to run the table.
Ted Miller
: My honest opinion is it won't happen.
Even many of the best USC teams -- 2003 and 2008 come to mind -- weren't perfect in the regular season. And this is not the best USC team. Moreover, the Pac-10 is deep in quality -- good but not great -- teams this year. I'm not sure any team in the nation could emerged unscathed from a nine-game Pac-10 schedule.
---
Ron from Los Angeles writes
: As a UCLA fan I'm getting tired of every other pac-10 school calling Rick Neuheisel bad names such as "slick rick" etc. Is it just me or have they not seen what a great coach he has been the last 3 years. Is it just me or do you also see a pretty big change from his past to now?
Ted Miller
: Well, Neuheisel won't get credit for being a "great" coach at UCLA until the Bruins do great things, such as win the conference, win nine or 10 games or beat USC.
As for the "Slick Rick" stuff. It's old hat, mostly said at this point only because it's an easy rhyme. Such as "Cheaty Petey."
As those who've known me for a while know, I've long defended Neuheisel. Among the coaches in the country who own so-called "rogue" reputations, his, to me, is the least deserved. Folks love to list his transgressions generally, but when you review them specifically, a fair-minded person almost always concludes "Is that it?" The worst that can be accurately said about even the old Neuheisel is he was a serial limit pusher.
As for the "new" Neuheisel, he obviously knows that he can't afford to run afoul of the NCAA again. The lack of controversy around him since he took over in 2008 suggests he's paying close attention to rules and working hard to run a clean program.
---
Rory from Seattle writes
: Who is Washington going to play in the Rose Bowl this year?
Ted Miller
: The Rose Bowl is next year-- Jan. 1, 2011. And UCLA plays in Husky Stadium this year.
---
Evan from McMinnville, Ore., writes
: A little Friday fun for the Pac-10 Blog ... Pick one Pac-10 coach to:1. Go out to dinner with.2. Hit the clubs with. 3. Arm Wrestle. 4. Play Heads-Up Texas Hold-Em for $1,000,000. 5. Go To Camelot With. 6. You're about to fight 2 SEC blockheads, who do you want to have your back in a fight? 7. Be your wing-man. 8. Conduct an interview where the coach has to answer every question truthfully. 9. Live with for 1 year. 10. Start your rap career with. Happy Friday! Go Ducks! (And Linfield Wildcats)
Ted Miller
: Against my better judgment, I'll bite.
1. Go out to dinner with: Mike Riley (he's the least likely to leave me with the check).
2. Hit the clubs with: Jim Harbaugh (his NFL career only ended in 2001, so we probably could still get into the VIP section).
3. Arm Wrestle. Dennis Erickson (he's the oldest, but I'm not entirely confident because he's tricky).
4. Play Heads-Up Texas Hold-Em for $1,000,000. Mike Stoops (he's a fiery guy; if his cards were good -- or bad -- I think it would flash across his face).
5. Go To Camelot With: I have no idea on that one. Coach Guinevere?
6. You're about to fight 2 SEC blockheads, who do you want to have your back in a fight? First, we love our SEC friends, so this would never happen. But, in general, Paul Wulff (he's the biggest -- a former O-lineman -- and I've been told that during his playing days he could, you know, hold his own).
7. Be your wing-man: Chip Kelly (Unlike some, I liked how he took a measured approach to handling discipline on his team this off-season -- he'd have your back. And he's an amusing cut-up who likes to talk smack).
8. Conduct an interview where the coach has to answer every question truthfully. Pete Carroll (Know he's not in the Pac-10 anymore but I'm sure most of you understand this one).
9. Live with for 1 year: Not happening. I'm thinking "
Misery
," except I wouldn't get clubbed because the coach is my biggest fan.
August, 13, 2010
8/13/10
2:30
PM ET
By
ESPN.com staff
| ESPN.com
You see, Jason was my son, and today is his birthday.
July, 22, 2010
7/22/10
7:35
PM ET
By
ESPN.com staff
| ESPN.com
Washington may have solved a problem at outside linebacker, courtesy of UCLA and an allegedly snatched purse.
Touted true freshman linebacker Josh Shirley, one of three Bruins recruits who were kicked off the team last month after being arrested for
allegedly stealing a purse
, has decided to transfer to Washington and will report for fall camp on Aug. 8.
A Fontana, Calif., native, Shirley was ranked the No. 19 outside linebacker in the country by ESPN Recruiting and was heavily recruited by Washington before picking UCLA, which released Shirley from his letter of intent after booting him from the team.
"We are very aware of the circumstances surrounding Josh," Washington coach Steve Sarkisian said in a statement. "We have done our due diligence and truly feel that this is not indicative of his true character or the way that he was raised.
Shirley would figure to be an immediate candidate to start. While the Huskies welcome back two starting linebackers, the strongside outside linebacker spot remained unclaimed after spring practices. Sarkisian's staff had moved two former safeties there, Alvin Logan and Victor Aiyewa, to address a lack of depth.
You can read Washington's official release,
which includes a bio here
.
And here's the
Seattle Times report
.
May, 21, 2010
5/21/10
3:08
PM ET
By
ESPN.com staff
| ESPN.com
Ninth in a series taking a look at top position competitions this fall.

Washington: Strongside outside linebacker

Why the competition? With the departure of middle linebacker Donald Butler to the San Diego Chargers, the Huskies have two returning starters at linebacker: Mason Foster and Cort Dennison. Dennison, however, will move from the outside to Butler's former spot, leaving a vacancy on the strong side.

Candidates: Junior Alvin Logan (6-2, 219), senior Matt Houston (6-0, 220) and senior Victor Aiyewa (6-1, 208)

The skinny: With 19 starters back, there aren't many holes in the Huskies' lineup. The big questions at defensive end concern having enough bodies to go two-deep. At outside linebacker, however, there's uncertainty. Logan started 11 games at receiver in 2008 (though he only caught six passes) and was a reserve safety last year. He mostly ran with the first team during spring practices. Houston started one game in 2008 and has seven career tackles. Aiyewa, who started two games at safety in 2009, was in a red no-contact jersey this spring because of a shoulder injury. True freshman Victor Burnett, an early enrollee, was impressive. Though he's projected as a backup in the middle, he might be the Huskies' third-best linebacker. Or, perhaps another freshman will enter the mix in the fall.
May, 7, 2010
5/07/10
6:30
AM ET
By
ESPN.com staff
| ESPN.com
Washington

2009 overall record
: 5-7
2009 conference record
: 4-5 (seventh)
Returning starters
Offense: 9, Defense: 7, punter/kicker: 2
Top returners
: QB
Jake Locker
, RB
Chris Polk
, OT Senio Kelemete, WR
Jermaine Kearse
, WR
Devin Aguilar
, LB Mason Foster, CB Desmond Trufant
Key losses
: FB
Paul Homer
, DE Daniel Te'o-Nesheim, LB Donald Butler
2009 statistical leaders (*returning starter)
Rushing
: Chris Polk* (1,189)
Passing
: Jake Locker* (2,800)
Receiving
: Jermaine Kearse* (866)
Tackles
: Donald Butler (94)
Sacks
: Daniel Te'o-Nesheim (11)
Interceptions
: Mason Foster* (3)
Spring Answers
1. There's depth at tailback:
While sophomore Chris Polk, who rushed for 1,113 yards last year, sat out because he's still recovering from shoulder surgery, backups shined, starting with a pair of true freshmen who enrolled early:
Deontae Cooper
and
Jesse Callier
. Toss in impressive efforts in the spring game from
Johri Fogerson
and
Demitrius Bronson
, and there are five tailbacks competing for touches.
2.
The interior D-line should be tough
: Senior Cameron Elisara saw time at end and tackle, which allowed Alameda Ta'amu, Tyrone Duncan and Semisi Tokolahi to show what they can do. Senior De'Shon Matthews and touted incoming freshman Sione Potoa'e also could be in the mix. Being able to rotate four or five reliable tackles is a luxury the Huskies defense hasn't had in recent years.
3. Uncertainty in the secondary is a good thing
: Nate Williams will start at strong safety, and Desmond Trufant, who missed spring with a sports hernia, is almost certainly going to be one cornerback. After that, though, things are uncertain. The good news is that's about competition, not a lack of capable players. Redshirt freshman free safety Will Shamburger was one of the spring stars, while Quinton Richardson, Vonzell McDowell, Adam Long and
Anthony Boyles
are in the mix at corner.
Fall questions
1. Will the injured ends mend?
The Huskies defense needs ends Everrette Thompson (torn Achilles) and Kalani Aldrich (knee) to be healthy in 2010. Both sat out spring practices with worrisome injuries. Both are expected back but it remains to be seen whether they will be 100 percent (or even close to it). Even though Elisara showed that he could play end, if needed, and Talia Crichton had a good spring, there's just not enough depth at the spot to be a top-level defense without them. It's possible a true freshman will see action here.
2. SAM I am
? Mason Foster is an all-conference candidate on the weakside and Cort Dennison is solid in the middle. But who's the SAM -- strongside -- linebacker? Two former safeties, Alvin Logan and Victor Aiyewa, are candidates, though Aiyewa saw little action this spring due to a shoulder injury, as well as Matt Houston.
3.
Who backs up Locker
? After junior
Ronnie Fouch
opted to transfer, there are only two scholarship quarterbacks after Locker: true freshman Nick Montana and redshirt freshman
Keith Price
. Coach Steve Sarkisian has repeatedly said he's in no rush -- and not worried -- about his backup spot. Of course, the screws tighten a bit if Locker gets hurt.
March, 29, 2010
3/29/10
5:44
PM ET
By
ESPN.com staff
| ESPN.com
Some highlights from
Washington Huskies
coach Steve Sarkisian's presser with reporters on Monday.
Quarterback Jake Locker may play some baseball with the Los Angeles Angels of Anaheim this summer but a schedule has not been set. Sarkisian said it won't interfere with his football work.
Players who won't practice due to injury include running back Chris Polk (shoulder), offensive tackle Cody Habben (shoulder), defensive end Kalani Aldrich (knee), Everrette Thompson (Achilles), safety Victor Aiyewa (shoulder).
Running back Brandon Yakaboski (knee), cornerback Desmond Trufant (groin) and Justin Glenn (leg) will be limited.
Defensive end Andru Pulu is still suspended indefinitely and is not on the roster.
Tight end Dorson Boyce has moved to fullback.
Marquis Persley has moved from cornerback to safety.
Drew Schaefer has moved from tackle to center. Ryan Tolar from center to guard.
The starting offensive line as of Monday: Schaefer, Senio Kelemete at left tackle, Tolar at left guard, Mykenna Ikehara at right guard and Skyler Fancher at right tackle
Linebacker Alvin Logan could see action as a defensive end. Sarkisian said the lack of depth at end due to injuries and suspensions means that some other players, including defensive tackles, could see time at end.
Players who have left the program: quarterback Ronnie Fouch, running backs Willie Griffin and Curtis Shaw, linebacker Kurt Mangum, cornerback Matt Mosley and receiver Vince Taylor.
Four freshmen will participate this spring: linebacker Victor Burnett, running back Jesse Callier, running back Deontae Cooper and quarterback Nick Montana.
The priority is adding depth on the offensive and defensive line.
Sarkisian said he's interested to see how receiver D'Andre Goodwin and tight end Chris Izbicki perform. Goodwin was the Huskies best receiver in 2008 but fell behind other players in 2009. Izbicki is fighting for touches behind Kavario Middleton.
He also said that there should be plenty of competition in the secondary between cornerbacks Desmond Trufant, Adam Long, Quinton Richardson, Vonzell McDowell and converted receiver Anthony Boyles.
December, 2, 2009
12/02/09
8:56
PM ET
By
ESPN.com staff
| ESPN.com
Let us remember as the season winds down that the teams we follow with such passion are made up of college students.
So, we present this year's Pac-10 All-Academic team, which is topped by three-time first-team selection Mike Nixon, the fine linebacker -- and former professional baseball player -- from Arizona State.
Last week, Nixon also was named a first-team
ESPN The Magazine Academic All-American
. In addition to Nixon, nine other players were named to the Pac-10 academic team for the second time.
You also will notice that Stanford's
Toby Gerhart
, a top Heisman Trophy candidate, is a first-team member. Gerhart boasts a 3.25 GPA in management science & engineering, which sounds hard to me.
For those keeping score -- you always do -- Stanford has the most first-team members with eight. Washington State has five and Oregon State four. California has three, Oregon has two and Arizona State, UCLA and Washington have one apiece.
Neither Arizona nor USC had a first-team member.
To be eligible for selection, a student-athlete must have a minimum 3.0 overall grade-point average and be either a starter or significant substitute.
To see the second-team and honorable mentions,
click here
.
FIRST TEAM
Pos. Name, School Yr. GPA Major
QB Andrew Luck, Stanford RFr. 3.55 Undeclared
RB Josh Catron, Stanford Sr. 3.48 Economics
RB Toby Gerhart, Stanford Sr. 3.25 Management Science & Engineering
WR Casey Kjos, Oregon State (2) Jr. 3.63 Psychology & Sociology
WR Alex Lagemann, California Jr. 3.68 Media Studies
TE David Paulson, Oregon So. 3.68 Business Administration
OL Mark Boskovich, California (2) Jr. 3.73 Political Science
OL Micah Hannam, Washington State (2)Jr. 3.59 Civil Engineering
OL Andrew Phillips, Stanford Jr. 3.53 Classics
OL Chris Prummer, Washington State Jr. 3.88 Zoology
OL Carson York, Oregon RFr. 3.70 Journalism
DL Kevin Frahm, Oregon State So. 3.24 Political Science
DL Kevin Kooyman, Washington State Sr. 3.16 Management & Operations
DL Erik Lorig, Stanford Sr. 3.12 Public Policy
DL Tom McAndrew, Stanford (2) Sr. 3.58 Science, Technology & Society
LB Mike Mohamed, California (2) Jr. 3.43 Business Administration
LB Mike Nixon, Arizona State (3) Sr. 4.07 Political Science
LB Will Powers, Stanford (2) Sr. 3.48 Classics
DB Victor Aiyewa, Washington (2) Jr. 3.36 Sociology
DB Cameron Collins, Oregon State (2) So. 3.37 Business
DB Jay Matthews, Washington State RFr. 3.68 Undeclared
DB Chima Nwachukwu, Washington State (2)Jr. 3.79 Political Science
PK Nate Whitaker, Stanford Jr. 3.38 Engineering
P Jeff Locke, UCLA RFr. 3.69 Undeclared
RS Taylor Kavanaugh, Oregon State Sr. 3.28 Construction Engineering
(2) Two-time first-team All-Academic selection
(3) Three-time first-team All-Academic selection
July, 30, 2008
7/30/08
3:46
PM ET
By
ESPN.com staff
| ESPN.com
Posted by ESPN.com's Ted Miller

Ed Donatell was not afraid to take, perhaps, the toughest job in Pac-10 coaching this season.
For one, he joined Tyrone Willingham's staff at Washington. As everyone knows, Willingham is decidedly on the hot seat and probably needs to lead the Huskies to a bowl game to retain his job for a fifth season.
Second, Donatell takes over the Pac-10's worst defense from 2007 -- statistically the worst in the history of the program.
Third, only six starters return from that unit, including only one with significant experience on the defensive line.
And, finally, beleaguered Husky fans love defense. They've been suffering for a while now watching various lineups flub around on the field with the memory of Don James' stingy units still fresh in many boosters' memories.
Donatell, who did get the security of a two-year contract worth $334,000 annually, brings a fresh perspective. He spent 12 of the past 13 seasons in the NFL and coordinated defenses for the Green Bay Packers (2000-2003) and Atlanta Falcons (2004-2006). Over the years, he's coached with Pete Carroll, Bruce Coslet, Mike Shanahan and Mike Sherman.
He said he likes attacking defenses, and Huskies fans surely would love to duplicate his 2004 Falcons unit that led the NFC in sacks.
How did you end up at Washington?
Ed Donatell: In a nutshell, with the Atlanta Falcons, it was my seventh year as a NFL defensive coordinator. When [Falcons coach Jim Mora] was let go, I wanted to remain a coordinator and did not get that done. So I went and worked with the Jets as a senior assistant. I looked at [NFL] coordinator positions and didn't get one last year. So I just kept moving along and this Washington thing came up. I knew it was a storied university with a great tradition and I've always believed teams that won in the past can win again. And the reputation of Tyrone Willingham and the people on the staff, it seemed like a good match for me to join up with them. I wanted to continue as a guy leading defenses.