June, 20, 2014
Jun 20
9:15
AM ET
All players are equal, but some players are more equal than others. That's the basis of our Most Important Players series.
First off, quarterbacks are excluded to make things more interesting. It goes without saying, for example, that
Marcus Mariota
is Oregon's most important player.
And most important doesn't necessarily have to be "best." An All-American's backup can be pretty darn good, too. USC's
Leonard Williams
might be the best defensive lineman in the nation, but is he the Trojans' most important player considering the talent and depth on their D-line?
Our most important guys are players who could swing a win total one way or the other, based on them living up to expectations. Or their absence.
[+] Enlarge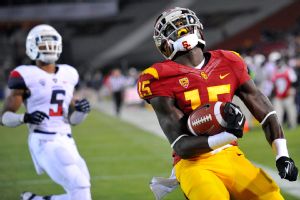 Gary A. Vasquez/USA TODAY SportsNelson Agholor figures to improve on his six TD receptions from 2013.
USC
: WR
Nelson Agholor
2013 production
: He caught 56 passes for 918 yards and six touchdowns. Agholor also returned 18 punts for 343 yards and a pair of touchdowns (19.1 average) and 10 kickoffs for 175 yards (17.5 average).
Why Agholor is important:
This was a tough one, because there are a lot of players who could be (and are) difference-makers for the Trojans, be it Agholor, the aforementioned Williams,
Randall Telfer
,
Hayes Pullard
,
Buck Allen
,
Max Tuerk
,
Su'a Cravens
, etc.
But like Stanford's Most Important Player,
Ty Montgomery
, Agholor is the type of player who can change a game on offense and on special teams. With his sure hands and twin V-12 engines … err … feet, Agholor posted the nation's second-best punt return average with 19.1 yards. He also tied a Pac-12 record with two punt returns for touchdowns against Cal -- including a 93-yard return, which was the second-longest in school history.
Who plays opposite Agholor might still be up for grabs, with
Darreus Rogers
,
Victor Blackwell
and
George Farmer
(yeah, remember him?) among others in the mix.
So is it the running game that opens up the passing game? Or is it the other way around? With a burner like Agholor racing up and down the sidelines, he's certainly going to draw the extra attention of safeties who might otherwise be focused on the box. And most reports out of USC's spring session (including the practices witnessed by the Pac-12 blog) saw Agholor emerge as the team's hardest-working player and team leader. Not a bad thing to have when transitioning to a new head coach. Doesn't hurt that he was tutored by
Robert Woods
and
Marqise Lee
.
You could make a case for a lot of other players. And you'd be right. But with a potential Biletnikoff winner in Agholor, you certainly can't go wrong.
Other Most Important Players:
April, 26, 2013
4/26/13
6:00
PM ET
After vigorous debate and consulting all stakeholders, we've officially come up with a name for the Pac-12 blog mailbag. From here on out, it will be known as the Pac-12 blog mailbag. Simple, sophisticated. We considered two divisions for when Ted and I do them -- he'd be the "Turf" Division and I'd be the "Surf" Division. But that was voted down by an executive counsel of former coaches and administrators.
So, enjoy the Pac-12 blog mailbag. And, as always,
follow the blog on Twitter
.
David in Billings, Mont., writes
: Kevin, In your top 25 PAC-12 players for 2012-2013, you chose no players from Washington. Please explain how you were unable to recognize
Desmond Trufant
as worthy when he was selected # 22 in the NFL draft. He may not have had the stats you were looking for because nobody wanted to throw at him. Do you actually watch the games? Did you not recognize him because you hate Washington or is it because you don't know what you are talking about? I wonder why I bother reading your blog.
Kevin Gemmell
: I've got a little secret. Whenever you see me write a story with the dateline "Seattle," I'm actually at El Gaucho enjoying the $74 Bone-In New York cut. It beats actually going to the game. They are just so crowded. And that stadium got
sooooo
loud last year. Why bother?
I'm not going to rehash our entire thought process again about the top 25. But you're welcome to read
an extensive blogger debate
Ted and I did back in February that digs into how we collaborated on the list. You'll see Ted and I both struggled over Trufant and
Austin Seferian-Jenkins
. I invite you to read it -- though since you are convinced I hate Washington (by the way, I had a great chat with Sark yesterday for a Q&A on Monday -- and I was sure to tell him how much I hate his team) -- it's not going to change any opinions. But for what it's worth,
we did write on Wednesday
that we believed Trufant would be picked in the first round. But the top-25 list wasn't just about a draft -- a lot of factors, stats, team success, number of players at certain positions etc. etc.
All I can say is I don't hate Washington and thanks for being a reader. Have a fantastic weekend and I hope you enjoy the Sark Q&A on Monday.
---
Rob in Santa Clara writes
:
What was your USC column about
: USC or, your favorite team, UCLA? You are so fulla ... (NOTE: I wasn't familiar with the "sh" word Rob used at the end of his letter. After years of going to catholic school and a Jesuit college, I just assume he meant I'm fulla great insight and well-crafted arguments).
Kevin Gemmell
: I don't hate Washington -- but man do I love me some UCLA! So much! My personalized Jim Mora alarm gently buzzed me awake this morning to the sweet sounds of "
Is that a question or statement? Is that a question or a statement? Is that a question or a statement? Is that a ques
(click)."
I pulled off my Bruins comforter, did one good long stretch on my Bruins sheets and then rolled out of bed and glided into my Bruins slippers. I put in my contacts, slipped on my Bruins beanie, looked deeply into the mirror and then did an eight-clap to get me ready for the day.
Big, big UCLA fan here.
And yet despite my unquenchable lust for all things UCLA, was I wrong?
Per the attached poll, I'm not. I suppose if I wrote Stanford was USC's most important game -- considering USC's recent struggles against the Cardinal -- you would have called Stanford my favorite team. (By the way, my David Shaw alarm clock is on its way. It's not as exciting as the Mora clock. It just says
"power right
" 50 times in a row).
USC's most important game is UCLA. And the fact that the Bruins pushed the Trojans around last year isn't opinion or misconstrued homerism -- it's fact.
---
Darryl in Oakland writes
: Hey Kevin, Did
Cody Kessler
play in any games for SC last year? The reason that I ask is
in the Athlon rankings blog article
you said that you wouldn't rank Zack Kline ahead of other QBs in the 9 to 11 spots but you appear to be fine with Kessler, who unless I missed something, is just as unproven as Zack Kline is. For what it's worth, I've seen both of their High School tape and Kline is far superior than Kessler.
Kevin Gemmell
: How dare you use my own logic against me! Grrrr.
You are 100 percent correct. However, the reason I would rank Kessler higher than the other inexperienced quarterbacks is 1) Kessler has the No. 1 wide receiver in the country in
Marqise Lee
and one of the brightest up-and-coming receivers in the league -- possibly the nation -- as his No. 2 in
Nelson Agholor
. Even with the loss of
George Farmer
, there is still an extremely deep receiving corps with
Victor Blackwell
,
De'Von Flournoy
and very good tight ends in
Randall Telfer
and
Xavier Grimble
. 2) He's been in the offense for a couple of years backing up
Matt Barkley
. He's not learning a new scheme from scratch and he has more continuity than the other inexperienced guys.
Pointing out the inconsistency in my logic is very reasonable -- and perhaps I should have specified that more in the original post. But given the weapons Kessler (or Max-squared) will have at their disposal, I don't think it's unreasonable to give him/them a slight bump over some of the other guys who are transitioning to new coaches and have talented, but mostly unproven receivers around them.
There are exceptions to every rule. Just like
in their running backs rankings
-- I'm OK with Thomas Tyner and
Barry Sanders
being on the list because Sanders has a great offensive line and Oregon's offense is a proven commodity for running backs.
---
Kevin in Los Angeles writes
: I just noticed that USC plays 13 games compared to 12 for the other pac 12 teams. Any reason why?
Kevin Gemmell
: NCAA rule 17.9.5.2. Off the top of your head? Anyone? Anyone know NCAA rule 17.9.5.2?
And here I thought I was the only one who had memorized this
easy-to-read leaflet
laying out a couple of tiny ground rules in a clear and non-enigmatic manner.
Teams that play a game in Hawaii are granted an extra game, usually at home, to help offset travel costs. They can also choose to have an extra bye week if they want, but in this case the Trojans opted for an additional nonconference game. Their extra game this year is Utah State. By the way, the start time for the Hawaii game was announced this morning. 8 p.m. PT.
---
Rob in Portland writes
: Can you let me know your thoughts on players stock rising and falling in the few weeks before the draft. I understand their stock can change dramatically based on combines, interviews, senior bowl, etc, but how does it change 1 week before the draft, when they haven't done anything? 2 weeks ago someone might have been projected a first rounder, but suddenly he is a 2nd-3rd rounder after sitting at home ? How does "momentum" swing that fast in the absence of any new news?
Kevin Gemmell
: Gonna let you in on a little secret. It doesn't.
From my time covering the NFL, I can tell you this -- most draft boards are locked in a couple of weeks before the draft. Obviously, as things shift and adjust throughout the course of the draft, there are changes that have to be made. But a lot of the pecking orders and hierarchies are already in the place a few weeks before. This, of course, is barring any sort of news that could impact a player's stock -- an injury, a legal issue etc. etc.
All that changes is public perception. For starters, a local publication will post their own mock drafts or player rankings -- but it's in relation to their home team. For example,
a recent story
ranked San Diego State tight end
Gavin Escobar
above Stanford's
Zach Ertz
. This might be because Escobar is a better fit for the Chargers offense -- and there was probably a little home cooking. I covered Escobar in my life before ESPN and he's an outstanding player. But only one was a unanimous All-American. But others will read that and it could influence their mock drafts ... and so on and so on. Suddenly there is "buzz" and "momentum" changes. The truth is -- take what you read pre-draft with a grain of salt. There is no other happening in sports that creates more pre-event hype and speculation than the NFL Draft. But to the guys in the war rooms, the gameplan -- right or wrong -- is already in place.
Atlanta and Trufant is a perfect example of this. I'm guessing that weeks ago, the Falcons said if Trufant was there at No. 22, they were going to trade up to get him. They targeted a position and they went after it. That didn't happen on the fly or because momentum was swinging toward Trufant. He crushed it at the Senior Bowl. He crushed it at the NFL scouting combine. They wanted him. They got him.
---
Larry Scott, Pasadena:
So Kevin, how well do you think I did in the playoff negotiations? Would you have done anything differently? What could improve the system (other than making it a real playoff where every team has a fair chance of winning)?
Kevin Gemmell
: I think the eight-team model is the way to go. If you're No. 5 -- you still might have a legitimate gripe for not getting in. But if you are No. 9 -- you probably don't have a leg to stand on. But this is what we have for now and it's going to take baby steps to get there.
We don't know what the system is going to be yet -- so I can only speculate as to what I think would be.
For starters -- I think every team has to be on the same page when it comes to scheduling. I don't care if that's an eight-game or nine-game conference schedule. Also, in the Pac-12, they aren't allowed to take late-season byes or schedule FCS opponents later in the year. It's a huge advantage for some conferences to separate their rivalry games late in the year with weaker teams. (Oregon State was the exception last year because of the hurricane).
Also, strength of schedule must, must, must be a point of major consideration. This can't be another BCS by any other name. I'm also curious when they will release the rankings for the top four teams. Will it be in October like the BCS? November? I'd be in favor of a week-by-week standing after the first month so teams know where they stand.
But above all -- there has to be complete transparency in the selection process. Every week we have to know how and why the teams are ranked where they are. That's the only way people will understand and accept the process.
April, 16, 2013
4/16/13
12:00
PM ET
Lane Kiffin and Co. have released their official post-spring two-deep depth chart. And not surprisingly, there aren't a lot of surprises.
One of the most watched quarterback competitions in the country lists
Max Wittek
OR
Cody Kessler
OR Max Browne. Leaving us with what we knew a month ago. It's going to be Wittek OR Kessler OR Browne.

Steve Bisheff of WeAreSC
makes his case
-- and a compelling one at that -- for Kessler, who clearly had the strongest spring of all three quarterbacks.
Despite Kessler's clear advantage coming into the (spring) game, Kiffin had Max Wittek starting with the first unit at the Coliseum on Saturday. And even after Kessler outplayed his main competitor, throwing for 242 yards and three touchdowns with no interceptions compared to Wittek's 145 yards, two touchdowns and two interceptions, Kiffin insisted that no quarterback had emerged as a front-runner for the position and that he won't name a starter until the fall.
Sticking with the offense, there was already an assumed pecking order at wide receiver, but it's more solidified now. Darreus Rogers and
Victor Blackwell
are behind Biletnikoff winner
Marqise Lee
.
Nelson Agholor
will start opposite Lee with
De'Von Flournoy
and
George Katrib
backing him up.
Some intrigue at running back with
Silas Redd
at the top, but the starting gig is listed as Redd or Justin Davis or
Tre Madden
. Same for the fullback, which lists
Soma Vainuku
or
Jahleel Pinner
as the starter.
So while the entire offensive backfield is a grab bag of "ors," there is at least some solidarity on the offensive line, where four of the five starters appear to be in place.
Aundrey Walker
and
Max Tuerk
make up the left side with
Marcus Martin
at center and
John Martinez
at right guard. The only spot still in doubt is at right tackle between
Kevin Graf
or
Chad Wheeler
.
The new-look 52 defensive front has
Devon Kennard
and
Morgan Breslin
at the outside linebacker spots (that's going to be a scary combination, by the way) with
Leonard Williams
and
George Uko
(also a darn good tandem) at the ends. Nose tackle is still up for grabs between
Antwaun Woods
or
Cody Temple
.
In the secondary, where there are almost as many holes as there are questions -- little has been determined. Three of the four starting spots have an "or" attached to them. Only
Anthony Brown
looks like the inked-in starter.
Torin Harris
and
Kevon Seymour
are battling for the other corner spot and
Demetrius Wright
or Leon McQuay III are battling for free safety.
Josh Shaw
and touted freshman Su'a Cravens -- who missed a significant portion of spring drills -- will head into fall battling for strong safety.
March, 1, 2013
3/01/13
12:00
PM ET
While quarterback competitions are typically front-and-center during Pac-12 spring practices, there are always other interesting spring storylines.
Here are two.
[+] Enlarge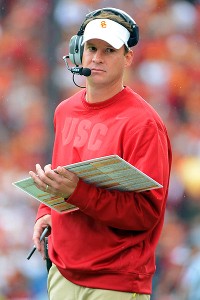 Harry How/Getty ImagesUSC coach Lane Kiffin enters the spring with several new assistants, a new defensive scheme, and uncertainty at quarterback.
Ted Miller
: It was a horrible, no-good, rotten, very bad 2012 season for USC coach Lane Kiffin. And the 2012-13 offseason has been no picnic either. Some Trojans fans wanted Kiffin fired. Just about all were frustrated. Justifiably so, by the way.
Lane: Welcome to spring, the season for rebirth! Time to turn the page. Or, perhaps, pick up an entirely new book.
At the very least, the situation at USC is interesting. One of the nation's premier programs is front-and-center for many of the wrong reasons, but there is enough talent on hand for Kiffin to turn things around and shut up his critics.
Interesting plot lines? Kiffin will be breaking in four new assistant coaches, including a pair of new coordinators, his defense will be transitioning from a 4-3 base to a 3-4, and he's looking for a new quarterback for the first time in his tenure.
There's a lot going on. Lots of questions. Lots of doubt, too. Yet negative momentum isn't irreversible.
What if the Trojans have an exceptional spring?
What if Clancy Pendergast shakes things up and, suddenly, the defensive guys are playing hard and fast in a sound scheme they understand? And what if the offense, nonetheless, makes plenty of plays because the quarterbacks are sharp and the line is manning up? What if the fitness level of the Trojans improves? What if offensive tackle
Aundrey Walker
breaks through, realizing his future NFL contract will be based on performance, not measurables? What if
Devon Kennard
proves a perfect fit as a 3-4 outside linebacker, as we believe he is? What if guys like
Marqise Lee
,
Hayes Pullard
,
Silas Redd
,
Dion Bailey
and
Kevin Graf
step up as leaders? What if receivers
George Farmer
and
Victor Blackwell
decide they don't want to be left in the dust behind Lee and
Nelson Agholor
? What if running back
Tre Madden
says, "Hey, remember me?"
What if Kiffin simultaneously refocuses and relaxes? What if he uses his capable brain to be smart, not a smart aleck, to be creative, not sneaky? What if he realizes the media is not an enemy, but just a bunch of folks trying to do their job whom he should humor with vague though sometimes amusing answers?
There are a lot of "What ifs?" with USC and Kiffin. It's not difficult, by the way, to talk yourself into believing a bounce-back is entirely possible.
That's what is interesting. Kiffin 2.0 was 2010 and 2011, when he seemed to find his rhythm as a coach after controversial stints with the Oakland Raiders and
Tennessee Volunteers
. Kiffin 3.0, was 2012, a complete face-plant.
This spring presents us with Kiffin 4.0. It could prove to be the most important transition of his career as a head coach.
And that is interesting.

Kevin Gemmell
: Besides quarterback battles -- which I think are always the most exciting position battles there are -- I'm most curious to see how the running back battle is going to play out at Stanford.
When you look at a Stanford squad that is very heavy on upperclassmen -- on both sides of the ball -- you have to wonder if all of the pieces are in place for Stanford to make a legitimate run at the national championship.
I wasn't sure before, but with the addition of Tyler Gaffney to the running back corps, I'm warming up to the idea that the Cardinal could challenge any team in the country for a BCS championship -- if they can get out of their own conference (or division for that matter) -- which anyone will tell you is no easy task.
It's no surprise that Stanford's primary offensive weapon is the quarterback. Not because of what he does with his arm -- but because of what he does when he goes under center -- checking out of bad plays and putting the offense in the best possible play against the defense shown. This allows running backs to flourish. Andrew Luck was phenomenal at it.
Kevin Hogan
should get better.
So, when Hogan turns to handoff on power right or power left, who is going to be the primary ball carrier?
Anthony Wilkerson
has shown bursts and outstanding top-end speed. But injuries have slowed him, and playing behind
Stepfan Taylor
the past few years didn't allow him to really break out following his strong true freshman season. Gaffney is a rock and hard to bring down. He's the kind of guy who could carry the ball 10 times for 4.5 yards a pop.
Barry Sanders
is an interesting X-factor. He obviously was a high-profile recruit because of his name -- but beyond that, he's supposedly a pretty darn good back. Maybe he ends up winning the job and can be a 15-carry type of guy.
Then you have
Ricky Seale
, a shifty runner with great vision who has been trapped at the bottom of the depth chart, but continues to receive praise from David Shaw.
Remound Wright
and hybrid
Kelsey Young
are also in the mix.
Whoever is Shaw's go-to back, he'll have the benefit of running behind an outstanding offensive line that is only going to get better with
David Yankey
-- an All-American and last year's Morris Trophy winner -- moving back to his natural position at guard. And Shaw has said he plans to keep
Ryan Hewitt
at fullback -- giving the running backs a cadre of blockers that rivals any other in the country.
By season's end, this could be your national championship team. The question is, which back will carry it there?
June, 7, 2012
6/07/12
7:00
PM ET
Every team has a strength -- that one position group that can make a play on offense or make a big stop on defense when needed.
Based on what happened this spring, we're going to look at the strongest position group for each school. It could be on either side of the ball -- and it could be subject to change after fall camp goes into full swing.
We're going in reverse alphabetical order.

USC
Strongest position group
: Wide receivers
Headliner
:
Robert Woods
(111 catches,1,292 yards, 15 touchdowns)
Supporting cast
:
Marqise Lee
(73/1,143/11);
Victor Blackwell
(RS);
De'Von Flournoy
(0/0/0);
George Farmer
(4/42/0)
The skinny
: Woods is the headliner for now. But when all is said and done by the end of this year, it might end up being Lee. Or it could still be Woods. Or Lee. That's the point. By themselves, they are two of the best wide receivers in the country. Together, they are by far the best receiver duo in the nation. And when you throw in a Heisman candidate quarterback in
Matt Barkley
, you have possibly the most explosive passing game in college football.
These two alone make USC's wide receivers the strongest position group. But when the highly-touted George Farmer is your No. 3, that ain't bad. Yes, USC's receiving corps might be a tad on the top heavy side with some limited experience backing it up. But Farmer was a Prep All-American who burns and Blackwell and Flournoy would likely be starters at most schools in the conference.
And though I consider tight end its own position position group, the fact that
Randall Telfer
and
Xavier Grimble
are out there opens things up even more for the Trojans receivers. It means more one-on-one coverage for at least one of the two A-listers in Woods and Lee. Wait until USC comes out in a double-tight formation -- with Woods, Lee, Telfer and Grimble all at the same time. Pump-and-go. Touchdown. Repeat as desired.
For what the overall depth of this position group lacks in experience, it makes up for with two of the most explosive players in the country.
April, 19, 2012
4/19/12
7:00
PM ET
Last week we gave you our thoughts on which Pac-12 team
had the best specific position group
-- taking into account playmakers at the top of the group and overall depth at the position.

Knowing full well he'd catch some grief, Kevin Gemmell still picked the Stanford linebacking corps, citing All-American candidates
Chase Thomas
and
Shayne Skov
and a very deep list of players who can fill out the Cardinal 3-4 scheme.
Ted Miller went top heavy, pointing out USC's fantastic wide receiver duo of
Robert Woods
and
Marqise Lee
, but also noting that players such as
George Farmer
,
De'Von Flournoy
and
Victor Blackwell
could provide some depth behind those two.
Did we pick the wrong units?
What about Utah's defensive line. The Utes boast the best defensive lineman in the conference in
Star Lotulelei
and are talented across the line.
What about the Oregon linebacking corps headlined by
Michael Clay
. They are athletic, deep and talented. Clay and
Kiko Alonso
are potential all-conference guys in 2012.
ASU has a pretty good stable of running backs.
Cameron Marshall
has impressed in the spring and
James Morrison
and a healthy
Deantre Lewis
make it that much deeper. JC transfer Marion Grice and incoming freshman D.J. Foster add to that depth.
Which team has the best position group?
March, 25, 2012
3/25/12
9:01
PM ET
By
ESPN.com staff
| ESPN.com
Garry Paskwietz writes

: Walk-on fullback Hunter Simmons left the team last season but returned this spring. Due to injuries at tight end and fullback, he played every snap during USC's practice on Saturday.
Greg Katz writes

: Victor Blackwell was high school teammates with Matt Barkley at Mater Dei before joining him at USC. With a redshirt year under his belt, he's ready to catch passes from Barkley in a game situation again.
February, 8, 2012
2/08/12
2:30
PM ET
By
ESPN.com staff
| ESPN.com
Writing is hard — it's a form of punishment in schools, and rightly so — and so I stood paralyzed before all the different ways this simple message might be put.
April, 25, 2011
4/25/11
9:00
AM ET
By
ESPN.com staff
| ESPN.com
LOS ANGELES -- One of the coachspeak quotes that often raises an eyebrow from the media is the ole, "We're young" declaration. Sometimes it's true, of course. But even so, it seems like a ready-made excuse.
But when USC coach Lane Kiffin throws it out -- "We're going to be extremely young" -- he recites numbers that back him up.
[+] Enlarge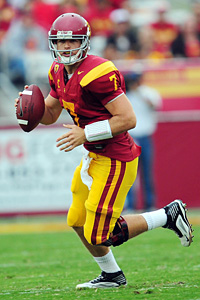 Gary A. Vasquez/US PresswireWith uncertainty at several positions, USC will be relying heavily on returning quarterback Matt Barkley.
The Trojans have just 12 scholarship seniors and 14 scholarship juniors, he said. Further, 12 players on the two-deep sat out spring practices. Eight players who did participate this spring are early enrollees from this February's recruiting class. In the fall, 23 first-year players arrive.
That means 35 players who aren't participating this spring will be new to competition for playing time during preseason camp. In other words, the USC you saw -- or read about -- this spring isn't really going to be the USC that shows up this fall.
At least, that's the hope for Kiffin, because things were far from pretty -- particularly on offense -- this spring.
Some notes.
It's difficult to judge quarterback Matt Barkley this spring because his supporting cast was so thin. Kiffin mostly lauded his leadership, and the general feeling is that Barkley and receiver Robert Woods are going to light things up this fall. As for quarterback depth, it seems redshirt freshman Jesse Scroggins took the lead for the backup role over touted true freshmen Max Wittek and Cody Kessler. Kessler seemed slightly more polished than Wittek this spring.

The depth looks strong at running back, even if Marc Tyler can't stay healthy. Dillon Baxter, D.J. Morgan and Curtis McNeil each had their moments. Morgan is intriguing but "still very raw," said Kiffin, who added that McNeil, who was academically ineligible last season, "actually outperformed all those guys." The fullback is Soma Vainuku, a freshman.

The receiving corps is going to be long on potential and short on experience. Woods often looks like a budding All-American. Said Kiffin: "Robert Woods has really taken his game to the next level. It's hard to imagine he's only in his second semester." If Kyle Prater can stay healthy, he also has all-star potential. Brandon Carswell, De'Von Flournoy and Markeith Ambles -- who's struggled to stay out of the doghouse because of discipline issues -- provide uncertain depth. It's almost certain that incoming freshmen, including the celebrated tandem of George Farmer and Victor Blackwell, will get immediate looks.

Rhett Ellison has had a good spring and is getting looks at both tight end and fullback. Xavier Grimble, Christian Thomas and Brandall Telfair also are in the tight end mix, with each bringing different skills to the position.

The offensive line? Huge question mark. The only certainty is Matt Kalil at left tackle. Khaled Holmes started at guard last season and is expected to start at center this fall, but he didn't do contact work this spring. Kevin Graf probably fits in somewhere. There really wasn't a second unit of scholarship players this spring. Incoming freshmen Cyrus Hobbi and Aundrey Walker will get serious looks in the fall. Former coach Pete Carroll was an outstanding recruiter, but he fell short recruiting offensive linemen over his final few seasons.

Andre Heidari, the No. 1 prep kicker in the nation last year, has looked solid this spring. The hope is incoming freshman Kristopher Albarado will win the punting job.

The big question on the defensive line is the uncertain health of Armond Armstead. An undisclosed health issue prevented him from practicing and his future is uncertain. Said Kiffin, "That's big. He really came on at the end of the year. We'll know more this summer." With him, the Trojans' defensive line could be elite. Without him, it still could be pretty good. Junior end Nick Perry, if he can stay healthy, will become an NFL prospect. He was clocked at 4.6 in the 40 at 250 pounds. Said Kiffin, "He's everything you want. He's an NFL dream, height, weight, speed, jumping." Redshirt freshman defensive tackle George Uko has made the most gains this spring. End Wes Horton and tackle DaJohn Harris have experience, as does tackle Christian Tupou, who should return from a knee injury that killed his 2010 season.

The likely starting linebackers -- Chris Galippo, Devon Kennard and Shane Horton -- sat out with injuries. Things are thin behind them, though redshirt freshman Hayes Pullard "has played extremely well," according to Kiffin. This is another position where incoming freshmen -- Lamar Dawson? Tre Madden? -- could make an impact.

Cornerback Nickell Robey has had and outstanding spring, and safety T.J. McDonald is a budding star. There's less certainty at the other two spots, though Anthony Burnett appears to have caught Kiffin's eye at the other corner. Jawanza Starling, Drew McAllister, Demetrius Wright and Marshall Jones are competing at the other safety. Dion Baily is getting a look at a "nickel linebacker."
June, 2, 2010
6/02/10
11:28
AM ET
By
ESPN.com staff
| ESPN.com
The
ESPNU 150
recruiting list has been released.
Four players on it already have committed to Pac-10 teams, three to USC and one to Washington. They are:
The list includes 18 players from the West Coast: 11 from California, four from Arizona, two from Washington and one from New Mexico.
May, 20, 2010
5/20/10
10:32
AM ET
By
ESPN.com staff
| ESPN.com
One of the nation's top athletes,
DeAnthony Thomas
of Crenshaw High (Los Angeles)
has committed to USC
.
Thomas (5-foot-9, 160 pounds) was also was offered by UCLA, California, Arizona, Arizona State, Washington, Florida, Colorado, Georgia, Oklahoma, Texas, Oregon and Oregon State.
He told ESPN's Greg Biggins, "It was all about being comfortable there. I always said I didn't want to leave home because I'm so close to my family so I was leaning towards playing for one of the two L.A schools. USC is where I felt I fit in the best, where I had the best relationship with the coaches and they recruited me harder than anyone."
His God-brother, Victor Blackwell, a receiver from Mater Dei (Santa Ana, Calif.), also recently pledged to USC.
Nicknamed the "Black Mamba," he rushed, as a junior, for 902 yards on 81 carries (11.1 yards per carry average) and scored 12 touchdowns and caught 11 passes for 204 yards and three TDs. On defense, he recorded 60 tackles, four sacks, two interceptions, seven pass breakups and three forced fumbles.
Thomas is the Trojans'
fifth commitment
. All five are members of the
ESPNU 150 Watch List
.
May, 18, 2010
5/18/10
12:44
PM ET
By
ESPN.com staff
| ESPN.com
USC and California have both picked up recruiting commitments.
Receiver
Victor Blackwell
(Santa Ana, Calif./Mater Dei), a member of the
ESPNU 150 watch list
, committed to the Trojans on Monday night.
Blackwell (6-foot-1, 190) is the top receiver for touted quarterback
Matt Wittek
, who previously committed to the Trojans. Blackwell picked USC over California, Florida State, Notre Dame, Oregon State, Tennessee, UCLA and Washington.
He's the fourth 2011 pledge for the Trojans, all coming from the ESPNU 150 Watch List. He caught 52 passes for 1,044 yards (20.1 average) and 11 touchdowns as a junior.
Cal got word Tuesday from quarterback
Kyle Boehm
(San Jose, Calif./Archbishop Mitty). He picked the Bears over Arizona State, Colorado State, Illinois, Oregon State, San Jose State, Texas Tech, Kansas State, Northwestern and Washington, among others.
Boehm told ESPN.com's Greg Biggins, "I knew I was getting close to making my decision and didn't feel the need to drag it out any longer. Cal has everything I could want in a school, and has a great combination of athletics and academics. The fact that it's close to home and my family can come up and see my games is another added bonus."
Boehm passed for 881 yards and seven touchdowns while also rushing for 861 yards and 12 more scores last year.
PAC-12 SCOREBOARD
Saturday, 12/20
Monday, 12/22
Tuesday, 12/23
Wednesday, 12/24
Friday, 12/26
Saturday, 12/27
Monday, 12/29
Tuesday, 12/30
Wednesday, 12/31
Thursday, 1/1
Friday, 1/2
Saturday, 1/3
Sunday, 1/4
Monday, 1/12
Tweets from https://twitter.com/ESPNCFB/lists/pac12