January, 24, 2014
Jan 24
9:00
AM ET
The Pac-12 has 26 of the 98 early entrants in the NFL draft. That's impressive. Some players are locks to get drafted. Others might have jumped the gun a bit and find themselves on practice squads or brushing up on their Canadian. We'll see.
What we're more concerned about here is who is going to replace them. Some answers are clearer than others. Some teams might have to alter their schemes just to account for a departed player.
Here's a look at the possible replacement players in the Pac-12 South. We'll look at the North later this morning.
Leaving:
Ka'Deem Carey
, RB, Arizona.
The replacement:
Jared Baker
should be in the mix, though an injury will keep him out of spring ball. He's expected to return in time for fall camp.
Pierre Cormier
and
Zach Green
will also get looks. Speaking with folks at Arizona, the word right now is that it's wide open. One player could emerge, or it could end up being a by-committee approach. Nothing is off the table at this point.
Leaving:
Carl Bradford
, LB, Arizona State
The replacement:
There really isn't anyone who has Bradford's skill set in the program yet, so the position is wide open.
Viliami Latu
has potential. So does
Chans Cox
, who was hurt a lot last season. They are also excited about incoming freshman
Ismael Murphy-Richardson
. He might not be ready to jump in immediately, but he could be the Devil backer by 2015.
[+] Enlarge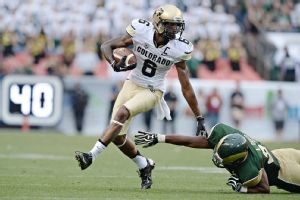 Ron Chenoy/USA TODAY SportsColorado will have a hard time replacing the explosive plays that Paul Richardson provided.
Leaving:
Paul Richardson
, WR, Colorado
The replacement:
It was probably going to be
Jeff Thomas
before he transferred. Now it's probably going to be a rotation of
D.D. Goodson
,
Devin Ross
, or redshirt freshmen
Bryce Bobo
or
Elijah Dunston
.
Nelson Spruce
has been solid, but he's not the breakaway threat Richardson was. This will be a key spring battle to watch.
Leaving:
Xavier Su'a-Filo
, OL, UCLA
The replacement:
Simon Goines
should be back after starting six games at left tackle before an injury forced him out.
Scott Quessenberry
stepped in and played five games at left guard, which is where he'll likely be next season with Goines back at tackle.
Leaving:
Dion Bailey
, LB, USC
The replacement:
Leon McQuay III
saw some playing time and is very highly regarded by the coaching staff. His contributions last season were mostly on special teams, but he'll take on a larger role with Bailey's departure.
Leaving:
Marqise Lee
, WR, USC
The replacement:
Remember
George Farmer
? He's still around and could be in for a big season if healthy.
Darreus Rogers
and
Steven Mitchell
both are promising, but both have missed time with injury. You never truly replace a Biletnikoff winner, but playing opposite a surging
Nelson Agholor
could help boost the production of whoever gets in the regular rotation.
Leaving:
George Uko
, DT, USC
The replacement:
Transfer
Delvon Simmons
is coming off a redshirt season, as is freshman
Kenny Bigelow
. Both should get some serious looks, as this will be one of the hot position battles this spring. Someone will ultimately win the job, but expect a rotation with both next season.
Leaving:
Marcus Martin
, C, USC
The replacement:
Lots of ifs here. It could be
Max Tuerk
moving over from guard, but he'll also be in the mix for right tackle to replace
Kevin Graf
.
Khaliel Rodgers
redshirted and is an option at guard or center.
Giovanni Di Poalo
could also get a look.
Leaving:
Xavier Grimble
, TE, USC
The replacement:
Grimble and
Randall Telfer
were basically co-starters, so all this probably means is Telfer's workload increases as he becomes the clear No. 1.
Jalen Cope-Fitzpatrick
is the only other scholarship tight end on the roster.
Leaving:
Jake Murphy
, TE, Utah
The replacement:
Westlee Tonga
seems like the logical fit. He has been around for a few years and has some experience, but was injured most of last year. He'll get another opportunity to be the lead tight end in the newest installment of Utah's offense.
April, 23, 2012
4/23/12
11:00
AM ET
Catching you up on the spring games and scrimmages from over the weekend.
Arizona State

All three of Arizona State's quarterbacks did some good things during Saturday's spring games. ASU didn't keep official stats, but Doug Haller of the Arizona Republic kept
his own unofficial stats here
.
Michael Eubank
completed 8 of 15 passes for three touchdowns,
Mike Bercovici
went 12-of-21 for a pair of scores and
Taylor Kelly
was 10-of-12 with a touchdown and an interception. Eubank also rushed for a touchdown to go with 52 yards on the ground.
But the highlight might have been the performance of running back
James Morrison
, who carried 13 times for 83 yards and a score.
"I thought 'Tank' Morrison had an incredible spring," Graham said
following Saturday's game
. "... I think Tank is a guy that's going to contribute, no doubt about it."
Haller reports it was a pretty vanilla showing from the defense -- adding that linebacker
Jason Franklin
and cornerback
Joe Eason
logged interceptions.
"Once they started grasping and understanding the vision and our philosophy, the football part of it started to come along faster," defensive coordinator Paul Randolph said of implementing the system. "We threw the whole kitchen sink at them. We got everything in."
California

Zach Maynard
completed 6 of 10 passes and tossed a 29-yard touchdown to
Maurice Harris
to open the scoring of the Cal Football Spring Experience. He also added a 1-yard touchdown run that put his team ahead 14-3. But his "Blue" team would ultimately fall to the "Gold" squad as a pair of long
James Langford
field goals, a
C.J. Anderson
touchdown run and a 40-yard touchdown pass from
Zach Kline
put the Gold team in front for good.
With the Blue team trailing 21-14,
Austin Hinder
connected with
Stephen Anderson
on a 75-yard touchdown as time expired. But the 2-point conversion failed and the Gold team held on 21-20.
"It was a good game, a hard-fought game and a good practice overall," Maynard said. "Unfortunately, we got beat by one point."
Kline, who threw a 40-yard touchdown to tight end
Spencer Hagan
in the fourth quarter and also completed the 2-point conversion, is off limits to the media. But Maynard said after the game that
he thought Kline played well
.
"Zach did very well today," Maynard said. "He's progressed since he's been here. He's one of those high-caliber type of guys so he's going to perform quickly and early."
Anderson looked particularly strong, rushing for 85 yards on 14 carries, which included a 15-yard touchdown run.
John Crumpacker of the San Francisco Chronicle
noted strong defensive performances
from
Mustafa Jalil
and Cecil Whiteside.
Puka Lopa
, Whiteside and
Nick Forbes
shared game-high honors with seven tackles apiece.
UCLA

Following Saturday's scaled-down scrimmage, head coach Jim Mora said he was "encouraged, but not satisfied."
And it doesn't look like there is much clarity in the way of the quarterback competition, either.
Richard Brehaut
,
Kevin Prince
and
Brett Hundley
all threw interceptions. Though Prince and Brehaut both threw touchdowns to
Steven Manfro
.
Due to injuries and a lack of depth at several key positions, Mora made Saturday more about situational scrimmaging rather than a full experience.
"We are moving closer to the kids understanding my expectations," offensive coordinator Noel Mazzone
told Chris Foster of the L.A. Times
. " … It's hard for me to get mad at them for trying to run stuff they have never run before. We're getting to the point where these guys should have a handle on it. It's like a Rubik's Cube; you have to keep turning it until the colors line up."
Utah

Jordan Wynn
completed 8 of 11 passes for 124 yards and a score, but two of the incompletions were interceptions in the annual spring game in front of more than 13,500 at Rice-Eccles Stadium.
Wynn's touchdown was a 48-yarder to
Dres Anderson
. It looked like he had touchdown No. 2, but a holding call negated the 21-yard pass to
Westlee Tonga
and Wynn was picked off in the end zone on the next play by Tyler Cahoon.
Naturally, head coach Kyle Whittingham isn't thrilled with turnovers in the end zone.
"You can't turn the ball over," he told
Mike Sorenson of the Deseret News
. "That's job one for the offense. You have to take care of the ball and we didn't get that done. That was one of the negatives, but the flip side is, the defense was making plays and they came up with two interceptions."
Running back
Jarrell Oliver
ran for a pair of scores and 24 yards on five carries.
Defensively,
Dave Fagergren
also had an interception and
Joape Pela
, running-back-turned-defensive end
Thretton Palamo
and
Cameron Taylor
all logged sacks.
"A lot of progress was made in many areas," said Whittingham. "Always, the most critical thing for us is to get fundamentals and technique sound during spring football. There is some scheme we will also put in with the change of coordinators. But overall, this was a very positive spring. We stayed very healthy, which is always something in question. It is still a work in progress, but with each successive recruiting class we have been able to add to the depth."
Washington State

Jeff Tuel
was a crisp 19-of-21 for 285 yards two touchdowns as the first team offense had its strongest showing of the spring.
"Guys kind of let it go and we just played,"
Tuel said
. "There wasn't a lot of hesitation from the first-team offense which was good to see. ... It's easy to come into a scrimmage and not be 100 percent focused. Today we really treated it like a game so guys came real focused and were real sharp with their routes and my reads and the receivers and myself were really on the same page and I felt good about it."
Marquess Wilson
and
Dominique Williams
both had monster receiving days. Wilson caught four balls for 149 yards and a score and Williams had five catches for 122 yards to go with his touchdown.
Logan Mayes
continued to be a terror on the defensive side, notching 4.5 touch sacks.
"I was pretty happy with our play, especially the D-line,"
Mayes said
. "I feel like we've been getting after it all spring and we really proved it here. ... People are thinking of us as an offensive team right now, but we have some good defensive players out there. It's going to be an exciting year I think."
March, 27, 2012
3/27/12
11:00
AM ET
Utah is heading into its second week of spring ball. Here's some news and roster notes on the Utes.
David Rolf (calf) has the latest in a series of tight end injuries. He joins Kendrick Moeai (shoulder) and Dallin Rogers (knee) on the sidelines. Moeai and Rogers have already been declared out for the entire spring, but Rolf could return in a week or two. Last season Rogers caught 22 balls for 160 yards and two scores. Moeai had 15 catches for 84 yards and a score while Rolf caught three for 48. To compensate for the lack of depth due to the injuries, Jake Murphy will take the reps with the first team while former tight end-turned-defensive end Westlee Tonga will work as the No. 2 tight end until Rolf returns. Murphy had five catches for 64 yards -- including a 30-yard touchdown -- last season.
The Utes are building depth in the secondary with a couple of different position battles. Keith McGill, a converted safety, and Tyler White have worked their way on to the depth chart in backup roles at both cornerback spots behind projected starters Mo Lee (left) and Ryan Lacy (right). Reggie Topps is battling with McGill for the No. 2 spot on the left while White and Wykie Freeman are fighting for the No. 2 spot on the opposite side.
In more secondary position battles, Topps appears to still have a hold as the first cornerback off the bench when the Utes go into nickel, but Lewis Walker and Joseph Smith are contending for the No. 2 position.
One position change on the defensive side of the ball: Jared Norris has moved from middle linebacker to rover linebacker -- where he's co-starting this week with Dave Fagergren and Victor Spikes.
Grab your hard hat. Demolition will be begin Tuesdasy (in about three hours) on the Dee Glen Smith Athletics Center. Coach Kyle Whittingham will make the first dent by plowing some heavy equipment into the facility. The demolition paves the way for construction of a new $30 million football facility, which is expected to open in time for the 2013 season. The new facility will include practice fields.