December, 31, 2011
12/31/11
7:13
PM ET
UCLA needed a special NCAA waiver just to get into a bowl game. Illinois lost its final six games and had assistants threatening to boycott this game. Is it any wonder that the Kraft Fight Hunger Bowl was, shall we say,
a little ragged
?


How the game was won:
The Illinois offense disappeared over the second half of the season and didn't do a whole lot in this one, either. But the team's defense remained stout throughout the seaosn and was inspired to play hard for interim coach Vic Koenning, their former defensive coordinator. The Illini defense came up with a score, sacked UCLA quarterback
Kevin Prince
five times and allowed just 220 total yards. The Bruins' only points came when they got a short field in the first half and when they connected on a bomb with 29 seconds left and Illinois already starting to celebrate. Defense wins minor bowl championships.
Turning point:
UCLA led 7-3 and the Illinois offense was completely stagnant late in the third quarter. That's when the Bruins provided a gift. Prince's sideline pass was picked off by cornerback Terry Hawthorne, who had nothing but open field in front of him as he ran it in for the 39-yard touchdown. Hawthorne never took his eyes off the quarterback, and Prince misread the coverage. That pick-six sapped the spirits of the Bruins and loosened things up for the Illini.
Player of the game:
Illinois quarterback
Nathan Scheelhaase
. His passing numbers weren't terribly impressive (18-for-30, 189 yards, one touchdown) and he struggled early on. But Scheelhaase took on the brunt of the running game with leading rusher
Jason Ford
suspended for this game, finishing with 110 yards on 22 carries. He also had a nine-yard catch, giving him more total yards than UCLA's entire offense.
Stat of the game:
Thanks in large part to the sacks, Illinois outrushed UCLA 179-19.
Record performance:
Illinois defensive end Whitney Mercilus was credited with 1.5 sacks, giving him a nation's best 16 this season. That tied the school record set by Simeon Rice. He got in on his second sack despite being held on the play. Mercilus was one of the most improved players in the nation this season and will almost certainly skip his senior year to enter the NFL Draft.
Strangest stat:
UCLA finishes the season with eight losses, yet the Bruins played in a bowl game. It might be a while before we see that happen again.
Unsung hero:
Illinois'
Ryan Lankford
. He averaged 45.6 yards on five punts, with two downed inside the 20. He also had three catches for 24 yards. Now that's versatility.
Best call:
Midway through the fourth quarter, UCLA came after Scheelhaase on a blitz. But Illinois had the exact right call on: a slant pass to
A.J. Jenkins
. The one guy the Bruins couldn't leave open caught a short strike from Scheelhaase and glided in untouched for a 60-yard touchdown. The score became crucial when UCLA tacked on that touchdown in the final minute.
What it means:
Not much of anything. Both programs will wake up on New Year's Day with new head coaches -- Jim Mora Jr. for UCLA, Tim Beckman for Illinois. So both teams will mostly have a blank slate, and they'd rather forget most of the 2011 season, anyway. Beckman will drastically change the offense to a spread, and he has to be happy to see Scheelhaase turn in a confidence-building bowl performance. Beckman will need to keep the defense playing at this level without Koenning. Mora needs to improve the overall toughness of the underachieving Bruins and change the attitude around the program .
December, 30, 2011
12/30/11
7:30
PM ET
What are the three keys for UCLA against Illinois in the Kraft Fight Hunger Bowl on New Year's Eve? Glad you asked.


1.
Care
: The first step toward winning this game is really caring about winning this game. Both teams fired their coaches. Both teams had extremely disappointing seasons. Both teams looked awful late in the year. Both teams suspended players for various reasons after the season ended. Many of the players on the field are going to play hard because that is who they are: Competitors caught in a tough situation who never mail it in because competitors never do. But some won't. If you watch closely, in fact, you'll be able to say, "Did you see that? He didn't even try!"
2.
Run and stop the run
: Neither team passes the ball well. In fact, neither team is very good on offense period. But both teams' best weapon is running the ball, even if the Illini's leading rusher,
Jason Ford
, is academically ineligible. If one team is decisively better running the ball -- and doesn't turn the ball over a bunch -- it's going to win this game.
3.
Block Illinois defensive end Whitney Mercilus
: Illinois has a good defense that is led by a great player in defensive end Whitney Mercilus. He led the nation in sacks (14.5) and forced fumbles (9). He's a beast and fun to watch. And guess what? One of the guys who will try to block him much of the night -- along with senior tackle
Mike Harris
-- will be a former walk-on making his first career start: junior Brett Downey. The Bruins' offensive line, in fact, has issues with sophomore guard Alberto Cid academically ineligible and Chris Ward and Wade Yandall out with injuries. Have Mercilus!
December, 4, 2011
12/04/11
11:27
PM ET
Illinois Fighting Illini (6-6) vs. UCLA Bruins (6-7)
Dec. 31, 3:30 p.m. (ESPN)

Illinois take from Big Ten blogger Brian Bennett:
A bowl game is a San Francisco treat for Illinois, which lost its final six games of the season and fired head coach Ron Zook.
The Illini secured bowl eligibility on Oct. 8, beating Indiana to improve to 6-0 and move into the top 20 of the polls. From there came a stunning free fall, thanks in large part to an offense that forgot how to move the ball; Illinois scored just 66 total points in its final six games after averaging nearly 30 in the first half of the season. The offensive line is a mess, and quarterback
Nathan Scheelhaase
seems to have regressed in his sophomore year.
The one constant was the defense. Defensive end Whitney Mercilus leads the nation in sacks (14.5) and forced fumbles (nine, a Big Ten record). No wonder, then, that defensive coordinator Vic Koenning was named interim head coach when the school canned Zook. But Koenning says there's no guarantee that he and offensive coordinator Paul Petrino won't leave for other employment before the bowl game.
The Illini's finish made them so unappealing that they got shut out of the Big Ten's bowl lineup. So San Francisco is a nice landing spot, and UCLA -- a 6-7 team that also fired its head coach --- seems like the most fitting opponent.
---

UCLA take from Pac-12 blogger Ted Miller:
UCLA is heading to the Kraft Fight Hunger Bowl with an interim coach and losing record. Yeah, it's been that kind of season.
Coach Rick Neuheisel began the season on the hot seat and he couldn't get off it. Only once could the Bruins win consecutive games. The offense ran the ball well but struggled to find any balance with a consistent passing game. And the defense was just terrible.
Things got off to a bad start with a loss at Houston. Neuheisel had made a big deal in the preseason of how important the game was, and the Bruins had stomped the Cougars the previous year. But the Bruins got off to a slow start and couldn't finish a comeback. Then, after a win over San Jose State, the Bruins got clubbed at home by Texas, another team they had beaten the year before.
Then they started alternating wins and losses, beating Oregon State, losing to Stanford and beating Washington State. Things cratered -- it seemed -- in a loss at Arizona, which had just fired coach Mike Stoops.
But then the Bruins beat California and Arizona State back-to-back. Both were upsets. And the combination suddenly put the Bruins in the drivers' seat of the reeling South Division. But the Bruins couldn't maintain. They lost to Utah, beat Colorado and then got crushed 50-0 against rival USC.
The UCLA coach needs to be competitive with the Trojans, and Neuheisel wasn't on Nov. 26 and hasn't been during his tenure. So he was fired, even though the Bruins backed into the Pac-12 title game. The loss to Oregon dropped the Bruins to 6-7, but they nonetheless will play in the Kraft Fight Hunger Bowl after the NCAA granted it a waiver.
September, 18, 2011
9/18/11
1:01
AM ET
CHAMPAIGN, Ill. -- Illinois coach Ron Zook has often talked about how his program experienced too much success too soon.
After winning just eight games between 2003-06, Illinois fast-tracked to the Rose Bowl in Zook's third season, finding itself as a surprise participant on college football's grandest stage. Rather than take a step, Illinois skipped about 40.
The Illini tumbled that day against USC and entered a two-year free fall.
No one would describe the 2010 Texas Bowl -- now called the Meineke Car Care Bowl of Texas -- as an iconic college football setting. It takes place in an NFL venue -- Houston's Reliant Stadium -- and was revived only in 2006.
But for Illinois, the Texas Bowl represented a step, a building block for what players and coaches hopes were bigger things ahead. It didn't hurt that the Illini crushed Baylor 38-14.
"A lot of guys hadn't been to a bowl game," sophomore linebacker Jonathan Brown said. "It was kind of good to taste success, but it made us more hungry."
The hunger carried Illinois through the offseason, and the team has been able to retain something it lost following the 2002 Sugar Bowl and the 2008 Rose Bowl.
Momentum.
[+] Enlarge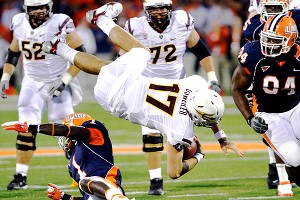 AP Photo/Seth PerlmanThe Illinois defense pressured Arizona State's Brock Osweiler all night -- amassing six sacks and four quarterback hurries.
Illinois announced itself as a team to watch Saturday night against No. 22 Arizona State, rallying behind a ferocious defense for a
17-14 win
. The Illini are 3-0 for the first time since 2001 -- the last year they won a Big Ten championship -- and recorded their first win against a ranked opponent since stunning No. 1 Ohio State in 2007.
For their efforts, the Illini, projected by many to finish at the bottom of the Big Ten, likely will earn a spot in the new polls released Sunday.
"We're taking some steps," Zook said. "We're continuing to get where we're supposed to get. ... It makes everybody understand that, 'Hey, maybe Illinois is a bit better than what people think.'"
Illinois and Arizona State both finished the 2010 regular season with identical 6-6 records. While the Illini went bowling, Arizona State stayed home because two of its victories came against FCS opponents.
Still, the Sun Devils entered this season as a team to watch, a belief strengthened by their overtime win last week against Missouri. Arizona State didn't have
the letdown coach Dennis Erickson feared
, but the Sun Devils couldn't overcome the mistakes (eight penalties, three turnovers) that have plagued them far too often.
Given another chance to turn the corner, Arizona State lost its footing.
"This is gut-wrenching, to be honest with you," receiver
Gerell Robinson
said. "Everyone is sitting in disbelief that it happened the way it did."
It happened because Illinois' defense executed an innovative, pressuring, "crazy" game plan devised by coordinator Vic Koenning. Illinois mixed up fronts, blitzed often and repeatedly made plays in Arizona State's offensive backfield.
The Illini racked up six sacks, 12 tackles for loss and four quarterback pressures. Two of their three takeaways came as a direct result of pressure on Sun Devils quarterback
Brock Osweiler
, who entered the game ranked 10th nationally in passer rating and 11th in total offense.
"We sat up here Sunday night, put the game plan together, kind of looked at each other and said, 'This is crazy,'" Koenning said. "But it all worked."
Brown had a breakout performance with 3.5 tackles for loss, 1.5 sacks and an interception. Defensive ends Whitney Mercilus and Michael Buchanan combined for 3.5 sacks and a forced fumble.
"They brought a lot of pressure tonight," Osweiler said. "Shoot, it seemed like almost every snap."
What was pegged as an offensive shootout turned into a defensive tussle, and for much of the game, neither team seemed willing to take control. The teams combined for five turnovers in the first three quarters but converted none for points.
Illinois finally ended the trend when, trailing 14-10 in the fourth quarter, Mercilus sacked Osweiler, forcing a fumble. An Illini offense that hadn't recorded a first down in the second half then marched to the end zone in only four plays.
"You've got to capitalize," Zook said. "You've got to make something happen when you get the ball back."
Arizona State couldn't do so nearly enough. The Devils had eight possessions end in Illinois territory, but only two culminated in points.
"Very disappointing," Erickson said. "It's two steps forward and one step back."
Who knows how a bowl appearance in the winter would have impacted Arizona State for the 2010 season. But there's little doubt about the positive effect it had on the Illini.
"It changed the culture," Buchanan said. "It changed how guys think about playing on the big stage. ... We got a taste of being on top."
Illinois sits atop the Big Ten as one of just four remaining undefeated teams. The league looks extremely vulnerable, and Illinois has three of the next four games at home with the only road trip to Indiana.
Leaders division foes Wisconsin and Ohio State both must visit Memorial Stadium later this fall.
"We're not shooting for the Texas Bowl," Buchanan said. "We're shooting for a big bowl."
September, 17, 2011
9/17/11
10:24
PM ET
CHAMPAIGN, Ill. -- It's fitting that Illinois' defense had to seal a statement win for the program.


Vic Koenning's unit performed masterfully most of the game, making play after to play to keep Arizona State out of the end zone. After struggling on third-and-long much of the night, the Illini forced four consecutive incomplete passes to cement a
17-14 win
.
Illinois received a tremendous performance from its defensive front seven, particularly Whitney Mercilus and Jonathan Brown, and Koenning continued to dial up blitzes that worked. The offense struggled in the second half but got some nice running late from
Jason Ford
and
Nathan Scheelhaase
.
Despite a strong defensive effort, Arizona State still has trouble turning the corner and likely will fall out of the polls this week. Too many turnovers and penalties for the Sun Devils tonight.
Illinois, meanwhile, has announced itself as a contender in a very vulnerable Big Ten.
September, 17, 2011
9/17/11
9:54
PM ET
CHAMPAIGN, Ill. -- After neither team turned five combined takeaways into points, Illinois finally made Arizona State pay.
The Fighting Illini offense rewarded its defense for a night of huge plays as
Nathan Scheelhaase
found
A.J. Jenkins
for a 16-yard touchdown on a crossing route. Defensive end Whitney Mercilus, who is having a terrific night rushing the passer, set up the score by leveling
Brock Osweiler
and forcing a fumble that Ian Thomas recovered.
Illinois' defense certainly has played well enough to win this game, forcing three Osweiler turnovers. From Mercilus to Jonathan Brown to Michael Buchanan, Illinois has had a ton of contributions.
The Illini lead 17-14 with about 10 minutes to play.