Pac-12:

Wildcats-Cardinal-110610
November, 7, 2010
11/07/10
1:55
AM ET
STANFORD, Calif. -- The Stanford football revolution will be televised, which is good because not a lot of people are bothering to see it live. The Cardinal may be able to win the nation over to the idea that it is the nation's best one-loss team and deserving of an at-large BCS bowl berth if it can't qualify for the Rose Bowl. But it remains mostly a secret in Palo Alto, where an announced -- wink, wink -- crowd of just 43,506 showed up on a beautiful day in a beautiful stadium to see a battle of top-15 teams in the thick of the Pac-10 race.
Those who did show up in red, though -- oh, boy -- did they get to see an impressive show.
[+] Enlarge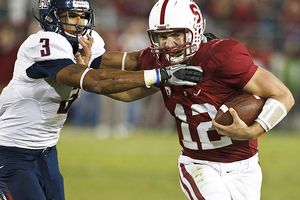 Jason O. Watson/US PresswireAndrew Luck and Stanford pushed Arizona around on Saturday. Luck completed 23 of 32 passes for 293 yards and two touchdowns. He also rushed for 25 yards on three carries.
Just ask Arizona coach Mike Stoops, who saw his 15th-ranked team get pushed around in a
42-17
defeat.
"They out-executed us, out-played us, out-physicaled us, out-coached us," Stoops said. "We just got beat by a better team today."
Stanford rolled up 510 yards against a defense that ranked 10th in the nation, entering the contest surrendering just 287. Stanford rushed for 217 yards against a team that entered the contest surrendering just 88 yards on the ground (sixth in the nation). A defense that averaged 3.38 sacks per game got none.
As for the Stanford defense, it held a Wildcats offense to about half the 32.6 points it averaged in its first eight games.
Stanford coach Jim Harbaugh, when asked if his team made a statement, skipped around the question a bit, saying his team "did what it needed to do." But he relented on the coach-speak, because in our current system, there is a political element. And if an insanely obsessive fan base isn't going to flood the airwaves with demands for respect, well, maybe a coach has to step up to lobby just a little.
"I'm not a guy who concerns himself with polls," Harbaugh began. "But speaking on behalf of my guys and Stanford football, this is a one-loss team that's only lost to the No. 1-ranked team in the country [Oregon]. It's probably about time they got some recognition."
Quarterback
Andrew Luck
, has gotten plenty of recognition and figures to get some more. His numbers alone don't show how good he is. He completed 23 of 32 passes for 293 yards with two touchdowns with no interceptions and rushed three times for 25 yards.
While his offensive line -- one of the best units in the nation -- deserves most of the credit for not giving up any sacks, Luck's instincts in the pocket are uncanny. As was his 45-yard touchdown pass to
Chris Owusu
on the Cardinal's first possession of the game. It was one of many of what Harbaugh called "big-boy throws."
"He was Peyton Manning-like," Harbaugh said.
Luck is not nearly as colorful as Harbaugh when he was asked who might be the top pick in the NFL draft. During a postgame news conference a couple of teammates, unhappy with Luck's humility, interrupted to talk about his skills, leadership and general cool-dude-ness.
"I've never really played with a teammate like Andrew Luck in my life," safety Delano Howell said.
Stanford's situation is confusing. Its chances of ending up in the Rose Bowl are remote. To earn a Rose Bowl berth, Stanford needs Oregon to lose twice. Or it needs a non-AQ team -- Boise State or TCU -- to play Oregon for the national title, which would satisfy the BCS requirement that the Rose Bowl take a non-AQ team if it loses a Pac-10 or Big Ten team to the national title game. If it finishes 11-1, it likely would be ranked among the top-five, but that doesn't guarantee it an at-large berth in a BCS bowl game. It's possible that Stanford could be 11-1, ranked fifth and end up in the Alamo Bowl.
It's clear the players are aware the situation is complicated.
"I'm not sure," Luck said. "We understand this has the opportunity to be a very special season for Stanford. I know there are many different situations about bowl games and what not. But we all know it doesn't matter unless we win."
And if the Cardinal keeps winning in its impressive way, will fans start to fill up the 50,000 seats in Stanford Stadium? What's a team got to do to get some love from the locals?
Harbaugh briefly groused about poor attendance at homecoming on Oct. 23 -- 36,679 against Washington State -- and it's clear the empty seats bother him. But he opted to take the high road. Or really no road when asked if anything could be done to fill the stadium.
"As [defensive coordinator] Vic Fangio says ... no, I'm not going to go there," Harbaugh said. "No, there's nothing I can do."
What Harbaugh, Luck and Stanford can do is to keep getting impressive wins. That figures to get Luck to New York for the Heisman Trophy ceremony.
Stanford made a statement against Arizona. It likely was heard in many areas of the country that appreciates good football. Perhaps the Bay Area will come around in time to convince a BCS bowl game that the Cardinal football revolution is quite a show.
November, 7, 2010
11/07/10
1:34
AM ET

Stanford quarterback Andrew Luck talks about the Cardinal's win over Arizona.
November, 6, 2010
11/06/10
11:32
PM ET
STANFORD, Calif. -- Stanford and
Andrew Luck
dominated the Pac-10's best defense in a
42-17 victory
Saturday.


The Cardinal rolled up 510 yards against the nation's No. 10 defense, which had entered the game yielding just 287 per game.
Stanford entered the game ranked 13th, but it figures to move into the top-10 after pushing around the No. 15-ranked Wildcats.
The Cardinal (8-1, 5-1) also positions itself for a potential at-large BCS bowl berth if it wins out and finishes 11-1.
Stanford's final three games: at Arizona State, at California and Oregon State on Nov. 27.
Arizona falls to 7-2 and 4-2. It plays host to USC next Saturday.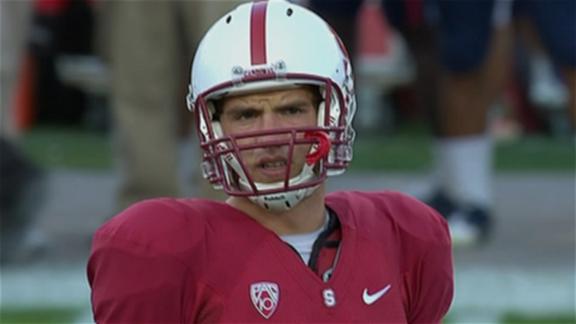 November, 6, 2010
11/06/10
10:51
PM ET
STANFORD, Calif. -- Arizona's offense is trying to rally, with QB
Nick Foles
starting to rediscover his rhythm.
But the Wildcats defense can't stop
Andrew Luck
and Stanford, which has 412 yards heading into the fourth quarter.
That defense ranked 10th in the nation entering the game, surrendering just 287 yards per game.
Stanford has rushed for 155 yards -- so far -- against a run defense that yields just 88 yards per game.
So the Stanford offense has won that strength-on-strength matchup.
November, 6, 2010
11/06/10
9:56
PM ET
STANFORD, Calif. -- Stanford owns a 21-3 lead over Arizona at the break. If this holds up, the Cardinal will make a fairly loud statement as a candidate for best one-loss team.
Turning point
: Stanford's grinding 14-play, 89-yard drive for a 14-0 lead took 7:45 and allowed the Cardinal to establish early dominance.
Stat of the half
: In his first start after missing two games with a knee injury,
Nick Foles
has completed 10 of 21 for 87 yards with an interception. He's had a couple of passes dropped, but he's clearly not sharp -- see his 75 percent completion percentage before he got hurt.
Best player in the half
: Stanford QB
Andrew Luck
has completed 15 of 20 for 163 yards with a beautiful 45-yard TD pass. He seems in complete control.
What Stanford needs to do/What Arizona needs to do
: Stanford needs to do what it's been doing. And not let up or get too conservative. Arizona needs to take the third-quarter kickoff and get points. If the score gets to 21-10, we have a game.
November, 6, 2010
11/06/10
9:04
PM ET
STANFORD, Calif. -- Stanford QB
Andrew Luck
is the nation's highest rated passer in the first quarter. And that's not going to change after his performance in the first frame against Arizona.
Luck completed 10 of 13 for 108 yards and a TD as the Cardinal leads 7-0 after one. That was his 10th first-quarter TD pass this year.
Stanford piled up 176 yards in the first half. It got a 39-yard run from
Stepfan Taylor
, just the second run of over 20 yards the Wildcats have yielded.
Nick Foles
and the Wildcats offense looked pretty good itself, but Stanford had the ball for 9:46 in the first quarter. Foles has been hit a lot, and Stanford is throwing a lot of blitzes at him.
November, 6, 2010
11/06/10
8:03
PM ET
STANFORD, Calif. -- Crowd noise won't be a problem for Arizona.

There's 10 minutes until kickoff, and it's generous to say Stanford Stadium is about half full.

After the homecoming win over Washington State, coach Jim Harbaugh complained about the lack of attendance -- 36,679 in a 50,000-seat stadium. He later refused to deal with the issue again, saying essentially he'd moved on.

But this is a top-15 matchup with big stakes on a beautiful day in a great stadium!

Too bad.
November, 6, 2010
11/06/10
6:51
PM ET
STANFORD, Calif. -- The story here might not just be about the quarterbacks. It also might be about how they play early.
Start, of course, with Arizona's
Nick Foles
. He's coming back from a dislocated knee cap that caused him to miss two starts. Will he be rusty or tentative? And, if so, does that translate to a major mistake, such as a turnover?
The second issue there, of course, is would a slow start convince coach Mike Stoops to send Foles to the bench in favor of
Matt Scott
, who was outstanding as Foles' replacement.
Then there's Stanford. No quarterback in the nation starts faster than
Andrew Luck
. He has nine touchdown passes in the first quarter this season, which is the second highest total in the nation. He owns the highest first-quarter quarterback efficiency rating in the nation.
And he's particularly accurate downfield early. On throws of 15-plus yards in the first quarter, according to ESPN Stats & Information, he has completed 11 of 12 -- average of 24.8 per attempt -- with five TDs and no interceptions. That accuracy, by the way, goes down after the first quarter. On the same 15-plus-yard attempt, he's just 17 of 41 -- 10.5 yards per attempt -- with two TDs and three picks in quarters two through four.
In other words, if Arizona is tied or leading after a quarter, and Foles looks good, that might be more of an advantage that it would be in most cases.
Then there's the defenses. Arizona's is really good. Stanford's is better than most people probably think.
Arizona's is one of the nation's best. It leads the nation with 27 sacks. Stanford has yielded just three sacks. Arizona has allowed just one rush this season to go for 20 yards. Stanford has 14 such rushes this season, tied for 19th in the FBS. Mano-a-mano, baby.
The matchup of the Wildcats front seven against the best offensive line in the Pac-10 should be critical.
Stanford's defense had the misfortune of getting shredded by Oregon, but it's pitched two shutouts this season. That's never easy to do. And the Wildcats' offensive line, though a good one, has sprung leaks at times.
Last year, these teams produced nearly 1,200 yards and Foles and Luck both passed for more than 400 yards. The guess here is there will be less offense and more defense in this one than the Wildcats' 43-38 win.
The stakes? The winner remains in the Rose Bowl hunt, or at least in the race for a BCS bowl at-large berth.
But the team that walks away the winner this evening figures to find itself ranked in the nation's top-10 on Sunday, which is a rare pleasure for either program.