Pac-12:

Wildcats-Ducks-092212
September, 23, 2012
9/23/12
4:18
AM ET
EUGENE, Ore. -- Oregon has become one of those programs that is evaluated like a binary code -- wons or zeroes. It's either winning every game as a national title contender or it is not. That was the case the previous two seasons, one that ended with a loss in the national title game and the other with a Rose Bowl victory.
And that appears to be the case again in 2012.
Oregon's blowout victory over No. 22 Arizona was an impressive win, but it was the "zero" in a
49-0 shutout
that probably raised the most eyebrows across the college football nation.
On a night when the Ducks' offense sputtered early, it was the defense that stepped to the fore. Six times Arizona found itself in the red zone, and yet the bagel remained on the scoreboard. Heck, the Ducks' defense chipped in a pair of pick-sixes to win the day even without the offense's second-half assertion of will.
"It's a total team," Ducks coach Chip Kelly said.
[+] Enlarge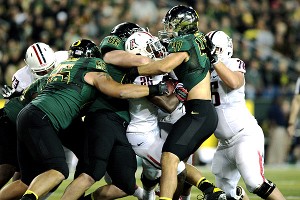 Scott Olmos/US PresswireOregon's defense throttled Ka'Deem Carey and the Arizona offense, forcing five turnovers. The Ducks earned their first conference shutout since 2003.
They say "defense wins championships." "They," over the past six seasons, have mostly been SEC fans clucking about why their conference is hoisting a crystal football and others are not.
In the preseason, there was plenty of talk that the Ducks might have their best defense since their national uptick began in 2007. Yet big early leads against overmatched foes in the first three games yielded middling statistics: 24.3 points per game, 357.3 yards per game and 4.7 yards per play. Further, safety
John Boyett
, a potential All-American and four-year starter, was lost for the year to a knee injury.
So there were questions about how optimistic preseason projections were going to mesh with in-season reality.
Arizona arrived in Autzen Stadium unbeaten and featuring an offense that averaged 46.3 points and 604.7 yards per game, numbers rolled up against a schedule that included then-18th-ranked Oklahoma State.
It left with a zero laughing at it on the scoreboard.
"For any defense to pitch a shutout is just such an accomplishment," Oregon linebacker
Michael Clay
said. "It gives you confidence that we can do it to any team."
Kelly has long resisted the notion that his program has played anything but first-rate defense. The problem with posting fancy statistics was the Ducks' offense worked so fast, the defense would face more plays and possessions than an average team. More plays and more possessions inevitably led to more points and yards. Folks in the football office would point out that the Ducks' yards-per-play numbers on defense compared favorably to many of the nation's top units, but that often seemed obscure in a business that doesn't typically celebrate subtleties.
"Here it is hard to have great defensive statistics," coordinator Nick Aliotti said. "But most of the time you look at those numbers because you're losing."
Then he added, "The most important stat is the W."
True. And Oregon got that in its first test of the season, improving to 4-0 overall and 1-0 in Pac-12 play. The Ducks play Washington State in Seattle next weekend.
Yet Aliotti, a highly regarded coach who has often found ways to get his unit to play well enough to win without a bevy of budding NFL talent, admitted after the game that he was very aware of the void on the visitor's side of the scoreboard.
"Selfishly," he said, "I wanted the shutout."
This was the Ducks' first shutout in a conference game since a 35-0 blanking of Stanford in 2003. The Ducks last shut out Arizona in 1964, before the Wildcats joined the conference. In 2010, they shut out Portland State, an FCS team, 69-0.
Arizona finished with just 332 yards on 84 plays, an average of 4.0 yards per play. TCU, ranked ninth in total defense, gives up 4.39 yards per play (4.0 yards per play would rank eighth in the nation).
The Wildcats were 6-of-17 on third down and 0-for-4 on fourth down. Oregon had only one sack and just six tackles for loss, but it forced two fumbles and grabbed four interceptions.
On Oregon's first possession, it failed to convert a fourth-and-2 on its 39-yard line. It felt like a huge risk to take so early in the game on its own side of the field. But Kelly's taking that risk wasn't just about his confidence in his offense.
"I'm not averse to putting our defense on a short field because they can play," he said.
That appears true.
The Ducks' offense didn't post its best performance, though it's difficult to view 495 yards, including 228 yards rushing, as a bad evening.
But the Ducks' defense gives them the look of a national title contender. Again.
September, 23, 2012
9/23/12
1:57
AM ET
No. 3 Oregon posted a dominant
49-0 victory
over Arizona on Saturday, a win so convincing it might boost the Ducks into No. 2 in the national rankings.


It was over when
: A 55-yard touchdown pass from
Marcus Mariota
to
Bralon Addison
made it 28-0 with a minute left in the third. At at that point, you could feel a game Arizona team start to sag.
Gameball goes to
: The Ducks defense was dominant. Arizona, which failed to score on six trips to the red zone, entered the game averaging 46.3 points per game and 604.7 yards per game. It was a total team effort, with the Ducks getting big plays on all three levels.
Stat of the game
: Look at the scoreboard. See that "0" under Arizona. As far as stats go, that's pretty darn telling.
What Oregon learned, what Arizona learned:
Oregon showed that it can dominate a ranked team even if its offense isn't clicking. That's the sort of thing that would hint at the Ducks taking the proverbial next step as a program. Defense wins championships, right? As for Arizona, it went toe-to-toe with the Ducks for a half, and the Wildcats can certainly rue the red-zone failures. This very easily could have been a competitive game.
What it means
: After a three-game "preseason" against inferior foes, Oregon announced that it -- again -- is a national title contender. For Arizona, it found out that, despite a nice start, it's not ready to challenge three-time defending conference champions inside Autzen Stadium.
September, 22, 2012
9/22/12
9:18
PM ET
EUGENE, Ore. -- Oregon has been off to the side during the season's first three weeks due to a weak nonconference schedule. So the Ducks are probably as happy as anyone that Arizona arrives with a national ranking and a quality win over Oklahoma State.


At last: A test. An opportunity to showcase promising redshirt freshman QB
Marcus Mariota
, Heisman Trophy candidate
De'Anthony Thomas
and a defense that is supposed to be the equal of the Ducks' always high-powered offense.
The Ducks can make a
real
statement after thoroughly dominating Arkansas State, Fresno State and Tennessee Tech, particularly their defense. The Wildcats' offense is A-list, led by QB
Matt Scott
, RB Ka'Deem Carey, a strong crew of receivers and a veteran offensive line. Together they've produced 605 yards per game, nearly equally split between pass and run, which ranks fourth in the nation.
If the Ducks can shut down the Wildcats, who have taken well to Rich Rodriguez's spread schemes, they probably can stop just about anyone.
And what about the Wildcats defense? Well, it's played better than expected and been opportunistic. But it gave up over 600 yards in the win over the Cowboys and lacks depth and playmakers, particularly up front.
And yet.
If the Wildcats can frustrate Mariota, who is making his first start against a team with a pulse, and force a few early mistakes, this one could get interesting.
The Ducks will take pressure off Mariota by getting the ball to its playmakers: Thomas and RB
Kenjon Barner
. Those two are fully capable of taxing any defense.
"Taxing a defense" will be a part of this game. Both offenses run at a breakneck pace. Oregon is much deeper on defense, so it should be able to keep guys fresher. Freshness might become an issue for the Wildcats as the second half advances.
Oregon is trying to position itself in the national title hunt. That fact presents a great opportunity for Rodriguez and the Wildcats to make their own statement, one that would resonate nationally.