October, 24, 2014
Oct 24
10:00
AM ET
(All times Pacific)
Friday, 7 p.m.
Oregon at California, Fox Sports 1
[+] Enlarge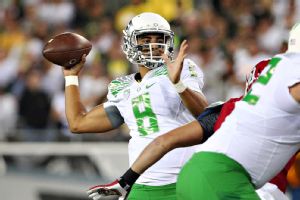 Jaime Valdez/USA TODAY SportsMarcus Mariota and Oregon figure to be in a shootout against California.
This is a matchup between the two Pac-12 leaders in scoring offense:
The Ducks
average 43.6 points per game, and the Bears are at 41.6. The difference on paper -- and likely on the field, too -- comes on defense. Cal sports the conference's second-worst unit (38.4 points per game), and the Ducks have upped their defensive play to reach fourth in the conference rankings (23.6 points per game). This will be the first college football game at Levi's Stadium and comes on a massive sports night in the San Francisco Bay Area: Game 3 of the World Series will be happening there, too.
Saturday, 11 a.m.
UCLA at Colorado, Pac-12 Network
It's turned into another long season for the Buffs, and the journey certainly doesn't become any easier with UCLA's explosive bunch coming to town. Turnovers, though, have been a major issue for the Bruins this season. Cal scored 21 points off UCLA miscues to keep the game close last week, and that might well be Colorado's formula to have a puncher's chance at Folsom Field. For
Brett Hundley
's squad, this should be a chance for a tuneup before a challenging finishing stretch: vs. Arizona, at Washington, vs. USC, vs. Stanford.
12:30 p.m.
Oregon State at Stanford, ESPN2
The Beavers will certainly be sniffing upset in Palo Alto. Stanford is a very vulnerable team right now: The offense is faltering, and that supersonic defense has taken two gut punches with injuries to linemen
David Parry
and
Aziz Shittu
. That being said, the Cardinal
have been excellent when faced with adversity
in the David Shaw era. The fourth-year coach has yet to lose consecutive games in his tenure, and Stanford is desperate to right the ship at home.
3 p.m.
Arizona at Washington State, Pac-12 Network
The Cougars won 24-17 in Tucson last season, but we will likely see more points this Saturday in Pullman when Rich Rodriguez and Mike Leach resume battle. Arizona and Washington State are the Pac-12's two top teams when it comes to total offense. They are averaging a combined 1,091 yards per game. Since both defenses are ranked in the conference's bottom half, expect fireworks and an intriguing duel between senior
Connor Halliday
(
who is on an NCAA record-smashing pace
) and freshman
Anu Solomon
.
7 p.m.
USC at Utah, Fox Sports 1
This Utah squad
reminds our Kevin Gemmell
of the 2012 Stanford squad that won the Pac-12 championship, and I agree with him: The Utes don't ask for much out of their quarterback (62 pass yards last week), they run the ball with vigor (229 yards from
Devontae Booker
last week) and they set up frequent shop in opposing backfields (nation-leading 5.5 sacks per game). Both teams have also established a hashtag for their pass rush: 2012 Stanford had #PartyInTheBackfield, and 2014 Utah has coined #SackLakeCity. So USC is tasked with beating this rugged Ute team in a raucous road environment. This game is a significant step in figuring out the convoluted Pac-12 South puzzle.
7:45 p.m.
Arizona State at Washington, ESPN
There is a 70 percent chance of rain in Seattle. They call that "Dawg Weather" in the Pacific Northwest, and Washington hopes that will aid in its quest to win the turnover battle -- the Huskies are ranked second nationally in turnover margin even after last week's substandard performance at Oregon.
Taylor Kelly
returns to the quarterback role for Arizona State, but Todd Graham expects
Mike Bercovici
will also get snaps. Washington's offense has sputtered this season (league-worst 5.0 yards per play), and it will be interesting to see who gets the upper hand in its matchup with the Sun Devils' unremarkable defense.
August, 16, 2013
8/16/13
10:30
AM ET
We continue our day-by-day snapshots of each Pac-12 team heading into the 2013 season in reverse alphabetical order with the
Colorado Buffaloes
.
Colorado
Coach
: Mike MacIntyre (16-21, 0-0 at Colorado)
2012 record
: 1-11, 1-8 Pac-12 South
Key losses
: OT
David Bakhtiari
, TE
Nick Kasa
, OLB Jon Major, DT
Will Pericak
, FS
Ray Polk
.
[+] Enlarge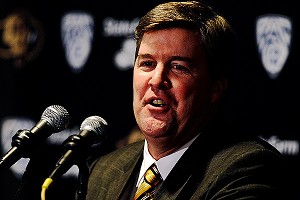 AP Photo/Brennan LinsleyMike MacIntyre is charged with turning around Colorado after making a winner out of San Jose State.
Key returnees
: C
Gus Handler
, TB
Christian Powell
, WR
Tyler McCulloch
, S
Marques Mosley
, DE
Chidera Uzo-Diribe
, P
Darragh O'Neill
, WR
Paul Richardson
,
Derrick Webb
.
Newcomer to watch
: It's too early to tell which one, but three freshmen wide receivers --
Elijah Dunston
,
Devin Ross
and
Bryce Bobo
(ironically numbered 1, 2 and 3) -- are all making a case to be in the rotation and two-deep.
Biggest games in 2013
: The season opener against Colorado State (Sept. 1) is always a big one, and the rivalry with Utah (Nov. 30) is starting to take shape.
Biggest question mark
: While no official word has come down on who will start at quarterback, it's looking more and more like
Connor Wood
will at least begin the season as the starter. So we can at least put a partial check mark there. The biggest question is really what sort of progress -- if any -- we'll see in Mike MacIntyre's first season as the new head coach. He comes in with solid credentials and was Mr. Fix-It at San Jose State. But with the new job comes a new set of challenges. Chief among them, the proverbial challenge of "changing the culture." MacIntyre made it clear that he wants to win and compete immediately, and he believes that his players have bought in. We'll see how much on Sept. 1.
Forecast
: The media
doesn't have much faith
in the Buffs, picking the team that went 1-11 last season to finish last again in the Pac-12 South. This might be one of those situations in which the team shows improvement -- just not in the win department. Remember, San Jose State appeared to take a step back in MacIntyre's first season, going 1-12, but it was during that time that he was establishing his schemes and philosophies, and in Year 2 they went 5-7. By the third season, the Spartans were 11-2 (10-2 under MacIntyre) and ranked in the top 25. No one is saying the Buffs will be ranked in three seasons, and most people probably aren't expecting it. The Pac-12 is a different animal than the now football-less WAC, but it's not wrong to hope for a postseason berth in the next 3-5 seasons.
And this season, the Buffs are loaded with young players who gained a ton of experience last season. They return 17 starters (eight offense, nine defense) including a young secondary that took its licks last season. Mosley,
Kenneth Crawley
and
Yuri Wright
all started last season, and
Greg Henderson
and
Parker Orms
are the veterans of the group. Up front defensively, Uzo-Diribe is a talented pass-rusher, and linebackers
Derrick Webb
and
Paul Vigo
should be the anchors on defense.
Offensively, they lose Bakhtiari to the NFL and Alex Lewis announced a transfer, which was followed by
some bizarre and unfortunate circumstances
. But they get Richardson back after he missed all of 2012 with a knee injury. When he's healthy, he's one of the most explosive wide receivers in the country and should give the Buffs a stretch-the-field threat they were lacking.
Powell also quietly put together a strong second half last season, posting a pair of 100-yard games and four touchdowns over the final five. If they can plug the left side of the line (it's looking like veteran
Jack Harris
at left tackle and
Kaiwi Crabb
at left guard), he could inch closer to 1,000 yards on the ground after posting 691 and a 4.4 yards per carry average last season.
There is talent on Colorado's roster, but, as what's becoming a trend with Colorado, fans are going to have to be patient until the new staff figures out how best to use it.
June, 12, 2013
6/12/13
7:00
PM ET
On Tuesday,
we looked at the five worst defenses in the Pac-12 in 2012
: UCLA, California, Washington State, Arizona and Colorado.
The issue was not pointing out past badness but considered the potential for 2013 improvement. That included returning starters, defensive line starters back, star power and the biggest personnel loss.
Here's our chart:
We've already offered our take: While all five teams have the potential to improve, perhaps significantly, the most likely to make a big jump is Arizona, due to 11 returning starters.

But what's your take?
Colorado might be the pick just because it will be difficult to surrender 46 points per game again.
California has a solid recent track record on defense, though that was with a 3-4 scheme under Clancy Pendergast, who's now running USC's defense. The Bears' 2012 performance might rate as an anomaly. There is plenty of returning talent.
UCLA also has some strong returning talent, led by Barr and MLB
Eric Kendricks
. While the secondary is being entirely rebuilt, the young players slated to step up might be more physically talented than those who preceded them.
Washington State is replacing four-year sack leader Travis Long, but it's got a lot of guys back from a unit that will be far more seasoned this fall.
June, 11, 2013
6/11/13
5:30
PM ET
In 2011, Oregon State ranked seventh in the Pac-12 in scoring defense, surrendering 30.8 points per game. Washington was even worse, ranking 11th while yielding 35.9 points per game
Bad defenses!
Oregon State finished 3-9, the Beavers' worst record since going 3-8 in 1997, coach Mike Riley's first season. The Huskies fired defensive coordinator Nick Holt and paid big bucks to lure Justin Wilcox away from Tennessee.
And in 2012 both made huge improvement on defense.
The Beavers ended up ranked second in the Pac-12 and 22nd in the nation, giving up just 20.6 points per game. That's a 10.2-point per game improvement.
Washington ended up fourth in the conference, surrendering a respectable 24.2 points per game, which was 11.2 points better per game.
Our, er, point? Units can make major improvements from one year to the next.
So who is poised to make a big jump this fall?
Well, the first question is can we glean anything from Oregon State and Washington?
Oregon State welcomed back eight starters, and that doesn't include space-eating, 354-pound tackle
Castro Masaniai
. Moreover, there was plenty of star power at all three levels: DE
Scott Crichton
, LB
D.J. Alexander
and CB Jordan Poyer.
The personnel losses didn't leave big questions. In fact, it seemed likely in the preseason that the Beavers' defense would be better, even if there's a minor application of hindsight there.
Washington welcomed back seven starters, but there were plenty of questions, starting with a new base 3-4 scheme. There was some veteran talent, topped by CB Desmond Trufant, and promising young players such as DT
Danny Shelton
, rush end
Josh Shirley
and LB
Shaq Thompson
, but dramatic improvement wasn't a certainty. The personnel losses -- DE Everrette Thompson, DT Alameda Ta'amu , LB Cort Dennison and CB Quinton Richardson -- were multiyear starters.
Yet the Huskies, probably in large part due to much better coaching under Wilcox and his rejiggered staff, were dramatically better.
And so we have the bottom five defenses from 2012:
Wow, Colorado ... 46 points per game. That was worst in the nation by nearly three points. I know Buff fans are tired of hearing this but, well,
that can't get any worse
.
California is transitioning to a 4-3 after being pretty successful with a 3-4 under Clancy Pendergast. The good news is solid talent at all three levels, though some of that talent has yet to live up to its formally big-time recruiting pedigree.
As we've
previously touched on
, UCLA needs to get better on defense if it wants to again become a national presence. Barr is a great place to start, seeing that he's on the short list for national defensive player of the year. That said: The entire secondary is being rebuilt.
Washington State is
filling the biggest void
-- Long was the Cougars' four-year sack leader -- but it has a better-than-you-think crew coming back next fall.
But if you were betting on improvement, the Wildcats might be the best place to start. The grounds for that is pretty straight-forward: Everyone is back, so you'd expect most of those guys to be better this fall, with the added bonus of some youthful reinforcements. Further, coordinator Jeff Casteel knows what he's doing. Year 2 with his 3-3-5 scheme is almost certainly going to be better.
The Wildcats' defense might even get a boost from its offense: With QB Matt Scott gone, the offense might lean more on the running game, topped by
Ka'Deem Carey
. It also might slow things down just a bit, though Rich Rodriguez isn't likely to huddle up and go pro style.
January, 25, 2013
1/25/13
4:00
PM ET
COLORADO (1-11, 1-8)
Grade
: D-minus

MVP
: As voted by the Colorado players and coaches, defensive end
Will Pericak
quietly put together a very consistent season and ended his career having started all 49 games. He set the school record for most career starts despite being a Type I diabetic. He posted 62 tackles, eight stops on third down with a pair of sacks, and four tackles for a loss. He was also tied for second in the conference with four forced fumbles.
What went right
: Colorado's three-touchdown outburst and come-from-behind win at Washington State back in September was certainly a bright spot in a season lacking them. There was no lack of effort, and that kept them from an 'F.'
Nick Kasa
emerged as one of the more steady tight ends in the conference, and running backs
Christian Powell
and
Donta Abron
combined for 947 rushing yards and nine touchdowns -- giving the Buffs a good-looking, young tandem to keep an eye on as the team transitions into the pistol. It's worth noting, too, that they cut the total number of penalties from 103 to 73 -- which was fifth in the league. And as far as we know, Ralphie didn't break a leg or sprain a hoof.
What went wrong
: Besides the 11 losses? It started early when they couldn't hold double-digit leads against Colorado State and FCS Sacramento State, and it snowballed. If you want, you could really go back even earlier with the loss of wide receiver
Paul Richardson
in the preseason with a knee injury. Colorado ranked 100th or lower in 19 major statistical NCAA categories. The Buffaloes turned the ball over 34 times, which teams turned into 22 touchdowns and 160 total points. There was inconsistency at quarterback, which led to the worst third-down percentage in the league (29.9 percent). There's no need to pile on all of the things that went wrong statistically for the Buffs (which led to the firing of Jon Embree). It was a bad season. Plain and simple.
Outlook for 2013
: With a new head coach comes the promise of optimism. And Mike MacIntyre certainly has the resume needed for rebuilding a program. He turned San Jose State into a 10-win program. In 2012, Colorado's true freshmen combined to start more games than any other team in the nation (57). No one has transferred or left the program (except
David Bakhtiari
, who declared early for the NFL draft) so there is continuity across the board, and some youth that gained a lot of experience -- albeit the hard way. The bulk of Colorado's new staff has worked together for three seasons, so there is continuity and familiarity there as well. Don't expect six wins and a bowl game in 2013, but hoping for three or four wins shouldn't be too much to ask for.
November, 20, 2012
11/20/12
6:30
PM ET
The Pac-12 conference has announced its 2012 All-Academic team. To be eligible, the player must have a minimum 3.0 overall grade-point average and be either a starter or significant contributor.
FIRST TEAM OFFENSE
QB
Connor Wood
, Colorado, So., 3.55, Finance
RB
Jared Baker
, Arizona, RS, Fr., 3.56, Undeclared
RB
Patrick Skov
, Stanford, So., 3.41, Undeclared
WR
Andrei Lintz
, Washington State, RS Sr., 3.72, Sport Management
WR
Luke Matthews
, Utah (2), Sr., 3.69, Mass Communication
TE
Koa Ka'ai
, Oregon, RS Fr., 3.94, History
OL
Chris Adcock
, California, So., 3.57, Business Administration
OL
Jake Brendel
, UCLA, RS Fr., 3.60, Math/Applied Science
OL
Khaled Holmes
, USC , Sr., 3.31, Communication
OL
Tevita Stevens
, Utah (2) , Sr., 3.54, Spanish
OL
Matt Summers-Gavin
, California, Sr., 3.27, Political Science
FIRST TEAM DEFENSE
DL
Henry Anderson
, Stanford, Jr., 3.43, Political Science
DL
Nate Bonsu
, Colorado, Jr., 3.42, International Affairs
DL
Will Pericak
, Colorado (2), RS Sr., 3.45, Accounting
DL
Danny Shelton
, Washington, So., 3.47, Anthropology
LB
Dave Fagergren
, Utah, Sr., 3.51, Business
LB
Jake Fischer
, Arizona (2) , Jr., 3.32, Marketing
LB
Brandon Johnson
, Arizona State, RS Jr., 3.44, Sociology
DB
Brian Blechen
, Utah, Jr., 3.18, Sociology
DB
Jordan Richards
, Stanford, So., 3.34, Undeclared
DB
Eric Rowe
, Utah, So., 3.54, Undeclared
DB
Jared Tevis
, Arizona, So., 3.25, Finance
PK
John Bonano
, Arizona (3), Sr., 3.93,Physiology
P
Jeff Locke
, UCLA (3), RS Sr., 3.70, Economics
ST
Justin Gorman
, Colorado RS So., 3.61, Finance
(2) Two-time first-team All-Academic selection; (3) Three-time first-team All-Academic selection
SECOND TEAM OFFENSE
QB
Matt Barkley
, USC, Sr., 3.21, Communication
RB
Kenny Bassett
, Oregon, So., 3.31, Business Administration
RB
Steven Manfro
, UCLA, RS Fr., 3.20, Undeclared
WR
Dustin Ebner
, Colorado, RS Sr., 3.47, Integrative Physiology
WR
Nelson Spruce
, Colorado , RS Fr., 3.73, Business
TE
Michael Cooper
, Arizona, So., 3.92, Pre-Business
OL
Trace Biskin
, Arizona, Sr., 3.29, Political Science
OL
Zach Brevick
, Washington State, RS Jr., 3.23, Entrepreneurship
OL
Brad Cotner
, Colorado, RS Fr., 3.34, Arts and Sciences
OL
Kevin Danser
, Stanford, Sr., 3.13, Biomechanical Engineering
OL
Stephane Nembot
, Colorado , RS Fr., 3.20, International Affairs
SECOND TEAM DEFENSE
DL
Nate Fakahafua
, Utah, So., 3.19, Undeclared
DL
Ben Gardner
, Stanford, Sr., 3.01, Science, Technology and Society
DL
Taylor Hart
, Oregon, Jr., 3.17, Sociology
DL
Andrew Seumalo
, Oregon State, Sr., 3.17, Finance
LB
Michael Clay
, Oregon, Sr., 3.10, Family and Human Services
LB
V.J. Fehoko
, Utah, So., 3.31, Economics
LB
Travis Long
, Washington State, Sr., 3.02, Management and Operations
DB
Isaac Archuleta
, Colorado, RS Fr., 3.09, Business
DB
Tyré Ellison
, California, Sr., 3.01, Social Welfare
DB
Ronnie Harris
, Stanford, So., 3.13, Undeclared
DB
Charles Henderson
, Utah, RS Fr., 3.47, Undeclared
PK
William Oliver
, Colorado , So., 3.66, Management
P
Sean Sellwood
, Utah, Sr., 3.70, Exercise and Sport Science
ST
Richard Yates
, Colorado, RS Fr., 3.60, Mechanical Engineering
For the list of all players who were named honorable mention, you can see
the complete release from the Pac-12 conference here.
November, 16, 2012
11/16/12
2:30
PM ET
September, 26, 2012
9/26/12
2:30
PM ET
And Crispin Crispian shall ne'er go by,
From this day to the ending of the world,
But we in it shall be remembered-
We few, we happy few, we band of brothers.
August, 13, 2012
8/13/12
7:15
PM ET
By
ESPN.com staff
| ESPN.com
The nuttiness that is "Best case-worst case" is back.
This is the first in a series looking at potential dream and nightmare scenarios for all Pac-12 teams.
Understand:
These are not predictions.
They are extreme scenarios and pieces of fiction. You can read
last year's versions here
.
We're going in reverse order of my
post-spring power rankings
(which might not be identical to my preseason power rankings).

Up first
: Colorado
Best case
Colorado coach Jon Embree gathers his players in a meeting room in the team hotel. It's Friday night. Tomorrow the Buffaloes open their season against Colorado State.
"Since last season ended, all you guys have heard and read is how bad you're going to be this season," Embree says. "Everybody thinks you'll finish last in the Pac-12. Tomorrow will be your first chance to answer back.
"Does anyone have something to say... Jon? I think you should go because your parents also forgot the 'h' in your name, just like mine, thereby connecting us for life."
Buffaloes linebacker
Jon Major
stands. He takes a deep breath.
"
I am a swine flu survivor
. I am a Pokemon trainer. I am Kung Fu white belt and a gardener extraordinaire. I am sweater enthusiast. And I'm not afraid to say that I cry every time I hear 'Someone like you' by Adele," he says. "And there is no freaking way we finish last in the Pac-12 and don't go to a bowl game this year.
"Shoulder to shoulder, baby, every single play."
Colorado wallops the Rams 42-28, with
Jordan Webb
throwing two touchdown pass and rushing for another.
The Buffs whip Sacramento State 44-10 and then win their second consecutive true road game outside the state with a gritty 28-24 win at Fresno State.
"Good teams have to win on the road," defensive tackle
Will Pericak
tells reporters. "We lost 24 games in a row on the road because we weren't a good team. We're different now."
The reporter asks a follow-up question: "Have you ever considered changing your last name to "Precheck" so folks would pronounce it correctly?"
"No," Pericak responds with a withering stare. We know it is a withering stare because the reporter actually withers.
The Buffaloes newfound stoutness on the road faces a tough test at newly energized Washington State. Both teams are 3-0.
From the Pac-12 blog: "You can't be much better than 3-0 after three games, but one of these long languishing teams will be just two wins from bowl eligibility by Saturday night." [Pac-12 blog wins Pulitzer the next day.]
The Cougars jump to a 14-0 lead in the first quarter, and it's 21-10 at halftime. Offensive coordinator Eric Bieniemy strides across the halftime locker room and addresses his offensive line. "We're going to give it to
Tony Jones
. Every darn play."
Jones rushes for 160 of his 210 yards in the second half as the Buffs prevail 38-35. The key play is freshman cornerback
Yuri Wright
returning an interception 54 yards for a touchdown on the Cougs first possession of the third quarter.
"No," Wright says. "I'm not going to tweet about it."
Colorado suffers its first defeat at home the next weekend to UCLA, with Bruins quarterback
Brett Hundley
throwing three TD passes. The Buffs, after a bye week, regain their focus with a hard-fought 35-30 win over Arizona State. Linebacker
Doug Rippy
grabs a late interception to seal the win.
"I don't think anyone in that locker room isn't aware we are one win away from bowl eligibility," Rippy says. "But this team can't afford to think any further ahead than to practice on Monday."
The schedule, however, catches up to the Buffs. They lose 45-17 at No. 1 USC and 44-16 to No. 3 Oregon. They push Stanford to the brink before falling 31-28.
"No, I don't think the locker room is down," safety
Ray Polk
says. "We're 5-4 with three games to play. There is a lot to play for. There is no freaking way I'm not going to a bowl game my senior year."
The Buffs pick up their third road victory of the season with a 40-35 win at Arizona, and they shock Washington 30-28 when Major returns a fumble from Huskies quarterback
Keith Price
44 yards for a late fourth-quarter touchdown.
Up next is the Buffaloes most bitter rival... Utah. On Monday, offensive tackle
David Bakhtiari
walks across the hushed locker room with a cherished piece of Buffs memorabilia:
The vandalized bike of Embree's daughter
.
Bakhtiari turns, "We will never, ever, forget the beautiful black and golden bike that was made red by our enemies to the West!"
Colorado beats the No. 19 Utes 28-20 and earns a berth in the Holiday Bowl.
The Buffaloes beat Texas 13-10, their fans serenading the Longhorns with chants of "Pac-12!" After the game, Major blasts "Someone like you." And everybody does, in fact, cry.
The Buffs finish ranked 24th. Just ahead of No. 25 Nebraska.
The snow comes early and often and is most righteous.
Worst case
Jon Embree tells reporters that he's not afraid to use two quarterbacks, but neither Jordan Webb nor
Connor Wood
is terribly impressive against Colorado State and Sacramento State. Nonetheless, at 2-0 with the youngest team in the Pac-12, Colorado fans remain cautiously optimistic.
"Of course, we've got to learn to win consistently on the road to take the next step as a program," coach Jon Embree warns.
That doesn't happen. Colorado falls at Fresno State and Washington State, and the 2011 finale at Utah that ended a 24-game losing streak outside of the Buffs home state seems like it never happened. Further, it's hard to win with six true freshmen seeing regular action on defense.
UCLA bullies the Buffs 31-17, and Arizona State just has too much team speed on both sides of the ball in a 35-21 win. Those two losses, however, only preview the physical mismatches at USC and Oregon and when Stanford comes to town. The Buffs are outscored 137-10, giving up over 500 yards to each.
Without receiver
Paul Richardson
-- rumors of his return throughout the season start to feel like Bigfoot sightings -- the offense doesn't have a threat that taxes a defense. Webb and Wood and then
Nick Hirschman
each get opportunities at QB, but none of the three provides any consistency. All three struggle with accuracy and interceptions. But the defense is the biggest issue. While the linebackers are strong, the defensive front is physically outmatched, and the secondary is young and lacks depth. A couple of key injuries make things even messier.
Colorado steals at win at equally beleaguered Arizona, but gets pushed around at home by Washington and revenge-minded Utah, which earns a berth in the Holiday Bowl with a win in Boulder.
A second-consecutive three-win season has Colorado fans grumbling.
"They should grumble," Embree says. "I'm grumbling. Even in my sleep. We have to get this solved."
Nebraska beats Oklahoma for the national championship. Texas, using the argument, "Hey, we're Texas!" talks its way into the Rose Bowl, where it beats USC.
Larry Scott leaves the Pac-12 for the Big 12 and, after two days on the job, announces a mega-TV deal worth zillions. And with satellite carriers.
It rains all winter.
April, 18, 2012
4/18/12
11:35
AM ET
Want to see many of the names that will be featured on Colorado's defensive depth chart next fall?
Go here
.
The Buffaloes are going to be young next fall on both sides of the ball, but particularly on defense. Lots of freshmen will play -- guaranteed. And that is by design. Defensive coordinator Greg Brown and head coach Jon Embree made something clear during spring practices to the returning players: "Impress us now, or get replaced by incoming freshmen."
[+] Enlarge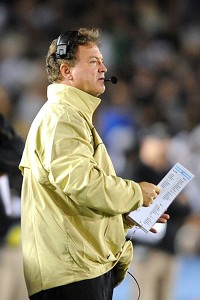 Chris Williams/Icon SMIDefensive coordinator Greg Brown will be working with a lot of freshmen this fall, including eight on the defensive line.
There's a reason for the likely youth movement: The Buffs were lousy on defense in 2011, ranking last in the Pac-12 in scoring (36.5 points per game) and 10th in total defense (439.3 yards per game). Further, Pac-12 quarterbacks feasted on the secondary, which yielded not only the most touchdown passes (34) -- six more than anyone else -- but also grabbed the fewest interceptions (seven) in the conference.
If Colorado is going to move up in the South Division pecking order during the program's second year in the conference, those numbers need to improve.
Colorado finished spring drills last weekend, so it seemed like a good time to check in with Brown to look back and look ahead to the fall.
First off, last year your official depth chart was a 3-4 scheme. This spring, you guys started out with a 4-3. Can you give me a Cliffs Notes version of your base scheme?
Greg Brown
: It's really still the same. We're like last year but like most teams can play either, kind of multiple up front.
When you went over film from last year, what stood out to you as issues with the defense?
GB
: Too many big plays were given up. Too many points were scored. We had a laundry list of a lot of things. Too many injuries. The roster was thin. It was one of those years we'd like to see not repeated.
The Big 12 is hardly an offense-poor conference. You've coached there and the Pac-12. Were there any adjustments for your players moving from the Big 12 to Pac-12?
GB
: Absolutely. Not to take anything away from the Big 12. That's a terrific league that stands on its own merits, that's for sure. But you just have some unique offensive minds in the Pac-12, different styles of attack that we had not seen in the Big 12. There's nobody in the Big 12 that plays the same style as Oregon. Nobody plays the same style as Stanford or Washington. They are all unique and were tough styles to contend with. We've got a lot of offensive-minded head coaches and very innovated offensive coordinators.
You guys were heavy on D-linemen in the recruiting class. How many first-year players do you anticipate playing next fall?
GB
: We brought eight (defensive linemen) in. We're thinking at least half that amount, probably higher. Between the defensive line, which is eight-slash-nine because we've got a guy who could go either way, and we've got five cornerbacks, and the great majority of those guys are going to play. They won't redshirt. We're not counting on anybody redshirting. We'll see if they can't do it yet, then they'll have to. But other than that, we have no numbers. Spring ball was a feat to get accomplished. Because of our lack of numbers, we ended up doing so much seven-on-seven because we didn't have the D-line to do it [full scrimmage]. We really didn't have the secondary to do much seven-on-seven,either. It was largely a battle of walk-ons this spring at Colorado. We're welcoming with open arms all the incoming troops because they are going to play.
Give me a couple of names of standouts this spring? Who impressed you?
[+] Enlarge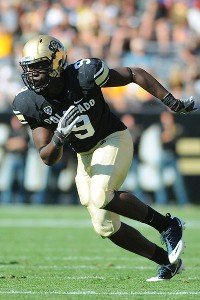 Dustin Bradford/Icon SMI Defensive end Chidera Uzo-Diribe has made an impression on coaches this spring.
GB
: [Defensive end]
Chidera Uzo-Diribe
, he had a very good spring. He's got skill. He's got speed. He's got size. And he's tenacious. He's a good player. He played last year for us and was fine but he stepped up this spring and filled a void -- we had two defensive ends graduate. He stepped up and really became a guy. He would be the top dog in the D-line. If there is one other defensive lineman who can play, it's
Will Pericak
. He's a good player -- steady, consistent. He's been around the block. Has size. He's played for a long time here. Good player. You've got those two up front. After that, there's really nobody to write about [on the defensive line]. We're just waiting on the young kids to get here.
How about linebacker?
GB
: Linebacker-wise, our best player is
Doug Rippy
. He's our captain, a team leader. He ended up missing, from the Washington game on last year, missing the season. He tore his ACL in that game and he was held out of spring ball and can't do anything yet. But we're looking to get him back.
Jon Major
is another 'backer who is back, has a lot of experience. He's a jack of all trades for us, can do a lot of things. Smart, can rush the passer, cover. He makes plays. He's good. Linebacker is where the most numbers are back. After that, you've got some guys who have played.
Derrick Webb
has played. He can run and hit. Then there's a smattering of younger kids who have some ability. They just haven't proven anything yet. They're up and coming.
And then the secondary?
GB
: We've got one returning guy. That's
Ray Polk
; he's a safety. Good player. Big kid who can run and hit. Been starting here a long time. Good future in front of him. Ray's issue was he could only do non-contact stuff during spring. He had surgery on a torn ligament in his wrist. So he did seven-on-seven and that was probably it. The next one to talk about back there would be [cornerback]
Greg Henderson
. He came in as a true freshman and won a starting job. He took advantage of the opportunity and won a job and he kept it all year. He continually progressed every week. This spring, he got better as you'd expect. They come in as freshmen and just look to survive, which he did more than ably. But we're looking for improvement this year and looking for him to be a guy. He's athletic. He can run, he's smart. And he's tough. And as much as anything, he stayed healthy. After him, a guy who is a good player for us, is
Parker Orms
. He plays nickel, safety and corner. He plays all three. Good athlete, tough kid. He missed quite a bit of the year. He only played five games for us. And he got hurt this spring, which is unfortunate. He tore his hamstring. He played three days of spring then tore that thing. In the five games he played for us last year, we either won or had a chance to win because he allowed us to do things on defense we could not do when he was not in there.
So the freshmen will be in the mix pretty quickly in the secondary, too?
GB
: Oh, no question. We told all the kids on defense this spring, particularly on the D-line and in the secondary, "OK, all you guys, here is your chance. This is your chance. We don't want to hear anything in the fall about, 'Hey, I'm not getting any reps.' Here is your chance now! Because believe it or not, in the fall with those kids coming in, they are going to get all those reps. We'll see what you guys can do now.' And here come the new kids. We know who has helped us in the past. For the rest of the spots? Hey, we're plugging in brand new kids and let's go.
How much can this defense improve in 2012?
GB
: You can. All these 15 defensive players who are coming in that we're looking to help us, you wish you could snap your fingers and be two years in the future, matured and bigger, strong, faster, eating on the training table, learning how to play. That would be nice. But the reality of it is there are going to be growing pains. These guys have some talent, but they also are going to be true freshmen and will make their share of mistakes. But, sure, we can improve. We have to manage what we're doing. We have an outstanding coaching staff on that side of the ball with Kanavis McGhee and Mike Tuiasosopo. They are great tacticians. As is linebackers coach Brian Cabral. We're looking for improvement.
July, 11, 2011
7/11/11
9:00
AM ET
No team in the Pac-12 wows you at defensive tackle. No team is a sure thing. There is a lot of "maybe" at the position. And probably some maybe not.
The uncertainty of quality -- both in terms of returning stars and depth -- made this a difficult position to rank. For example, Washington has a nice foursome at tackle, led by Alameda Ta'amu, who might be the best tackle in the conference.
That's great. Good for the Huskies. But they ranked 97th in the country in run defense last year. You sort of pause over that, you know?
So a lot of this ranking is feel thing, a projection of potential. And "great shape" here is relative to the conference. Nebraska, for example, wouldn't exchange its tackles -- Jared Crick and Baker Steinkuhler -- for any Pac-12 tandem.
Some of this figures to inspire a bit of debate.
Great shape
USC
: This may be in some part based on fumes from the Trojans reputation at the position. It definitely includes a vote of faith that they will get a 100 percent Christian Tupou back from the knee injury that killed his 2010 season. If so, the threesome of Tupou, George Uko and DaJohn Harris is strong. And if you toss in Armond Armstead -- who missed spring with an undisclosed medical condition that threatens his career -- you'd have a clear No. 1.
Washington
: Ta'amu seemed to find himself during the second half of last year, and the 330-pounder could end up getting some All-American consideration if he consistently plays like he did against Nebraska in the Holiday Bowl. Sione Potoa'e and Semisi Tokolahi are both experienced, and Lawrence Lagafuaina a space-grabbing, 344-pound redshirt freshman.
Colorado
: The Buffaloes are sneaky good here, even though they only ranked 48th in the nation in run defense in 2010. Both starters, Will Pericak and Curtis Cunningham, are back, but Conrad Obi was a revelation this spring. He looked like a future NFL draft choice, not a player who'd mostly been a bust. Nate Bonsu, who missed spring with a knee injury, also should help.
Good shape
Utah
: The Utes, who ranked 11th in the nation in run defense in 2010, lost Sealver Siliga, but they believe they have a budding star in, er, Star Lotulelei, while James Aiono, LT Tuipulotu and Joape Peta are solid. Also, Dave Kruger, who played end this spring, is 280 pounds and can play inside.
Arizona
: The loss of backup Willie Mobley to a knee injury hurts depth, but Justin Washington figures to take a step forward after an impressive true freshman season, Sione Tuihalamaka started four games in 2010. Depth is a question. The Wildcats ranked 33rd in the nation in run defense last fall.
Oregon
: On the one hand, Oregon lost both starting defensive tackles in Brandon Bair and Zac Clark from a unit that ranked 27th in the nation in run defense. On the other, they played so many guys last fall, the new starters are experienced players. Further, Ricky Heimuli, Taylor Hart, Wade Keliikipi, Isaac Remington and Jared Ebert played well enough this spring to suggest the position will be a strength in the fall.
Arizona State
: If Lawrence Guy didn't make his ill-fated decision to enter the NFL draft, the Sun Devils, who were 16th in the nation against the run last fall, would be in great shape here. As it was, Will Sutton had a great spring and looks like a potential All-Conference guy. Grinder Bo Moos is listed as the starter at the other tackle, though he could be eclipsed by Corey Adams. Toa Tuitea saw limited action last year.
UCLA
: The Bruins defensive line was terrible last year, ranking 108th in the nation against the run, but the talent is there for a significant turnaround. Cassius Marsh, Nate Chandler, Justin Edison, Donovan Carter and Seali'i Epenesa should do a much better job plugging the middle.
California
: Cal is actually fine here, despite the loss of NG Derrick Hill. For one, when you run a 3-4 defense, it's hard to rate your DTs, even if your DEs often operate like them. The Bears have two solid options at NG in Aaron Tipoti and Kendrick Payne, and it's also possible that touted 350-pound incoming freshman Viliami Moala will eclipse both of them.
We'll see
Oregon State
: Dominic Glover moves inside from end and Kevin Frahm has experience, but this unit didn't play well last year -- 89th in run defense -- even with one of the best DTs in the nation in Stephen Paea. 340-pound Castro Masaniai could help but he missed spring after shoulder surgery and has off-field issues. There's also Mana Tuivailala and Ben Motter.
Stanford
: Like Cal, Stanford runs a 3-4, so it naturally it is going to suffer a bit in DT rankings. More important: The loss of Sione Fua is significant. Terrence Stephens and Henry Anderson had solid springs but neither has much experience.
Washington State
: Brandon Rankin, a returning starter, was listed No. 2 on the depth chart behind Anthony Laurenzi after spring practices, with redshirt freshman Toni Pole No. 1 at the other tackle. Justin Clayton, Steven Hoffart and Xavier Cooper provide depth. It's not unreasonable for Cougars fans to expect improvement, perhaps significant improvement. But a team that ranked 115th in the nation in run defense the previous season is automatically a "We'll see" here.
March, 28, 2011
3/28/11
9:00
AM ET
On Friday, we looked at offensive three-headed monsters --
the best quarterback, running back, wide receiver troikas
-- so it also makes sense to also look at their defensive counterparts, the best threesomes from each of the three levels of defense: defensive line, linebacker and defensive back.
Here's the
tally from last season
, if you are interested.

1.
Arizona State
DE Junior Onyeali, LB Vontaze Burfict, CB Omar Bolden
The Skinny:
No question on No. 1 here. Onyeali was the Pac-10 Defensive Freshman of the Year. Burfict is the nation's best inside linebacker. Bolden was unanimous first-team All-Pac-10.

2.
Stanford
DE Matt Masifilo, LB Shayne Skov, SS Delano Howell
The Skinny:
Masifilo, the lone returning starter on the Cardinal defensive line, was honorable mention All-Pac-10, as was Skov, who was playing as well as any linebacker in the conference over the final third of the season. Howell was second-team All-Pac-10.

3.
California
DE Trevor Guyton, LB Mychal Kendricks, S Sean Cattouse
The Skinny:
Guyton had 8.5 tackles for a loss and 4.5 sacks despite being a part-time starter. Kendricks was second-team All-Pac-10. Cattouse earned honorable mention.

4.
Oregon
DE Terrell Turner, LB Josh Kaddu, CB Cliff Harris
The Skinny:
Two solid returning starters and a second-team All-Pac-10 cornerback who figures to be a preseason All-American after earning second-team honors from the Associated Press and Walter Camp Football Foundation in 2010.

5.
Washington
:
DT Alameda Ta'amu, LB Cort Dennison, FS Nate Fellner
The Skinny:
Ta'amu earned honorable mention All-Conference honors and seemed to find himself over the latter half of the season. Dennison had 93 tackles, 8.5 tackles for a loss and two interceptions. Fellner tied for second in the conference with five interceptions.

6.
Arizona
DT Justin Washington, LB Paul Vassallo, CB Trevin Wade
The Skinny:
Washington's numbers fell off when he got banged up, but he still had 11.5 tackles for a loss and six sacks as a redshirt freshman. Vassallo was honorable mention All-Conference. Wade had an off year last fall, but was second-team All-Pac-10 in 2009.

7.
USC
DE Armond Armstead, LB Chris Galippo, FS T.J. McDonald
The Skinny:
This actually could be one of the best threesomes in the conference, but Armstead and Galippo have injury issues and only put up middling numbers last fall. McDonald was second-team All-Pac-10 in 2010.

8.
Washington State
DE Travis Long, LB Alex Hoffman-Ellis, SS Deone Bucannon
The Skinny:
Long was honorable mention All-Conference, Bucannon, who started as a true freshman, and Hoffman-Ellis were the Cougars' top two tackles in 2010.

9.
UCLA
DE Datone Jones, LB Patrick Larimore, SS Tony Dye
The Skinny:
A solid threesome that is down here more because it gets an "incomplete." Jones missed all of last season with a foot injury, but, if healthy, he's an All-Conference sort. Larimore was solid in seven games before suffering a shoulder injury. Dye led the Bruins in tackles and earned honorable mention All-Pac-10.

10.
Colorado
NG Will Pericak, LB Jon Major, FS Ray Polk
The Skinny:
Pericak earned honorable mention All-Big 12. Major was the Buffaloes leading tackler before he blew out his knee in Game 7 (a knee injury also killed the junior's true freshman season). Polk was the second-leading tackler.

11.
Utah
DE Derrick Shelby, LB Chaz Walker, CB Conroy Black
The Skinny:
Honestly don't know how to rank the Utes here. Shelby and Walker are returning starters -- Walker earned second-team All-Mountain West honors. Black was the top backup cornerback last season.
But
Star Lotulelei might be the Utes' best defensive lineman, and Brian Blechen has moved from strong safety, where he was very good, to linebacker. How highly do the Utes think of him? They list him as an All-American candidate.

12.
Oregon State
DE Dominic Glover, LB Rueben Robinson, S Lance Mitchell
The Skinny:
Three returning starters, but none of them even earned honorable mention All-Pac-10 honors. Mitchell was the Beavers' third-leading tackler, Glover had 2.5 sacks, and Robinson split time with Tony Wilson.