August, 3, 2010
8/03/10
12:09
PM ET
By
ESPN.com staff
| ESPN.com
Defensive tackles clog the middle and collapse pockets. Dominant ones who demand attention from two blockers make life much easier for defensive coordinators, who suddenly see their linebackers running to the ball unmolested.
And it's typically not a strength position in the Pac-10. Coaches who have worked both down south and out west will tell you that one of the peculiar differences is how many more DTs there are in SEC and ACC country. (Quarterback goes the other way.)
[+] Enlarge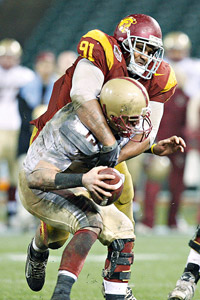 Tony Medina/SMICasey Jurrell had 54 tackles and four sacks in 2009.
In 2010, however, defensive tackle is solid in the conference. The three teams at the top of this list feature potential All-Americans at the position.
So how do things stack up?
Great shape
USC: The Trojans would rank among the nation's best at the position if not for the season-ending knee injury to Christian Tupou. Still, Jurrell Casey is a beast, Hebron Fangupo is huge and DaJohn Harris was one of the surprises of spring practices.

Oregon State: All-America candidate Stephen Paea is powerful and explosive and if he turns in a big season beating double-teams, he could end up a first-round NFL draft pick. Brennan Olander is a returning starter and converted end Kevin Frahm provides depth.

Arizona State: Both 2009 starters, Lawrence Guy and Saia Falahola, are back, and Corey Adams and Williams Sutton should provide quality depth.
Good shape
Oregon: Brandon Bair is underrated, and Zac Clark saw plenty of action as a backup in 2009. While inexperienced, there's young talent to provide depth.

Washington: The Huskies are solid with Cameron Elisara and Alameda Ta'amu, returning starters who turned in their best work this past spring.

California: Hard to rate teams that use a pure 3-4 because there's only a single nose tackle. Still, if Derrick Hill can stay healthy, he and Kendrick Payne will be an outstanding tandem making life tough for opposing centers.

Stanford: The Cardinal is breaking in its own 3-4 this year. Nose tackle Sione Fua is solid in the middle, with Terrence Stephens his backup. Stephens saw limited action as a true freshman in 2009.
We'll see
UCLA: The Bruins are replacing two starters, including the dominant Brian Price. David Carter, Justin Edison and Nate Chandler were solid in spring practices, so the position isn't a huge concern.

Arizona: The Wildcats are replacing two starters, including the underrated Earl Mitchell, a third-round NFL draft pick. After spring practices, Sione Tuihalamaka and Lolomana Mikaele topped the depth chart, which featured six names.

Washington State: Another position where the Cougars might be "better than you think," particularly if Bernard Wolfgramm can stay healthy. Touted JC transfer Brandon Rankin was impressive this spring, and true sophomore Anthony Laurenzi, a five-game starter in 2009, offers experienced depth.
June, 9, 2010
6/09/10
7:47
PM ET
By
ESPN.com staff
| ESPN.com
When Arizona State dials up 6-7-8 this fall, it won't be calling relatives in the Atlanta area. It will be summoning a Sun Devils linebacking frenzy.
No. 6 is junior Shelly Lyons, No. 7 is sophomore Vontaze Burfict and No. 8 is junior Brandon Magee, at least those are their numbers after Lyons and Magee changed jerseys to create the numerical sequence among the starting linebackers.
Burfict, a budding All-American, might have been the best true freshman linebacker in the nation last year. Magee put up impressive numbers as a backup in 2009. And Lyons saw plenty of action and is certainly no slouch. By season's end, they might form the best linebacking trio in the Pac-10.
What's shocking is they used to form the best linebacking trio in California high school football. All three played for Centennial High in Corona, Calif. Toss in tackle William Sutton, and four former Huskies will be seeing lots of action on the ASU defense in 2010.
The number change isn't just a cute, casual gesture. It represents a deep connection. The troika are best friends and roommates.
"We're letting everybody know we are a brotherhood," Magee said. "I thought it would be good for the city of Corona to see how close we are."
Burfict, the man in the middle, is the best known. He was the Pac-10's Defensive Freshman of the Year, earned
freshman All-American honors
and is on the Lombardi Award
watch list
. He piled up 69 tackles -- second on the team -- with seven tackles for a loss, two sacks, five pass breakups, two forced fumbles and a handful of
personal foul penalties
, including three vs. Washington.
Burfict, who chose No. 7 because of John Elway but models his play on Baltimore Ravens LB Ray Lewis, said the penalties are due to "my passion for the game and competitiveness." And, no, neither he nor coach Dennis Erickson is not going to send Burfict to charm school to learn to keep his emotions in check.
"Naa. I'm just out there playing football," he said when asked if the penalties were a problem he was working on. "Coach [Erickson] said that if I'm out there playing football aggressively, flags are going to come but to just try to hold them to a minimum."
While his sometimes too aggressive play has earned him a bit of a reputation, Magee and Lyons describe Burfict as "shy" and "humble."
"You'd be surprised how different he is off the field than how he is on the field," Magee said.
Magee, who also plays for the Sun Devils No. 1-ranked baseball team, had 34 tackles, seven tackles for a loss, two sacks and an interception last year as Mike Nixon's backup on the weakside. Lyons and Burfict both describe him as a "neat freak."
"He doesn't even want wrinkles in his bed," Lyons said.
Lyons? He's the comedian. "He's one of the finniest guys there is," Magee said. "He just has jokes for days. And he's not scared to say what's on his mind."
Lyons has seen significant action the past two seasons behind Travis Goethel. He had 36 tackles as a true freshman and 17 last year.
Magee was glad to change his number from 48. "That's Terrell Suggs' number. I have a lot of respect for him so I didn't really want to wear the number any more because I know they are going to retire it sooner or later," he explained. This is Lyons' third number. He was 41 as a freshman and 13 last year.
Arizona State ranked No. 1 in total defense and No. 2 in scoring defense in the conference last year. Despite losing seven starters, there's plenty of scuttlebutt coming out of Tempe that the 2010 unit will be even better -- faster and deeper on all three levels.
One of the big reasons for optimism? It's as easy as counting 6, 7 and 8.
"We're bringing our own flavor to it," Magee said.
May, 17, 2010
5/17/10
5:16
PM ET
By
ESPN.com staff
| ESPN.com
Arizona State's Toa Tuitea, a sophomore defensive tackle, has been named the Sun Devils' "Hard Hat Program Champion," which recognizes his work in the football program's strength and conditioning program.
He topped a list of 48 Sun Devils who were honored.
A news release from the school said the "Hard Hat Program was created to reward those individuals who do what's right in the weight room even when no one is looking ... a Hard Hat Player is someone who is self-motivated, a competitor, committed to personal and team excellence, dependable, accountable, disciplined and most importantly, puts the team first."
To become a Hard Hat Player, a player has to achieve a certain point total during winter workouts. He earns points based on his effort for strength training, speed development and conditioning sessions. They are also awarded points for competitive events and performing extra workouts in the "Blitz Package Program." Each athlete is evaluated after every workout by the sports performance staff with input from an athlete's position coach when applicable.
The list of the honored includes:
Corey Adams
, Derrall Anderson, George Bell, Omar Bolden,
Jarrid Bryant
, Mike Callaghan, Jonathan Clark, Chris Coyle, Dean DeLeone, Eddie Elder,
Steven Figueroa
, Evan Finkenberg, Clint Floyd, Garth Gerhart, Lawrence Guy, Jon Hargis,
J.J. Holliday
, Matt Hustad, Osahon Irabor, Patrick Jamison, Keelan Johnson,
Brandon Johnson
, Anthony Jones, Kyle Johnson,
Cameron Kastl
, Ronald Kennedy,
Dan Knapp
,
Trevor Kohl
,
LeQuan Lewis
, Shelly Lyons,
Cameron Marshall
, Shane McCullen,
Jamal Miles
, Bo Moos,
James Morrison
, Gerald Munns,
Brock Osweiler
,
Aaron Pflugrad
,
Cole Rarrick
,
Jamarr Robinson
, Andrew Sampson, Zach Schlink,
Max Smith
, Adam Tello,
Steven Threet
,
Matthew Tucker
and Thomas Weber.
Starters or key contributors who didn't make the list (for whatever reason, including injury or excused absence) include: linebacker Vontaze Burfict, receiver
Gerell Robinson
, receiver
Kerry Taylor
, defensive end James Brooks, defensive tackle Williams Sutton, defensive tackle Saia Falahola, defensive end Greg Smith and linebacker Brandon Magee.
March, 3, 2010
3/03/10
9:14
AM ET
By
ESPN.com staff
| ESPN.com
The third of a 10-part series that looks at where Pac-10 teams are strongest and weakest as they begin spring practices.

Arizona State
Strong:
Defensive front seven
Why it's a strength
: The Sun Devils take some significant hits on defense, losing seven starters, including five of their top six tacklers, but the young talent coming back is impressive, particularly up front. Start with the defensive line. Sure, end Dexter Davis is gone, but he's the only departure on the three-deep. And here's a guess that tackles Lawrence Guy, William Sutton and Corey Adams take a step forward in 2010. Linebackers Mike Nixon and Travis Goethel must be replaced, but rising star Vontaze Burfict returns inside and Gerald Munns, Brandon McGee and Shelly Lyons have experience. Count on this: The Sun Devils, owners of the conference's No. 1 rush defense in 2009, won't be easy to run against again next fall.
Weak
: Offense
Why it's a weakness
: It will not be a pattern of this feature to indict an entire side of the ball, but the Sun Devils have huge issues on offense for a third consecutive season. Last year, they ranked eighth in the Pac-10 in scoring and ninth in total offense. And only four starters are back this spring. Ouch. Skill positions? There's uncertainty at quarterback. The top two receivers are gone, as is starting tailback
Dimitri Nance
. The line? Three starters need to be replaced, including the unit's leader in 2009, tackle Shawn Lauvao. Answers may be found this spring.
Steven Threet
and
Brock Osweiler
will battle at quarterback, while Oregon transfer
Aaron Pflugrad
will immediately bolster the receiving corps. Injuries the past two seasons mean lots of returning guys on the line have experience. And there are plenty of choices at tailback. Still, there's a lot of uncertainty here.
September, 22, 2009
9/22/09
1:44
PM ET
By
ESPN.com staff
| ESPN.com

Posted by ESPN.com's Ted Miller
TEMPE, Ariz. -- Arizona State has been utterly dominant while winning its first two games. The Sun Devils' defense is ranked No. 1 in the nation. The offense ranks ninth with 44 points a game.
Now, take that information, crumple it up and throw it out the window. Coach Dennis Erickson knows that pounding on Idaho State and Louisiana-Monroe means little.
| | |
| --- | --- |
| | |
| | Matt Kartozian/US Presswire |
| | Saturday's game at Sanford Stadium will be Danny Sullivan's first start on the road. |
A trip to No. 17 Georgia on Saturday? That's a bit of an upgrade in competition.
"We'll find out a little bit more about what we are as a team, that's the bottom line," Erickson said. "It doesn't matter who they are or what their rank is. We're [asking] right now, 'where are we at as a football team?'"
Erickson repeated variations of those sentiments to a variety of questions: Georgia will be a measuring stick for the Sun Devils.
If they manage to win, or least keep things competitive into the fourth quarter, they might become a top-half of the Pac-10 team, though the Bulldogs probably aren't in the class of California or USC this season.
If they can't keep up, then Arizona State likely falls in with the gaggle of teams scrapping for six wins and bowl eligibility in the lower-middle, bottom-third of the conference.
Of course, one game, win or lose, doesn't a season make. It's possible the Sun Devils in Athens, Ga., won't be anything like the Sun Devils in November. Still, this is the first chance to evaluate Arizona State against a first-rate BCS conference team.
Georgia opened a can of whup butt on the Sun Devils last year, the 27-10 count not doing justice to the Bulldogs dominance.
Georgia took a 21-3 lead into halftime and mostly coasted home. They outrushed the Sun Devils 176 yards to 4 and outgained them overall 461-212.
"They pretty much dominated us," Erickson said. "We didn't play very well and they played well."
The first question is how Arizona State quarterback
Danny Sullivan
will handle his first start on the road in one of the nation's tougher venues -- "Between the Hedges" at Sanford Stadium.
That's impossible to say. Sullivan is a senior, but the last time he faced a fast, elite defense, he crumbled after coming off the bench in 2008 at USC.
While the Georgia defense doesn't compare to USC -- it's given up 34 points per game -- two of those games were on the road, so the home crowd should help.
"Until you go in there and experience it, you just don't know," Erickson said.
On the other hand, this is a different group of Sun Devils. The defense is deeper and faster than last year's and, while there's lots of experience, a youth movement led by tackles Lawrence Guy, a sophomore, and William Sutton and
Corey Adams
as well as linebacker Vontaze Burfict -- all true freshmen -- is most intriguing.
Yet the biggest difference might be on the offensive line.
In 2008, the Sun Devils started converted defensive lineman Jon Hargis at left tackle and 289-pound redshirt freshman Adam Tello at right tackle. Things didn't go well for either.
A far more experienced Hargis is now the left guard, while Tello is his backup. NFL prospect Shawn Lauvao moved out to left tackle, while guard Matt Hustad and tackle Tom Njunge give the Sun Devils far more athleticism on the right side. Neither was healthy last year.
Is it a great offensive line? No. But last year's unit didn't have a chance -- the Sun Devils ranked 113th in the nation in rushing and surrendered 34 sacks (109th in the nation). This time around, it might.
"We're much more solid, we have more depth," Erickson said. "We're playing a little bit better, technique-wise and so forth. We made some moves to get our best players in the right positions. As we go through the next 10 weeks, if we lose a guy or two, we'll put people out there who play pretty well. I like where we're at. Are we a great offensive line? No, but we're getting better all the time and we're better now than we were at this time last year."
Georgia, meanwhile, entered the season having to replace running back Knowshon Moreno and quarterback Matt Stafford, NFL first-round picks who dominated the action in last year's game. The Bulldogs seem to be getting their legs under them after opening with a loss at Oklahoma State. They had just 257 total yards against the Cowboys but piled up 530 yards Saturday in their win over Arkansas.
"
Joe Cox
is playing extremely well at quarterback," Erickson said. "The last two weeks, I didn't see any drop-off."
A key matchup will be Bulldogs sophomore receiver
A.J. Green
against the Sun Devils secondary, particularly cornerback Omar Bolden. Last year, Green dominated Bolden, catching eight passes for 159 yards and a touchdown.
Erickson's advice to his team on handling the frenzy of a road game in an SEC stadium? Have fun.
"You talk to our players about it and they're excited to go down there and experience [that]," he said. "It's going to be fun; they're looking forward to it."
Sounds like the Sun Devils are eager to find out who they really are in 2009.
August, 13, 2009
8/13/09
7:27
PM ET
By
ESPN.com staff
| ESPN.com
Posted by ESPN.com's Ted Miller
Things I've been reading:
April, 20, 2009
4/20/09
12:40
PM ET
By
ESPN.com staff
| ESPN.com
Posted by ESPN.com's Ted Miller
Arizona State's offense managed one major highlight -- a 35-yard touchdown run from Ryan Bass -- but the Sun Devils' defense dominated the spring game Saturday.

Read full accounts here and here.
Some main points:
Senior

Danny Sullivan

completed only 8 of 16 passes for 42 yards, but he didn't throw an interception as

Samson Szakacsy

(9 of 14 for 50 yards) and true freshman Brock Osweiler (7-14, 66 yards, two picks) did. Sullivan will enter the fall No. 1 on the depth chart, but the

biggest news

out of the weekend at the position was the departure of sophomore

Chasen Stangel

, who had fallen to No. 4. He is the second scholarship quarterback to bolt this spring, joining

Jack Elway

, though Elway will remain at ASU.

How good was the Sun Devils' defense? From the Arizona Republic: "There were three interceptions (Ryan McFoy, LeQuan Lewis and Josh Jordan), a fumble recovery (Clint Floyd), seven sacks (including a pair by Jamarr Robinson), four failed fourth-down conversions and 10 punts in as one-sided a conclusion to spring practice as anyone would care to witness."

The news wasn't all good for the defense: Defensive tackle Otis Jones tore his ACL. The redshirt freshman would have at least added depth on the defensive interior, and his loss increases the pressure for incoming freshmen Corey Adams and William Sutton to be as good as advertised.
February, 10, 2009
2/10/09
12:42
PM ET
By
ESPN.com staff
| ESPN.com
Posted by ESPN.com's Ted Miller
Jarrid Bryant, a 6-4, 185-pound wide receiver from Salisbury Prep School in Salisbury, Conn., has signed a national letter of intent with Arizona State, the school announced Tuesday.
That increases the Sun Devils 2009 recruiting class size to 22.
Bryant focused on basketball at Centennial High School in Corona, Calif., and didn't play football as a senior. At Centennial, he was classmates with current Sun Devils Ryan Bass, Shelly Lyons and Brandon McGee and fellow 2009 signing classmates Vontaze Burfict and William Sutton.
He played cornerback and receiver at Salisbury Prep but will play receiver at ASU. He caught 10 passes for 140 and two touchdowns in 2008 while playing in a run-oriented offense. He also scored five times on kickoff returns and three times on punt returns.
He picked Arizona State over Boston College, California and Kansas.