August, 8, 2014
8/08/14
9:16
AM ET
Somewhere on a playground -- probably in Texas -- there are kids arguing about whose father was the better football player.
"My dad was better than your dad."
"No, my dad was
obviously
better than your dad. If Coach woulda put him in in the fourth quarter, he would've been a state champion. No doubt. No doubt in my mind."
Barry J. Sanders was never one of those kids, but if he was the argument would have ended pretty quickly: "1988."
ESPN.com readers voted this week
and determined it was that year in which Sanders' father, the elder Barry Sanders, turned in the best season in college football history. There were plenty of good options to choose from -- including Vince Young's 2005 season at Texas, which was the other finalist -- but the whole time there was only one common-sense choice.
Pops isn't one to talk much publicly about that season -- it's just not his style. But with his son, who is now fighting for playing time in a crowded Stanford backfield, he's surely spoken at length about the year Dad won the Heisman Trophy, right?
"Not directly, no," the younger Sanders said this week.
Of course, that doesn't mean he hasn't gone out and done his own research. He's watched plenty of highlight tapes and read up on it as best he could.
When asked what he knows about that season, Sanders was quick to rattle off his father's accomplishments, one after the next.
"I know that he broke or set 38 NCAA records that year," Sanders said with pride. "And he had something like 2,600 yards, not including the bowl game and almost 2,900 and 40-plus touchdowns including that bowl game.
"Incomparable year to any other running back in the history of the game."
And there was really no need to limit it to just running backs.
Sanders said the football discussions he has with his father, a College and Pro Football Hall of Famer, are more about how he should have fun playing the game. They talk about competing and about what he learned from his experiences.
Coincidentally, 1988 also was the final year of a four-year stretch in which Willie Shaw, the father of Stanford coach David Shaw, was on the coaching staff for the Detroit Lions. The following year, the Lions made Sanders the No. 3 overall pick in the NFL draft and Shaw moved on to Stanford, where he was named the Cardinal's defensive coordinator.
December, 30, 2013
12/30/13
4:00
PM ET
Those who know David Shaw well believe he might coach Stanford for the rest of his career. He played and graduated from Stanford. He loves coaching the program. His family loves the Bay Area. His parents live just down the road. He makes a pretty darn good living.
But his success at Stanford, which includes three consecutive BCS bowl games, including consecutive Pac-12 titles, makes him an attractive candidate for the coaching rumor mill, whether it's Texas or the NFL spots that have opened up.
Shaw again was asked about his potential interest during a news conference Monday before Wednesday's Rose Bowl game presented by VIZIO, and he reiterated his desire to stay at Stanford. He said he hasn't been contacted by anybody.
"I have no desires to pursue another job," Shaw said.
While the redundant questions can be annoying, Shaw admitted that the questions about big-time coaching vacancies isn't a bad thing for himself or his program. It means he is doing something that other folks wish he'd do for them.
[+] Enlarge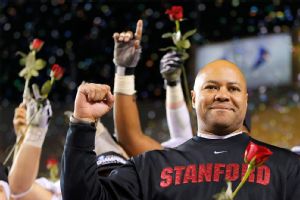 AP Photo/Matt YorkDavid Shaw admits he's flattered to be mentioned as a candidate for other big jobs, but he says he's perfectly content at Stanford.
"It's unbelievably flattering," he said. "I think it's really cool. I think honestly it continues to shed light on our program, so I don't mind that it keeps happening. It keeps eyes turning toward Stanford, which I think is really cool. I told our players, to be honest, it's a testament to what they've accomplished, it's a testament to what our seniors have helped build at Stanford, to win consistently, win the right way, produce high-character young men and have a football game that's exciting to watch. So I don't mind it."
Shaw added, "I have not and don't plan on interviewing with anybody."
Recalling Skov suspension
: Michigan State will be without star linebacker
Max Bullough
, the mental and emotional leader of the Spartans' highly rated defense, because of a suspension for undisclosed reasons.
Shaw was asked if he'd ever been in a similar situation, suspending a star player. Shaw immediately recalled linebacker
Shayne Skov
's suspension for a DUI in February 2012. Skov was suspended from the team during the offseason and the 2012 opener against San Jose State.
"Being a head coach it's your responsibility, and actions like that as a head coach, honestly, even help you in your locker room because guys know where the line is and they know that nobody is bigger than the program," Shaw said. "I applaud coach [Mark] Dantonio for that because it doesn't happen everywhere, and there are a lot of places where you get a slap on the wrist and they bench you for a practice and then play you in the game."
Shaw said he thinks Skov's suspension ultimately was good for him.
"There's no question about it," Shaw said. "I think it set him on the path to where he is now as a person and as a player."
Been there done that?
As in many things, experience helps. But it's more about the week of preparation than game day, Shaw said.
"I think the only real advantage, if there is one, is during the week," he said. "Our guys understand the schedule and know the schedule, have been through the schedule. … But once we get to game day, Michigan State has played in big games, played in a big game against Michigan, Ohio State. They've been on that big stage. I don't think the game is going to be any different."
Shaw's favorite team?
Shaw was asked which college football team he rooted for growing up.
"It's almost like a setup question that I had somebody ask me," he said.
Because Shaw's father, Willie, was a college and NFL coach, Shaw ended up rooting for several teams, but he said his first love was Stanford, where his dad coached from 1974-76 and 1989-91 during a 33-year career.
"Those are some of my earlier memories," said the 41-year-old Shaw.
Shaw also admitted that he, at various times, rooted for both Michigan and Michigan State, when his dad coached for the Detroit Lions, and Arizona State, when his dad coached the Sun Devils.
"I never had a pure allegiance to one university as far as college football goes, but the one that I always went back to and enjoyed watching when I was a kid was Stanford, and that was because of our history with the school," he said.
December, 30, 2011
12/30/11
7:45
PM ET
SCOTTSDALE, Ariz. -- Stanford University has always prided itself on being at the forefront of social change – and that's evident with its history of hiring minority coaches.
At Friday's Fiesta Bowl media day, David Shaw, the third African-American head football coach at Stanford, said he's proud of the progress minority coaches have made across the college football landscape.
"I am. I really am. … No question," Shaw said. "I give a lot of credit to Bill Walsh. He has always done a lot for minority coaches. And Stanford likes to be at the forefront of a lot of different things. And it is kind of the way we do business. I'm very proud of my school."
Shaw said much of his upbringing and influence to become a football coach comes from his father, Willie, also a longtime coach in the NFL and college.
"It's something I follow with my father being a coach," he said. "I credit my father, Tyrone Willingham, Denny Green, a lot of those guys that, gosh, did a good job and showed that they could win games so that opportunities for the rest of us are more prevalent than they were before.
"I think the athletic directors, there has been, gosh, last seven or eight years, a hard push by athletic directors to make more guys like me available, get to know more guys like me and give them opportunities when they deserve them."
SPLIT TITLE?
Asked what the ranking landscape of college football will look like should Alabama beat LSU in the national championship game, Shaw said he didn't know, nor did he really care.
"That is a great question that I don't have an answer for," Shaw said. "For us, we just concentrate on this game. We don't care where we are ranked after this game. We don't care what happens where anybody else says that we are. It just means that we are Fiesta Bowl champs. That's all we can care about. As far as the championship game, that's great, people will watch that and enjoy that, but we are just concentrating on our game."
WARY OF TURNOVERS
While Oklahoma State's defense gets knocked for the yards it gives up, one stat that is indisputable is turnovers. With 23 interceptions on the year and 42 total turnovers, the Cowboys rank second nationally in turnover margin. That's a scary thought, said Stanford quarterback
Andrew Luck
.
"Forty-two takeaways is a statistic that doesn't lie," Luck said. "When they have to make a play, they'll make a play. They can swing momentum. We have to take care of the football or else you see a guy in the other jersey going the other way."
CHALLENGE ACCEPTED
Oklahoma State wide receiver
Tracy Moore
didn't know that Stanford's secondary hadn't allowed an opposing receiver to gain 100 yards this season. He does now. He also didn't know that only eight wide receivers have reached the end zone against the Cardinal this season. He does now.
"That definitely sounds like a challenge to me," Moore said. "I know plenty of guys on this team,
Justin (Blackmon)
, Coop (
Josh Cooper
), knowing that, now we're licking our chops.
"All of that happened before. They gotta play us now."
June, 20, 2011
6/20/11
2:30
PM ET
By
ESPN.com staff
| ESPN.com
Blue Horseshoe loves Anacott Steel.
January, 14, 2011
1/14/11
9:51
AM ET
By
ESPN.com staff
| ESPN.com
Quotes on new Stanford coach David Shaw provided by the university.
QB Andrew Luck
On the hire:
Very excited. He's a Stanford man. I've known that since he was recruiting me coming out of high school. He has a deep, abiding love and respect for Stanford. You can really tell that. He's going to do a wonderful job with this program and the players are behind him 100 percent."
"He's definitely a lot different than Coach [Jim] Harbaugh in a lot of aspects. I don't think it's necessarily a bad thing. We'll have to wait and see what motivation is like from the head coach and how the recruiting is. I have a lot of faith that it will be successful and good. It's just different personalities and people go about things differently. I wouldn't say there's one right way to do it.
Did players favor him over other in-house candidates?
"I wouldn't say there was one more favored than another. We all had great relationships with all the coaches. Obviously, I think any one of the three would have been great for the players, but Shaw is the one."
On a smooth transition:
"It's nice not having to learn a new playbook, to be able to hit spring ball running like you were just on the field in the bowl game. I think that definitely helps in terms of making a smooth transition."
Your dealings with Coach Shaw and his input?
"I saw him all the time. I don't know the inner workings of the whole brain trust that was up in the coaches' office but Coach Shaw has always been a great coach since I've been here. He's always had a big hand in the offense."
LB Shayne Skov
"Coach Shaw has been a coach guys have looked up to since I've been here. He is not only a great coach but somebody that allows the program to hit the ground running for next season."
Bob Bowlsby, Stanford Athletic Director
"David Shaw is exactly the right person to lead our football program at this time. David has the experience, intellect, coaching skills and organizational abilities to be a tremendous head coach. He understands and embraces the combination of world class academics and world class athletics that is required at Stanford."
John Hennessy, Stanford University President
"David Shaw has been a large part of the Stanford football program's success over the past four years, and he has all of the experience and qualities to continue the momentum into the future. He is a Stanford graduate and a long-time member of our Stanford family who has personally been part of our scholar-athlete tradition. He understands our values. He also has a wealth of experience outside of the university, and broad respect among both those in his profession and on campus. I am excited about the prospects for Stanford football under his leadership."
Former Stanford Assistant and David's Father, Willie Shaw
"Bill Walsh told me something one time, 'Willie,' he says, 'Your son is one of the best players I've ever coached.'
"I said, 'Is that right?'
"He says, 'College or pros, he was the one guy that when he went into a game, no matter what position he was at, he could tell you the coverage, he could tell you what the quarterback should have seen, the reads that should have made, what routes should have been run. He'd tell you exactly what he saw.'
"That's why he's a good coach."
On being a finalist [in 1992] for the Stanford head coaching and today's news:
"It's come full circle. It's so rewarding to see this happen 18 years later. Now I'm thinking, I didn't get it before, maybe that was why. This is even more rewarding than if I had gotten it. I'm really so proud."
January, 13, 2011
1/13/11
1:37
PM ET
Jim Harbaugh led Stanford football out of the Pac-10 basement into the nation's elite. Now it's David Shaw's job to maintain that growth.
[+] Enlarge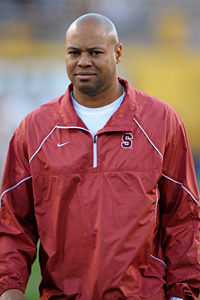 Kirby Lee/Image of Sport-US PresswireNew Stanford coach David Shaw has big shoes to fill as Jim Harbaugh's successor.
Stanford announced Thursday that Shaw, the Cardinal's offensive coordinator since 2007,
will replace Harbaugh as the Cardinal's head coach
.
A news conference is scheduled today for 4:30 p.m. ET.
Hiring Shaw won't generate much national sizzle, particularly after Harbaugh, who bolted for the San Francisco 49ers, became a skyrocketing national figure over the past two seasons. But it will be a popular choice among Stanford players, administrators and top boosters.
Further, it insures continuity for a team that is likely to be ranked in the preseason top 10, largely because of the return of quarterback
Andrew Luck
.
"David Shaw is exactly the right person to lead our football program at this time," athletic director Bob Bowlsby said in a statement. "David has the experience, intellect, coaching skills and organizational abilities to be a tremendous head coach. He understands and embraces the combination of world class academics and world class athletics that is required at Stanford.
"David has made a substantial contribution to the recent success of our program and our team has great confidence in him. I could not be more excited to work with David and to assist him and his staff in leading our football program to high achievement in the years ahead."
Shaw, 38, played receiver at Stanford from 1991-94 and is the son of a former Cardinal assistant, Willie Shaw. He was picked over two other members of Harbaugh's former staff: associate head coach Greg Roman and defensive coordinator Vic Fangio.
Stanford also interviewed Yale coach Tom Williams, a former Stanford linebacker, and pursued Boise State coach Chris Petersen, who opted to stay in Boise.
The first big question for today: Which members of Harbaugh's staff will remain and coach under Shaw? Roman and Fangio will not return, ESPN.com's Ivan Maisel has learned. They will have numerous opportunities elsewhere, particularly in the NFL. Either or both could follow Harbaugh to the 49ers. So who does Shaw have in mind to fill the considerable voids left behind? Both Roman and Fangio did brilliant jobs this past season.
Of immediate concern for Shaw is a major on-campus recruiting weekend. Stanford's class is ranked
17th by ESPN recruiting
, and Shaw must reassure previously committed players and get the class signed intact on Feb. 2, national signing day.
Shaw has
extensive NFL and college experience
. He coached with Harbaugh at San Diego in 2006, but from 1997-2005 he served stints with the Philadelphia Eagles, Oakland Raiders and Baltimore Ravens.
In 2006, Stanford's offense stank: It ranked 118th in the nation -- second to last -- in both scoring (10.6 ppg) and total offense (232 yards per game).
The past two seasons, Stanford's offense has been outstanding. It ranked first in the Pac-10 in 2009 in total offense (427.6 ypg) and second in scoring (35.5 ppg). This year, despite the loss of running back Toby Gerhart, the 2009 Heisman Trophy runner up, it ranked 14th in the nation in total offense (472.5 ypg) and ninth in scoring (40.3 ppg).
Of course, deciding who deserves credit for that is difficult. Harbaugh officially called plays, but the scuttlebutt around the program was that Roman was the architect of many creative formations and blocking schemes the Cardinal used over the past two seasons. Harbaugh was always intentionally vague about how the offensive coaching functioned.
Beyond sophisticated X's and O's, Harbaugh established a tough-guy, blue-collar culture. Shaw was a part of that and surely will try to retain that culture. His first task, other than recruiting, is surrounding himself with a staff that connects with the current players.
Shaw's hiring won't reverberate nationally. The leading response will be, "Who?" Heading into the first season of the Pac-12, the general reaction from other teams is likely this: "Yahoo! No more Harbaugh!" More than a few folks will wonder if a safe, internal promotion won't lead Stanford back down in the conference pecking order.
Shaw's marching orders, therefore, are simple: Maintain the program's growth and make sure that the 12-1 finish this year does not become a one-and-done historical anomaly.
January, 7, 2011
1/07/11
5:38
PM ET
Jim Harbaugh led Stanford to its best season in the modern era. Now he's off to a new challenge.
Harbaugh has agreed to a five-year, $25 million contract to become the
San Francisco 49ers
' head coach,
according to reports
.
It appears Stanford fought to retain Harbaugh. According to ESPN NFL analyst Chris Mortensen, Harbaugh met with top Stanford officials Thursday, and the school increased its contract offer from December.
The late gambit wasn't enough. He will replace fired coach Mike Singletary.
[+] Enlarge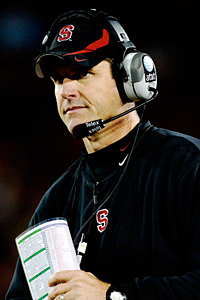 Jason O. Watson/US PRESSWIREJim Harbaugh was 29-21 in four seasons at Stanford, including a 12-1 record this past season.
But who will replace Harbaugh? The initial reaction from many Stanford fans: Nobody. Harbaugh was special. His shoes are just too big.
When Bob Bowlsby hired Harbaugh after the Cardinal went 1-11 in 2006, most folks went "What?" Oh, people knew who Harbaugh was -- a longtime NFL quarterback -- and it was interesting to learn how successful he was at San Diego, but few thought much of the choice. And when Harbaugh barked, "I vow I will attack this endeavor with enthusiasm unknown to mankind," he sort of seemed, well, slightly manic.
And Stanford is not a manic sort of place.
Harbaugh was
manic
. And he also turned out to be a hell of a coach and a hell of a motivator. Sure, he struck gold when he signed quarterback
Andrew Luck
, but Harbaugh deserves all the credit for hiring an outstanding staff, recruiting well and rebuilding a program into a surprising national power.
His first season, his outmanned Cardinal beat No. 2 USC 24-23, despite being a 41-point underdog. That -- the 4-8 finish wasn't particularly inspiring-- was only a first hint of what was to come.
He went 5-7 his second year, 8-5 his third and 12-1 this season. Along the way, he sold his players on a blue collar work ethic, announced, "We bow to no program at Stanford," and made good on that by running up the score on USC in 2009 and taunting Trojans coach Pete "What's your deal?" Carroll afterwards.
What's Harbaugh's deal? It doesn't feel hyperbolic to say his marriage with Stanford -- albeit brief -- was lightning in a bottle. Coaching magic.
It's also understandable why he left. His stock will never be higher. Harbaugh is as competitive a guy as you'll ever meet. He wants to test himself all the time and on the highest level. If you coach football, that's the NFL.
And know what? If he washes out -- if the 49ers locker room knows only enthusiasm known to jaded rich guys -- then no matter. Harbaugh's track record in college is so good he'd again be a hot coaching prospect should he want to return in the future.
As for Stanford going forward, there is one hire that would immediately quash the despondency among fans who just days ago were flying high: Boise State's Chris Petersen. There are more than a few folks who believe this is the sort of job that could lure Petersen away from the Broncos. And the cerebral Petersen would be a good fit.
The top internal candidate would be offensive coordinator David Shaw. Shaw would bring continuity for quarterback Andrew Luck -- no, Luck won't reconsider his decision to return because of Harbaugh's move -- and likely would try to maintain the Harbaughian culture. He's a Stanford graduate and has significant NFL coaching experience. His father, Willie, was an assistant coach at Stanford from 1974-76 and again from 1989-91.
While hiring Shaw might not have much pizazz with fans and media, it would resonate positively in the locker room. It also would continue a Stanford tradition of giving black coaches an opportunity. At present, there are no black head coaches in the Pac-10(Colorado joins next year in the Pac-12 with Jon Embree). And, yes, that is still something worth raising an eyebrow over.
Also off the current staff: Greg Roman. The associate head coach was responsible for much of the Cardinal's offensive creativity. [Edit note: We inadvertently left Roman out of our first draft, which was an oversight].
There is a third option: Bowlsby again going off the grid. Let's face it: He's had plenty of time to contemplate who will replace Harbaugh. The general feeling all season was Harbaugh was going to bolt, either to Michigan or the NFL. So Bowlsby surely isn't flat-footed on the news today. Here's a guess he's already sent out some feelers.
Pause for a moment, though, Stanford fans. What a week, eh? Your Cardinal posts a dominant performance in a victory over Virginia Tech in the Discover Orange Bowl -- yeah! -- Luck announces his return -- yeah! -- scuttlebutt starts to surface that Harbaugh is seriously considering returning to the Farm -- yeah! -- and then (boom) it's announced that Harbaugh is headed across the peninsula to the 49ers.
Boo!
But don't get too morose. There is no reason to believe that Stanford is headed back to 1-11, to Buddy Teevens and Walt Harris. A winning culture has been established, much more so than when Tyrone Willingham left for Notre Dame in 2001, knowing full well his recruiting had been sub-par. The right coach has a good shot to maintain that culture.
Stanford is never going to be a team that regularly goes 12-1. It wasn't headed that way even with Harbaugh. But the Cardinal can and should remain competitive at a high level on a regular basis.
It just needs to attack this endeavor with enthusiasm unknown to mankind.