November, 23, 2012
11/23/12
4:00
PM ET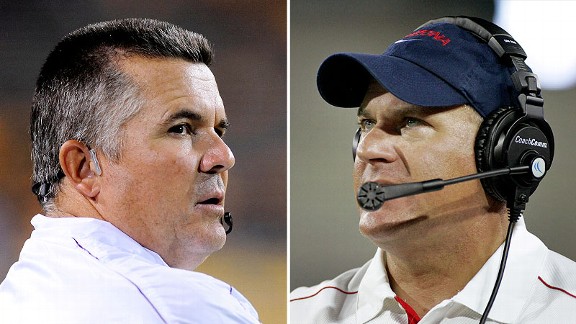 US Presswire, AP PhotoFirst-year coaches Todd Graham and Rich Rodriguez face off Friday in the Territorial Cup.
There are two coaching approaches these days when it comes to preparing for rivalry games.
The new school -- Chip Kelly school, really -- preaches that every game is important and that rivalry games are only hyped up for fans, not about coaches and players.
The old school -- the Woody Hayes school -- preaches that a great season is ruined by a loss to a rival and a bad season is transformed by a victory.itroial
It seems appropriate then that the Territorial Cup between Arizona and Arizona State, which the Pac-12 blog believes is one of the nation's most underrated in terms or pure bitterness, would feature two first-year coaches that represent these opposing approaches.
Arizona coach Rich Rodriguez is new school.
"We prepare for every game with the same focus and intensity, and we'll be doing the same against Arizona State," he said. "After I got hired, I heard about the rivalry from all the fans and alumni during the offseason. We're really just treating this game like any other game, but of course, there will be a lot more attention because of the rivalry."
Arizona State coach Todd Graham is old school.
"It is the biggest game of the year, every year," he said. "It is about Arizona State University winning the Territorial Cup. That's it."
Part of Graham's approach can be traced his his friendship/mentorship with Sun Devils legend Frank Kush, whose name is probably in the many dictionaries next to the term "old school."
"[Kush] has let me know, just like everybody else, that you can be 11-0 and if you don't win this game, you have had an unsuccessful season," Graham said. "This is what college football is all about, rivalry games. Nothing has more passion than this one. I know, hands down, that to our fan base -- to the Sun Devil Nation -- that this means the most to them and we are working hard to represent them."
Further, there's history between Rodriguez and Graham. They coached against each other in the 1993 NAIA national championship game, and Graham briefly worked for Rodriguez at West Virginia.
There is no public evidence that these guys detest each other. But the Pac-12 blog feels comfortable telling you their relationship isn't exactly warm, and that isn't exclusively based on their fans really, really not liking each other.
Each was asked about the other this week. Here are their responses from the official news conference transcripts.
Rodriguez: "We saw each other at a couple events up in Phoenix. I don't have a whole lot of interaction with a lot of people other than the people who I work with every day. It is just the way that the coaching profession is. I hired him at West Virginia because I knew him from the recruiting trail. We were also starting something new at West Virginia, and he did a good job. After two years, he moved on and started to become a head coach shortly after that."

Graham: "We knew each other from competing against each other in 1993 when we played for the National Championship, when he coached at Glenville State and I was at East Central. I also worked there [at West Virginia] for a brief time, but that is it."
Doesn't sound like they will go camping together anytime soon, eh?
It would be fair to say that the Sun Devils are much better on defense than the Wildcats, but the Wildcats offense has often appeared unstoppable, other than a lost trip to Eugene, Ore. Arizona's
Matt Scott
is one of the best dual-threat quarterbacks in the nation, while running back
Ka'Deem Carey
is trying to win the national rushing title.
Graham has no problem praising Carey.
"He is as good as there is," he said. "He is, no question, the guy you have to stop and it is a tall order to do that. Not many people have even come close."
Of course, Sun Devils quarterback
Taylor Kelly
& Co. have been pretty darn good this year averaging 36 points a game. The Wildcats defense gives up 33.6 points and 488 yards per game. So this one might be a high-scoring affair.
Just another game? Well, that's very new school, but don't expect it to feel like that tonight in Tucson.
December, 20, 2010
12/20/10
2:30
PM ET
By
ESPN.com staff
| ESPN.com
The Grinch hated Christmas — the whole Christmas season.
Oh, please don't ask why, no one quite knows the reason.
It could be, perhaps, that his shoes were too tight.
It could be his head wasn't screwed on just right.
But I think that the most likely reason of all
May have been that his heart was two sizes too small.
November, 14, 2010
11/14/10
1:21
AM ET
BERKELEY, Calif. -- The narrative trajectory of a national championship run is rarely a straight line. There are zigs and zags even during an undefeated season. Some games are prettier than others. Sometimes the biggest statements are made in unexpected ways. It's just the way college football is.
So perhaps it's fitting that the offensive juggernaut that is top-ranked Oregon made its most powerful statement on its worst night of the season by not scoring. The flashy Ducks, who are all about hanging half-a-hundred on foes with lightning-quick drives that make bathroom breaks risky for fans, became yeomanlike in their final possession of a
15-13
victory over California, slowing the pace, grinding out first downs and burning the clock.
Oregon, clinging to a two-point lead, took over at its 20-yard line with 9:25 left in the game, and 18 plays later -- 17 runs -- quarterback
Darron Thomas
took a knee at the Bears' 15-yard line. Game over. Ducks survive.
It was the Ducks' only drive of the night of more than 46 yards. But somewhere Woody Hayes is smiling.
"Coach [Chip] Kelly told us in the huddle before we went out there that this was going to be the drive of the year; this was going to be the drive we remember," Thomas said. "Exactly what he told us was, 'This is going to be the drive you tell your family about 30 years from now.'"
[+] Enlarge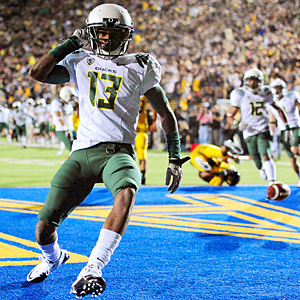 Kyle Terada/US PresswireOregon found a way to win without its high-scoring offense against Cal. Cliff Harris scored the Ducks' first touchdown on a 64-yard punt return.
Oregon is 10-0. If they win three more games -- two regular season and the national title game -- they will have plenty to tell their children and grandchildren about.
But this was not the Ducks we've seen this season, at least offensively. They looked vulnerable. They were getting whipped at the line of scrimmage. California was penetrating up front and blanketing Ducks' receivers in the secondary with man-coverage -- even after losing starting cornerbacks Darian Hagan and Marc Anthony to injury.
"It was ripe for the upset," Cal safety Chris Conte said. "We knew that if we came out and executed, this team was very beatable. Watching film,we saw their people making mistakes. We knew if we held them to no big plays, we'd be right in this game. We should have won."
That was a popular theme among the Cal players. But it also is curious that a team that can play with top-ranked Oregon can lose by 28 to Oregon State, the Beavers' only win in their past four games.
Oregon was held to a season-low 317 yards. But it made four of its eight successful third-down conversions on the final drive.
And after 400 words, perhaps we should take note of the Ducks' defense. It held the Bears to just 193 yards, 49 of which came on their first possession, when they took a 7-0 lead after the Ducks failed on one of their six fourth-down conversion attempts (they made four).
"You see the true character of a team when it's not 50-7 or whatever," defensive tackle Brandon Bair said. "It's awesome to see that if our offense struggles, our defense can step up."
The Ducks' defense was certainly helped by the absence of a Cal passing game. Quarterback
Brock Mansion
, making his second start since
Kevin Riley
went down with a season-ending knee injury, completed 10 of 28 passes for 69 yards. He didn't throw an interception, and he made a couple of nice passes, but it was clear that running back
Shane Vereen
, who rushed for 112 yards on 26 carries, was the Bears' only offensive weapon.
Oregon didn't help itself much. It missed two field goals; the first kicker Rob Beard has missed this season. It had eight penalties for 62 yards. And Thomas gifted the Bears a TD when he fumbled into the end zone in the third quarter while cocking to throw, and nose tackle Derrick Hill recovered for a touchdown.
For the first time this year, Oregon was challenged well into the fourth quarter. It was a new experience. Kelly, however, said his team never showed any signs of tightness, and his players agreed.
"We were never worried or thinking about losing," Thomas said. "We never thought about losing."
As for style points, none of the Ducks seemed too concerned that the judges -- the pollsters, the computers, the BCS standings -- might dock them for failing to win in their typical fancypants manner.
"At the end of the season, they are not going to say, 'How many points did they beat Cal by?'" said running back
LaMichael James
, who finished with 91 yards on 29 carries.
This week, though, they are going to ask about James. The Heisman Trophy candidate had to be helped off the field in the game's waning moments. Afterward, he was wearing a boot on his left foot and was on crutches.
"I'm good," he said. "I'll be at practice next week."
The Ducks are off until Arizona visits Autzen Stadium on Nov. 26. They are moving into territory that the program and long-suffering fan base have never experienced before.
So forgive Kelly and his players for not beating themselves up for winning ugly.
"A win's a win," Kelly said. "We're happy. We're 10-0."
November, 4, 2010
11/04/10
6:24
PM ET
Woody Hayes was a rivalry guy. When he was Ohio State's head coach, he wouldn't even say "Michigan." He said, "that team up north." He famously refused to fill up his gas tank while on a recruiting trip in Michigan. When Jim Tressel was hired to fill that legacy, he immediately endeared himself to Buckeyes' fans by promising something special "in 310 days in Ann Arbor, Mich., on the football field."
Oregon coach Chip Kelly is not a rivalry guy. The hated
Washington Huskies
visiting Kelly's Ducks on Saturday? Pffft.
"We have 12 rivalries," Kelly said.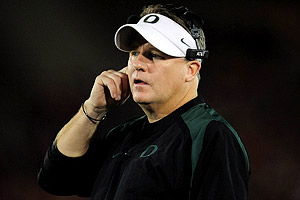 Gary A. Vasquez/US PresswireDon't tell Oregon coach Chip Kelly that Washington is a rival. Kelly contends the Ducks have 12 rivals.
Kelly previously said the Ducks play "12 Super Bowls," so his "every game is critical" philosophy is at least consistent.
Fact is, the Huskies-Ducks rivalry, long one of the nastiest and most underrated in the nation, has dramatically shifted. Washington was once the power that barely even noticed Oregon, which hated the Huskies sense of entitlement -- and winning -- in the Northwest (and a certain UW
vote in 1948 on who goes to the Rose Bowl
was a bit of an issue, too). But in the mid-1990s, things started to change. Oregon became competitive, and Huskies' fans didn't like that. The rivalry may have peaked when Rick Neuheisel became Washington's coach in 1999. Ducks fans already disliked Neuheisel from his days of Colorado, so it was a perfect stir to an already boiling pot.
Those were fun times
because both programs were national powers. The rivalry mattered.
Now? Not so much. Oregon has won six in a row in the series, each by at least 20 points. The Huskies appear to be headed toward an eighth-consecutive non-winning season. They are coming off an embarrassing 41-zip loss to Stanford inside a stunned Husky Stadium. Moreover, struggling quarterback
Jake Locker
, the unquestioned face of the program, will be out Saturday due to a broken rib, and redshirt freshman
Keith Price
will make his first career start in boisterous Autzen Stadium.
Uh-oh
.
Huskies coach Steve Sarkisian, therefore, fielded no questions about the glorious rivalry with the Ducks during a lengthy news conference Monday.
"I think more important for our program right now is focusing on us and not necessarily on the
Oregon Ducks
," Sarkisian said.
Meanwhile, Oregon, after finishing ranked in the top-11 the previous two seasons, is a national title contender. It's got bigger things going on than trash-talking a team that it's favored to beat by five touchdowns.
"Every game in this league is a challenge for everybody," Kelly droned. "Our concentration is solely on next week's game and that's playing Washington."
Oh, but the Huskies-Ducks hatred is still there among the fans.
Guess what's being celebrated -- again -- at Autzen on Saturday? Yep, "The Pick," the 1994 pick-six interception by Ducks cornerback Kenny Wheaton of Huskies QB Damon Huard, which is widely considered the most important play in school history. Wheaton will be at the game, appearing at PK Park from 10:30 a.m. to noon (PDT), signing autographs, including a T-shirt commemorating the play.
By the way, guess who is the new color guy on Huskies broadcasts? Huard. And guess who's an analyst for the ABC telecast? Damon's younger brother, Brock, also a former Washington QB. And guess who's going to be Brock Huard's co-analyst? Former Oregon coach Mike Bellotti.
How fun is that? How can you not smile about all that!
Said Kelly, "Harrumph." (We just made that up, but that's a fair translation of whatever he would say).
So do the Huskies have a chance? The short -- and practical -- answer is, no. But, folks, in college football, everyone has a chance, even when a team is missing its starting QB and brings one of the nation's worst defenses into the nation's most hostile venue to face the nation's best offense.
Said Kelly, "They've got really good athletes."
He then spit and let out an mocking laugh.
No, he didn't, but wouldn't it have been fun if he did?
April, 29, 2010
4/29/10
10:00
AM ET
By
ESPN.com staff
| ESPN.com
LOS ANGELES -- This winter, Lane Kiffin was handed his second plum college head coaching job just three years after becoming the youngest head coach in NFL history. Yet his record is 12-21. How the heck did he get the cardinal and gold keys to USC's Heritage Hall? His most notable achievement is manufacturing controversy with both his words and actions. Substance? Kiffin's critics will tell you "there's no there, there."
[+] Enlarge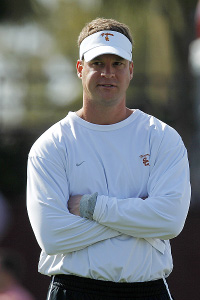 AP Photo/Jae C. HongLane Kiffin knows the only way to prove himself is by winning.
No there? We can tell you Kiffin was there, in his office at 3 a.m. PDT on April 15 watching frenetic defensive line coach Ed Orgeron scarf down a super-sized Red Bull -- No. 2 or 3? -- while presiding over his bleary-eyed staff. Why 3 a.m. on April 15? Because programs are allowed one call to a junior prospect during the spring recruiting evaluation period from April 15 to May 31, and Kiffin had decided that the first voice elite East Coast recruits would hear would be from a Trojan coach.
"We decided we were going to beat everybody in the country," Kiffin explained. "But we're on the West Coast. So if we're going to beat everybody, we're going to have to get up early and we're going to have to wake up East Coast parents."
At 4 a.m, the calls hit the Central time zone. At 5 a.m., they hit the Mountain time zone. And at 6 a.m., Kiffin and Orgeron, perhaps the best recruiting combination in the country, woke up the prospects in Los Angeles.
"The best part about it is Orgeron thinks everybody is going to be real excited about coming in at 3 a.m," Kiffin said. "He's so different. He goes, 'Hey guys, it's going to be great! I'm going to buy you guys donuts and Red Bull!'"
But donuts and Red Bull, and insanely intense recruiting, probably won't surprise you about Kiffin, who turns 35 on May 9. This might, though.
"It's more tightly run now. Businesslike, more serious," linebacker Malcolm Smith said. "We have to clean the locker room -- seriously -- now. They run us if you miss a class. There's no room for error. They've tightened the ship up."
According to Kiffin, if a player is "even one minute late" to a class, study hall or a session with a tutor, they have to meet Orgeron at 5 a.m. for extra running.
Smith's tone and expression makes the following line superfluous: "That is something you don't want to do."
When one coaching staff replaces another, the stories that immediately follow are predictable: The new staff is doing things better. More rules or more freedom? Players' coach or disciplinarian? Longer practices or shorter practices? Old is bad; new is good. Then there are the harder workouts, better schemes (attacking defense!), more coaching of fundamentals, etc.
Yet Pete Carroll's program was so open and observable that it's not speculative, or unfair, to note that things were a bit, er, loosey goosey at times. When the Trojans were regularly winning national and Pac-10 titles, that was a celebrated characteristic -- dancing with Snoop Dogg in the meeting room, wheeeeee! When the Trojans were getting manhandled by Oregon and Stanford and going -- disaster! -- 9-4, it was the root-cause of the fall of a football dynasty.
So if a basic contrast is to be drawn between the Ways of Carroll and the Ways of Kiffin as spring practices come to a close with Saturday's spring game, the early returns might be surprising: Kiffin seems to be closer to channeling Woody Hayes than Carroll, his old mentor.
There's a new sheriff in town and his name is Lane Kiffin. Y'all be cool.
"It's going to be done our way, which is the productive way of doing things right -- on and off the field," Kiffin said. "We feel that is how you are successful on Saturday and how you're disciplined on Saturday: how you are Monday through Friday. We are very hard on our guys. We have extremely high standards. We want it to be difficult to be a USC Trojan football player. They're never late to football meetings. So why are they late to other stuff? I believe it's emphasis."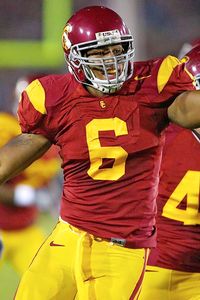 Gary A. Vasquez/US PresswireMalcolm Smith says Kiffin's staff is running a tighter ship.
Kiffin is aware he's in a bit of a pickle. Reporters repeatedly ask him about the team he inherited. If he notes shortcomings and concerns, he's seen as criticizing Carroll, who put Kiffin's career on the fast track when he handed him the keys of the Trojans offense in 2005. But Kiffin isn't good at not telling folks what's on his mind.
"It's not what it was when we left here," he said.
Kiffin sees sloppy play, noting the Trojans ranked 114th and 88th in the nation in penalties the past two seasons. He sees a lack of toughness when players skip practices and workouts because of minor injuries. He sees the "USC way" of players leaving early for the NFL draft only if they are first-round picks being abandoned -- see Everson Griffen, Damian Williams and Joe McKnight.
He sees a team that got its butt kicked last fall, posting the two worst losses of the Carroll Era.
"We have to figure out what went wrong because all of the sudden something really changed," Kiffin said.
The Kiffin Way means publicly calling out players, as he did when he stripped cornerback T.J. Bryant and receiver De'Von Flournoy of their No. 1 jerseys because they were under performing. Or when he said
the running backs
"don't have a clue right now on what we need to do to be a championship running team."
It means digging out players who fell out of favor with the old staff, such as defensive tackle DaJohn Harris, or challenging returning starters to fight for their jobs, such as linebacker Chris Galippo. It means repeatedly telling reporters that more than a handful of incoming freshmen will immediately compete for playing time.
The final one, actually, was a standard of Carroll's culture of competition that may have fallen off a bit the past couple of seasons.
No "there" there with Kiffin? Let's just say Kiffin seems to know exactly where he is.
He landed his dream job. And it will remain a dream job only if he wins -- and thereby proves himself a coach of substance.
Said Kiffin, "You can't come to this job with a rebuilding plan. You've got to win."
September, 9, 2008
9/09/08
10:58
PM ET
By
ESPN.com staff
| ESPN.com
Posted by ESPN.com's Ted Miller
LOS ANGELES -- A full day's worth of notes and quotes as coaches Pete Carroll and Jim Tressel talked to reporters on both ends of the USC-Ohio State showdown.
RECRUITING BATTLE


Carroll and Tressel don't know each other personally but that doesn't mean they don't know each other.
"We know them through recruiting," Carroll said.
They don't steal prospects from each other's states very often -- Ohio State has three players from California, USC one from Ohio -- but both programs recruit nationally.
Tressel noticed some familiar names when he looked over the USC roster.
"Gosh -- all of those guys were on our wish list," he said.
He then ticked off some of those names: center Kristofer O'Dowd, tight end Blake Ayles, receiver Ronald Johnson, quarterback Mark Sanchez and offensive guard Jeff Byers.
USC hasn't always won recruiting the recruiting battles either -- see Chris Wells and Ted Ginn, Jr.
CARROLL AND WOODY
The best anecdote of the day was Carroll talking about his year as an Ohio State assistant coach under Earle Bruce.
It just so happens that it was 1979, the season Ohio State lost in the Rose Bowl to USC and Charles White.
But Carroll's biggest thrill was looking out a window and seeing former coach Woody Hayes as he walked down the sidewalk.
"I had never seen him before," Carroll said. "So I dropped everything and took off across the parking lot and met him and I introduced myself."
Carroll said it was especially gratifying that Hayes knew who he was. They, of course, talked football.
"To me that was a really special moment," Carroll said.
QUOTABLE
Tressel to an L.A. audience about the poor performance in the 26-14 victory over Ohio on Saturday: "I've tried not to spend too much time looking back at that... We survived, I guess."
Carroll on the Ohio State-Ohio game:
"I don't think that has anything to do with it... They just won that game a little differently than everybody wanted them to and expected them to."
Tressel on the comments from Ohio State WR Ray Small suggesting that there is a "class" difference between the two schools: "It's disappointing when anyone talks... The only thing I can say about Ray is Ray doesn't have a malicious bone in his body and has no ill-intention... Those of us who speak to the press at times can error... Obviously it wasn't a good thing but he's a good kid."
USC safety Kevin Ellison, who was injured most of the 2005 season, on comparing OSU QB Terrelle Pryor to Vince Young: "I couldn't compare them right now. Vince Young was a totally different level. Terrelle Pryor is a freshman. I'm sure he'll be good a couple of years down the line. But you're talking about Vince Young, the second pick of the NFL draft."