Pac-12:

Youngstown State Penguins
June, 18, 2010
6/18/10
7:08
PM ET
By
ESPN.com staff
| ESPN.com
What a couple of weeks, eh?
To the notes.
Justin from Sammamish, Wash., writes
: If USC were to win the Pac-10 this year and not appeal the NCAA's rulings, would they still be crowned the Pac-10 champs and then have the runner up go to the Rose Bowl? Same thing for when the Pac-12 grows in 2011. Would USC be allowed to play in the Pac-12 title game even though the couldn't go to a bowl?
Ted Miller
: First, it's not certain there will be a Pac-10 title game in 2011. But if there is, USC wouldn't be eligible. It's banned from the postseason and cannot represent the Pac-10 in a bowl game, BCS or otherwise.
If USC's record leaves it atop the Pac-10 over the next two years, it will not be "crowned" Pac-10 champion. The runnerup would automatically win the conference title and earn the BCS bowl berth.
USC's games, however, do count. So a win or loss versus USC counts in the conference standings.
Here's the official language:
Eligibility for Conference Championships
An institution prohibited from competing in post-season competition by the NCAA or the Conference shall not be eligible for the Conference Championship in the cited sport(s), but its games against Conference opponents shall count in the Conference standings.
Thomas from San Francisco writes
: I generally love the work you do covering the Pac-10, but your
latest article on Pac-10's realignment
is just lazy. You list the "top possibilities" and list a North/South split with Cal and Stanford in the North, and the newcomers in the South. But don't even consider the most likely and fairest possibility - that Cal and Stanford would go to the South division and the newcomers to the North. There's no real rationale for putting CU and Utah in the South - not geography, not tradition. As a Cal fan, I was very upset with Larry Scott when the Colorado AD said that the South division had been promised to him, and I was very happy to hear that Larry Scott denied ever making such a promise. Further, the California schools have nearly a century of tradition that none of them want broken. This is not simply a one-sided desire from the Bay Area schools. UCLA and Cal obviously have ties with their systemhood. USC and Cal have been playing for decades. You think USC fans want to lose their "Weekender"? Not even a little bit. No one was even considering Colorado and Utah as being in the South until their AD mentioned it. For the above reasons, I found your article to be uncharacteristically lacking and lazy, and I would appreciate an edit.
Ted Miller
: First, Thomas, thanks for generally loving my work.
Your point is not unreasonable. A division with USC, UCLA, Cal, Stanford, Arizona and Arizona State opposite a division with Utah, Colorado, Oregon, Oregon State, Washington and Washington State is another possibility. Perhaps I should have included it. I know fans of the California schools would be happy with it.
At this point, however, this alignment isn't generating a lot of buzz, in large part because it's California-centric. Not saying it's not going to happen, but I'd rate it a long shot.
Arne from Parts Unknown writes
: Your saying "Colorado has
won before and will again
" ignores some key facts. Colorado had a winning football program and a good basketball program in the 80s and early 90s when the administration and community was more of a typical Big 8 one that cared about and supported athletics. Since then, the administration and culture has changed. Even the Denver Post refers to it as "the People's Republic of Boulder", and the atmosphere seems more similar to that of the left-coast types that over the last few decades has been more likely to shut down college football programs (as has been done at practically all the Cal State schools and many of the University of California ones also) than support them. Ironically, the Pac-10 rewarded Boulder for their "left-coast" affectations that includes apathy/hostility to big time football with membership. Is there any evidence whatsoever that CU is going to start trying to become a football power again, especially if it means hiring someone like the coaches in the Big 12, Big 10 or the SEC who actually know how to succeed in the sport? The people who ran CU athletics into the ground would NEVER hire a Mack Brown or a Jim Tressel, ok? Bringing in Colorado because they are the Berkeley of the Midwest ignores that there's a reason why Berkeley hasn't been to a Rose Bowl in 60 years despite all that California talent.
Ted Miller
: Wow. Lot here.
So you're saying since Colorado went 10-3 and won the Big 12 in 2001 the university and town has turned into a bastion of vegan football haters? Maybe you're right. I haven't covered a game in Boulder since 2000 when I witnessed a Rick Neuheisel hate-fest. I doubt it, though.
But real quick let's look at the coach issue you note because you appear to be saying Colorado is refusing to hire a good coach.
Texas hired Mack Brown in 1997 after Brown did an amazing job rebuilding North Carolina. At that point, however, he wasn't Mack Brown. In fact, Mack Brown meant something entirely different when he lost five straight to Oklahoma from 2000-2004. He was a guy who could recruit but couldn't win the big game. Tressel? Many Ohio State fans said, "Who?" when the Buckeyes hired Tressel away from Youngstown State in 2000.
Brown and Tressel were not coaching superstars when they were hired. They became coaching superstars. It didn't hurt that both were hired by rich programs with rich traditions.
Colorado's last two hires were Gary Barnett and Dan Hawkins. At the time, both hires were widely celebrated. Colorado fans thought they were getting the anti-Neuheisel when the school hired Barnett, who was responsible for one of the most remarkable transformations in college football history: Northwestern's Rose Bowl run in 1995 (and, yes, things fell off in Barnett's final two years). As for Hawkins, he went 45-7 his final four years at Boise State. When Colorado hired him in 2005, it seemed like a brilliant move and a perfect match.
Barnett and Hawkins were hardly "we don't care about winning" hires. Both looked like they could become superstars. Only they didn't.
The best coaching hires are rarely superstars. Pete Carroll? Bob Stoops? Heck, even Urban Meyer came from Utah. In fact, how many true "heavyweight" coaching hires are there out there? Nick Saban to Alabama, absolutely. Rich Rodriguez to Michigan? How's that working out?
You seem to be saying that Colorado won't become a contender because it refuses to hire a great coach. My counter is that Colorado has tried really hard to do that. Things just haven't worked out.
But you want to know the biggest reason why I think Colorado will get back to its winning ways? When Bill McCartney was winning big in the 1990s, he recruited California hard.
Saw this today
, "There are 35,595 CU alumni living in the Pac-10 states, according to the Alumni Association. That compares with 10,987 in the Big 12 states."
A renewed connection to California will bring the program back.
Jess from North Bend, Ore., writes
: Is there any possible way for the Pac-10 to back out of this expansion and keep the conference that we all love. Nothing is better than playing all the teams in your conference. What is so wrong with college football that we need to shake things up? Everybody wants to win a title so they argue for a playoff. When does it stop? Personally, I think passion for the game grows with the arguments of who is better. If it ain't broke, don't fix it. Larry Scott might be ambitious but that isn't always a good thing when you don't know where you are going. SEND EM BACK!!!!!!
Ted Miller
: Jess, there is no going back.
I understand your feelings, though. If you've been a college football fan for a long time, the expansion melodrama can seem disheartening. Wither tradition?!
But the sport has become big business over the past 15 or so years. The decision to hire a forward-thinking Larry Scott was rooted in the concern that the Pac-10 couldn't stay the same and hope to remain competitive. Ignoring business realities could have left the conference marginalized and second-rate.
As I see things, the "Pac-12" will be stronger going forward and it will be better positioned if we have another expansionist outbreak.
December, 12, 2009
12/12/09
11:12
AM ET
By
ESPN.com staff
| ESPN.com
A Stoops has done well in Florida in the past.
[+] Enlarge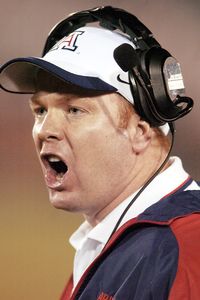 Kirby Lee/WireImage.comMark Stoops will join FSU's staff following the Holiday Bowl.
Bob Stoops paired with Steve Spurrier to win a 1996 national title. Then he got the head job at Oklahoma and won one for himself.
Mark Stoops was
hired Friday
to be Florida State's defensive coordinator under transitioning head coach Jimbo Fisher, thereby ending the successful tandem he had with head coach -- and brother -- Mike at Arizona.
Stoops was a
top candidate
for the head-coaching job at Youngstown State, but he likely sees this as the best step for him toward one day getting a chance to lead his own BCS conference program. This allows him to step out of his brother's shadow and to move into a football hotbed where there are more future job opportunities.
Mark Stoops will remain with Arizona until after the Wildcats play Nebraska in the Holiday Bowl on Dec. 30.
It will be interesting to see what Mike Stoops does next. With his brother, the Wildcats' defense was "in the family." The issue with the next coordinator will be whether he's asked to retain the Stoops system, which has been very effective through the years, or will he have the autonomy to bring in his own system. Keep in mind Mike Stoops is an old defensive coordinator himself, so it could be a challenge for him to keep his fingers out of the batter.
Not to mention it's his program.
Another element to consider is the Wildcats will be rebuilding on defense. They lose seven starters, including all three linebackers. Ends Ricky Elmore and Brooks Reed -- probably the best tandem in the conference in 2010 -- will be a good starting foundation, and Stoops has recruited well, but there will be unformed clay for a new guy to work with.
In other words, it won't be a bad year to tweak the system because a lot of guys won't have much experience in the old system.
Stoops may promote from within -- linebackers coach and assistant head coach Tim Kish might be a possibility.
Other names to think about include Boise State's Justin Wilcox, Utah's Kalani Sitake, Air Force's Tim DeRuyter, Texas Tech's Ruffin McNeill or perhaps former Arizona linebacker Ricky Hunley.
The guess here is that Stoops, considering his family connections, has plenty of names in his rolodex.
December, 6, 2009
12/06/09
1:20
PM ET
By
ESPN.com staff
| ESPN.com
There's a lot going on at Arizona. Start with
this story
about Arizona's 21-17 win over USC.
That was the Wildcats' first win over USC in seven games.
But there's more!
Arizona has been invited to the Holiday Bowl, as expected.
Arizona athletic director Jim Livengood may be headed to the same post at UNLV.
And defensive coordinator Mark Stoops is a hot head coaching candidate. He may be headed to Youngstown State. Or following Livengood to UNLV.
Stoops had
this to say
to the Arizona Daily Star on the various rumors and reports: "I really don't have a comment. All I wanted to do was finish this thing, and that's why, emotionally, it means so much to me. I've invested my heart and soul to this program, and I wanted to see it through. We'll see whenever things happen."
December, 1, 2009
12/01/09
9:47
AM ET
By
ESPN.com staff
| ESPN.com
Stoops coaching news!
That sorta leaves you hanging, eh?
It appears that Mark Stoops, Arizona's accomplished defensive coordinator, is
a top candidate
for the vacancy at Youngstown State, an FCS power that produced Ohio State coach Jim Tressel.
According to the article from Vindy.com, negotiations have progressed so far that Stoops, 42, is haggling over assistant coach pay, which shows that he knows what he's doing and is serious about the job.
If hired, Stoops would replace Jon Heacock, who resigned on Nov. 22 with a nine-year record of 60-43 as the Penguins' coach.
Wildcats head coach Mike Stoops told the Arizona Daily Star that he would
not comment
on any Stoops coaching rumors -- Oklahoma Bob (Notre Dame?) or Arizona Mark.
The Stoops brothers -- Bob, Mark and Mike -- all attended Cardinal Mooney High School in Youngstown.
Arizona concludes the regular season at USC on Saturday.